Day 1. Sunday, November 8, 2015
​
(Modified from a previous blog)
​
The time has come for our cruise vacation to start.

​​We checked out of the hotel, went down to the beach to take a few more pictures then got in the car to head to Port Everglades where our ship, the Allure of the Seas, just came in this morning. There, I dropped everyone and the luggage off then returned the vehicle to the rental office, and caught a shuttle back to the Port.

Port Everglades in the heart of Fort Lauderdale resembles an airport terminal with check-in counters and security lines. They moved people along quickly and at 11:30 AM, we were on the Allure of the Seas.


Stock picture of Port Eveglades. Allure of the Seas in the background
Walking through the Royal Promenade, we were definitely familiar with the surrounding because we had been on its sister ship, the Oasis of the Seas. Still I was in awe with what I saw inside the ship. I will describe the various neighborhoods, restaurants, and shops on this ship in the next few days.

Since we boarded the ship early and our rooms were not ready, we headed straight to the Park Café on Deck 8 to have salad and sandwiches.

​​Other cruisers had the same idea so the line at Park Café was long but I was sure lines at other complimentary restaurants including the Windjammer buffet were equally long.


Tuan and Ai Ho, and Kay and Steve Nguyen
We cruise with these people regularly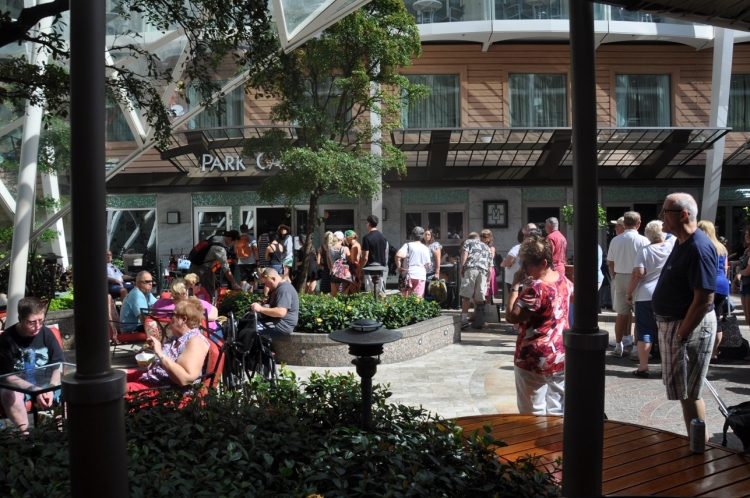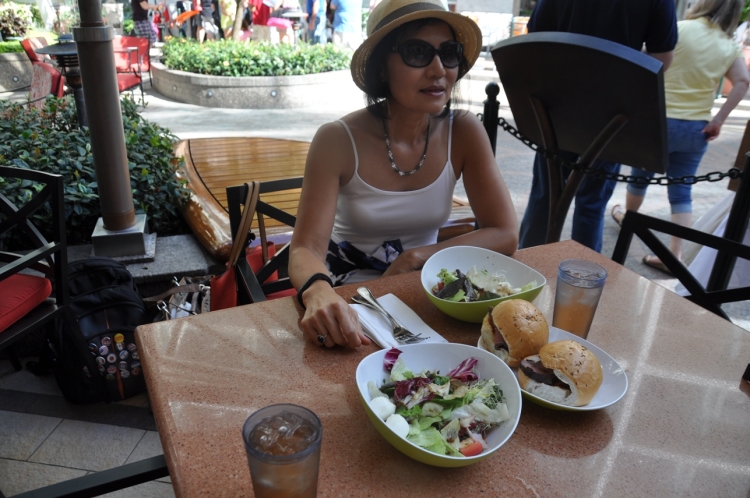 As we were enjoying our lunch at an outdoor table in the beautifully landscaped Park Central, a couple approached us and introduced themselves. It turned out that they had read my blog and known we were on this ship, and recognized us (yes …. me with the gray hair).

​​We had a great visit with Bob and Anna and it's good to know that my blog helps some people plan their trips.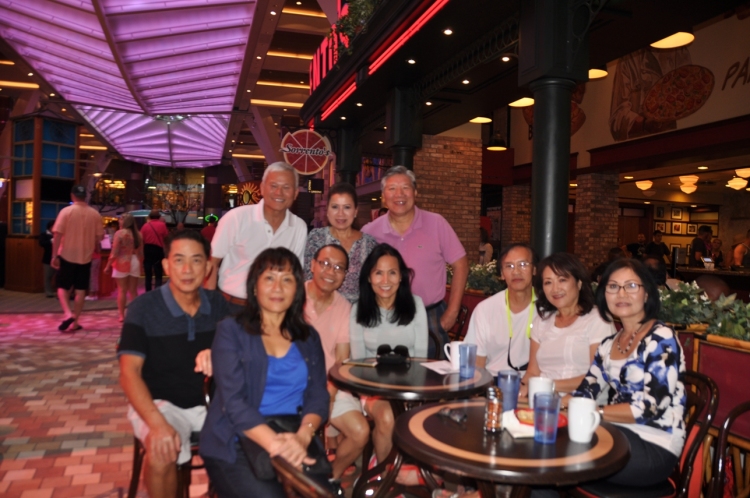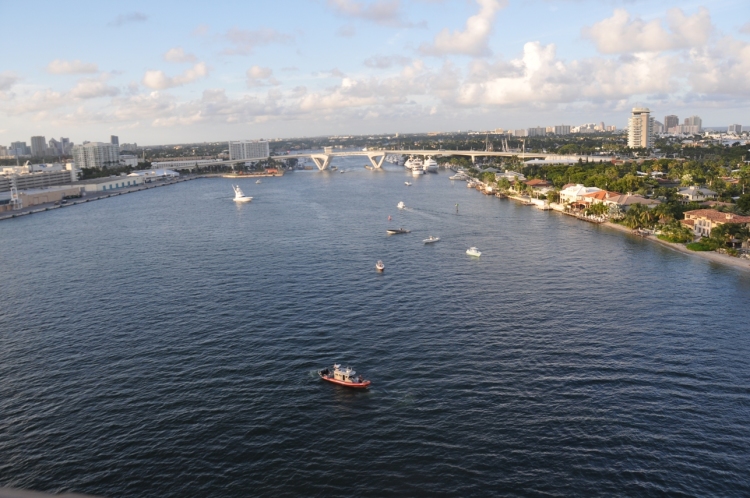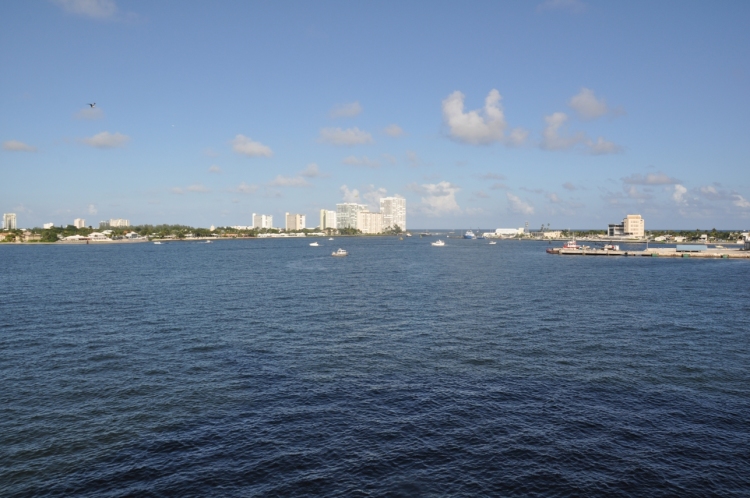 Our room was ready around 1:00 PM. Lee and I have an ocean-side state room on Deck 7 (Cabin No. 7116) and our friends scatter on two other decks. As pre-arranged, our group of ten people met up at Café Promenade on Deck 5 around 3:30 PM for coffee and desserts, and to discuss plans for the evening and next day.

Just before the ship departed, everyone was told to go to their muster stations for an emergency drill. In the Vitality of the Seas Fitness Center on Deck 6, we watched a short video explaining what to do in case of an emergency. Unlike other ships, Allure doesn't require one to practice the drill with a life vest and life vests are not stored in your room and therefore, you have more closet space for your belongings.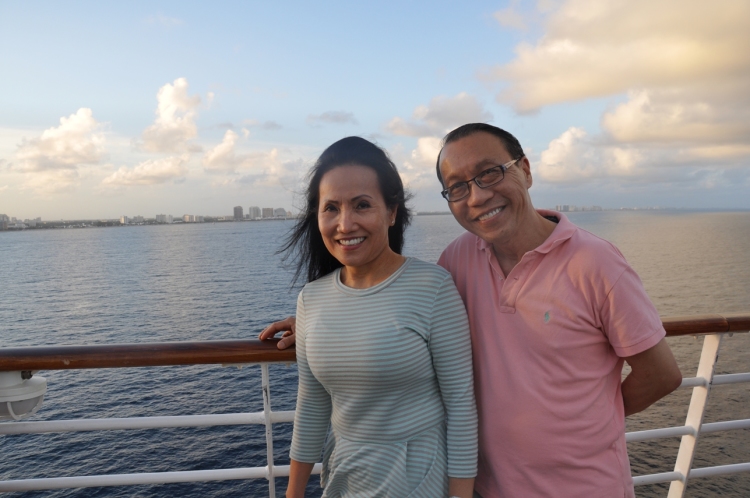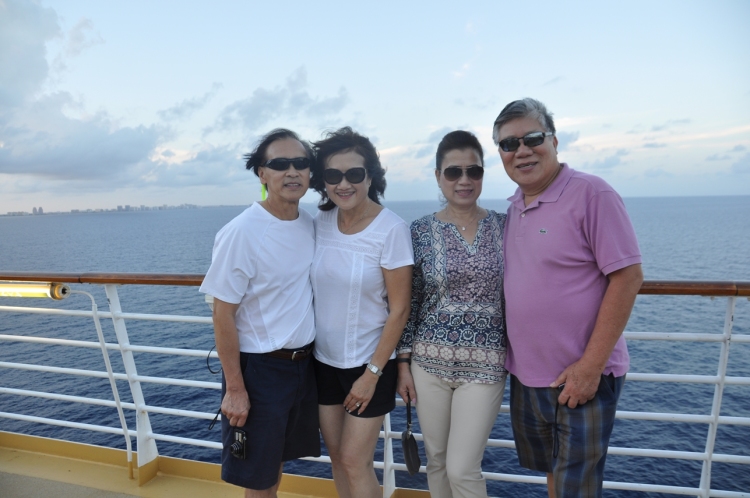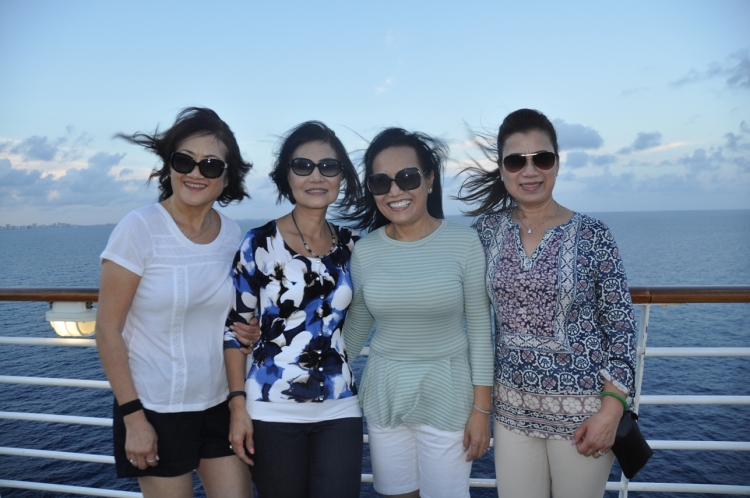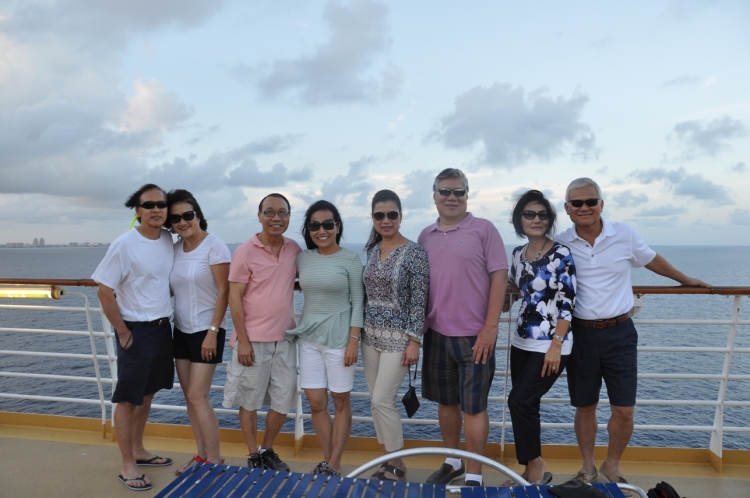 Four of five couples on deck
Around 5 PM, we headed up to the pool deck to wave goodbye to the City of Fort Lauderdale as our ship began pulling away from the port. Seemed like 6,000 of us were standing on the top deck cheering one another as boaters sailing along our ship tooting their horns and people standing in their backyards watching this floating city nimbly maneuvering its way out of the port. We waved goodbye and blew kisses to all of them and in no time at all, our ship was out to sea.

The rest of the afternoon we relaxed at one of the half dozen pools scattered on the pool deck and when the sun went down, we went to dinner.

Allure has several restaurants but the main dining room called the Grande is a huge dining room that can accommodate hundreds of guests at a time. There are two seating every night and we reserved the late seating which began at 8:30PM. A mix-up on the part of our travel agent caused us to sit at two different tables. The restaurant manager apologized profusely and promised to correct the situation tomorrow night.
​
The Grande menu is extensive and changes every night. We ordered wine for the whole trip and every night, they would bring a different bottle to our table. Lee and my first night dinner entrée included salmon and prime rib and they were great!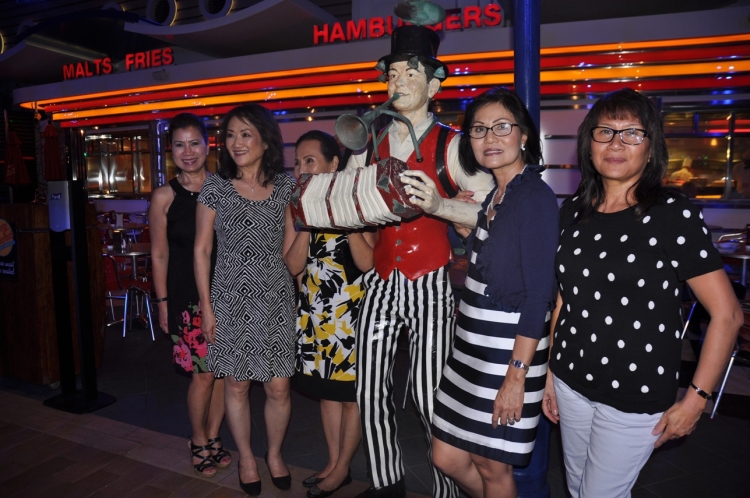 On the Boardwalk on Deck 6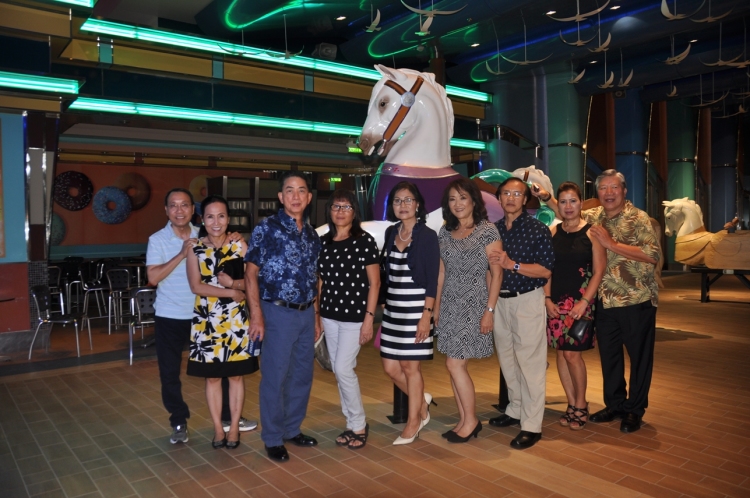 After dinner, we went to the Boardwalk on Deck 6 to see a show called Ocean Aria at the Aqua Theater on the back of the ship but unfortunately, the show was cancelled due to some technical issues. Deck 6 is an open deck and it has climbing walls, a merry-go-round, and specialty restaurants,

Tomorrow, we will be at our first port of call, Nassau in the Bahamas.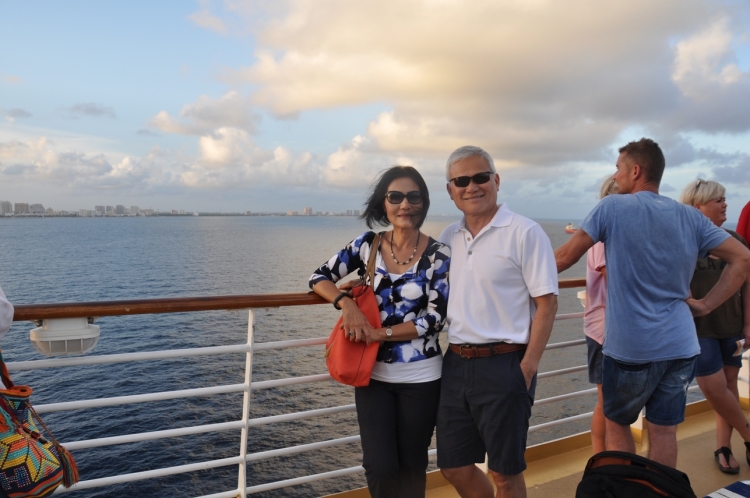 What an enjoyable first day!