Day 5, Thursday November 12, 2015
​
(Modified from a previous blog)
​
The ship docked in St Maarten which was the last Port of Call for this cruise. St Maarten (Dutch) or St Martin (French) is the smallest land mass in the world to be shared by two different nations. There is no need to have your passport or visa when you cross the border from one side to the other.

Off the ship around 9:30 AM, we walked out of the port to find and negotiate with a van driver to take us to the places we wanted to go. Our plan today was to go to Orient Beach on the French side to swim then to Philipsburg on the Dutch side for shopping or lunch before returning to the ship.

Driving around the island took longer than I expected because the streets were narrow and traffic was heavy in some areas. It took our driver 30 minutes to get to Orient Beach.



Rental chairs and umbrellas at Kontiki Resort
Look at the sand and the water
Orient Beach is often referred to as the "French Riviera of the Caribbean" because of its nice sandy beach, and warm and clear turquoise water. Numerous beach bar/restaurants line this one mile white sandy beach.

The driver dropped us off at a beach-side club called Kontiki. Here we rented a whole neat row of beach chairs and umbrellas under a cove of coconut trees. The dark red color of the chairs mixed in with the blue sky and sea, the white sand, and the green and lush landscaping, creating such a visually pleasing scenery. We spent almost three hours on Orient Beach swimming, sunning, lunching, beach walking, and people gazing.

If you are visiting Orient Beach for the first time, you need to be aware that on the southern section of the beach, a resort called Club Orient has a clothing-optional area. Kontiki is just north of it and some of our friends walked along the beach down to Club Orient to see what a nudist club was all about and they came back 'disappointed'.




At St Maarten Port. The new friends we met on the ship, Trung and Mai Khanh, are on the left
Ask for a menu and the waiter brings out a blackboard and set it on the beach in front of you
Lizzy's Restaurant in Phillipsburg
Beautiful day on St Maarten Island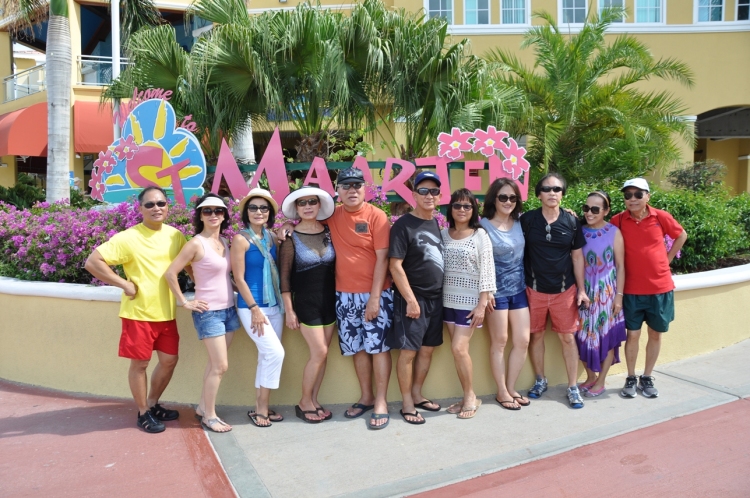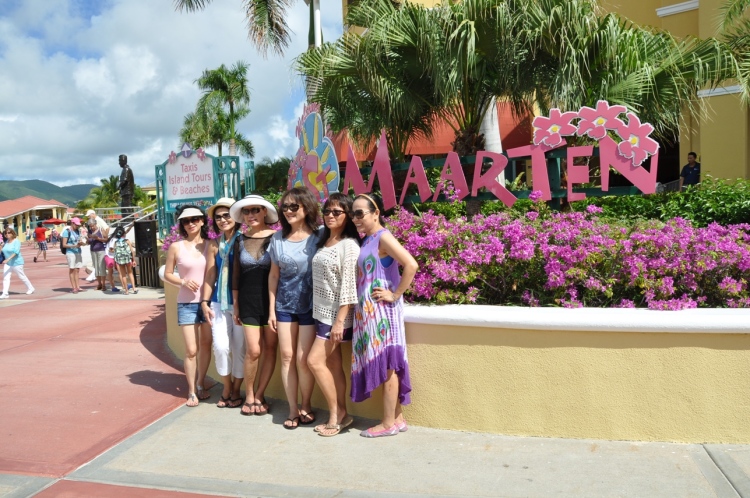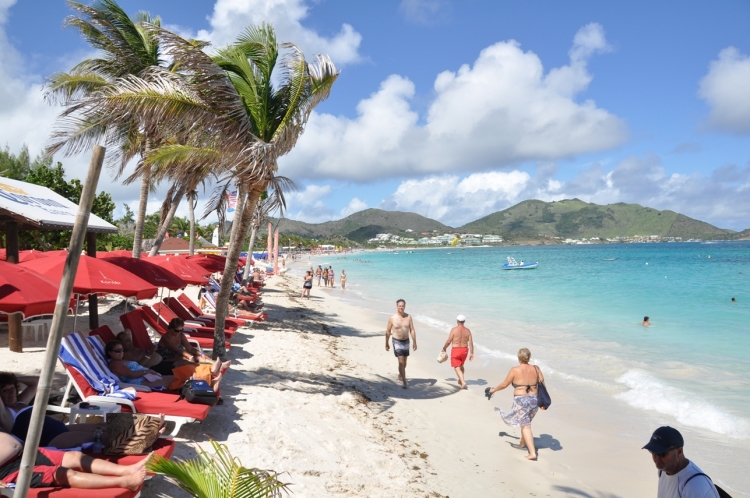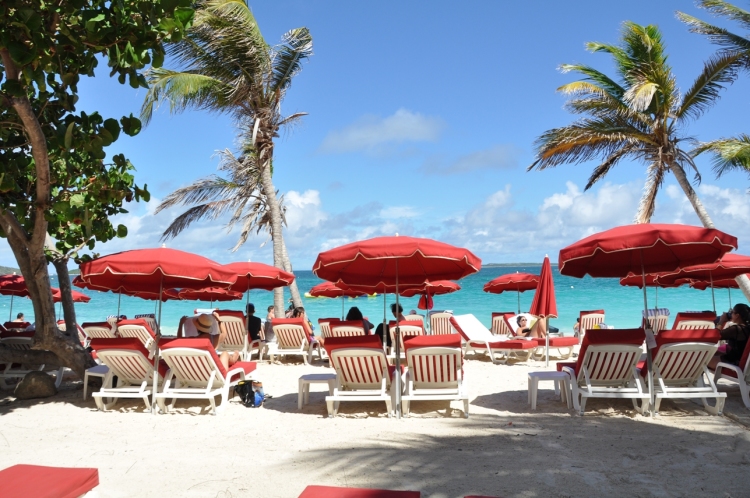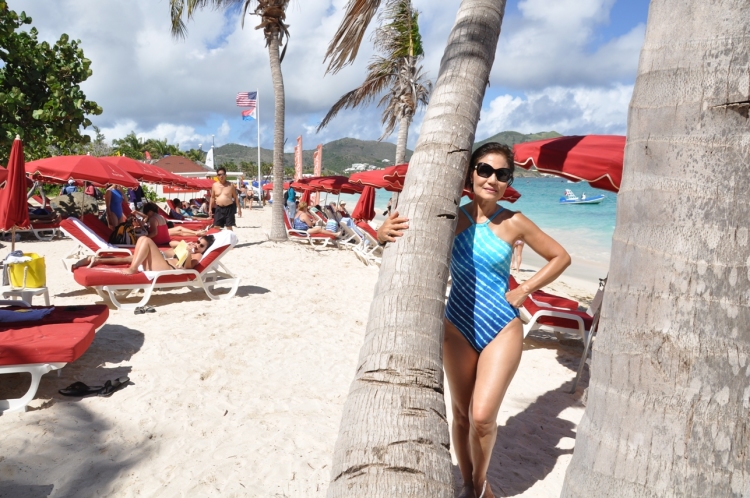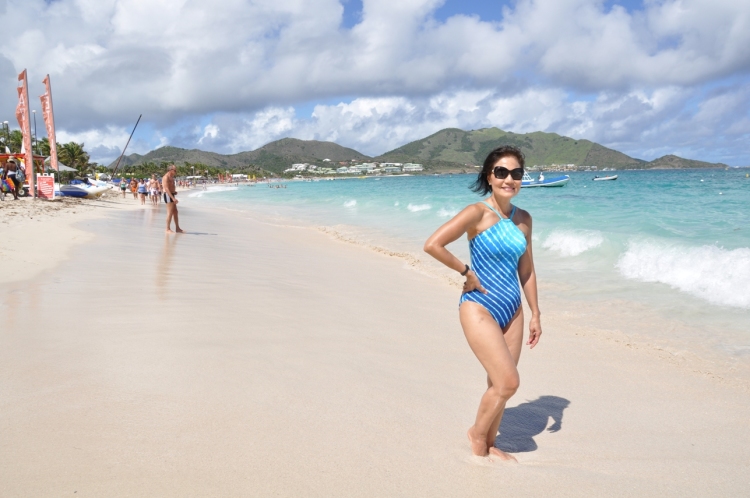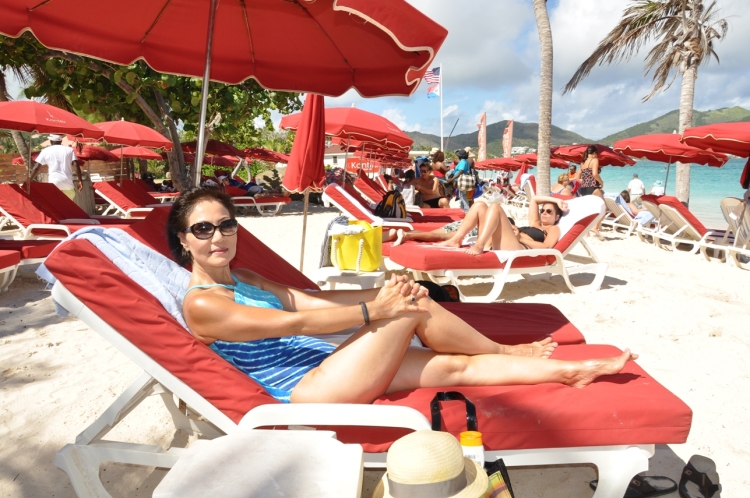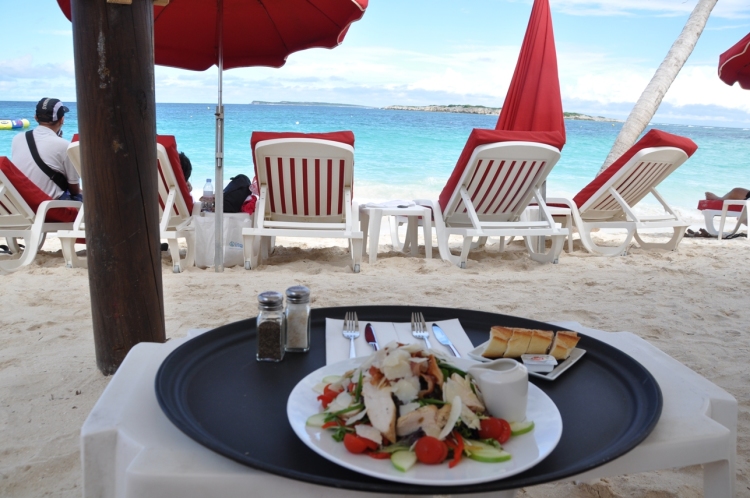 Around 2:30 PM, our van came back to pick us up and took us to Front Street in Philipsburg to do some shopping and have lunch. We returned to a familiar beachside restaurant called Lizzy's, a place we found on a previous cruise where we had great fun with another group of friends. We could sit here, drink the local beer, gaze at the sea, and poke fun at one another all day long.