Day 7, Tuesday November 14, 2015



(Modified from a previous blog)

At-sea day. Perfect day to lay around the pools and explore other neighborhoods. As most morning, we had our breakfast in Central Park. It's amazing that they could create an urban park on a ship like this. There are hundreds of plants and numerous species growing vigorously everywhere you look.


Central Park entrance sign
Chop Grille Restaurant interior

View of Central Park from Deck 15
This is the last full day of our cruise. The Allure is powering its way towards Fort Lauderdale and you could feel a slight sway from side to side standing on the top deck. Very slight sway but you could feel it.

​​We had been blessed all week long with great weathers and smooth seas and today was no exception. We spent a longtime time on the pool deck early afternoon treasuring the cloudless blue sky, sparkled deep blue sea; and ocean fresh air.

​​We were in heaven!




Grande Restaurant entrance. We eat here almost every night
Lee in Central Park on a beautiful morning
Dreamworks characters parading
150 Central Park Restaurant
The luxurious interior of 150 Central Park Restaurant
The bar inside Casino Royale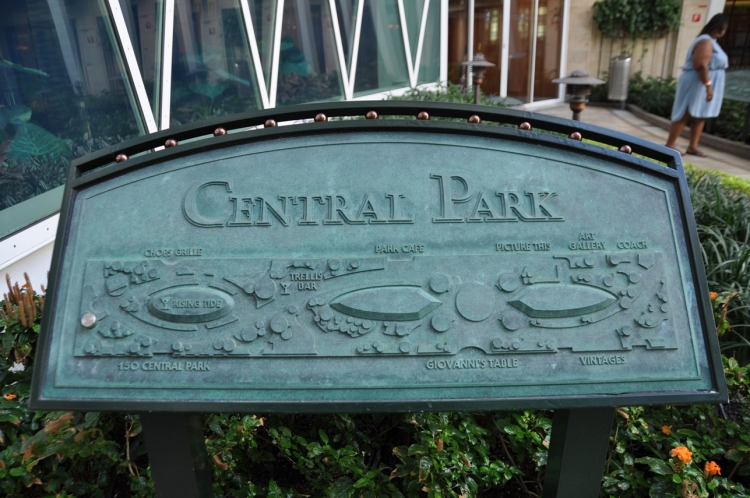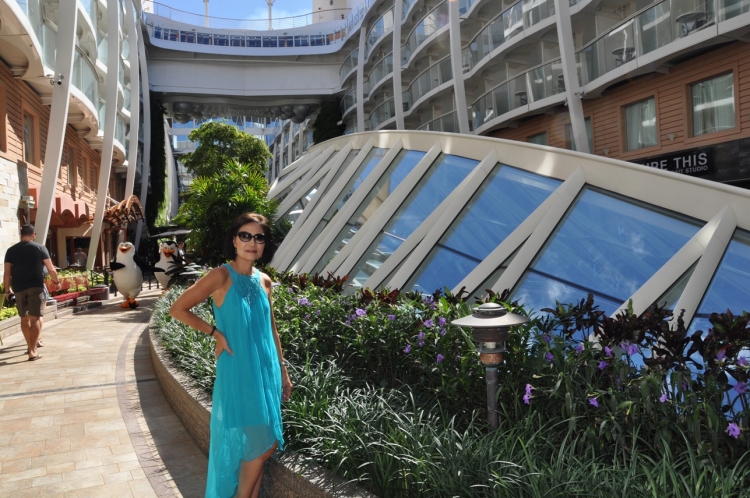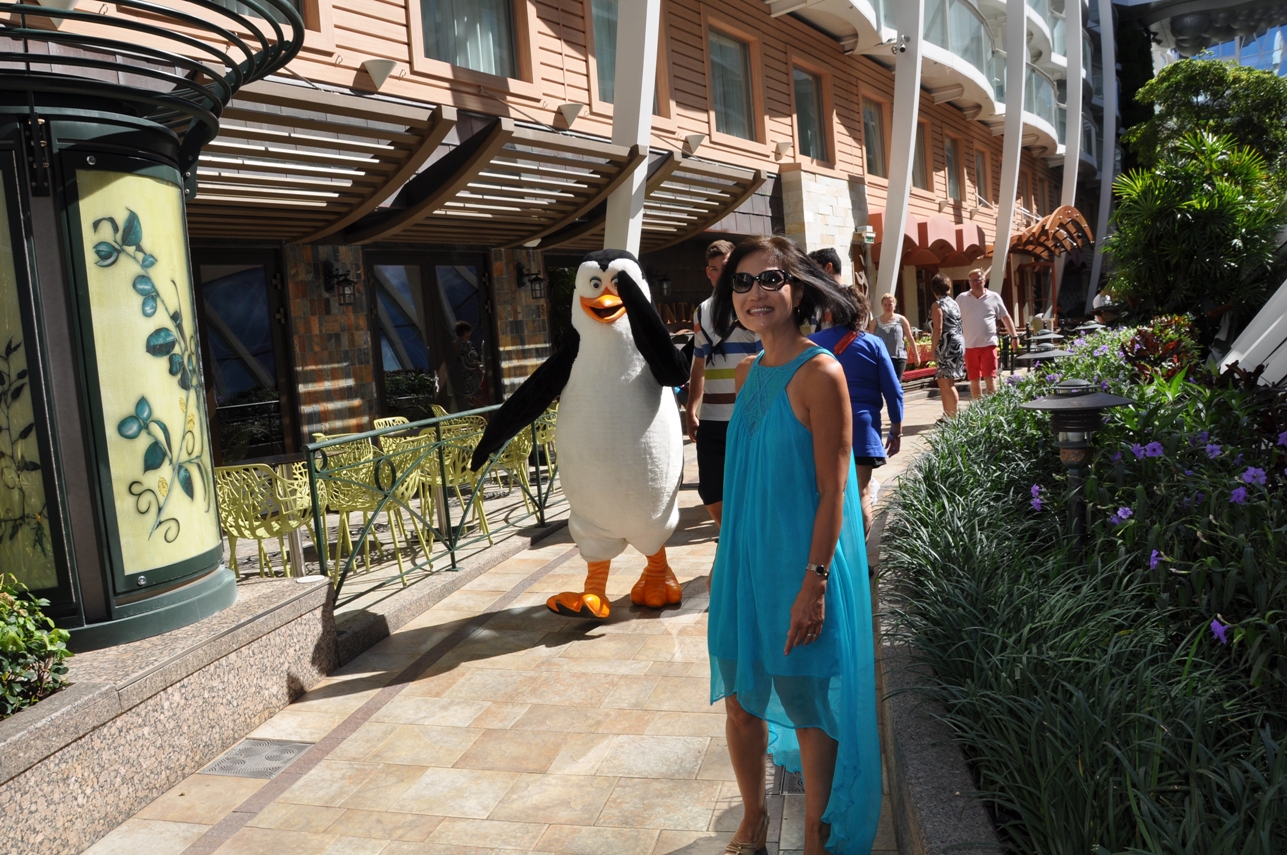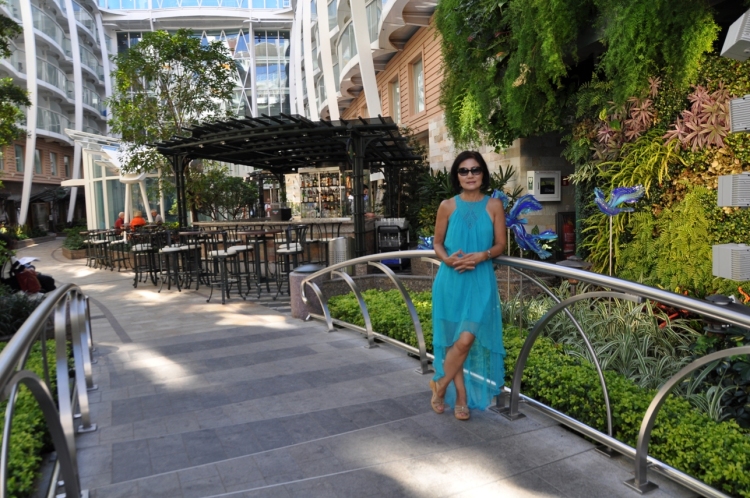 Central Park is on Deck 8 and has several restaurants: Chop Grille, 150 Park Central, Giovanni's Table, and Park Cafe. It also has Vintages (a wine bar), Trellis Bar, and a Coach Store.

​​The Rising Tide Bar rises from Royal Promenade on Deck 5 to Central Park every once in a while to drop off and pick up guests then lower itself back down to the Royal Promenade.

​​The park also has winding sidewalks, benches, and sculptures. It looks great in the day time but at night, it is even more attractive because of all the wonderful lighting.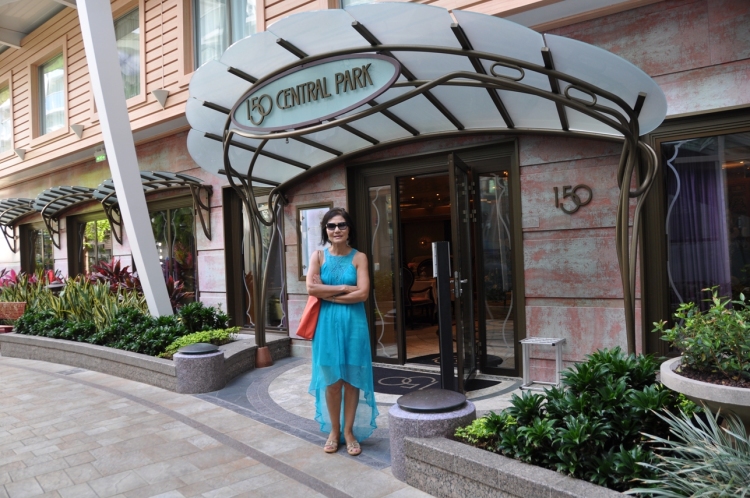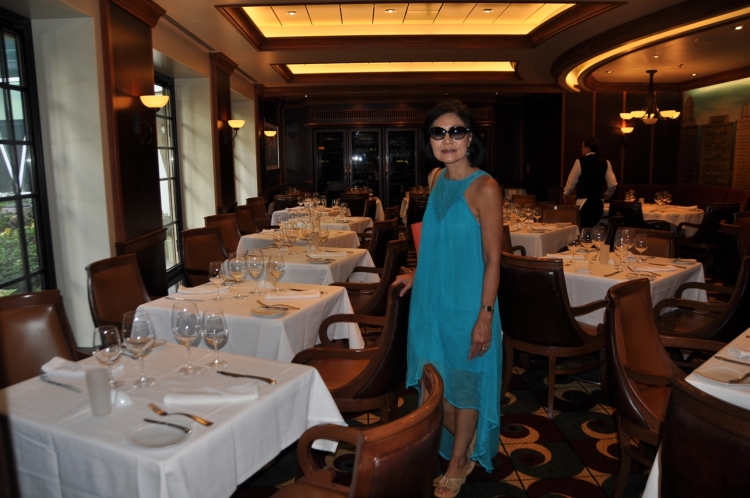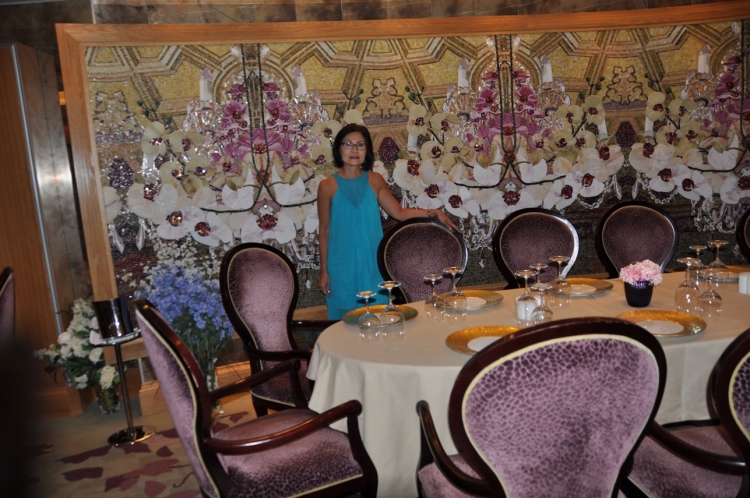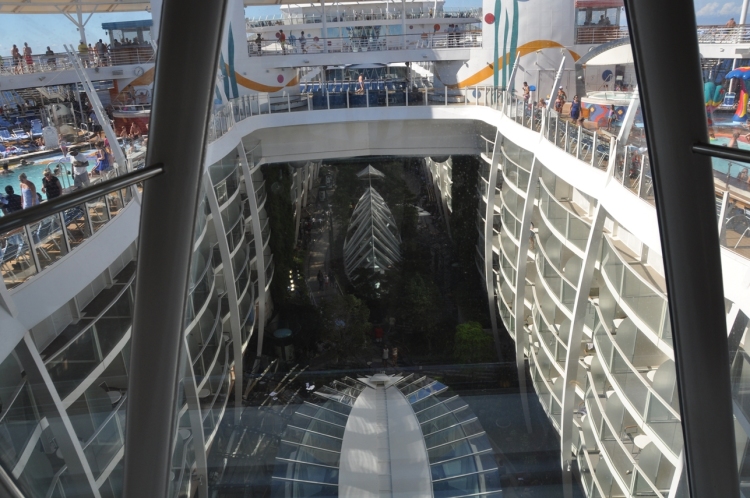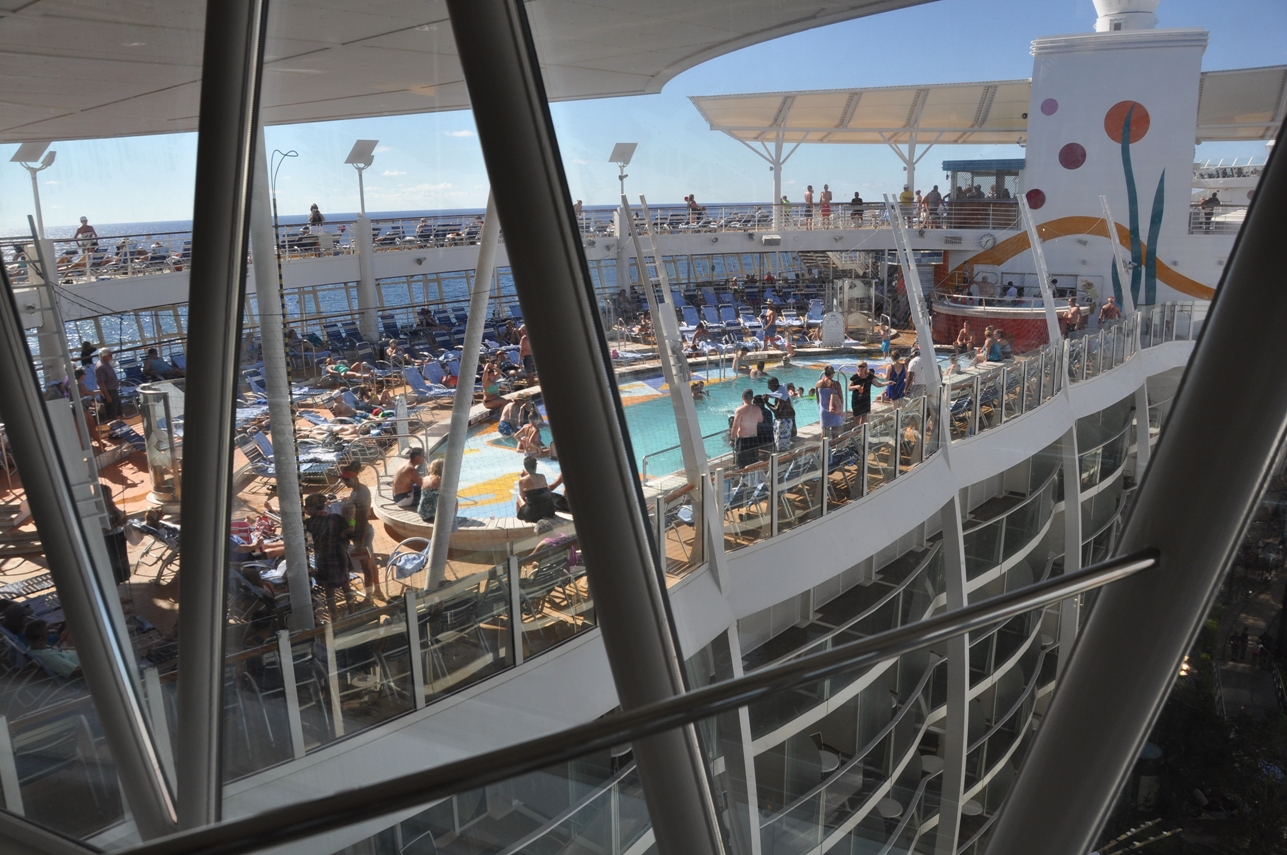 Being the last day of the cruise, we wanted to make sure we did as much as we could. I still don't know how we were able to squeeze so many activities into one day but we had breakfast and lunch, went to the gym, checked out various neighborhoods, restaurants and bars; and lingered at sidewalk cafes before we headed up to Deck 15 again for sunset pictures.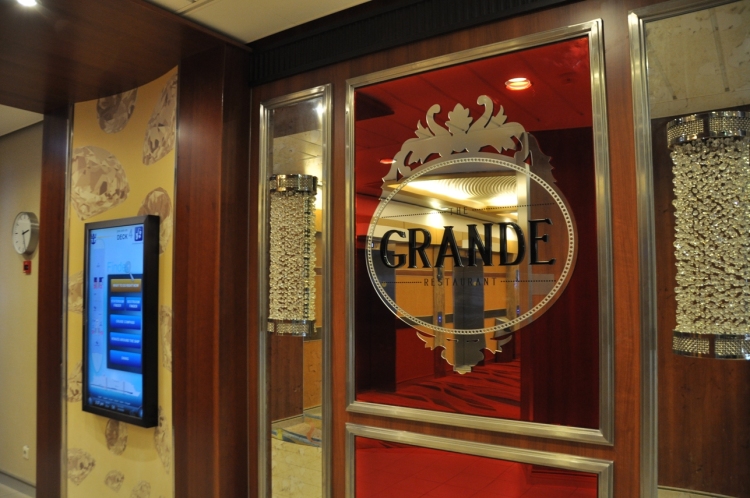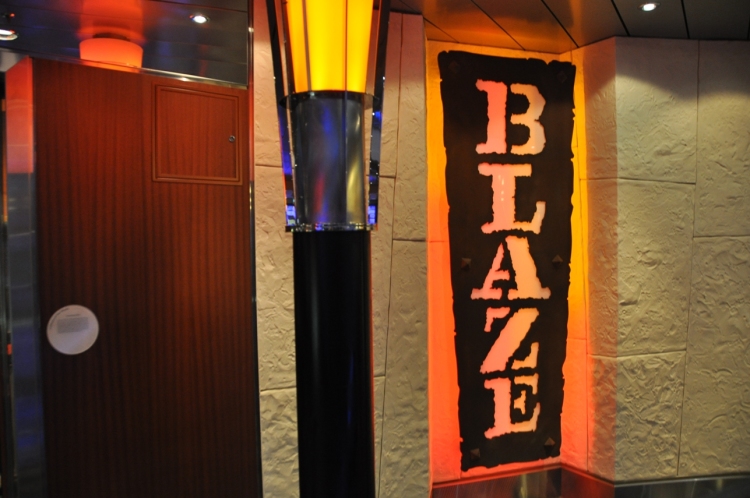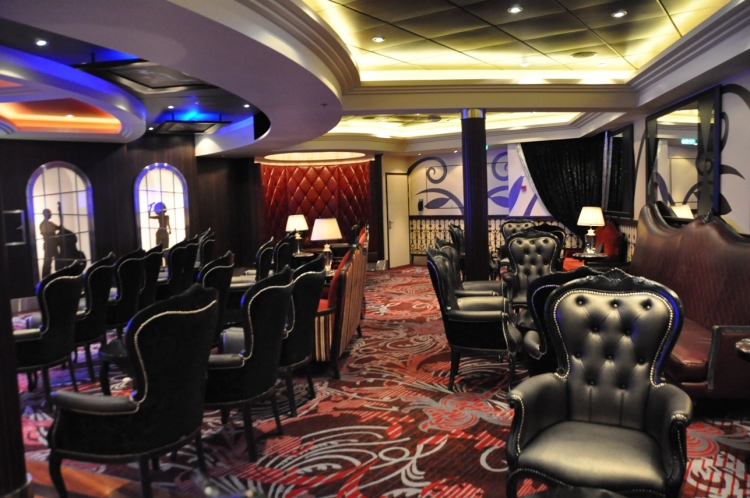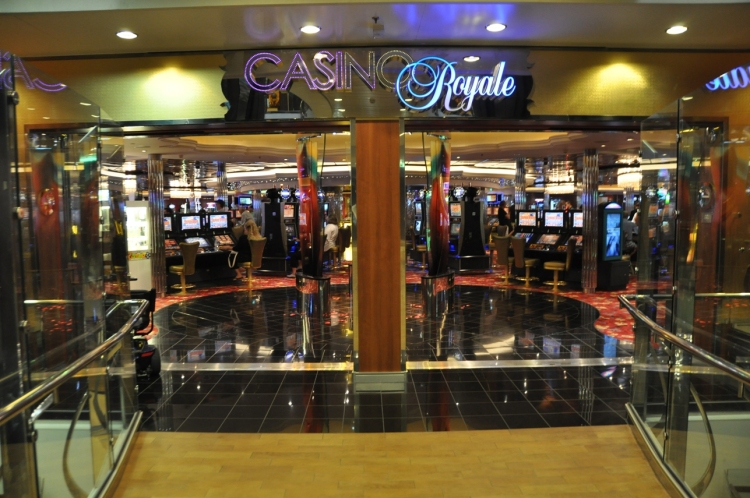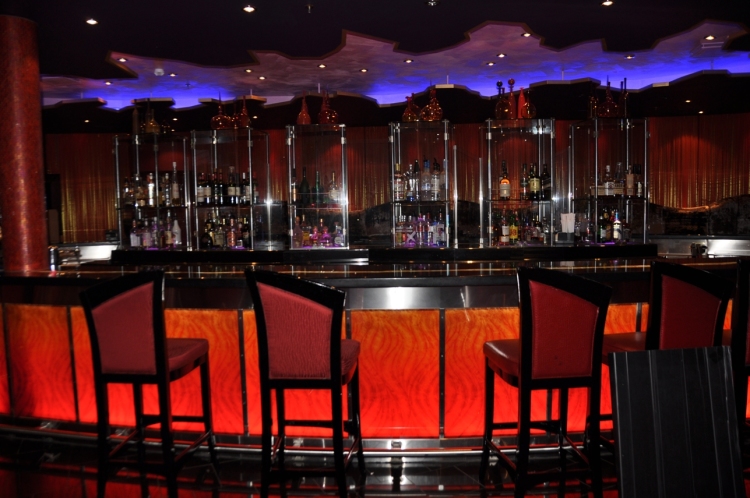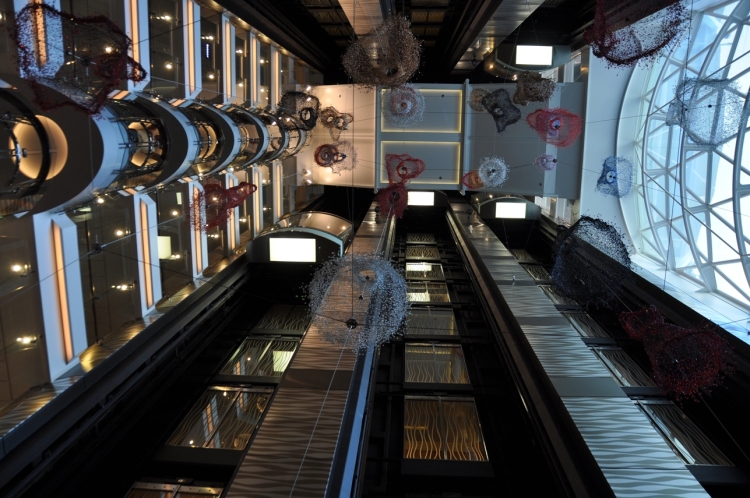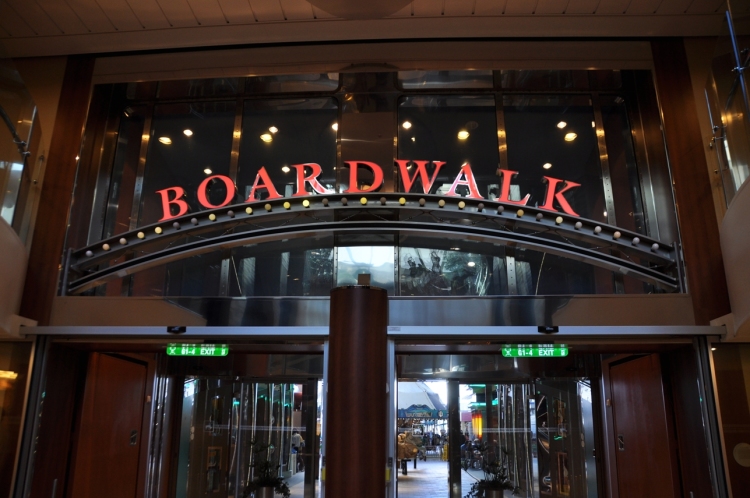 Boardwalk entrance on Deck 6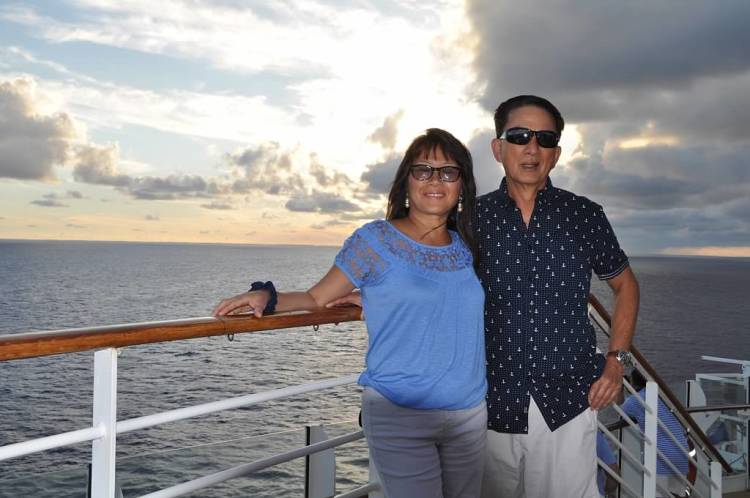 On Deck 15, our group once again gathered for couple and group photographs. As we had pre-arranged, everyone wore white shorts or pants and a color shirt. We were so colorful and the pictures came out quite alright.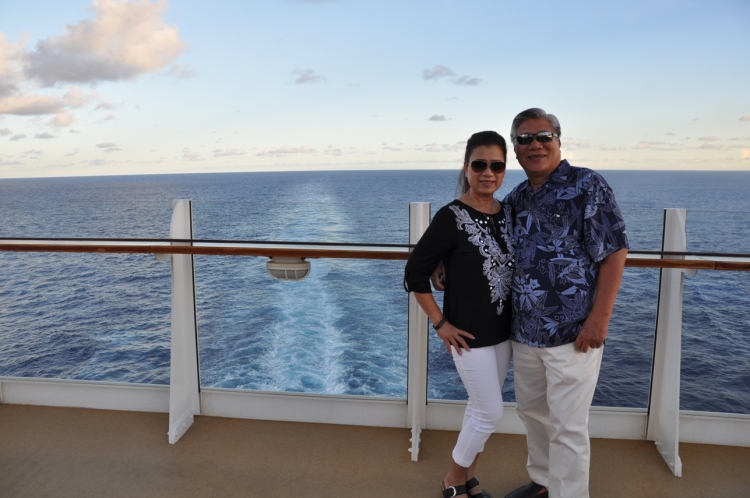 Kay and Steve Nguyen on the very back of the ship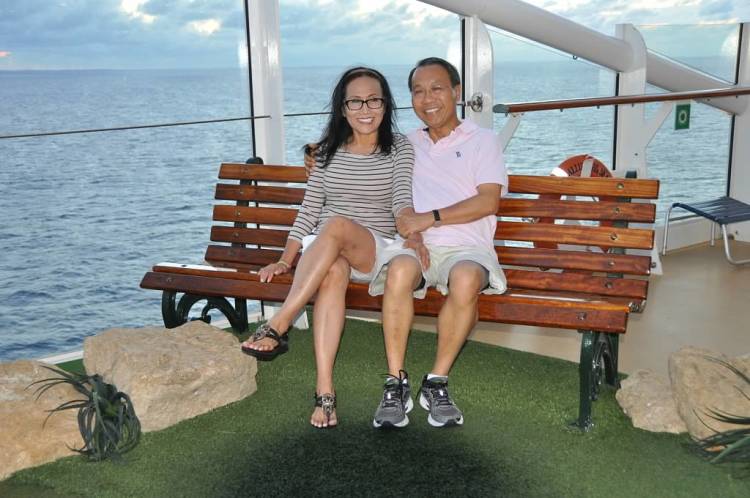 Lieu and Wayne Nguyen. The view is awesome!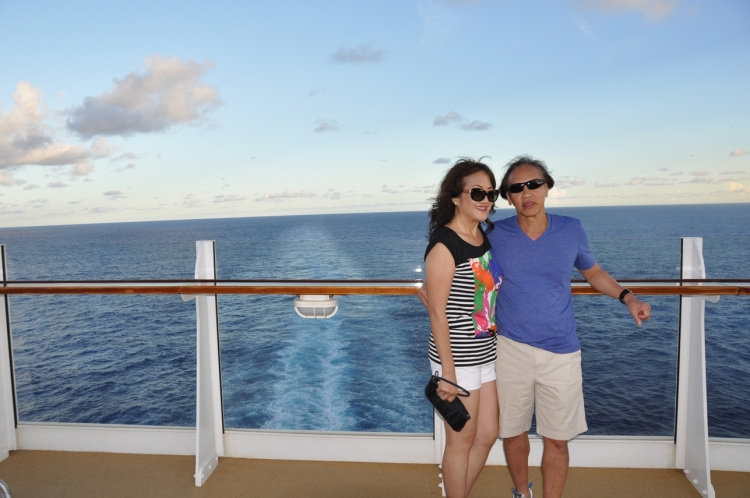 Trung and Mai Khanh Tran waiting for the sunset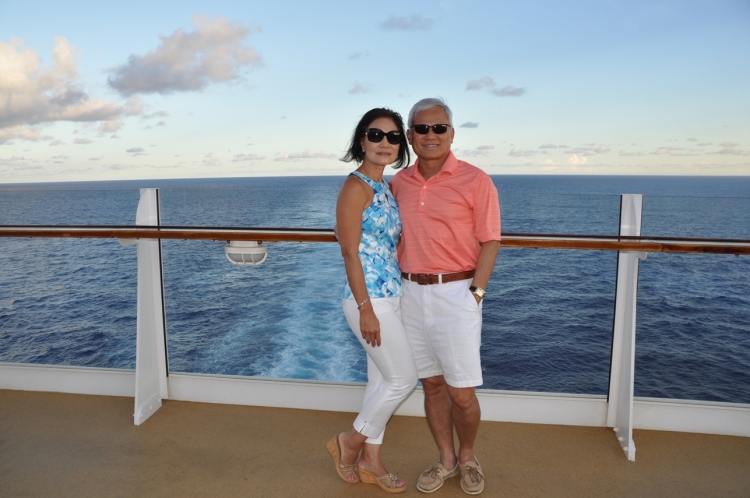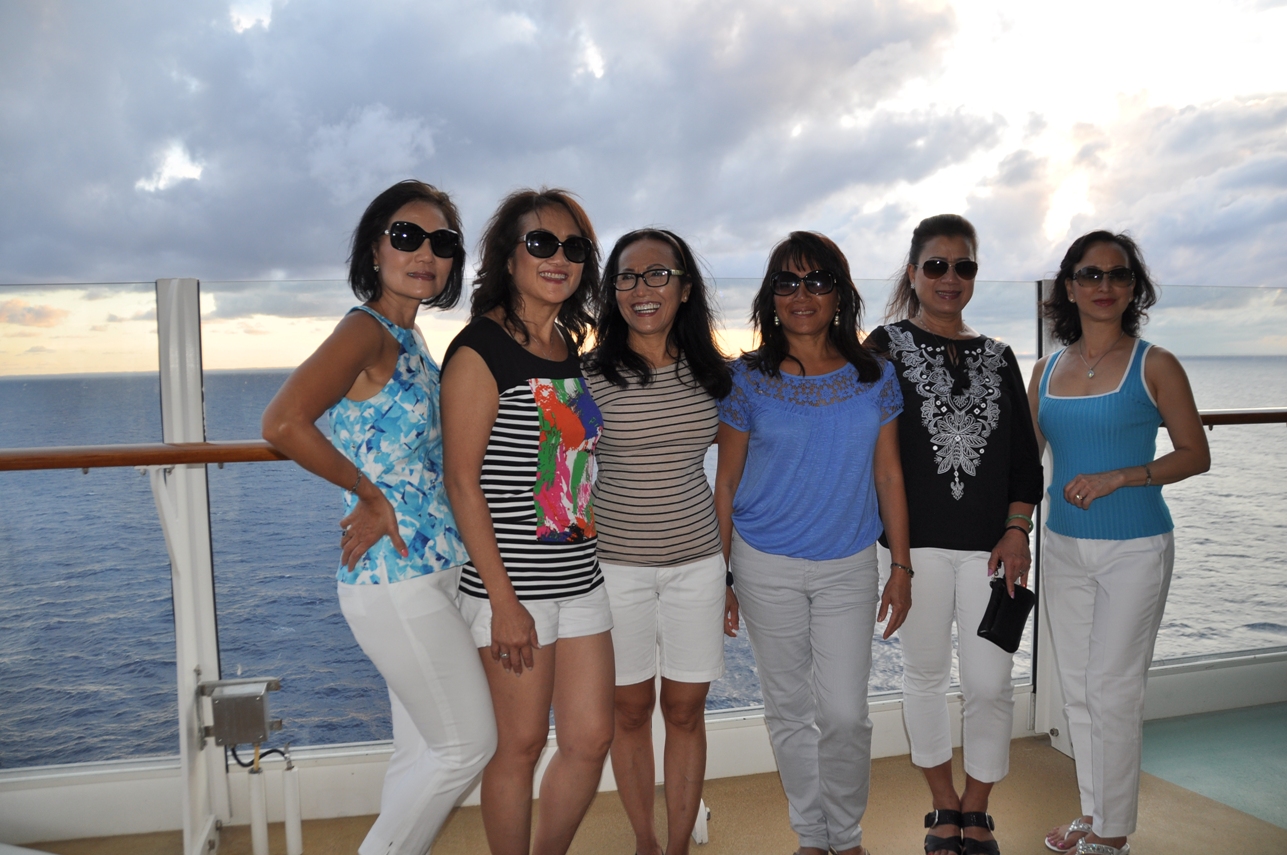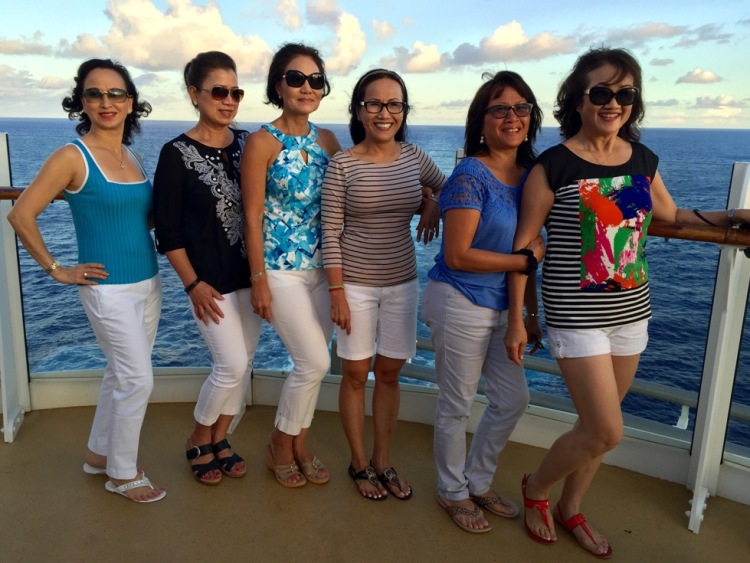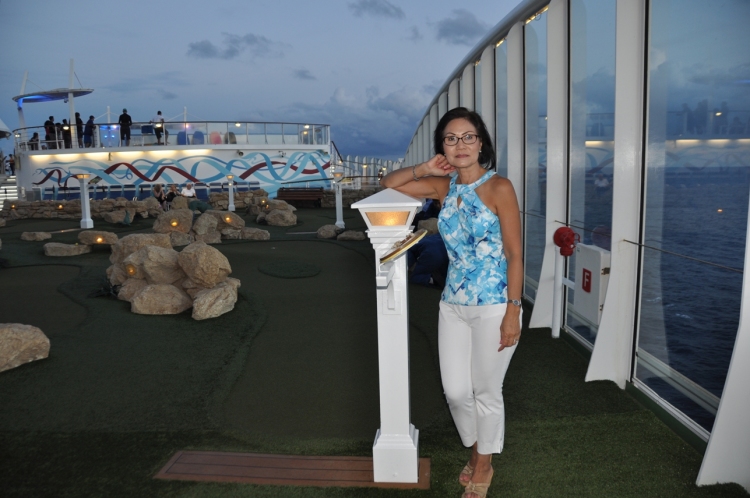 The whole group. Color shirts day but where are your sunglasses, Wayne?
Tonight Lee and I would dine at the 150 Park Central Restaurant and the rest of the group would gather for the last-night-on-ship dinner at the Windjammer Restaurant.

Arriving at 150 Park Central around 7:30 pm, we were greeted by a friendly hostess who quickly sat us at a table for two in the middle of the dining room. What struck me the most about the restaurant was its sophisticated look, its furnishings, decorations, and fine china. Everything exuded luxury from the round menus to the flowers arrangement on our table. The elegant waiter explained to us the six different types of salt we could use with our unsalted bread and butter and we tried them all.

150 serves a six-course dinner and each course is designed by an award-winning chef. The foods tasted and looked interesting and wonderful, but if I could mention one negative point, it would be that it took a long time between dishes. But overall, it was a wonderful dining experience.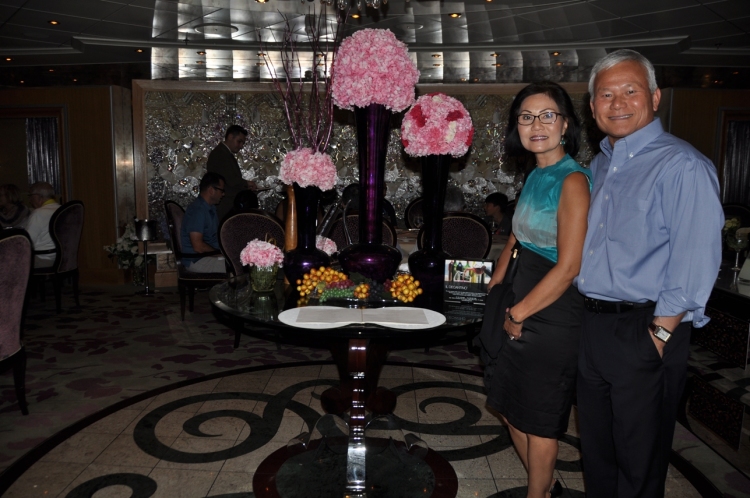 On way to 150 Central Park Restaurant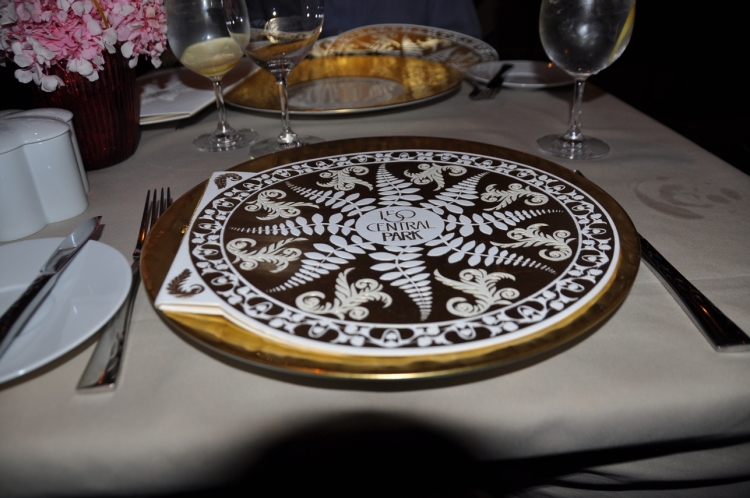 150 Central Park Restaurant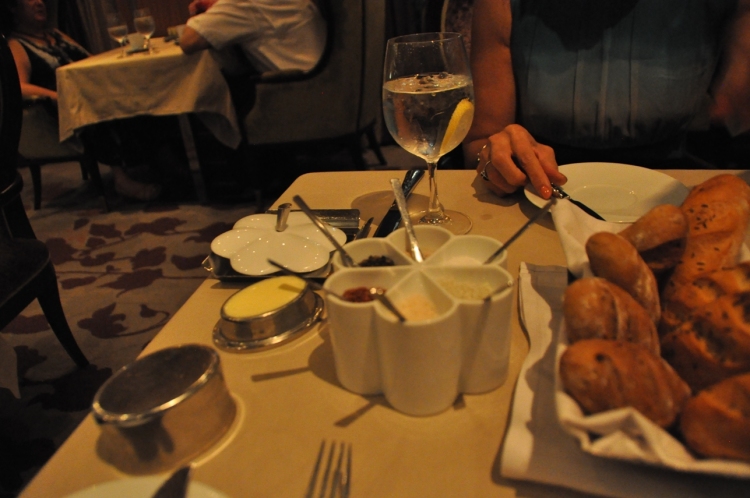 Six different types of salt served in an interesting looking container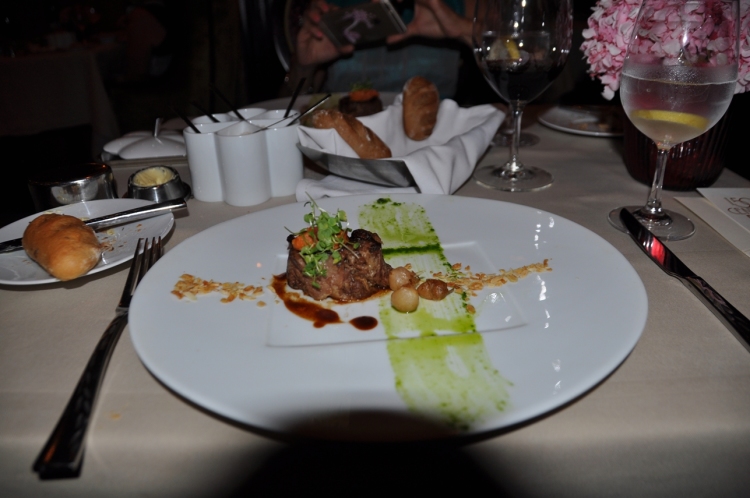 One of the six courses. Never had a better dining experience before
After dinner, we went back to our room to change and pack our stuff. At the Captain's requests, we left our bags outside our stateroom around 10 PM so they could be delivered to the port as soon as our ship docks. Royal Caribbean is so organized in the way they handle passengers in such a big ship.

Lee and I then went down to the Royal Promenade to join our friends and treasure the last few precious moments on this magnificent ship.
​
This has been a great vacation! How can you beat spending time with your friends on a venue like this? We will leave the Allure-of-the-Seas tomorrow with wonderful memories. So long Allure. Here wishing you many years of safe voyages.