Western and Central Europe
Our Trip Itinerary
A - Brussels, B- Amsterdam, C - Prague, E - Budapest, F - Vienna, G- Munich, H - Annecy, I - Paris​
Our friends from Brussels, Ha and Hoa Tran, on the left. A friend from Vietnam, Thu Ba, on the right. Lee is next to Thu Ba
May 2014, Houston, Texas. ​

After our trip to Greece in 2014, we are ready to go back to Europe again. This is a continent we always love to visit even amid the chaos you hear in the news. We will be careful but will not be overly concerned.
​
This trip started to form when Lee's high school friend, Ha Tran, who lives in Brussels, Belgium with her husband, Hoa, asked us to visit them and travel to the Netherlands with them and of course, we agreed. The last time we met Ha and Hoa was when they came to Houston in 2014. We showed them around the city and they had a great time.
​
This will be a relatively long trip for us. We will leave late April and return in mid May. We will fly to Brussels to meet Ha and Hoa, spend a day in Brussels, then head to Amsterdam with them.
​
After a couple of days in Amsterdam, our friends will return home to Brussels and we will continue our trip to Prague, Vienna, Budapest, Munich, Geneva, Annecy (France), and Paris. We will fly home directly from Paris.
​
Our modes of travel in Europe include car (Brussels to Amsterdam), plane (Amsterdam to Prague), and train (rest of the trip).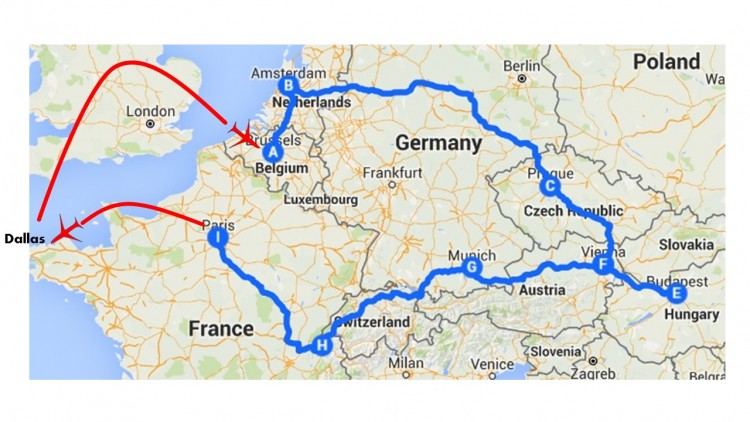 ​​We have purchased our airline and Eurail global pass tickets, and made most of our hotel reservations. I will spend the next few weeks researching the places we are visiting and I am more than excited. Except for Paris, the places we are visiting are places we have not been before and there are so much culture and history behind these places.
​
2016 starts off very right! I will file my report when we get to Brussels.
​
(February 6, 2016)