Friday April 29, 2016. Brussels



After a restful night, we wake up to breakfast prepared by Hoa to start our first full day of the trip. It drizzles off and on and we clearly hope for a warm and sunny day. I don't know how many times the Nguyens have served as tour guides for their friends but they have gotten the routine down when they guide us around the city.

Leaving the house, we head north to Bruges, referred to as Belgium's Venice. The town is very charming and was made famous by the 2008 movie 'In Bruges' starting Colin Farrell. It has a town square around which beautiful buildings gather. Neighborhoods are bisected by canals running in different directions. We have lunch at the De Vier Winden Restaurant.


​​

Bruges' beautiful town square
Ha and Lee at one of Bruges' canals
It's too windy to ride the boat
De Vier Winden Restaurant
Continue to head north, we stop at a sea-side town called Oostende on the North Sea. Here, multi-story apartments line the wide, sandy, and wind-swept beach. Statue of Sailors Lost At Sea stands tall above other art pieces, and seafood stands on the beach.
Another picture of Bruges
Oostende, a North Sea town
Statue of Sailors Lost At Sea
The Atomium Sculpture in Brussels
Interesting statue in Oostende
Great shopping mall in Grand Place
Beautiful garden near the Atomium
Beautiful women and flowers
Brussels features a huge and beautiful square called the Grand Place. In this late evening, it has been drizzling and the square is virtually empty. The Grand Place is surrounded by main streets but also connected by alleys. Towering above the cobble square is the Hotel de Ville, a magnificent church, and the ornate old buildings, restaurants and shops.

A few hundred feet from the Grand Place is a street intersection where stands a bronze statue of boy urinating into a pool. It's called Manneken Pis or Little Boy Pees. The statue is tiny but it seems to be as popular as the Mona Lisa at the Louvre. It has been stolen repeatedly and replaced with new ones. People take group pictures and selfies with it even in this late evening. I don't understand the fascination but have to come by and look at it.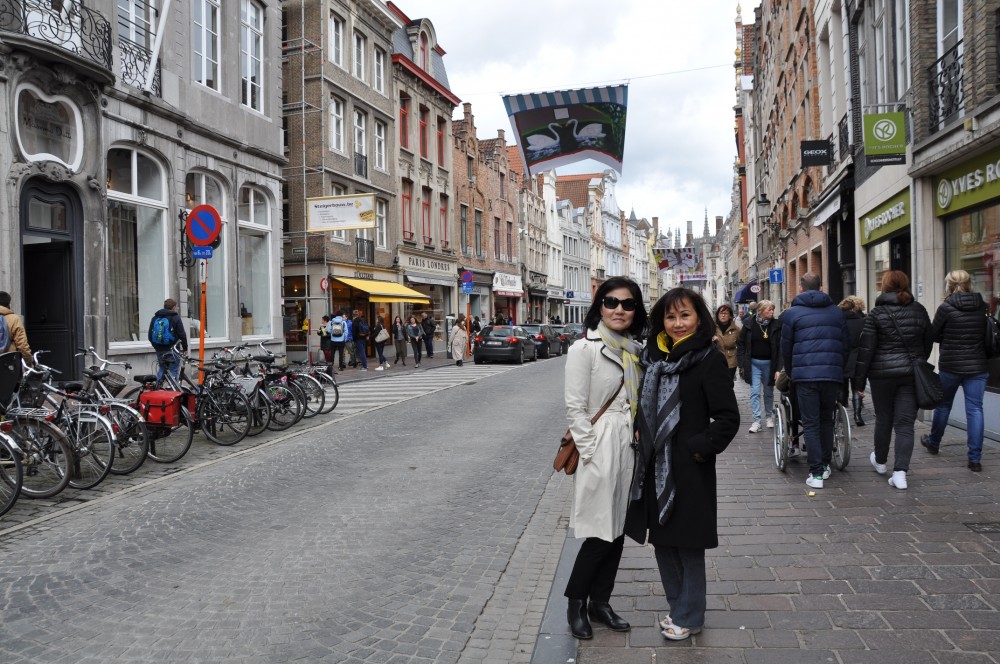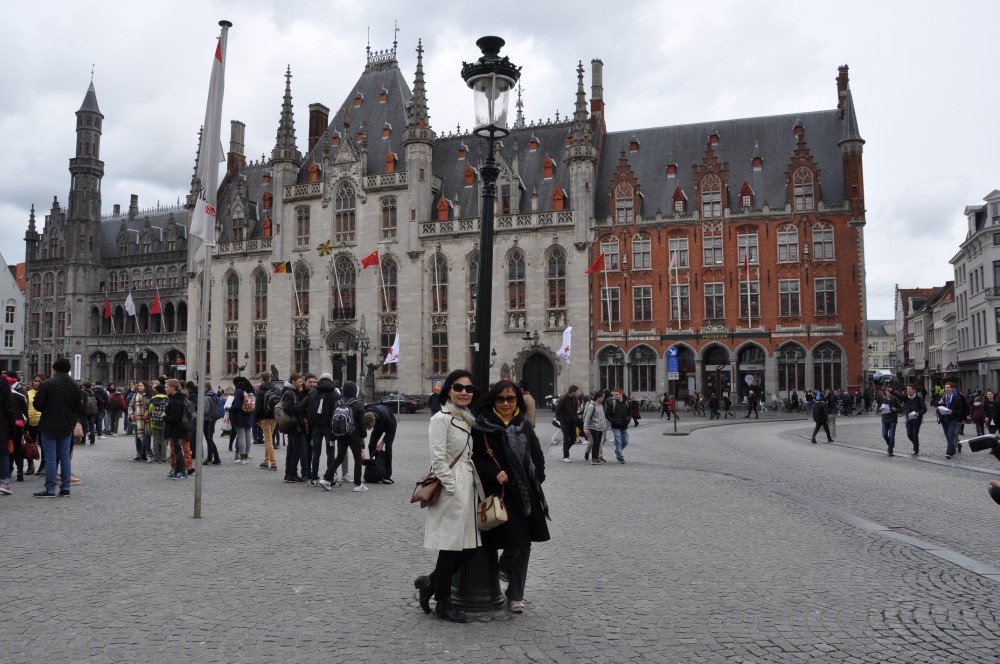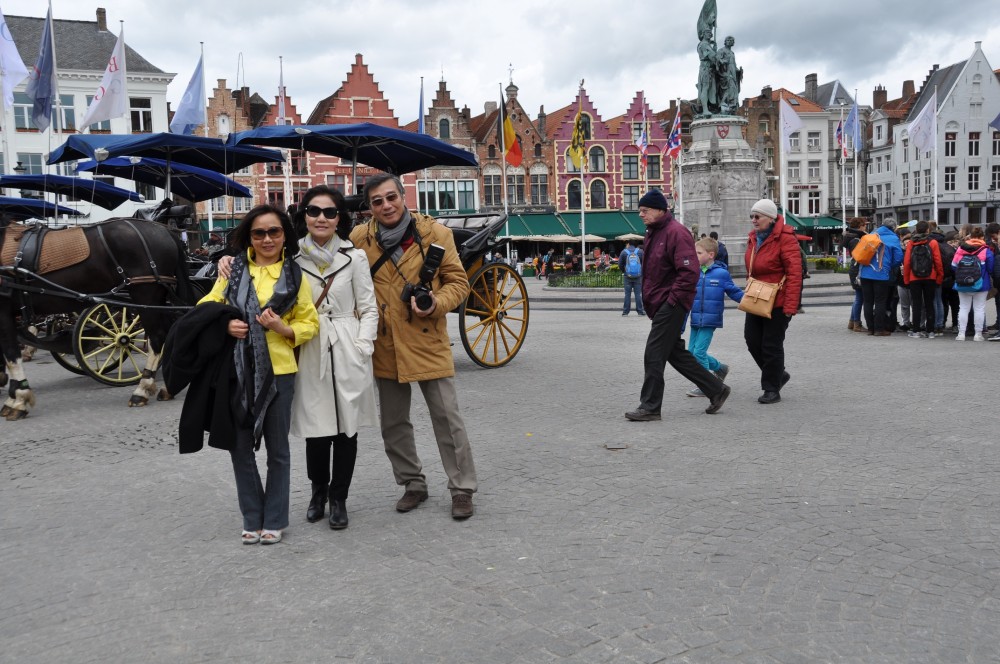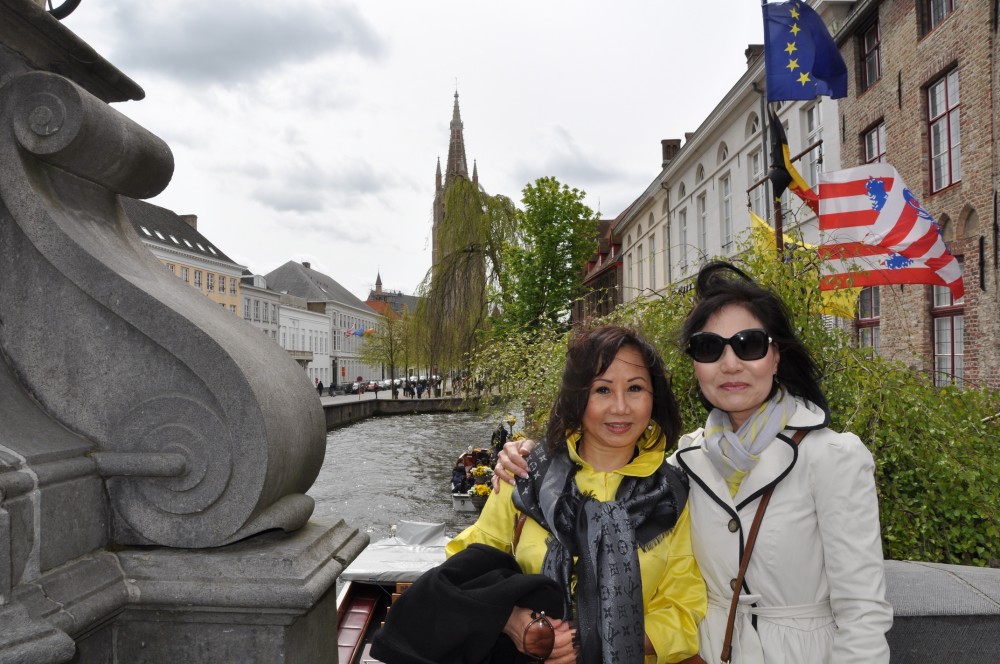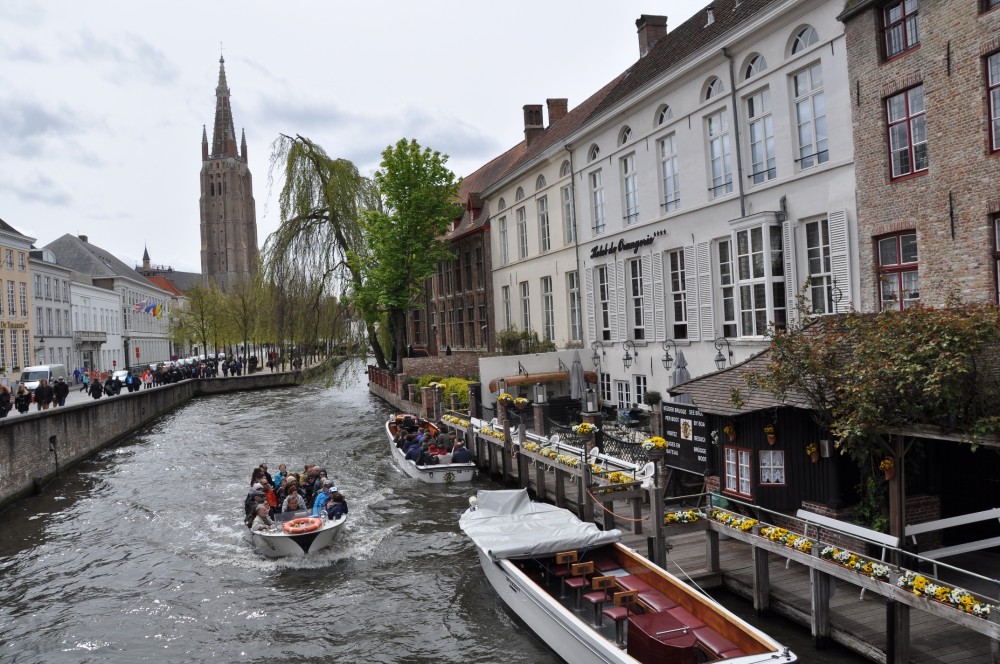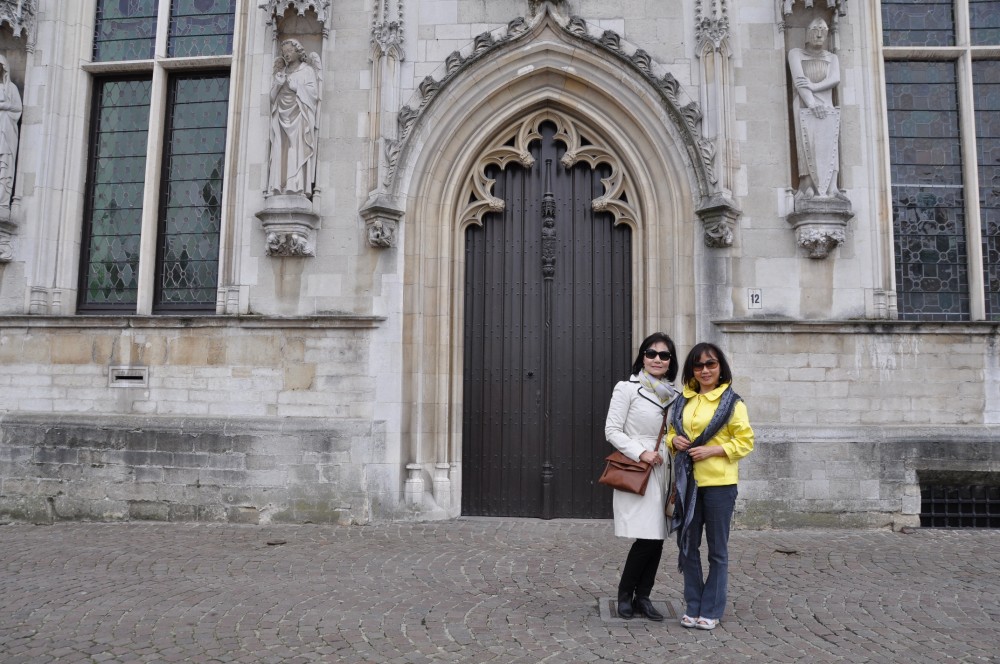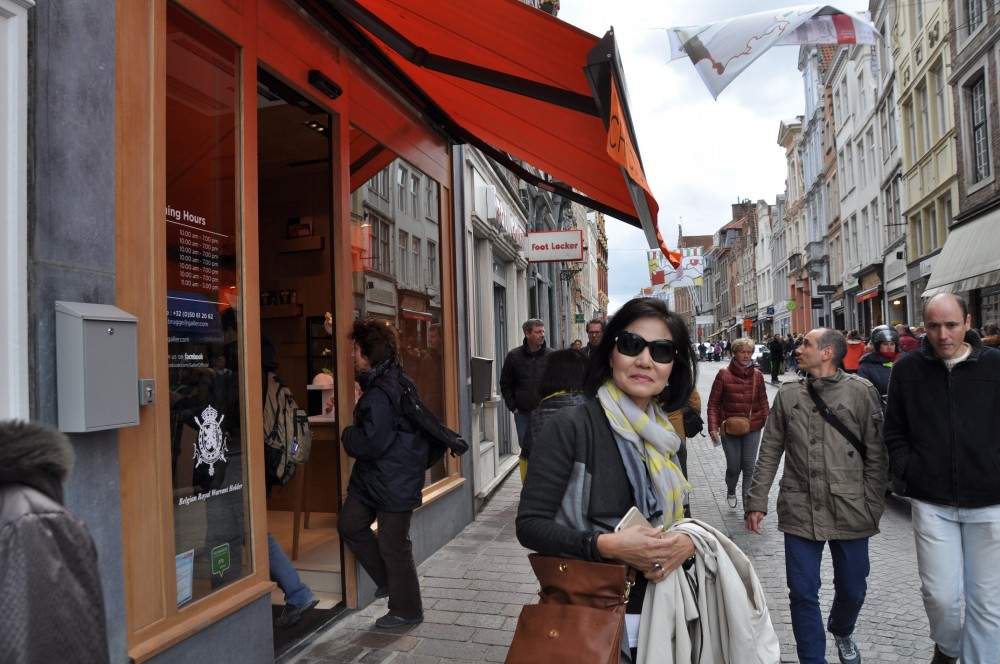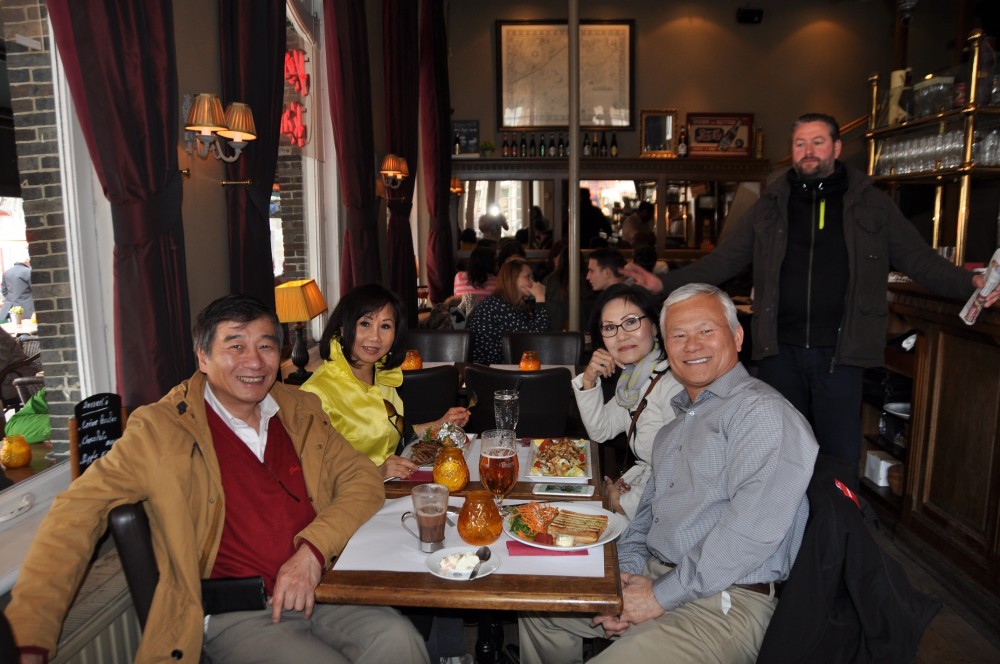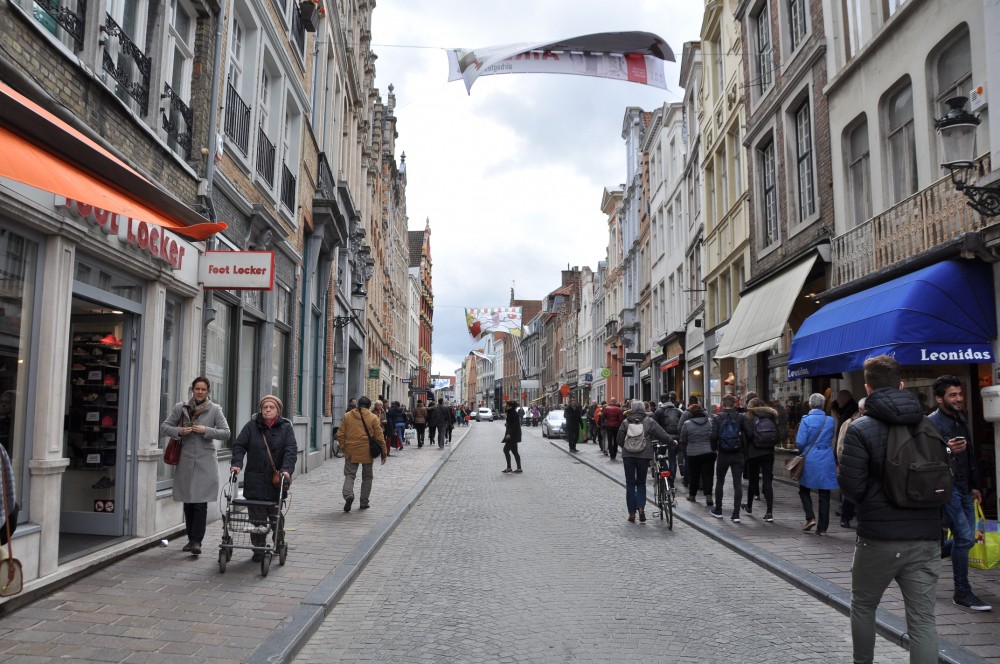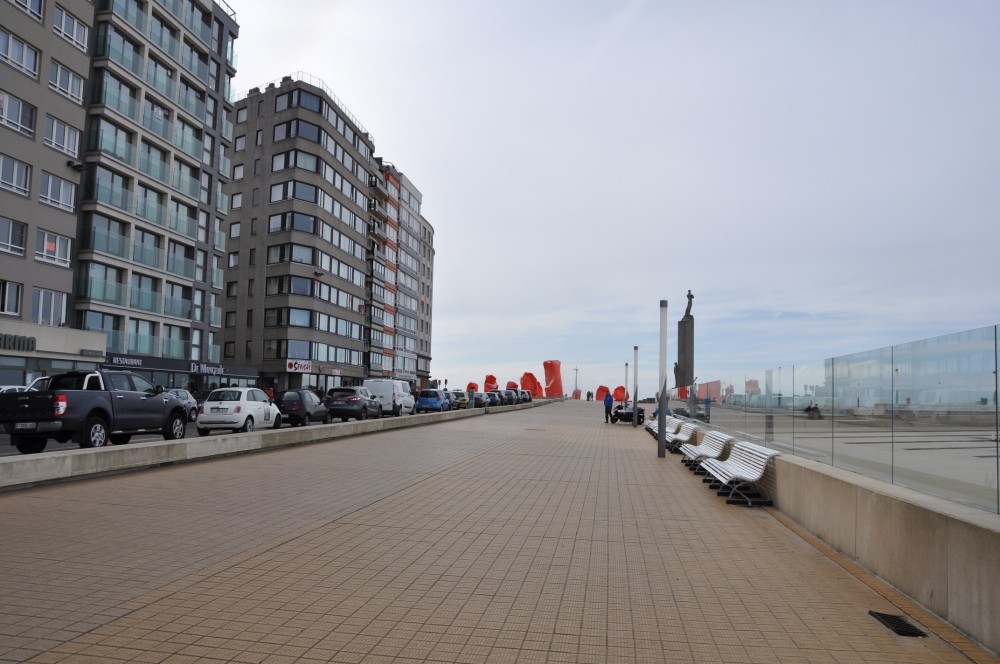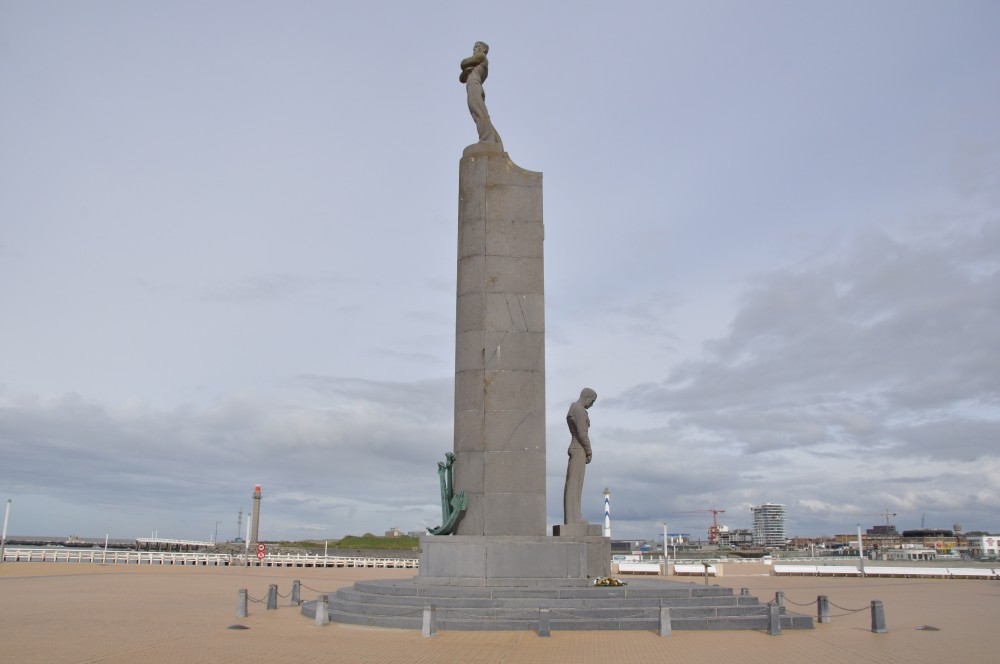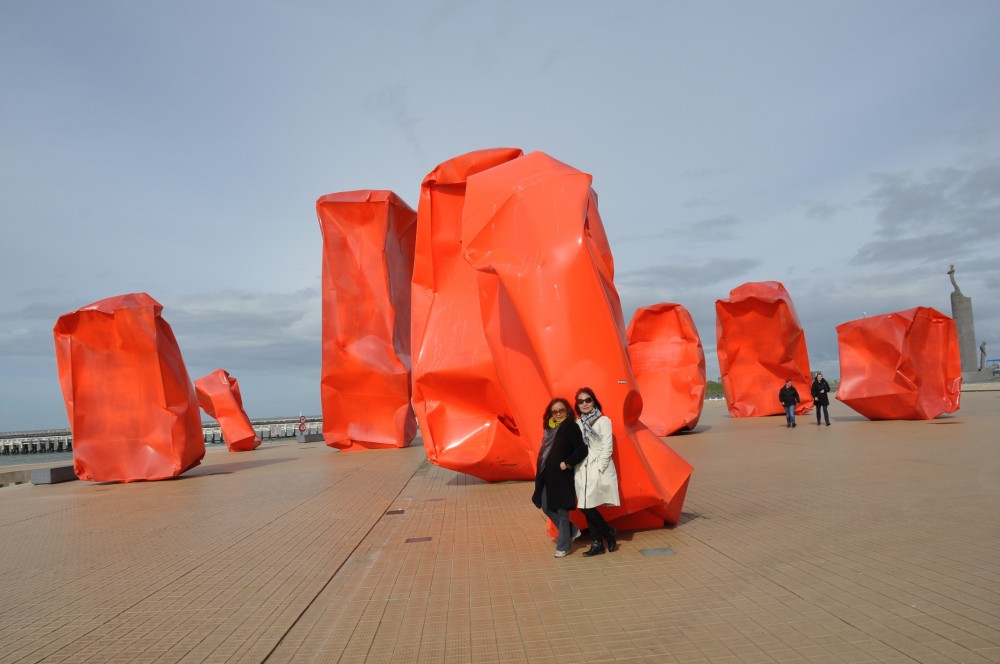 We turn around and head south to Brussels, capital of Belgium and the administrative capital of the EU. After making a quick stop to look at the Atomium sculpture, we join our friends, Nhan and Oanh and their children in Brussels city center for a dinner of mussels and fries, lobsters and fish, and we even have the original Belgian waffle and ice cream.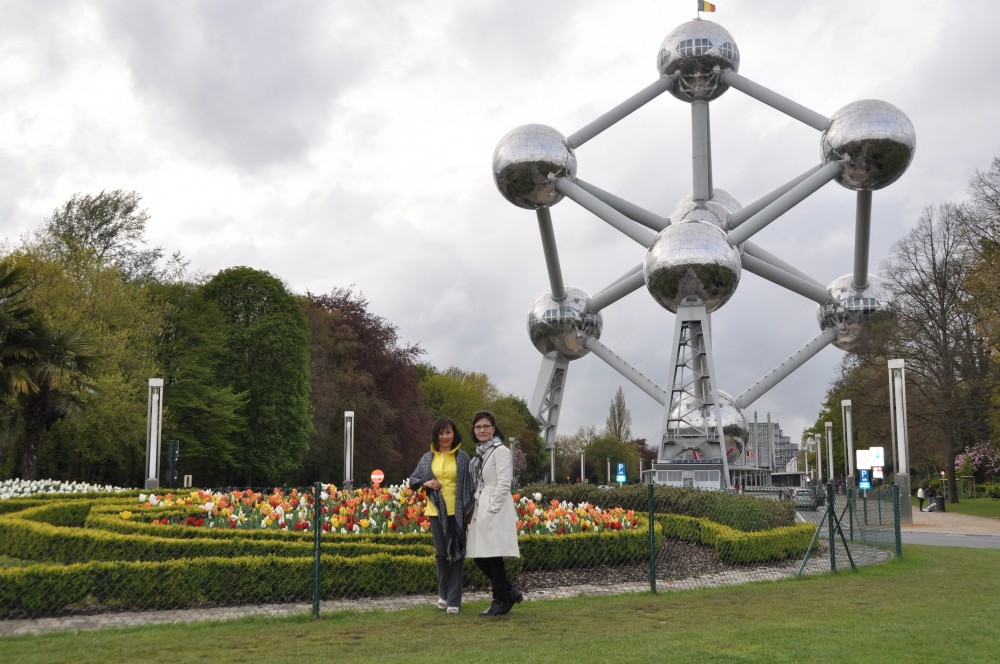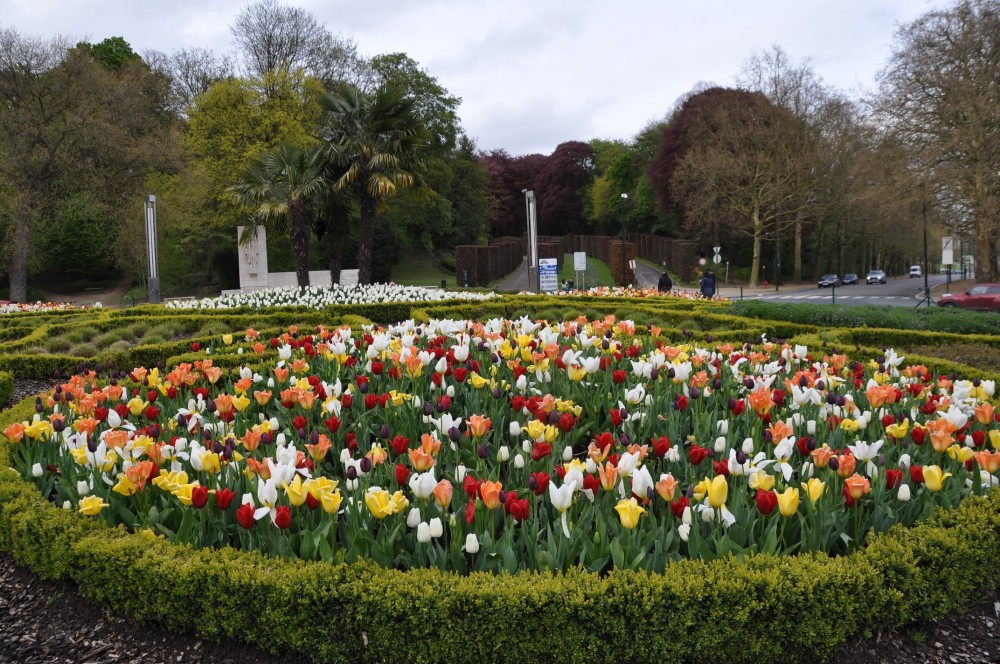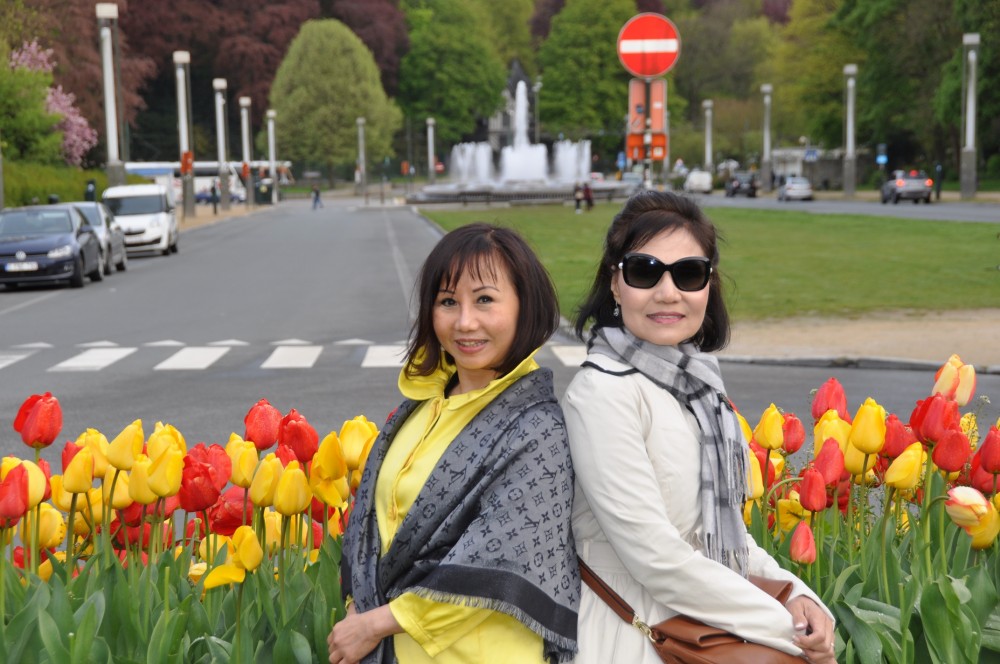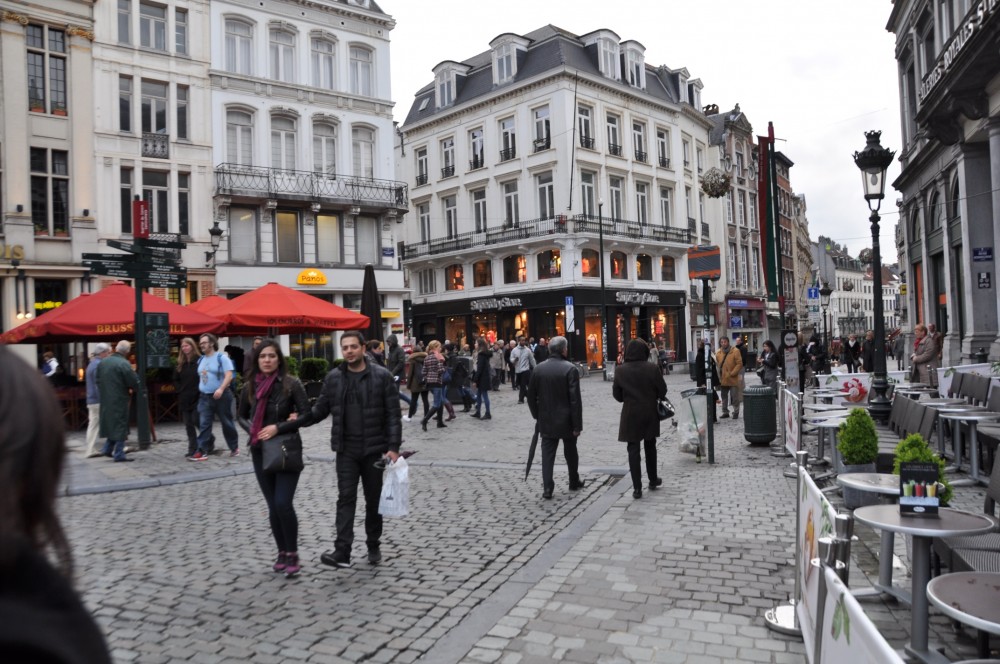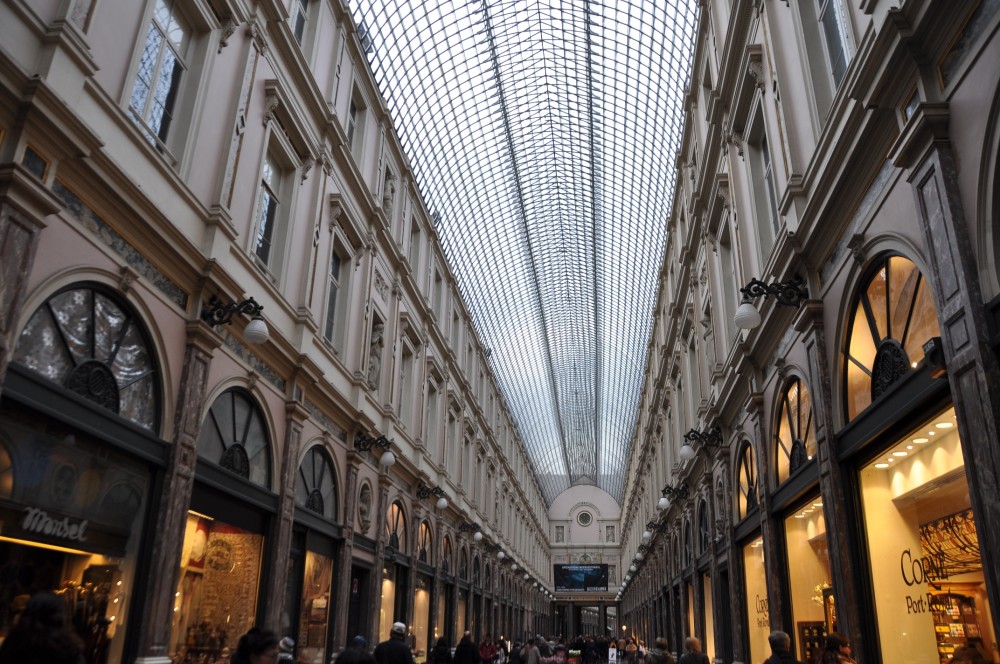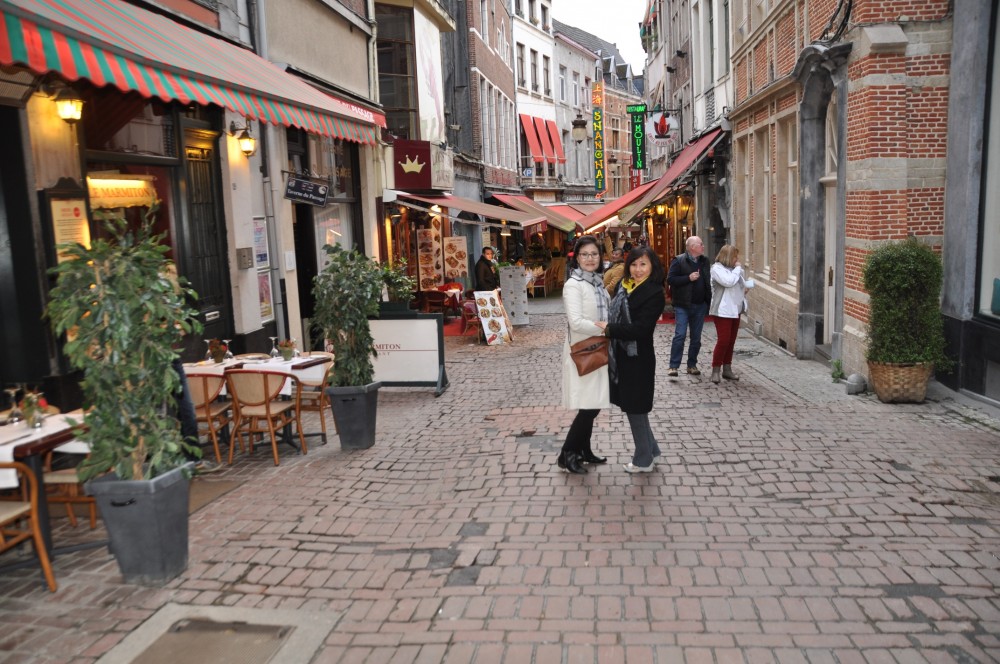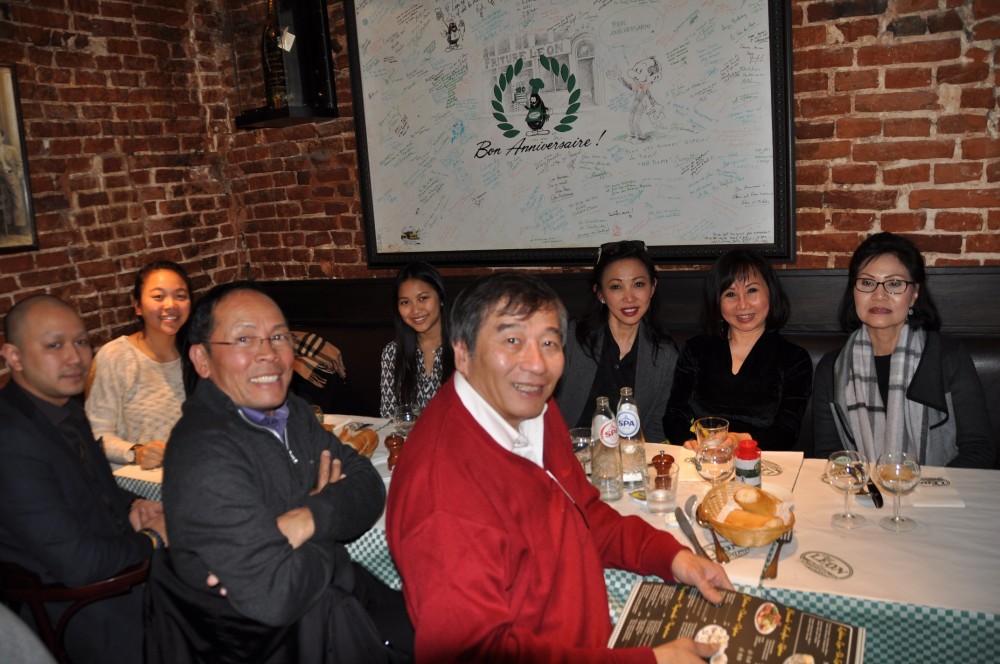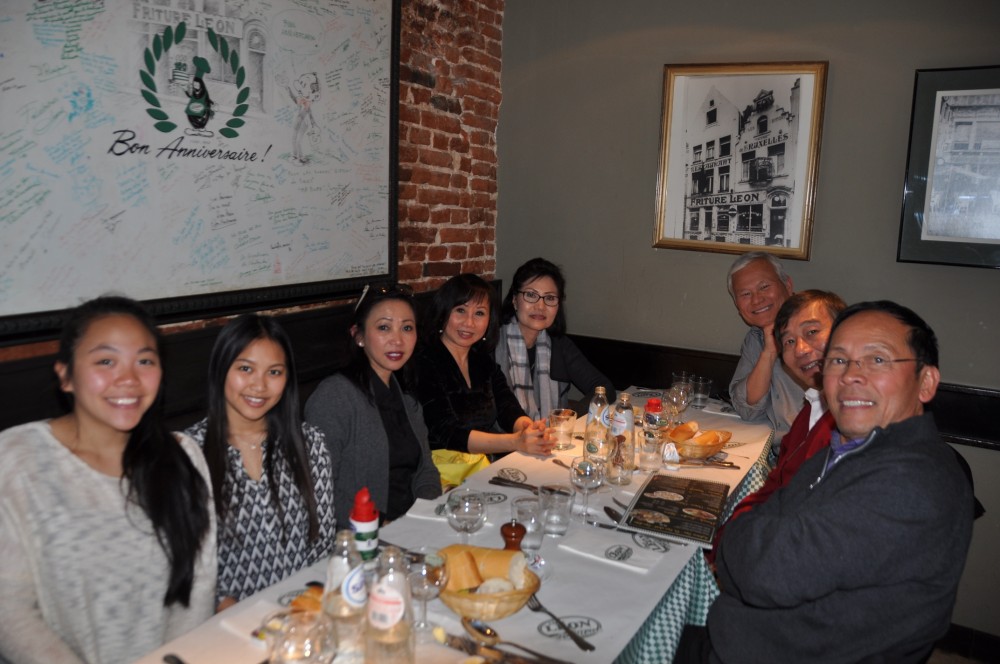 We enjoy spending time with these people