Monday, May 2, 2016. Prague, Czech Republic



After checking out of the hotel, we walk 5 minutes to the Hoofddorp train station, buy tickets and take a five-minute train ride to Amsterdam Schiphol Airport. Then, we board an Easy Jet plane for a 90-minute flight to Prague, the Czech Republic.

Arriving in Prague, we take our luggage, go through custom, and meet the shuttle driver whom we had arranged to pick us up.

The Czech Republic as a country is small. It's about one tenth the size of the state of Texas but you would not know that from looking out the car windows during the drive from the Vaclav Havel Airport to downtown Prague.

We check into our hotel, the Unitas Hotel, in a quiet section of Prague. It's a beautiful and spacious building; and also steeped in history. The building used to be a Catholic Church convent, then converted to a state secret police prison, then reclaimed after the Velvet Revolution, and reconstructed into a beautiful hotel.


​​

The trams, our main form of transportation in Prague
These are called trdelniks, czech specialty donuts
Beautiful Old Town with magnificent architecture
Prague is known as "City of Hundred Spires"
Statue of Jan Hus in Old Town Square, a symbol of independence
Dinner at Oliva Verde right in Old Town Square
The Old Town is a short walk from Charles Bridge. Being there is like stepping back into history – in this case the 12th Century. Old Town is a giant square, one of two main squares in Prague (with Wenceslas Square being the other). It is surrounded by ancient buildings, magnificent churches, shops, and restaurants. The square is close to vehicular traffic and the wide space is opened up for pedestrians, sidewalk cafes, and fountains. We've been to great squares in France and Italy but have never seen anything like this before. On one side of the square, stands the Town Hall Tower with the astronomical clock which gives visitors a wonderful performance every hour and on the hour. Other sides have the Tyn Church and St. Nicholas Church.

In the evening we have dinner at an outdoor restaurant right in the square to conclude a fantastic day.

Short rest for beer and tea
An excellent dinner of salad and pizza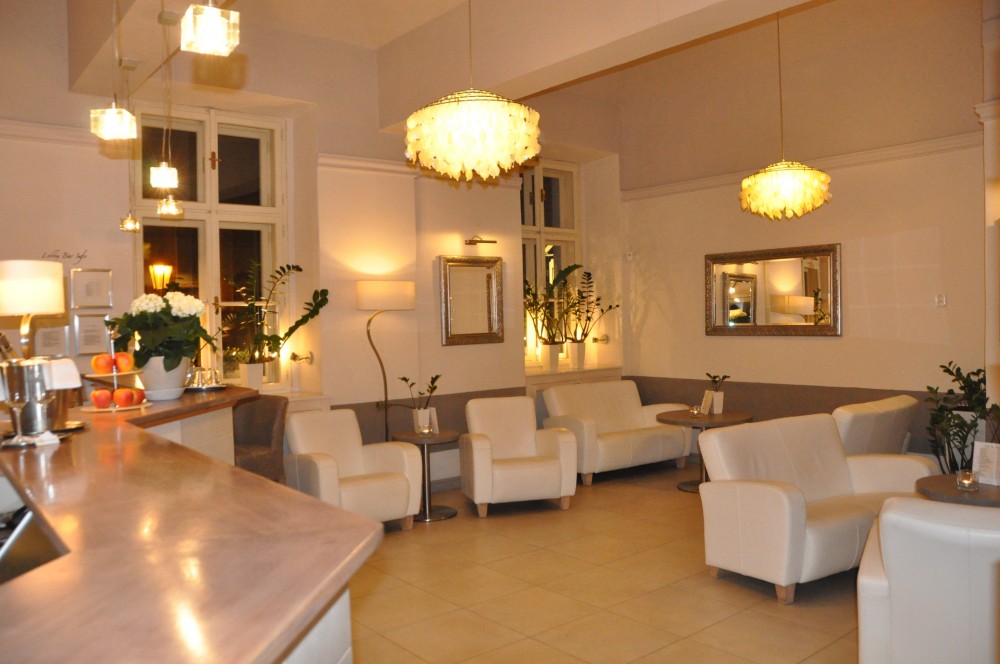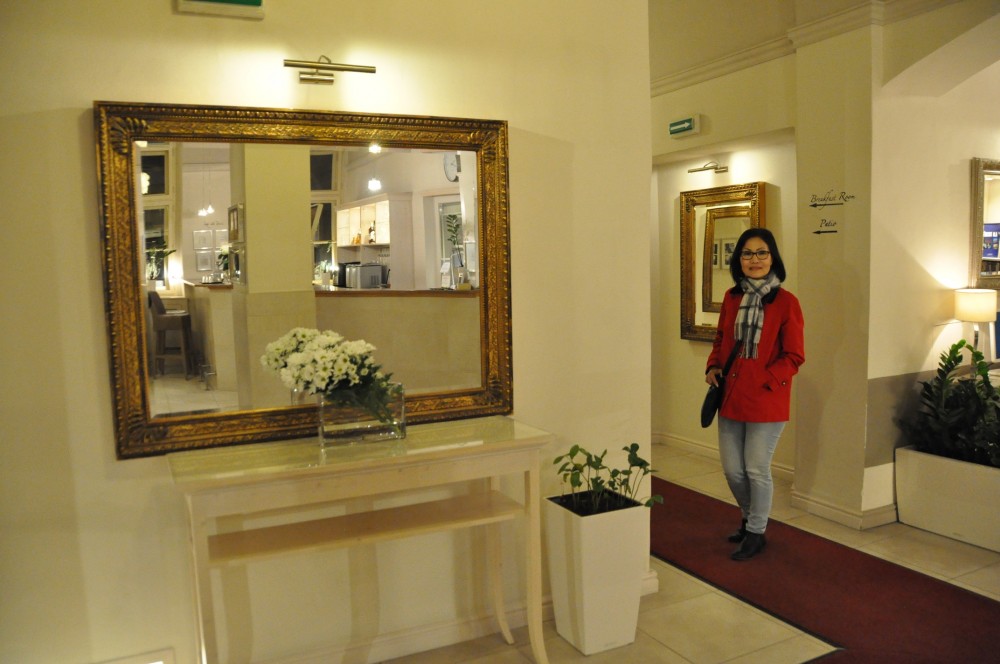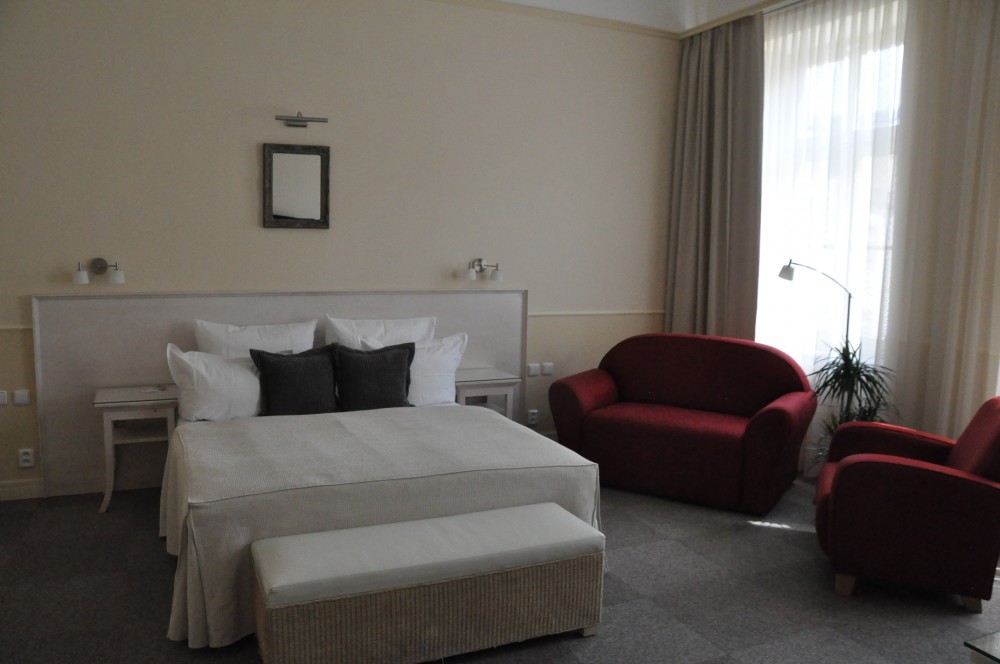 We put down the luggage in our room, then proceed to explore the City. Prague is a city that mixes old and new. Everywhere you look, historical buildings share space with modern ones.

On this late April day, it was sunny but cool and the streets and sidewalk are filled with pedestrians.

From our hotel we walk down Narodni Boulevard then take Tram 18 from the Narodni divadlo Station to Old Town Square (Staromestska Station) to visit Charles Bridge, a famous historic stone arch structure that spans the Vltava River. Religious statues line both sides of the bridge which frame the City in a spectacular way. Pedestrians, painters, street vendors and performers compete for prized locations on the bridge. We walked across the bridge with frequent stops to enjoy the sight and sound of a vibrant City.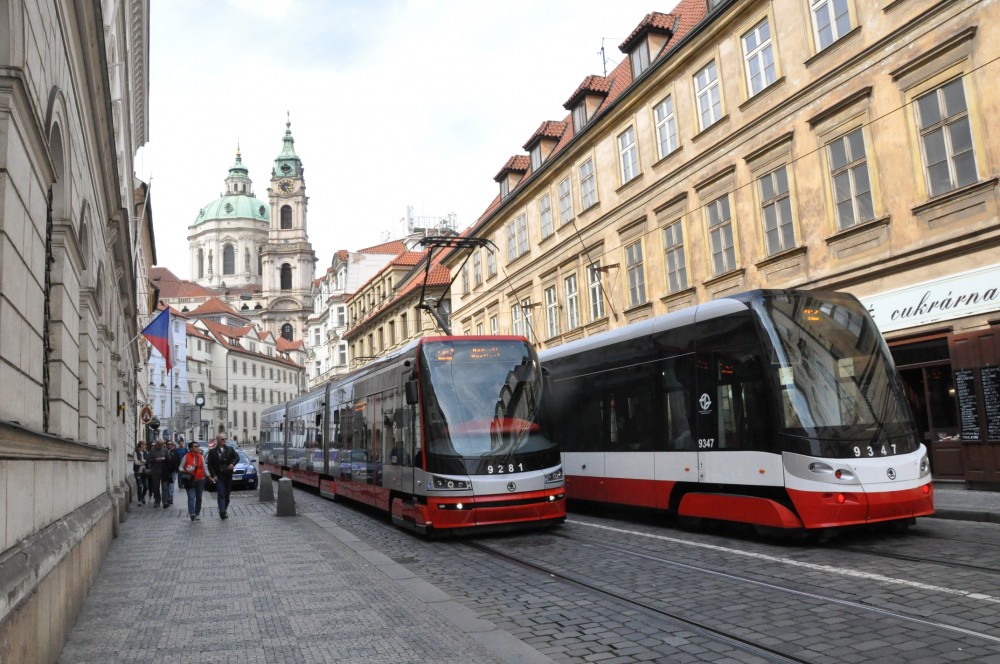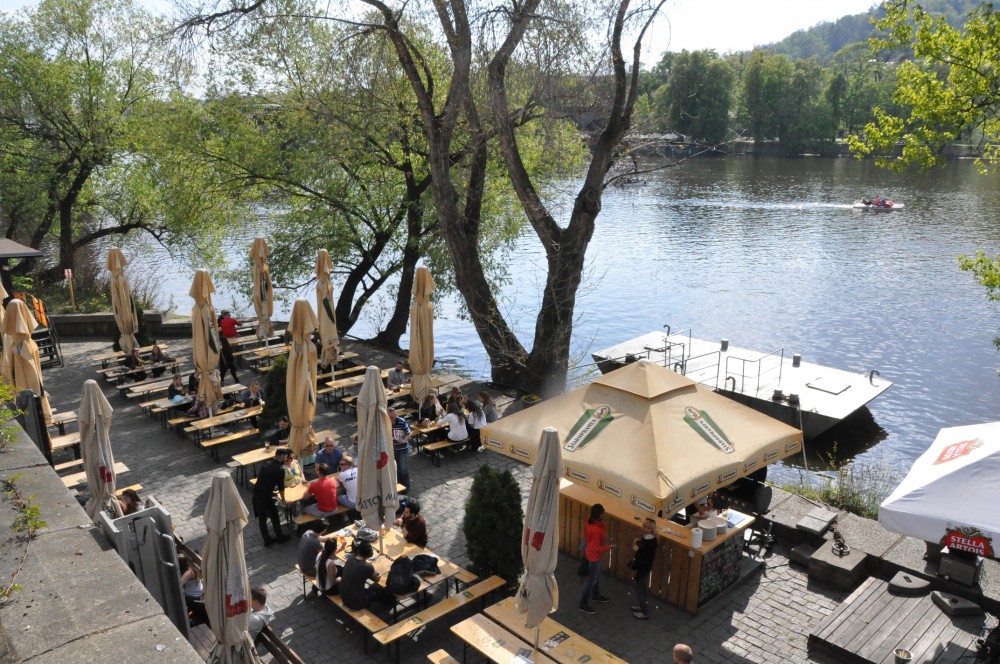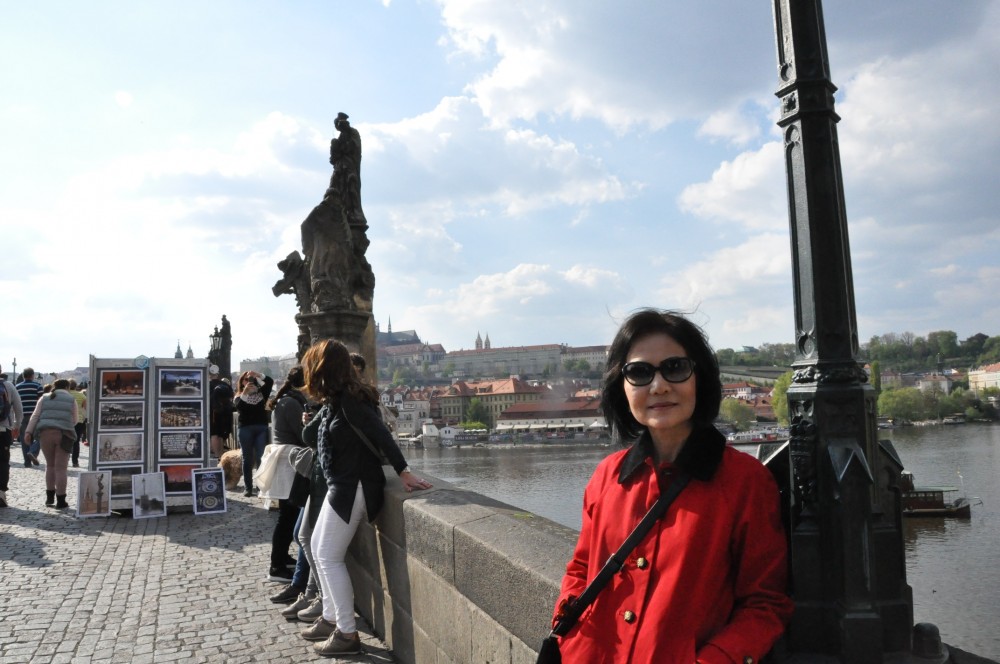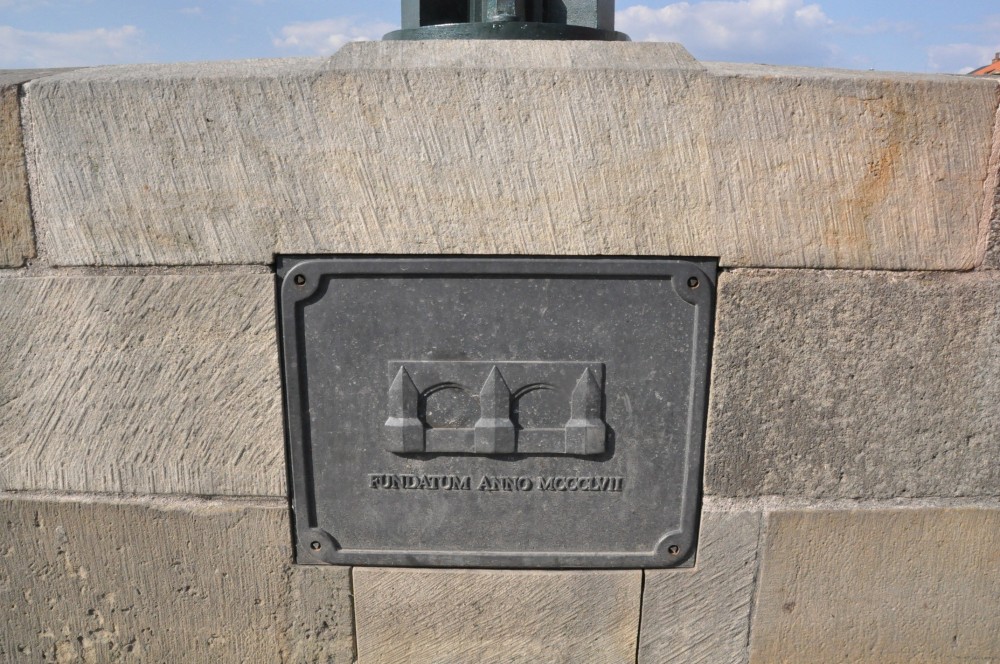 One of many statues on Charles Bridge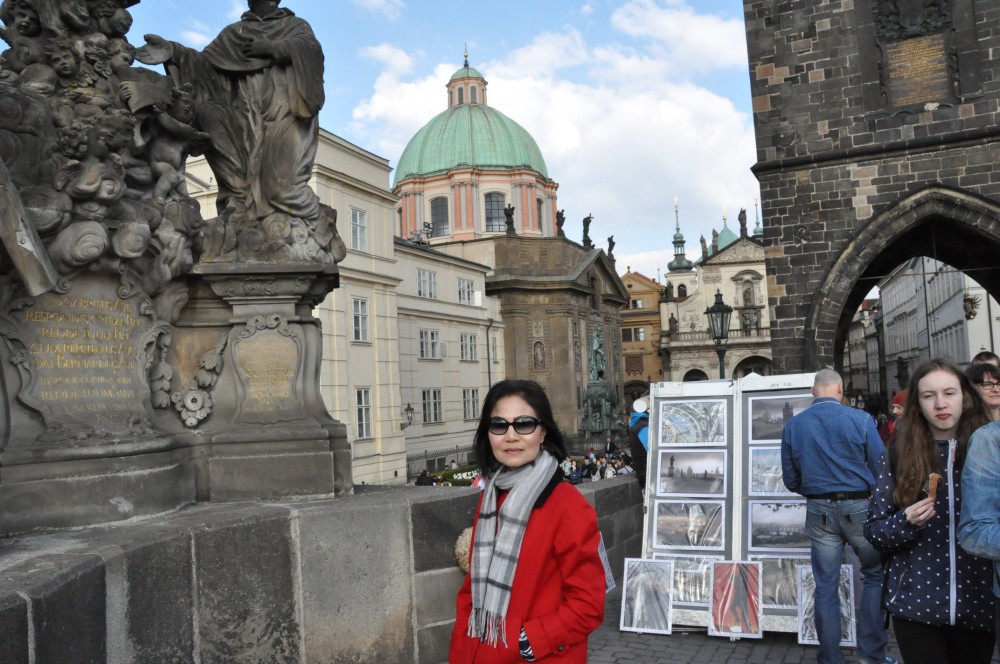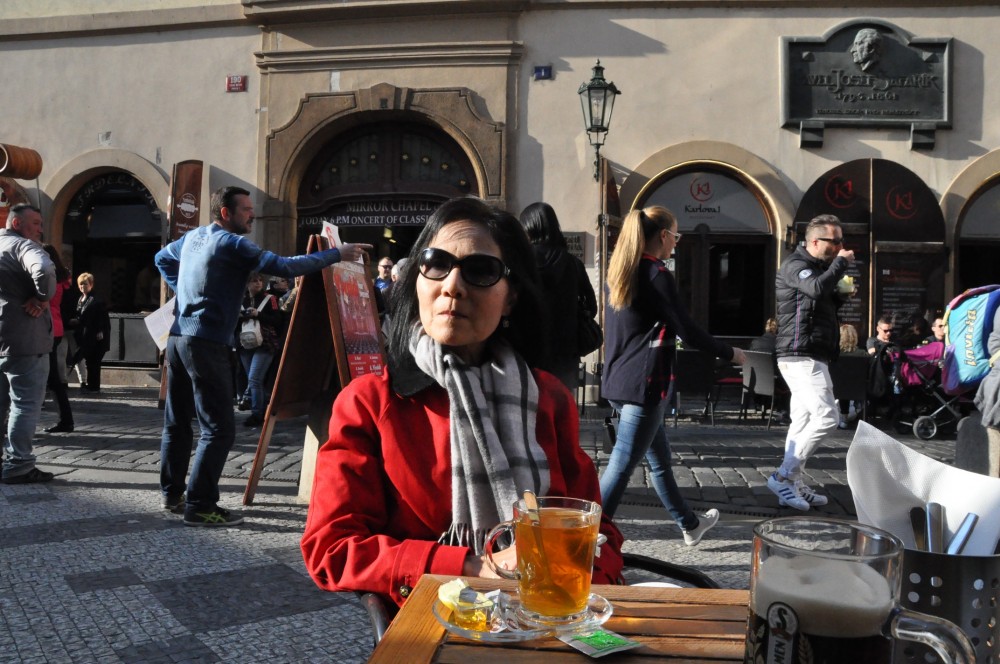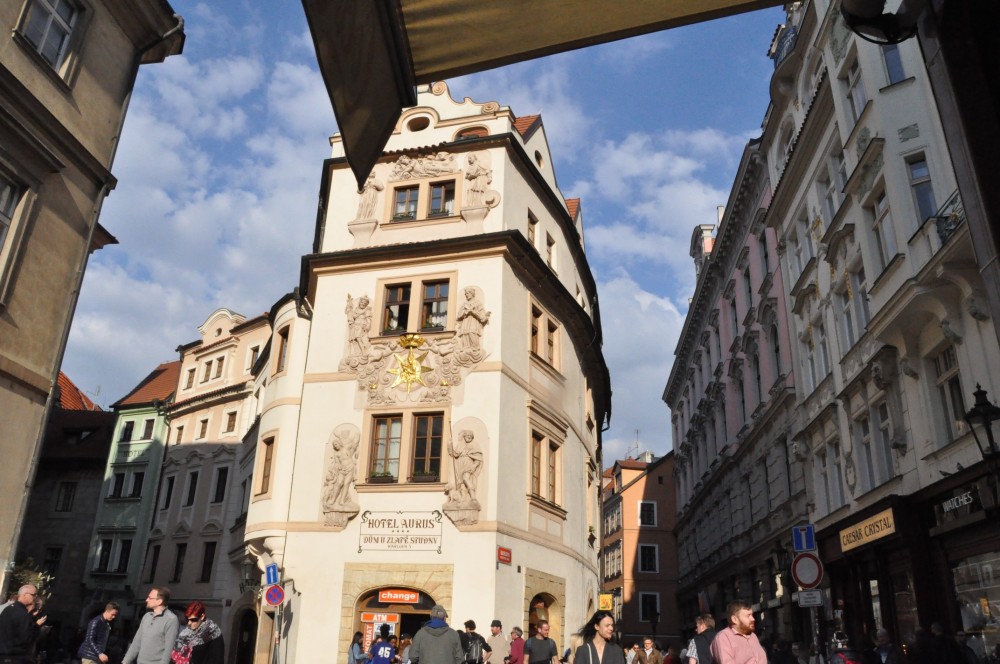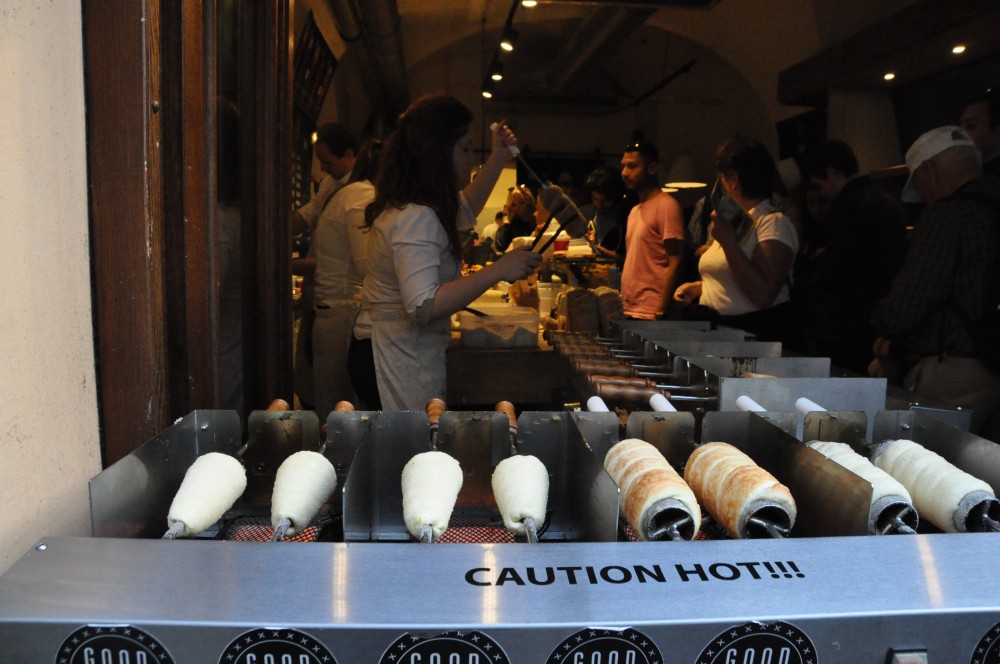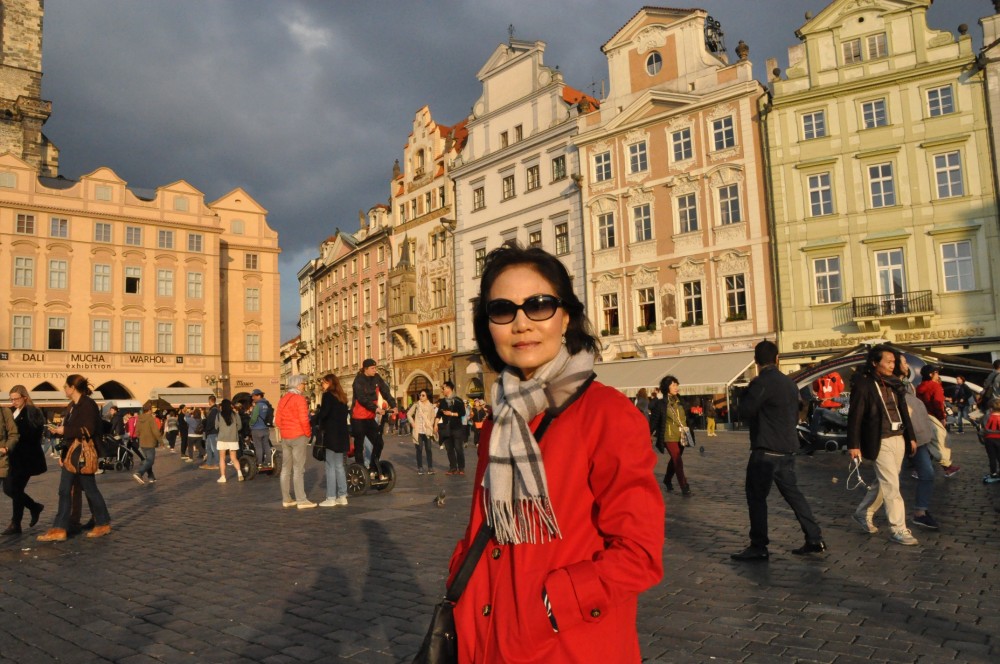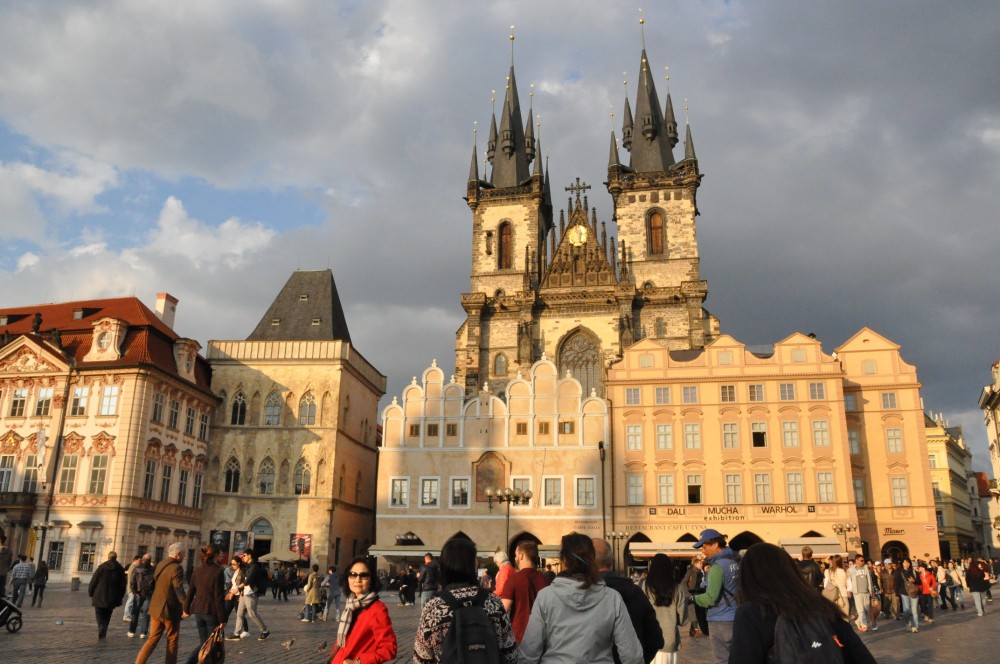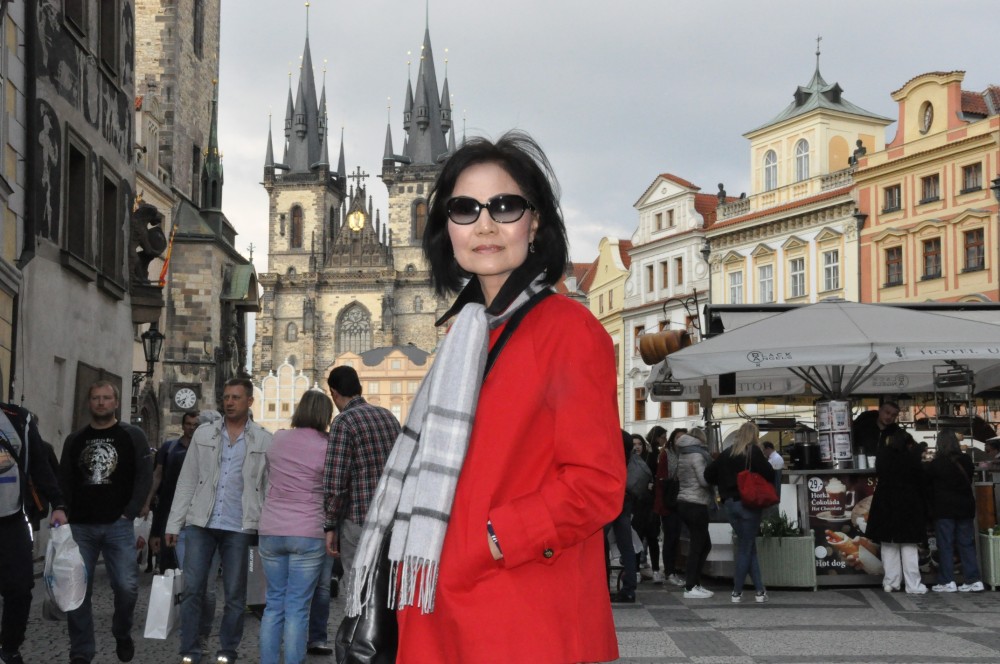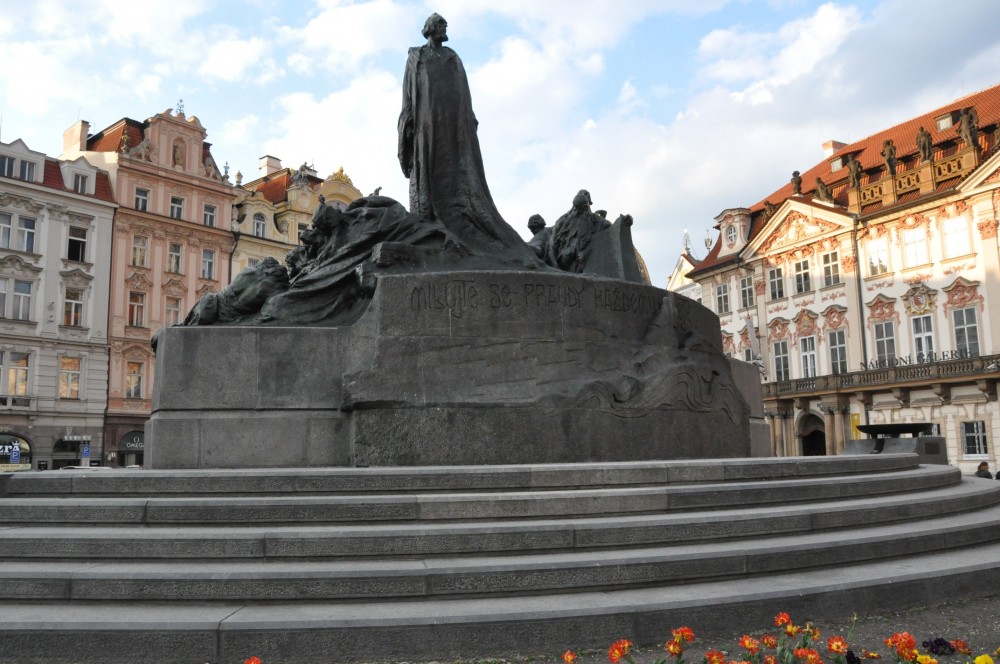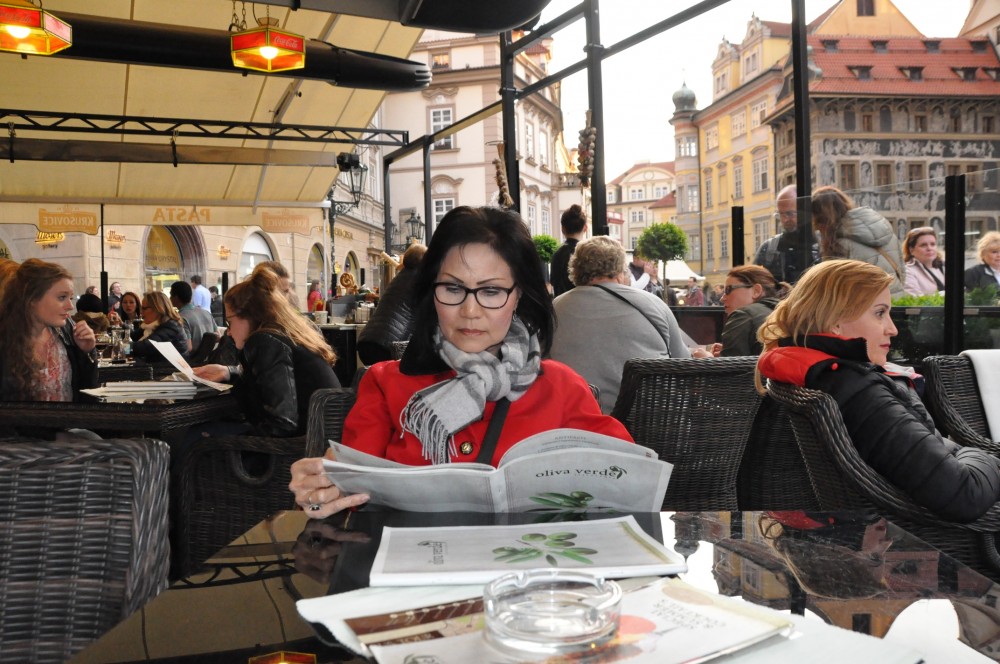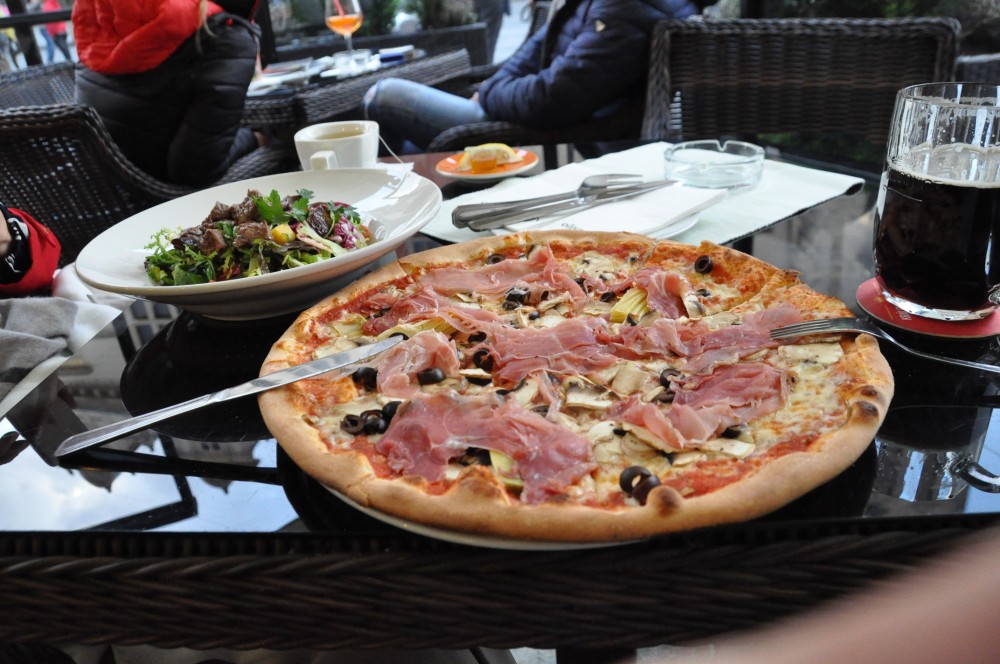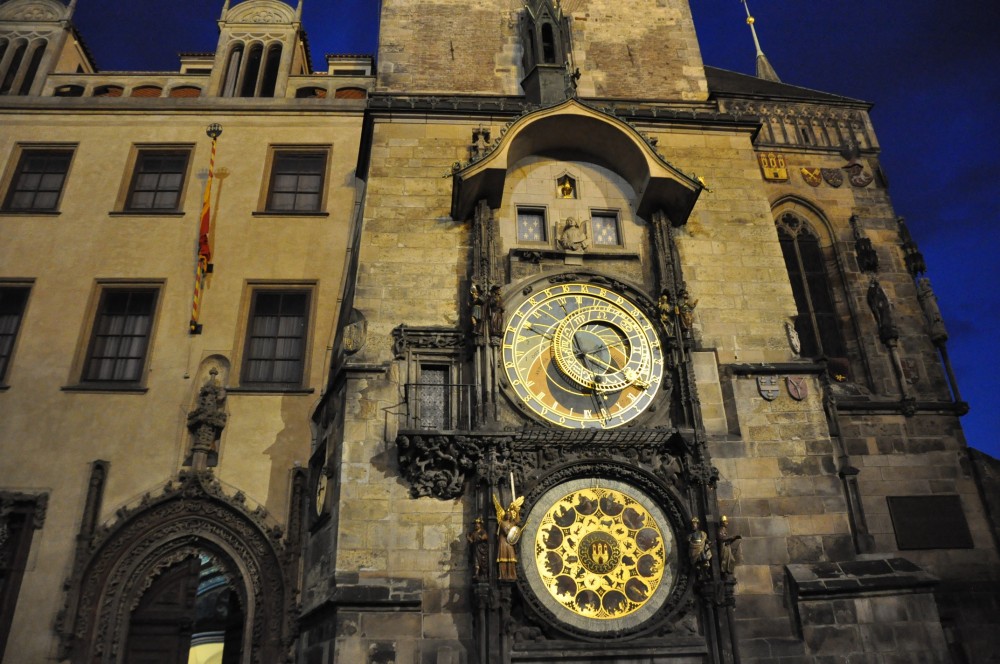 People gather here every hour to watch this astronomical clock perform