It has been a long time since we last visited Monterey, California but that place always occupies a soft spot in my heart because it's the city that welcomed and embraced me when I first set foot in this great country as a foreign student 44 years ago.

​​I am forever grateful for the hospitality and fellowship given me by the people of Monterey and the students I met at the Monterey Peninsula College.
​
In a couple of days, Lee and I will achieve a new milestone because we will have been married for 40 years and to mark the occasion, we decided to come to Monterey to celebrate our ruby wedding anniversary.


Stock picture of Monterey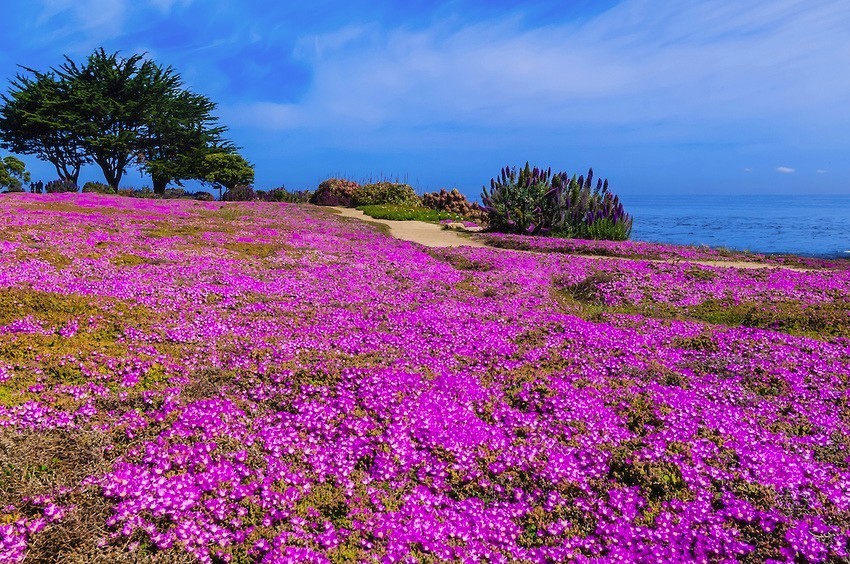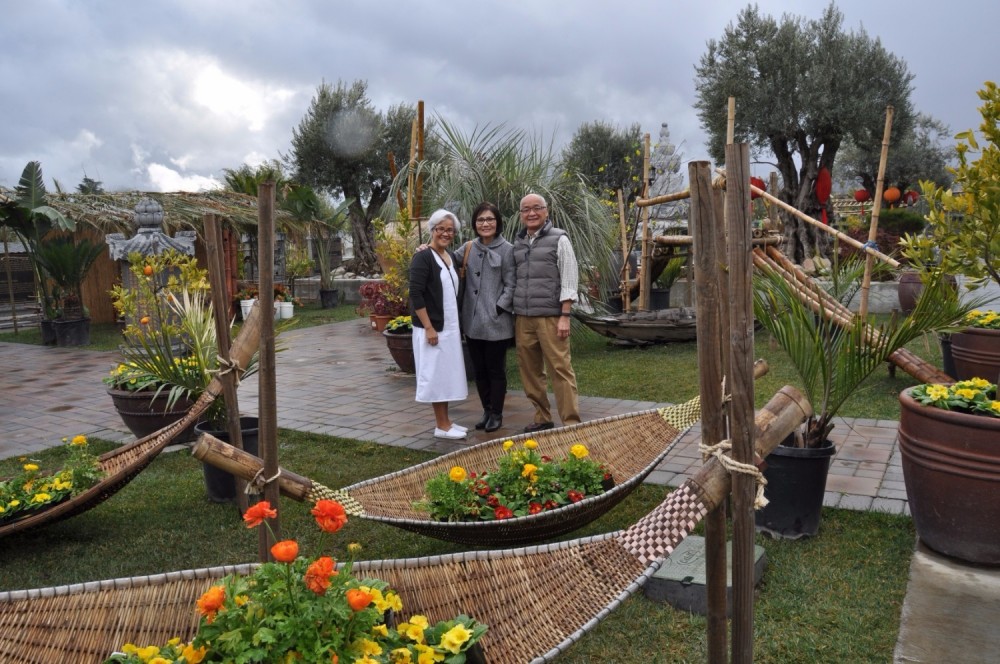 Kieu, Lee, and Tin at Tam Tu Pagoda
Friday, February 3, 2017
​
We leave our home early to take an 8:30 AM flight from Dallas Love Field to San Jose, CA. The early Southwest Airlines flight is on time and half full so everyone has room to stretch out which is great for a relatively long 3-hour flight. Could this be a sign that we will have a very successful trip?
​
After gathering our luggage, we pick up a rental car and drive to Santa Clara to have lunch with our friends (my two college friends and their wives) at Chungdam Restaurant, a wildly popular Korean restaurant in the area. Over two hours and dishes after dishes of delicious and spicy foods, we talk about our families, careers, and the glorious time we'd spent at the University of Texas at Arlington in Texas.

After lunch, as we're headed to Monterey on Highway 101, Tin and his wife, Kieu, take us to Tam Tu Pagoda, a Buddhist temple just off of the highway. The temple, set in a large plot of land, is so quiet and peaceful and since the Lunar New Year passed just a few days ago, the temple is still full of New Year traditional decorations including lots of plants, colorful flowers, and exotic fruits.
​
We spend time taking pictures then say goodbye to our friends before heading south to our final destination.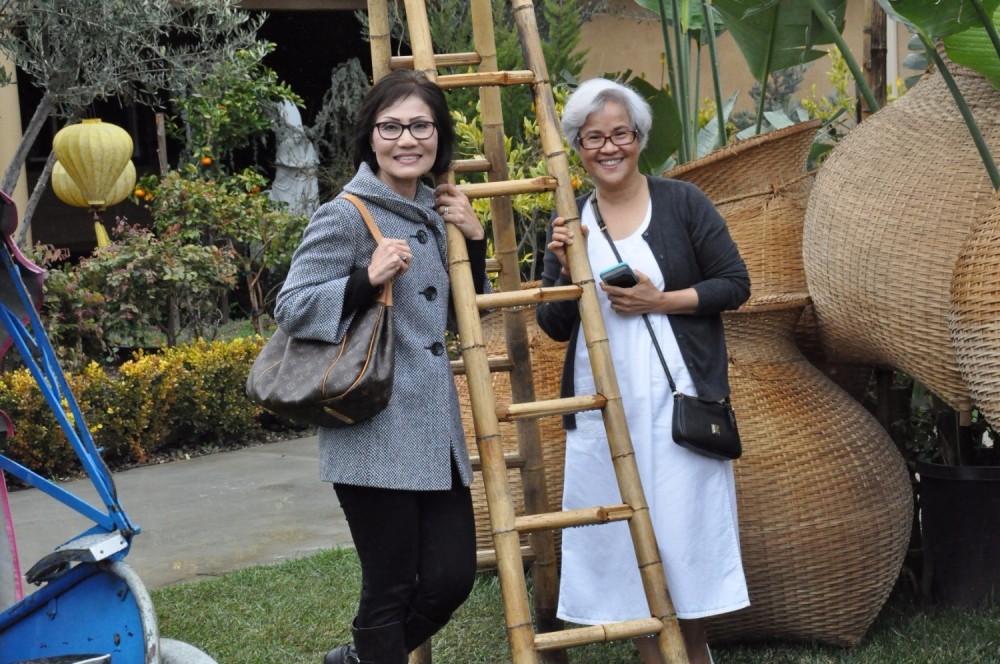 Lee and Kieu among the temple Lunar New Year Decorations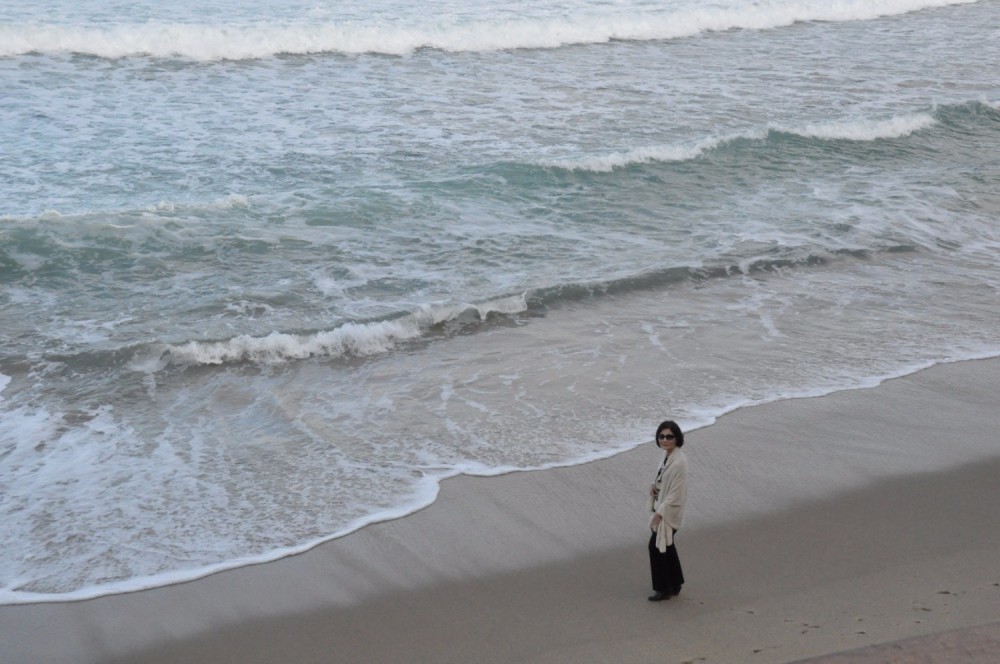 Saturday, February 4, 2017


​
We are staying at the Monterey Tides, an old motel that has been renovated and is now part of the French Joie de Vivre hotel chain. The hotel sits right on the beach and the lobby and restaurant have excellent view of the sea and Monterey Bay. Our room is spacious but it feels dated.
​
Beach behind Monterey Tides Hotel
The weather turns out much better than the forecast because it is sunny and warm this morning. We stop for coffee and enjoy the view from the hotel restaurant, the Café Beach, before meeting Lee's childhood friend, Michelle, and her husband, Djung, who are coming all the way from San Ramon to meet us.
​
The four of us jump into our rental car and we begin our tour of the City. Del Monte Avenue near Fisherman's Wharf is full of cars this morning and the trail parallel to the street is also crowded with walkers, joggers and bicyclists. People are out and about on this beautiful Saturday morning.
​
We park our car on Cannery Row and walk out to the edge of the sea breathing in the fresh ocean air, window shopping, and taking pictures. Cannery Row has transformed itself from a dilapidated area with a few run-down record stores and coffee shops when I lived here, to a clean, modern and vibrant tourist attraction today complete with posh hotels, restaurants, and shops.
​
We get a window table at the Bubba Gump Restaurant and lunch on excellent seafood and salad while watching sailboats floating by on the calm blue sea of Monterey Bay.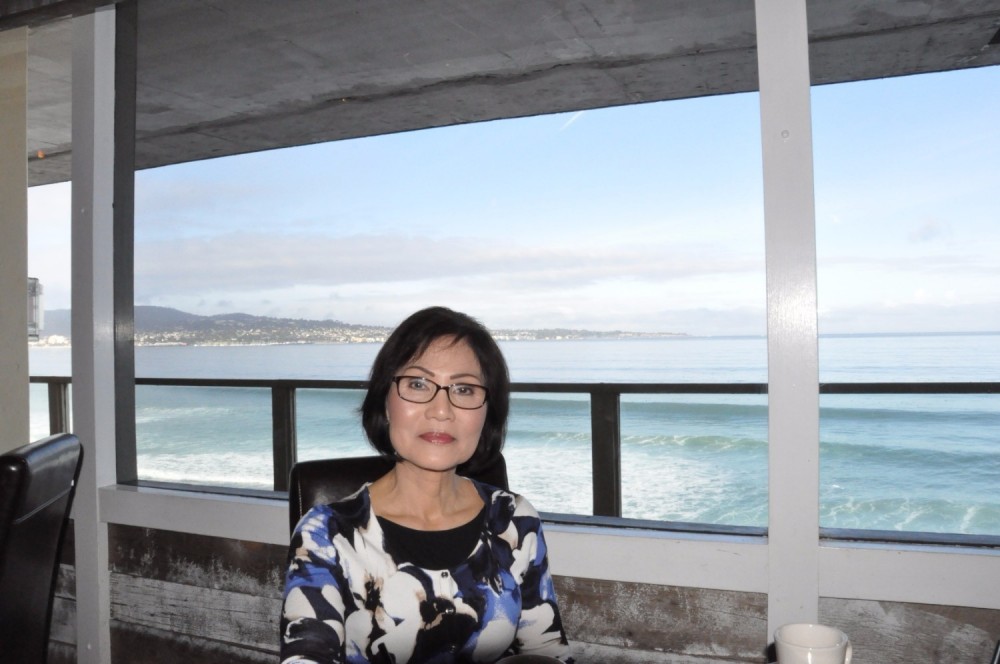 Cafe Beach at Monterey Tides Hotel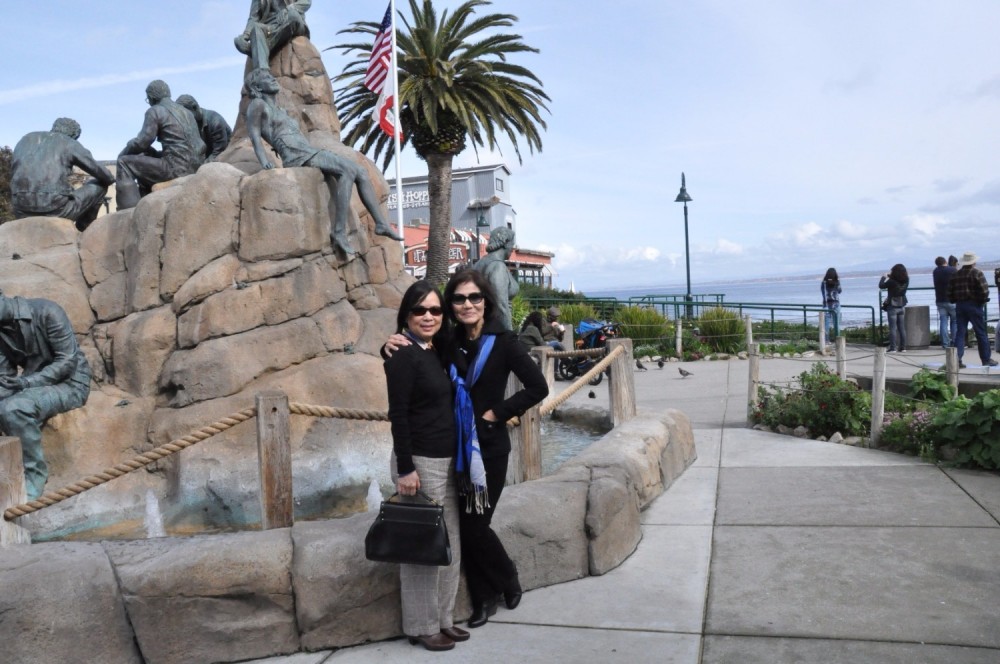 Lee and her childhood friend, Michelle Nhung, on Cannery Row
Cannery Row Monument in Steinbeck Plaza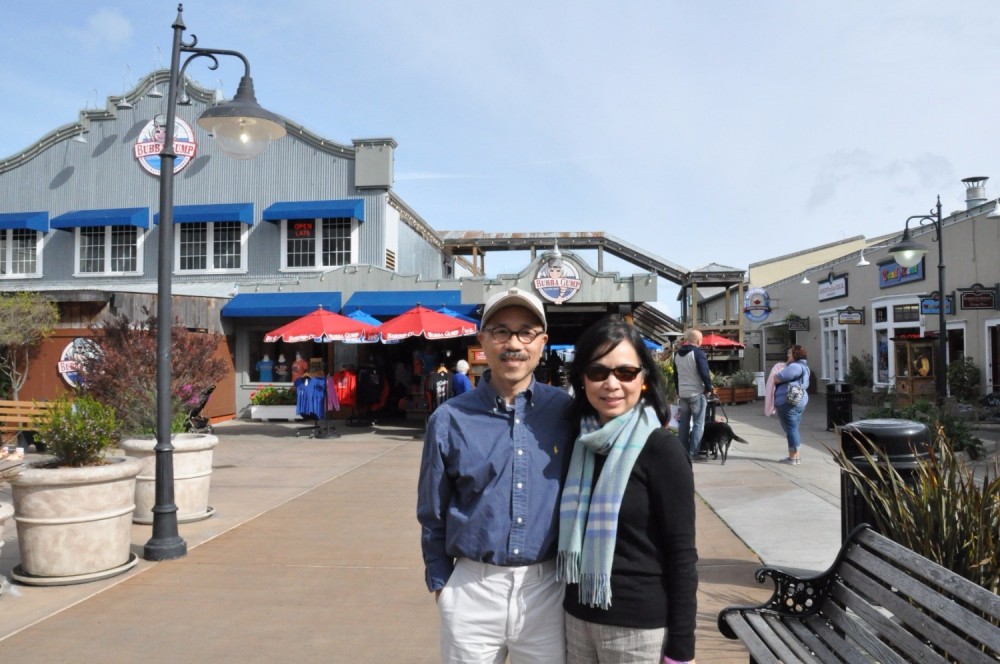 Michelle and husband, Djung, in front of Bubba Gump Restaurant in Cannery Row
It's a beautiful day in Monterey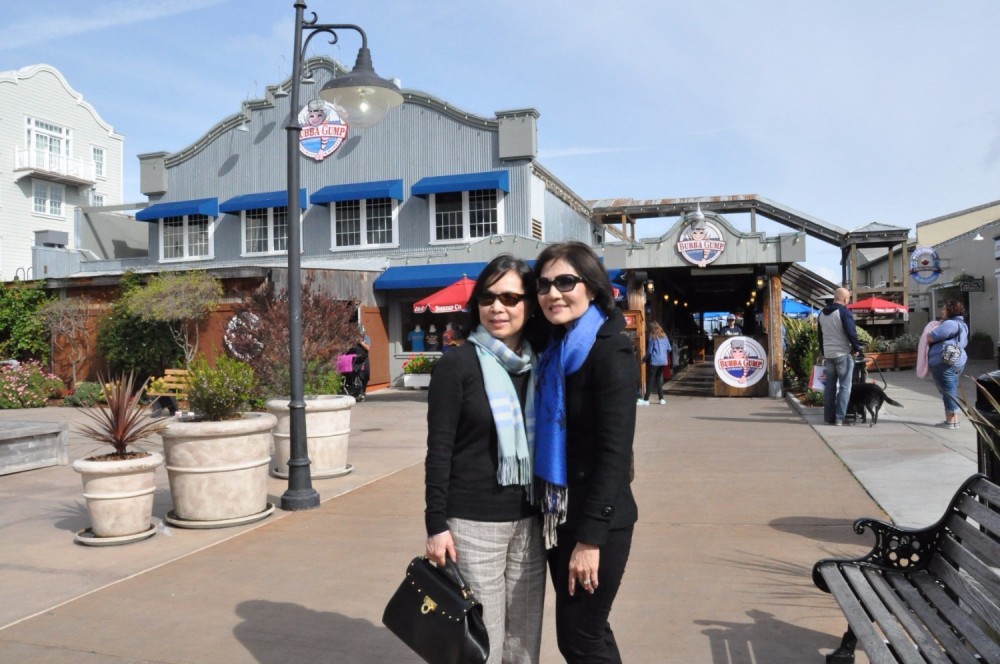 After lunch we drive by Pacific Grove on the winding Ocean View Boulevard to the tip of Monterey Peninsula before entering the famous 17-Mile Drive, the two-lane road that takes us through one of the richest and most picturesque areas of the region. We stop along the way to admire the rocky coast, the beautiful homes, the lone cypress tree standing in the wind, and the magnificent Pebble Beach Golf Course.
​
Exiting 17-Mile Drive, we find ourselves on Highway 1 and a few minutes later, Ocean Avenue in Carmel-by-the Sea. This charming town is also a tourist magnet but off-season, it is not very crowded at all.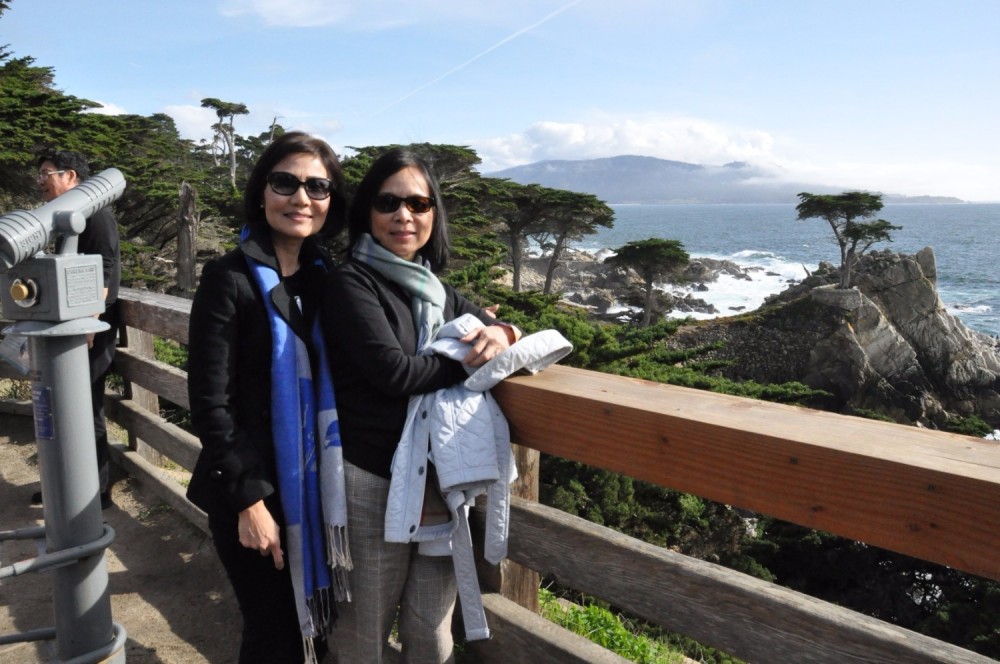 17-Mile Drive. The Lone Cypress in the background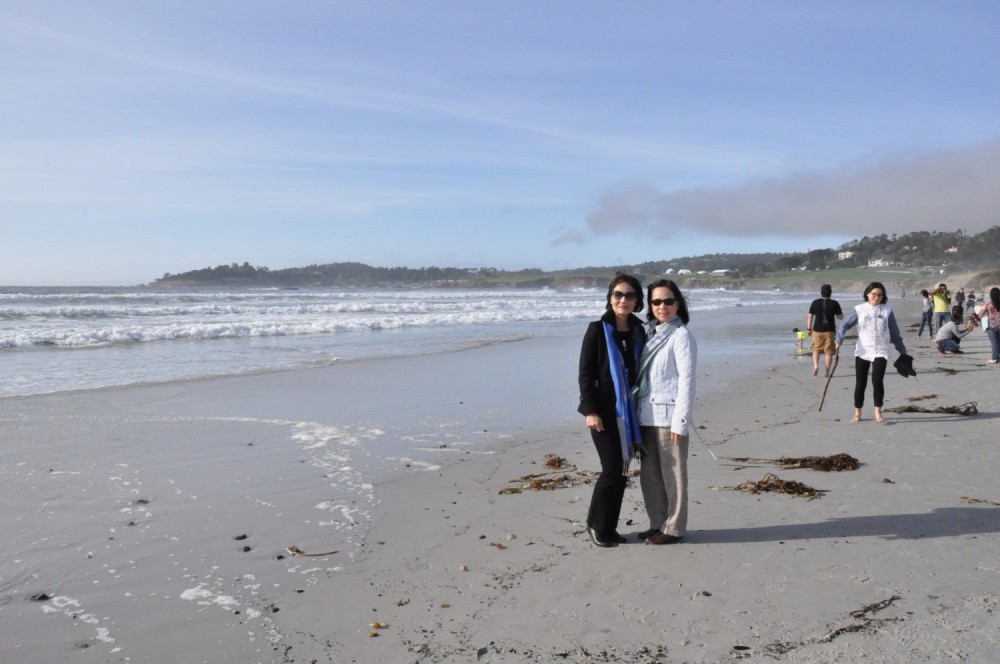 Sunset Beach in Carmel-by-the-Sea
We park our car just off of Sunset Beach and walk down a steep slope to the beach. We take pictures of the beach and ourselves among throngs of people in warm clothing walking and sunning on the beach, and playful kids splashing about in the cold water.
​
Back in the car, we drive to another section of Carmel-by-the-Sea and stop for coffee and desserts at Carmel Coffee & Cocoa Bar in the beautifully landscaped Carmel Plaza. We linger over coffee and talk for a long time before we drive back to Monterey to drop our friends off.
​
This has been a great day and we are glad Michelle and Djung are here to help us celebrate our special day.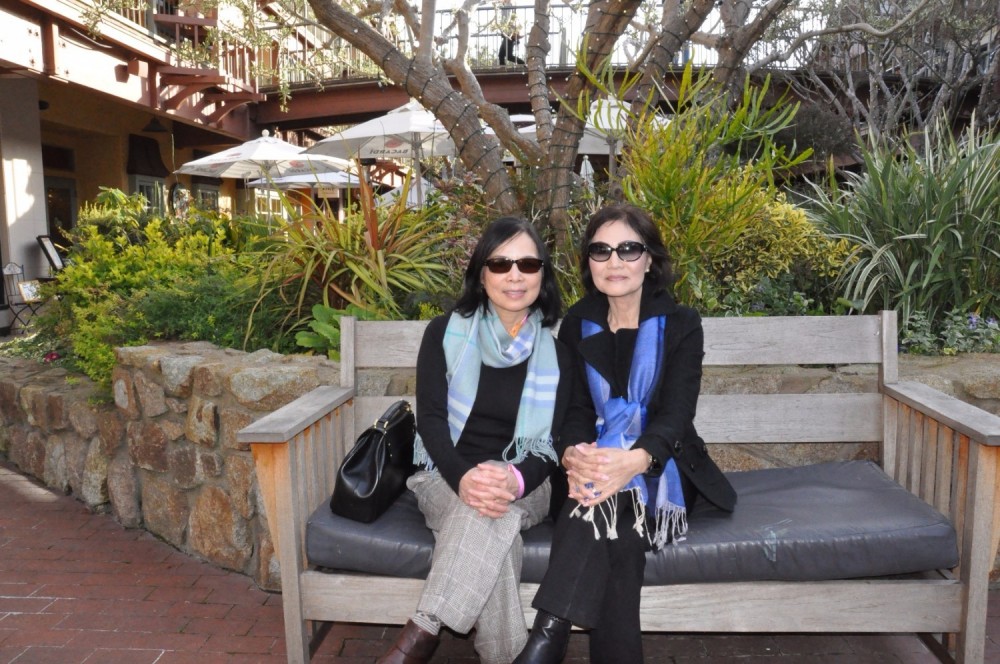 Two friends in Carmel Plaza.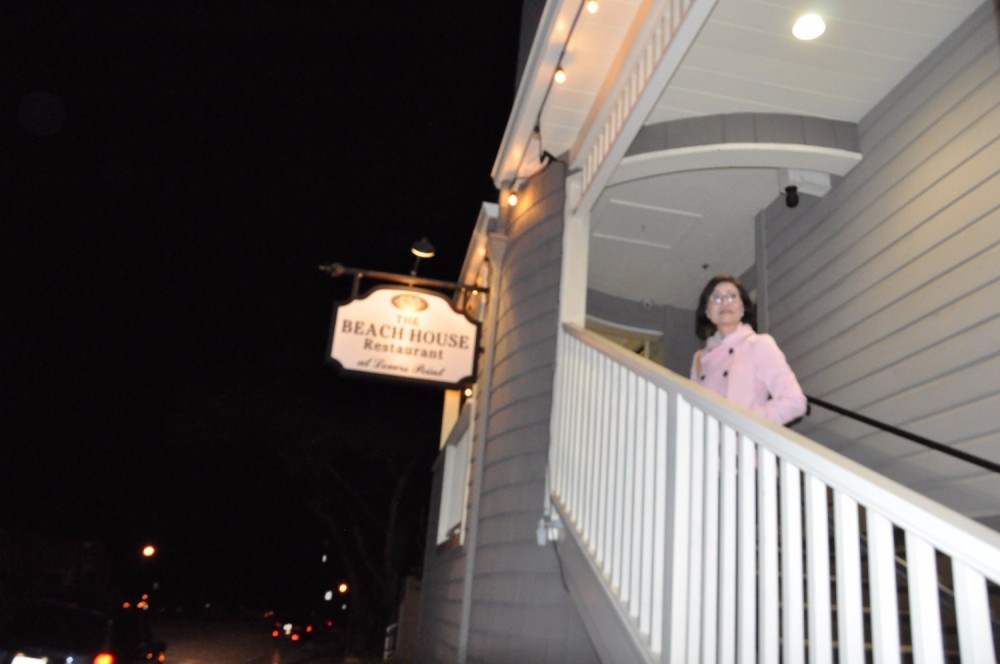 We celebrate our anniversary with a sunset dinner at this restaurant in Pacific Grove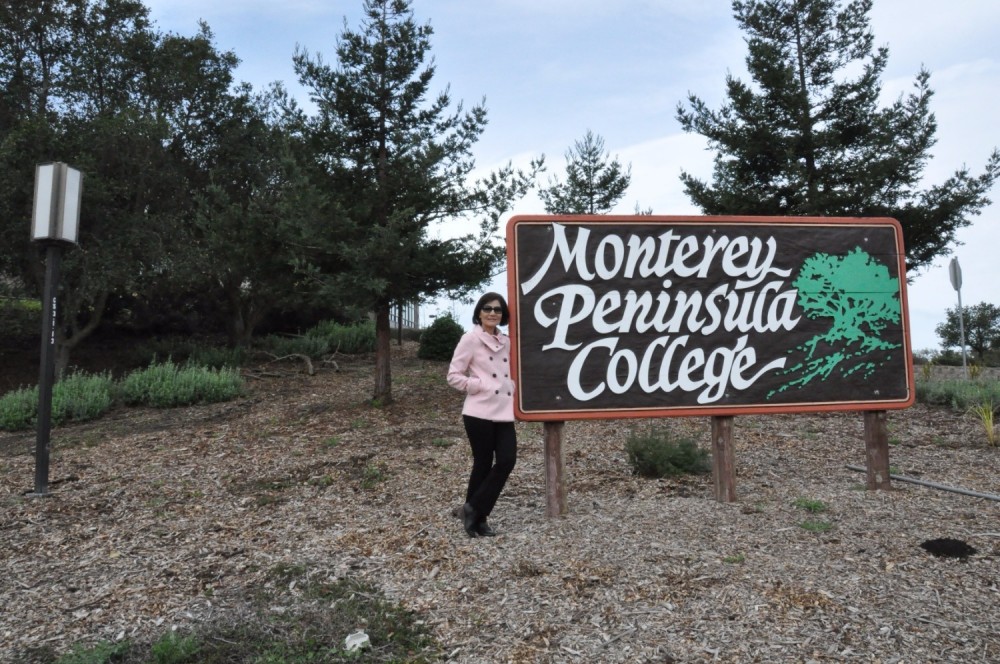 Sunday, February 5, 2017
​
It's another beautiful day in Monterey. I get up early and while Lee is still asleep, I get on the road to look for the place I used to live, a home owned by a kind couple who gave me and another student a room in their basement when I first came to Monterey.
​
My memory has faded and all I can remember is that the house is on a small road that has many beautiful homes, it's near a golf course and within 20-minute drive from the college. It takes me a while to finally locate the road (Manor Road) and eventually the house. The brown two-level ranch house nestled among the tall pine trees still looks the same. I park the car and gaze at the house for a long time, and the pleasant memories I have of Monterey begin to flood back. I am so glad I took the effort to return to this place.

I went to this college 44 years ago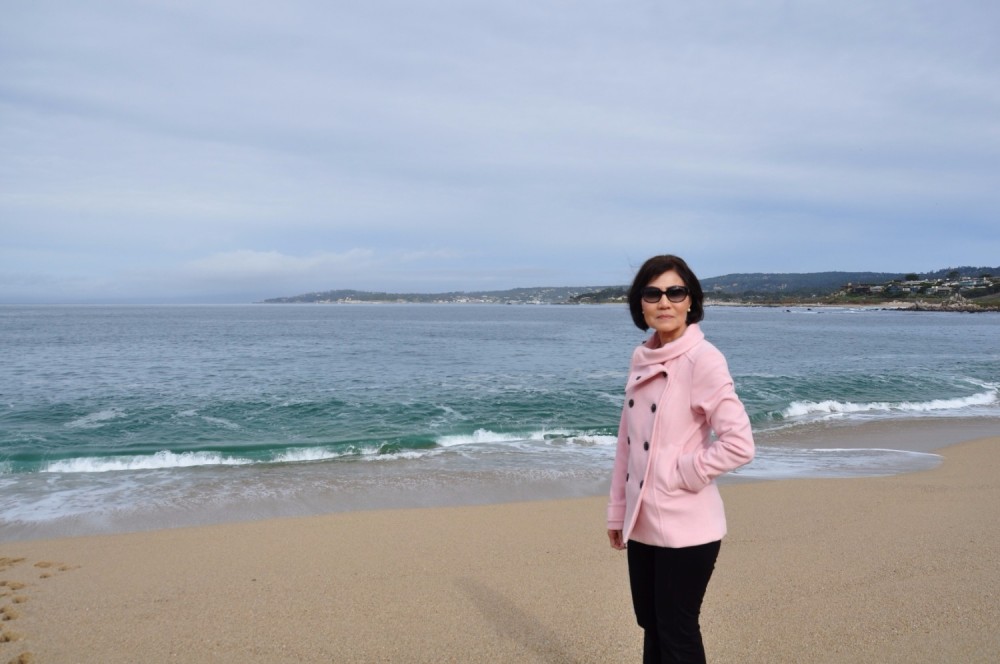 Monastery Beach off of Highway 1 on way to Big Sur
Returning to the hotel and finding Lee ready to go, we get some breakfast and get on Highway 1 heading south towards Big Sur.
​
So many great things have been written about Highway 1 and they are true. The beautiful two-lane road winds along the rugged California coastline, mountains hug it on one side, and the restless sea embraces it on the other side. We drive through the highlands, next to beaches, across fields of wild flowers and groves of tall trees, over deep ravines, and around sharp curves. We stop often to take pictures and pinch ourselves because we cannot believe how beautiful the scenery and the weather is on this February day.
​
We stop at Big Sur for refreshment and more picture taking then turn around to head back to Monterey. It had rained heavily the previous week and we can still see remnants of floods and mud slides along the highway in Big Sur.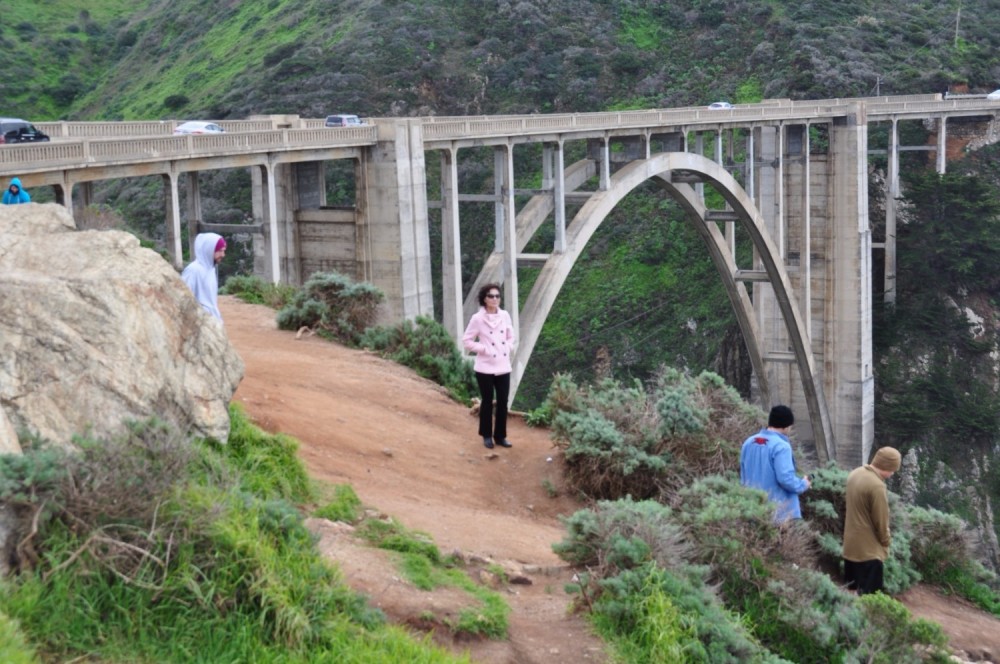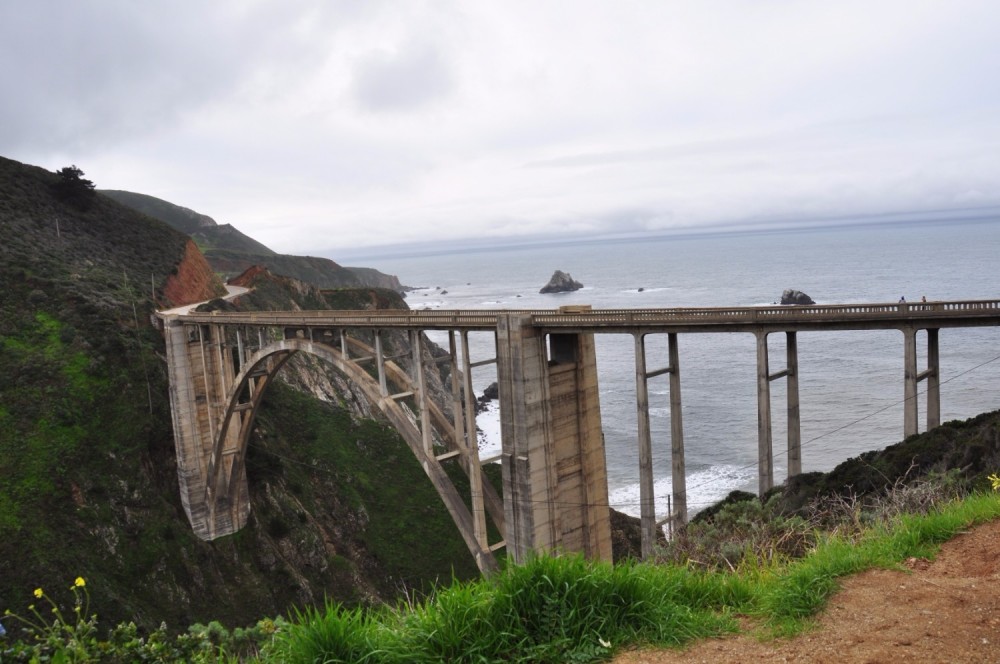 The famed Bixby Creek Bridge
Bixby Creek Bridge on Highway 1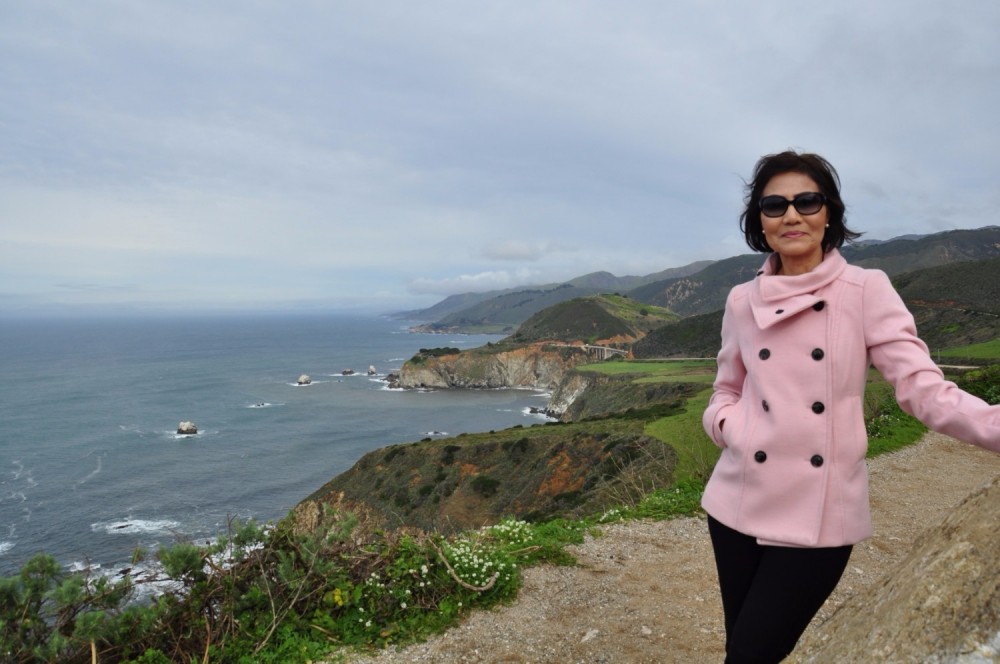 So many places to take pictures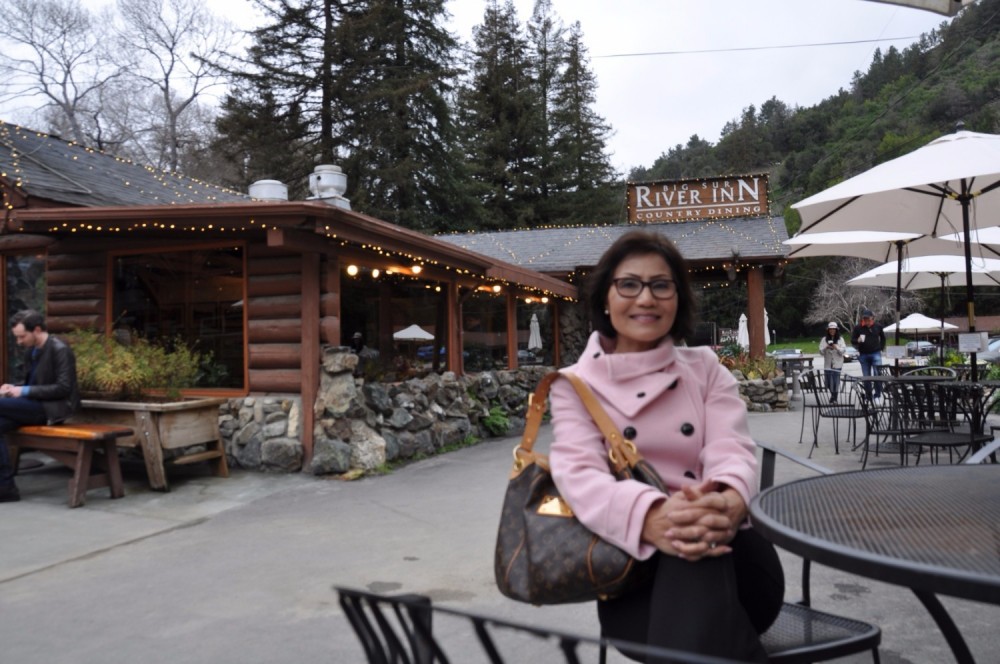 River Inn Restaurant in Big Sur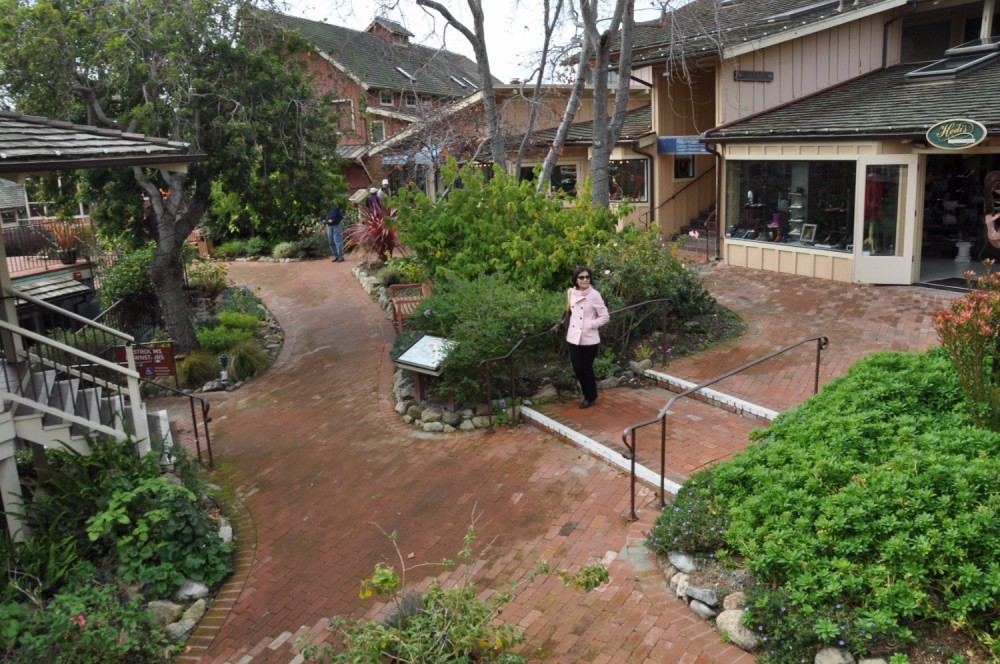 Barnyard Shopping Village in Carmel Valley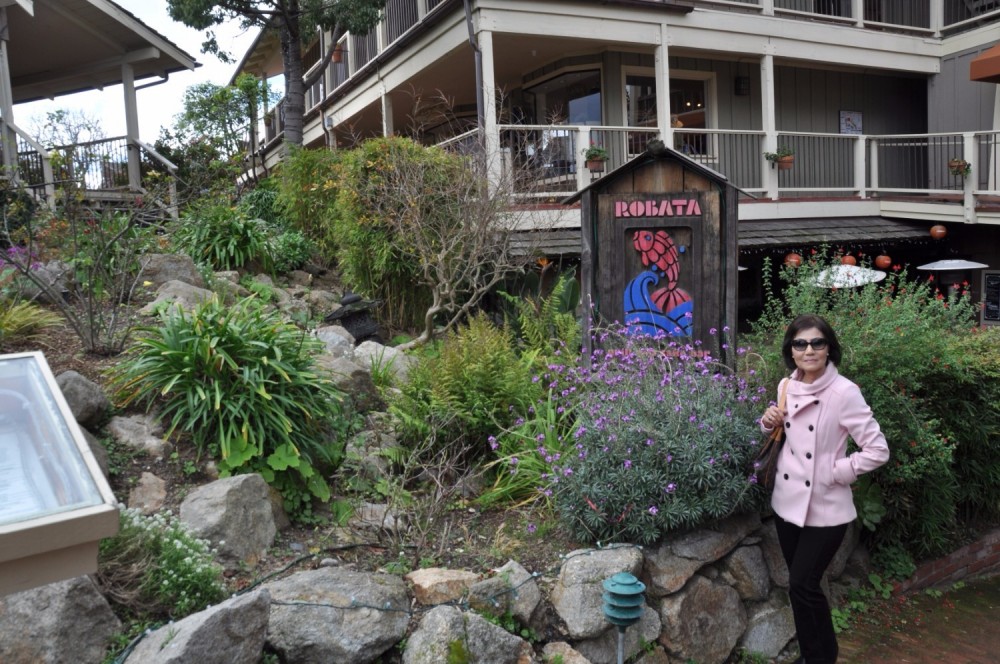 We find an excellent Pho restaurant in the Barnyard Shopping Village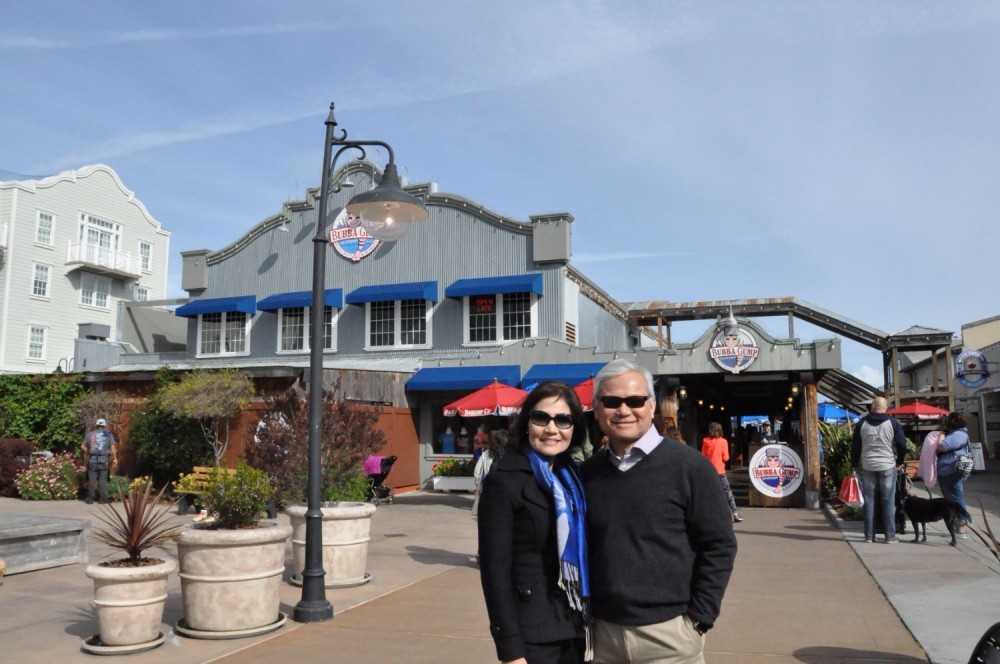 This has been a great trip! We are so glad to be back in Monterey to see our friends, spend two great days driving up and down the coast, enjoy great foods, and just relax. We hope to be back soon.