2018 Belgium and France Day 3
Sunday, August 19, 2018



It's another beautiful and warm day in Brussels. The sun is out and because it is Sunday, the city is slowly waking up.

We had bought tickets to go up to the balcony of Brussels City Hall called Hôtel de Ville in Grand Place to view the Flower Carpet and so we are headed that way. We get in the advance tickets line, show our tickets, follow the line upstairs, and turn a few corners and voila, the colorful and spectacular Flower Carpet is in full display below us. Viewing it from 30 feet above the ground, we can see the display in its full grandeur, the flowers had been watered overnight and are glistening under the early morning sun. The sight is just absolutely stunning and viewing it from this vantage point alone has been worth our trip.

After viewing the flowers and watching the people below for about 30 minutes, we get out of Hôtel de Ville and walk over to Galeries Royales for some coffee then we check out of the hotel, get in an Uber for a trip to a restaurant called Au Repos des Chasseurs (The Hunters' Rest) in Brussels where we and others are joining our friends, Bao and My, for their 40th wedding anniversary celebration.

The restaurant sits at the edge of a former forest which had been converted to a nice urban park. The restaurant has a beautiful outdoor seating area and private indoor dining rooms, one of which is being used for the party today.

We met Bao and My two years ago in Brussels and had been traveling with them every once in a while. At my urging, they decided to throw a party to celebrate their 40 years of marriage and this is the main reason we came to Brussels. Bao and My, their kids and grandkids, and some 25 guests gather at the restaurant. Pictures are taken outdoor and indoor, people give speeches, Bao's kids makes warm and funny toasts to their parents who try to withhold their tears, Bao thanks all the guests, and we all enjoy a delicious lunch of lamb, fish, or free-range chicken, along with wine, and cake.


The line of people waiting to go up Hôtel de Ville
Watching the Flower Carpet from above
It takes three pictures to get ...
Lee in front of the Au Repos des Chasseurs Restaurant
After the lunch, we head to the park to walk off the calories we just consumed. The park has trails that radiate to different directions. We go uphill for a while then head back down hill, walk along the lake, and just admire the trees, flowers, and the peacefulness of this place.
A chocolate shop near our hotel, the Ibis Hotel off Grand Place
Attending Bao and My's 40th wedding anniversary. My is on the right
Nhan, Lee, and Hoa. Friends having fun
Lee and her high school friend, Ha
30 people are here to help Bao and My celebrate
Guests walking in the park near the restaurant
Lot of trees, flowers, ponds, and trails
Lee, Ha, and Chu. We're at Chu's home
Same people who celebrated Bao and My's wedding anniversary come here for more conversations
Then it's time for another party. We load our luggage in Hoa's car and ride with Hoa and Ha to Chu and Long's house for dinner. We met Chu and Long a couple of years ago and saw them again on a trip to Barcelona in May of this year. Their two-level home has a hair salon on the ground floor owned by Chu, and living areas on the second floor. The interior of the home is impressive but it's more beautiful outside. Their yard is large and has nice lawn, flowers, fruit trees, koi pond, and a big patio where we enjoy our dinner prepared by Chu.

Later in the evening, we say good bye to everyone and follow Hoa and Ha to their car which takes us to our hotel, the Ibis in Wavre near Hoa's house where we will spend the night.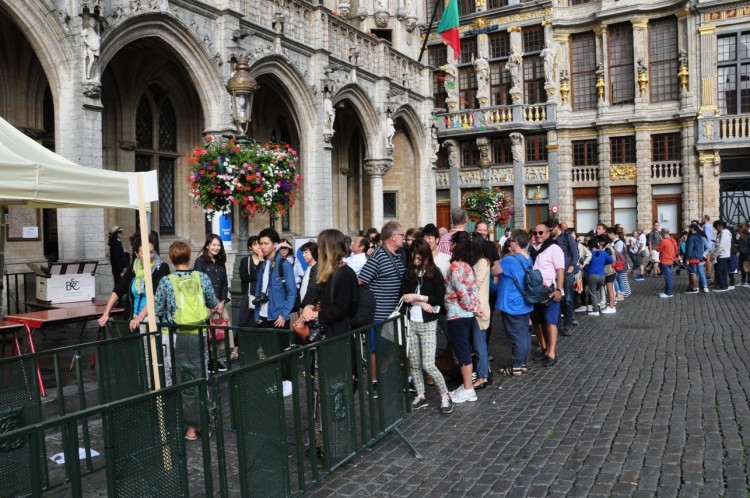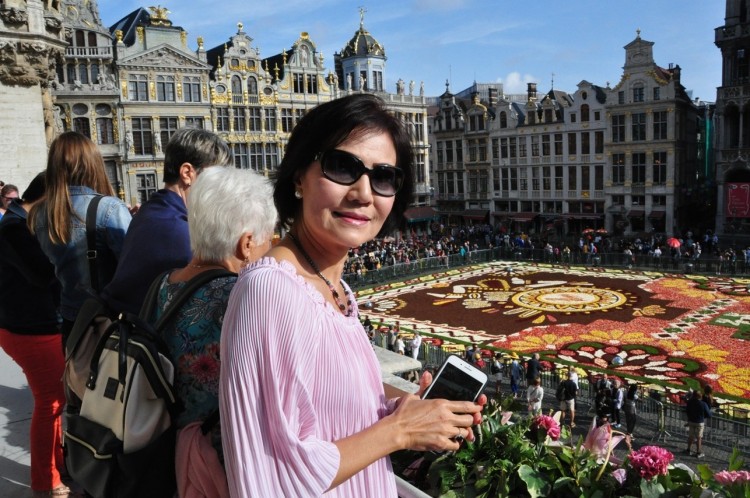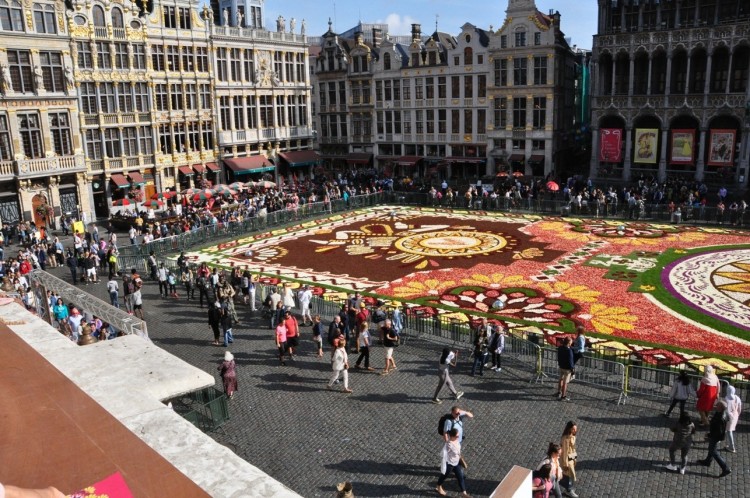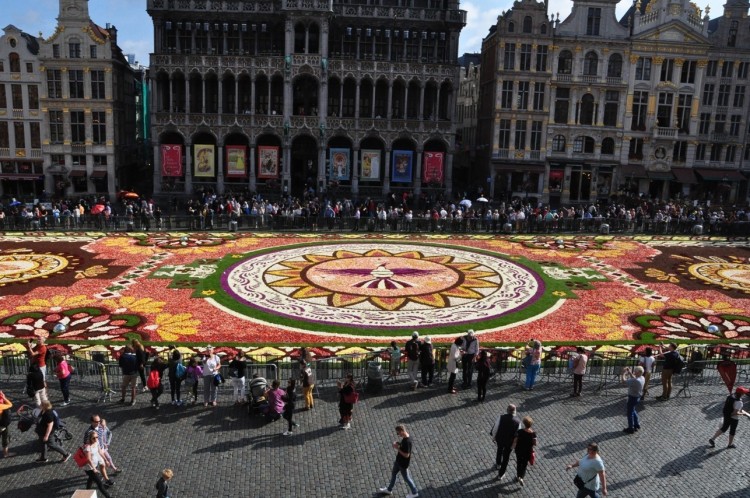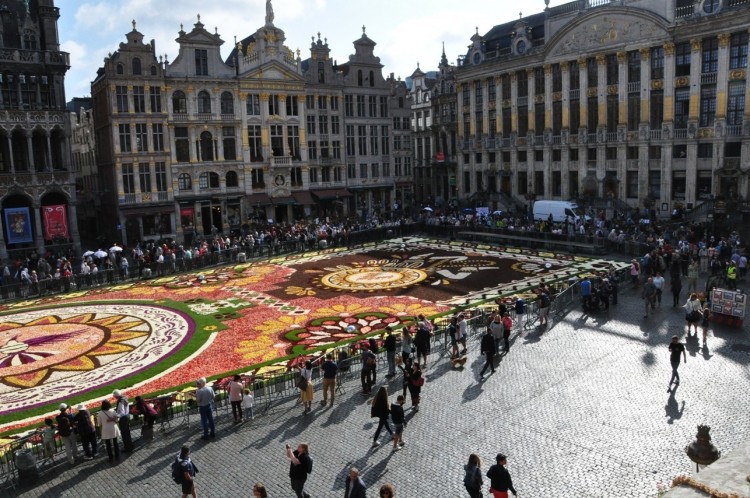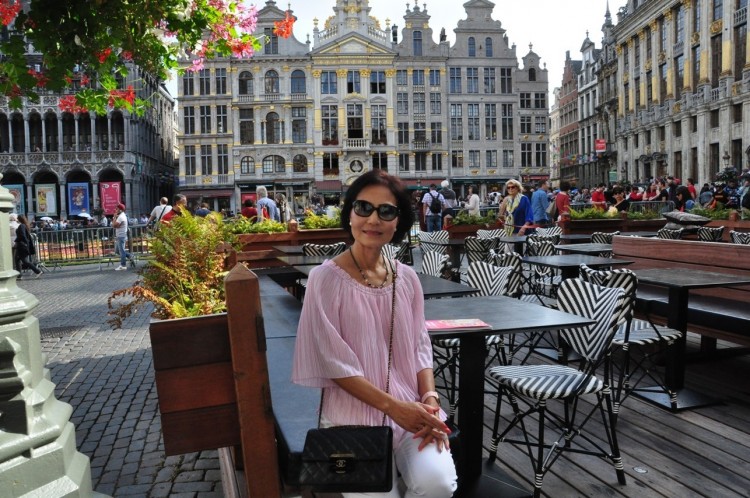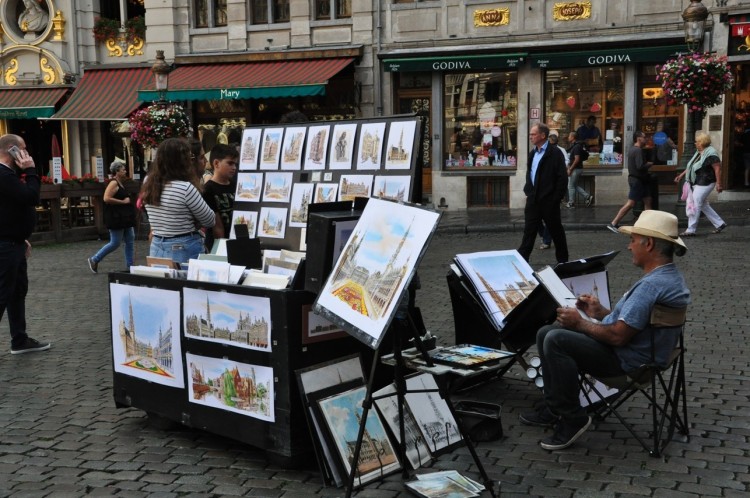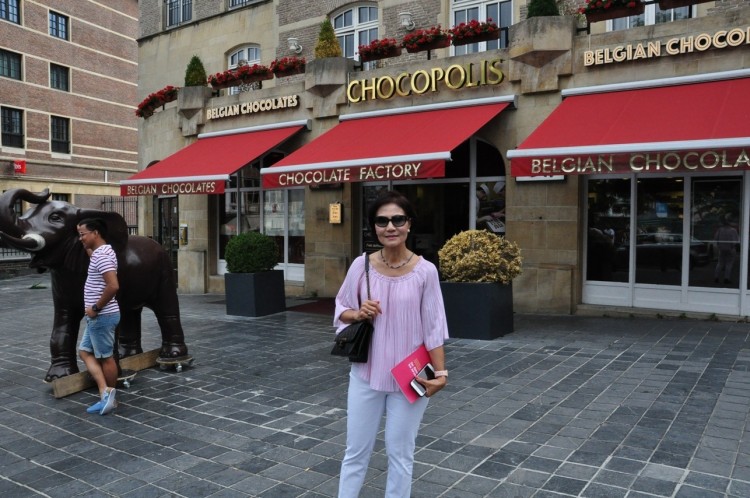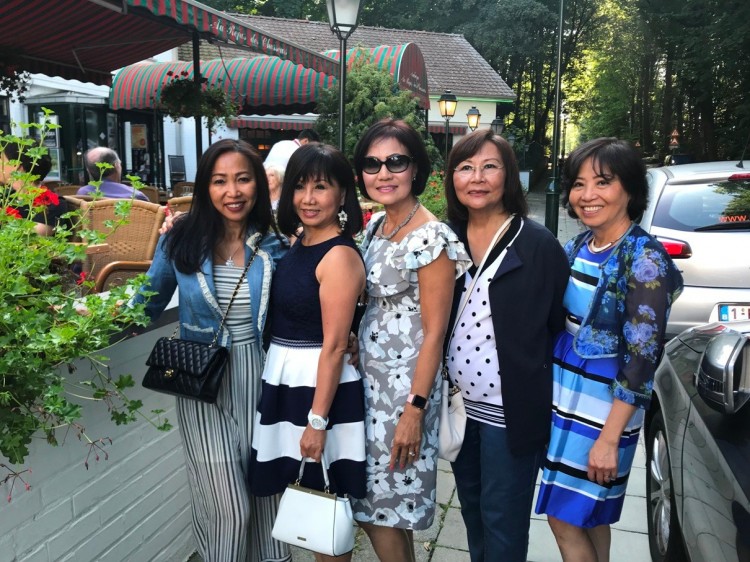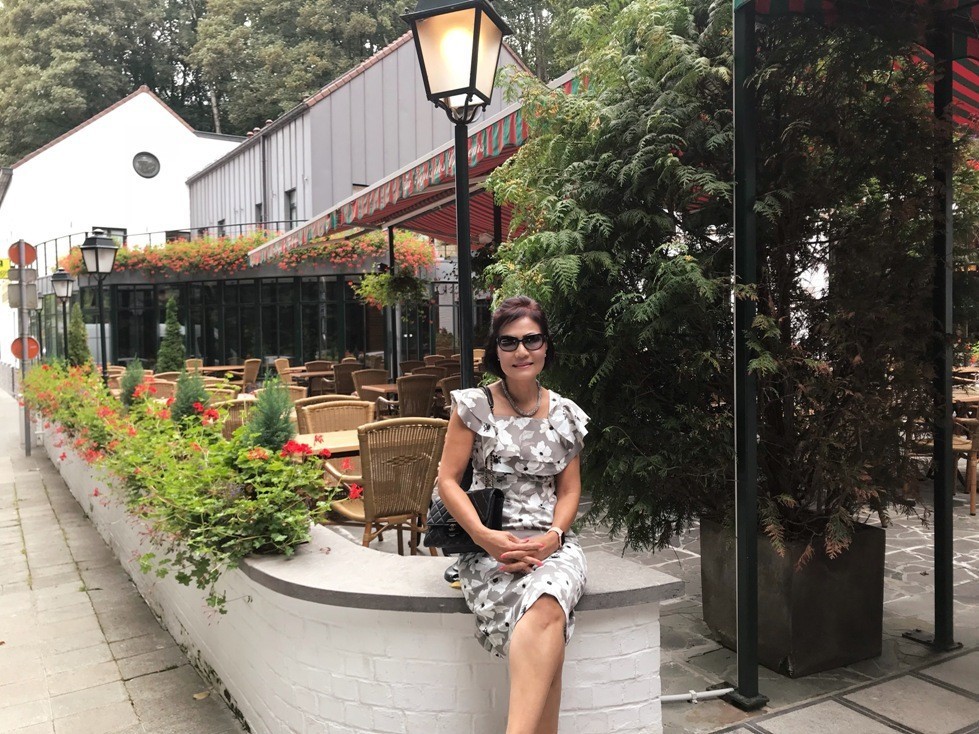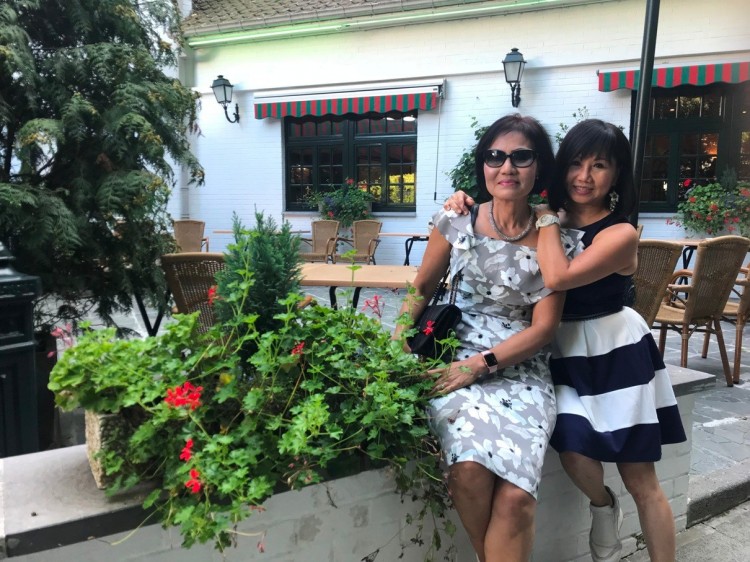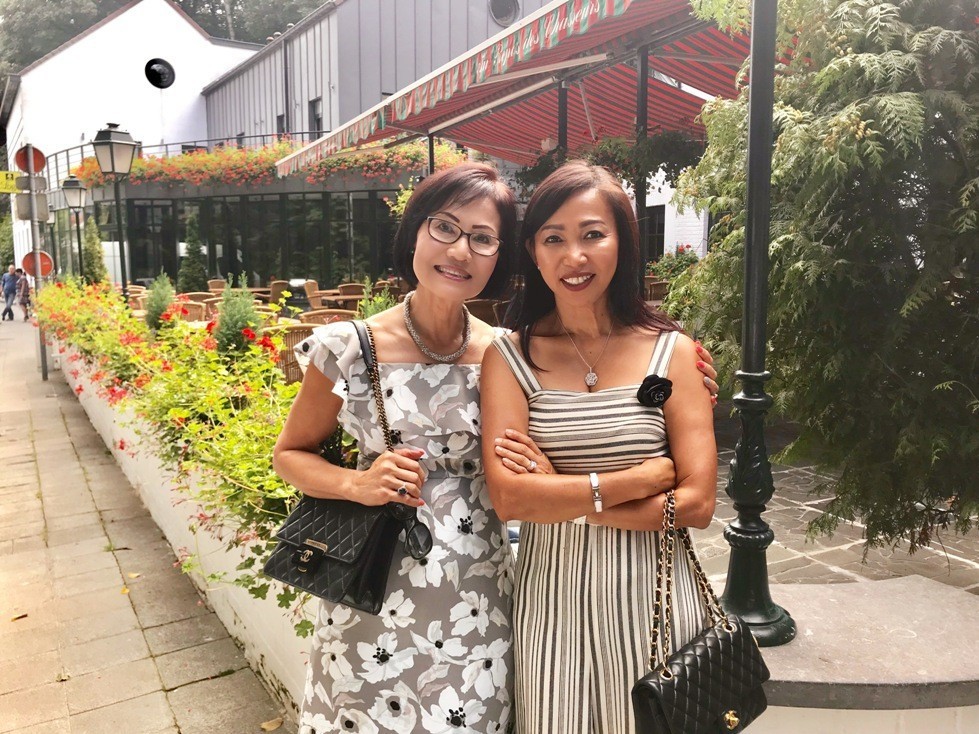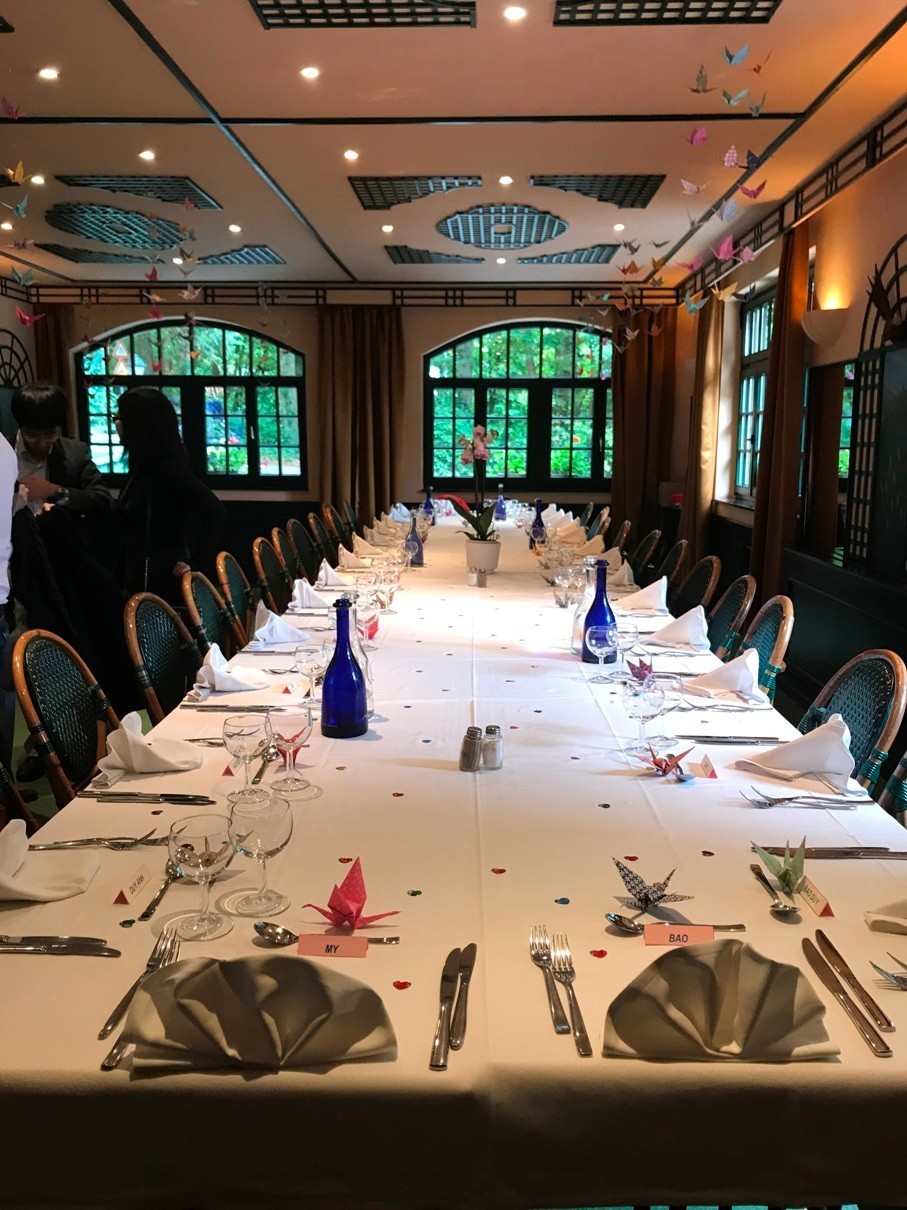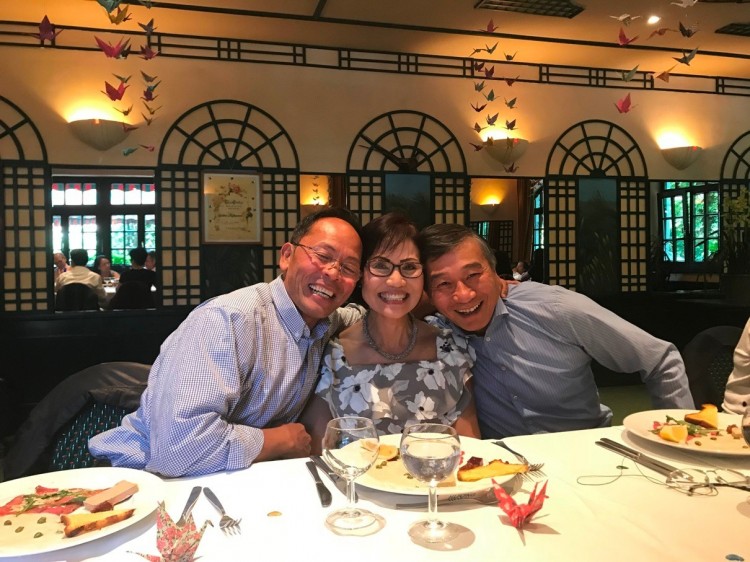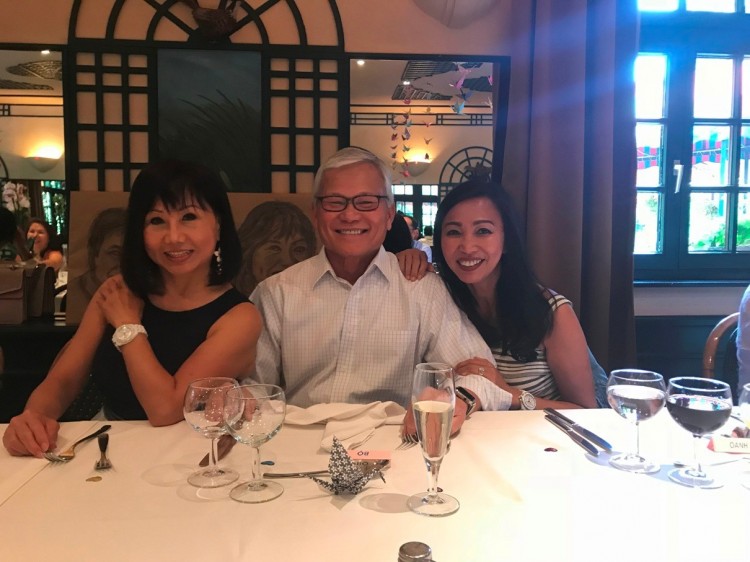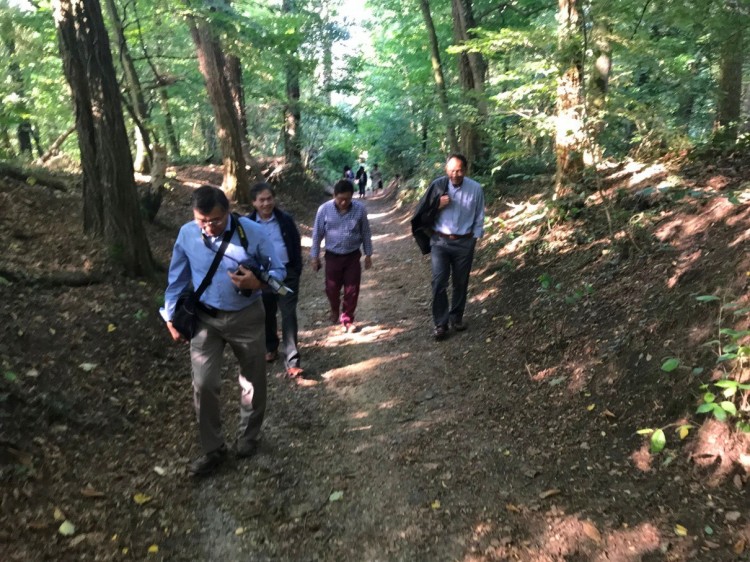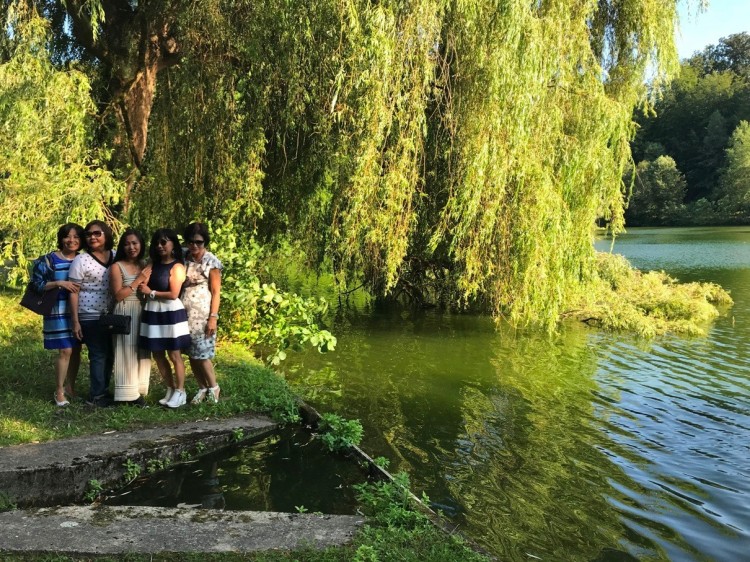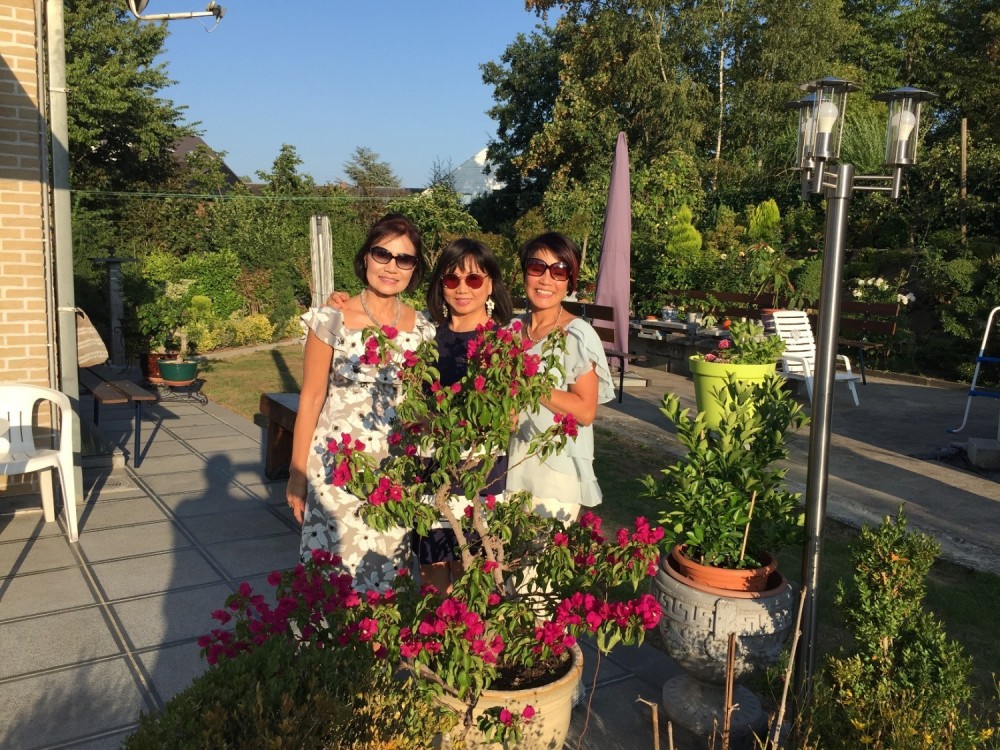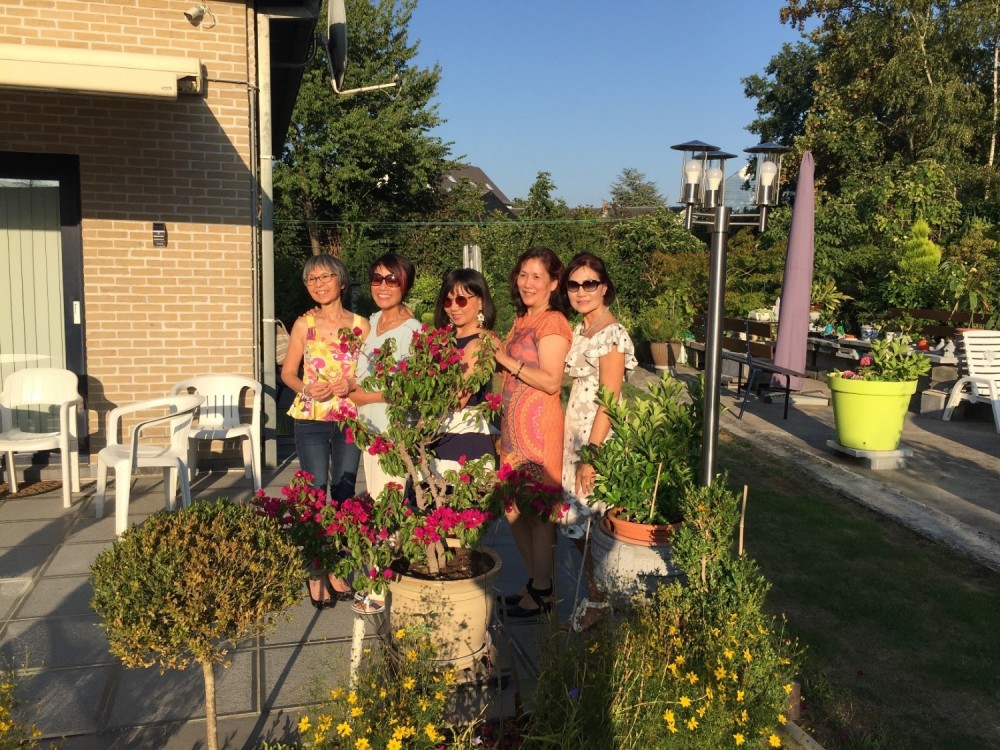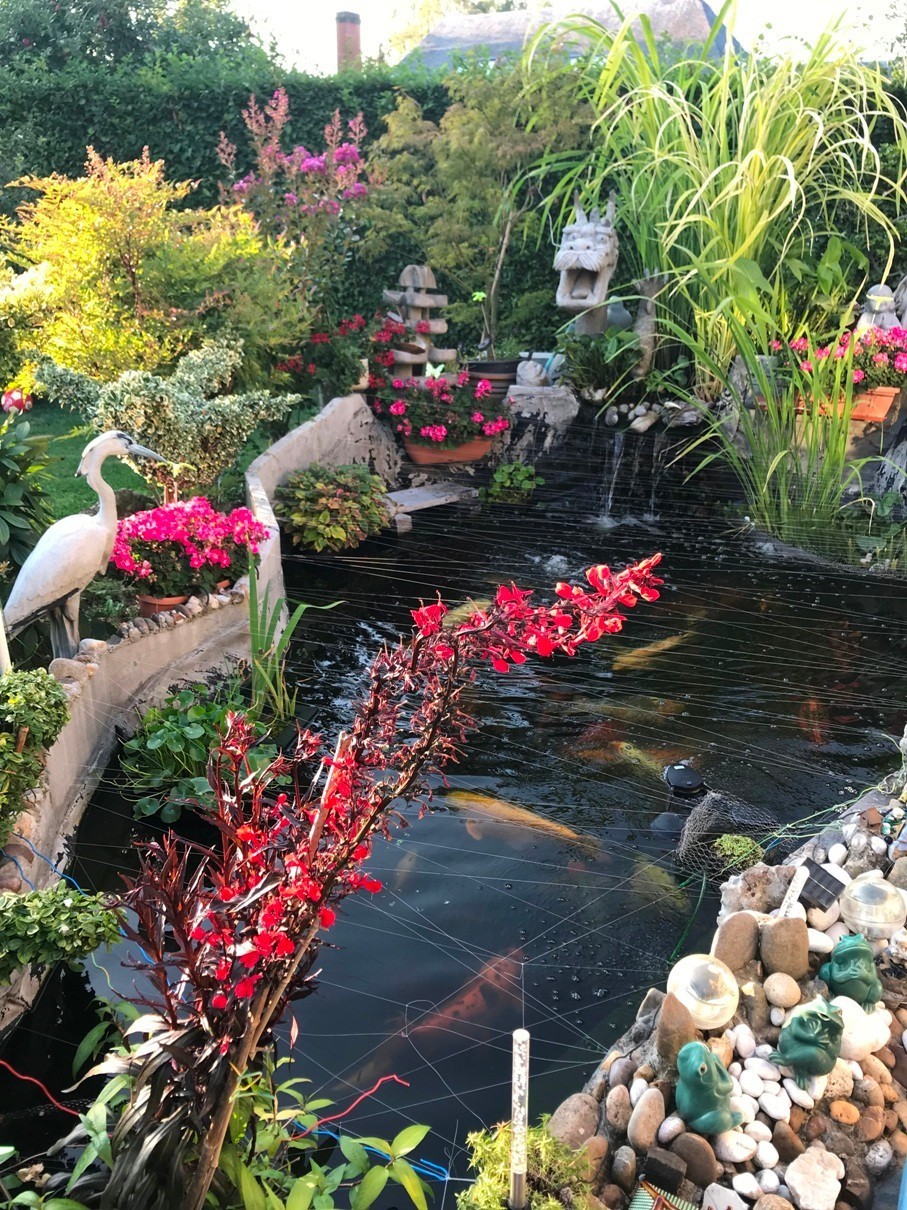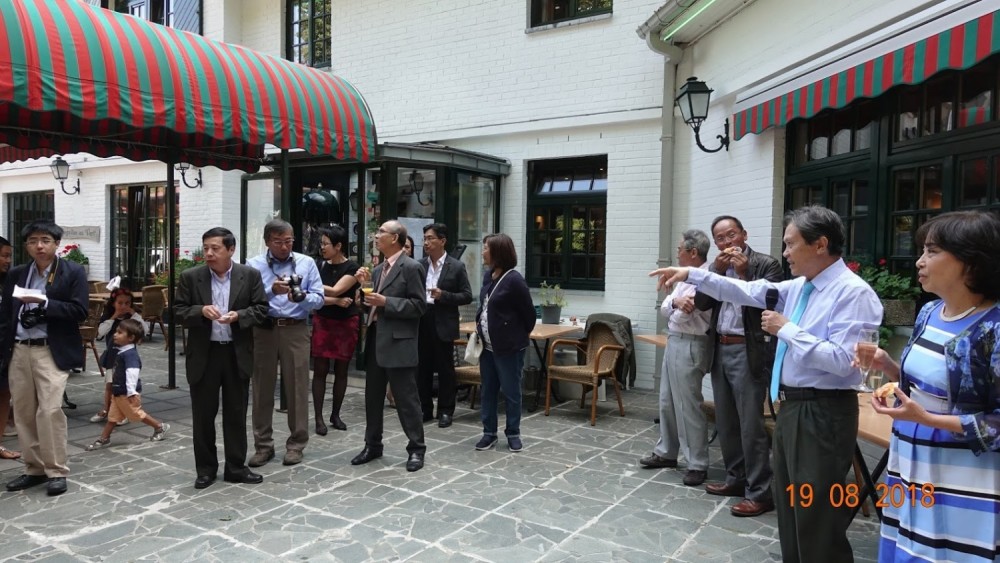 Friends gathering outside. Bao ̣(blue tie) and wife, My, welcoming guests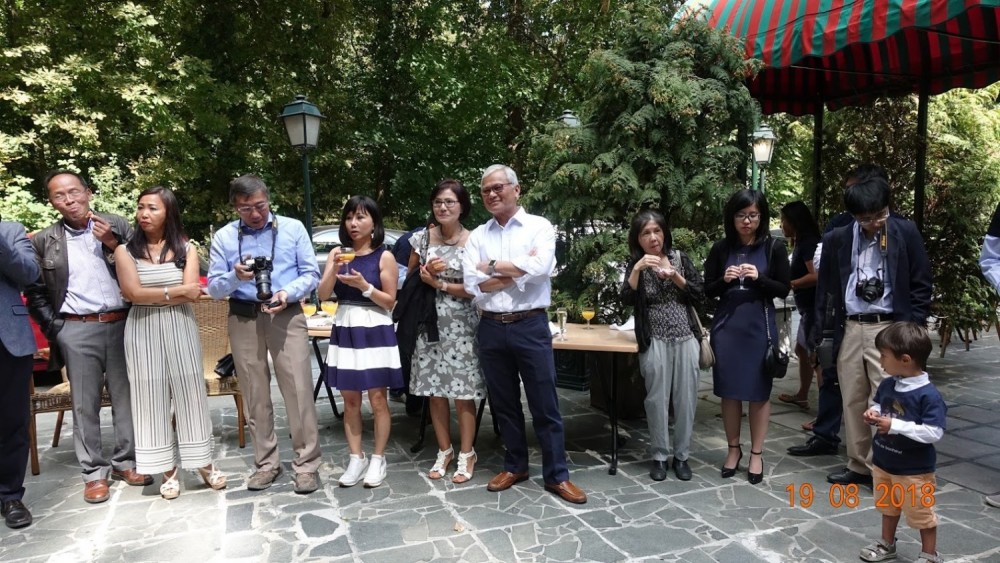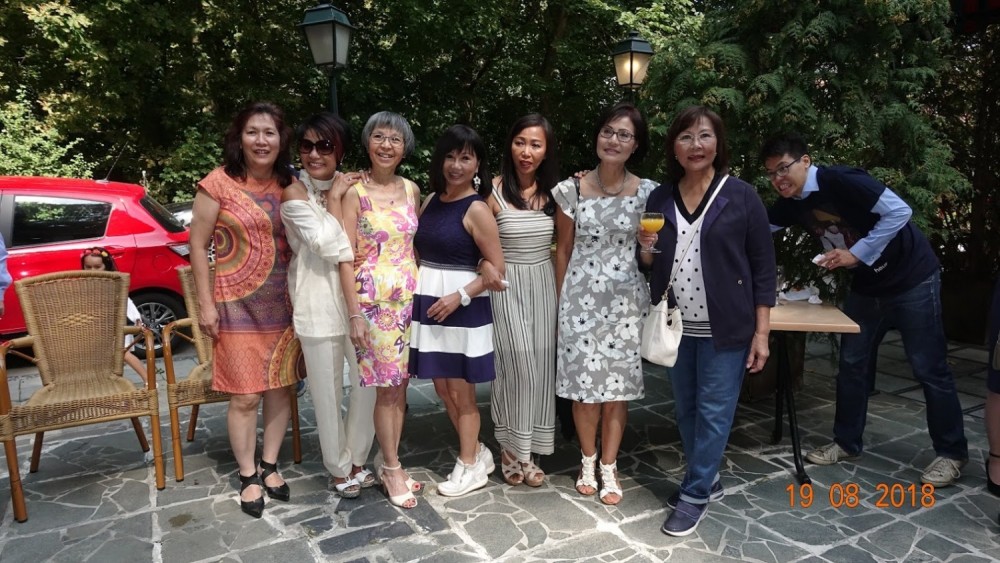 Some of ladies including one from Texas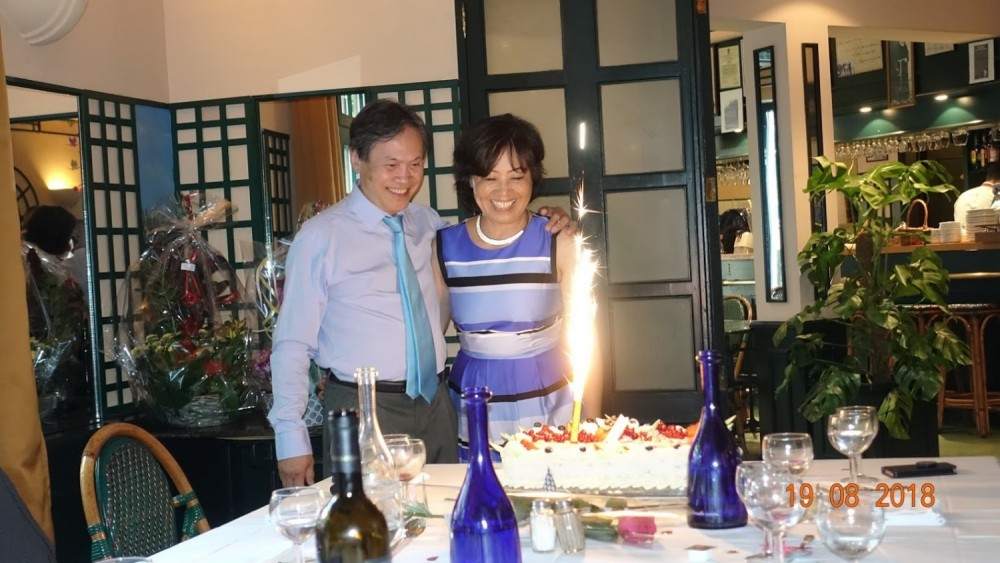 Party in a private dining room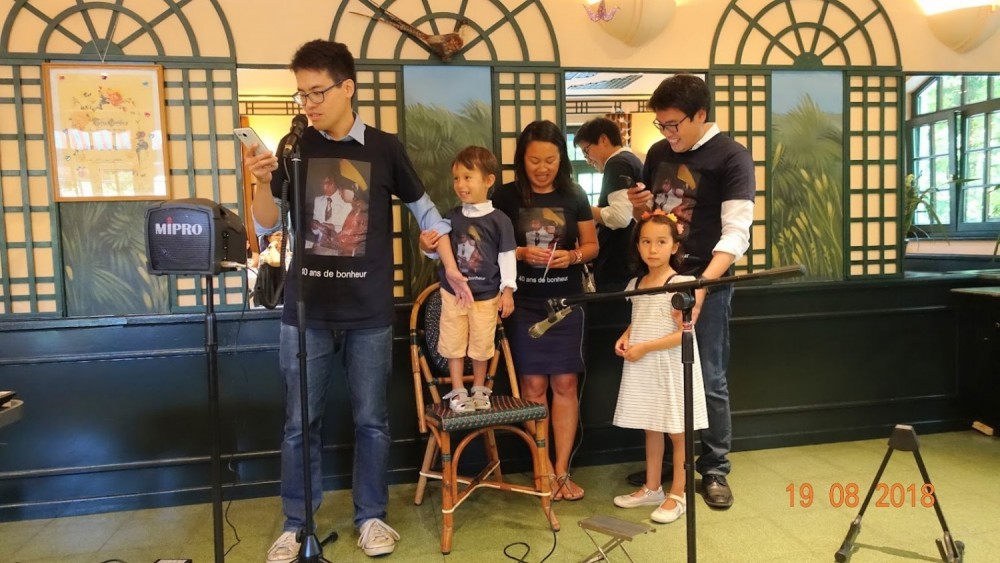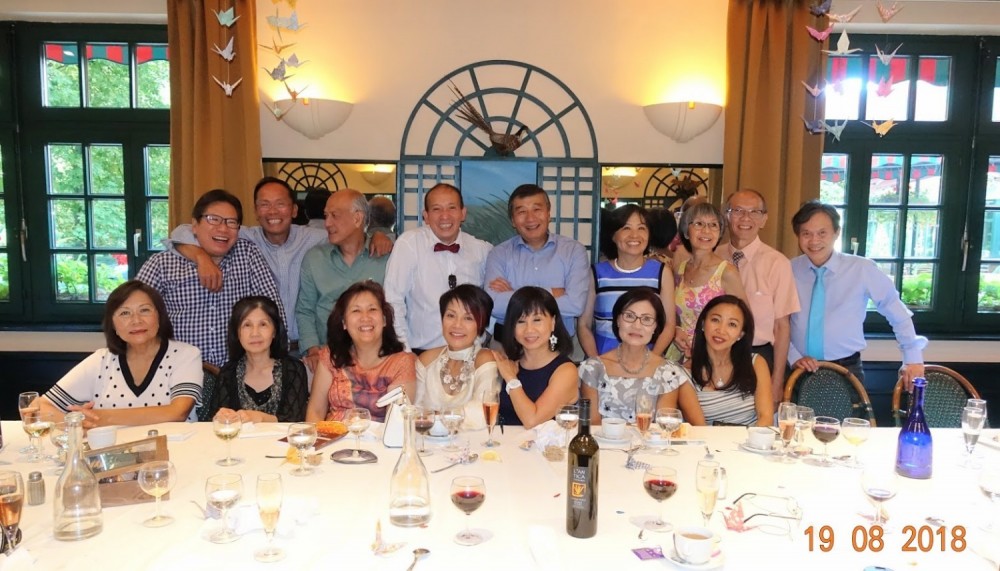 My (blue dress) with guests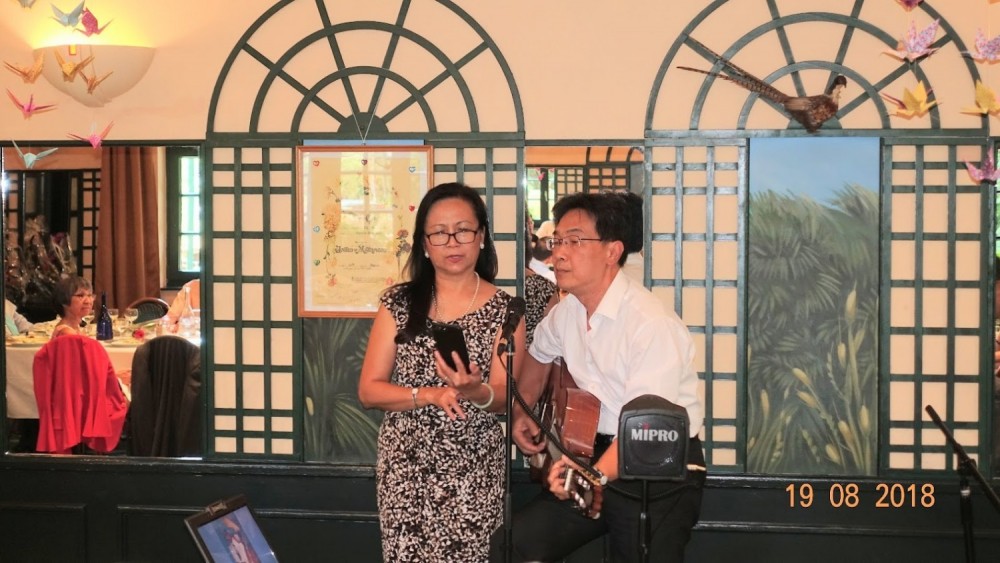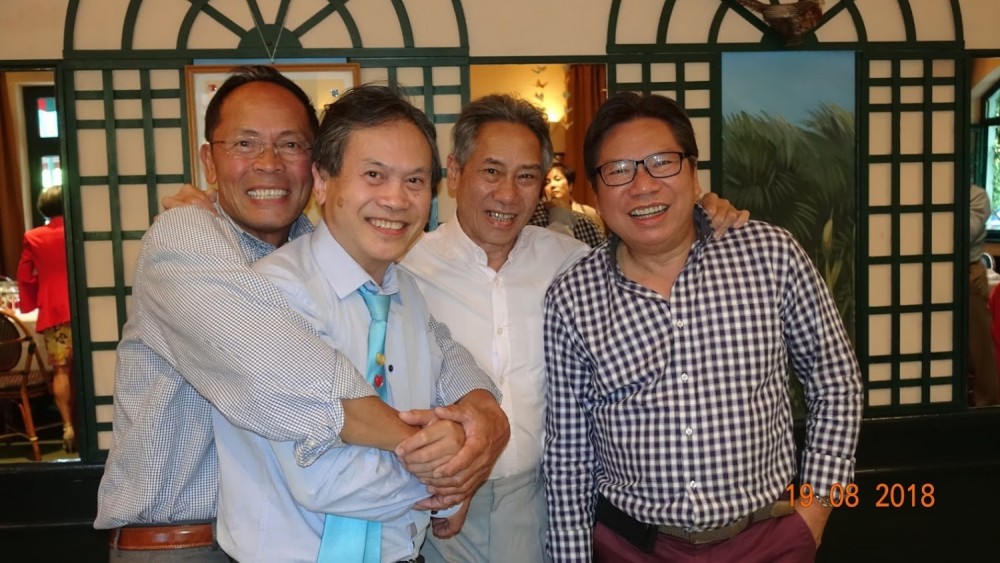 Bao (blue tie) and close friends