Day 1, Friday, March 30, 2018

A bunch of us from Texas, California, Belgium, and Vietnam are meeting in New York City for a short stay to see the City then head for Washington DC to catch the cherry blossoms and visit some of our national landmarks. Since most of us have not been to either city before, I volunteer to be the guide on this trip.

Lee and I took a Southwest flight from Dallas early this morning, landed in Orlando, jumped on another flight, and we are landing in Newark Airport in New Jersey. We head for the baggage claim area in Terminal A where we meet our friend from Vietnam, Thu Ba, who arrived an hour earlier.

The three of us then get on the Air Train outside of the secured area and go to Terminal C where our friends are due to arrive from Europe in an hour.

We don't have to wait long before we see our four friends with luggage heading our way. Lots of welcoming hugs and kisses follow then the seven of us board a Go AirLink private shuttle to our hotel, The Club Quarters Hotel Midtown, on 45th Street near Times Square



​​

Group arrives in Newark, NJ
Club Quarters Midtown Hotel lobby
New York subway is our main way to travel within the city
My, Lee, Lang, Thu Ba, Oanh, and Ha enjoying a little music in the subway
It's a cloudy spring day today as the shuttle negotiates stop-and-go traffic on the 90-minute ride from the airport to the hotel.

The Club Quarters Hotel Midtown in New York City is right in the middle of Manhattan and within walking distances to various famous landmarks including Times Square, Grand Central Station, Bryan Park, Rockefeller Center, and Central Park.

We check in the hotel and receive rooms on different floors. Our room is on the filth floor facing another building's court yard. Although the room is small and reminds me of a European hotel room, it's well-appointed with nice bedding, bathroom, TV, iron table, and coffee maker.

After a short rest, our group gather in the hotel lobby and begin our tour of this great City but the group wants to have some hot Vietnamese pho on this drizzling and cold early evening day so we decide to head to Chinatown.


Times Square, New York City
Statue of Liberty made up by little Crocs shoes at the Crocs store
A cool night in New York City
Digital billboards are everywhere in Times Square
Bryant Park on a beautiful spring day
Across Rockefeller Center is Saks Fifth Avenue. We go in to look around and are amazed of its collection. And across Saks Fifth is New York's main Catholic church, the St Patrick Cathedral. We spend a few minutes here and on the eve of Easter Sunday, throngs of people are visiting this spectacular place and admiring its great architecture with soaring ceilings, ornate columns, and huge and beautiful stained glass windows.

Fifth Avenue is New York premier street with high end shops including Channel, Louis Vuitton, and Versace. We window shop quite a bit and come to the heavily guarded Trump Tower where we have lunch in the lower level by the waterfall. They have set up a shop to sell Trump's souvenirs including the ubiquitous Trump's 'Make America Great Again' merchandise and there is a long line of mainly foreign tourist waiting to buy the Trump stuff.



Hoa, Bo, and Nhan in Bryant Park
The flags and ice rink at Rockefeller Center
Lee at Rockefeller Center
First dinner in NYC at Pho Vietnam on Chrystie Street
L-R: Hoa, Nhan, Oanh, My, Lee, Bo, Ha, Thu Ba, and Lang​
There are many ways to see the City including walking, taking the subway, using taxis or city buses, or buying hop-on-hop-off bus passes. We prefer to use the subway and the closest station, the Bryant Park Station, is only two blocks from the hotel.

At Bryant Park Station, we buy metro cards and ride the subway to Grant Station at the edge of Chinatown, a short distance from Pho Vietnam, one of the best Vietnamese restaurants in the city. We enjoy our first sumptuous meal together. We order vegetarian spring rolls, calamari, crepes, crispy shrimp, and various noodle soups. Great meal.

From Chinatown, we ride the subway back to downtown and get off at New York City's biggest tourist attractions, Times Square. Getting out of the subway, we walk a few blocks on 7th Avenue absorbing the exciting sights and sound this city offers.
​
Walking down Fifth Avenue
Easter Sunday decorations
Hoa outside St Patrick Cathedral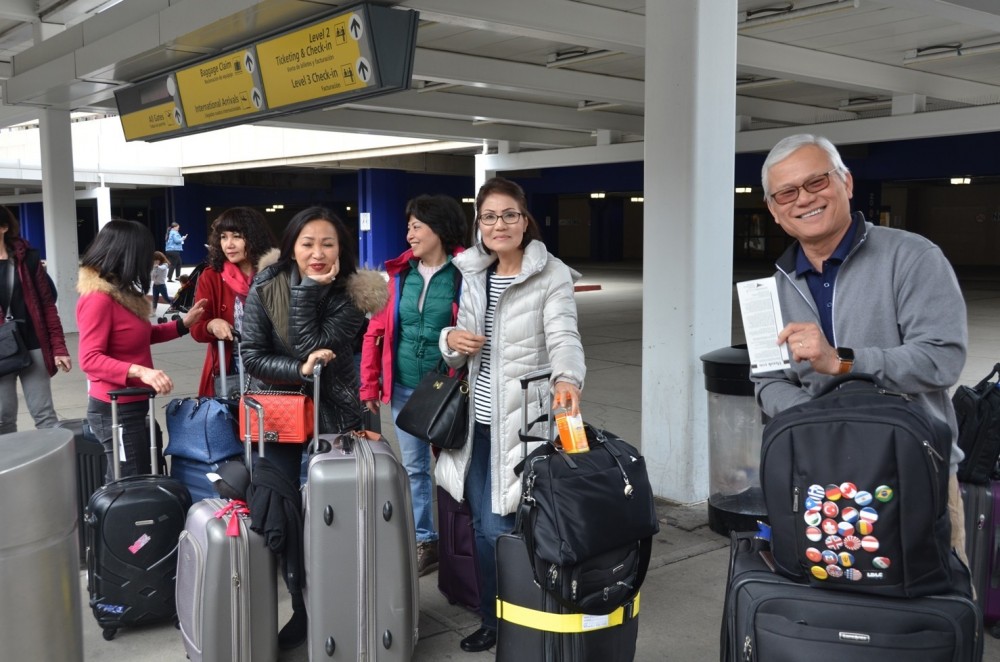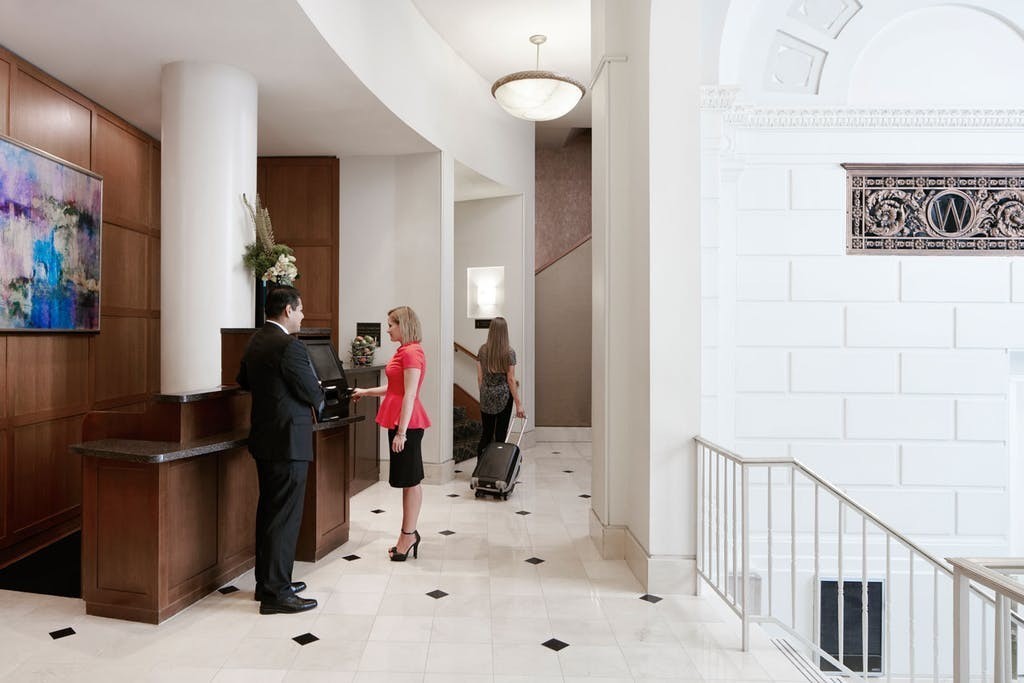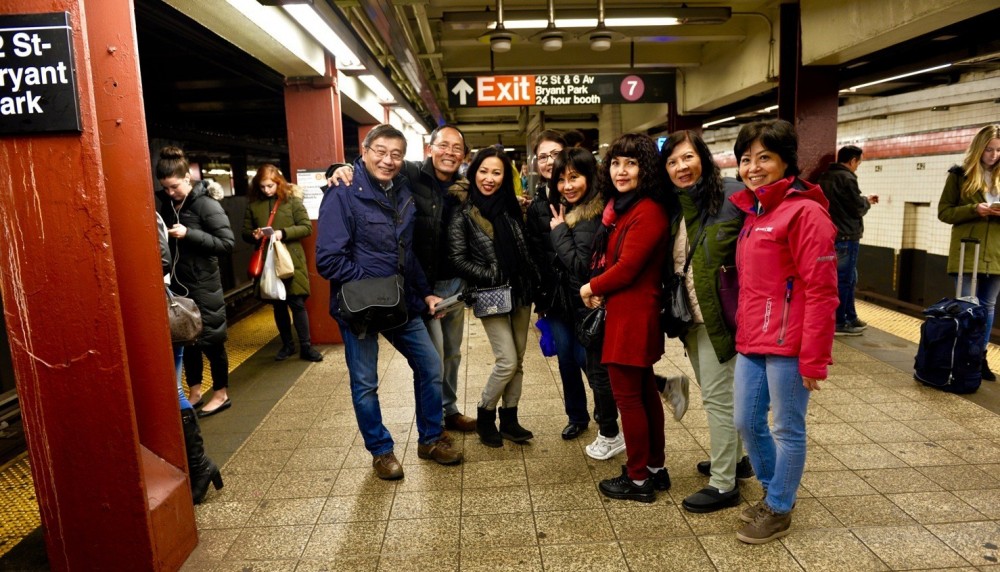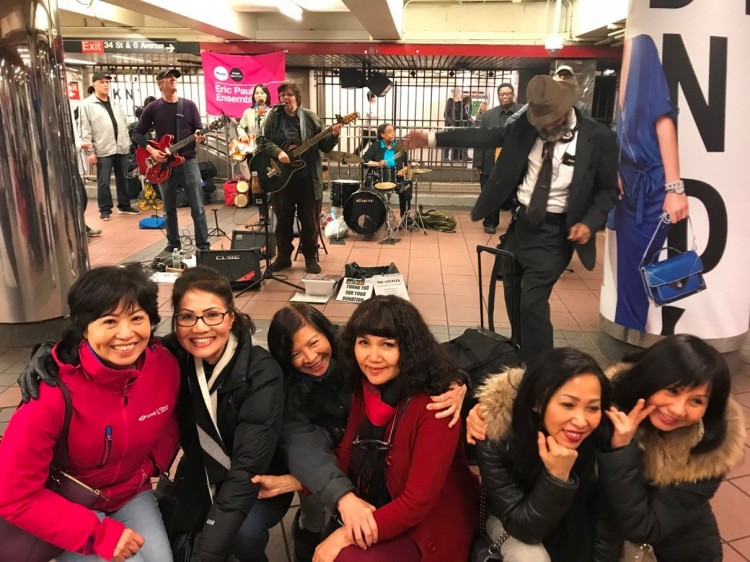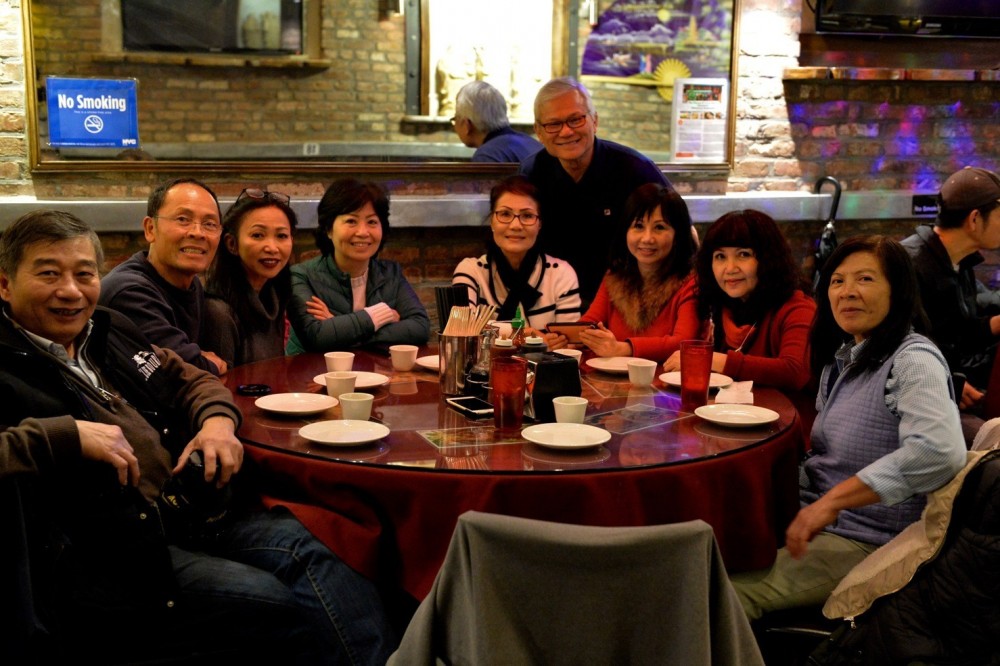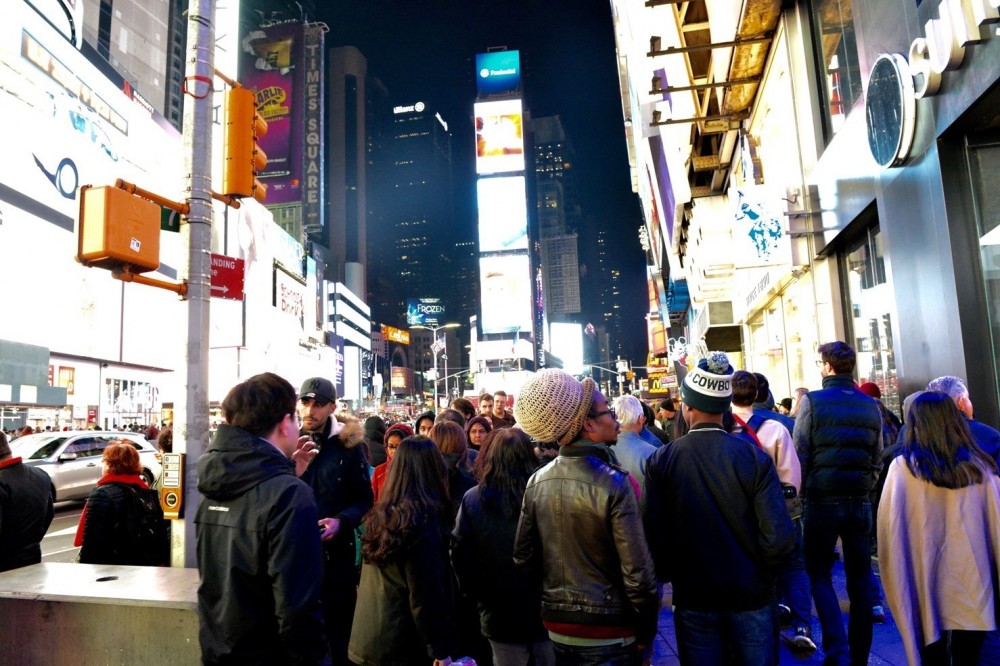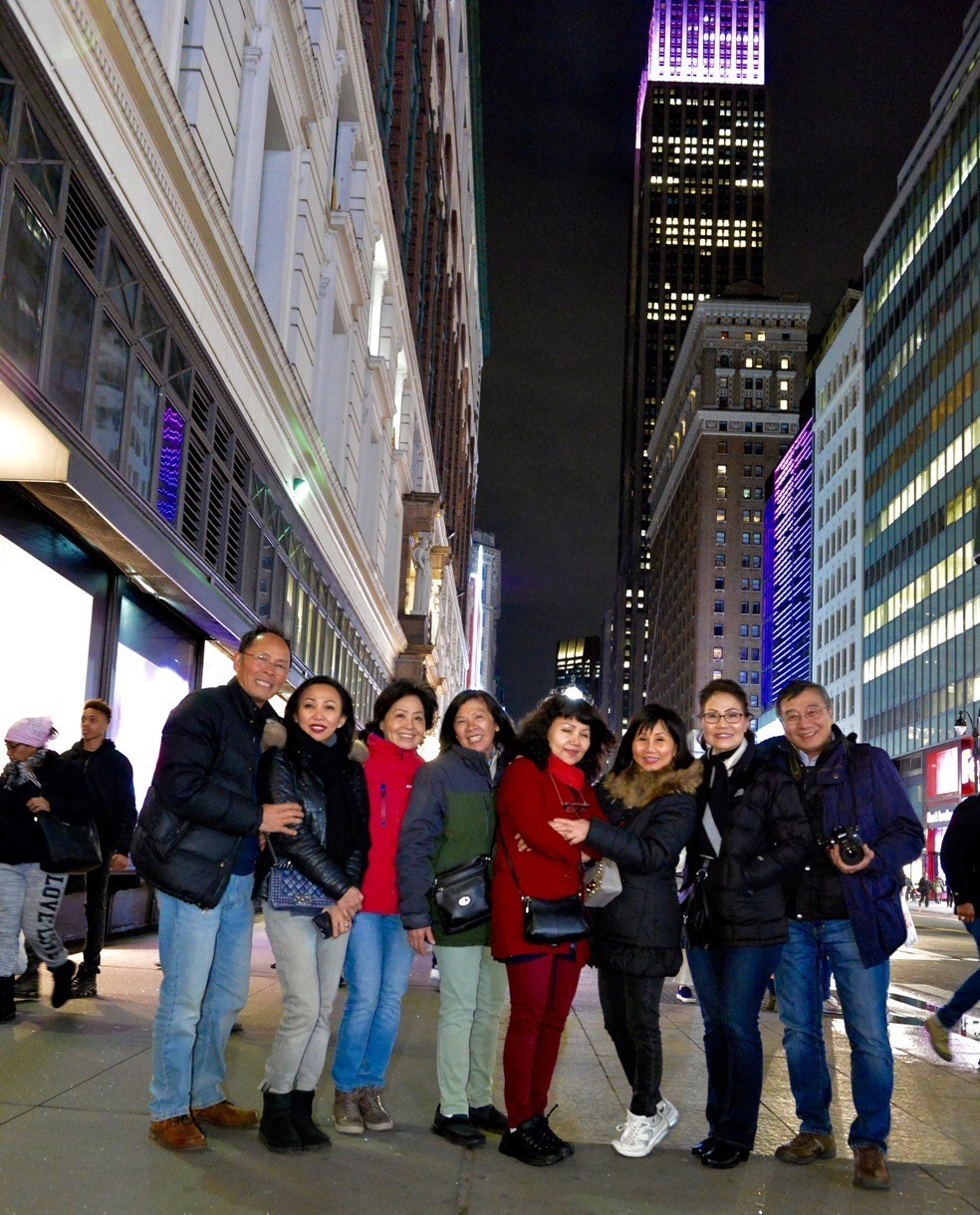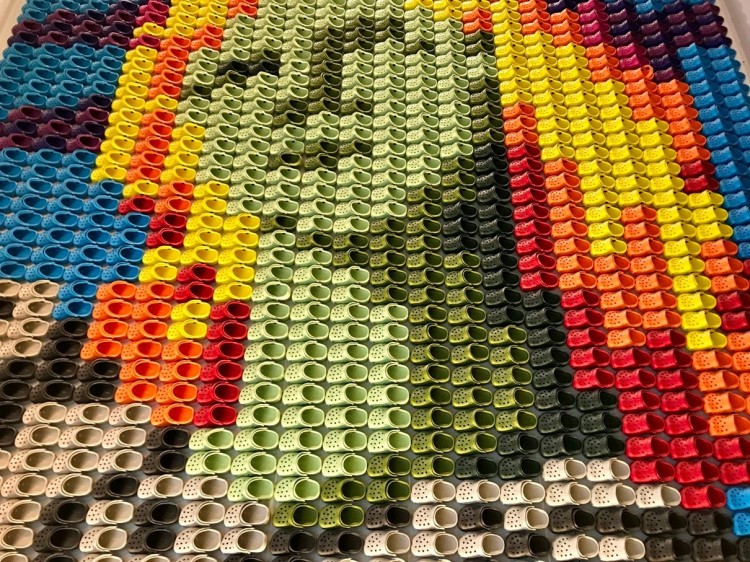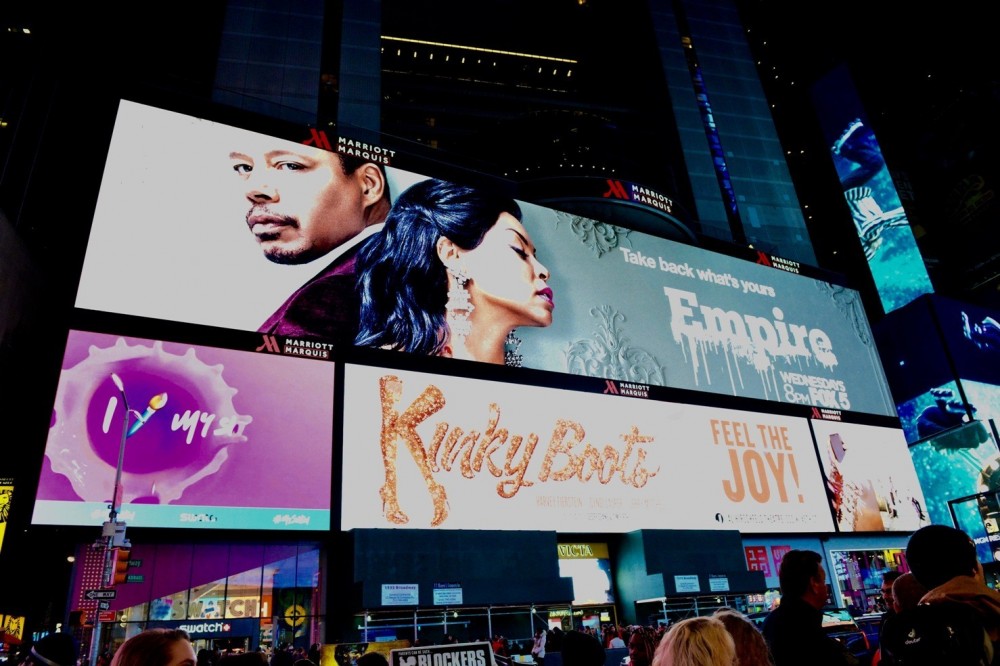 I've never seen an area with so many people on a regular night like at this place. I experience a sensory overload because of what I hear, see, feel, and touch; and it's exciting.

​​Every building in Times Square is covered with giant and colorful digital billboards. Newscast is broadcasted on a huge TV on one building, commercials are run on other equally huge TVs on other buildings. Vendors hawk their stuffs, street performers draw big crowds, cars honk, and police sirens scream. There are all kinds of restaurants, shops, souvenir and food stands in this area. Imagine this place on New Year Eve.

So fun to be here.

Day 2, Saturday, March 31 2018



After a quick breakfast, we leave our hotel and walk around the corner onto 5th Avenue, New York's high class shopping mecca. It's sunny, bright, and warm this morning, a perfect day to stroll the streets of New York.

A short distance from the hotel is New York City Library and Bryant Park, a lovely park in the middle of the bustling city. On this sunny and early spring day, the trees are still bare, but flowers are beginning to bloom. It is so comfortable outside and they have set up tables, chairs and umbrellas for sidewalk cafes in the park.

We walk around the park, stop to admire the Chrysler Building, watch people playing table tennis, and enjoy the warmth of the day.

A short subway ride from Bryant Park brings us to Rockefeller Center from which we emerge to a blast of sunshine, music, waving flags, Easter decorations, and people. We stop here for a while to soak in more of the sight and sound of New York City.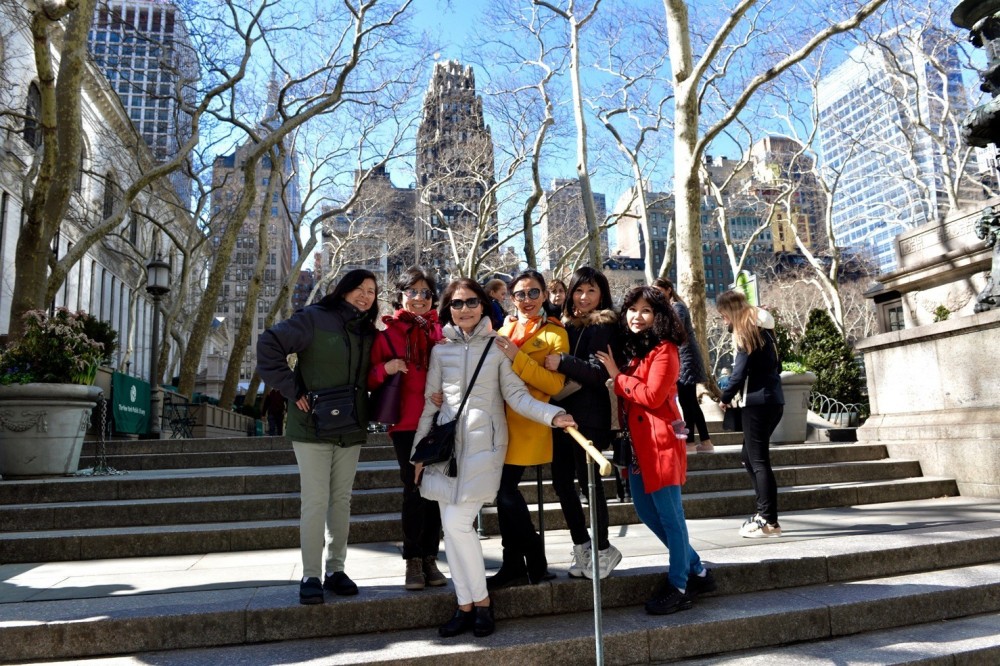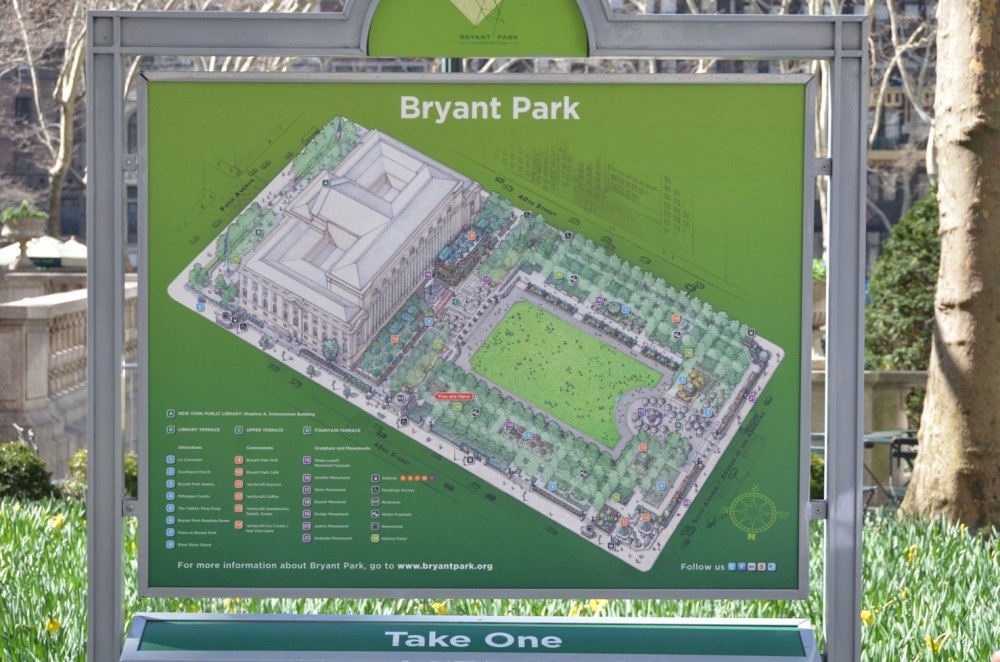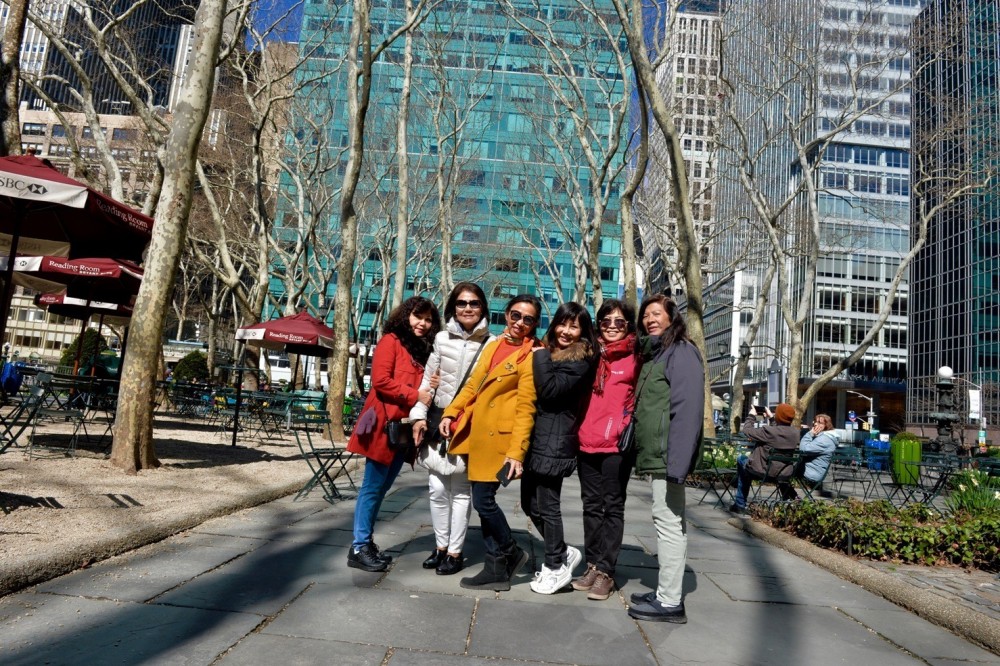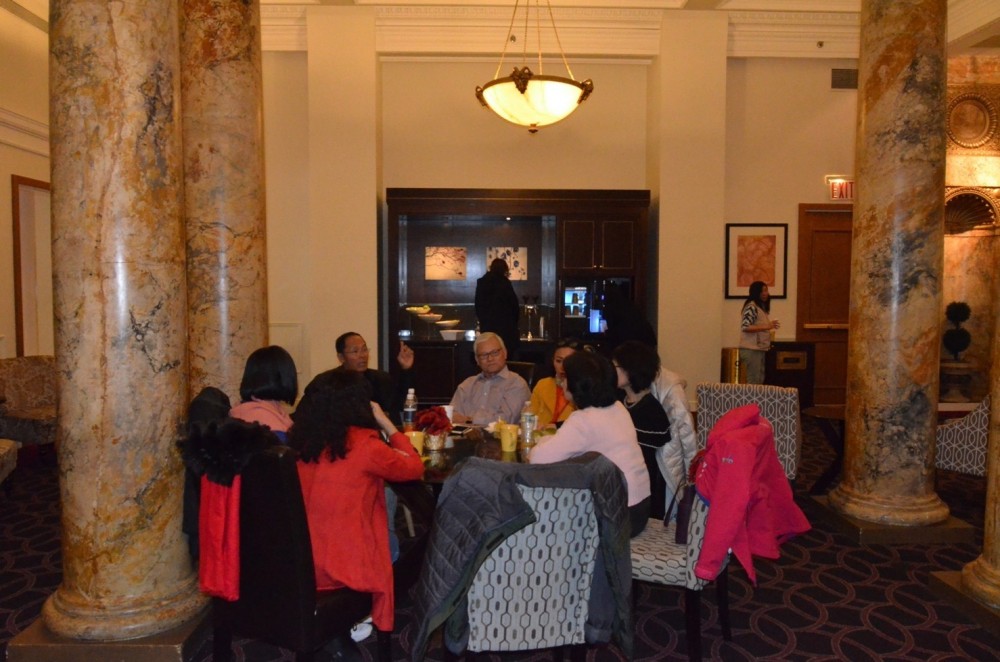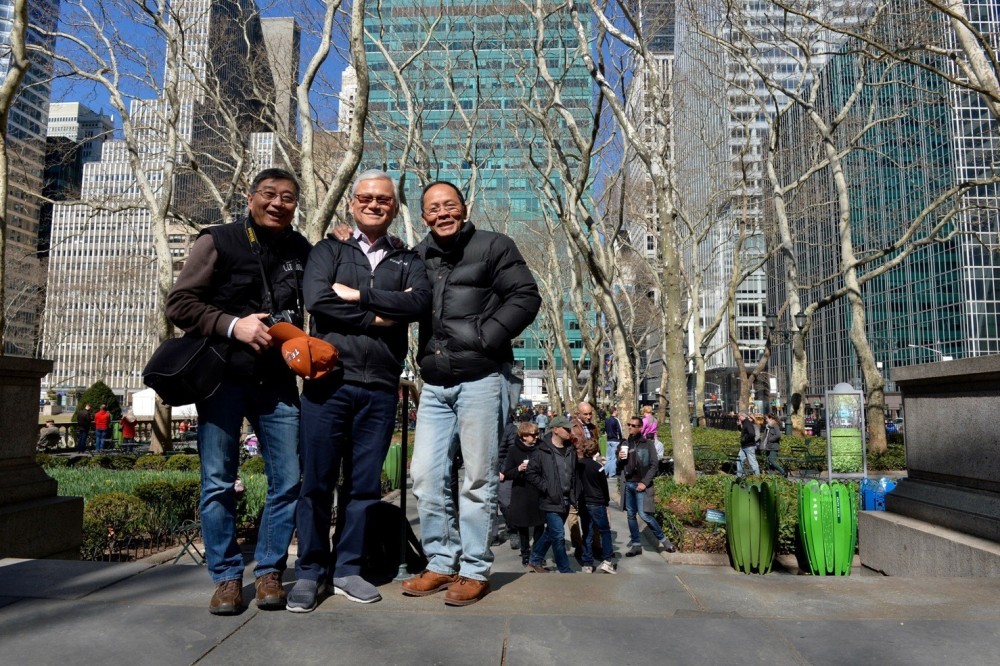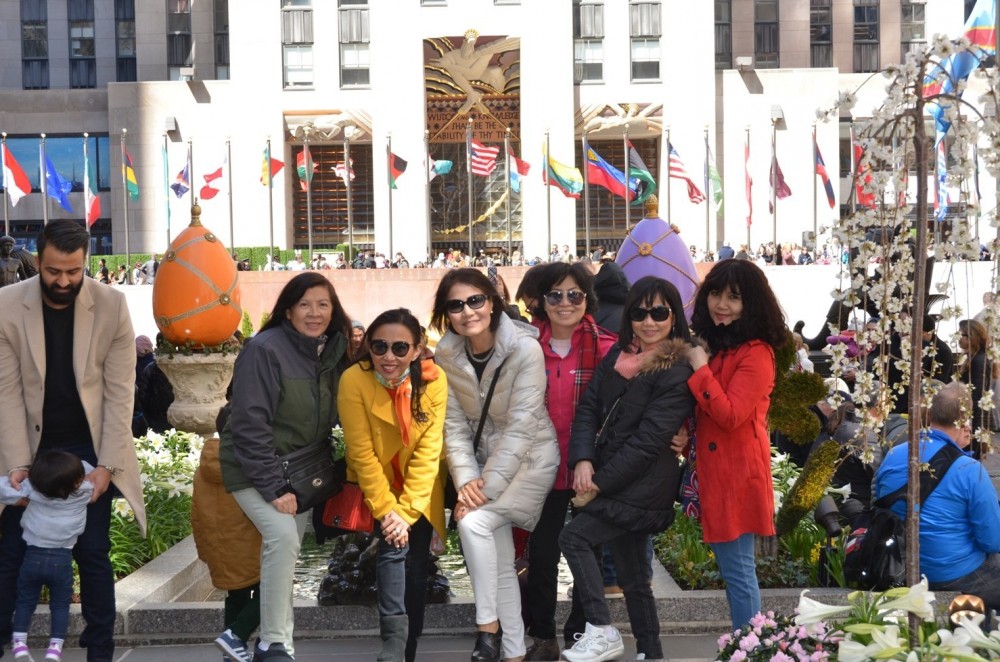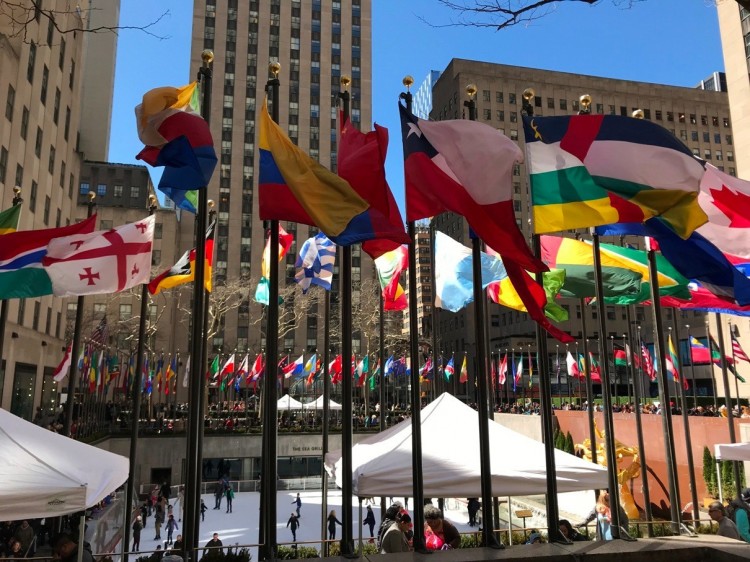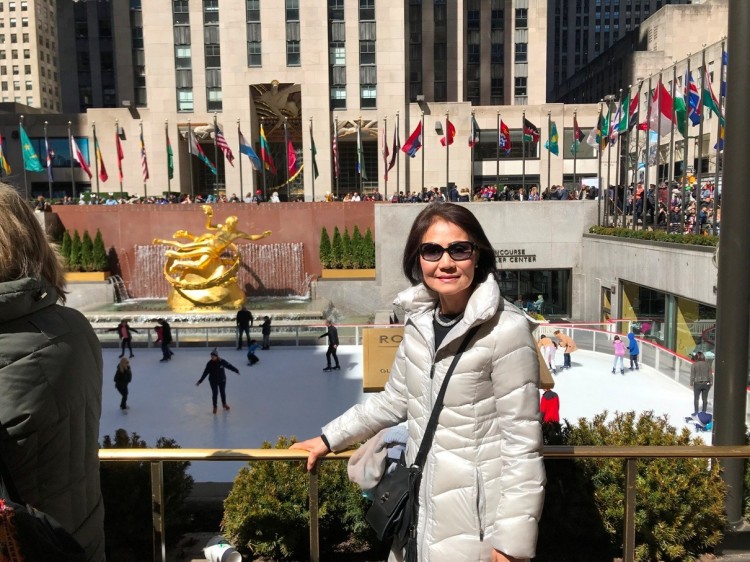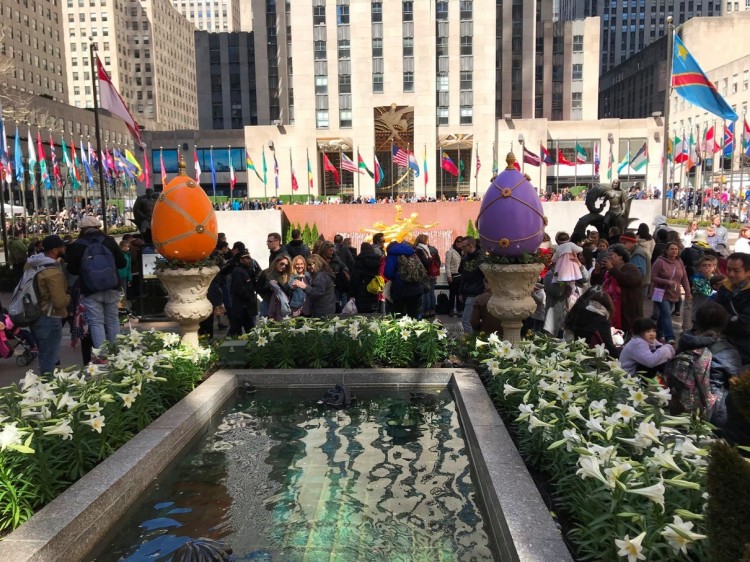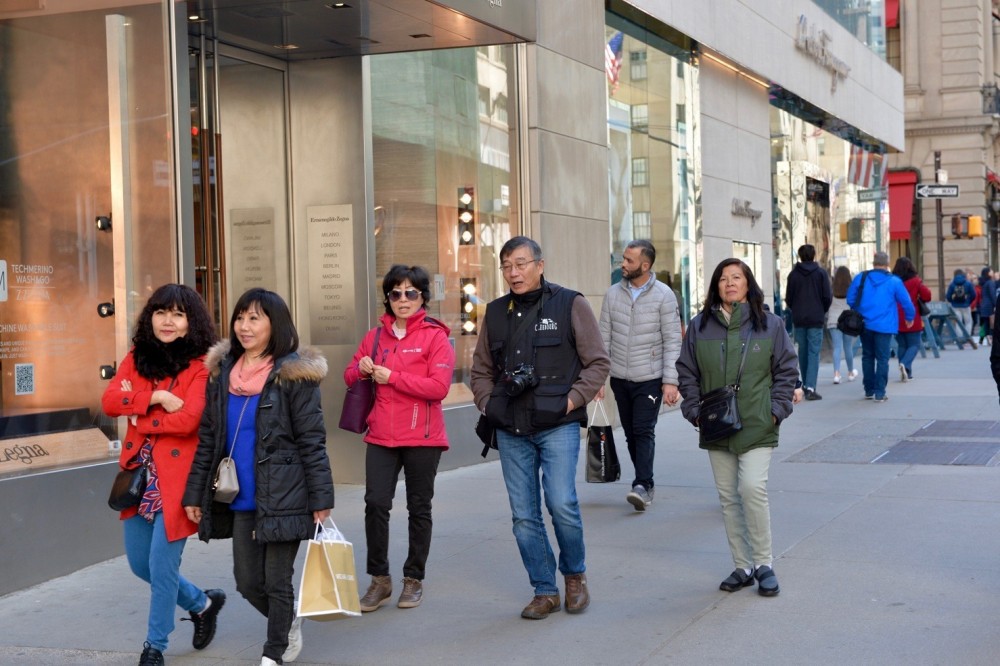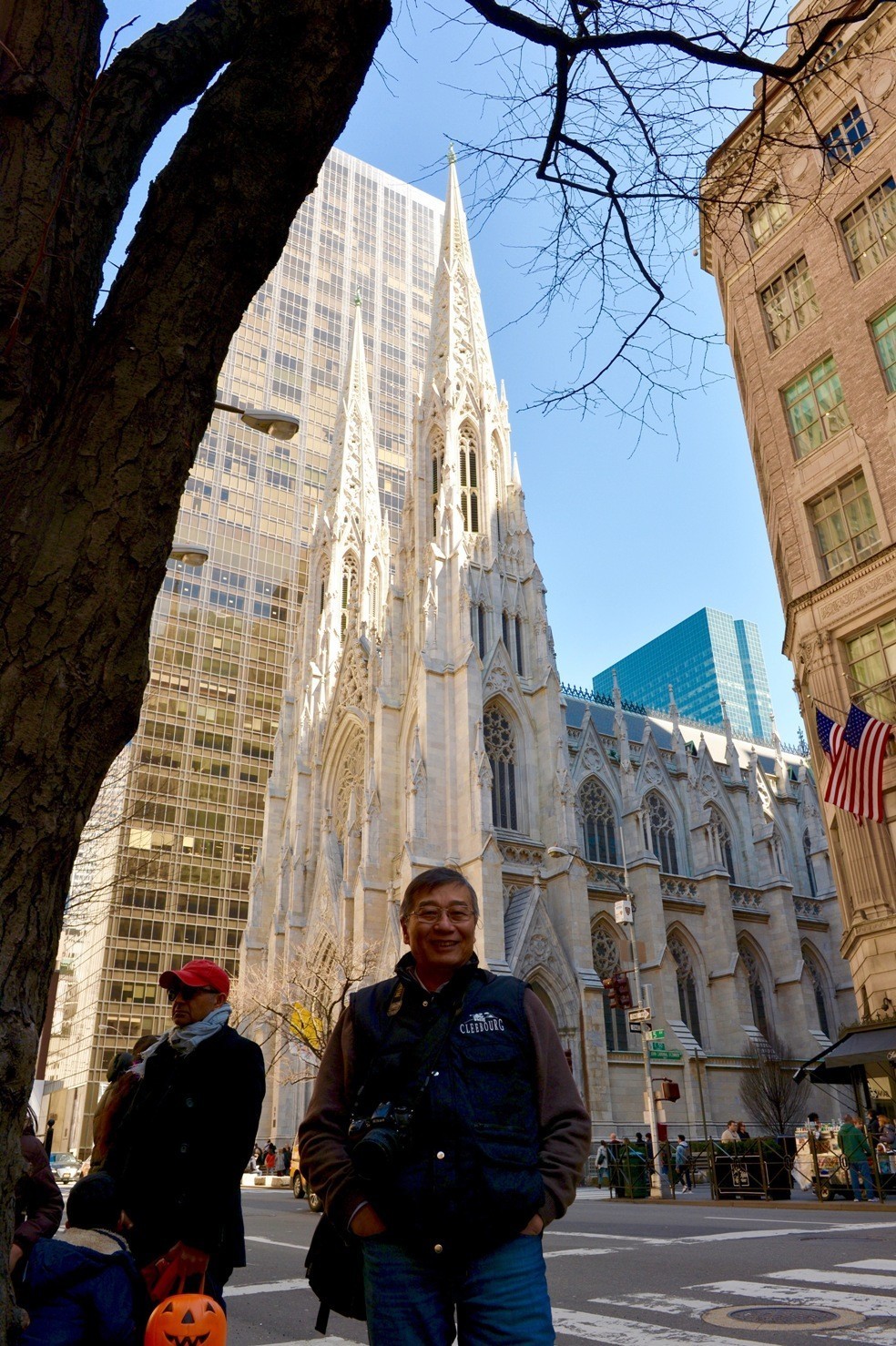 Walking back to hotel from the restaurant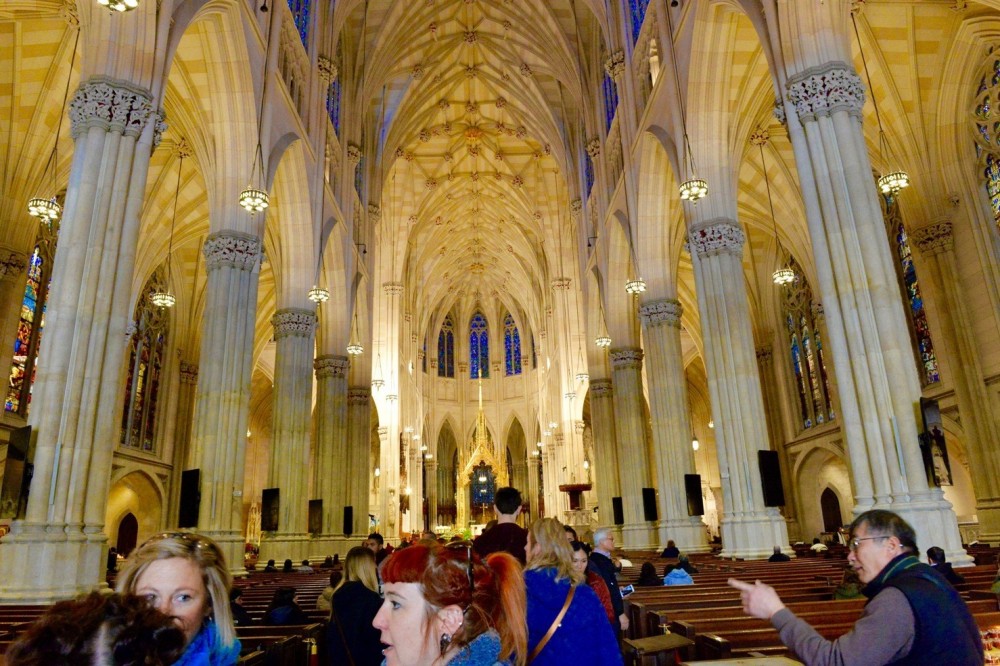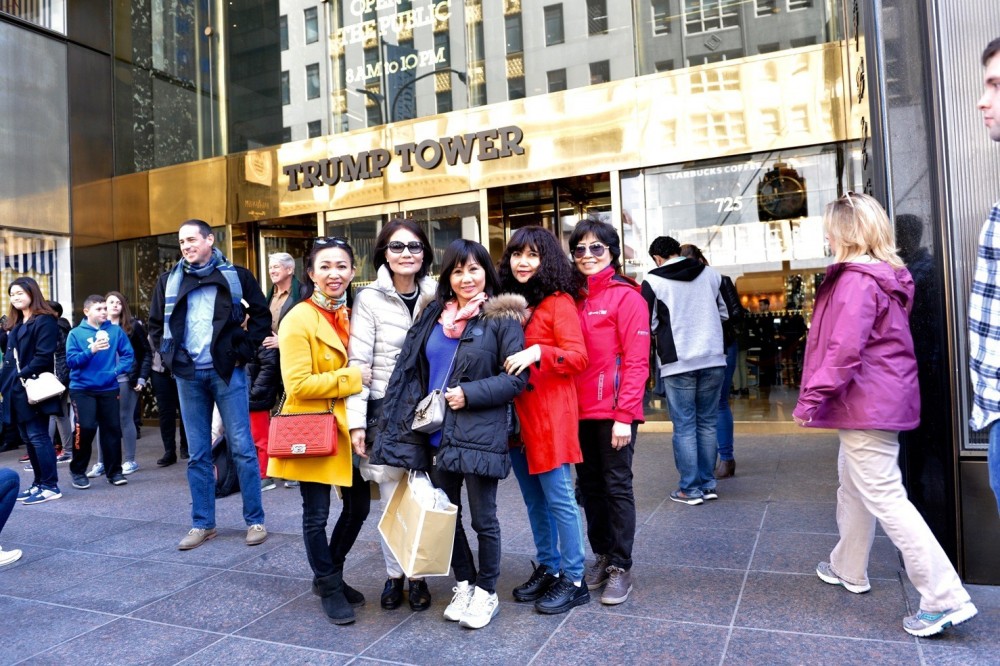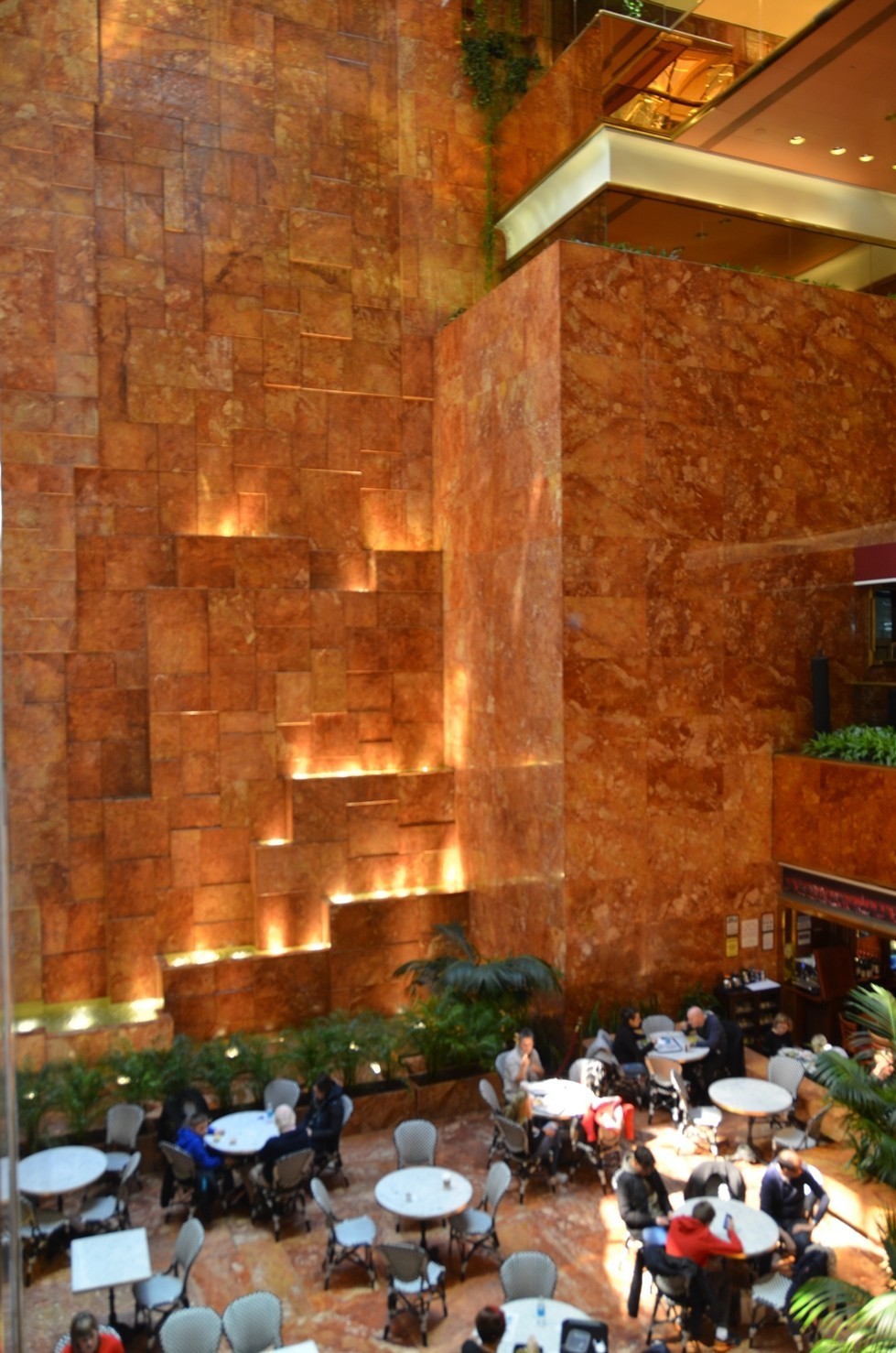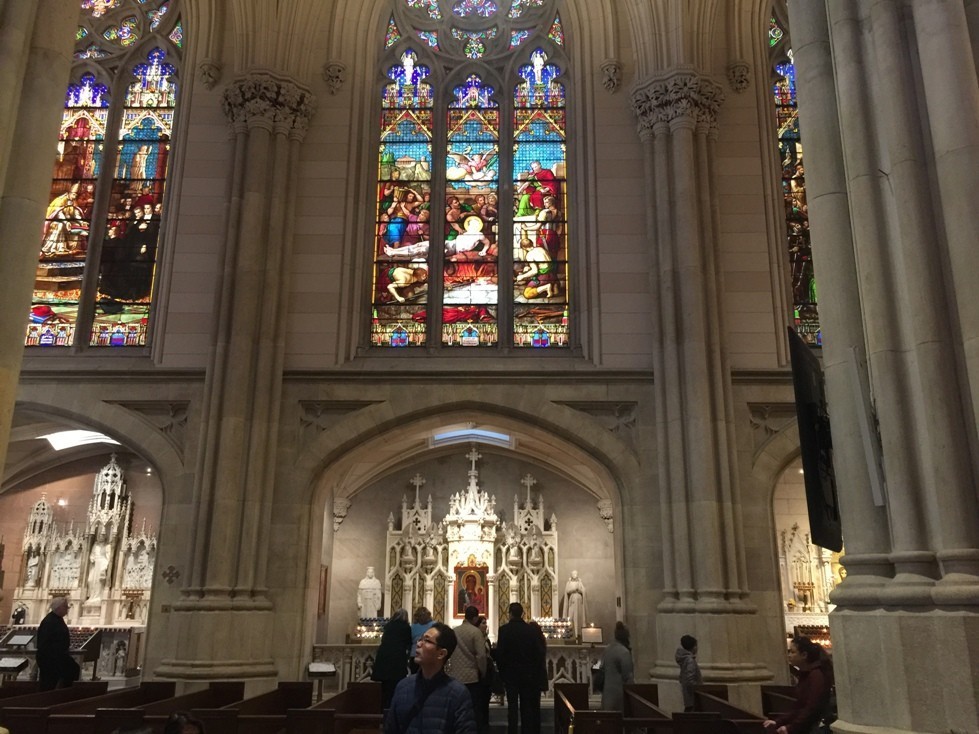 Stained glass windows in the cathedral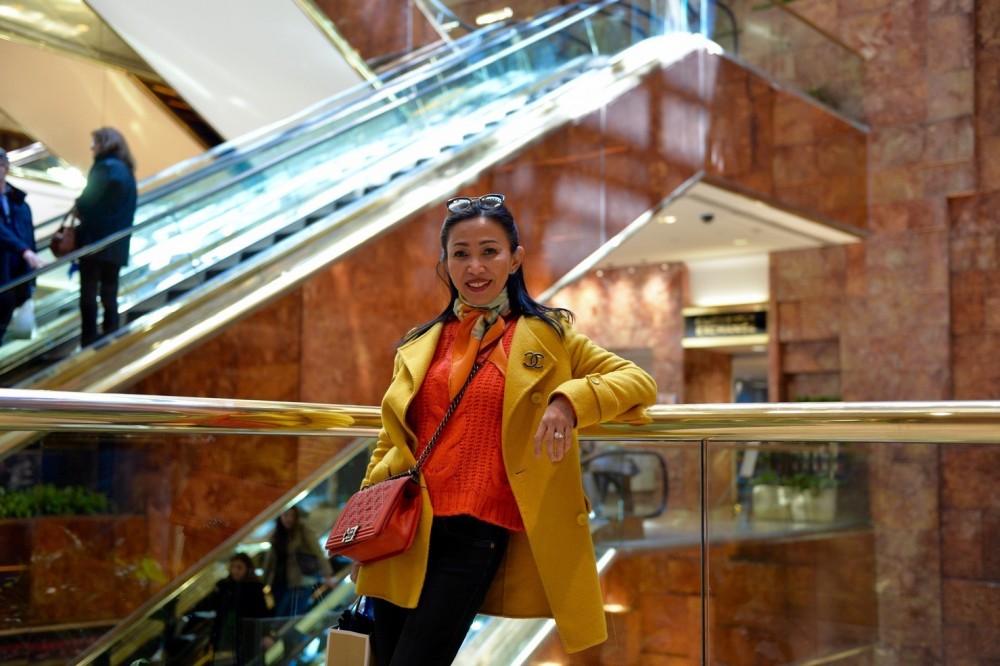 Our next stop is the Apple store where the glass atrium is closed but the store is open and packed with shopper. The store is so efficient, one of our friends from Europe are able to buy two iPhone Xs in mere minutes.

From the Apple store, we walk to Central Park, New York's best and biggest park and undoubtedly its jewel. We walk on trails, pass green grassy knolls, big ponds and huge rock crops; admire flowering trees, take pictures of curved bridges, rest on park benches, watch people, talk, and laugh. It's so fun.

Then we come to the west side of Central Park and visit the Dakota Apartments, one of the city's most prestigious addresses and where John Lennon of the famed Beatles was gunned down in 1980. Across the Dakota Apartments and inside Central Park is his monument called Strawberry Fields, a round mosaic piece of art donated to New York City by the City of Naples, Italy .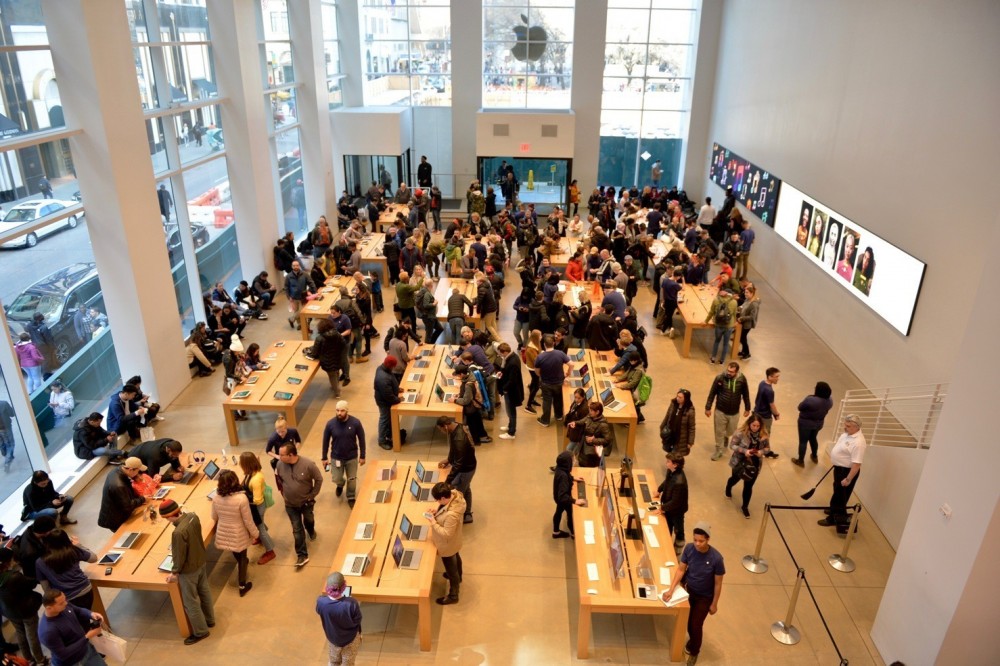 Apple Store on Fifth Avenue
Sherman Monument near the entrance to Central Park. General Sherman was a Civil War Hero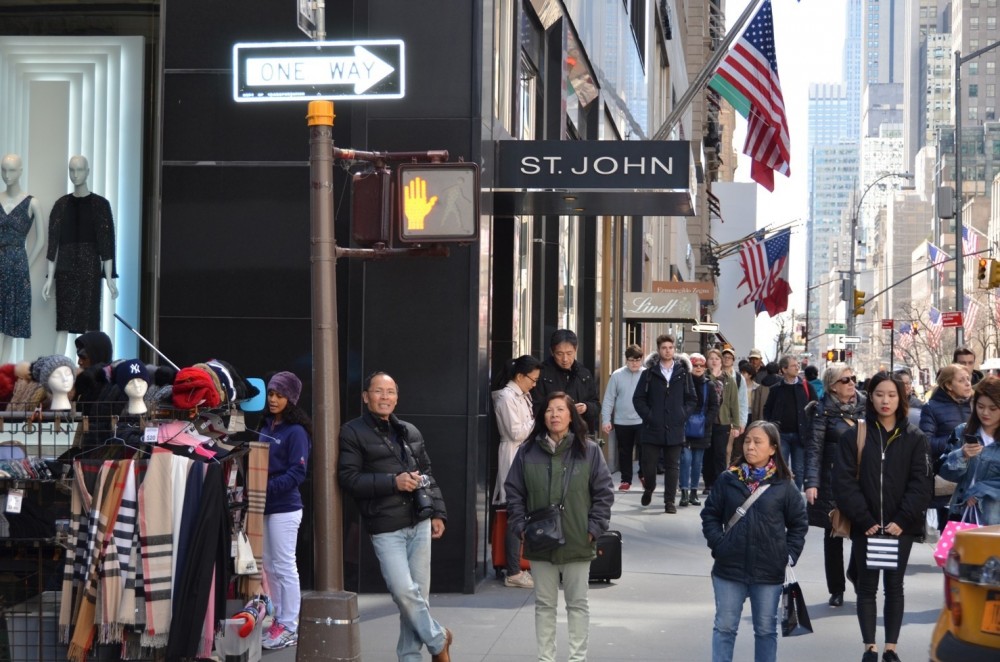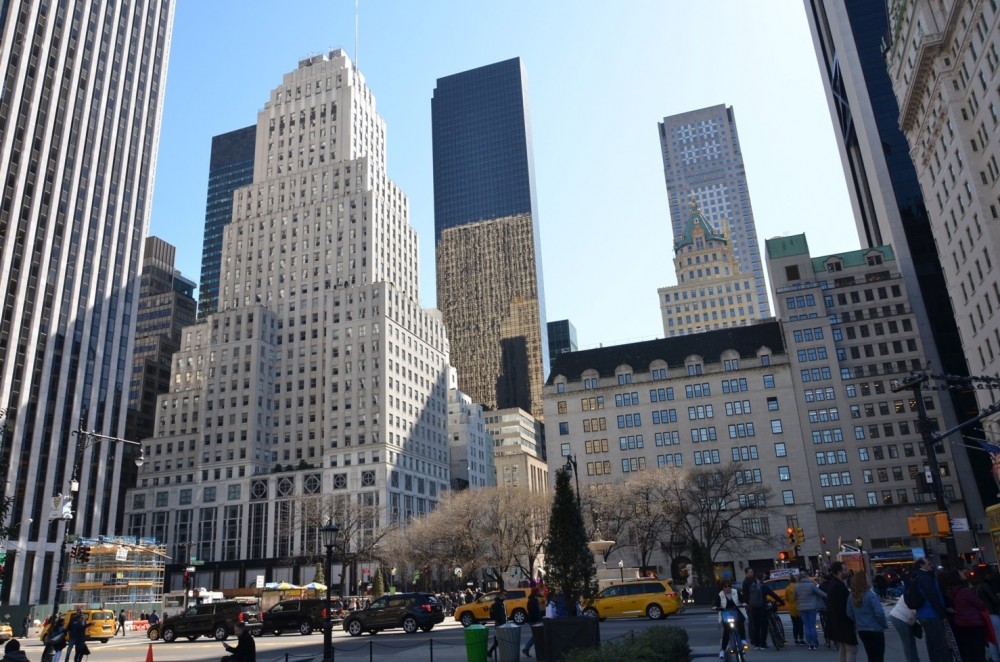 Buildings on Fifth Avenue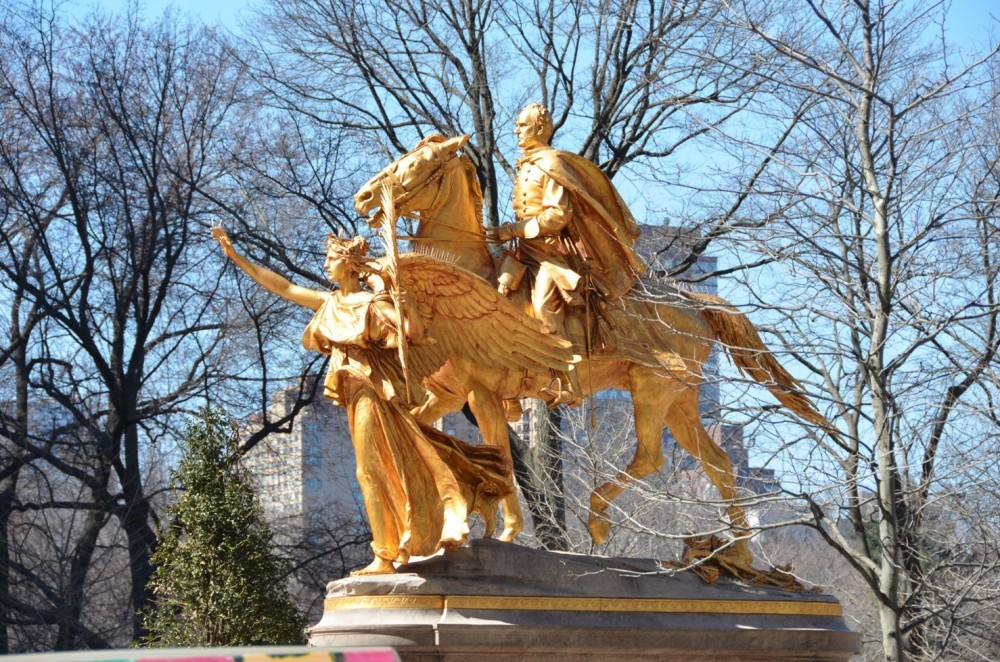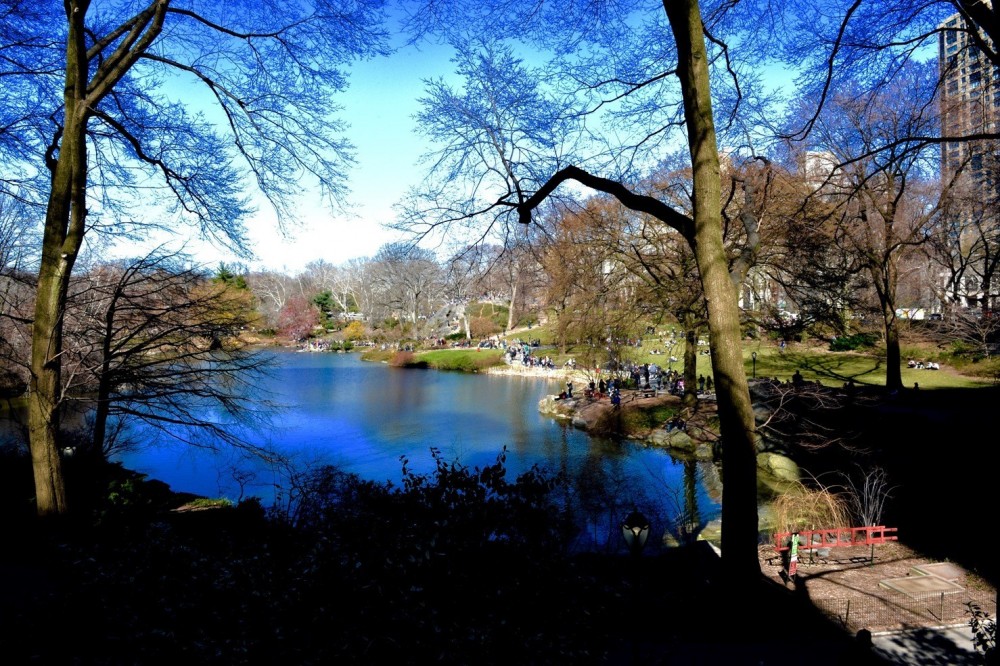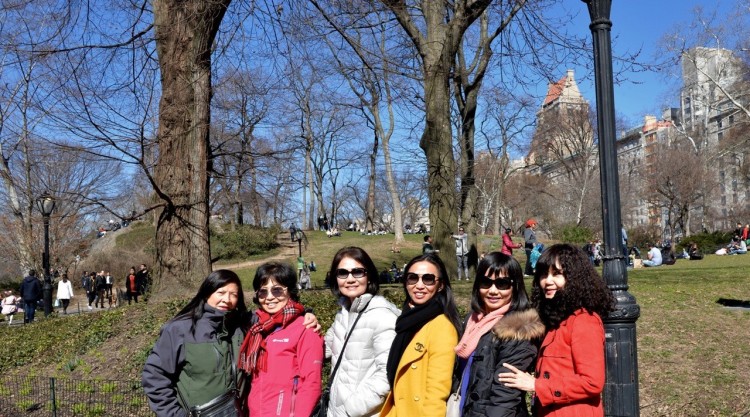 Beautiful day and beautiful ladies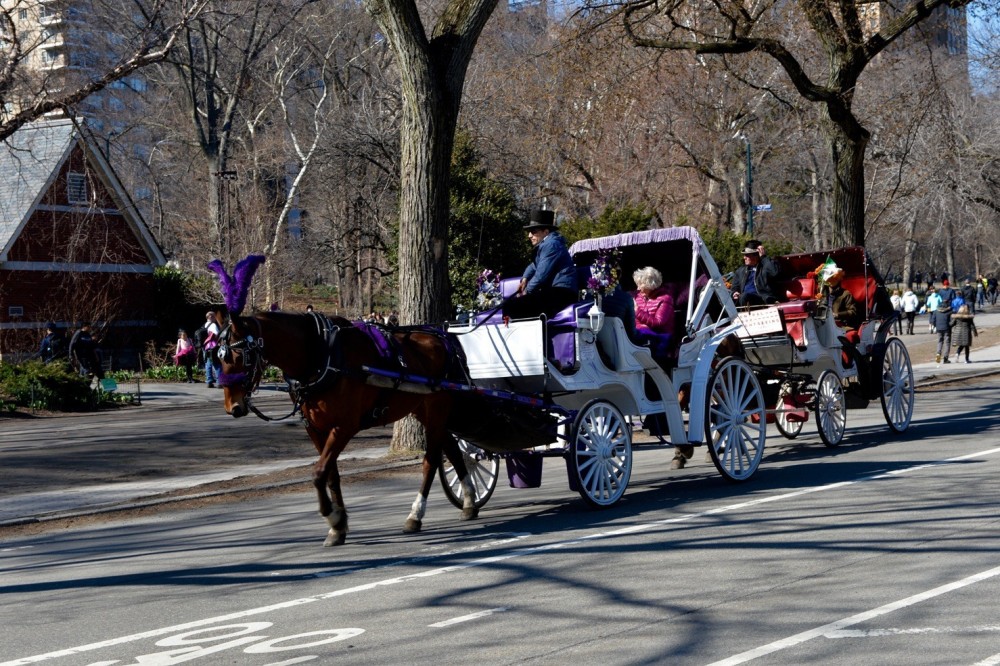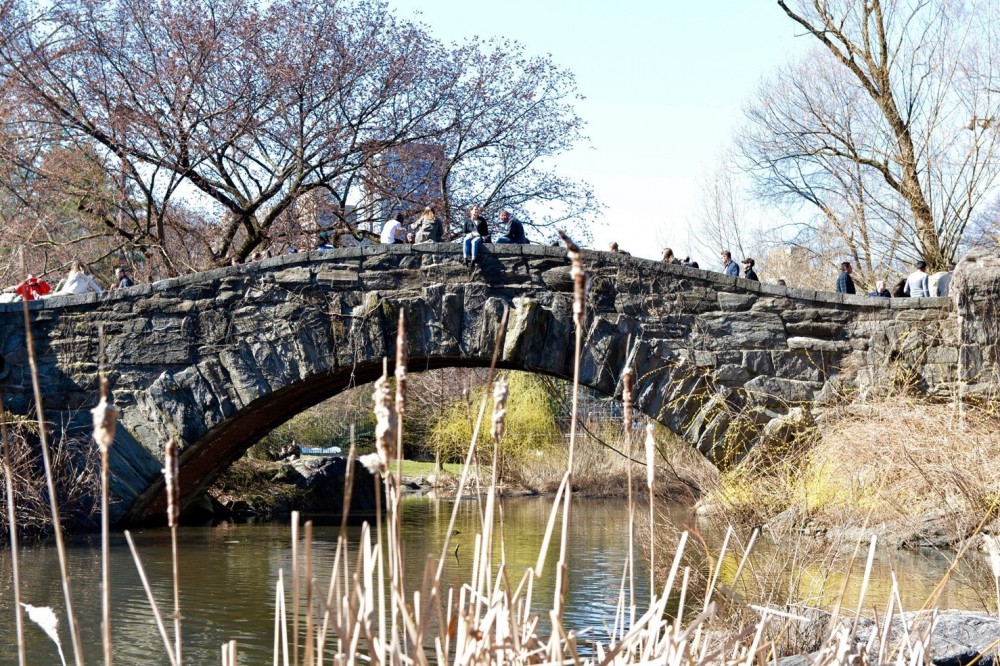 The ladies in front of Gapstow Bridge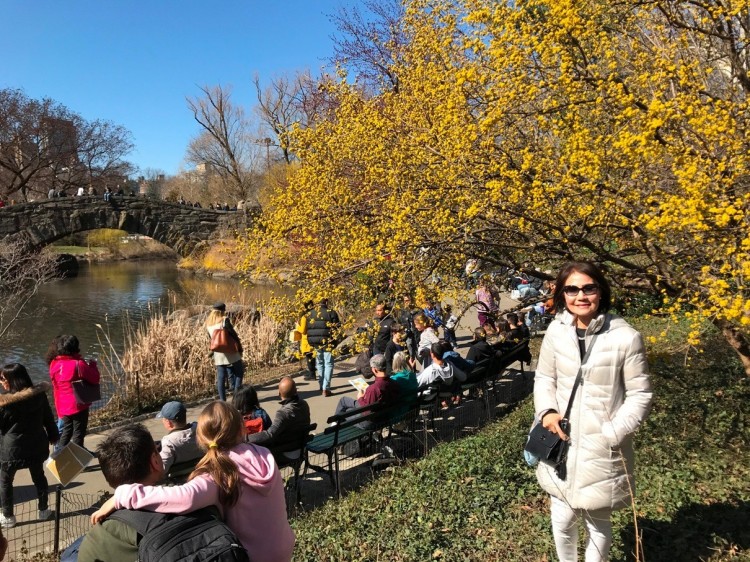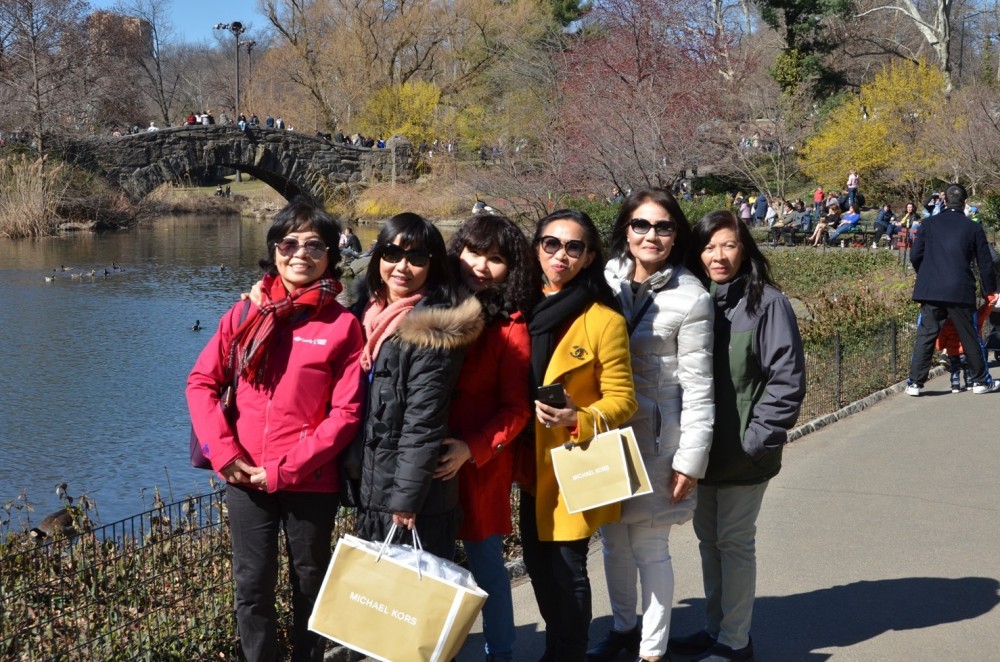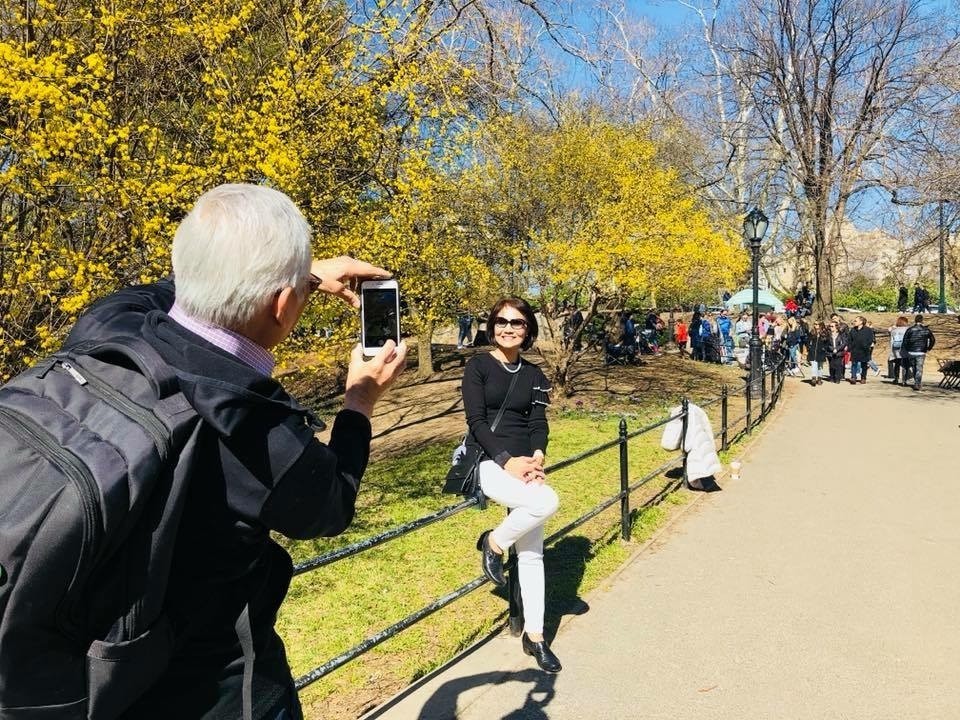 Too pretty not to take a picture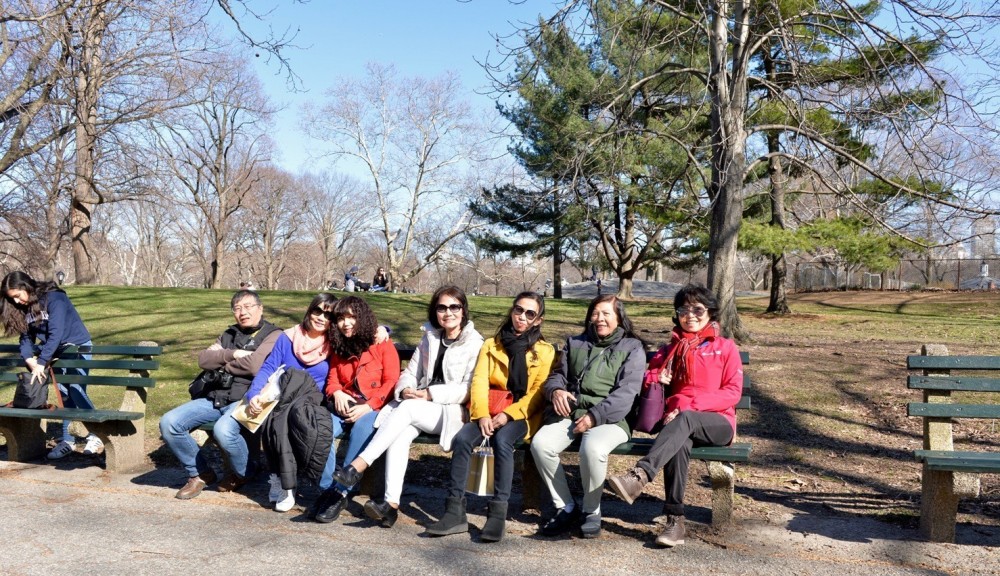 Grateful for the park benches in this immense park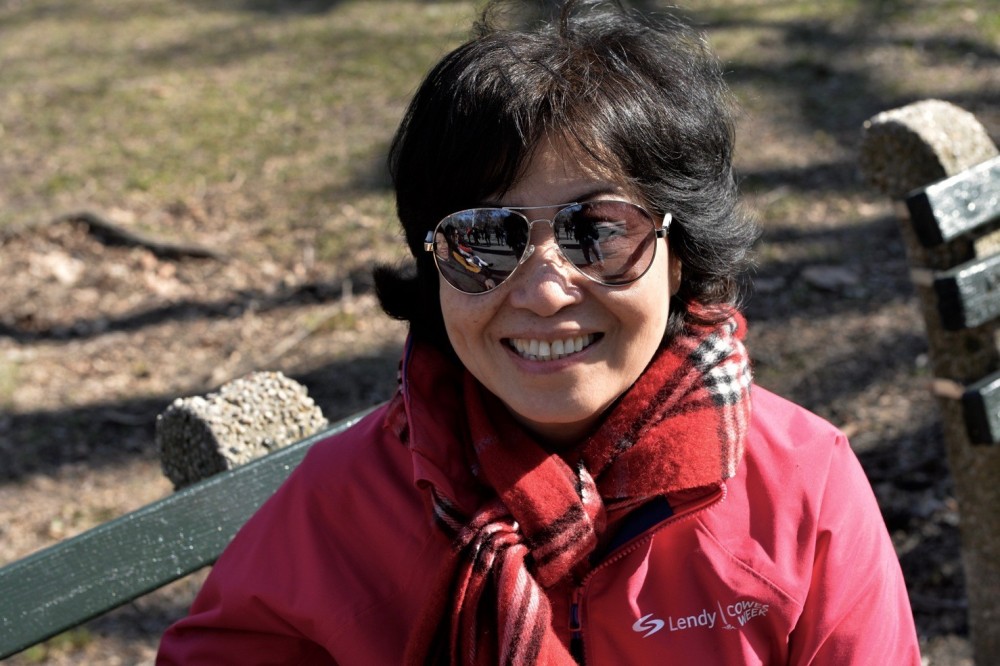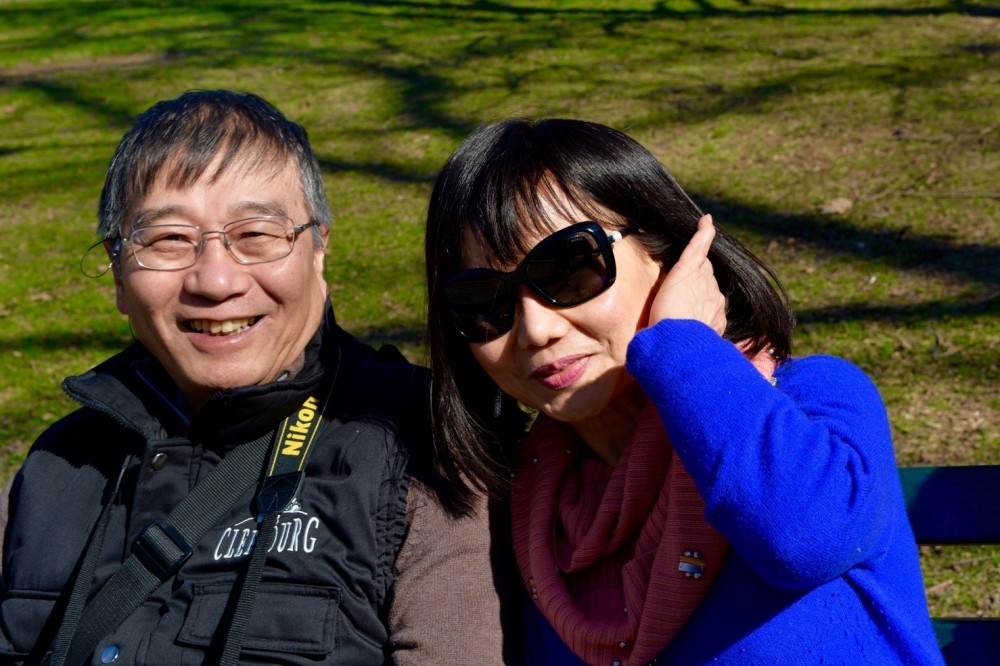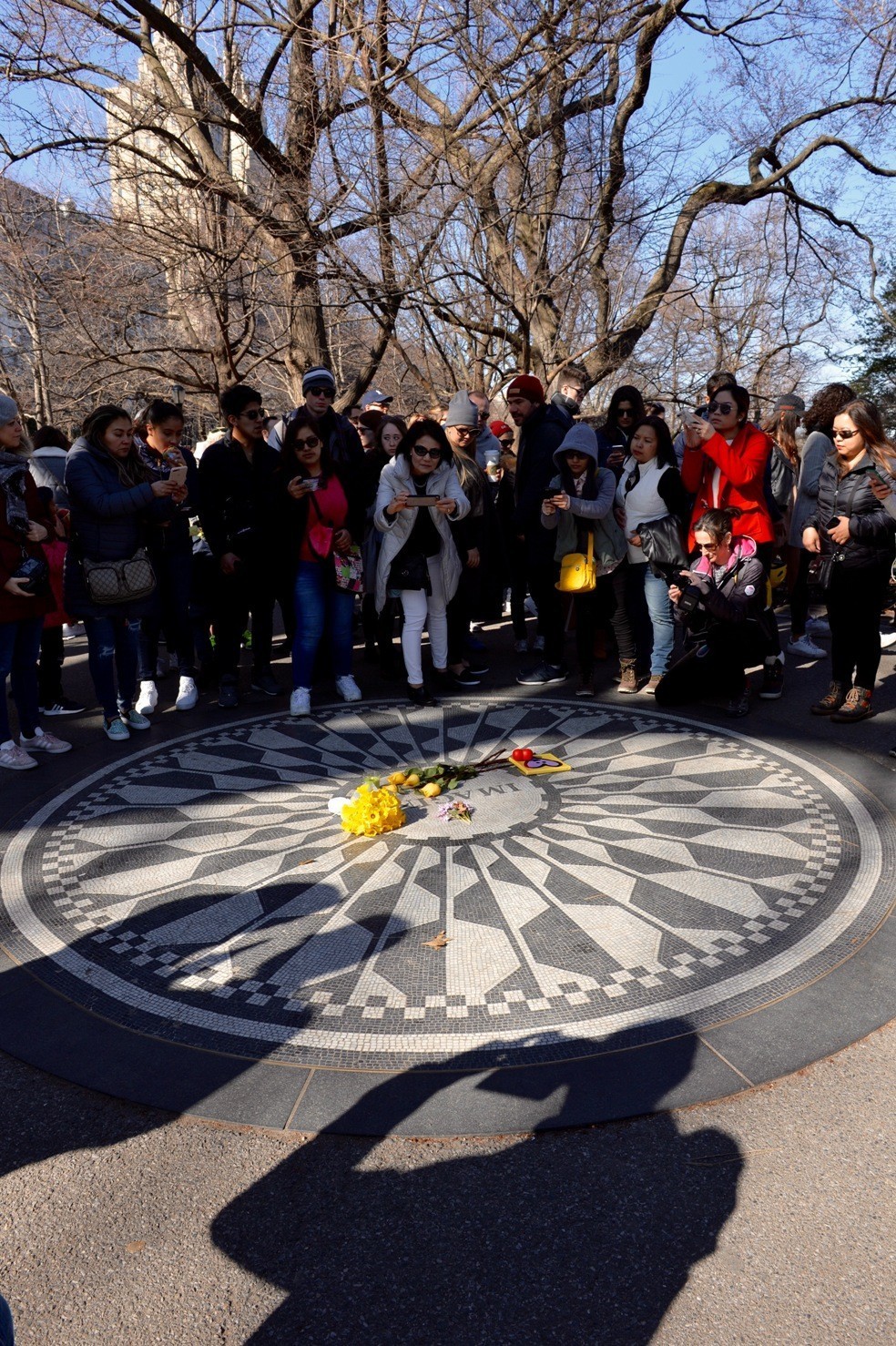 John Lennon Memorial in Central Park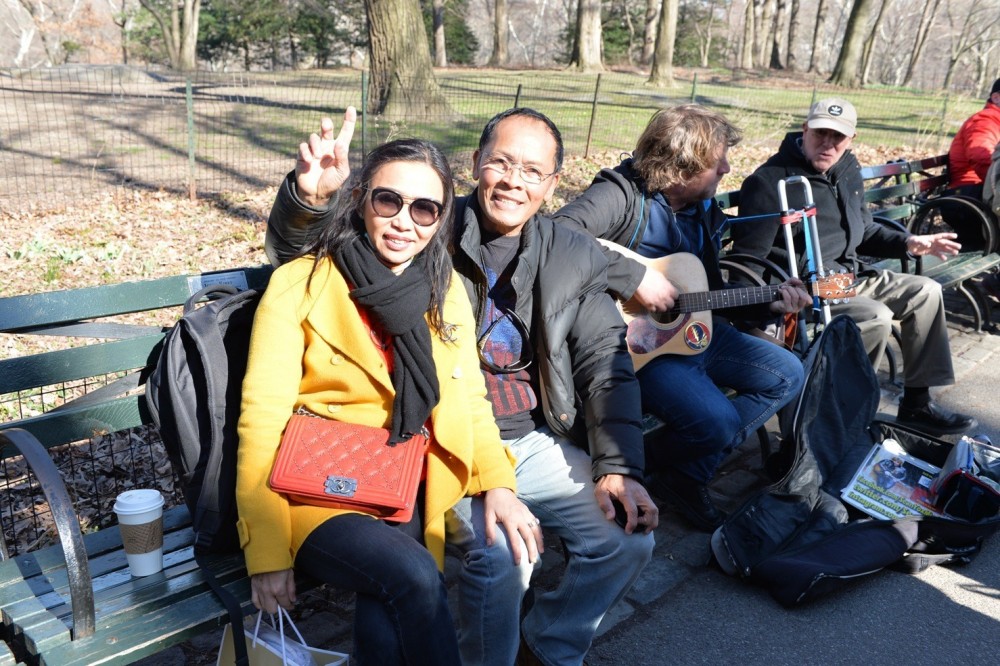 It's early evening, we return to our hotel to freshen up and get ready for dinner tonight at the Haru Sushi restaurant near Times Square.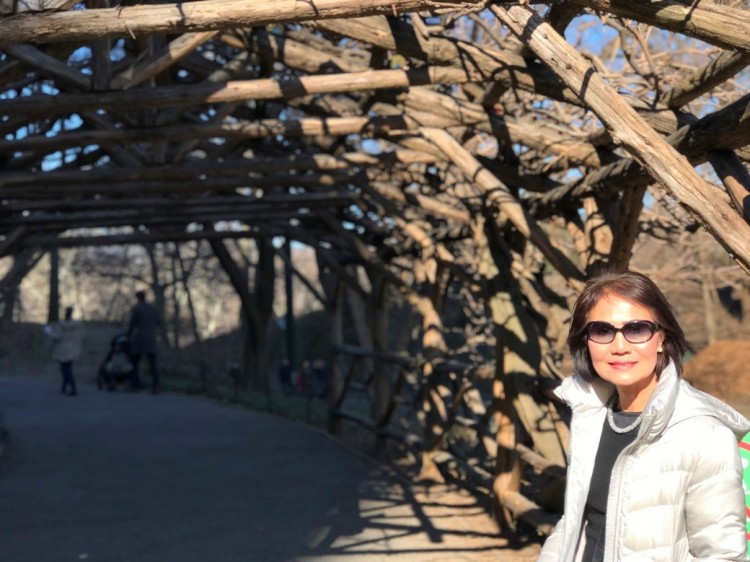 Lee near John Lennon Memorial