Day 4, Monday, April 2, 2018



We check out of our hotel this morning and board a private van to the Port Authority Bus Terminal, where we're going to ride the Greyhound bus to Washington, DC. It started snowing earlier this morning and there is a dusting of snow on trees, cars, and rooftops, and it seems to snow a little heavier as time passes. We haven't seen snow the last few years in Texas so we're glad to see it now and it's beautiful.

The Port Authority Building is a three-story building with shops, restaurants, and offices that serve inter-city and long-distance buses. We bought our Greyhound bus tickets in advance and had to find out where they're located because they have buses and metro on different levels of the building. Our bus is on the lower level and the monitor indicates that out 10:00 AM departure is on time … but it's not. A mechanical problem prevents the bus heater from working properly so they have to find a replacement bus. At 10:20 AM, we finally leave. The bus ride is comfortable and the driver is knowledgeable, it has electrical outlets at every row, but its WiFi is very spotty. There is a restroom on the bus but the driver stops at a rest station in Delaware after about two hours of driving for a restroom break. We arrive at Union Station in Washington DC around 2:30 PM.

As previously arranged, a private van picks us up and take us to our rental home on I Street Northeast DC, where the owner meets us to give us the house keys and show us how various things in the house work. As a greeting gesture, the owner provides us a bottle of red wine and a case of water bottles. Nice gesture!


​​

A snowstorm in New York City on the day we're leaving it
At our rental home in Washington, DC
Our first task is to shop for grocery at this Whole Foods
Our group is so ready to tour the City
Our first stop is the Tidal Basin near the national Mall
We catch the Yoshino Cherry trees flowering at the right time
The cherry blossoms are so beautiful
Riding the streetcar to Union Station
The beautiful Union Station
Ha, Lee, and Thu Ba. The Jefferson Memorial in the background
Our group at the Lincoln Memorial
Our group at the Lincoln Memorial
Bringing the grocery home
Feeling hungry, we take the metro to Gallery Place- Chinatown Station where we enjoy a sumptuous and delicious lunch at Tony Chen Restaurant. Our lunch includes dim sum, roast duck, and assorted stir fry dishes. The number of Chinese restaurants in Chinatown is fairly small as most have moved out due to high rent but you would not know that by looking at the immense entrance gate to Chinatown.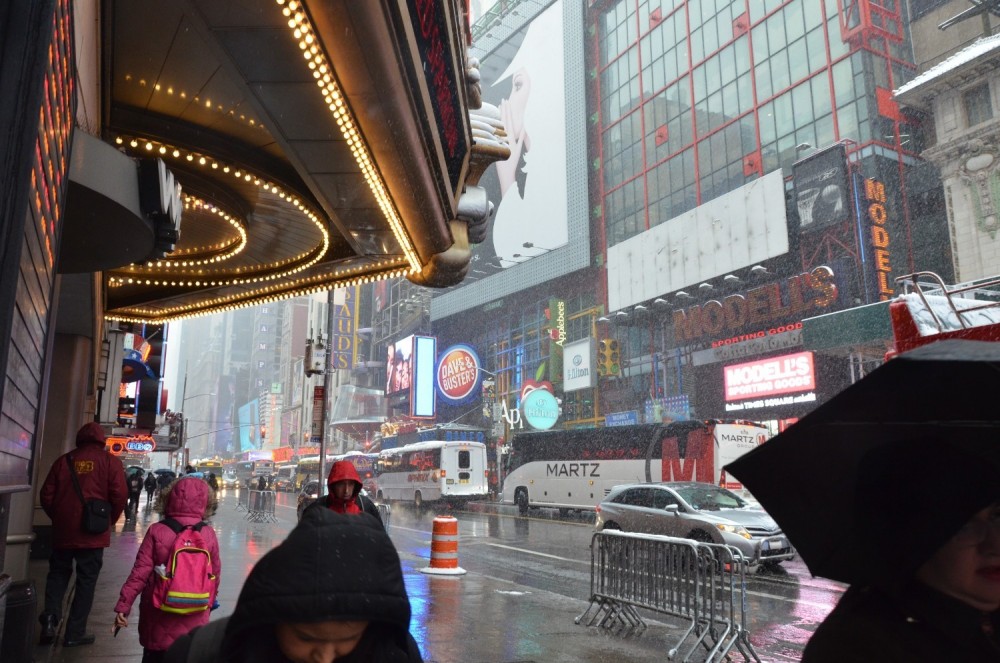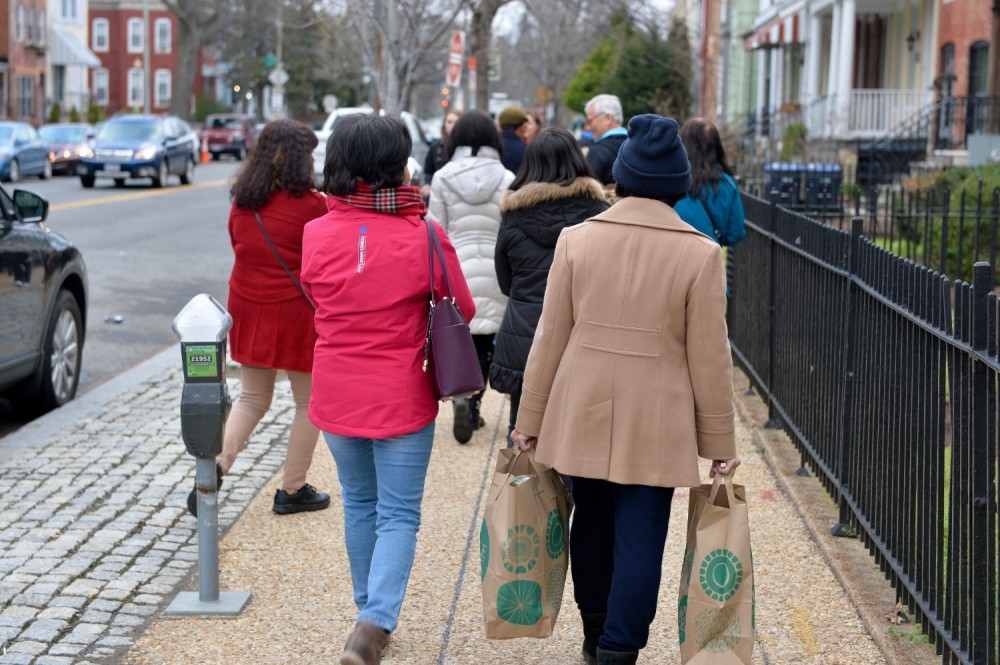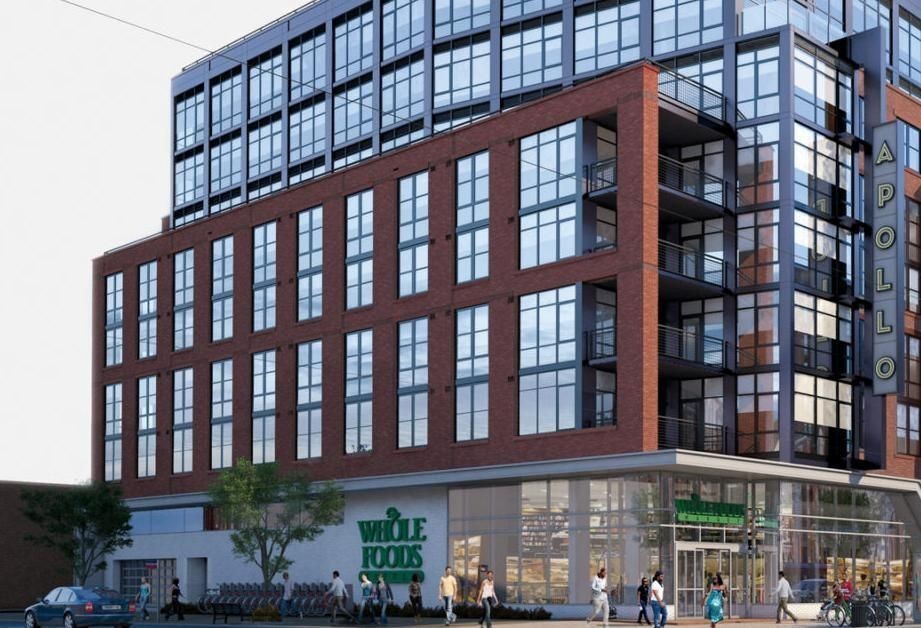 The house is a two-story residence located in a quiet neighborhood. It has five bedrooms and two full bathrooms upstairs and a toilet downstairs. The living room, dining room, and kitchen on the first floor are all connected creating a nice and open space for our large group of people.

A taxi stops in front of the house to drop off Thanh and Bich who arrived in DC a couple of days earlier and are now staying with us in this house. More welcoming hugs exchange. We discuss bedroom assignment and decide on the lottery system. Each couple pulls a number from a hat and is assigned the bedroom accordingly. The system seems to work well.

We take note of our grocery needs then the whole group head to the big Whole Foods grocery store two blocks from the house to buy things we need for our three-day stay.

Back at home, the guys prepare a meal of salmon, various vegetables, salad, chips and dips. Our dinner is simple but healthy and delicious. While we're having dinner, the doorbell rings and the last person of the group, Bao, arrives.
​
Our group of 12 people is now complete.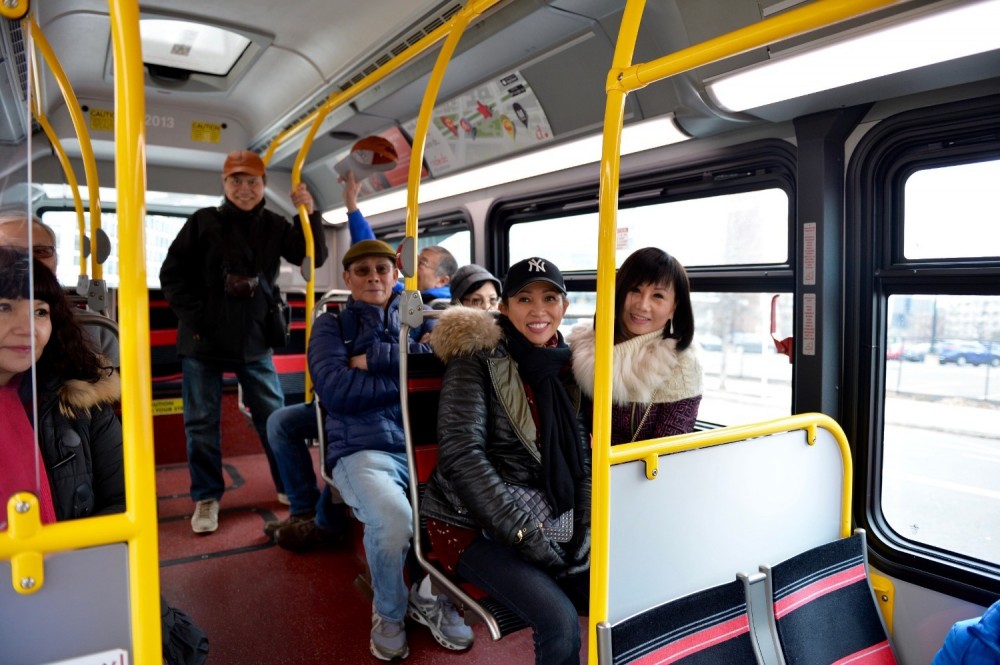 Day 5, Tuesday, April 3


​
After a good night rest and a quick breakfast, our group heads out to see the City. Our rental house is located one block from a DC Streetcar stop on H Street and 8th Street. The streetcar is new and it's free and we would use it frequently to get to Union Station where we catch the DC metro or buses to go to other places. We have bought and loaded our DC smartcards with money before the trip and they are ready to be used.

At Union Station, we go out the main door to board the red circulator bus which runs along the National Mall and makes stops at various monuments.

Our first stop is the Jefferson Memorial on the Tidal Basin. We come to DC at the right time as the 3,500 Yoshino cherry trees along the shore of the Tidal Basin are in full bloom with spectacular pink and white flowers. We walk on the sidewalks under canopies of spectacular blooming flowers and enjoy the magnificent view in this warm and sunny day. We spend a long time around the Jefferson Memorial taking pictures and taking in the views.

Walking and using the mall circulator we stop and visit other famous memorials and monuments on the National Mall.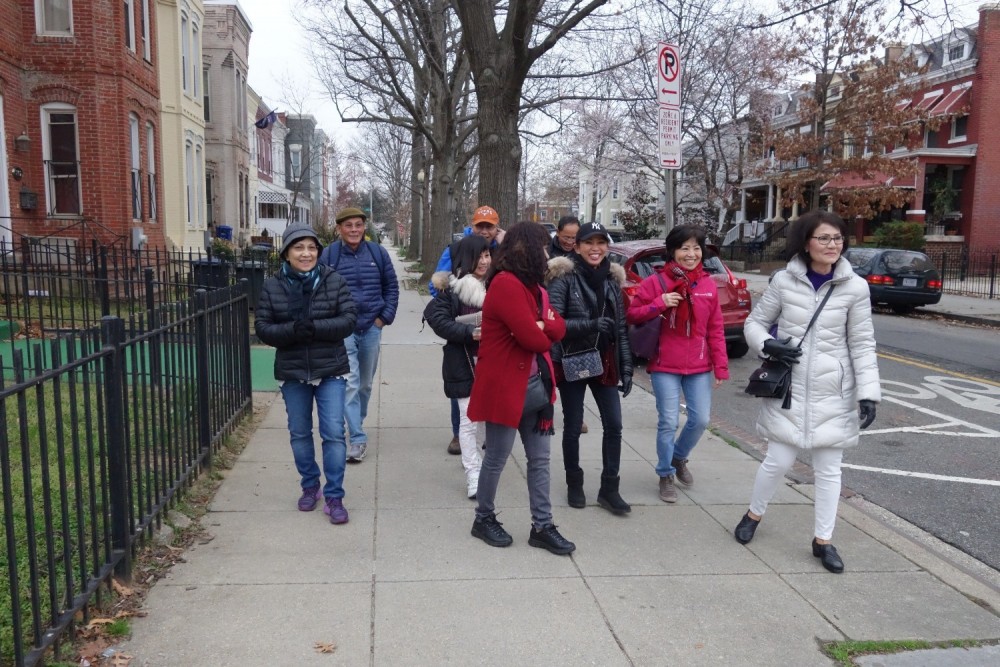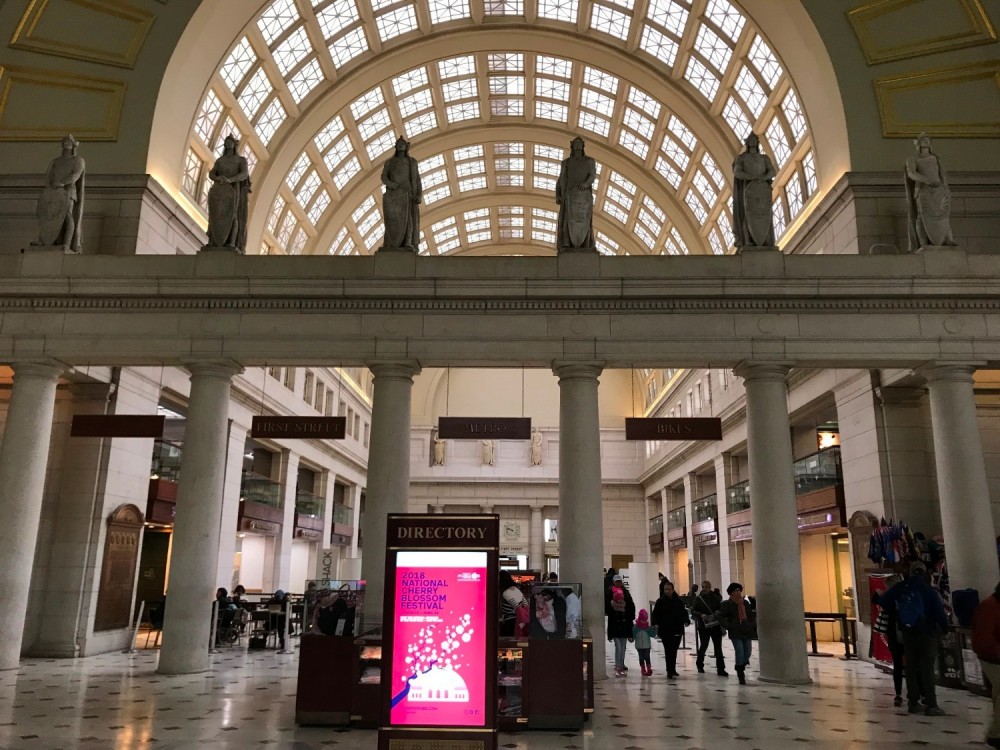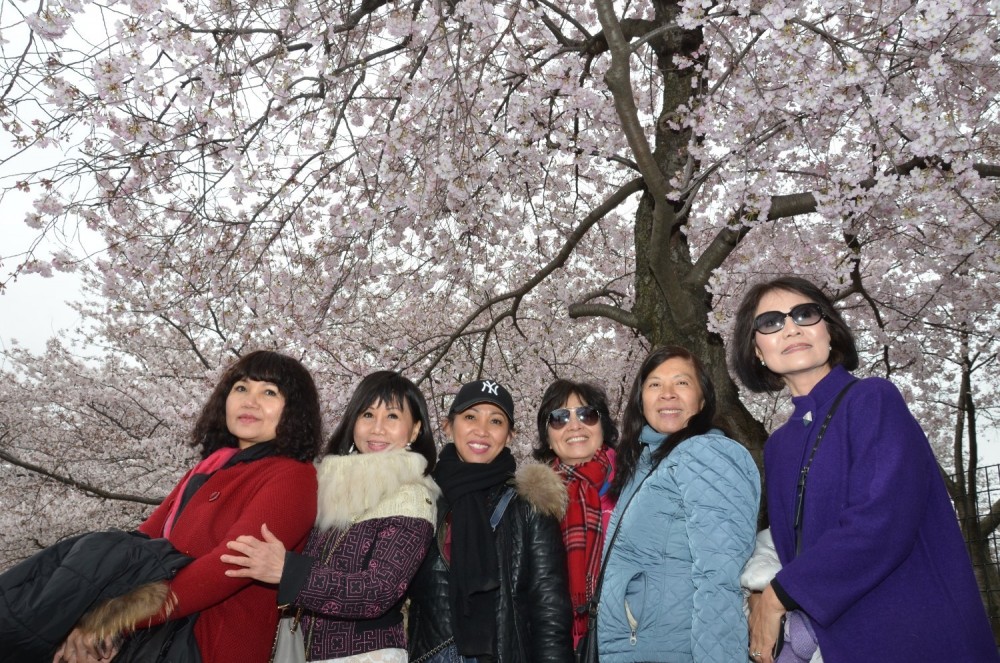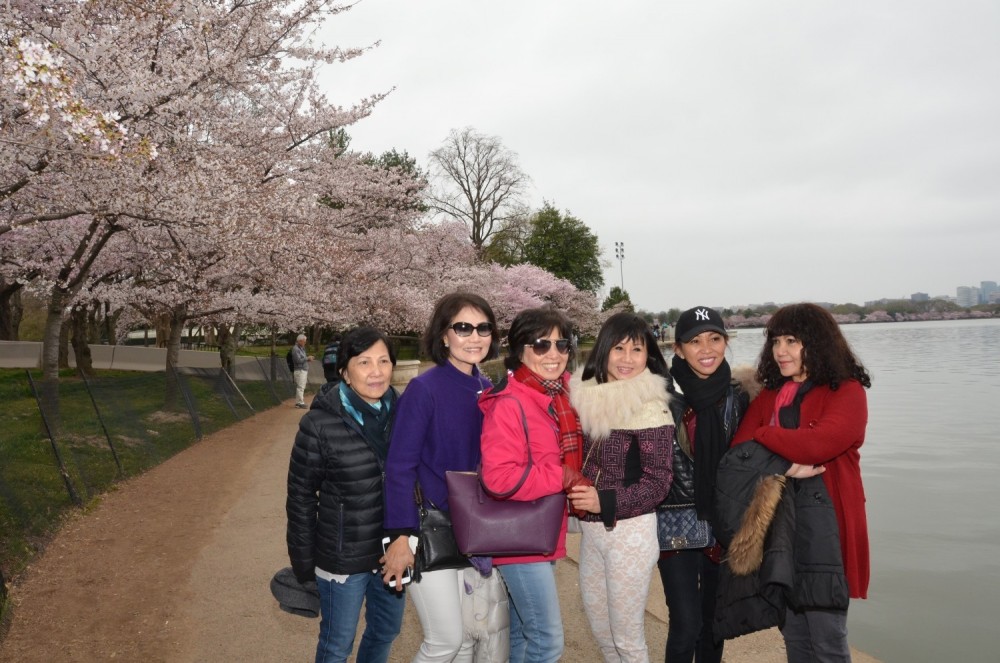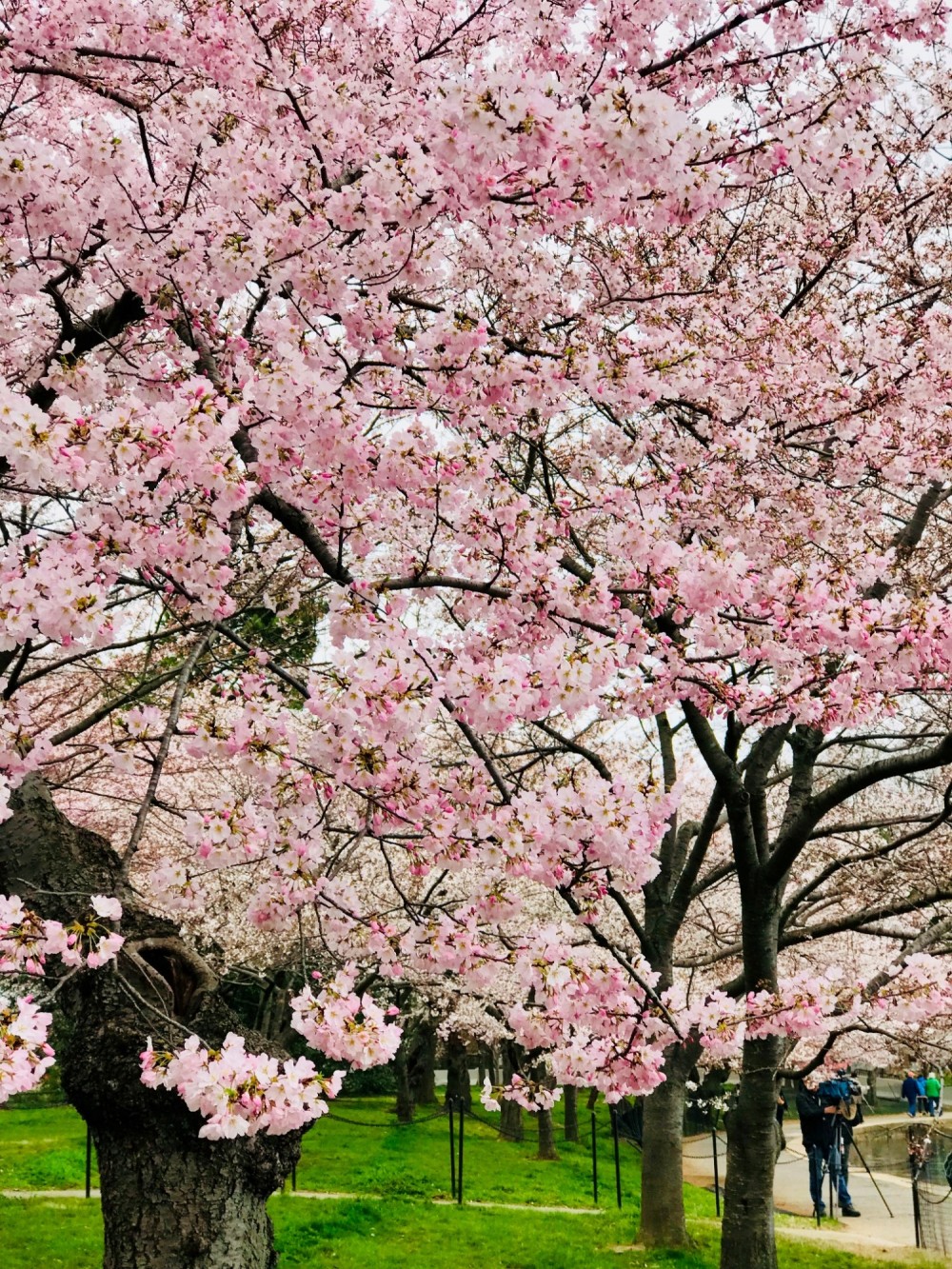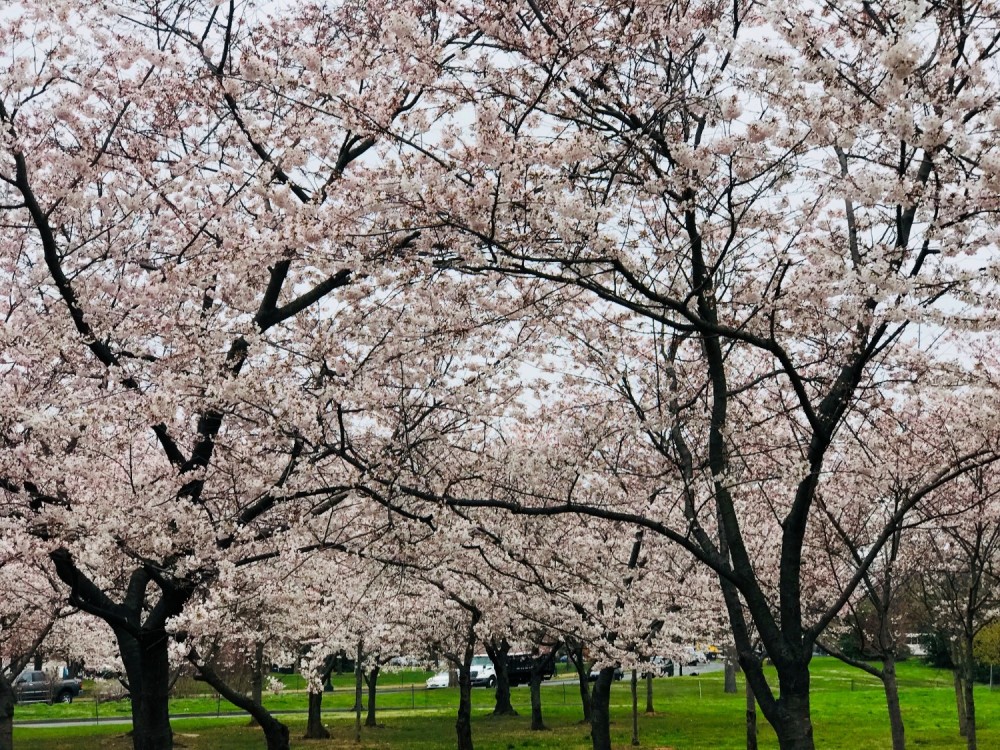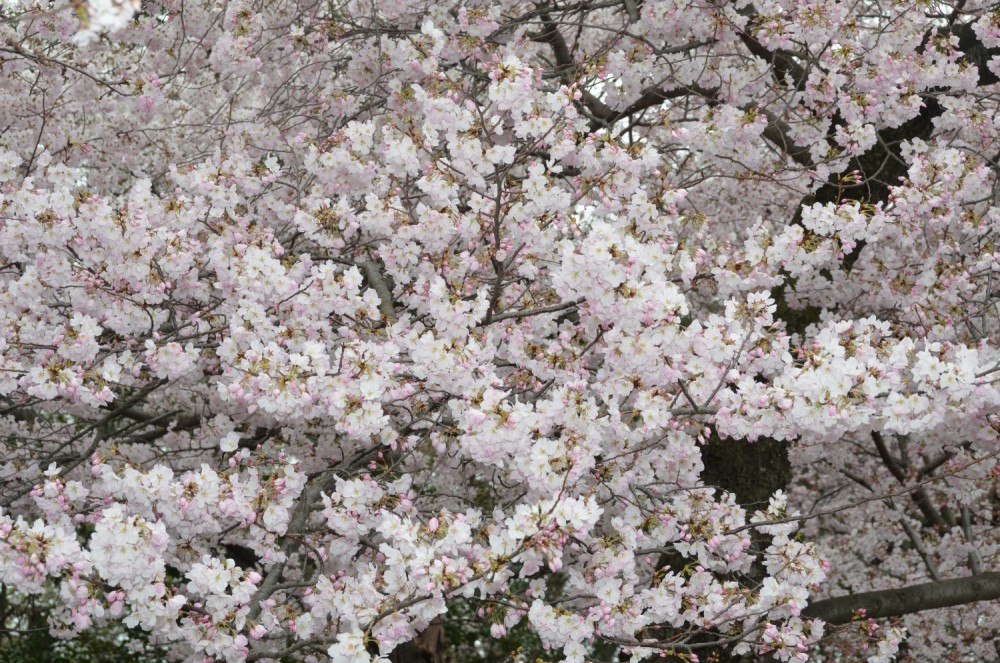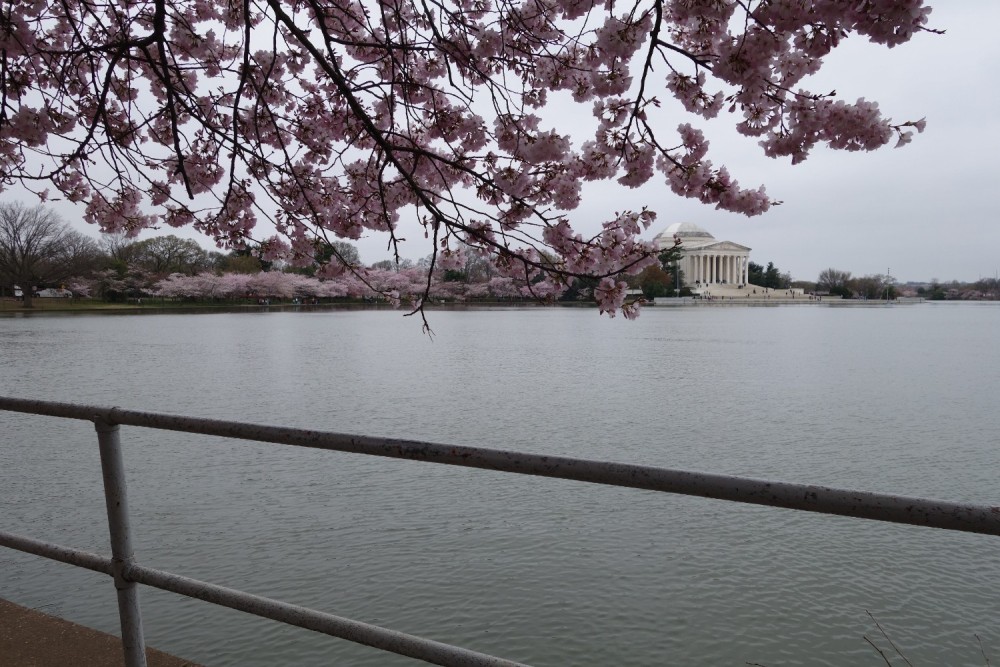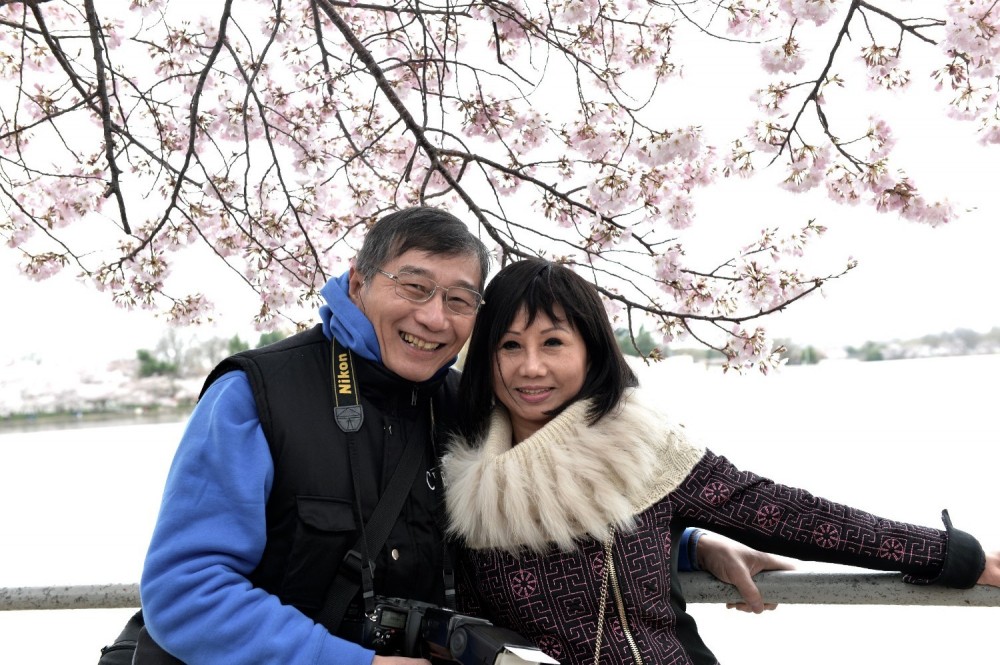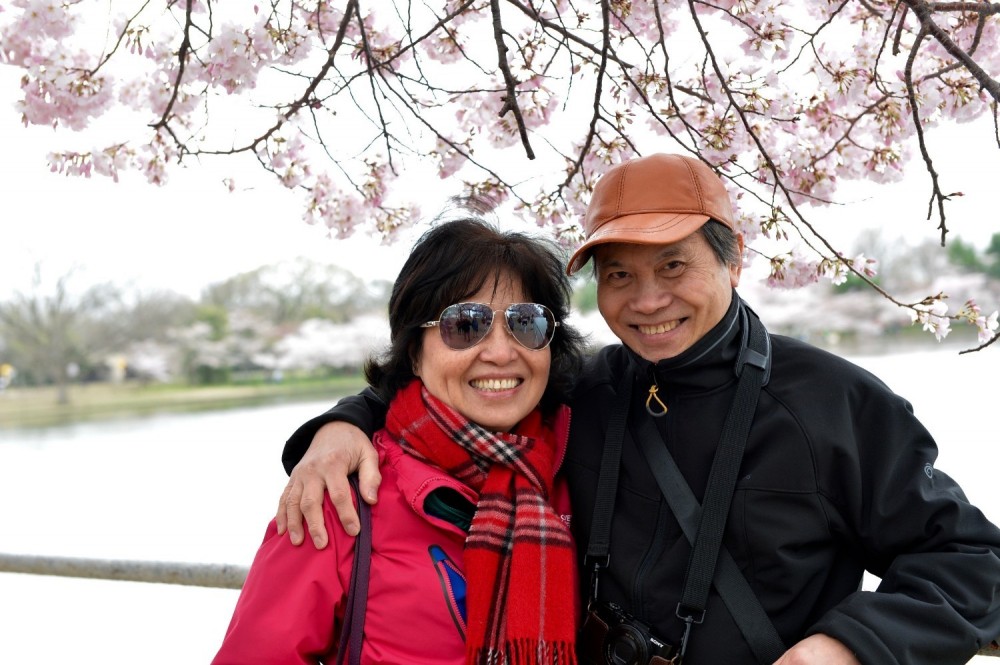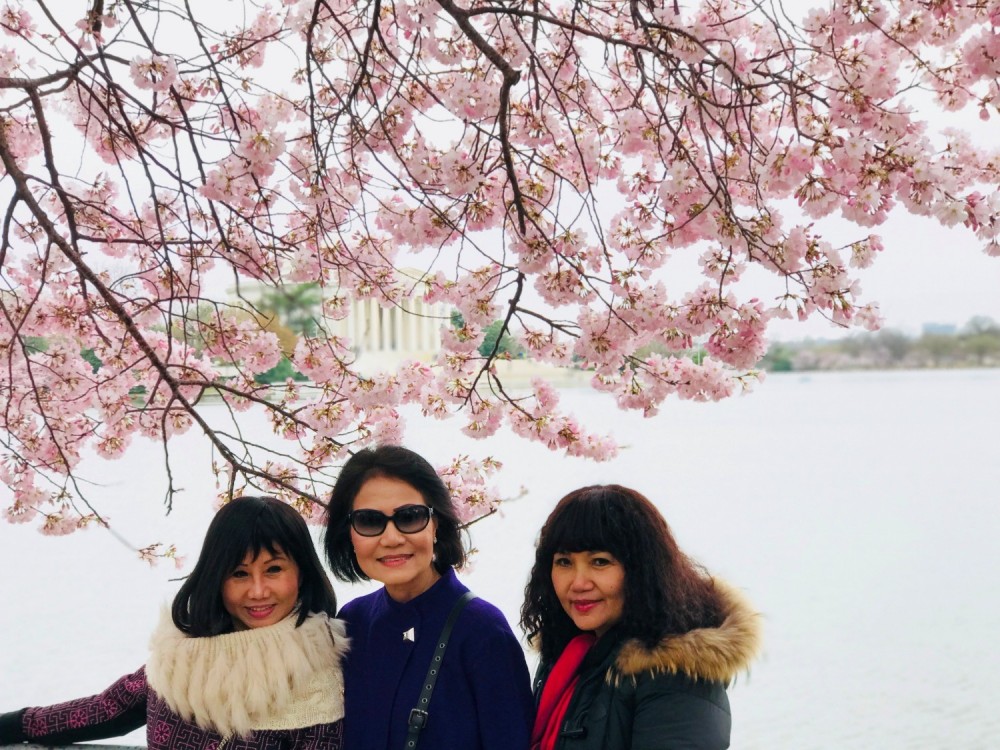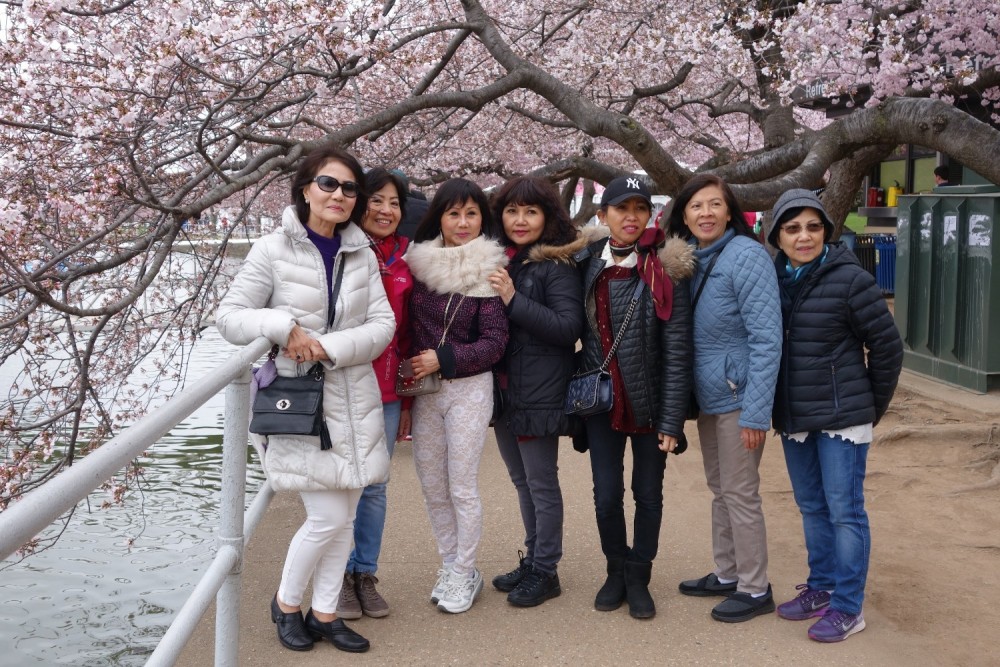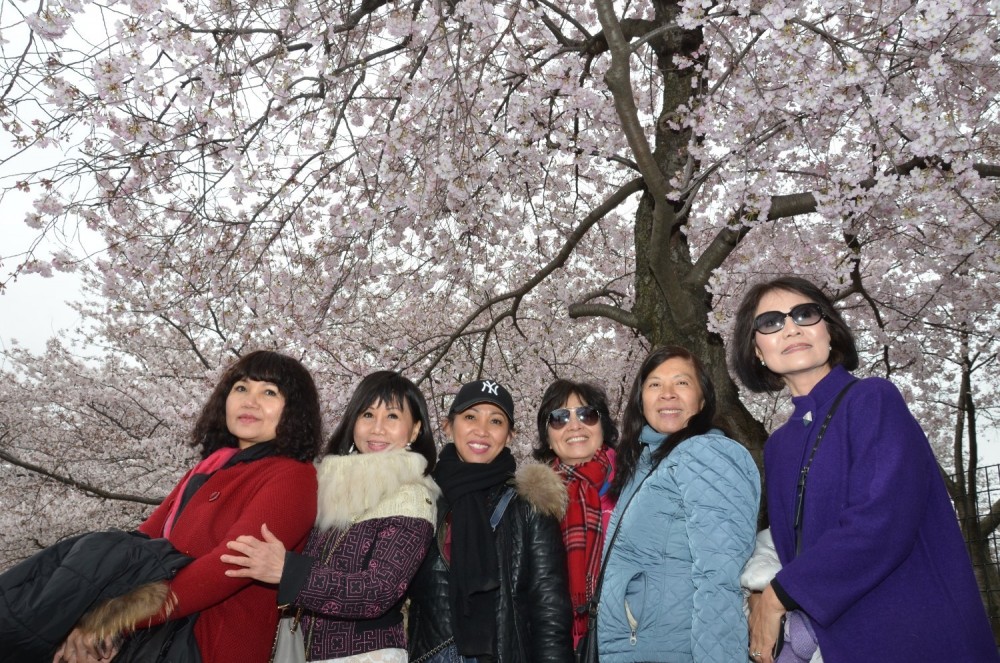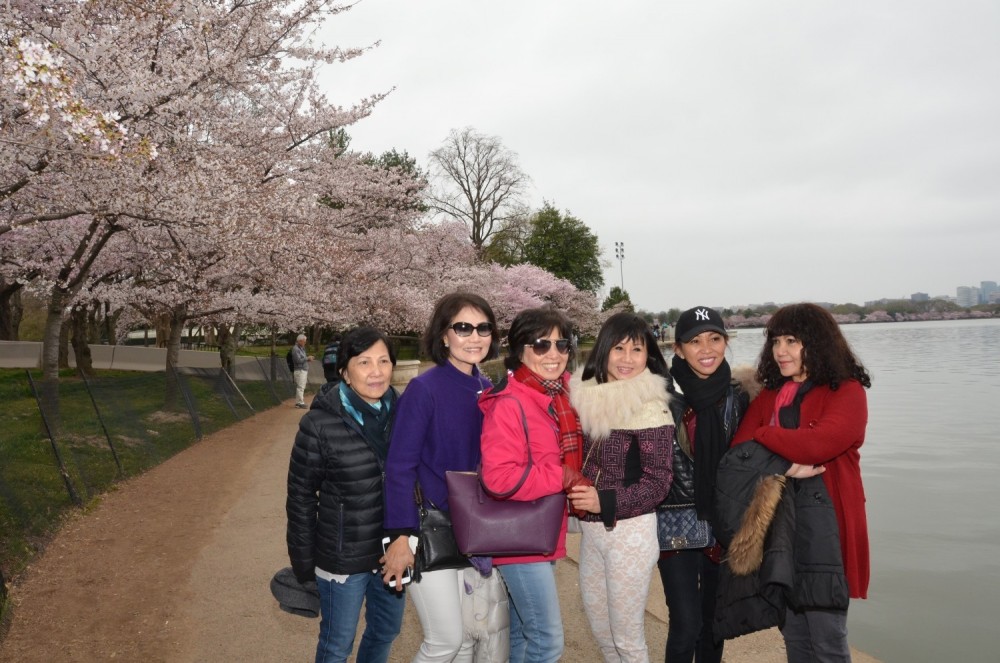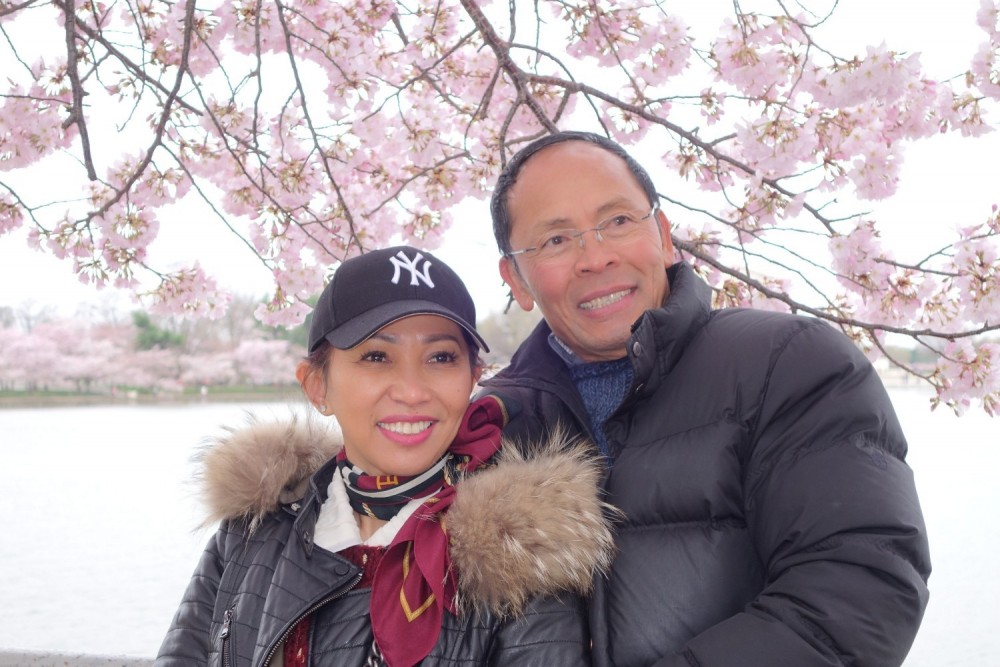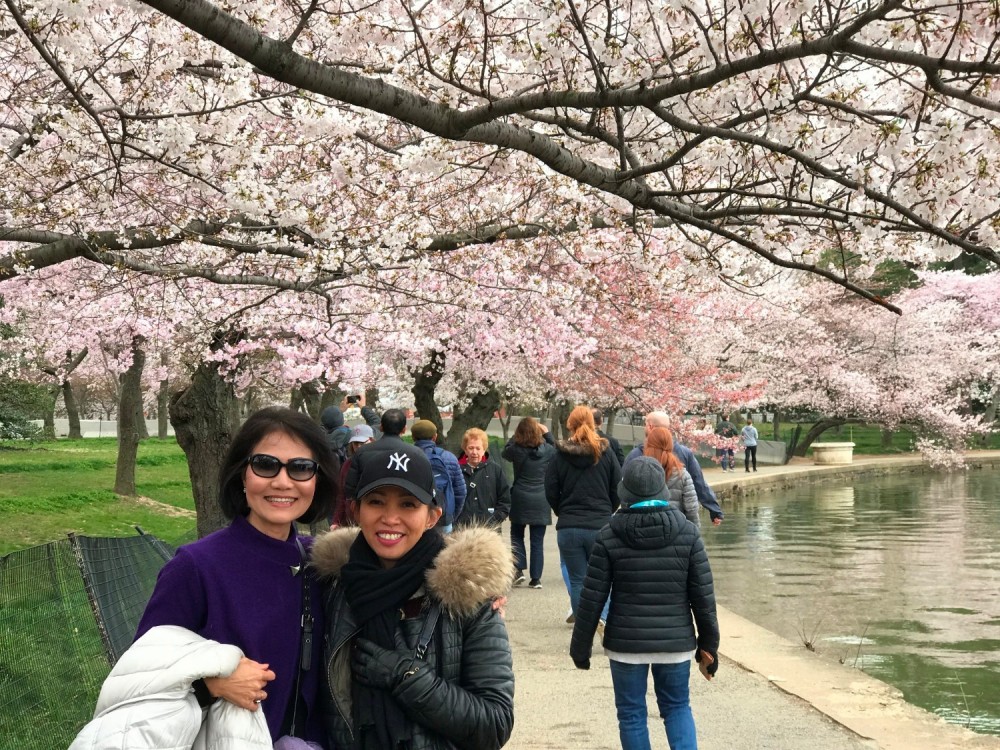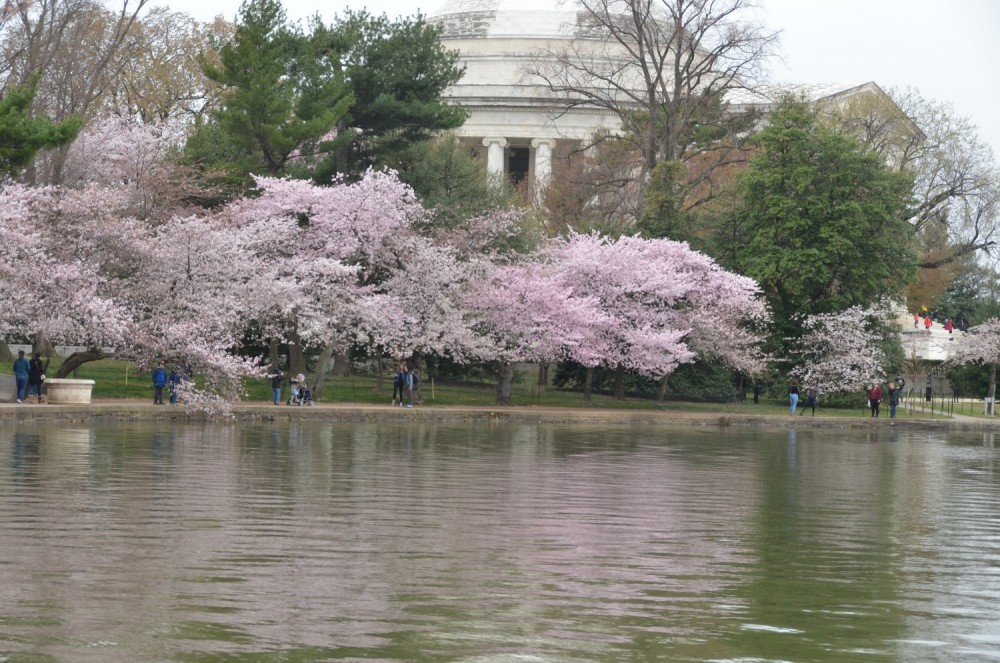 The Lincoln Memorial, US best President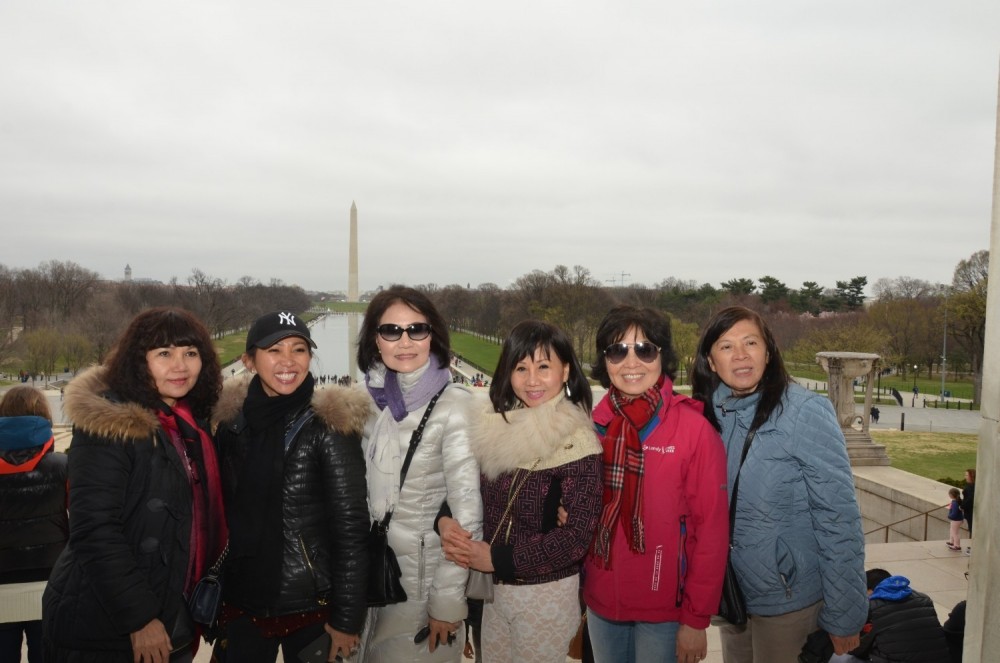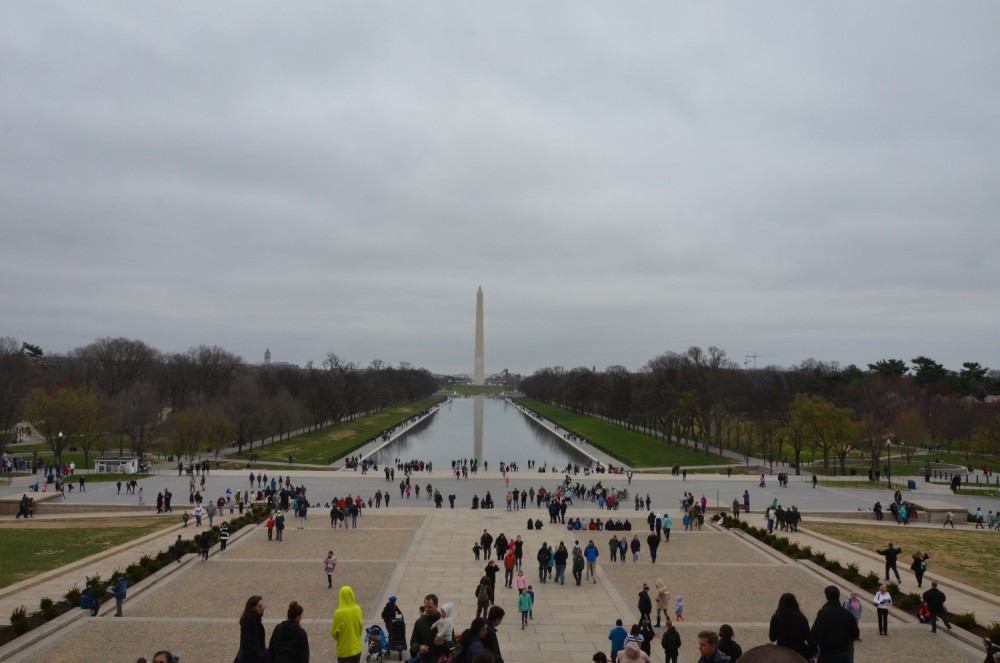 The Washington Monument, US first President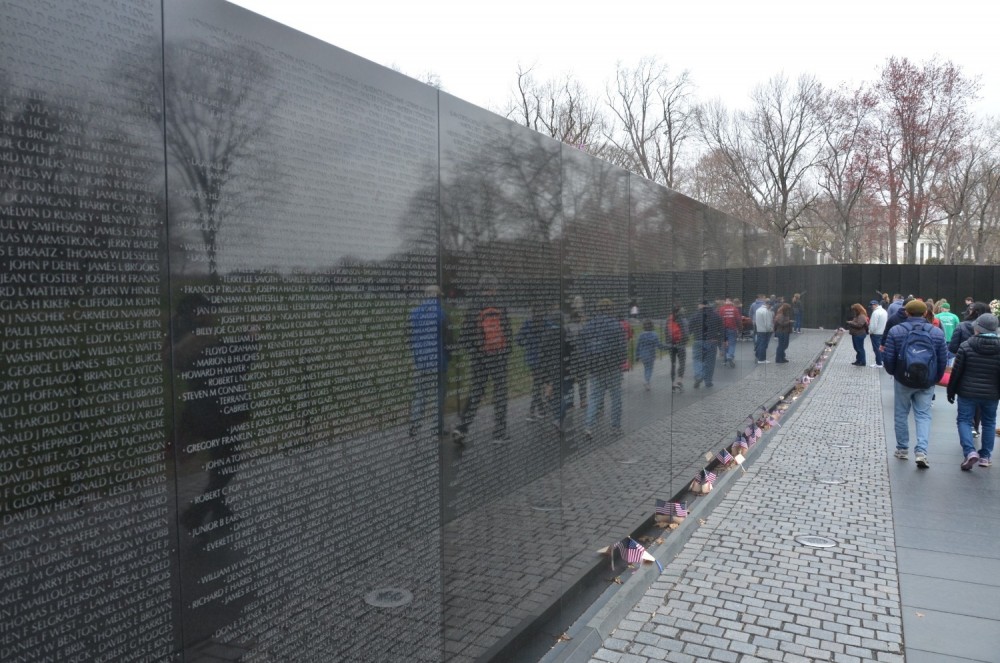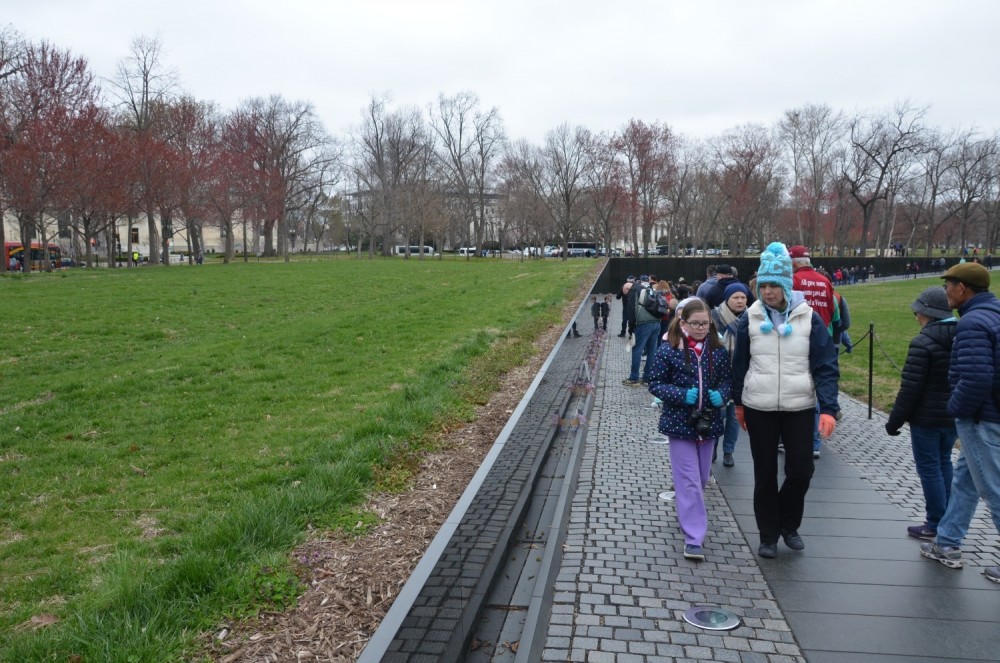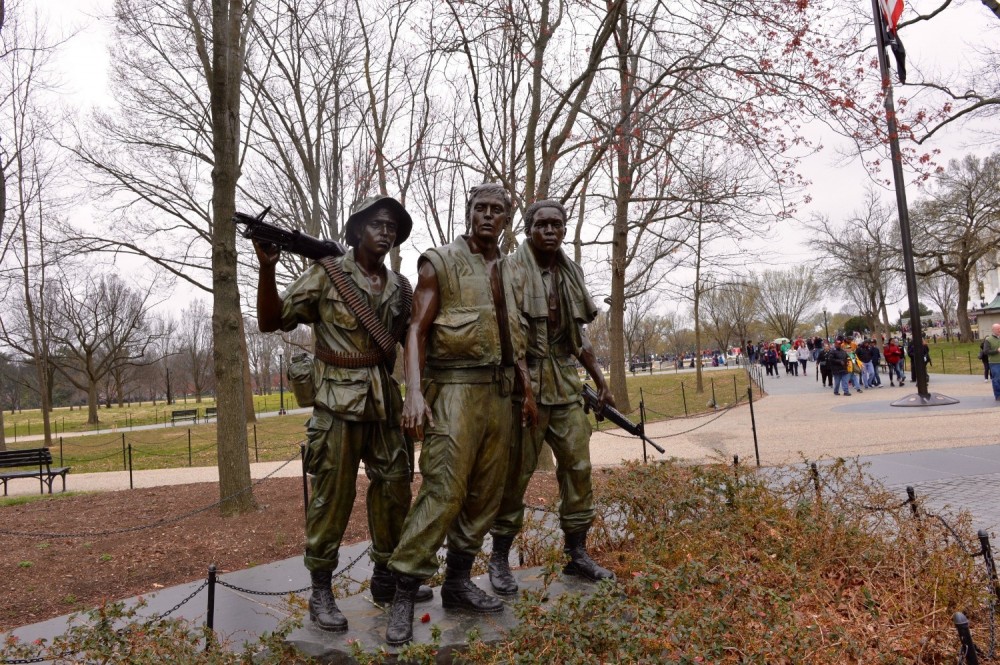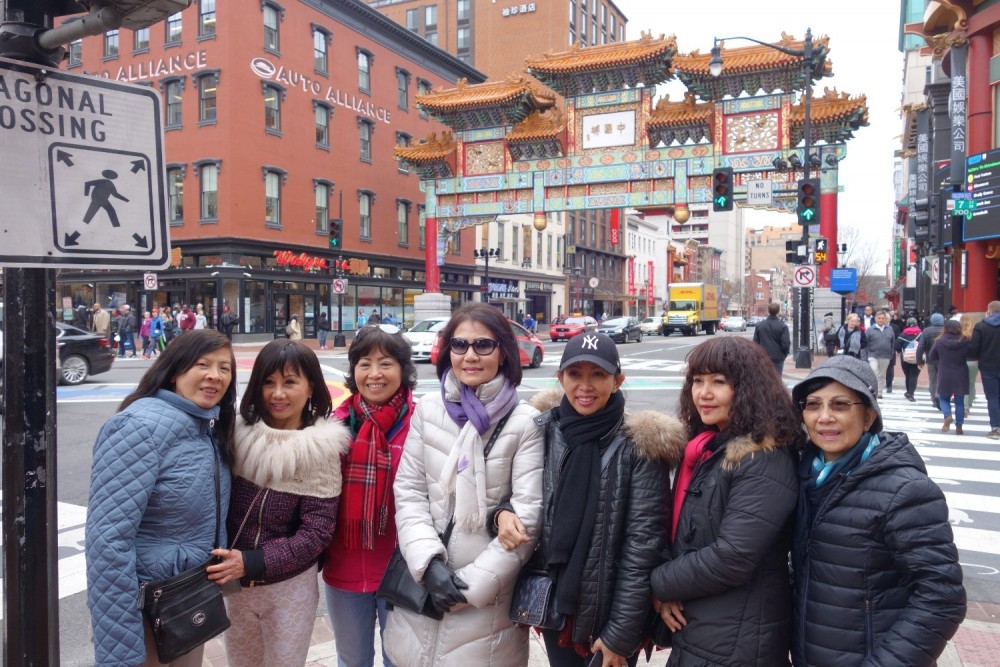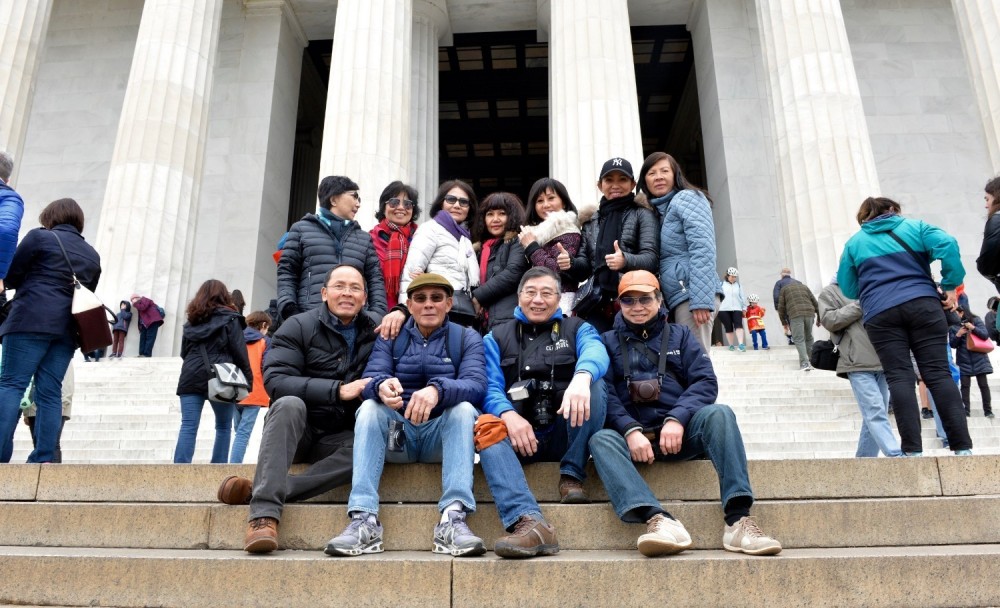 Coffee break in Georgetown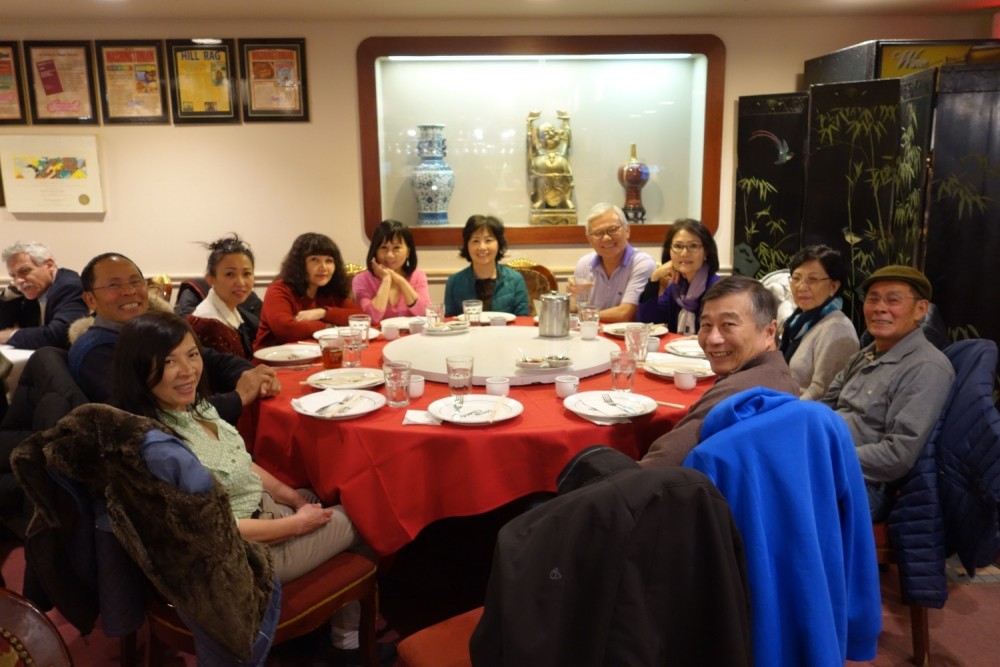 Lunch at Tony Chen Restaurant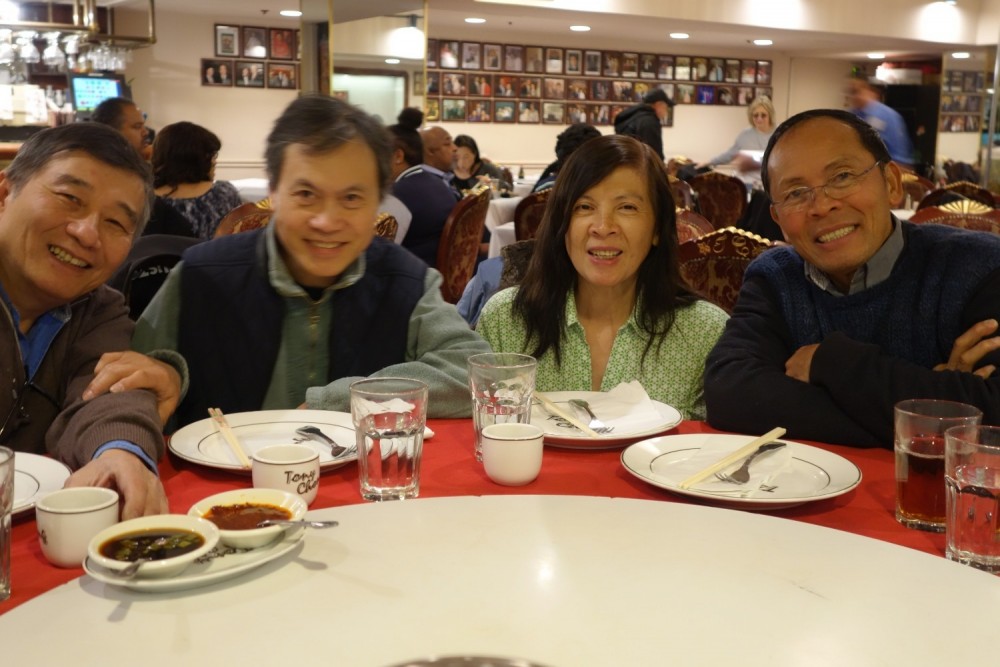 Hoa, Bao, Lang, and Nhan waiting on foods
After lunch, we lumber onto the metro and bus and to reach one of the most visited areas of the City, Georgetown. Getting off the Georgetown Circulator, we walk down to Georgetown Waterfront Park and watch teams of rowers rowing their boats down the Potomac River. It's fairly quiet here this afternoon and we feel a few raindrops and that prompts us to go into a Startbucks in the Washington Habour shopping area for some refreshments.

The short rain has stopped and the sun has come out again. We finish our drinks and begin wandering the narrow streets of Georgetown admiring the old homes and the colonial architecture. We spend a lot of time visiting the various shops on M Street.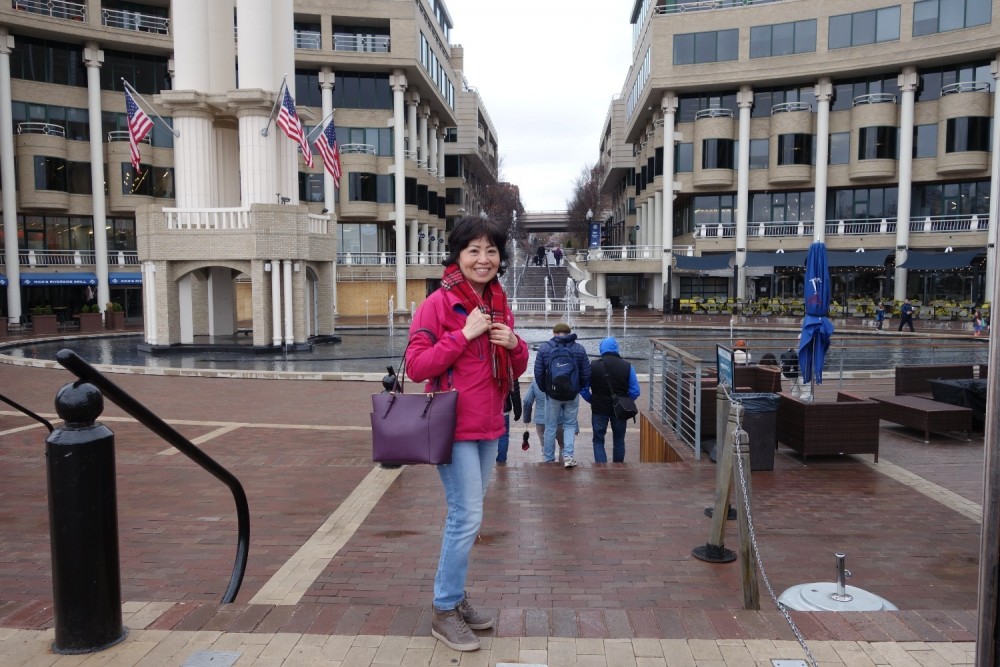 My at Washington Harbour Mall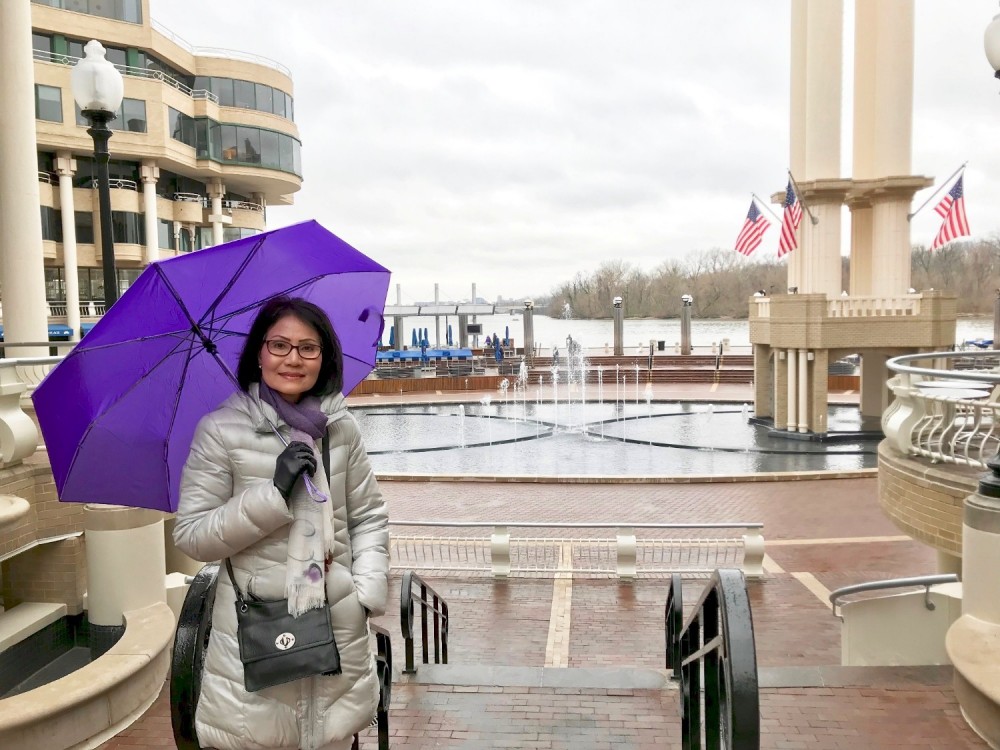 Lee in the beautiful water front
Feet are tired, the group decides to head home competing with the rush-hour crowd for seats on buses and metro. We finally get home after making a quick stop at Whole Foods to get more grocery for dinner at home tonight. The guys outdo themselves again tonight by making a fancy dinner of lamb and salmon. Wow!

Today is definitely a successful day!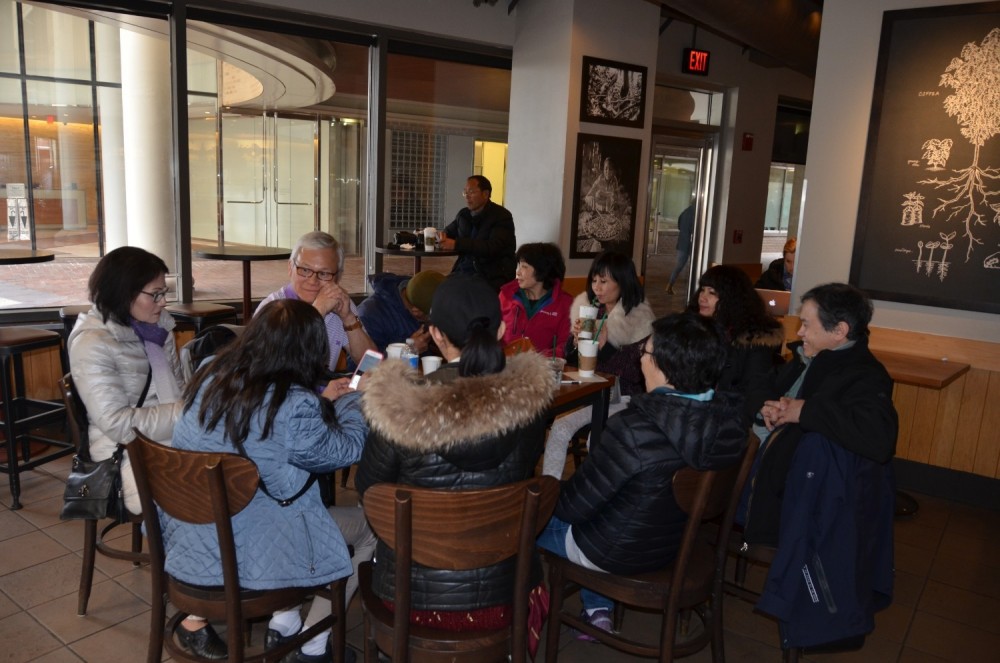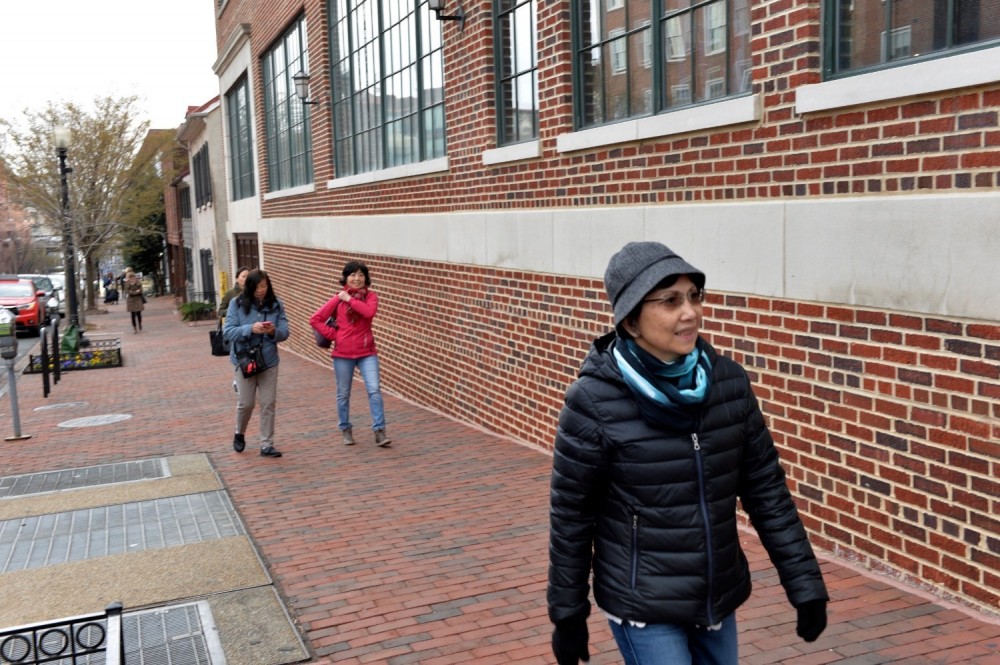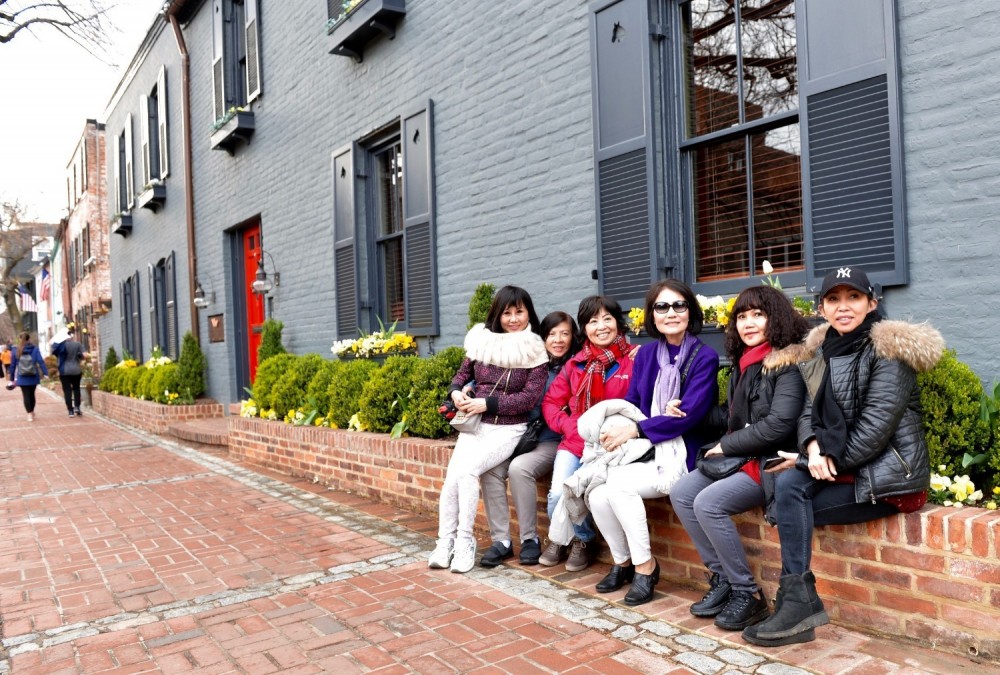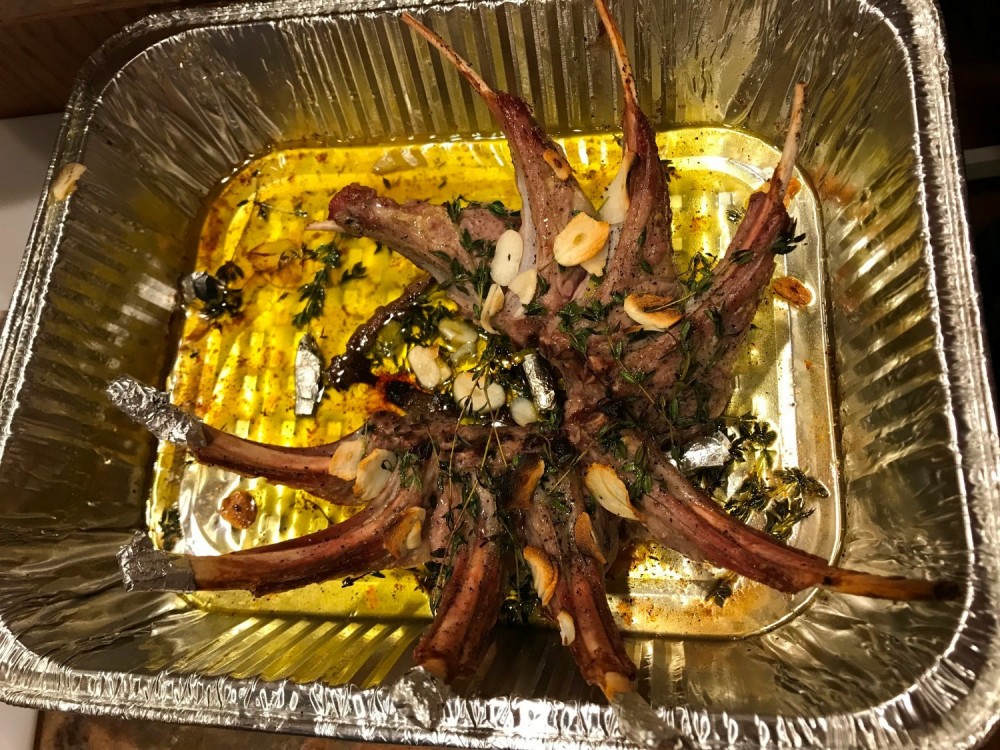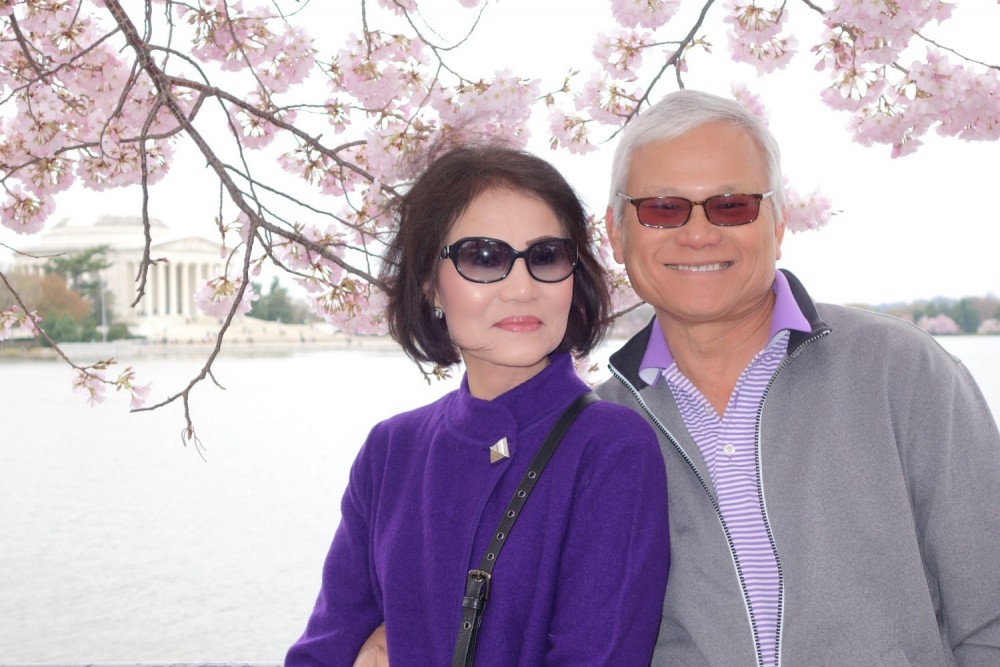 Delicious home-made lamb chops