Friday, May 4, 2018, Madrid



We are leaving this morning to head to Spain where we will spend a few days in Madrid, then take a high speed train to Barcelona to meet up with friends who are coming to Barcelona for their cruise. We'll spend a few days in Barcelona before coming back home.
​
We've never been to Spain before except for times when we had layovers in Madrid and so we've been really looking forward to this trip and as a fan of architecture, I'm particularly eager to come to Barcelona to see Antoni Gaudi's creations with my own eyes.





​​

The new Alaska Lounge at JFK Airport Terminal 7
Planes waiting to take off at JFK
Stock picture of the Petit Palace Hotel
Royal House of the Post Office at Puerta del Sol
Love locks left at a light pole in Plaza Mayor
Saturday, May 5, 2018, Madrid



Arriving at Madrid Barajas International Airport at 8:00 AM, an hour later than scheduled due to the delay in New York, we find the driver holding a sign with our name on it, we follow him to his black Mercedes van, and begin our drive to the hotel, the Petit Palace on De Hortaleza Street off of Madrid's main thoroughfare, the Gran Via. It's a beautiful morning in Madrid and since it's Saturday, traffic on the road is very light. Our helpful Scottish driver points out attraction along the way as he's relaxingly maneuvering his car and bringing us to our hotel in a mere 30 minutes.

The hotel is a boutique hotel that has several locations in Madrid. We chose this location because it's close to everything including the metro. Although we arrive early, the hotel has some vacant and clean rooms and hotel staff allows us to check in early. What a good start we have!

​​After a short rest, we proceed to see the City.





Bakery selling mouth-watering pastries
One of nine entrances to Plaza Mayor
They sell everything at San Miguel Market including the famous Spanish rice dish, paella
Walking and riding the metro is how we see the city
Scene near Puerta del Sol
San Miguel Market near Plaza Mayor
On Cava de San Miguel Street
A street near San Miguel Market
A beautiful day in Madrid
Royal Palace of Madrid (Palacio del Real Madrid)
Fountain near Royal Palace
On our first leg of the trip, we take a Southwest flight from Dallas to New York La Guardia Airport, then a shuttle transfers us to JFK International Airport where we begin our second leg, a flight on Spain's Iberia Airlines to Madrid.

The four-hour layover at JFK allows us to check out Terminal 7's newest airport lounge, the Alaska Lounge located next to the British Airway Lounge just past security. Alaska opened its lounge here only a few days ago so everything is brand new. The lounge is airy, roomy and looks out directly to one of the runways which is very nice. The lounge's wine and beer selection is good but the complementary food selection is limited. We're glad to have a place to relax, fill up our stomachs, and charge our devices before the long flight.

JFK Airport on a Friday afternoon is a mad house as planes wait to take off. Our plane, after two-hour on the tarmac is finally up in the air.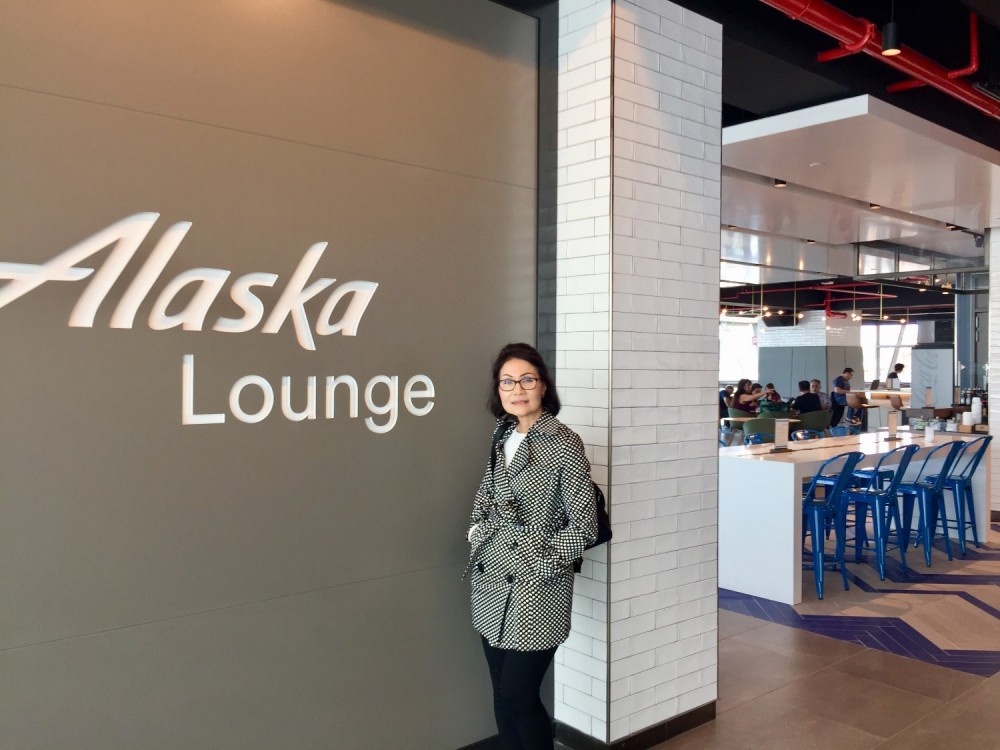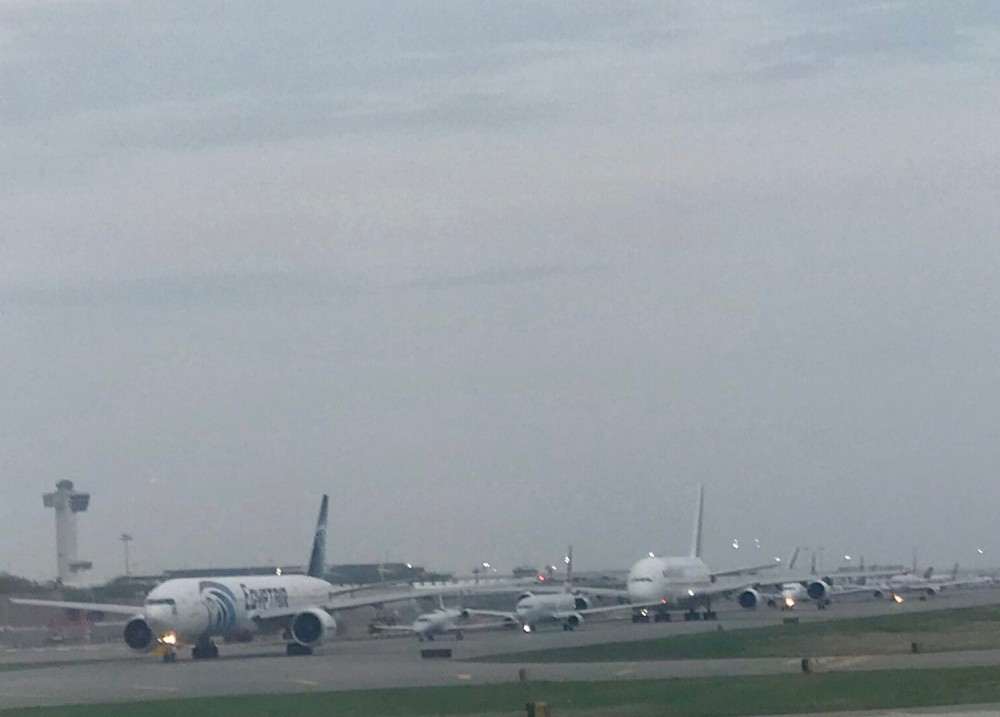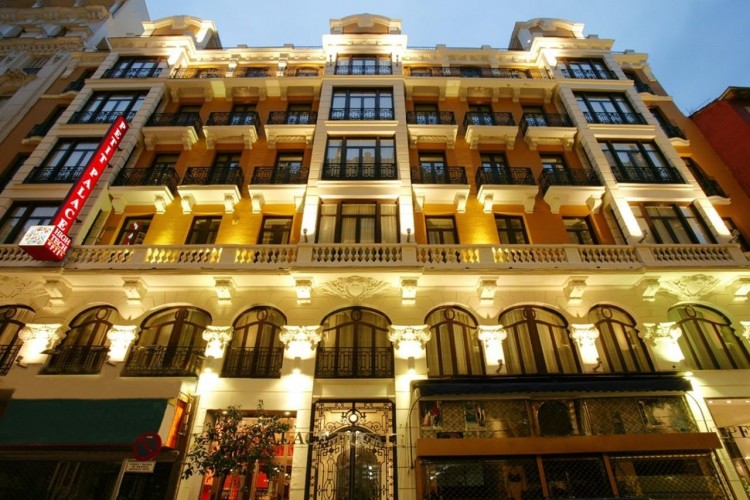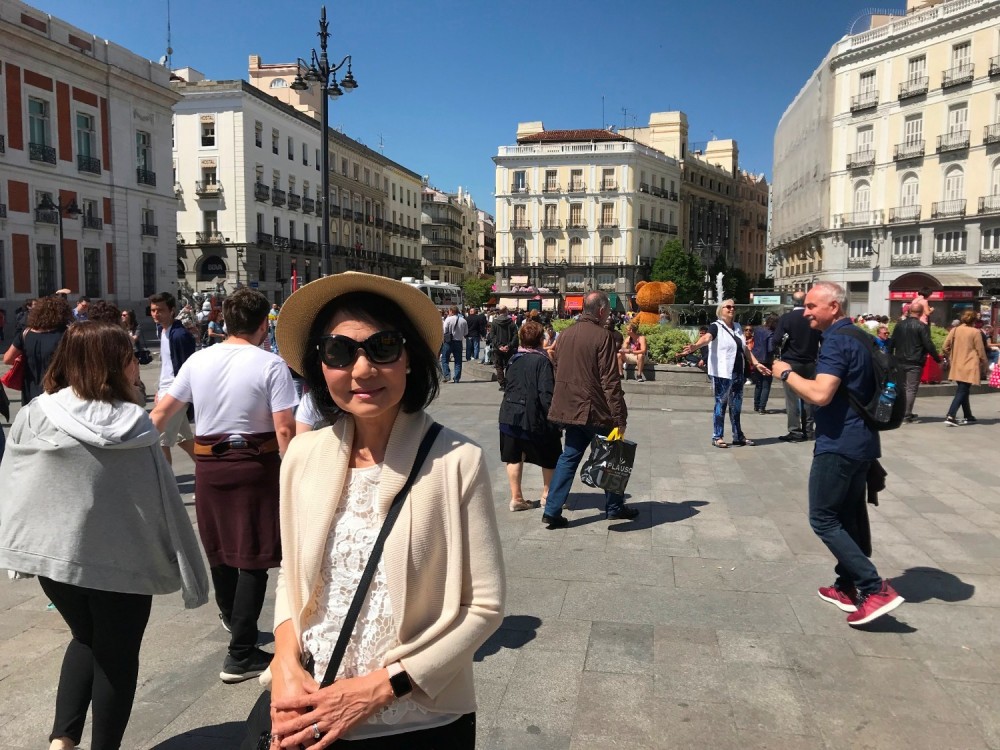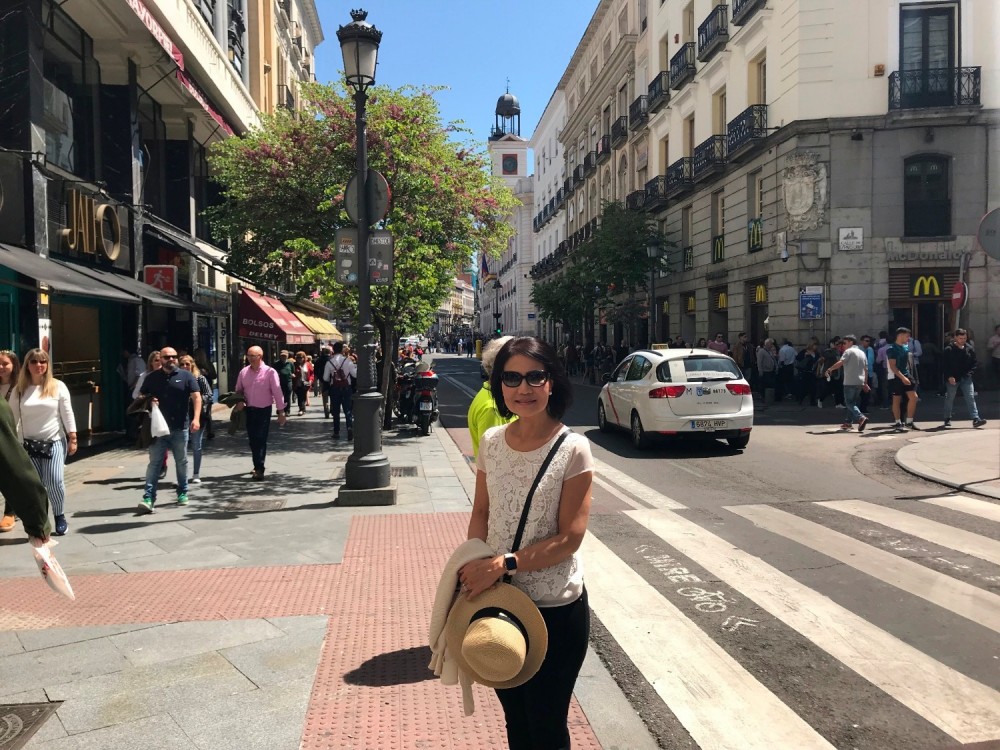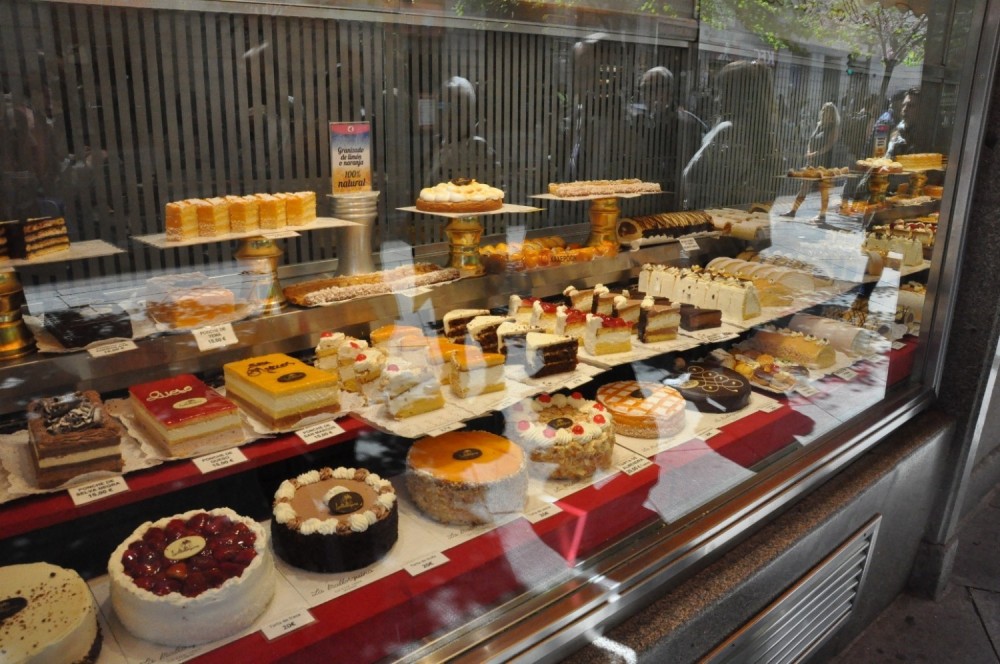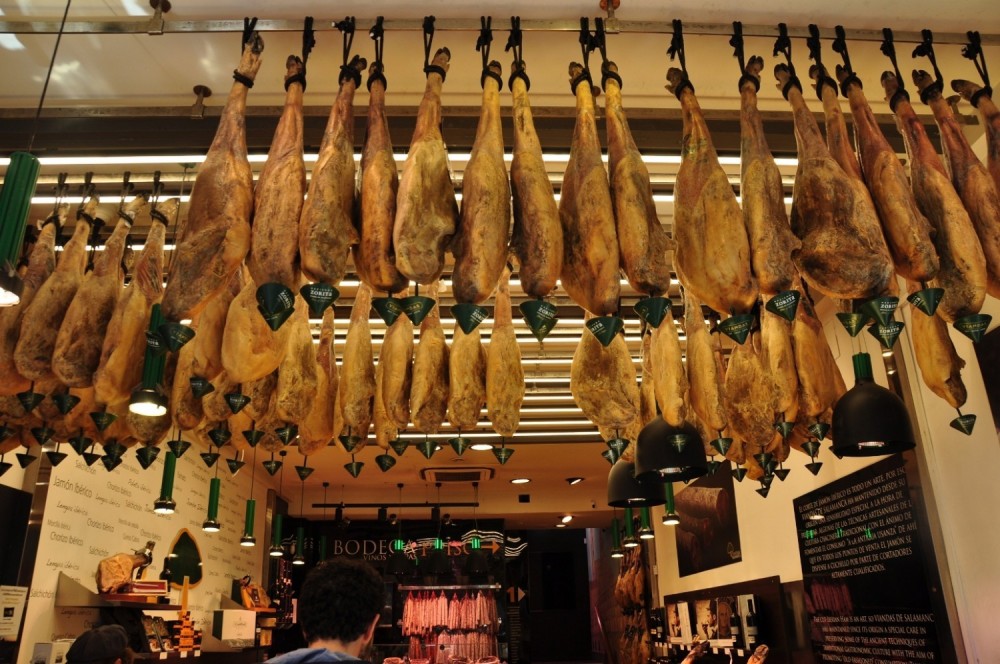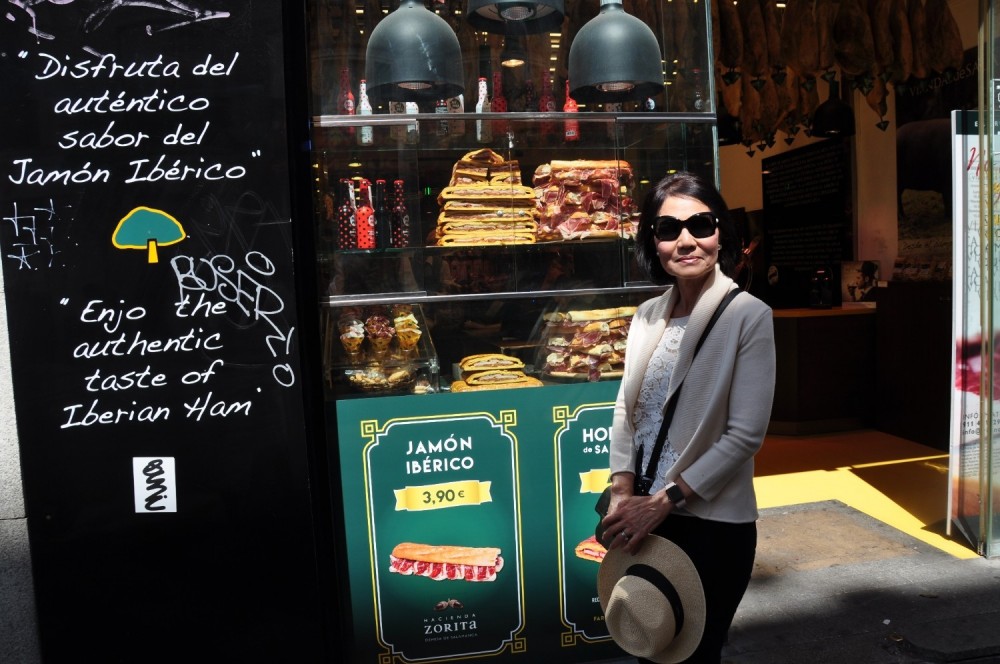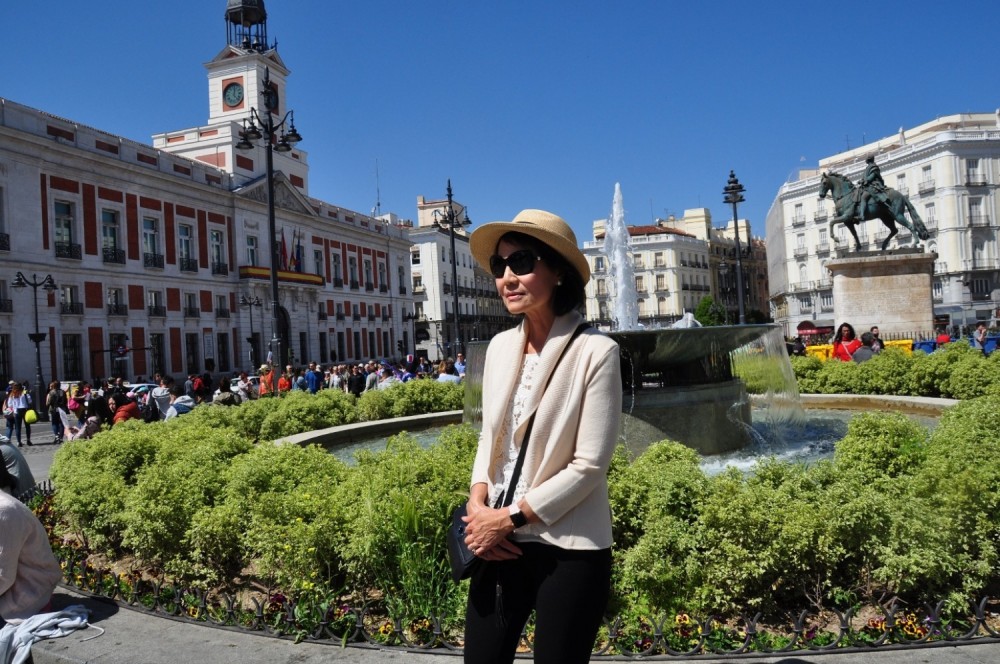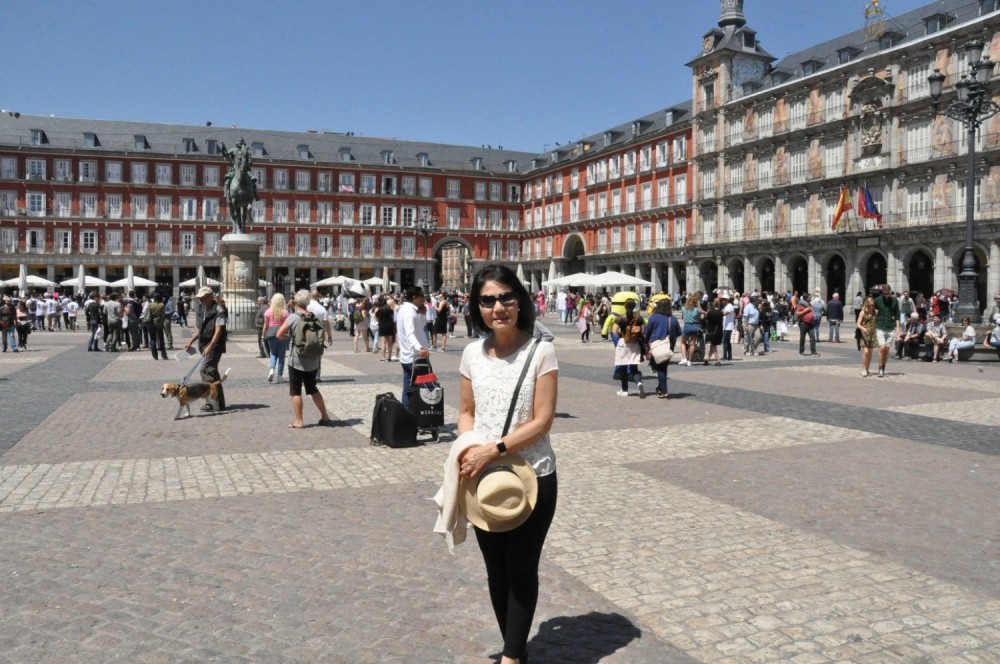 A short walk from the hotel is Puerta del Sol, a busy square in the center of Madrid where the locals come for celebrations and protests. I've been told every road in this country is measured from Point 0 in this square. The Royal Hal of the Post Office (Real Casa de Correos) is on the square along with lots of shops, bars, restaurants, and of course tourists. We choose to have a light lunch at a small restaurant just off of the square.

A few-minute walk from Puerta del Sol is Madrid's main square perhaps its most beautiful square, the Plaza Mayor. The rectangular-shaped square built in 1560s has three-story-high building on all four sides with balconies looking out onto the square. The bottom floor of the buildings are shops, museums, and restaurants. There are nine entrances into the plaza and restaurants and cafes on the square and are packed with tourists.

Ham sandwiches here are huge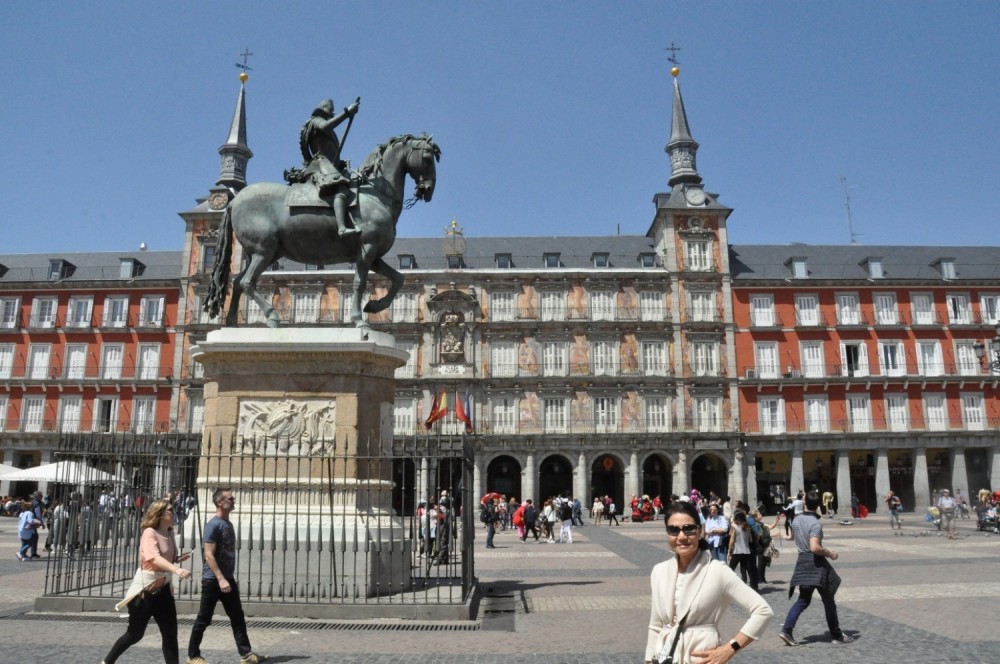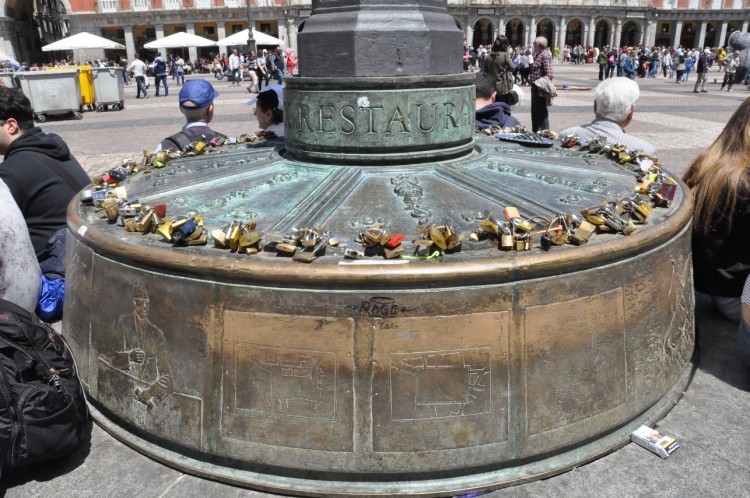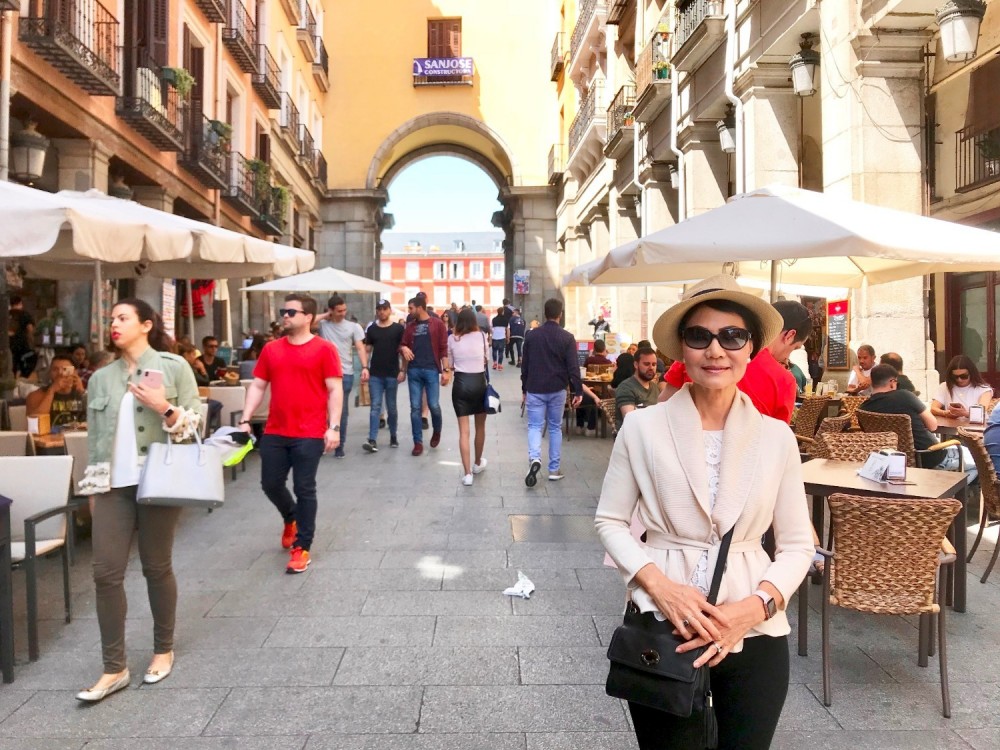 I love the walkability of this city. From Plaza Mayor we walk a few minutes to Sam Miguel Market (Mercado de San Miguel), the city's oldest and most beautiful markets. Inside the markets are stalls selling everything from fresh fruits to seafood but mostly the ready-to-eat finger foods (tapas). We buy a bag of freshly-fried squid for 17€ and munch on it as we walk around the crowded market.

Outside the market are several narrow streets which are also full of restaurant and shops. On Cava de San Miguel Street, sidewalk cafes are set up on both sides and tourists stop and take pictures of the beautiful flowers by the Meson Hotel. We find a table in the shade and sit down to enjoy our beer and a cappuccino.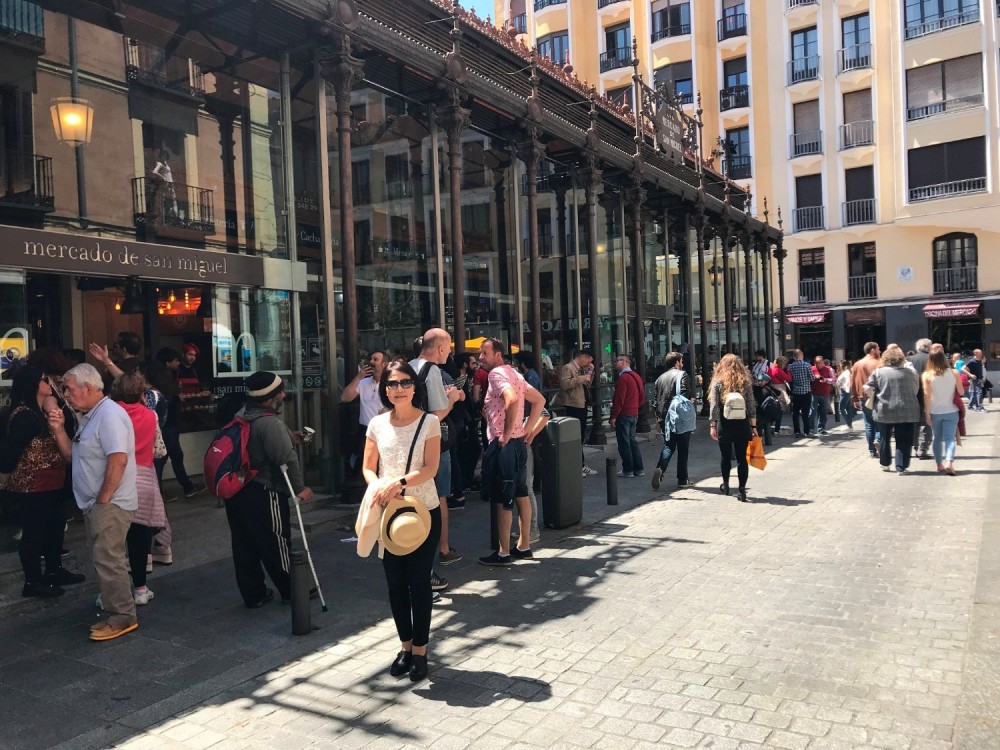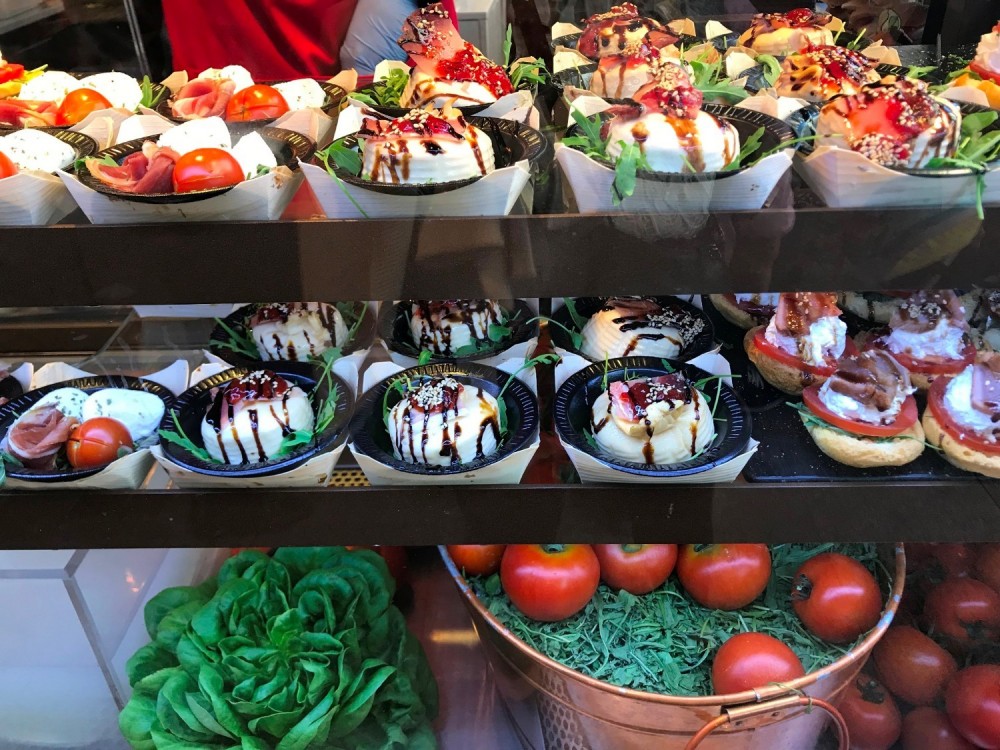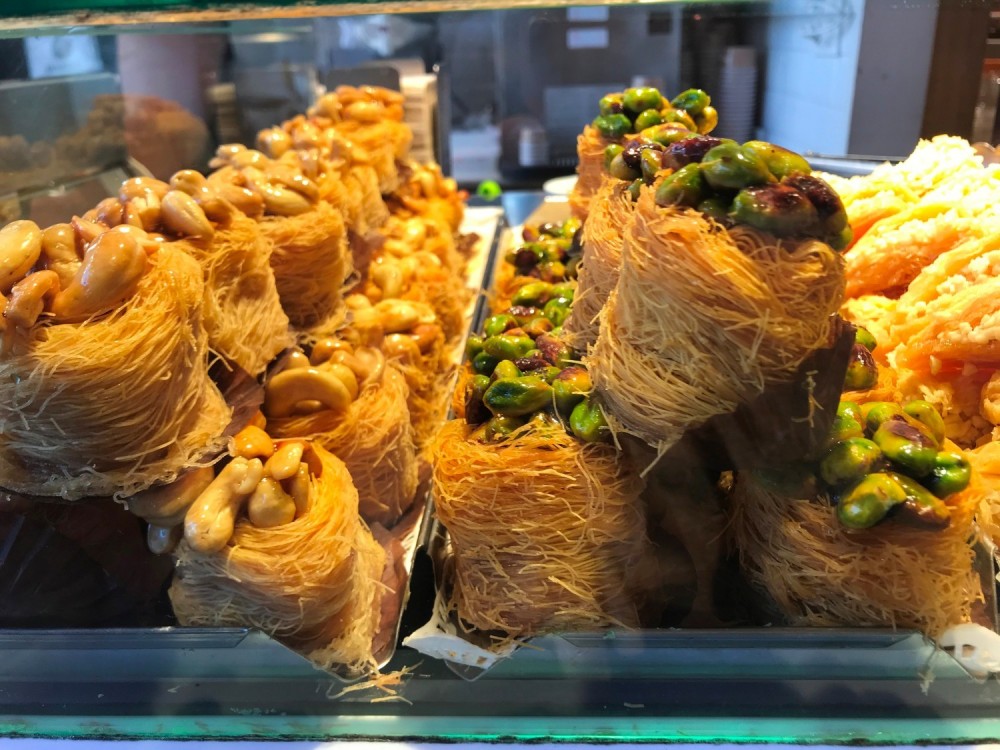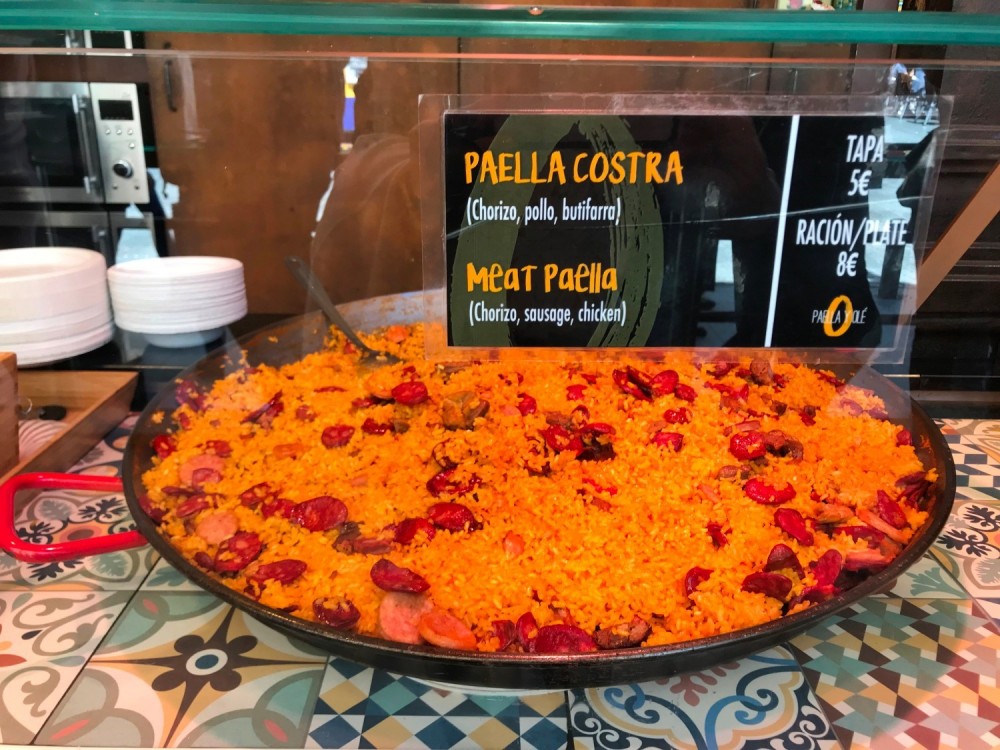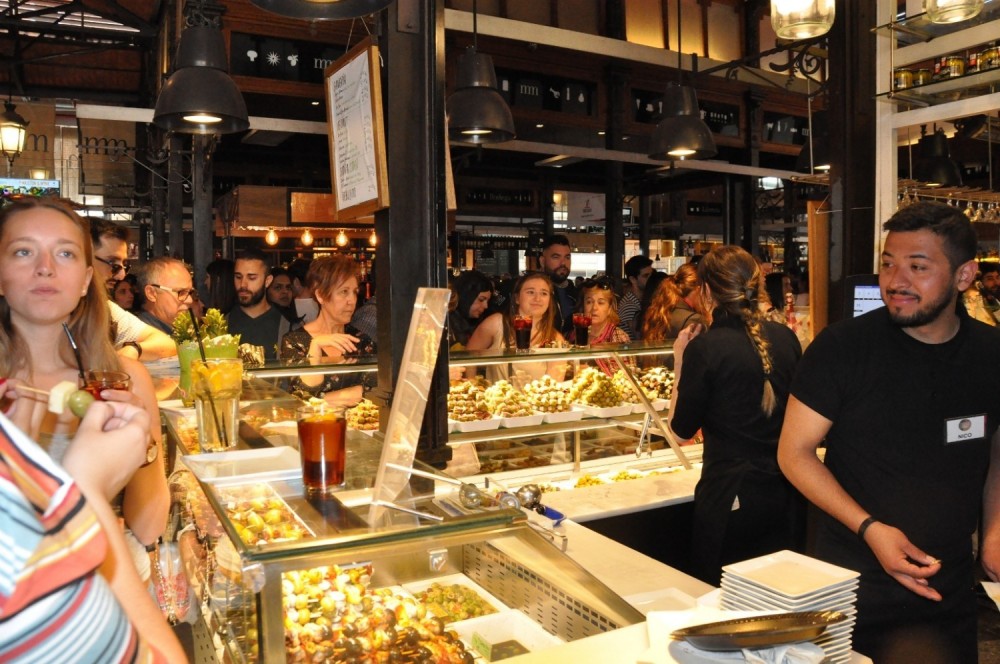 When you are tired of walking, you can rely on the economical and fast metro system in Madrid which we get on at Sol Station and off at Opera to visit the Royal Palace of Madrid (Palacio del Real Madrid)

Madrid's Royal Palace was constructed on the site of the old fortress and is huge. So huge, it's the city's largest building and Western Europe's largest royal palace. Although the King and Queen of Spain no longer live here, it is still the official residence. The palace is surrounded with large and well-kept gardens, fountains, and statutes of Spanish historical figures.

Next to the Royal Palace is the Opera, another beautiful building on a square which is also full of sidewalk cafes and restaurants. You can't go hungry in Madrid. It's now around 8:00 PM and the jet lag starts to hit us. We opt for a light dinner then head back to the hotel to go to bed early.