Day 12. Friday, June 21, 2019, Cadiz, Spain



We have spent the last four days in Seville and so before we go home, we want to make a day trip to Cadiz, a seaside town about two hours by train from Seville. Three other friends decided to join us and so I bought round trip train tickets for all five of us online yesterday.

From our hotel, we take two Uber cars to Seville's main train station, the Sevilla S Justa, and arrive at the station with plenty of time for a breakfast at one of the restaurants in the station lobby. After breakfast, we head to our platform after the announcement, find our car and seats, and settle down for a few minutes before the train starts moving right on schedule at 9:45 AM.

As the train speeds through Spain's countryside, we see rolling hills, fertile farmlands, huge fields of sunflowers and orchards, churches, and little and big houses painted mostly in white. The train is clean and the ride is extremely smooth.

After a few stops and one hour and 45 minutes later, we disembark at Cadiz main train station, just a few blocks from Cadiz Old Town.

It's sunny and warm but our slow walk is very pleasant. Cadiz is a peninsula on the southern part of Spain which juts out into the Bay of Cadiz which is a connected to the Atlantic Ocean. Surrounded by water on three sides, the city was an old port then but is now a busy hub for many cruise ships. Tourism is big in Cadiz because its Old Town is charming and its beaches are spectacular.

A few minutes after leaving the train station, we come to Plaza San Juan de Dios, the City's major square across the street from the cruise pier. The Plaza, anchored by the imposing Town Hall at one end, is lined with trees, fountains, decorated walkways, and sidewalk cafes. We wander around the plaza, stop and look at shops, and check out restaurant menus.


Our first stop: Plaza San Juan de Dios
In front of the 'Cadiz a Moret' Statue
In front of Cadiz Town Hall


The square in front of the Cathedral
Having drinks at this cafe at the base of the Cathedral
Oanh, Lee, Hoa, and Ha in front of statue
Near the Town Hall, we turn right, walk down a narrow path that is full of shop. A men clothing store with a big 'Sale' sign catches our attention and Hoa and I try on some suits and buy them.

A few more steps take us to Cadiz Cathedral and another square full of sidewalk cafes. We sit down in one of the sidewalk cafes to have cold refreshments while watching a flamenco dancer prancing on the square.


Not a bad place to watch flamenco dancing
Many sidewalk cafes on the square
Walking a few more blocks on a path with shops on both sides, we come to Cadiz's big market which is surrounded with kiosks selling all kinds of items from colorful flowers to tiny souvenirs. It's now late in the afternoon and feeling hungry, we decide on Cafetería Andalucía for lunch and once again, our groups orders too much foods.

Too many places to shop here
Flower kiosks near the market
Magnolia trees grow tall in this plaza
Once again, we order more than we can eat
Keep walking (or take Bus 7) and you will reach the beautiful beach
Walking along the sea to enjoy the view and burn off the calories
Beautiful sea and buildings
Sidewalk restaurants are everywhere
Oanh, Ha, and Lee enjoying Cadiz
To head back to the train station, we make a wide swing to Av. Campo del Sur where the avenue runs parallel to the sea. High above the water at first, then the street lowers itself as it reaches the beach. The turquoise ocean is separated from the pastel buildings by a wide strand of sandy beach that extends to the horizon. What a spectacular sight! We walk along the sea for a long time before a side street brings us back to the train station for our 5:40 PM departure. We should arrive back to Seville around 7:30 PM for dinner.
Back to Seville. 8 PM and it's still light
We're glad we come to Cadiz
I don't think Sevillian people cook at home ...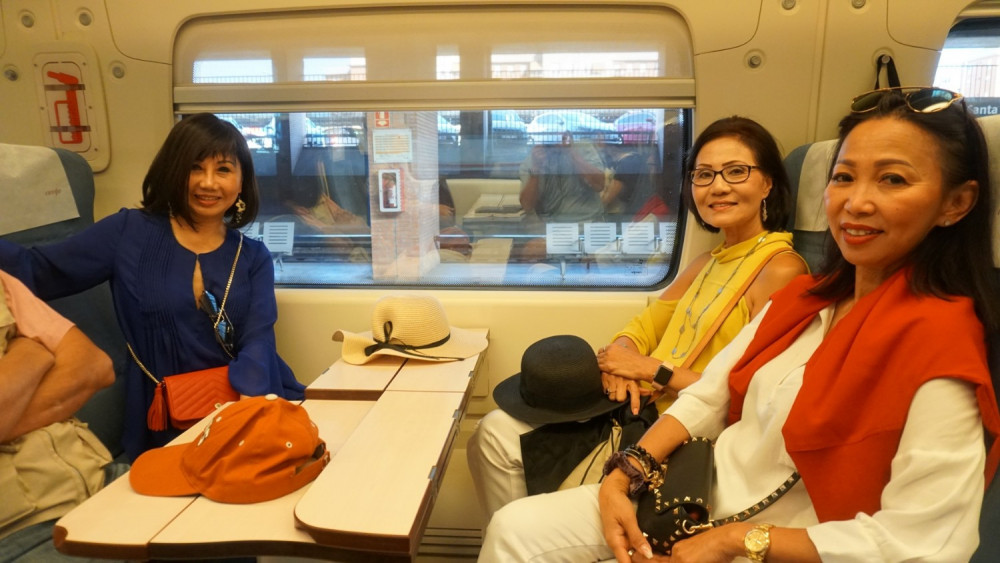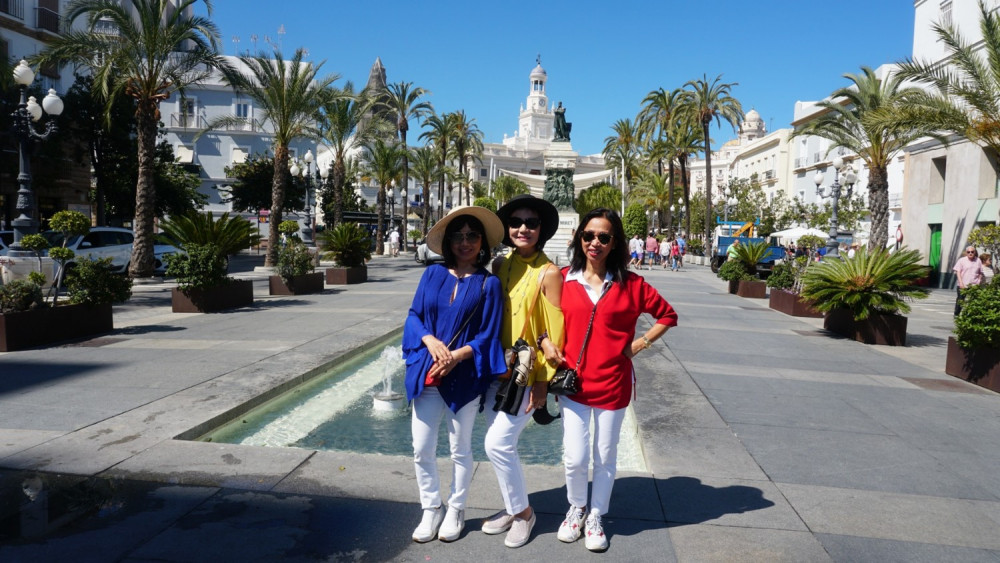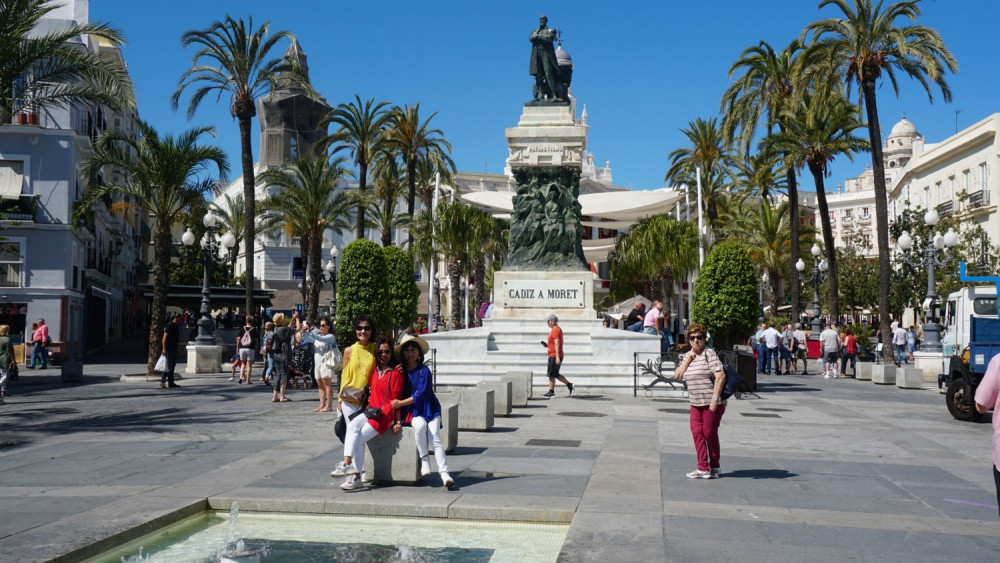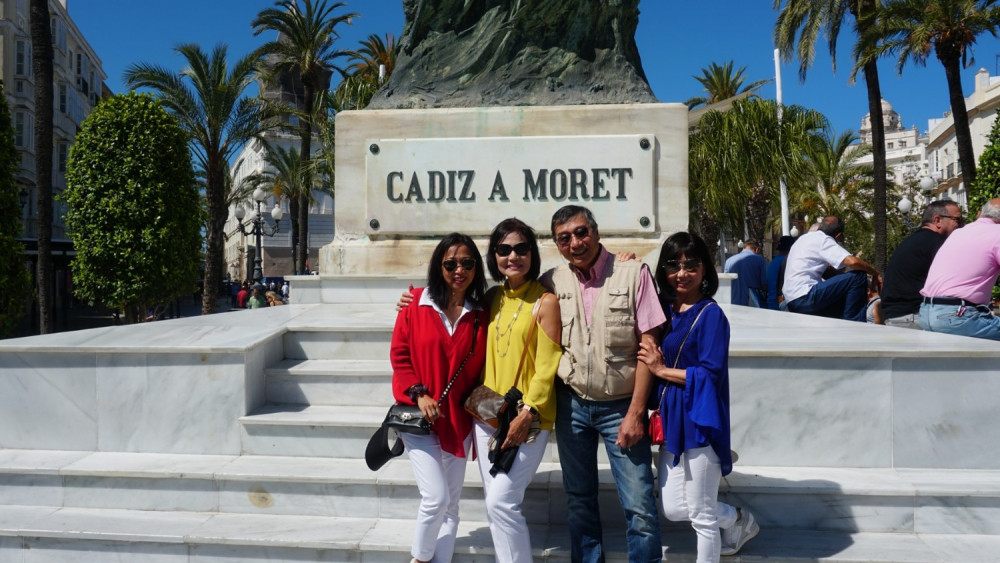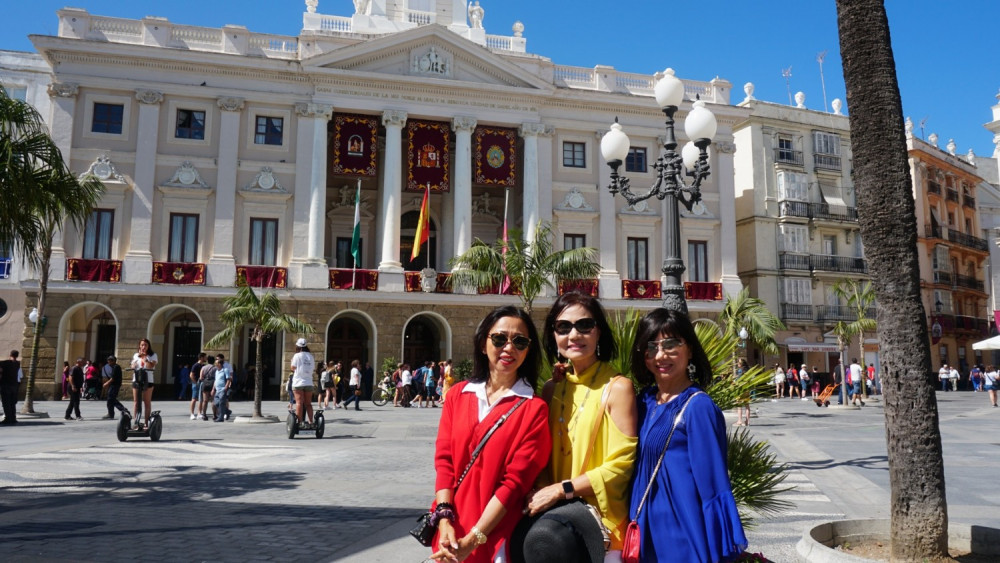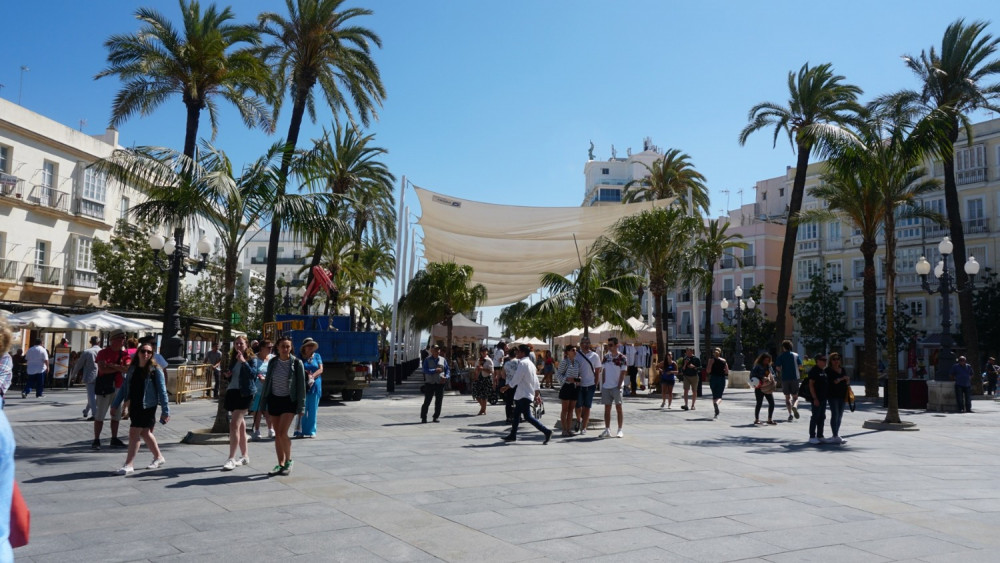 You have to visit Plaza San Juan de Dios if you come to Cadiz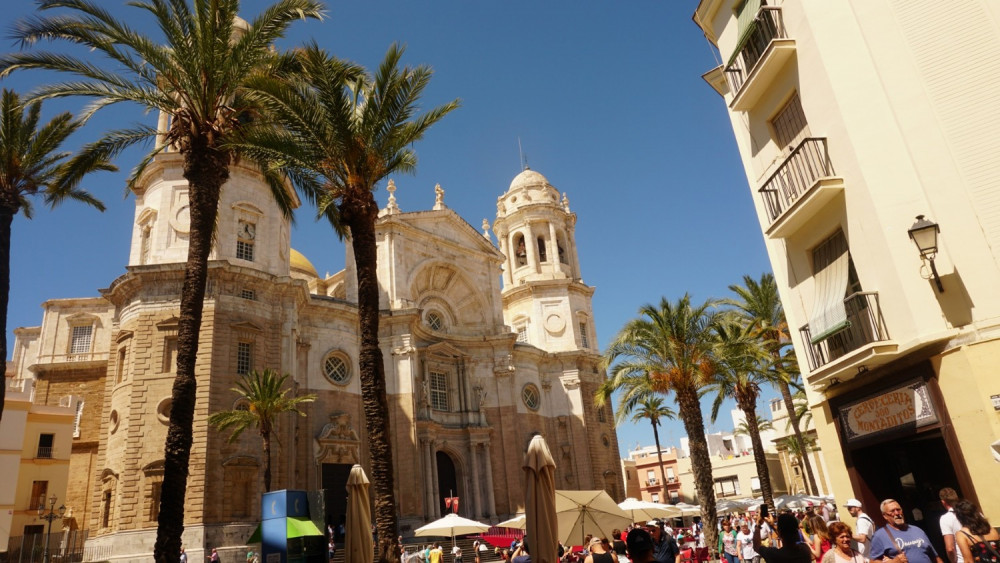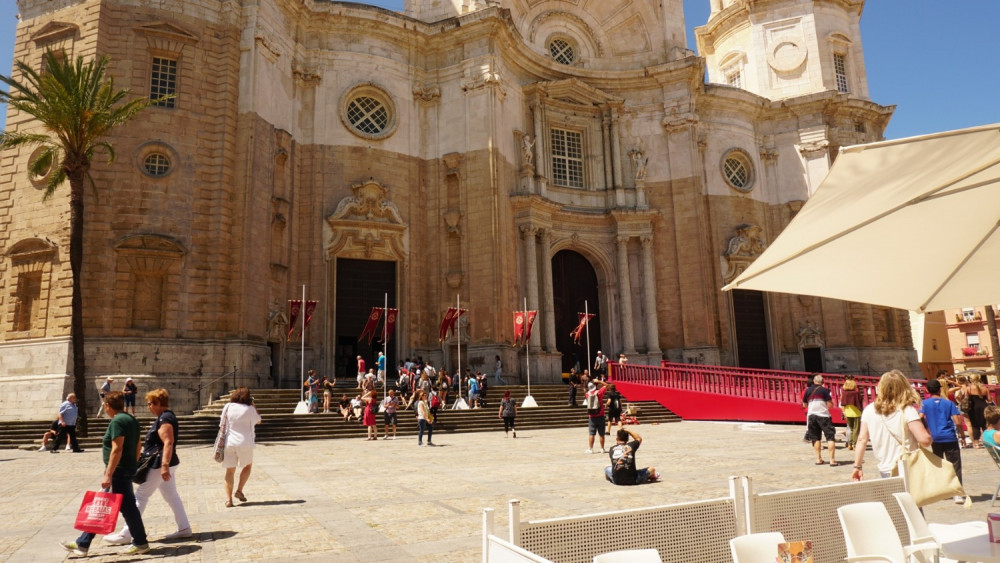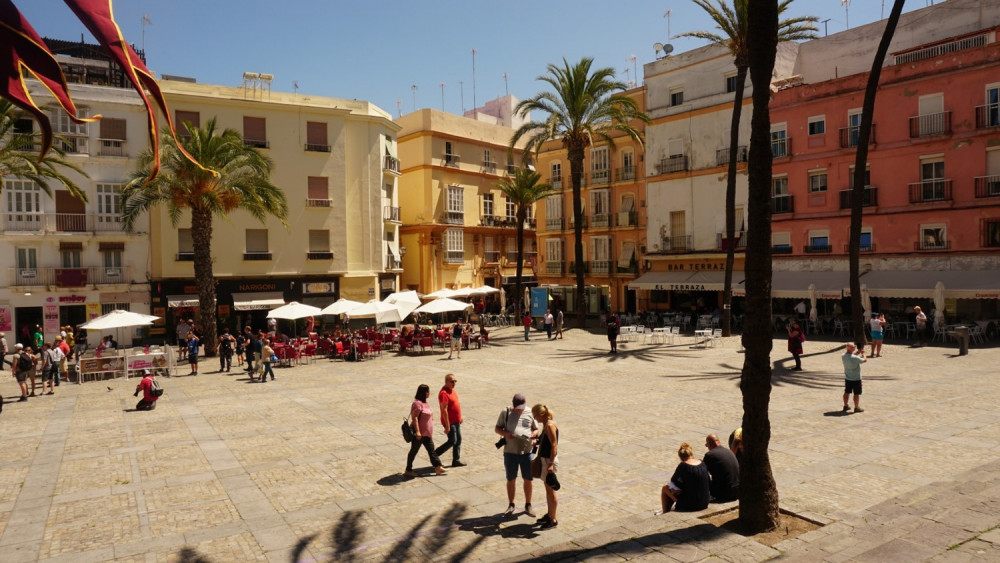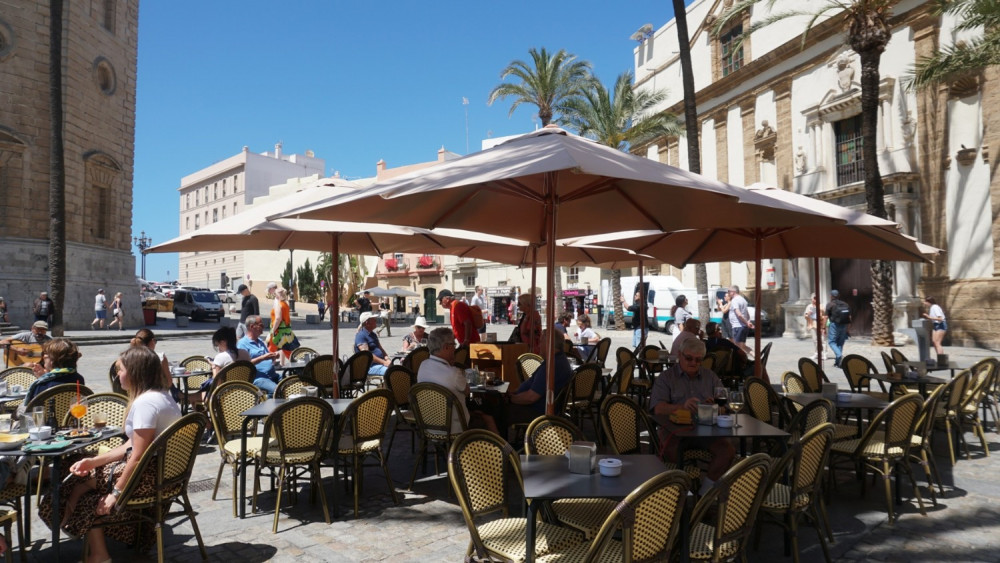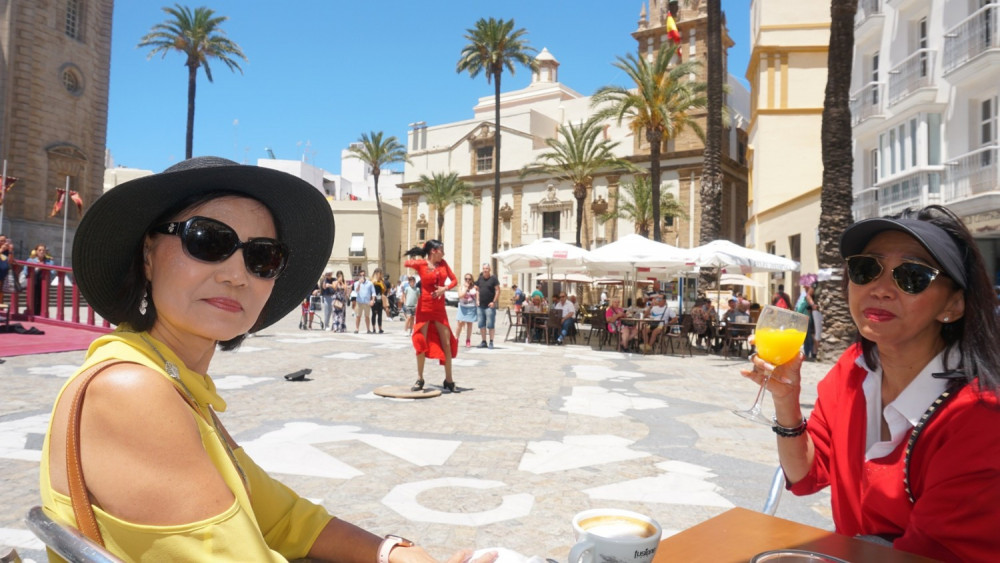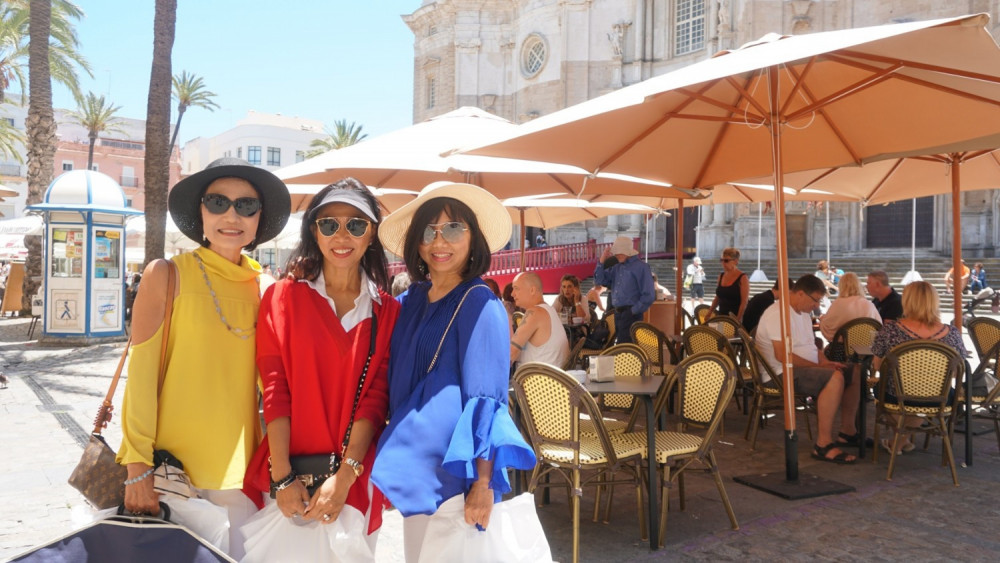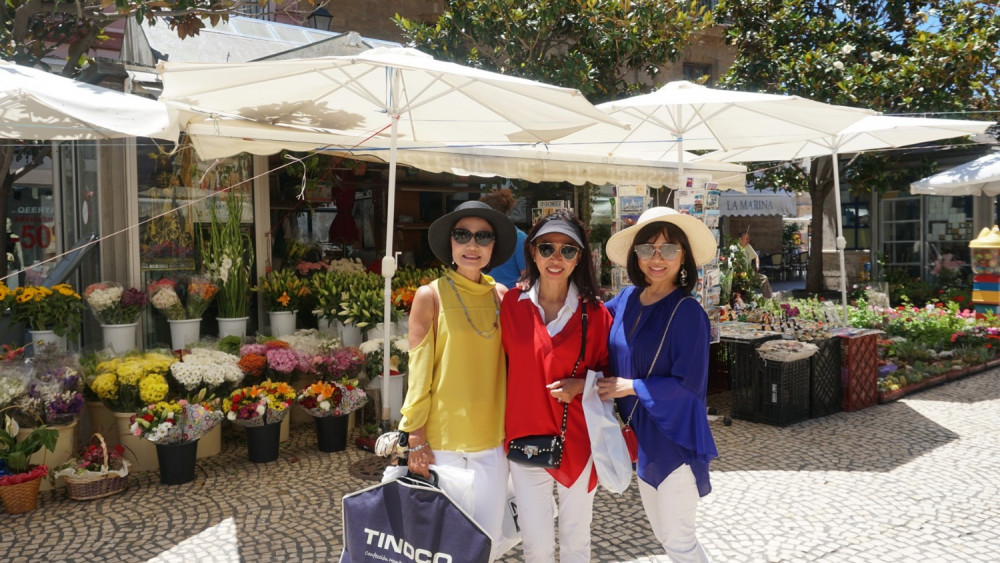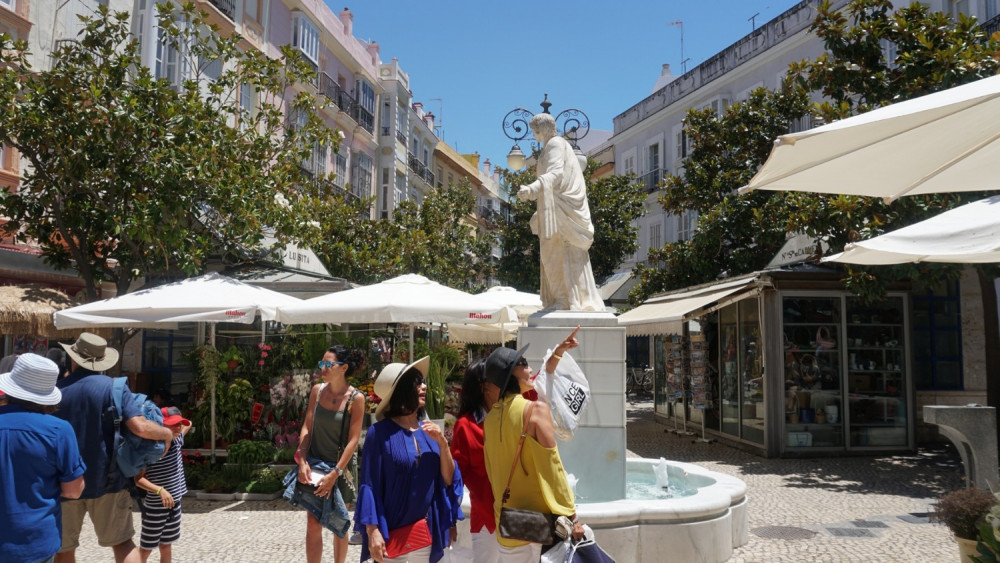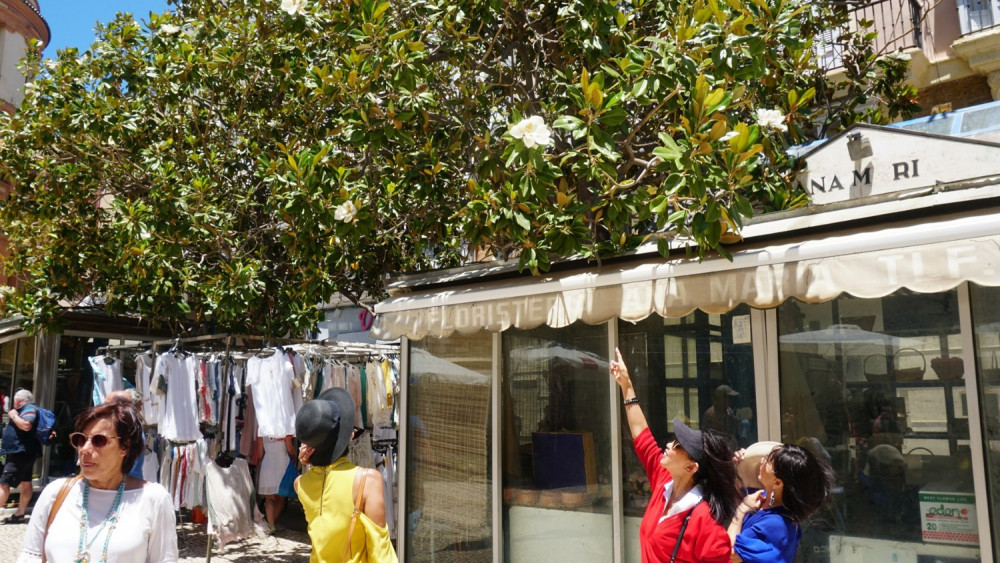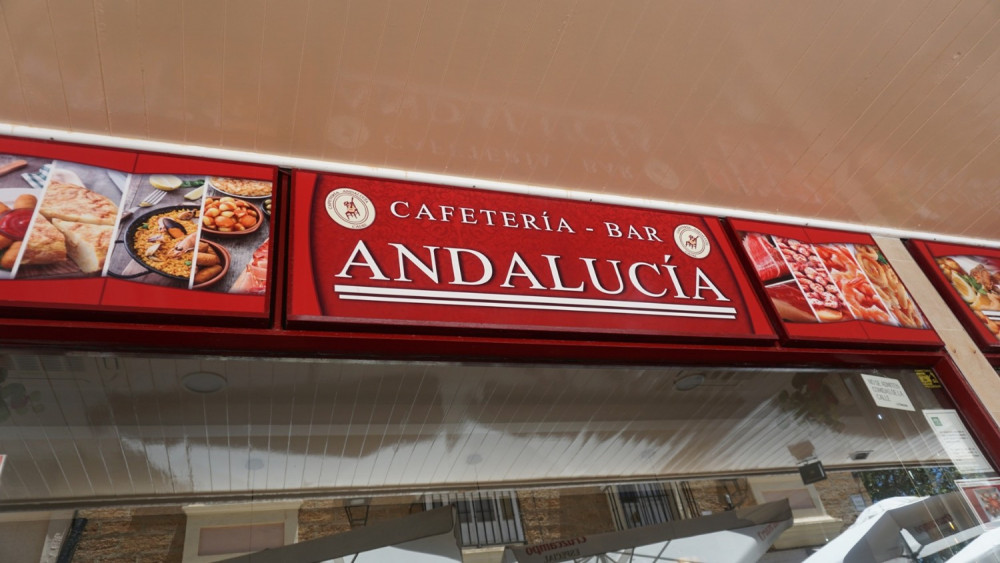 We have lunch near the market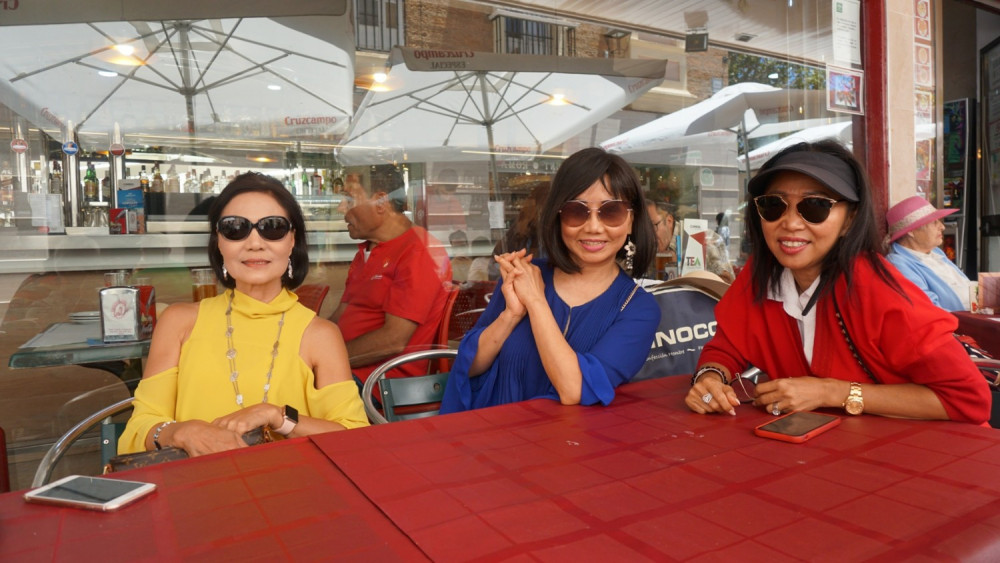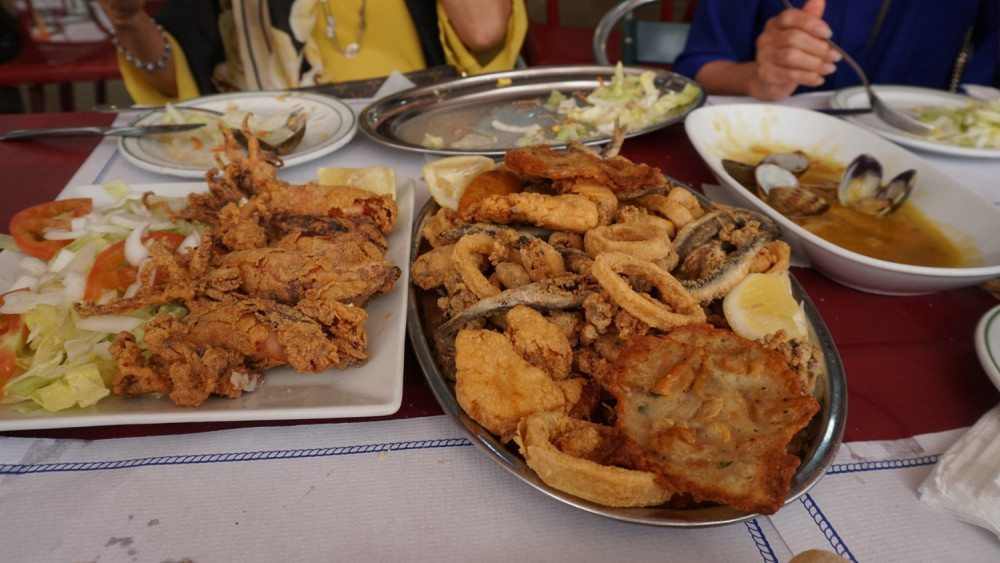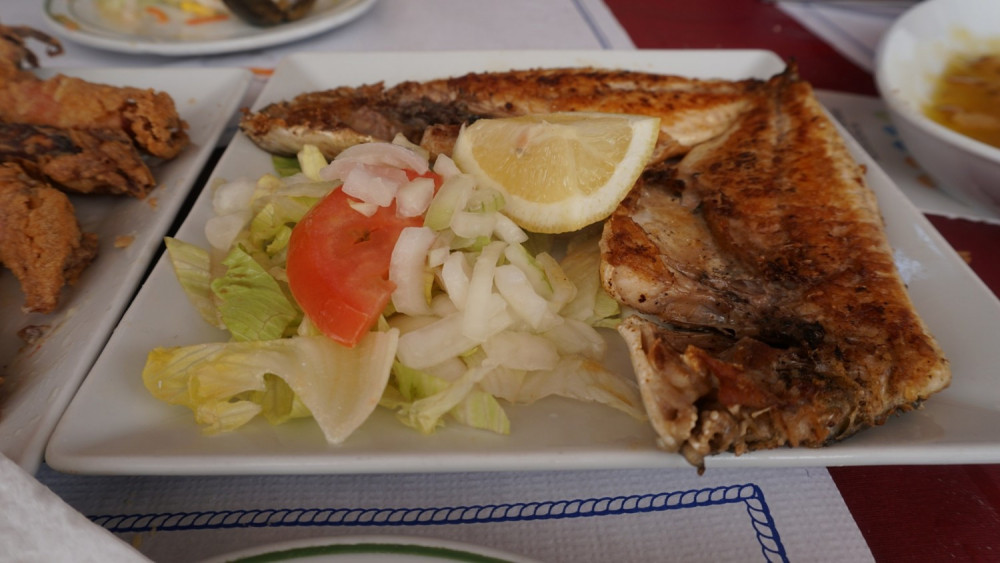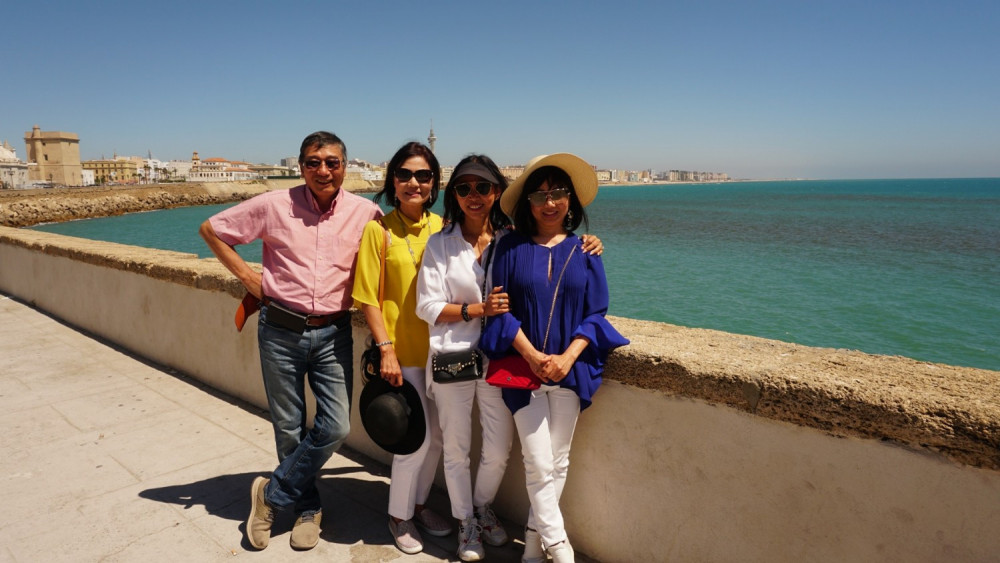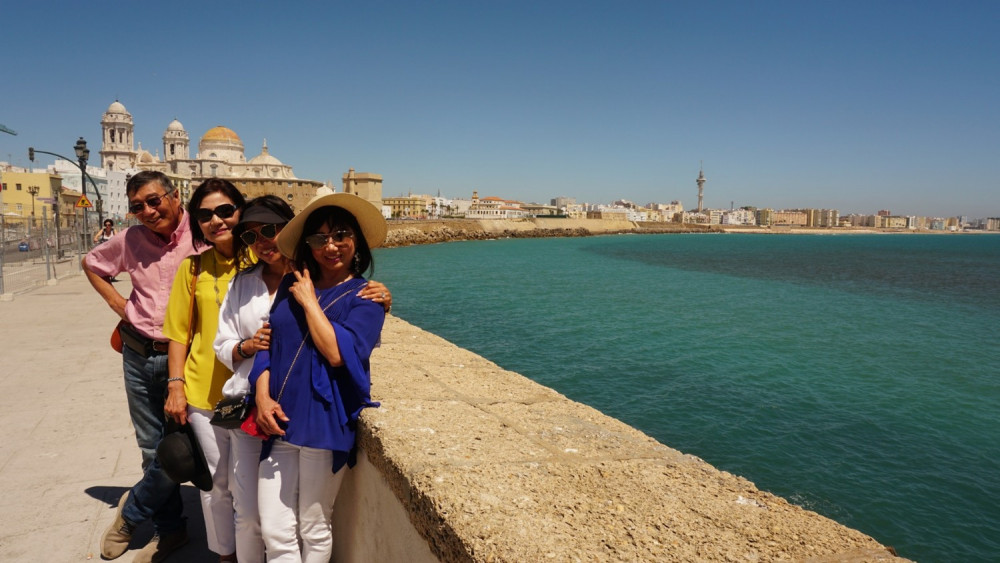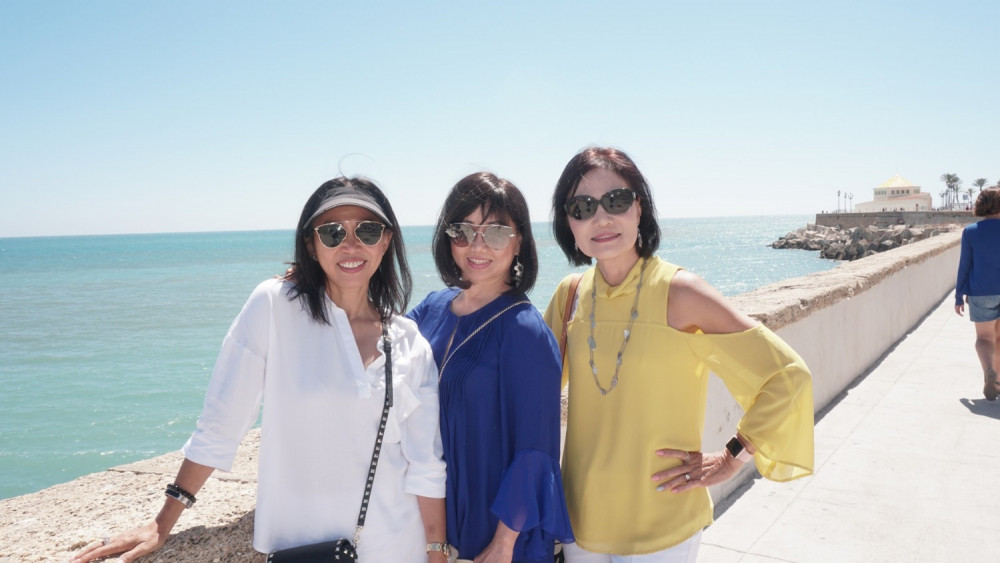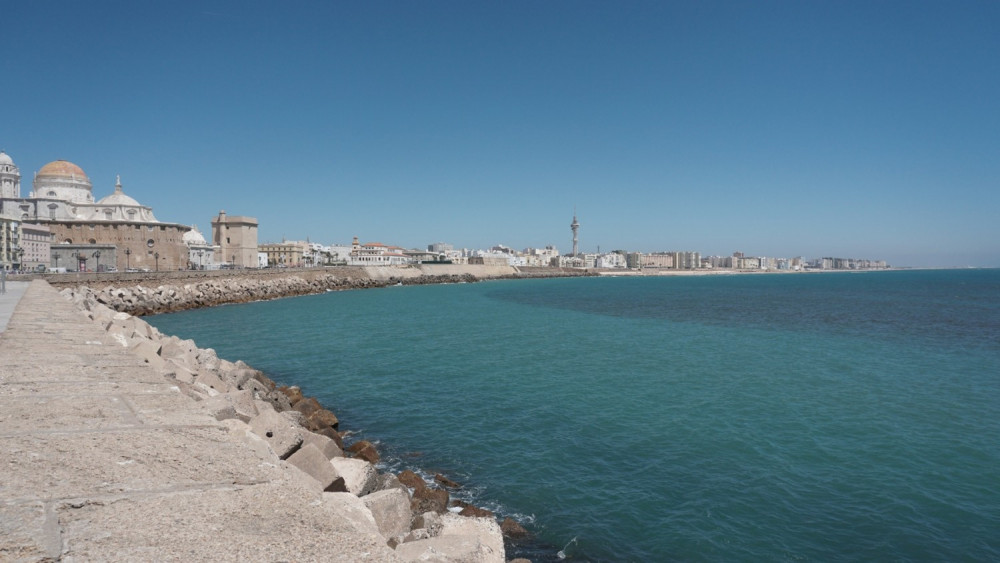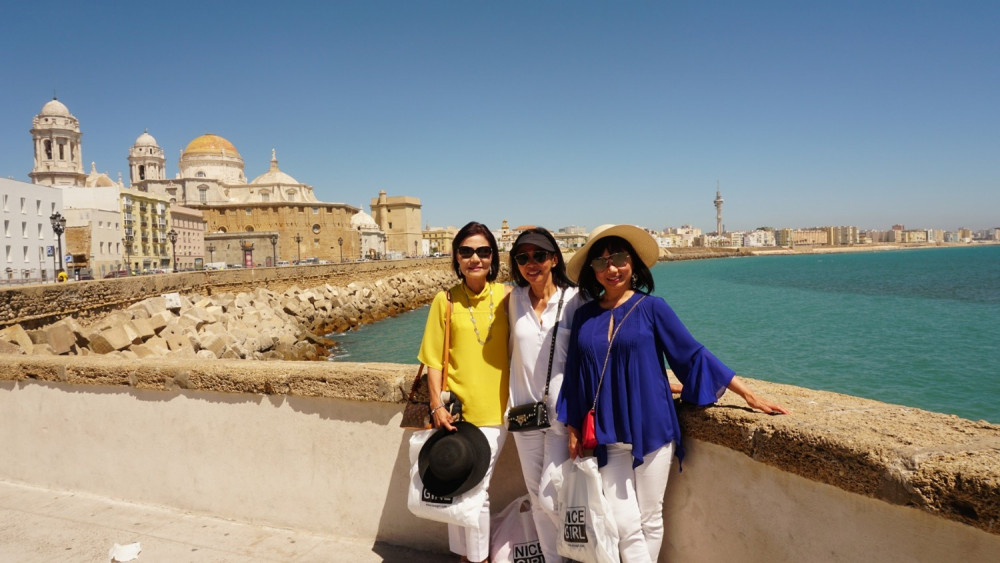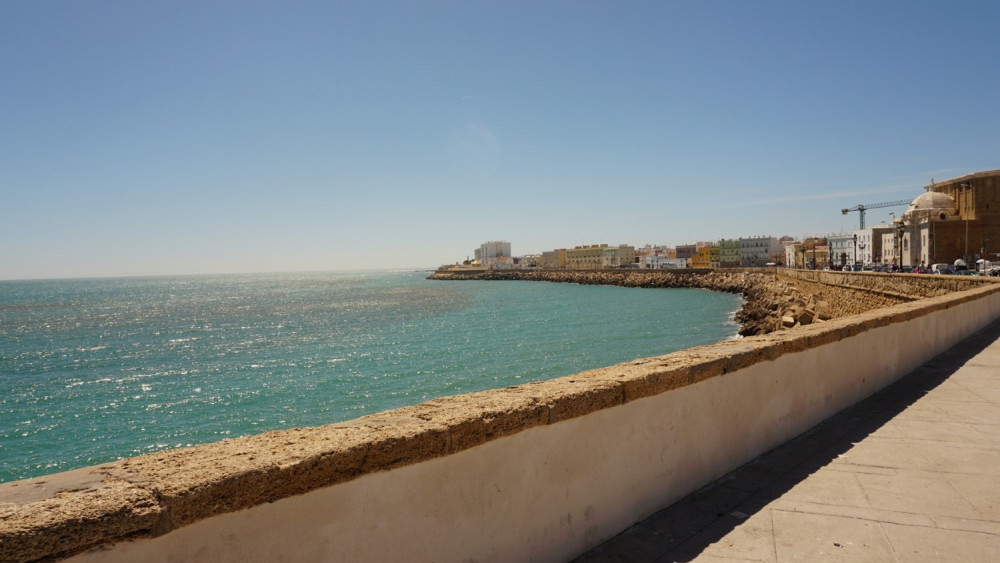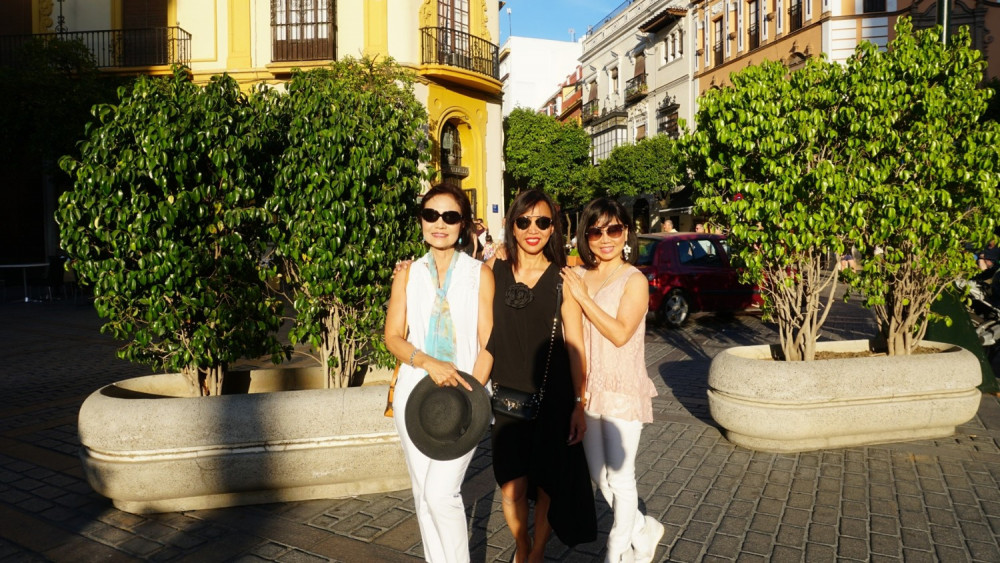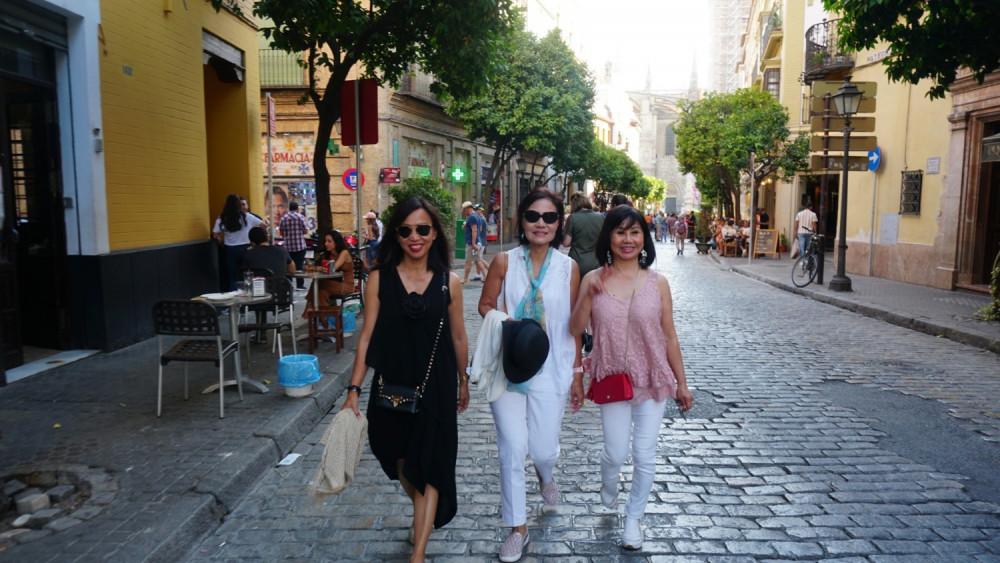 Looking for a place to have dinner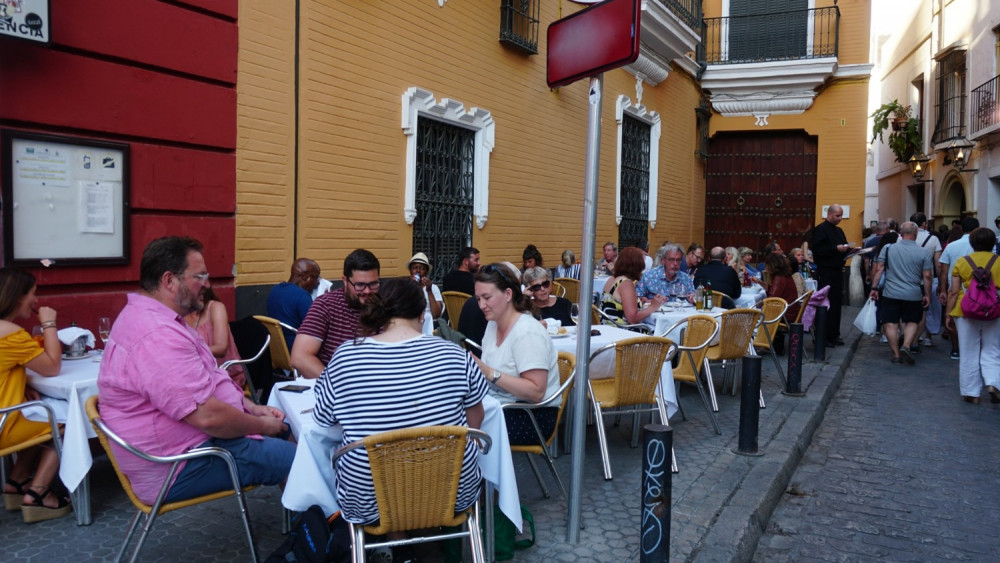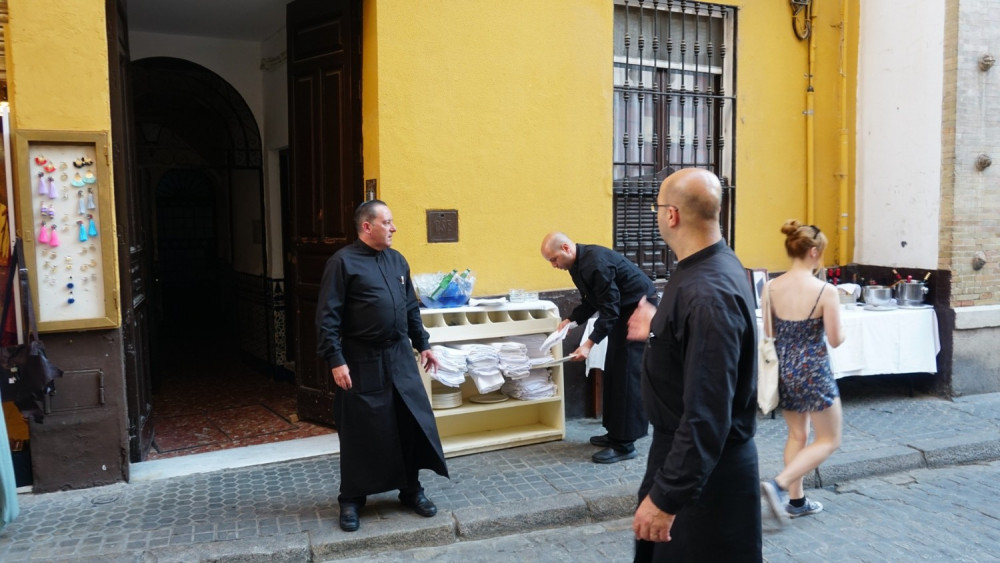 Waiters' interesting uniforms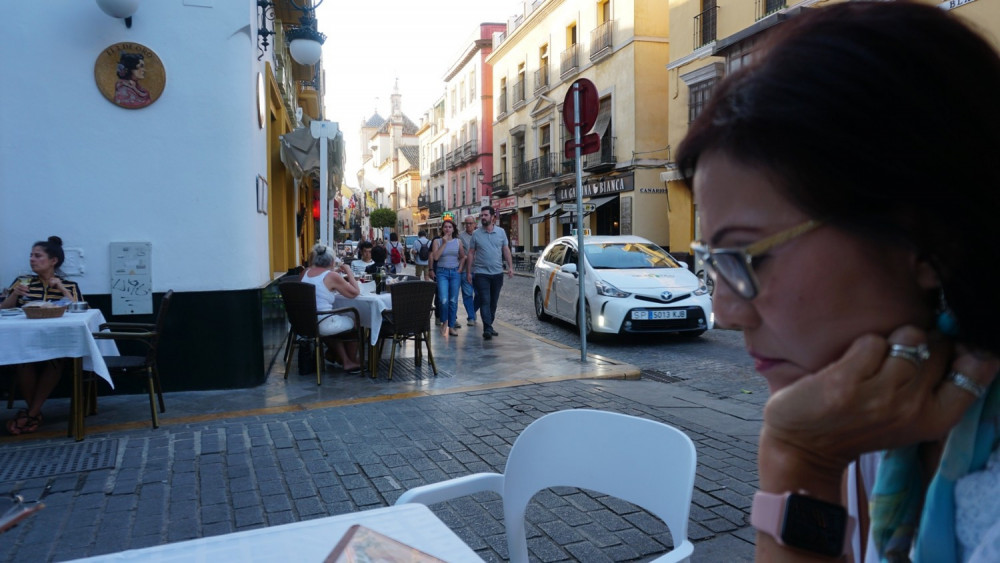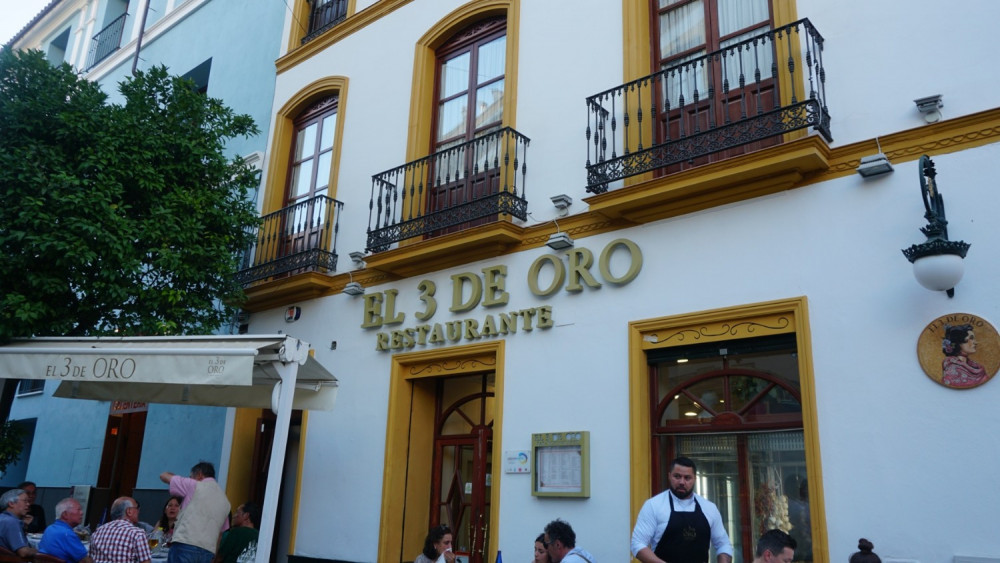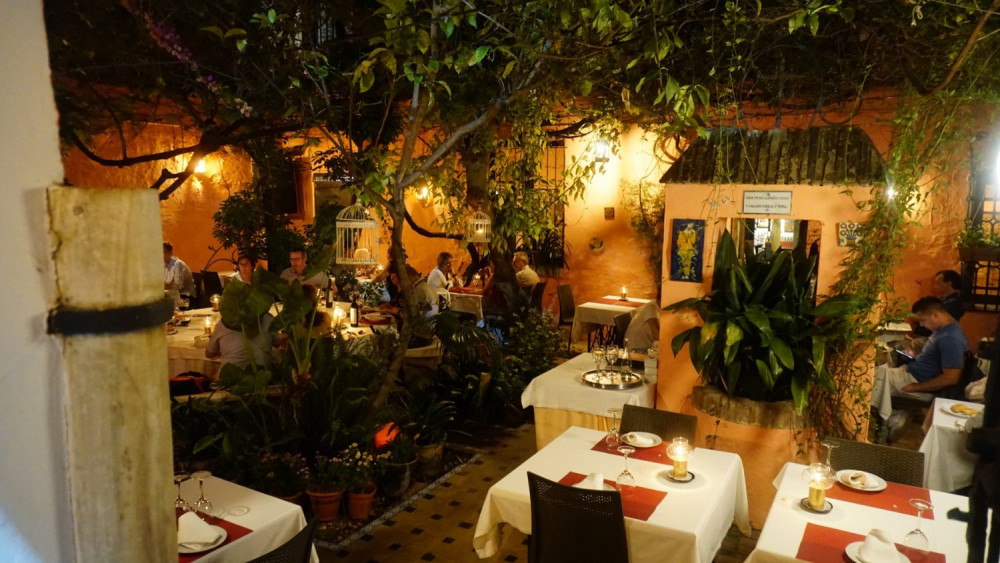 ,,, because there are so many restaurants in this little city