Day 13. Saturday, June 22, Lisbon, Portugal



Vacation is over. We are going home today after almost two weeks traveling in Italy and Spain. Our trip home is long because there are no direct flights between Seville and Dallas. To get home, we would have to fly to Lisbon, Portugal, have a long layover in Lisbon, then fly to Ponta Delgada, Portugal, then to Boston, spend a night in Boston, then finally fly home to Dallas the next day.

We check out of Hotel Dona Maria very early this morning, take a Uber to Seville Airport and board an Azores flight to Lisbon. Arriving in Lisbon at 7:10 AM (Lisbon is one hour behind Seville) and having five hours to kill, we decide to get on the subway to go to Downtown Lisbon. Before leaving the airport, we pay to leave our carry-on luggage at the baggage storage so we wouldn't have to carry them with us.

We go down to the subway station just right outside of the airport to buy tickets to go to Downtown which requires a transfer from the Red Line to the Green Line at Alameda Station. Then we get off at Rossio Station in the central area of Lisbon.



A street by Dom Pedro IV Square
Dom Pedro IV Square with the wavy tiled floor and the monument
In front of the D. Maria II National Theater in Lisbon
Streets are quiet because it's early Saturday morning
Calcado do Carmo Street. Dom Pedro IV Monument in background
Near the station entrance is Dom Pedro IV Square built to honor the late King of Portugal and the founder of Brazil (this is why Brazillian speak Portugese). The square is a large rectangle area with wavy tiled floor, a statue of Dom Pedro IV on a tall pedestal in the middle, and a huge round water fountain near one end.


​All four sides of the square are buildings housing restaurants, shops, a magnificent theater, and an impressive older building which has been converted into a high-end shopping mall.

The streets along the square are lined with what I believe mimosa trees many of which are bearing big clumps of purple flowers.

There is a series of stairs at the end of this street
Restaurants are everywhere on Rua Augusta
A man stacking rocks. He only uses rocks and gravity. No glue or mortar
Beyond the arch is an outdoor market set up under large white and steep-roof tents; and the sea is not too far beyond. We walk around a long time looking at various things and taking pictures. Someone has carved sand on the beach and left it in the shape of different animals, and an old man stacking random rocks into tall columns without using any kind of glues or mortar.

Before we have to return to the airport, we sit down at an outdoor restaurant on Rua Augusta and have a good lunch.

Rua Augusta Arch overlooking the sea
Outdoor market between the Arch and the sea
Instead of carving sand castles, some people here carve sand animals
Spanish jamón (ham) is very tasty
Rua Augusta Arch. I'm so glad we take the time to see a little of Lisbon

Select your own fresh lobsters
Enjoying our lunch before heading back to Lisbon Airport for our trip home
The City is slowly waking up on this sunny Saturday morning. We walk up the steep Calcado do Carmo Street checking out the shops and the popular stairways, then down to the sea via Rua Augusta Road.

The road is actually a wide pedestrian mall which allow restaurants on both sides to set up their tables and chairs right down the middle of the mall. Several blocks later is the impressive Rua Augusta Arch, a large stone arch built to celebrate the reconstruction of Lisbon after the 1755 earthquake.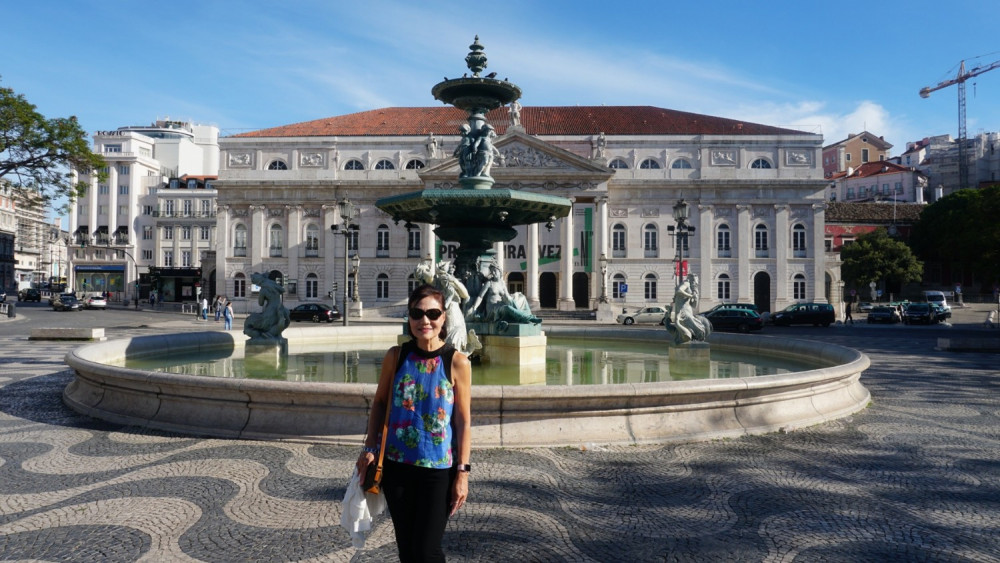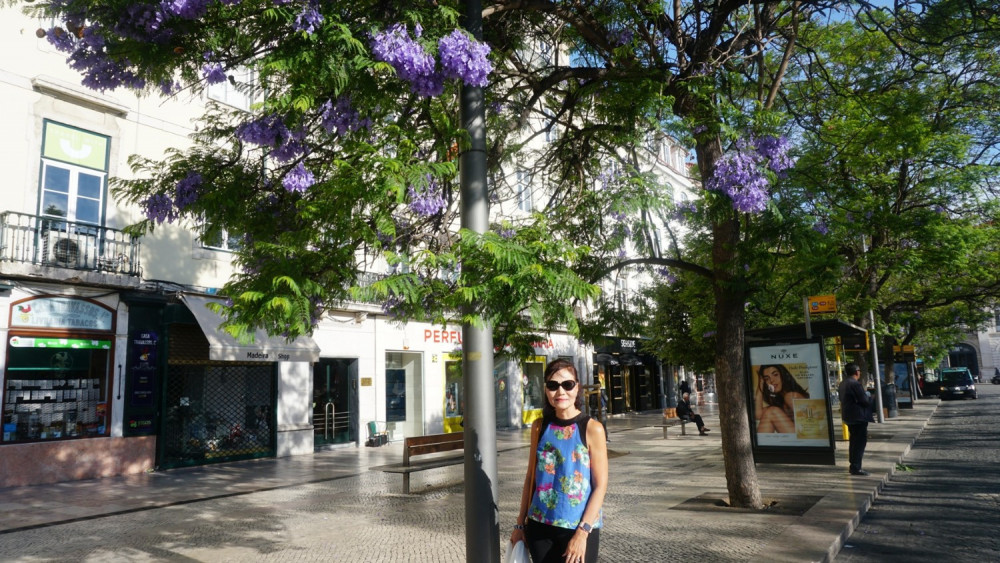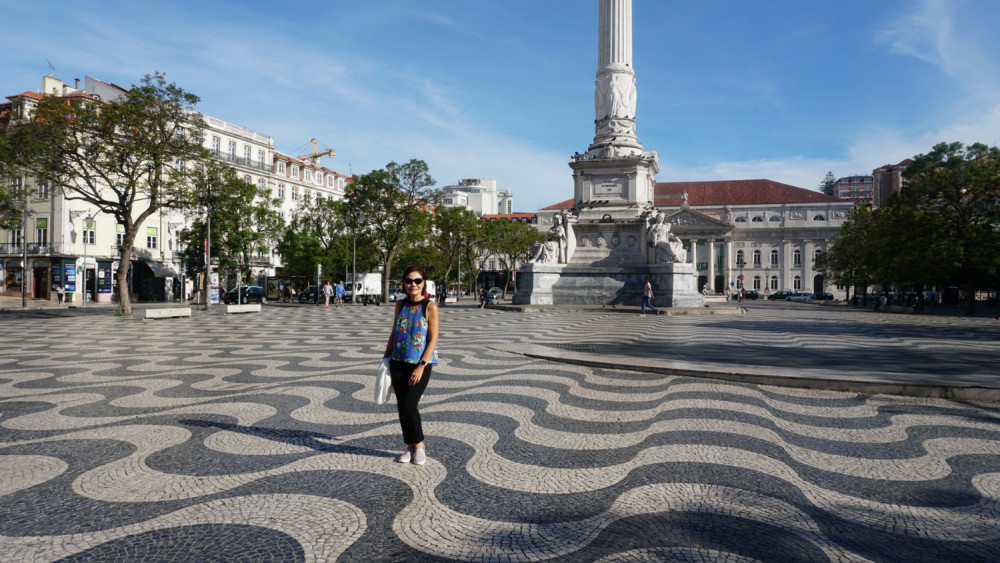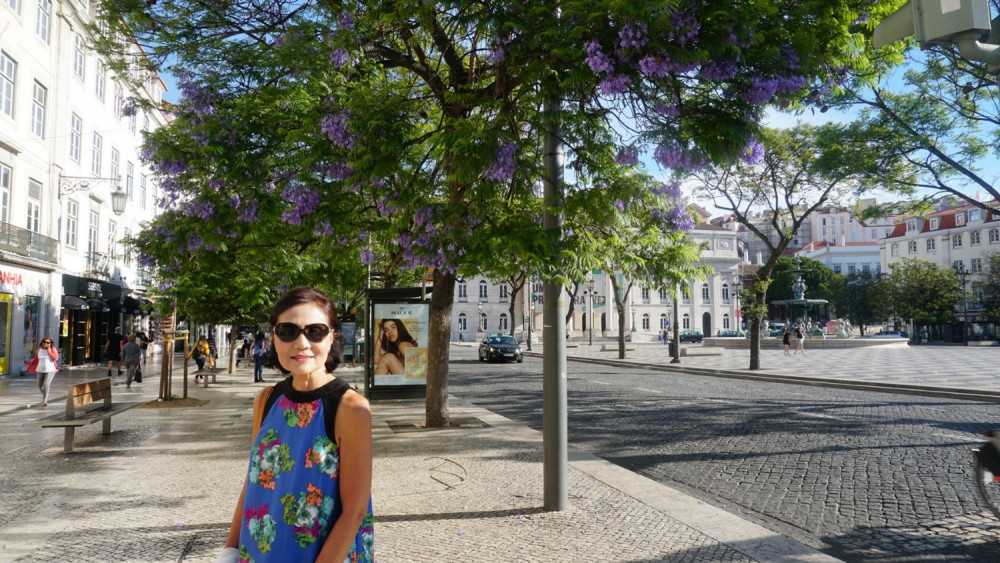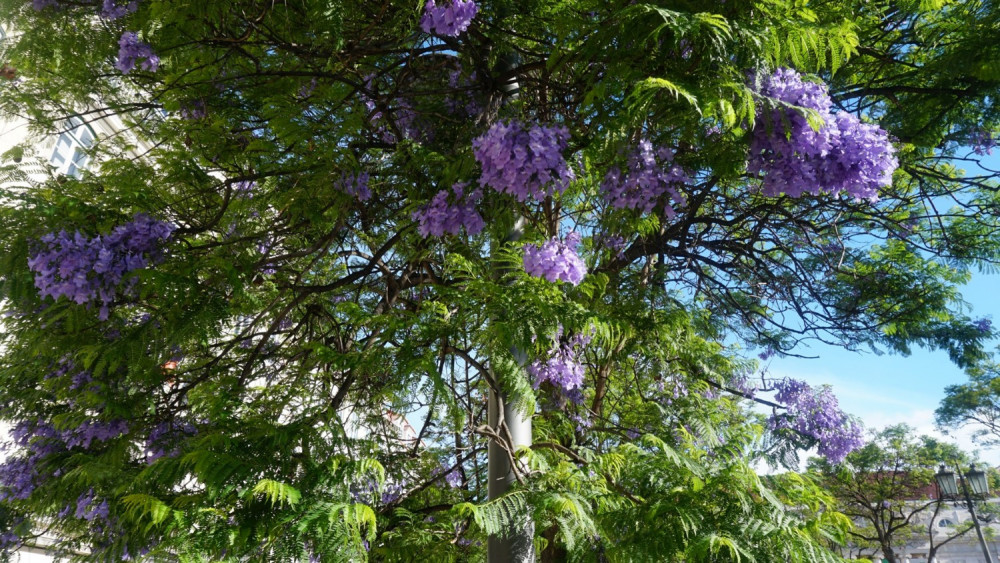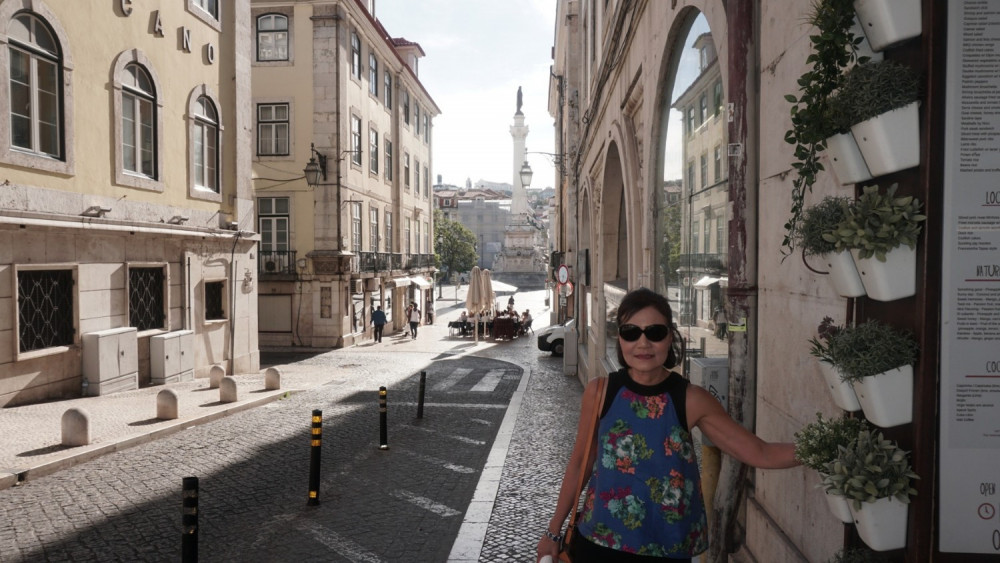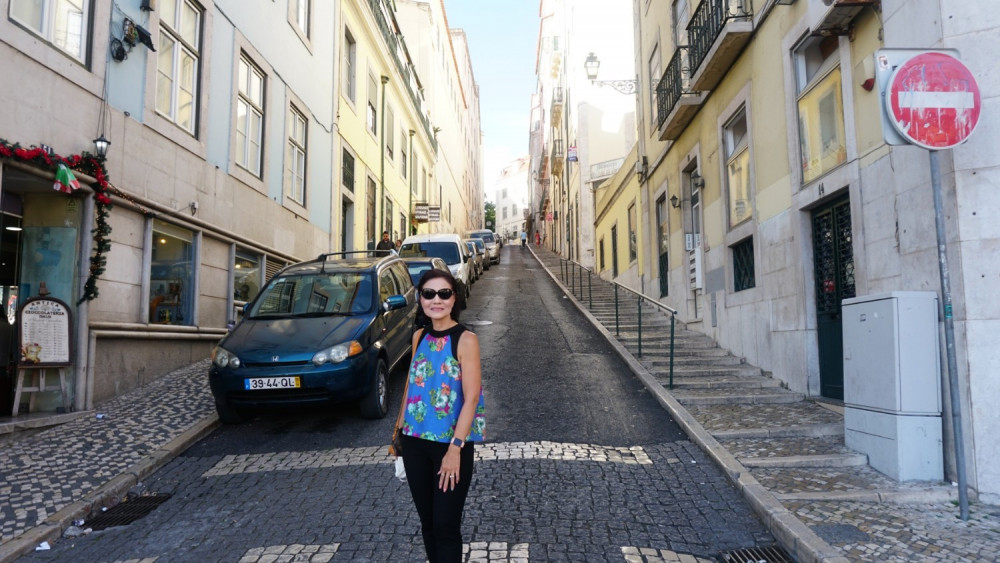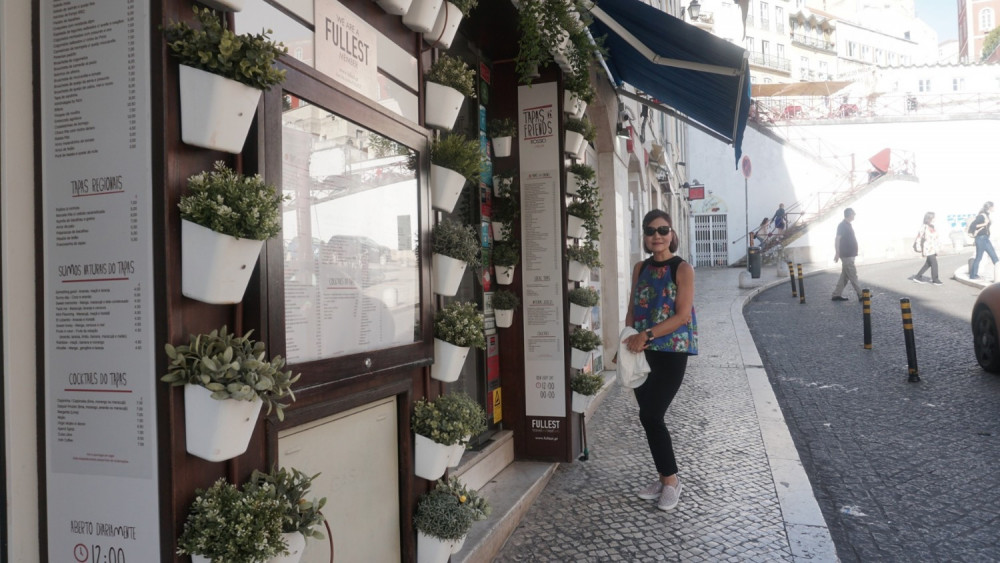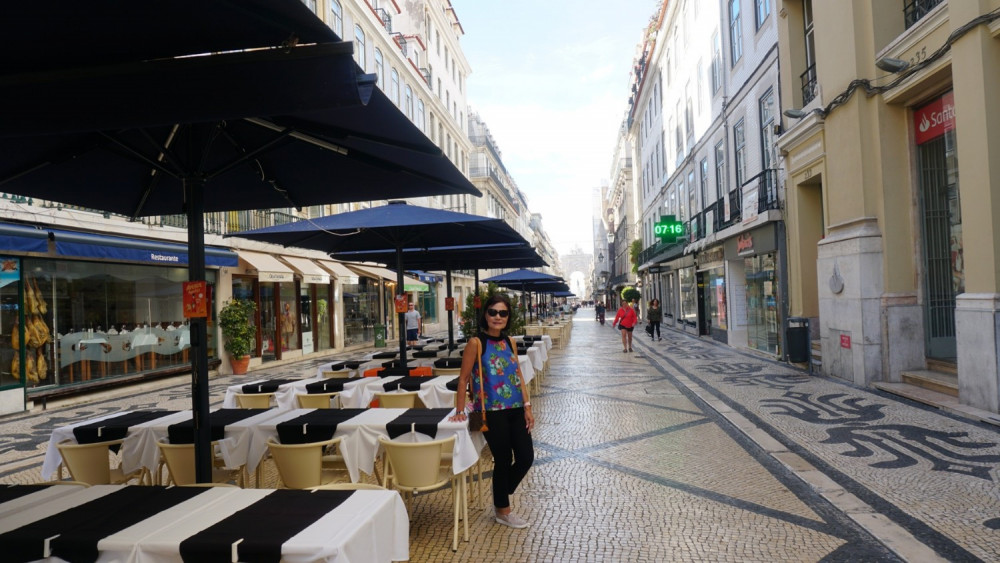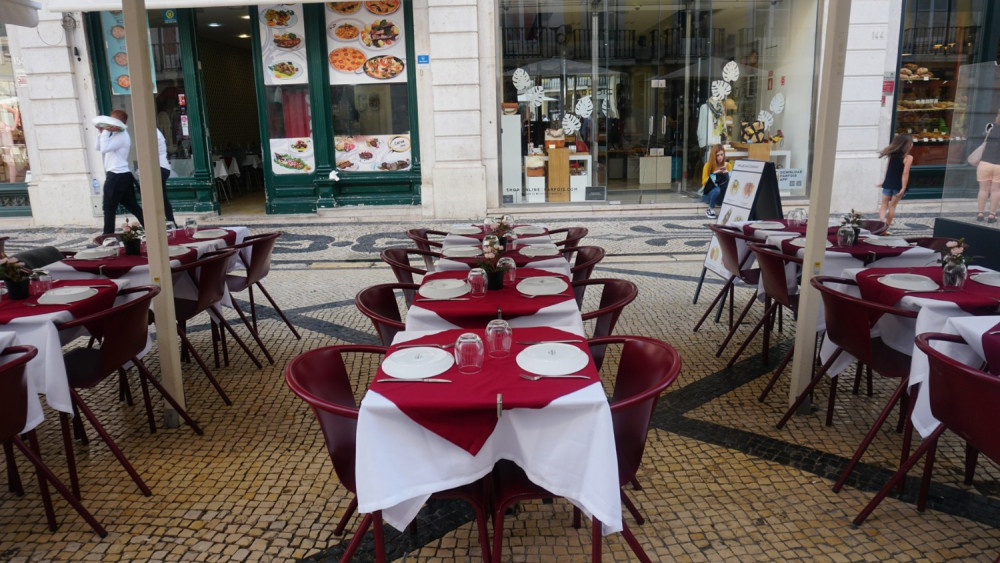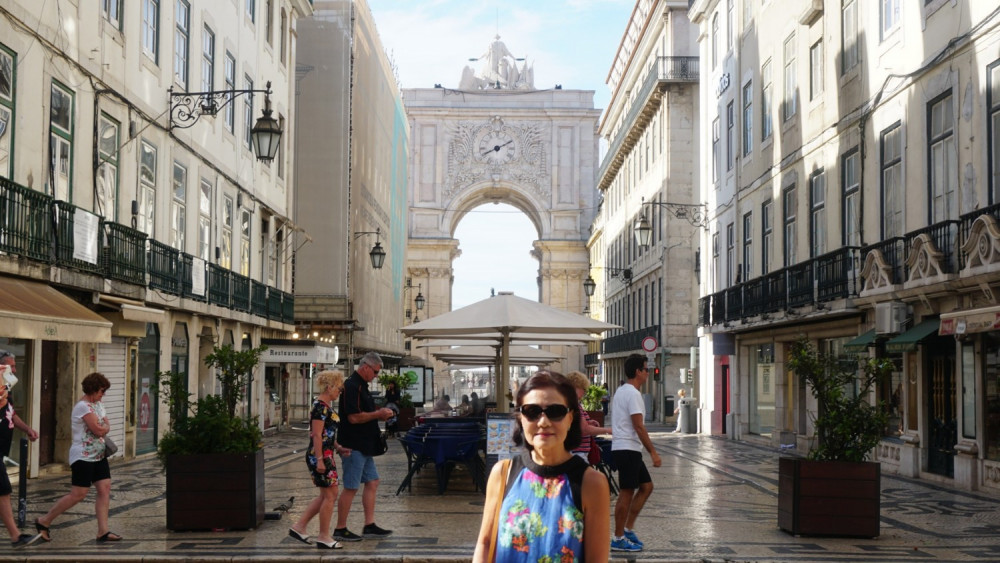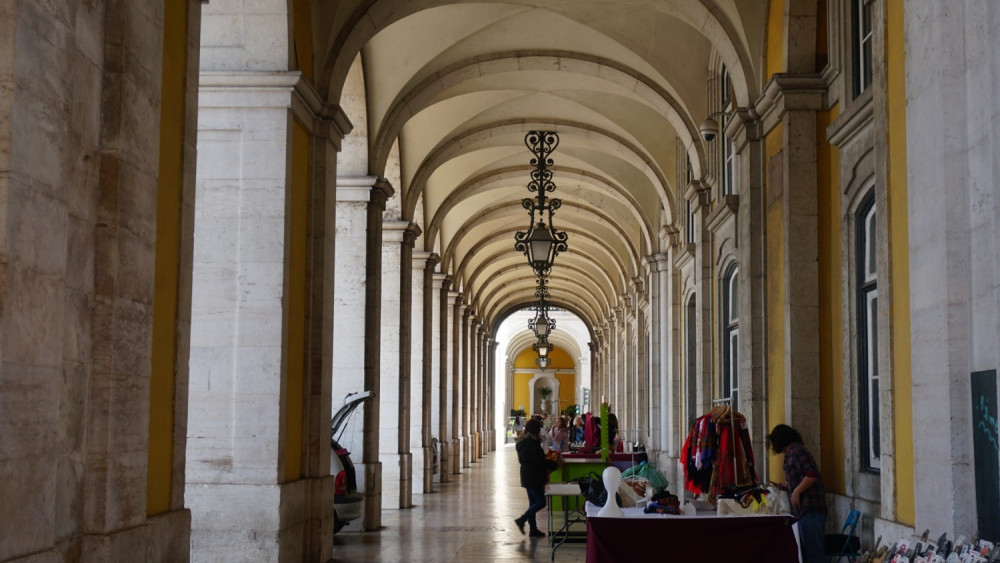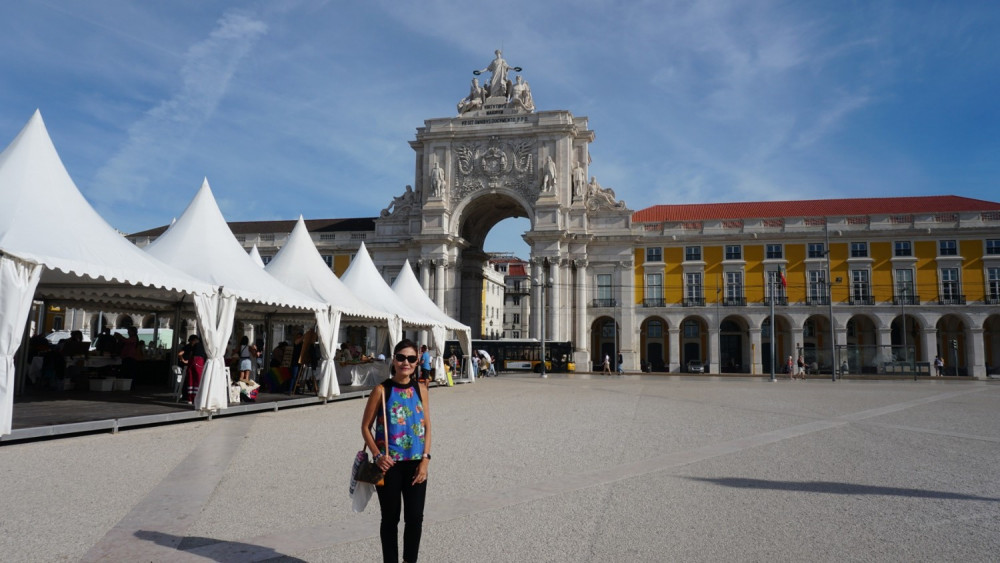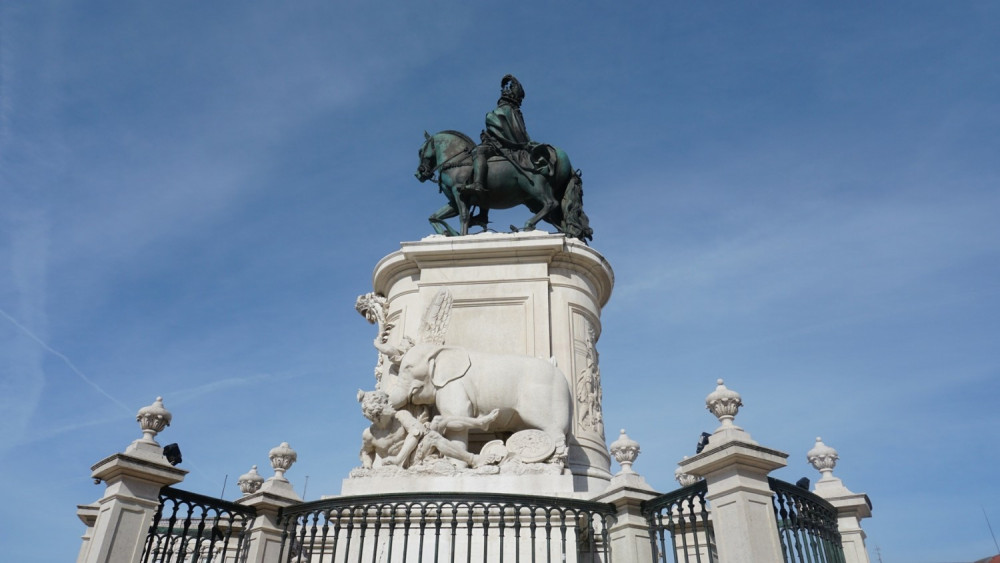 Statue of Dom José on a horse built after the 1775 earthquake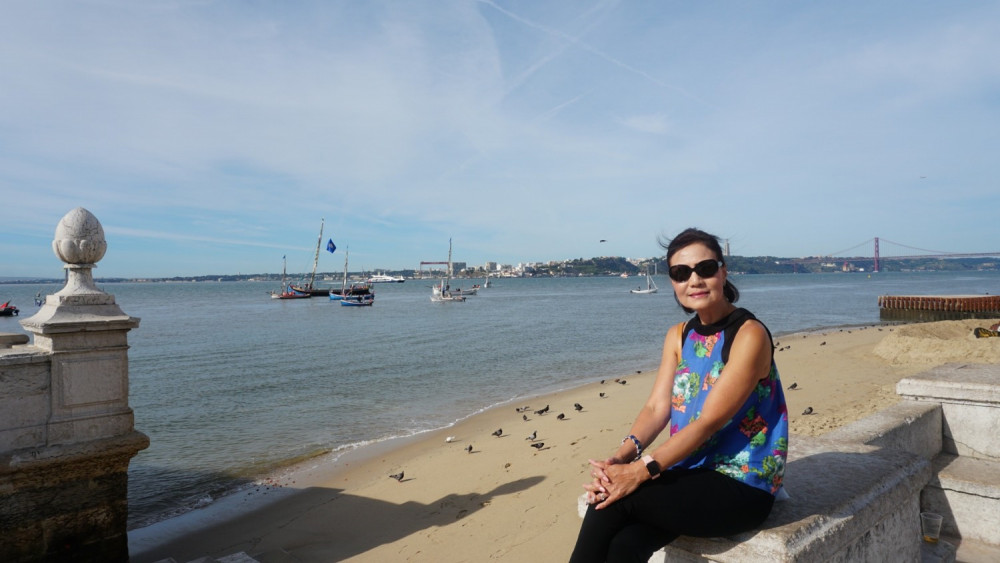 At the edge of the estuary