Day 3. Wednesday, June 12, 2019 Milan and Vernazza, Italy



We get up early to check out of the hotel, take an Uber to Milano Centrale, Milan's main train station, and get on a train heading for Cinque Terre.

Milano Centrale is huge and is the largest rail station in Europe in volume. It spreads out and has several floors providing spaces for stores, restaurants and shops. The station arch roof spans over perhaps two dozen train platforms. If you arrive early for a train trip, this station would provide you with plenty of dining and shopping options. We sit down at a small café and order some cappuccinos and croissants while waiting for our train platform number to be posted on the big board.

Although it's still early, the station is already alive with people hurry going back and forth. 20 minutes before our train scheduled departure time, the platform number is posted and we start going to our platform. We take our time making sure we're at the right platform, on the right car, and in the right seats. We leave our luggage near our reserved seats which are two wide, comfortable window leather seats facing each other with a table in between. The seats have plenty of legroom and the table has electrical outlets.

The train is nearly full when it starts pulling away from the station at the exact scheduled time of 8:10 AM and after a few minutes, Milan is behind us and Italian country side, fertile farmland, rivers, forests, and villas on the hills race by.

Milan Central Rail Station
Here we are in Vernazza, one of the five villages in Cinque Terre Region
Main street from train station to the sea in Vernazza
Three hours later, we get off the train at La Spezia, wait a few minutes, and get on another train for a 20-minute ride to Vernazza, our stop for next the next two nights.

Vernazza is one of five villages in the Cinque Terre Region of northwestern Italy. Meaning 'Five Lands' in English, Cinque Terre consists of five small but colorful villages standing on the edge of the Mediterranean Sea.

​​The villages, connected by a trail system operated by the National Parks, attract people from around the world because of the splendid views they offer. One can stay in any of the villages and either hike or take a short train ride to visit the others but since Vernazza is the prettiest of the five villages, we decided to book a hotel here.
Every Italian town square has a church. This is the Margherita Church
The town is so small. No need to go anywhere, just grab a chair at a sidewalk cafe and enjoy the sight
Lee in front of Margherita Church
Almost 9:00 PM and it's still light
Early evening, we dress up a little bit for dinner. Dinner tonight is at Belforte, a restaurant built high on a cliff overlooking Vernazza Square and beach.

By the time we arrive at the restaurant at 9:00 PM, it's still light outside but the wind has picked up so we choose an inside table. Our dinner of mussels, mixed salad, grilled seafood and lemon steak, complete with wine, tiramisu and cappuccinos are excellent.

Pictures cannot convey the beauty of Vernazza
Having dinner at Belforte Restaurant high above the town
Mixed grilled daily catch
Having a cappuccino before departing for Vernazza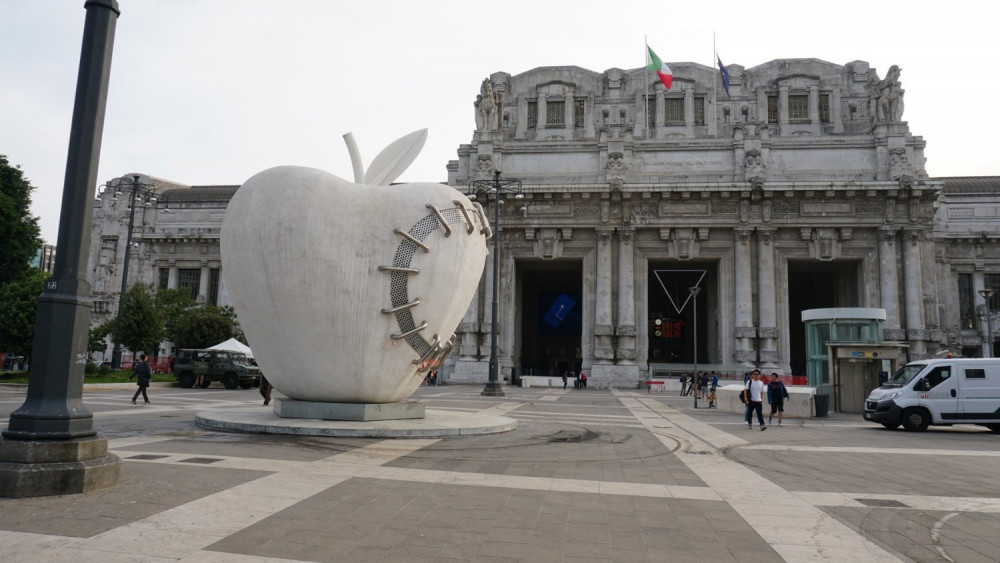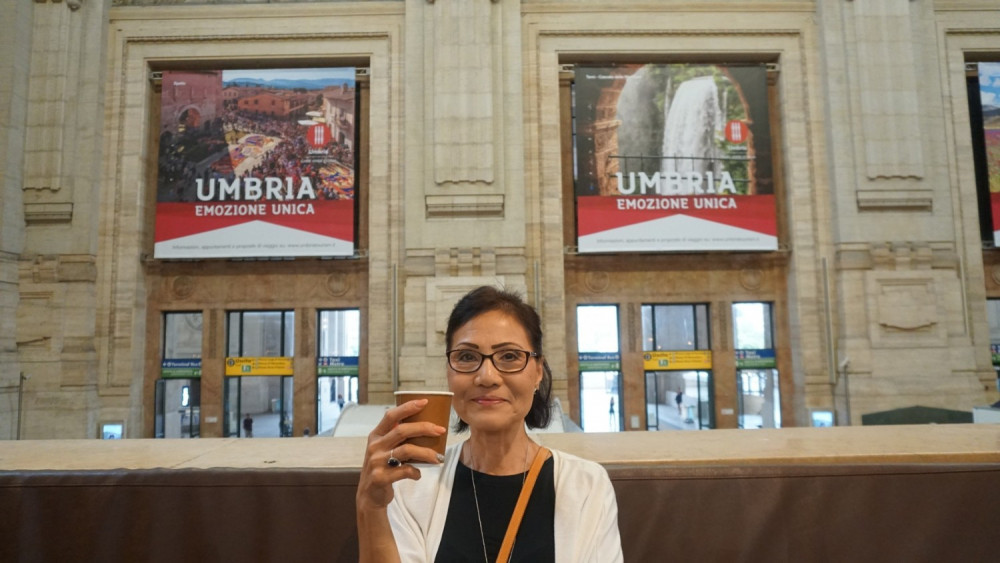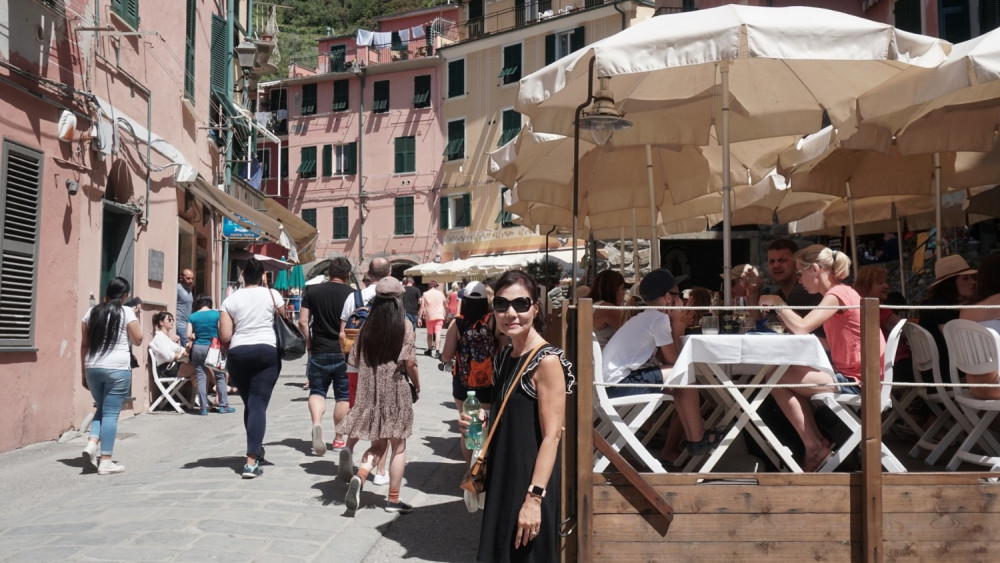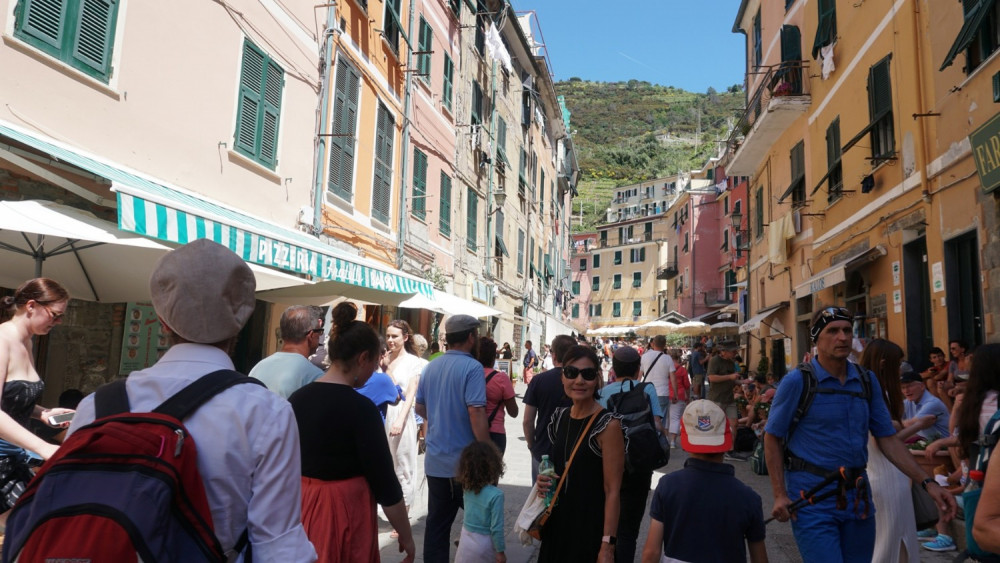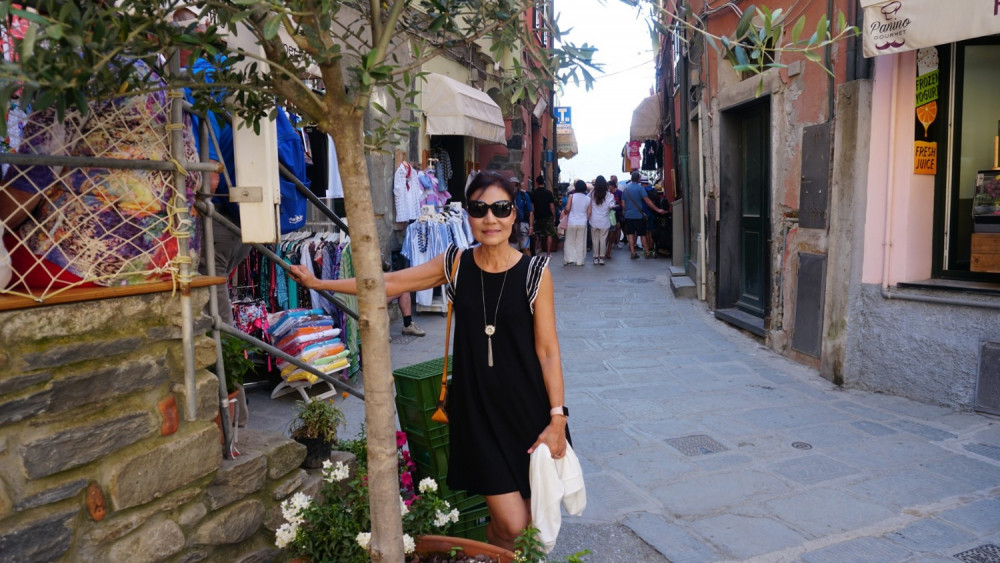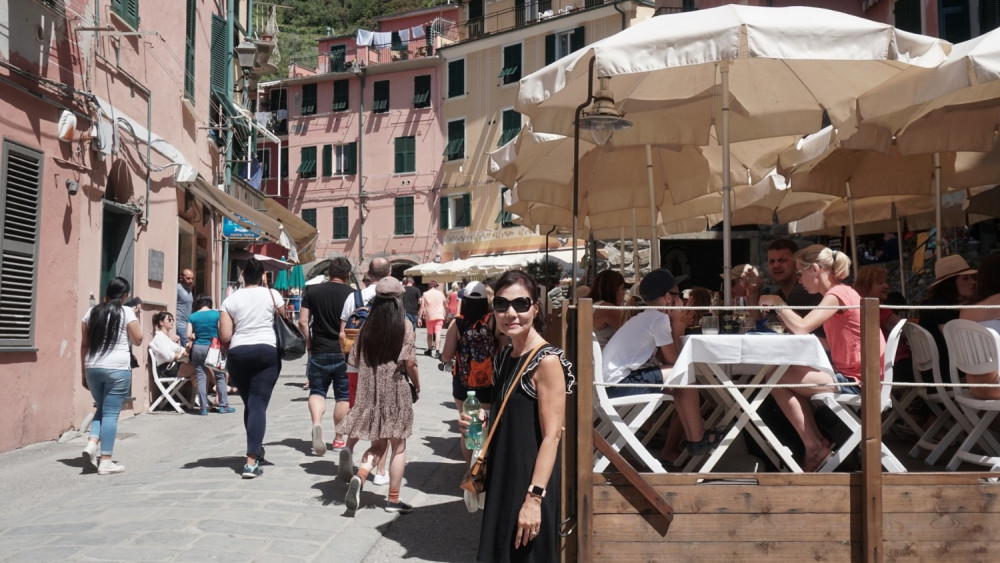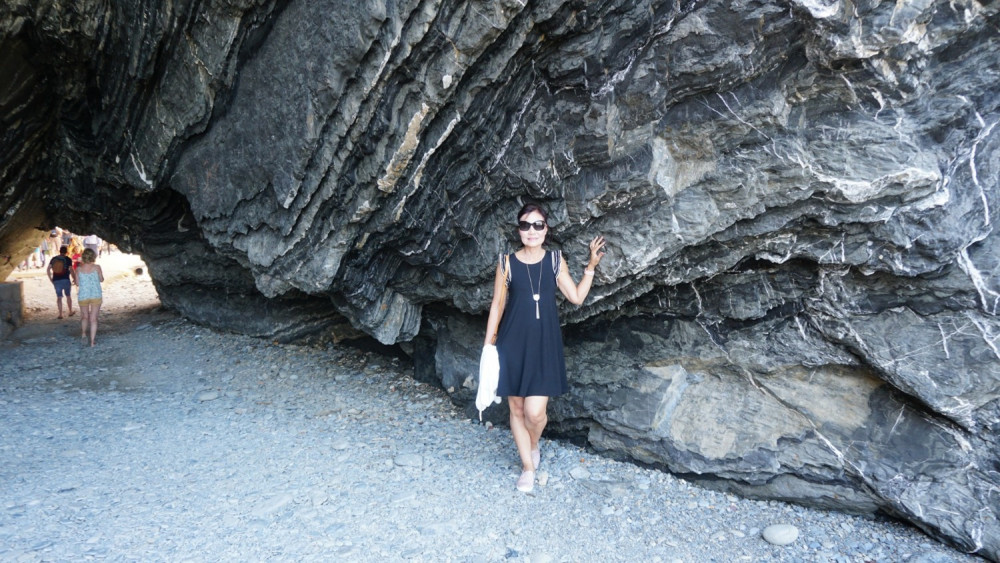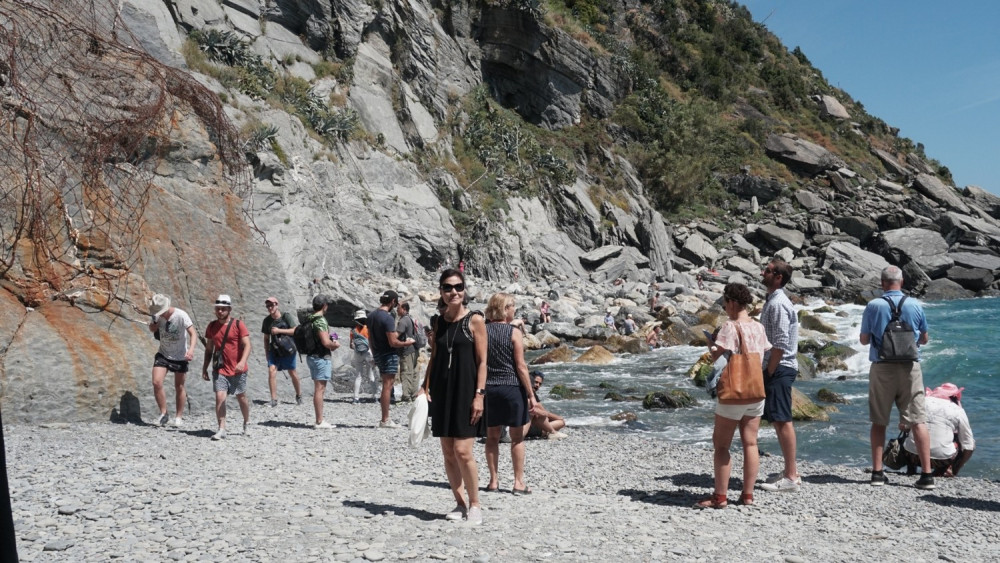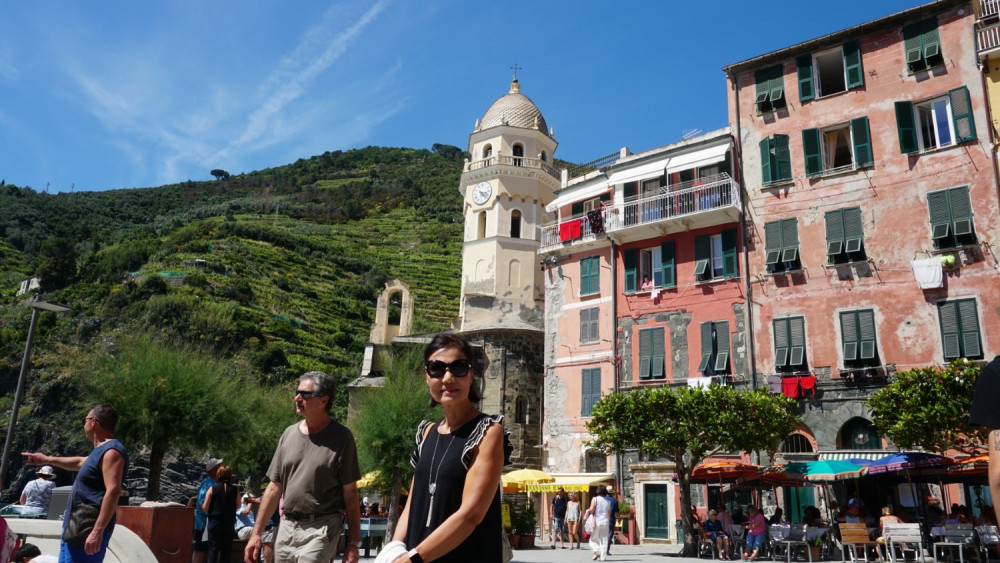 Walking from the Vernazza train station to our hotel with luggage is not easy but we manage it because the walk is downhill and short. Our hotel, the Taverna del Capitano is located right on the main street near Vernazza Square on the edge of the sea.

The hotel owners run a restaurant in the square and rent out the three rooms in this building. They give us a room on the third floor which is tiny and has no elevator. We struggle to get our luggage up the set of narrow stairs to our room. The room is clean, roomy, and looks down onto the busy main street which in this early afternoon, is filled with tourists.

After we get everything settled, we proceed downstairs to check out this little village. It has a few pedestrians-only streets but the streets are full of restaurants, small and large, regular and fancy, and all kinds of shop. It's obvious that this place has transformed from a sleepy fishing village to a thriving tourist attraction.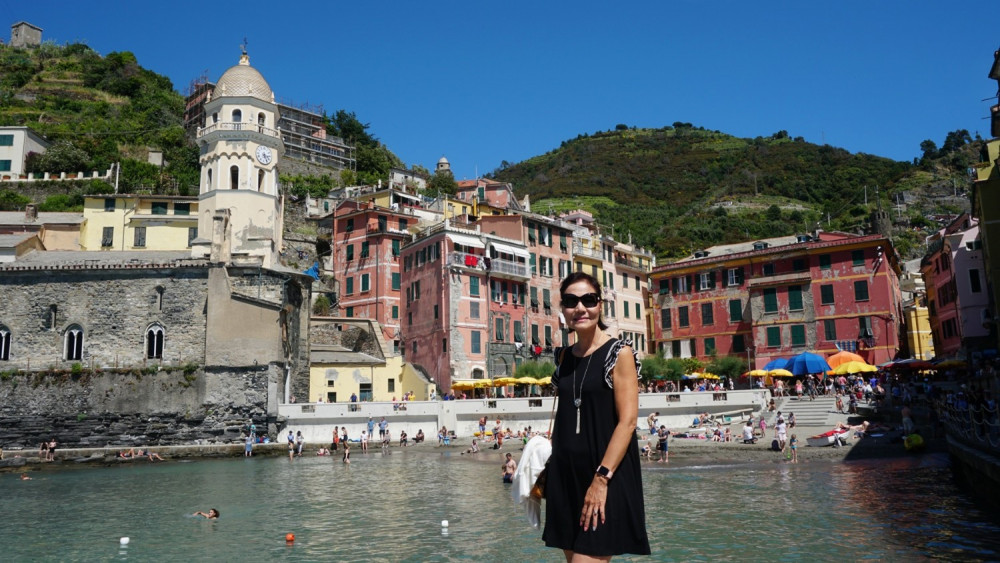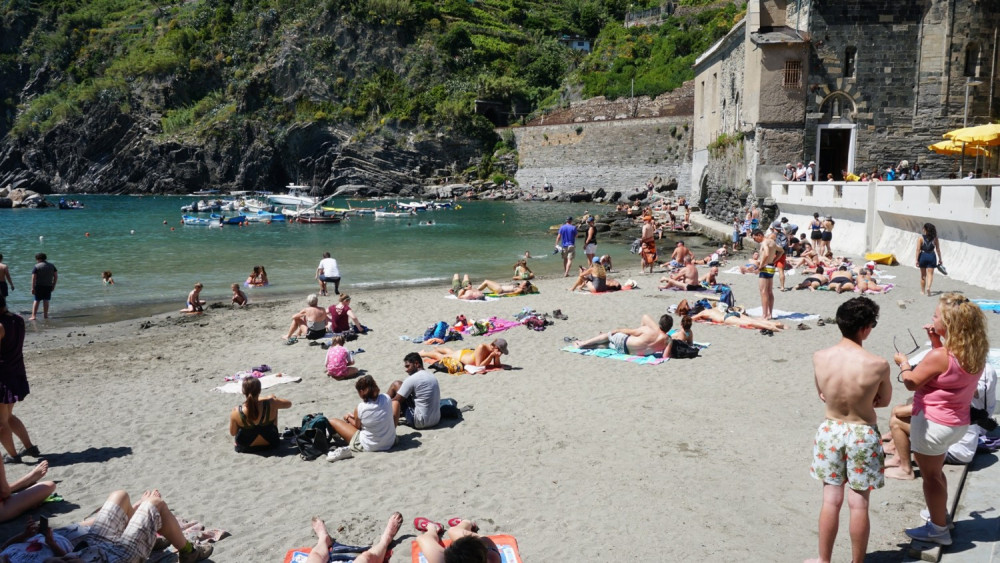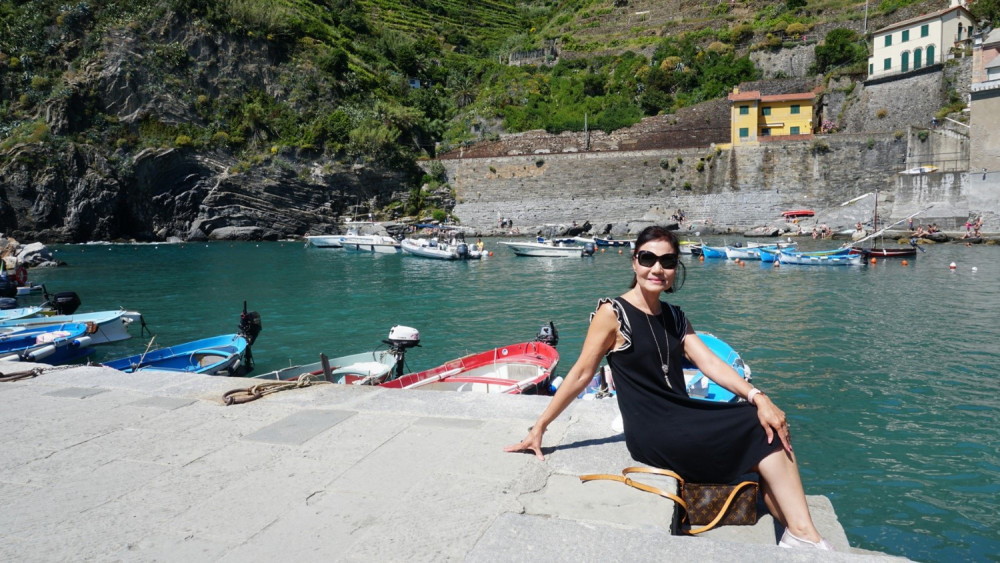 The port area with small, colorful fishing boats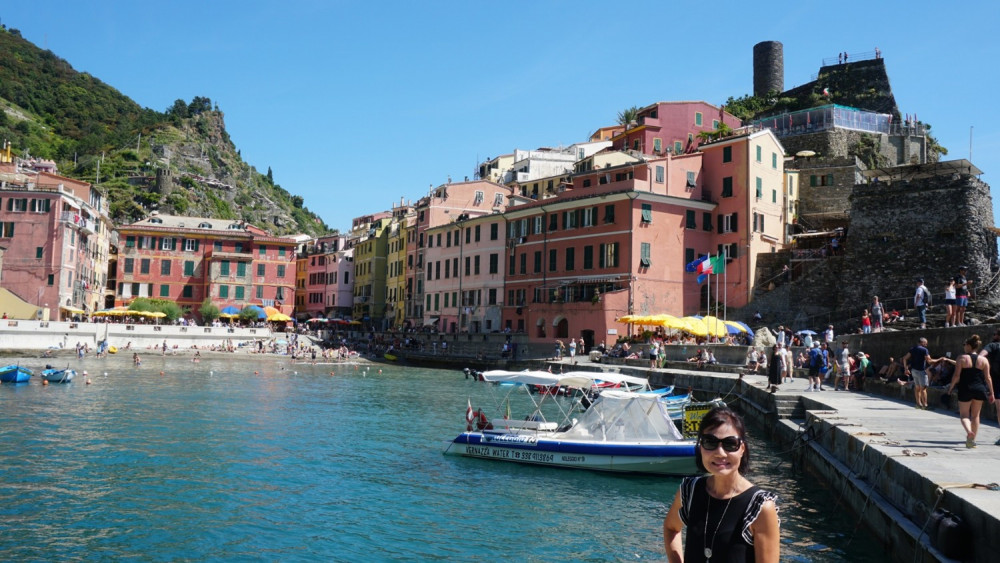 Buildings in Vernazza are painted in different colors and the combination of those colors and the green hills, the clear and blue sky, and the sparkling sea is so pleasing on the eyes.

It's a clear, warm and beautiful afternoon, and since the summer has already begun, people are coming to Vernazza. We find an empty table at a small restaurant across the street from our hotel and enjoy a lunch of mussels, salad, and pizza. Then we walk up and down the main street, stop to admire the views, look at shops, and take pictures (after pictures).

The blue sea seems calm and although the water is still a little chilly, some people are in the water splashing around while others taking advantage of the clear and warm day by sunning themselves on the beach.

We take a short rest by sitting down at a sidewalk restaurant in the square and enjoying another cup of cappuccino.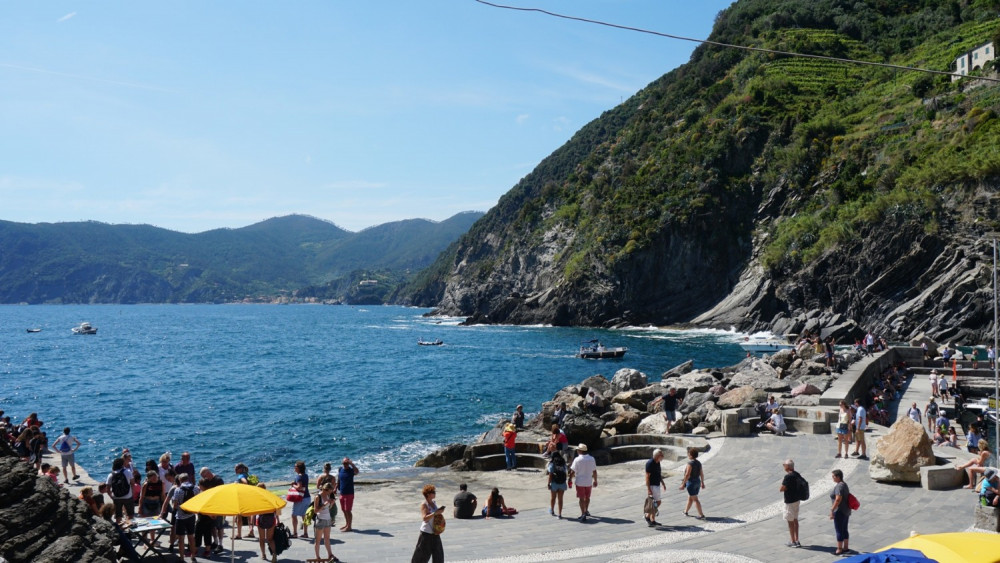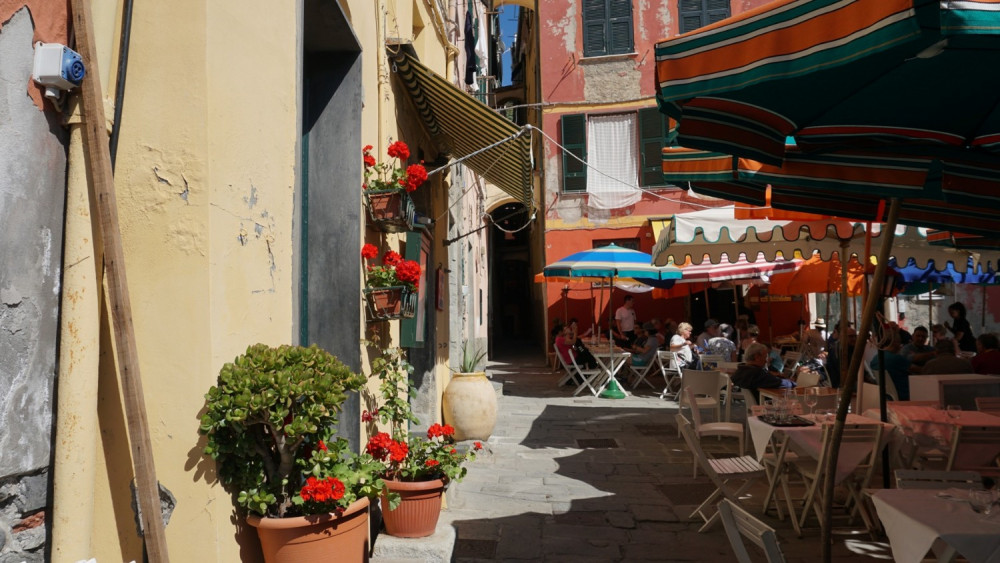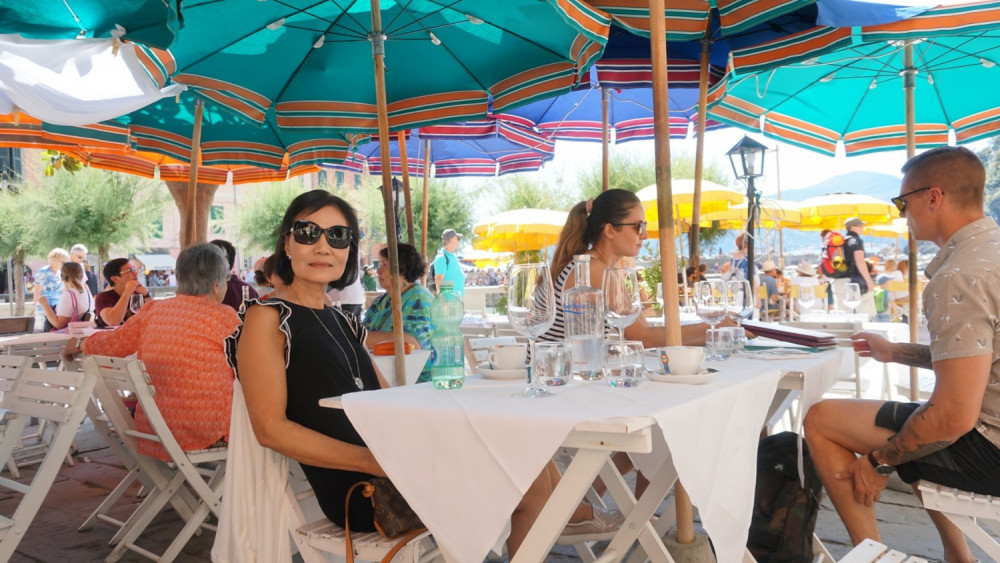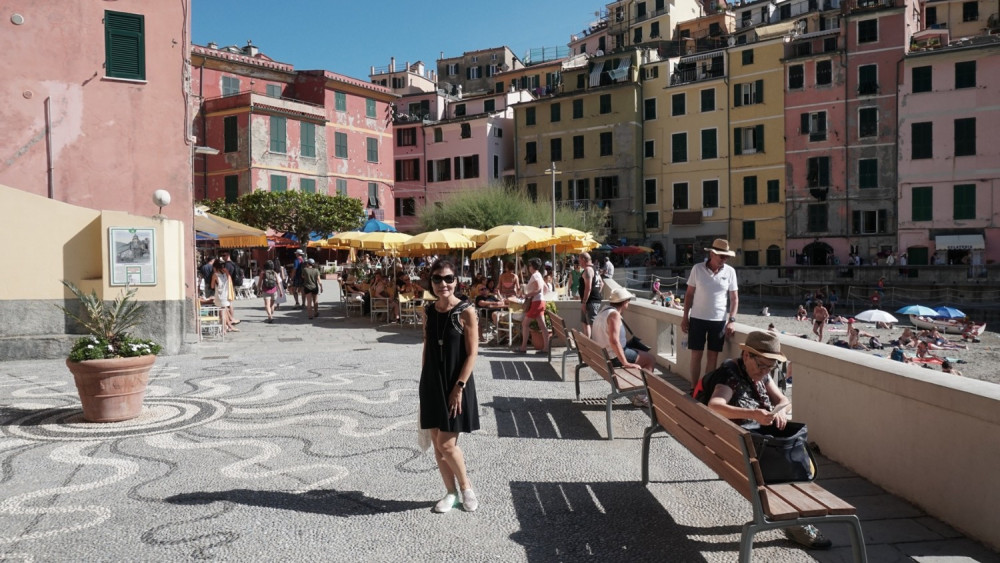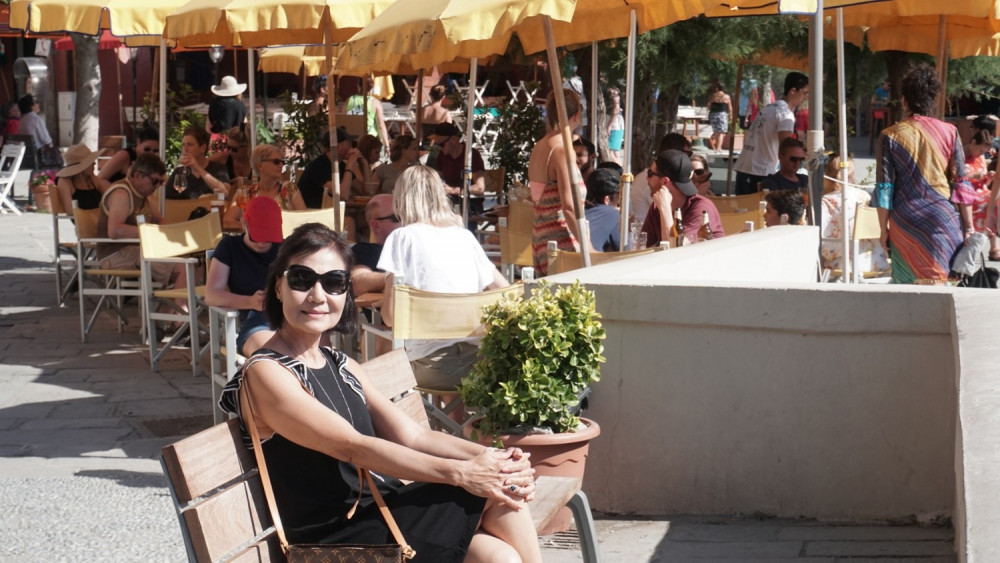 Getting some sunshine vitamin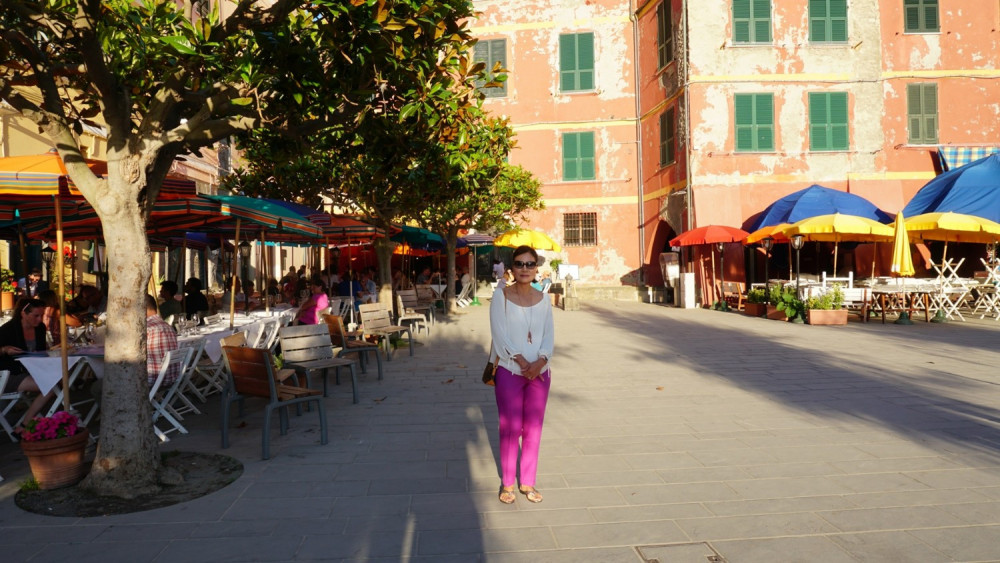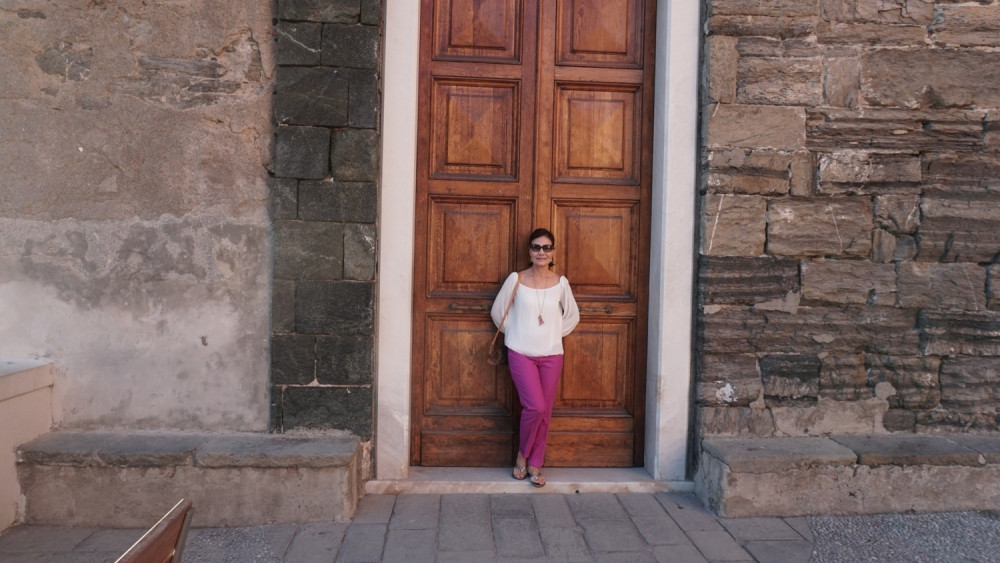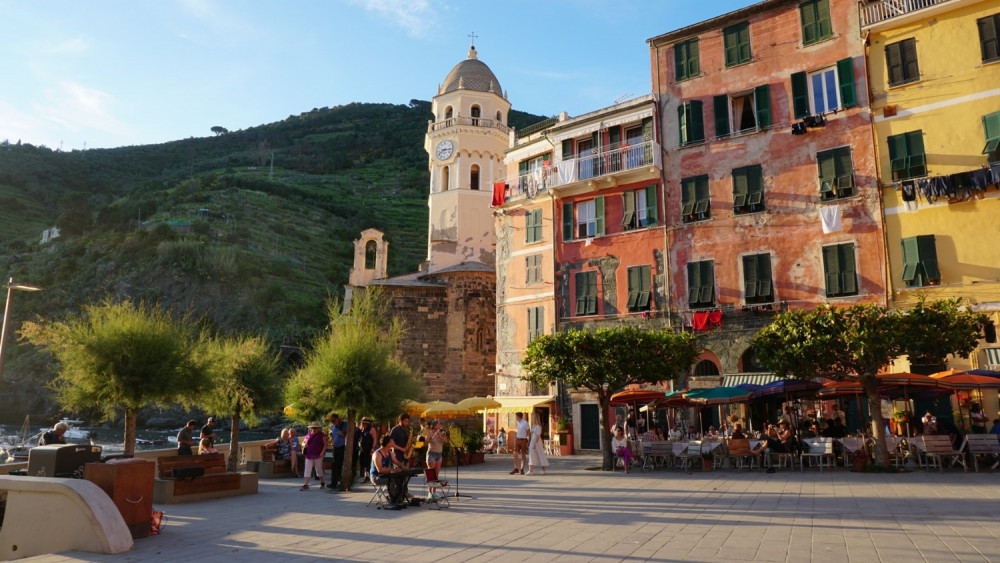 Band playing music in the town square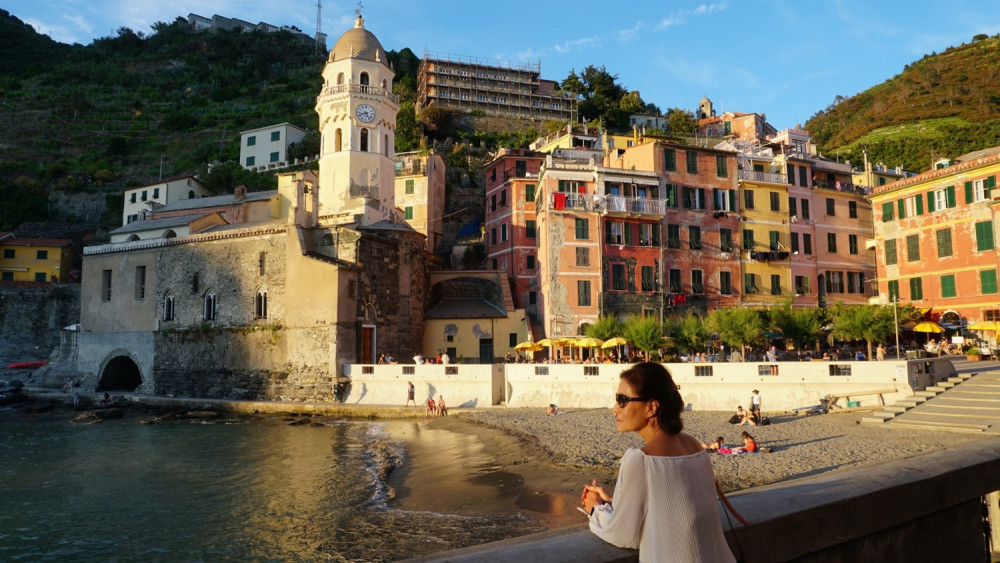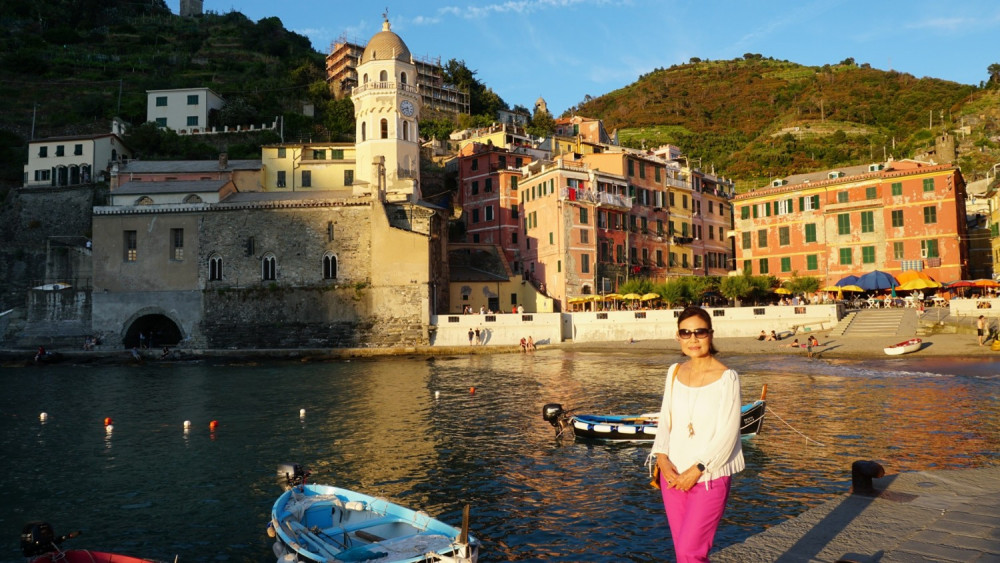 It's pretty wherever you look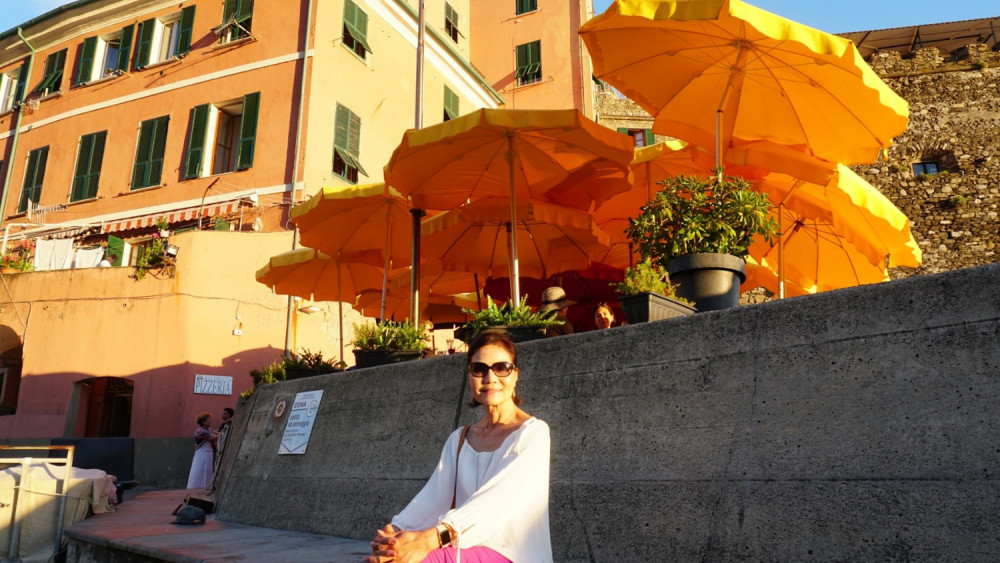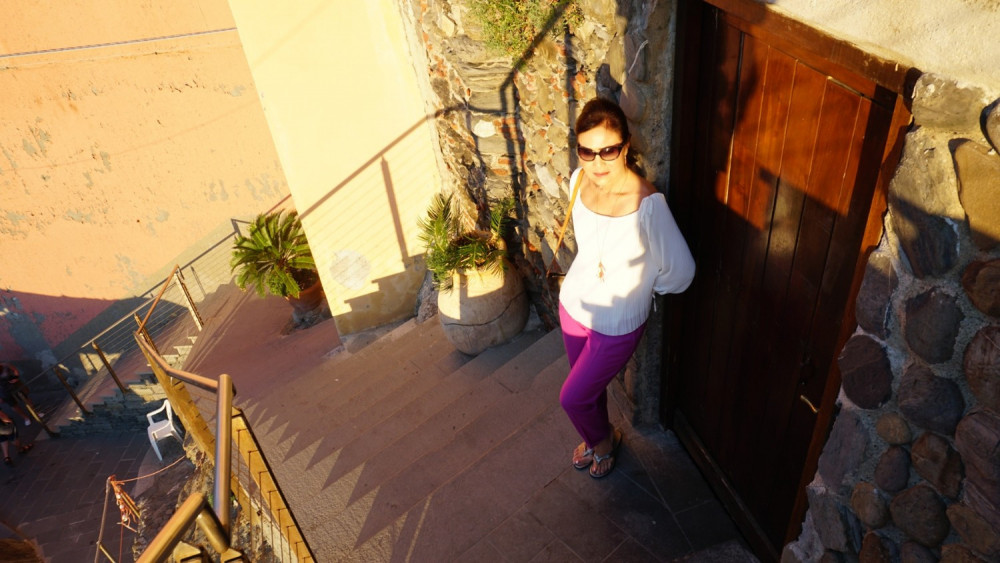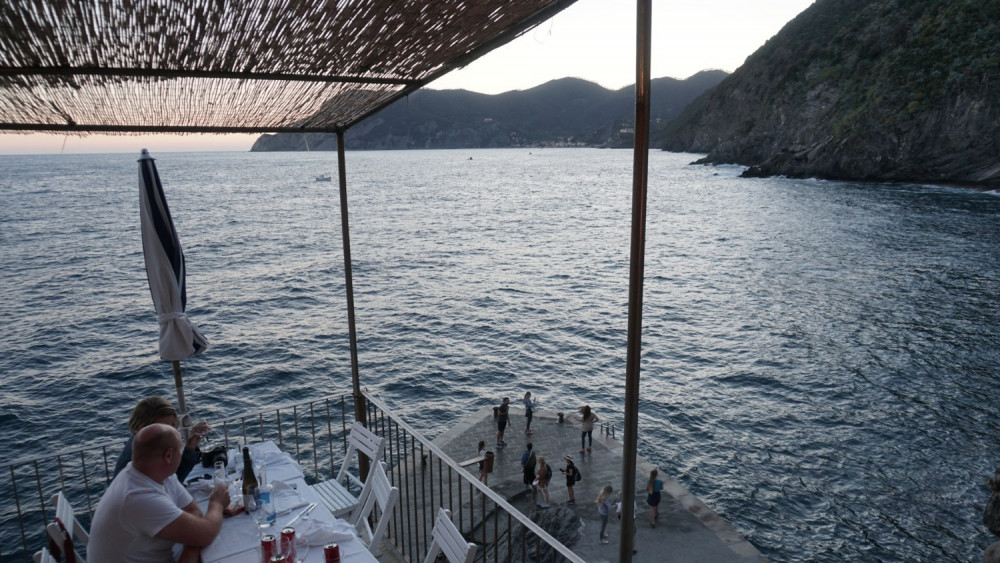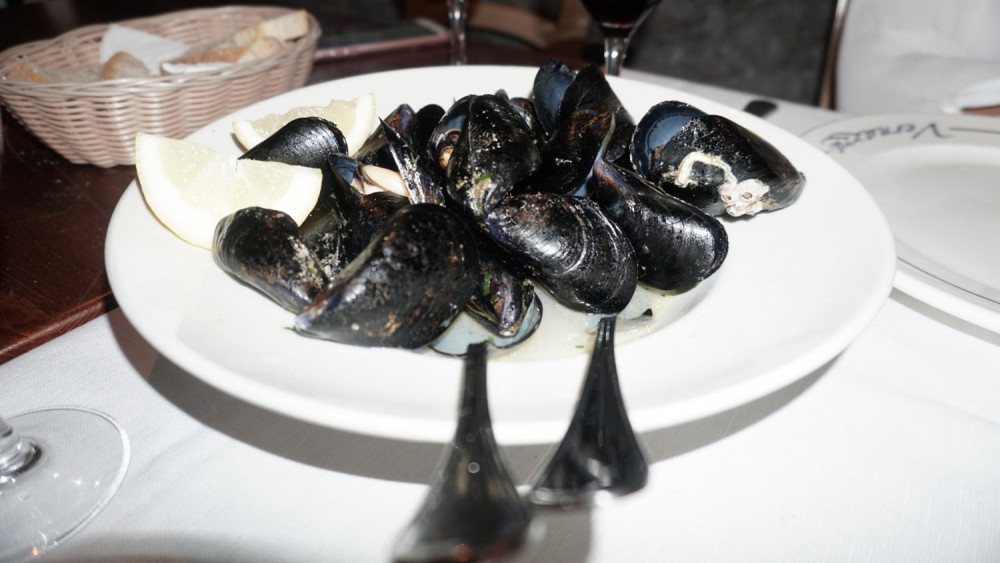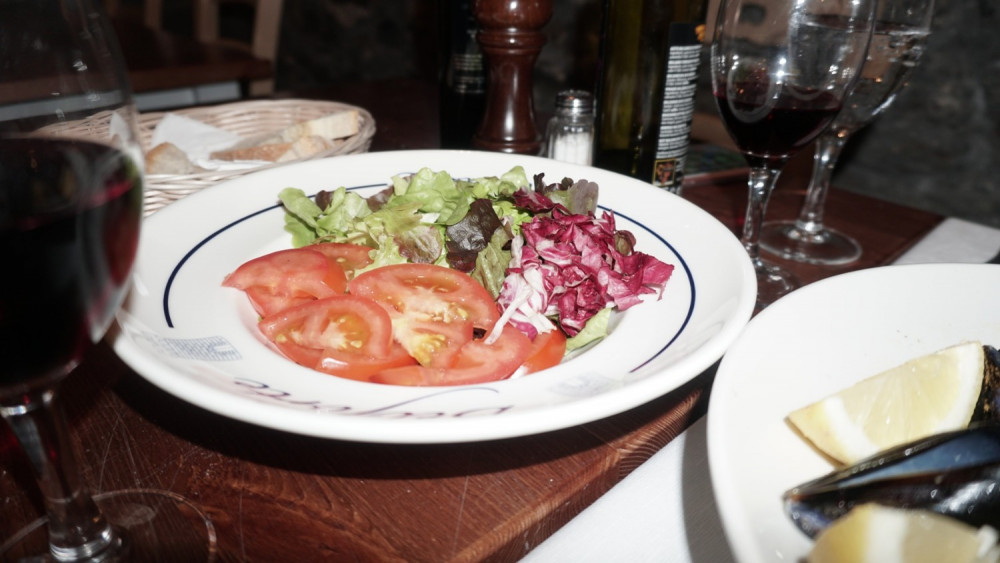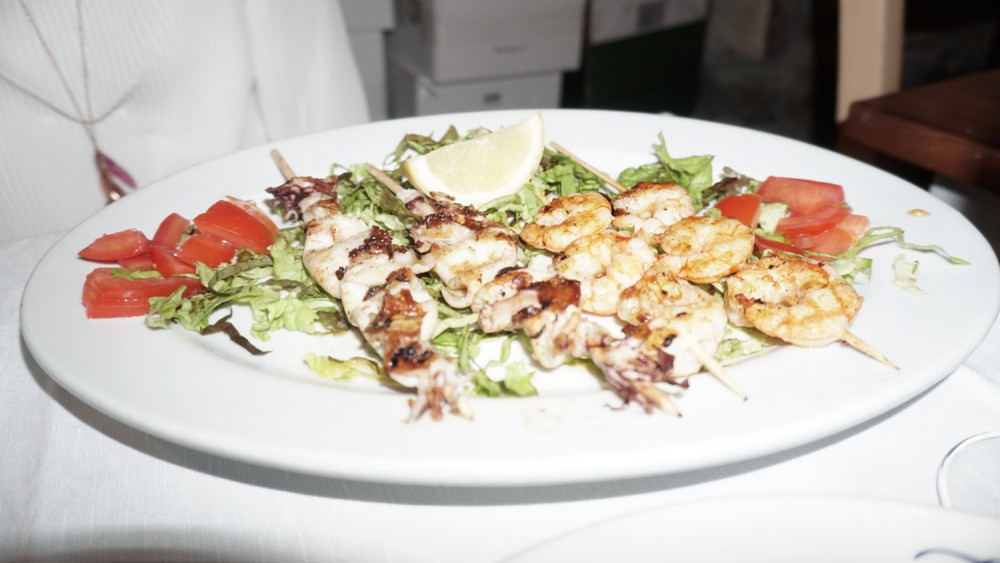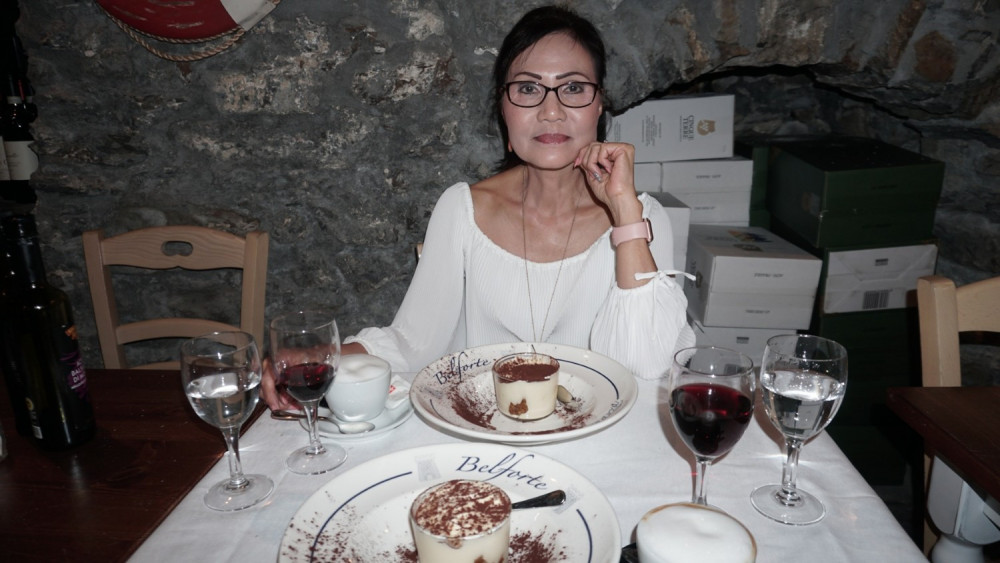 Tiramisu and cappuccinos to conclude the day
This place can make you smile