Day 5. Friday, June 14, 2019 Vernazza and Florence

From Vernazza early this morning, we took the train to La Spezia, then on to Pisa and Florence and here we are, checking into our hotel, the Cosima de Medici by Florence main train station.

Since our room is not ready, we leave our luggage at the front desk and go get lunch. It's a hot day in Florence today as the temperature has reached 90 degrees and it's still early in the afternoon. At the San Lorenzo Market near the hotel, we find a small Chinese restaurant and sit down to enjoy good dishes of chicken and pork stir fries.




Leaving our hotel in Vernazza, the Taverna del Capitano
I want to take a picture of the stairs in Vernazza that leads to the trail to Monterosso in case I go back
Walking through San Lorenzo Market in Florence on way to lunch
They sell everything here
Second floor of San Lorenzo Market is the crowded food court
The leather section outside the market
'David' is at the end of the hall
Returning to the hotel and after checking in, we head for our 3:15 pm appointment to tour Michelangelo's 'David' at Gallerie dell'Accademia.


​Florence is a very walkable city and from the hotel, we walk through the market and 10 minutes later, we arrive at the Accademia. A long line of people standing in line under the hot sun waiting to buy tickets to get in the museum. Luckily, we had bought our tickets in advance and all we have to is to pick them up at a pre-assigned place and get in.


Inside, everyone seems to skip the first exhibition hall and head straight to the second hall where Michelangelo's 'David' statue commanding attention from the end of the hall under a glass dome skylight. We walk toward the white marble statue, stop often to view it, then stand in front of it for a long time to absorb every little detail. Standing tall at 17 feet, David's height -weight is perfectly proportional, his body is chiseled, his posture relaxed. His right hand is holding the rocks with which he would throw at and kill his nemesis, Goliath; and perhaps that was why Michelangelo carved the hand larger than usual.

We walk around the statue admiring it with awe and affinity. At the Academia, guests are allowed to stay as long as they want and take pictures without flash, and so needless to say, we stay long and take numerous pictures of David..

After viewing David, we look at other exhibits in the next hall and leave after about two hours. Outside, the line seems to get even longer.

On way to Ponte Vechcio (Vecchio Bridge)
Vecchio Bridge in the background
The famous Vecchio Bridge
Long line waiting to buy tickets to get in
Arch at Piazza della Repubblica (Republic Square)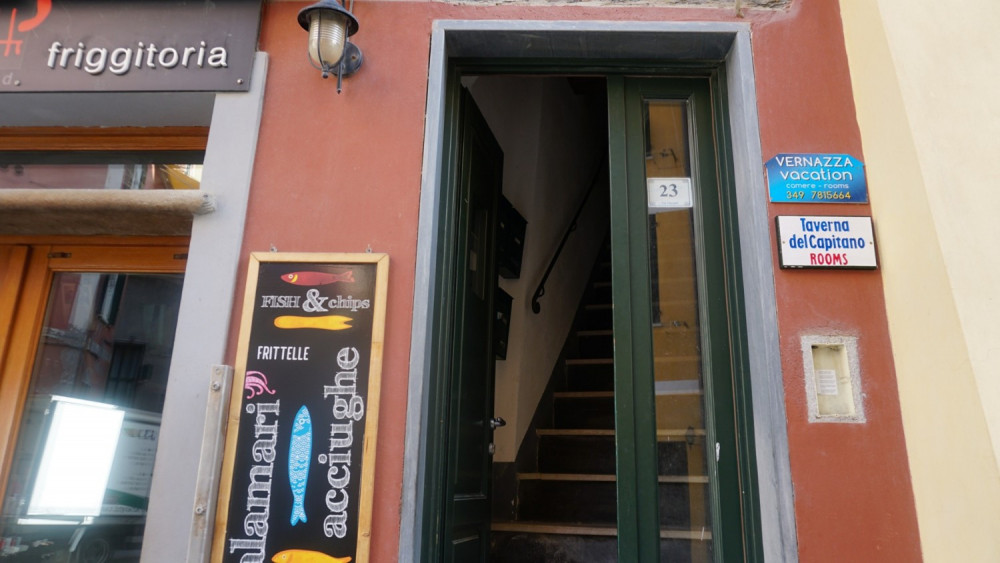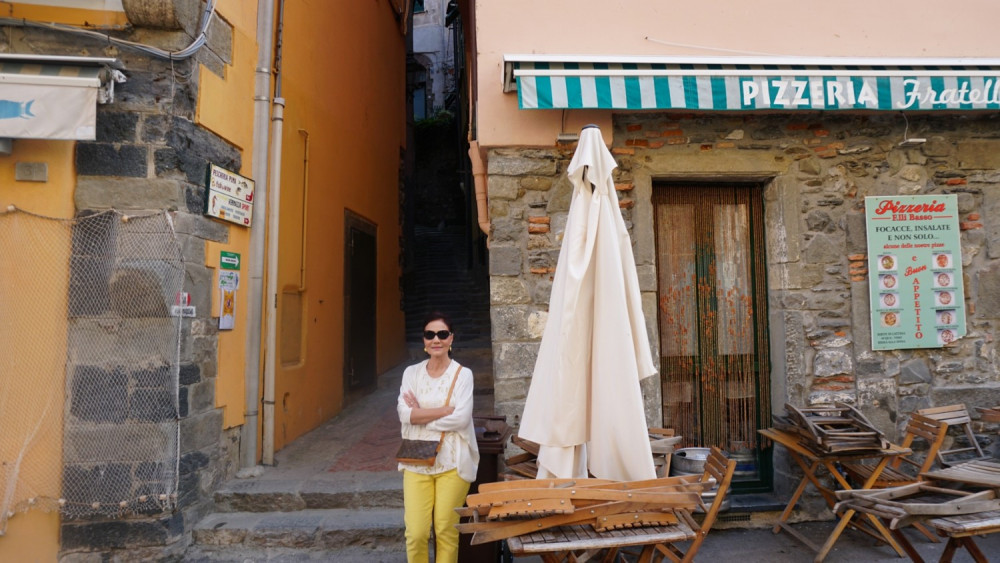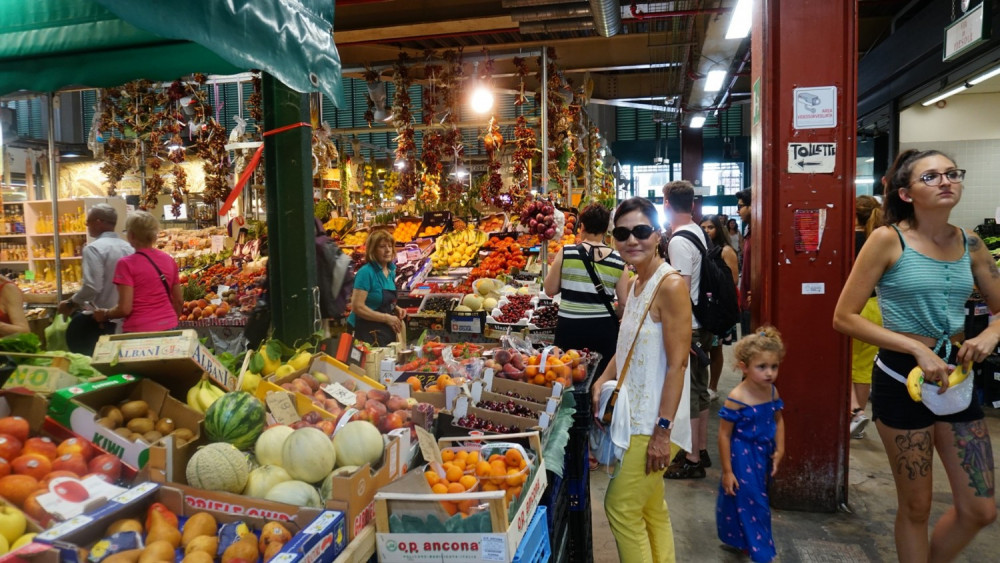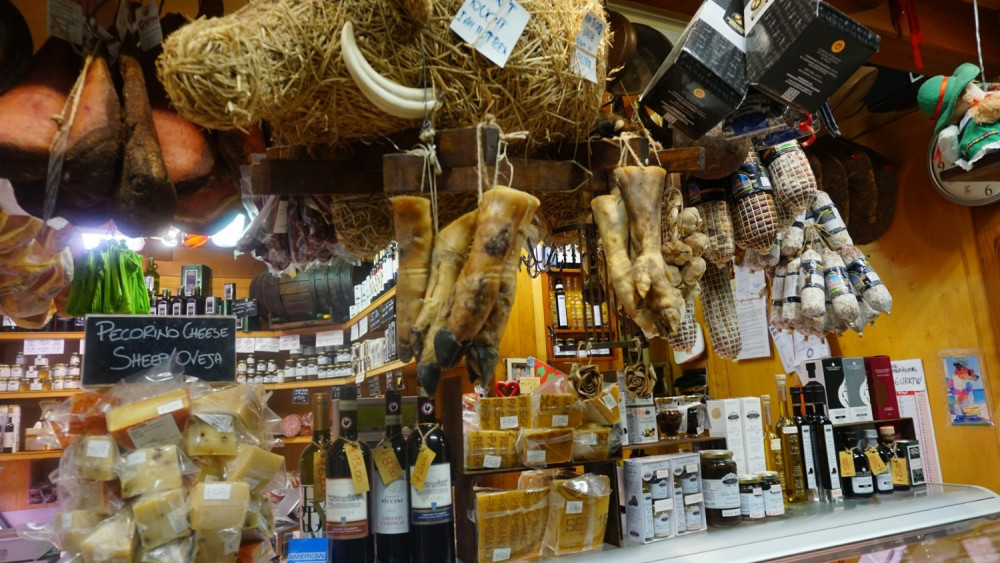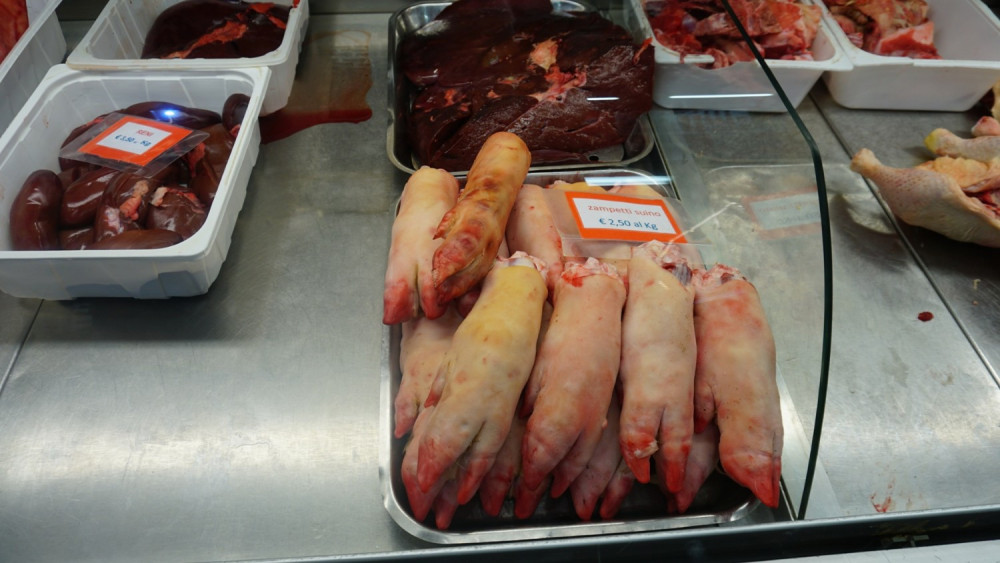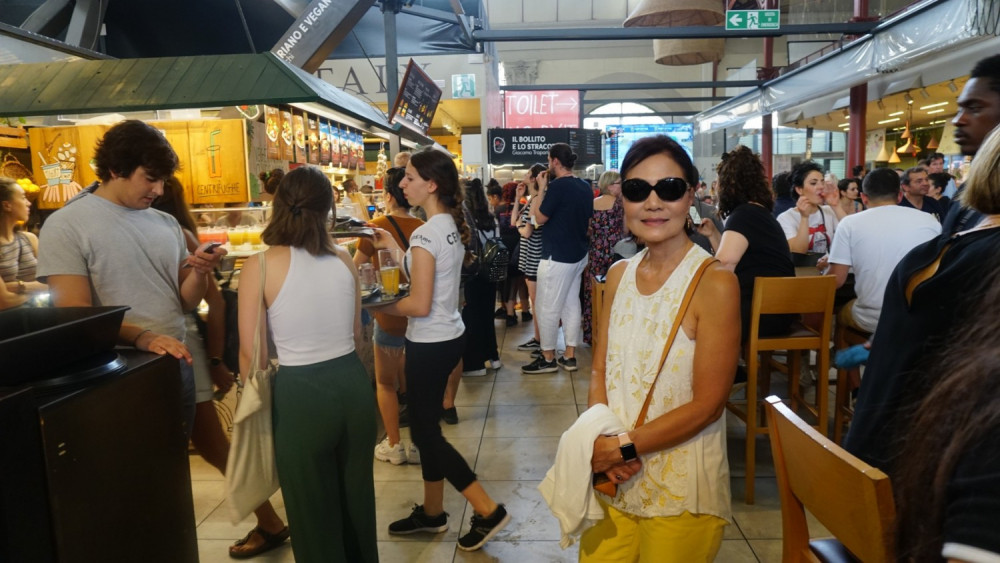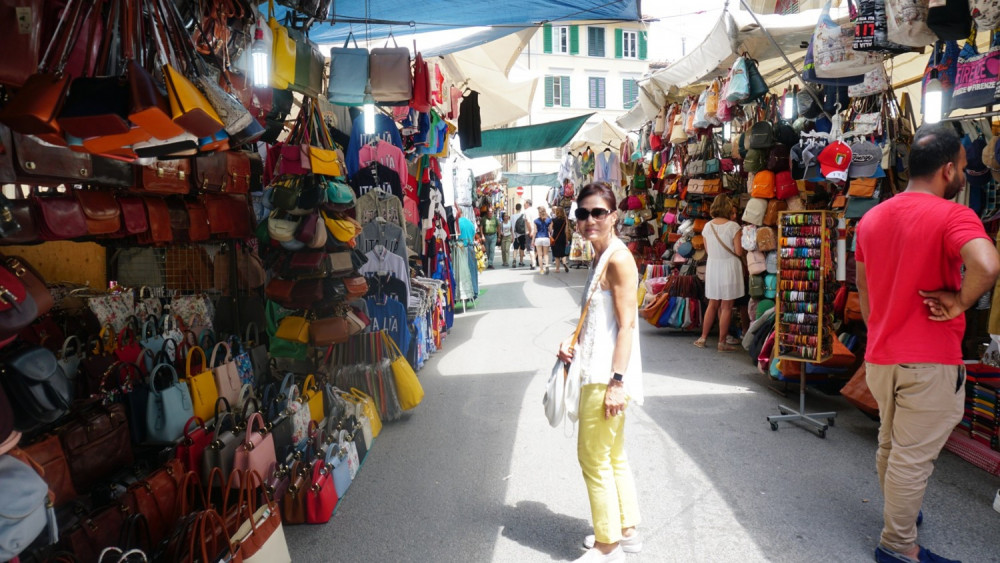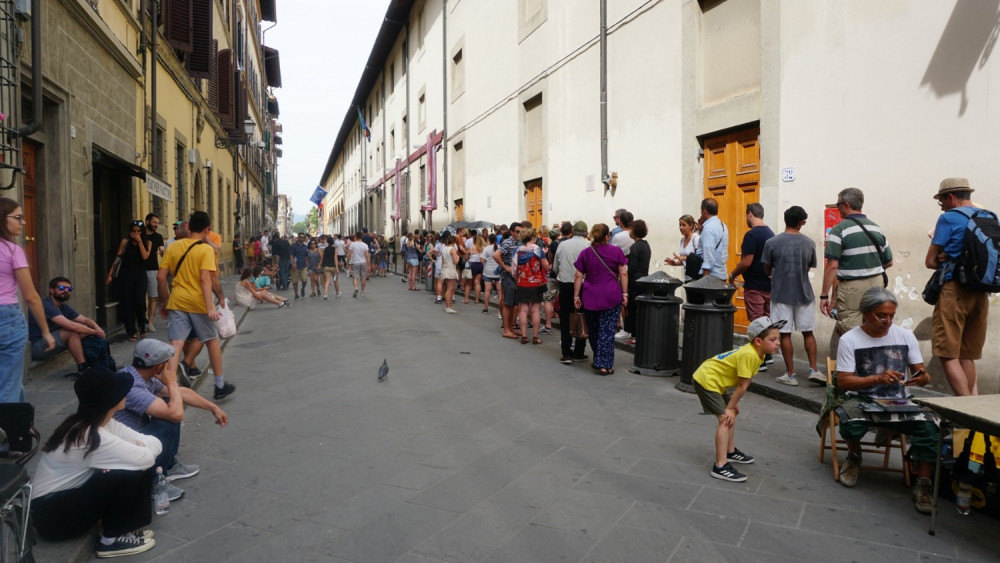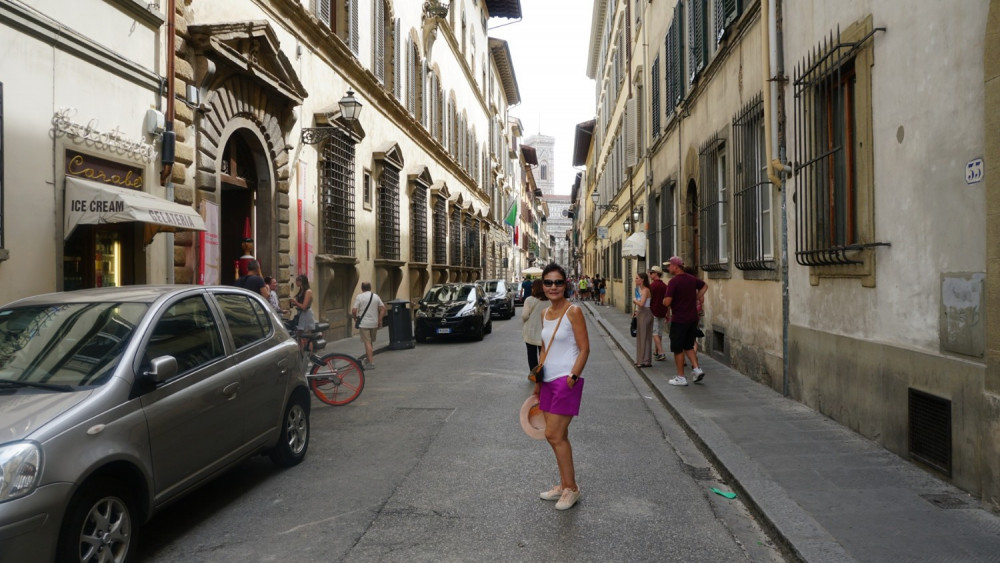 On way to Gallerie dell' Academia to see Michelangelo's 'David'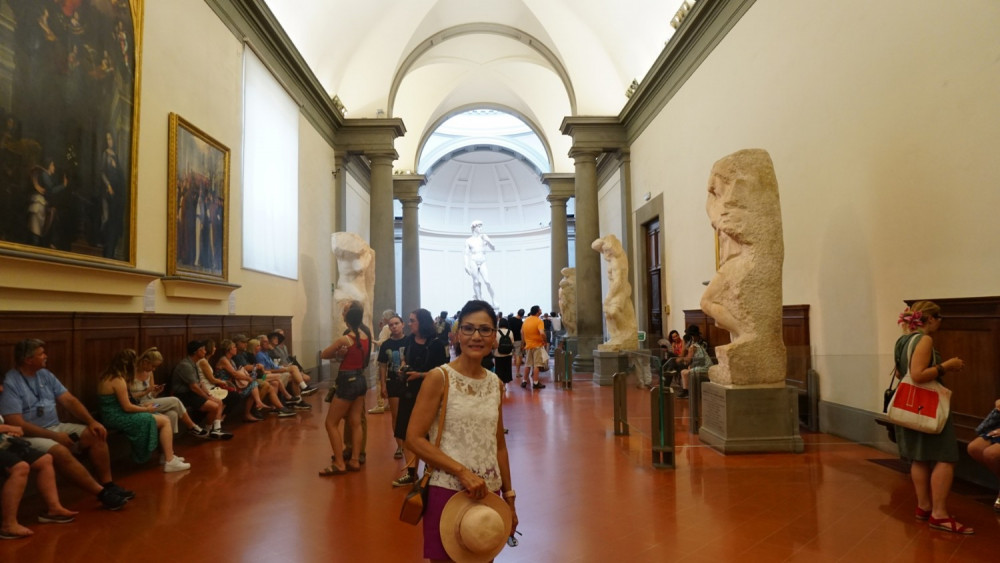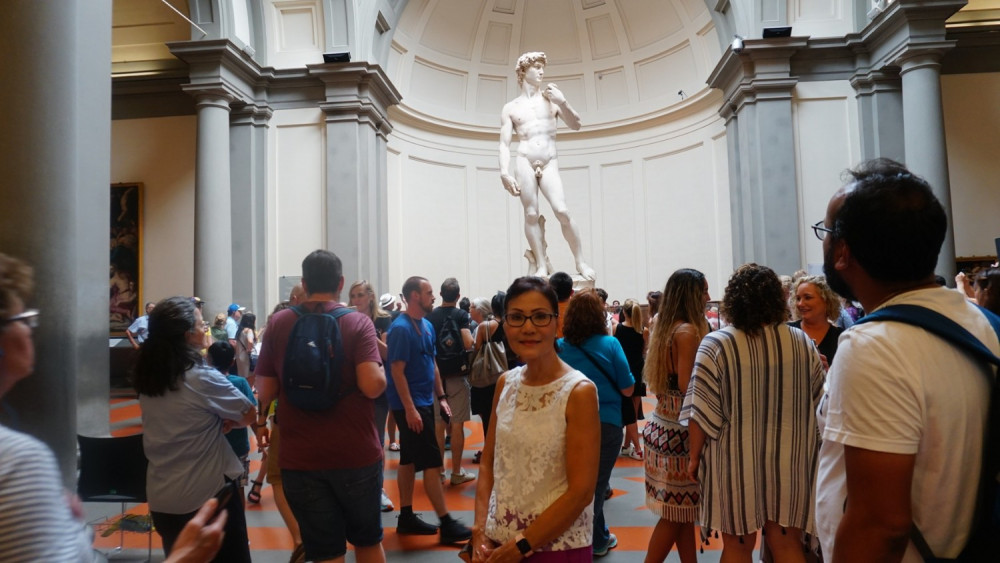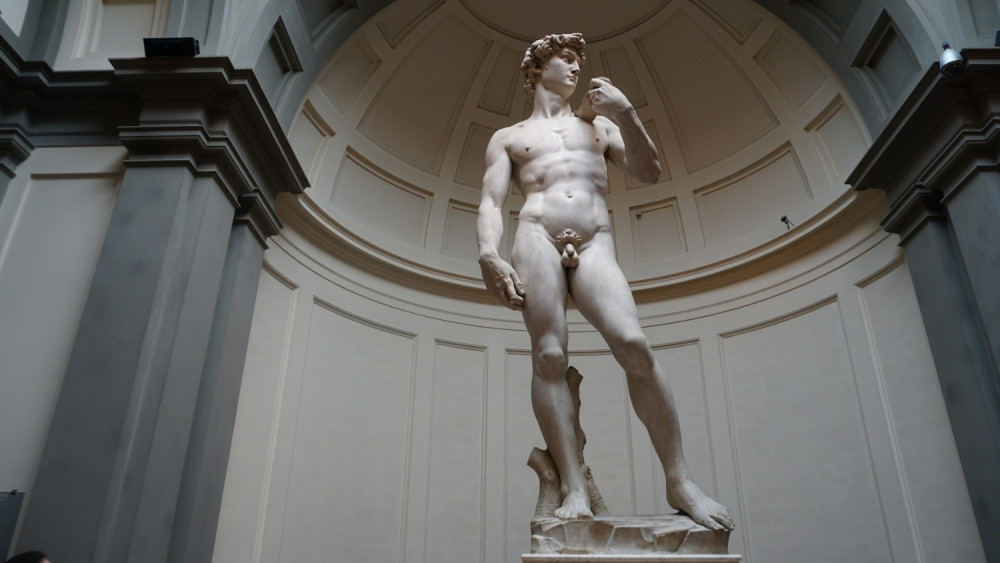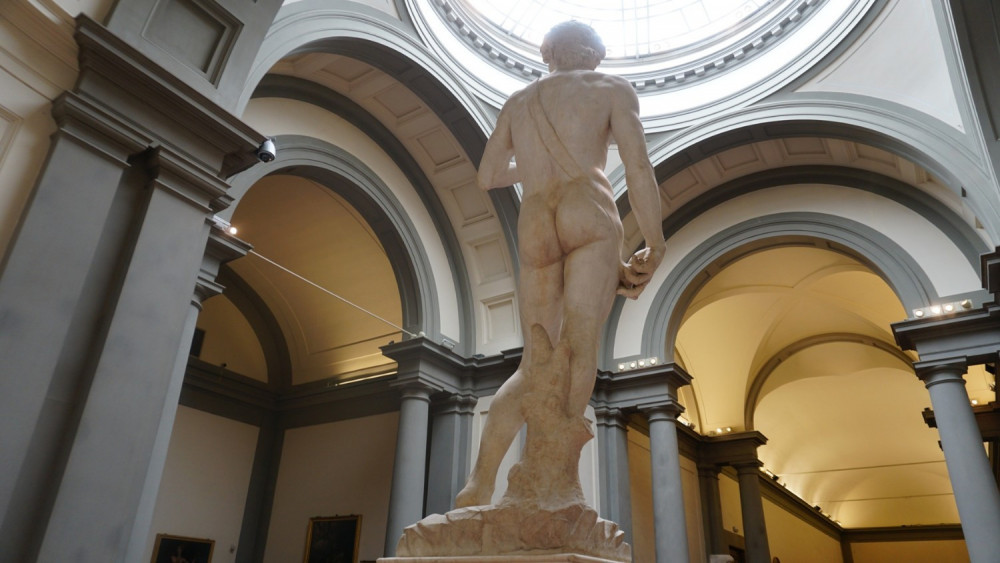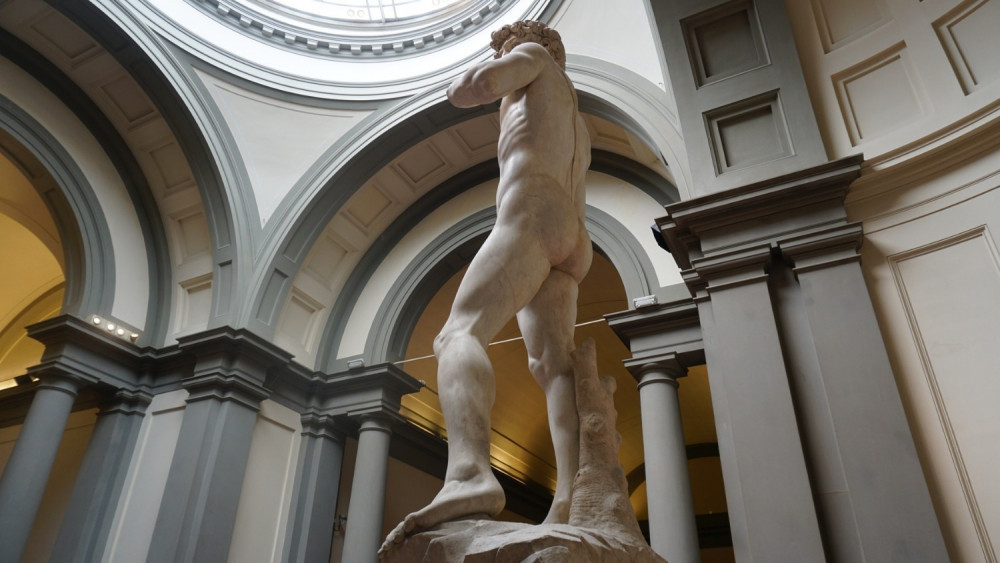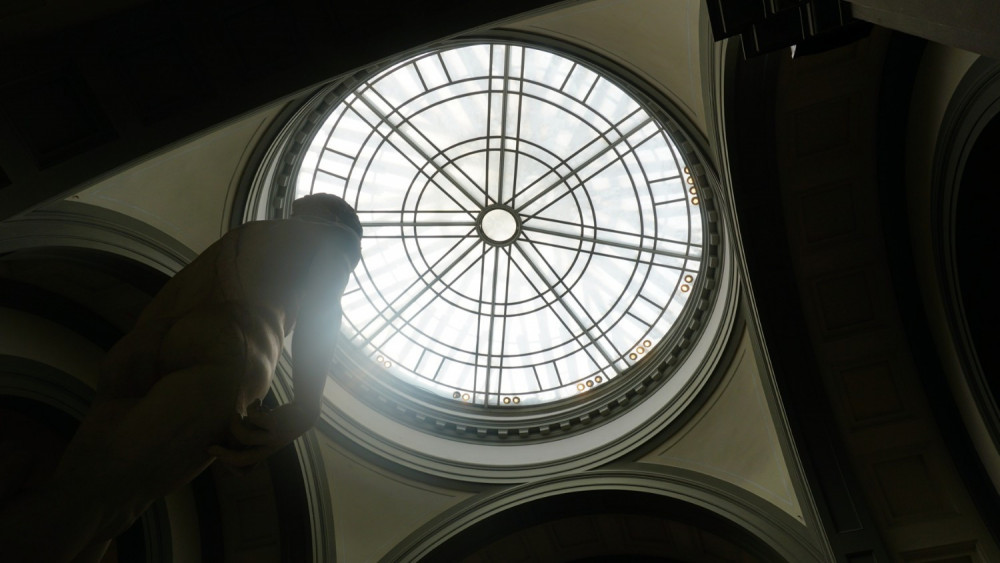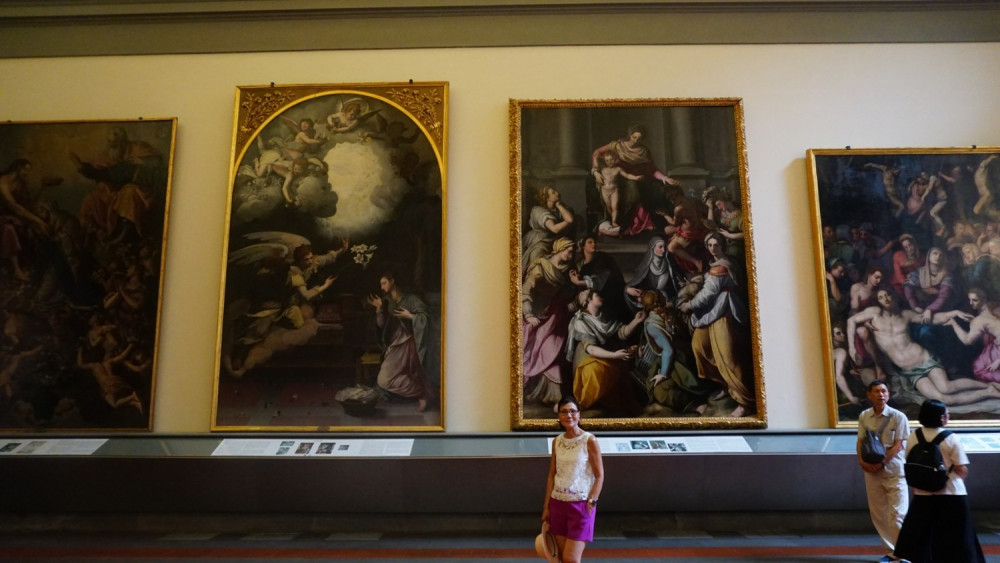 Exhibits in the next hall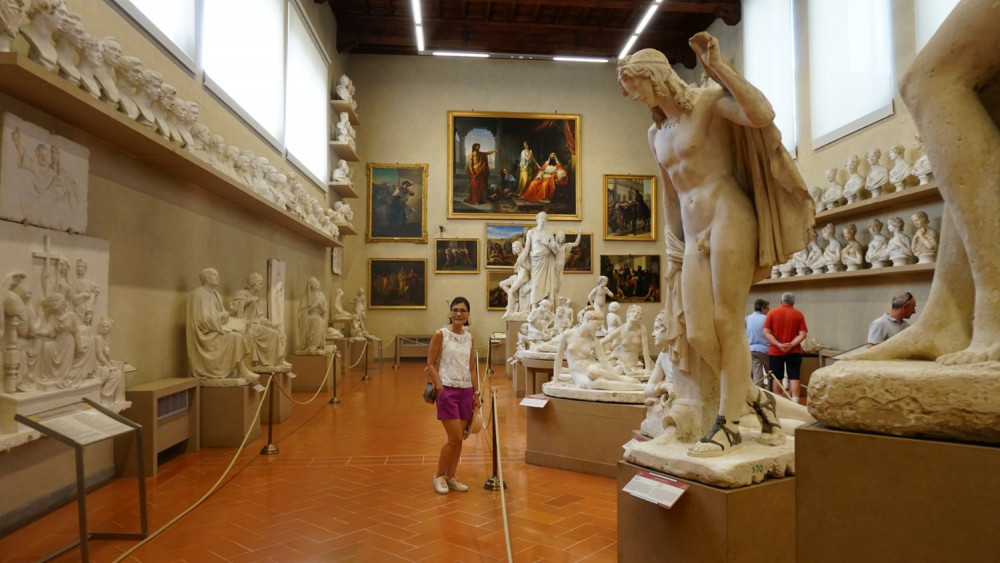 but nothing commands attention like 'David'
The Academia is not very far from the Duomo or Florence Cathedral and that's where we head to next. The Duomo Complex consists of the cathedral, the Baptistery, and the bell tower. The Duomo is wrapped with white and green marble and topped with the world famous red tile dome or Cupola. We have coffee and gelato at a sidewalk café in the shade provided by the Duomo and it's very relaxing sitting here, viewing the Duomo's every little detail and observe the crowds of tourists coming and going.

After a while, we get up and walk towards Piazza Repubblica, a large square in the center of the city. A huge arch anchors one side of the square and immense building stand on all fours sides. Fancy sidewalk cafes and shops line the square, and a colorful merry-go-round near the center of the square keeps the kids entertained.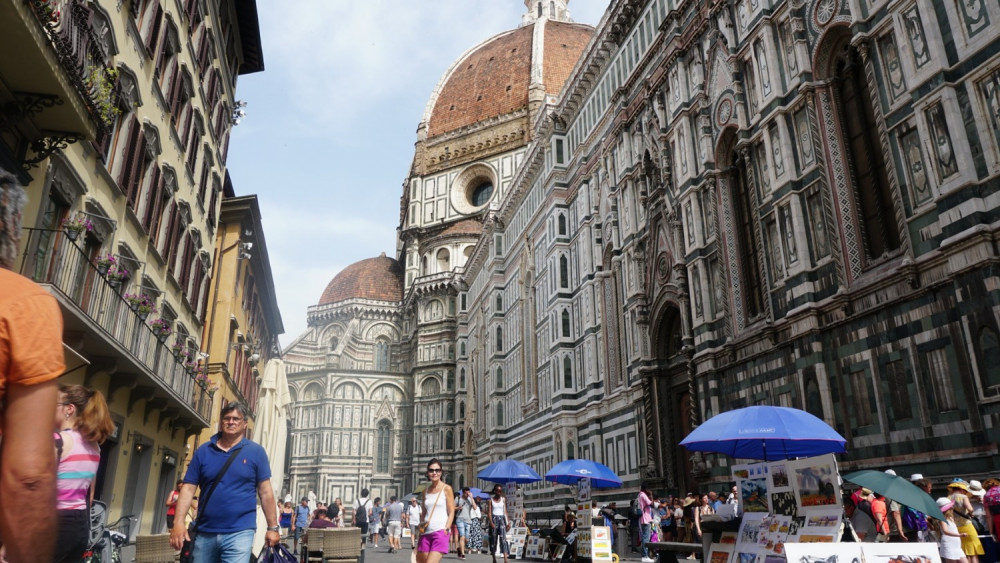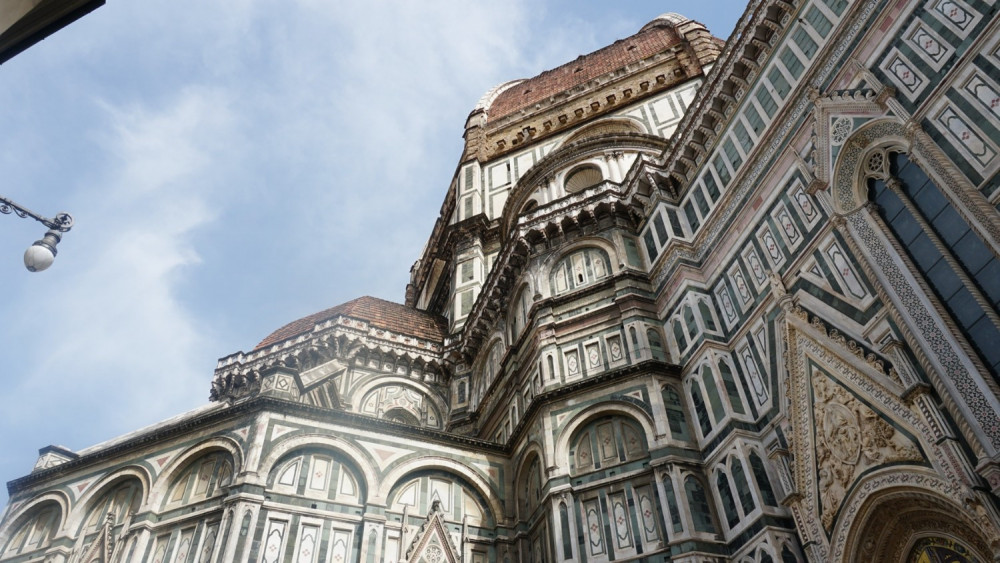 White and green marbles on the Duomo exterior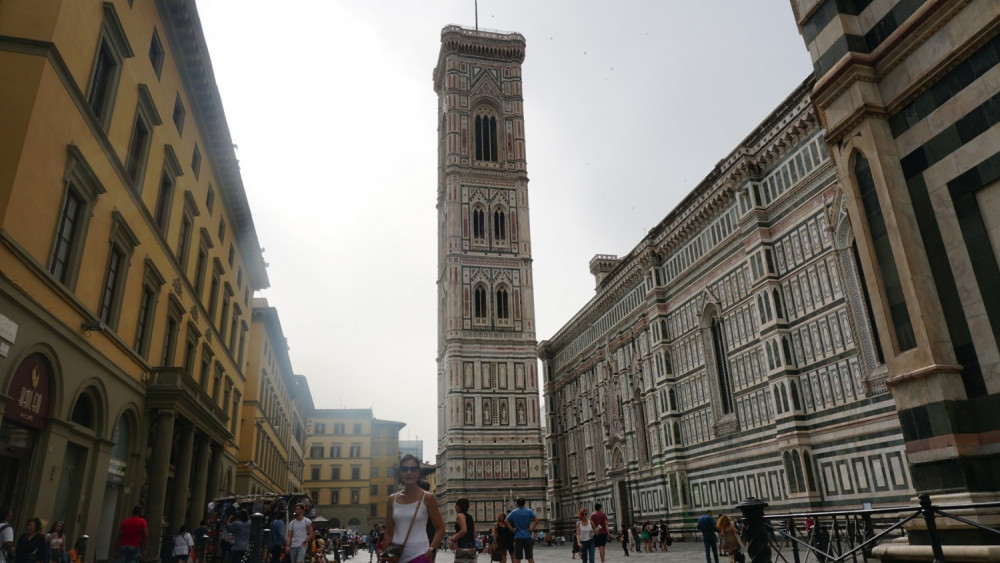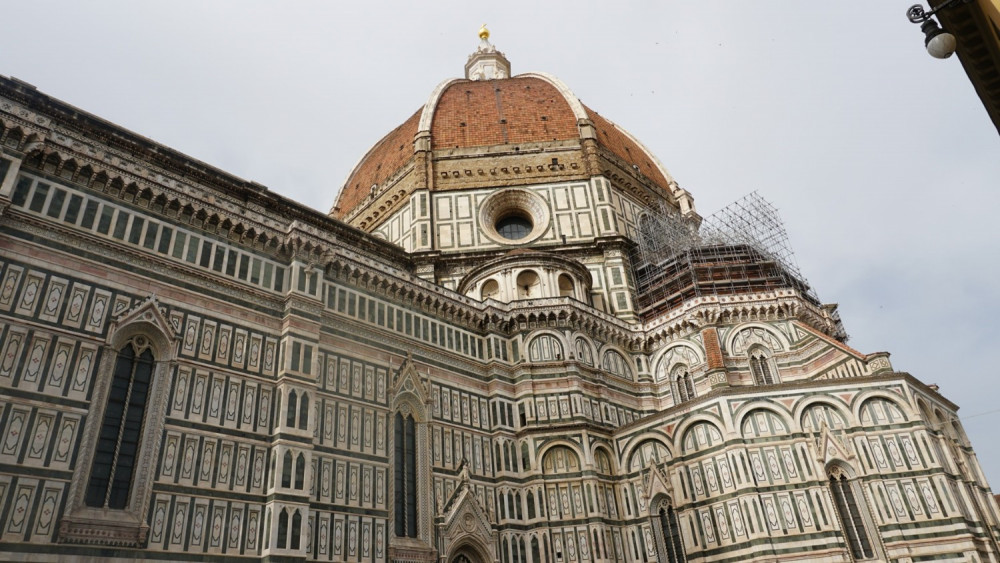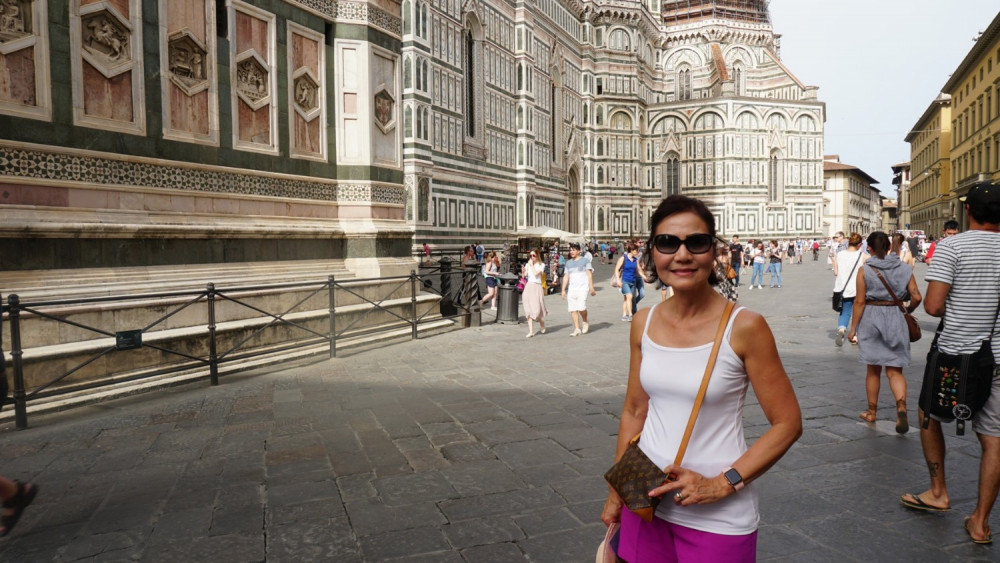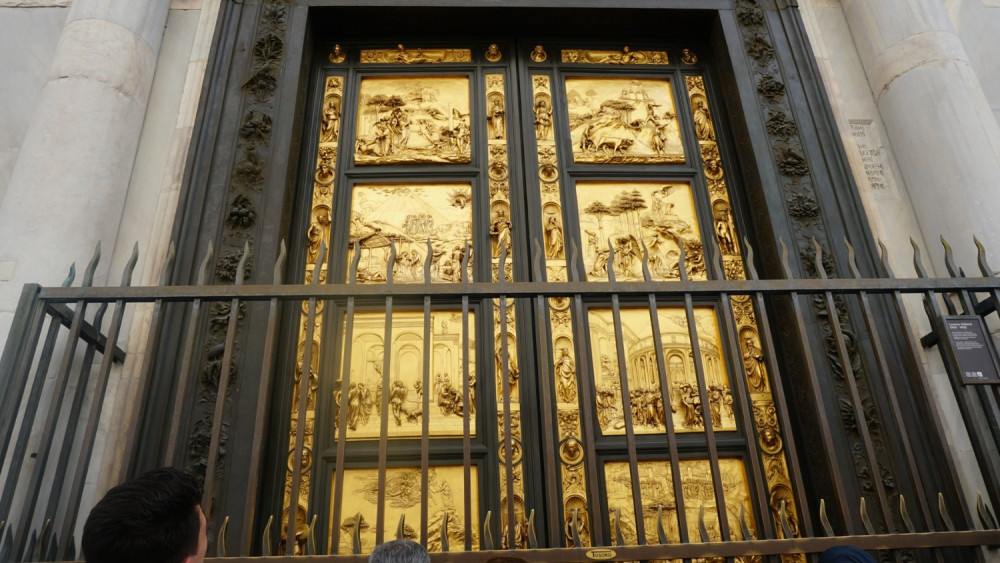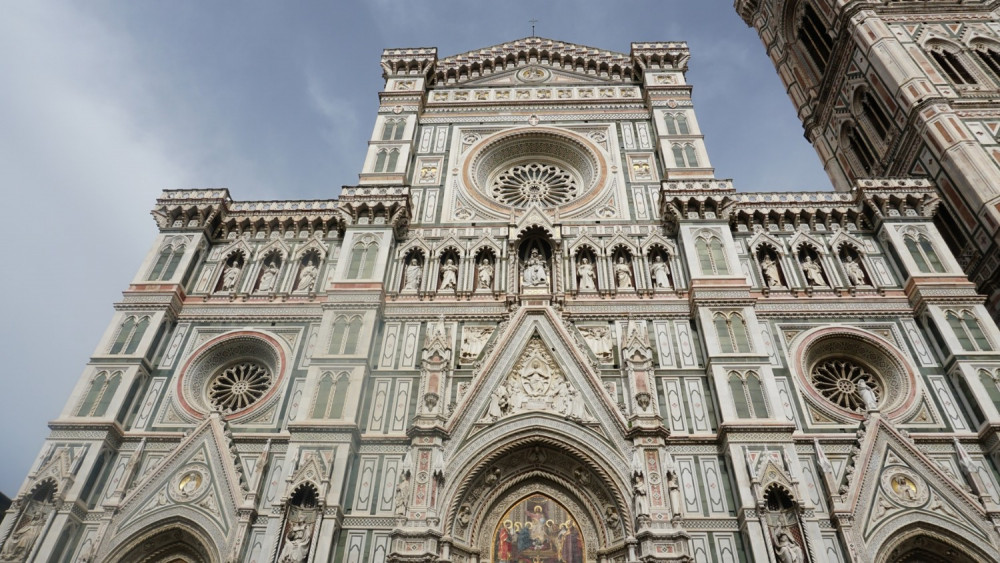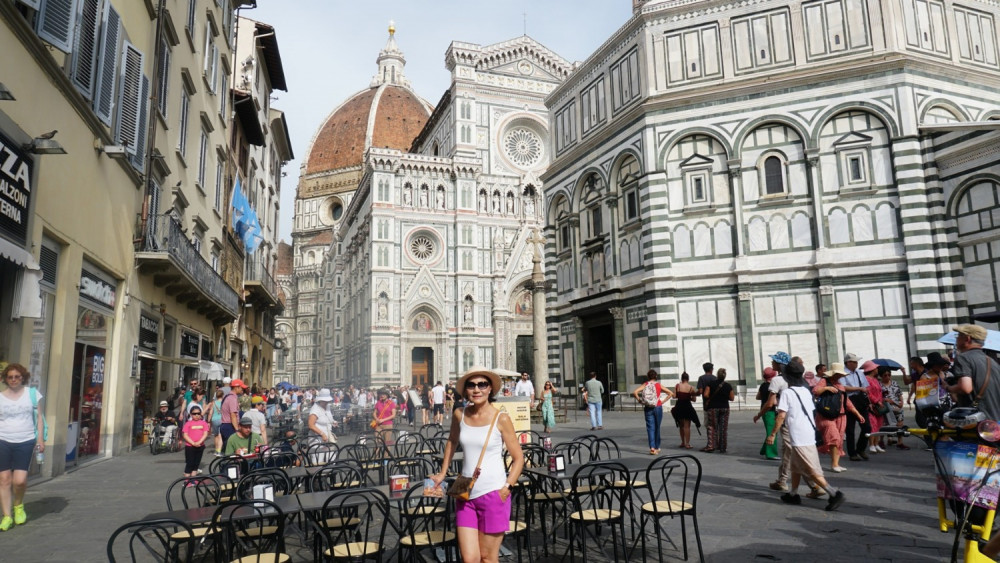 Sidewalk cafe near the Duomo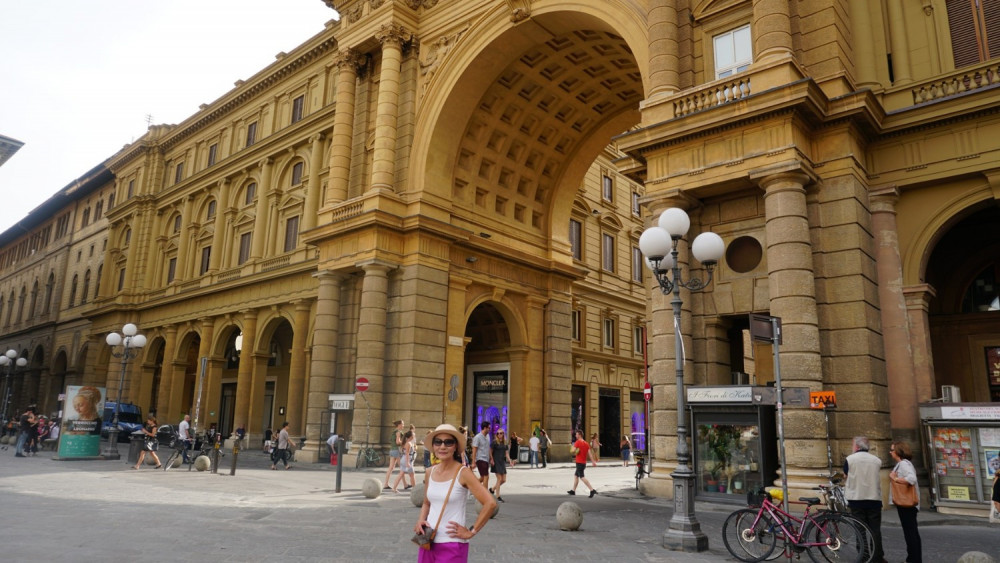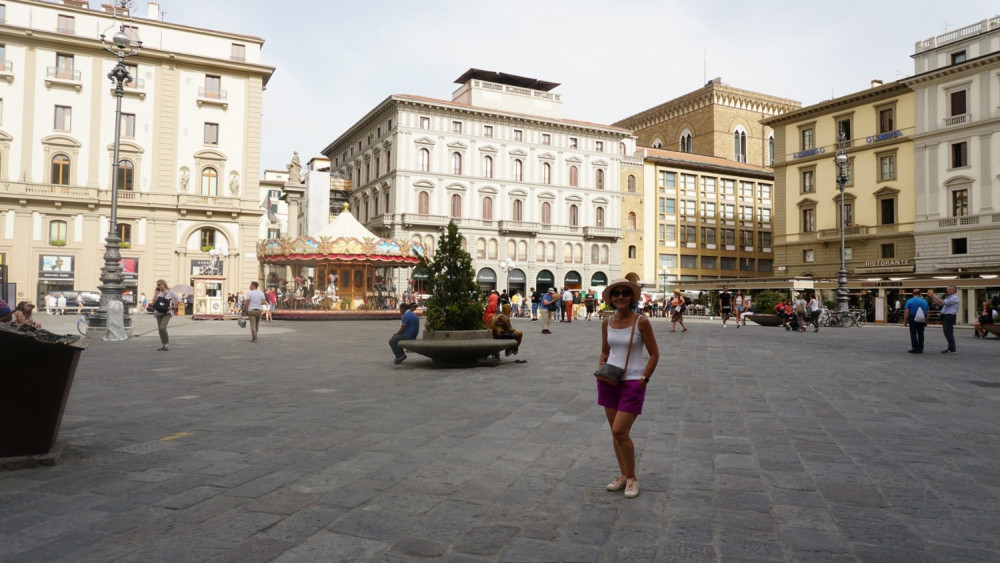 Merry-go-round in Republic Square
A short walk later we come to Ponte Vecchio, the world-famous Vecchio Bridge which is now a pedestrian crossing over the Arno River. Buildings on both sides of the bridge are shops selling gold, silver, high end watches and all kinds of jewelry. We spend some time on the bridge looking at stores, taking pictures before we go to dinner at around 9:00 PM.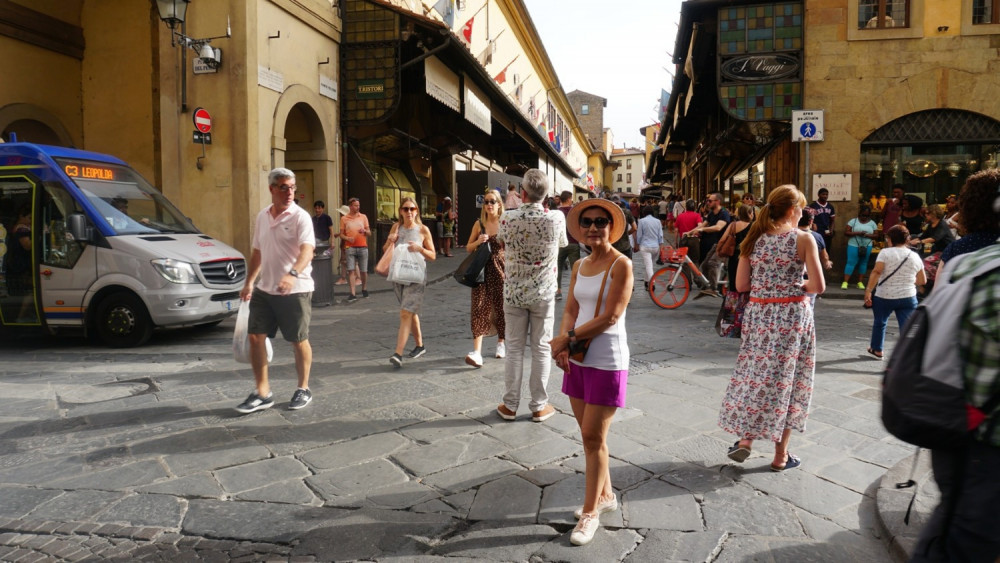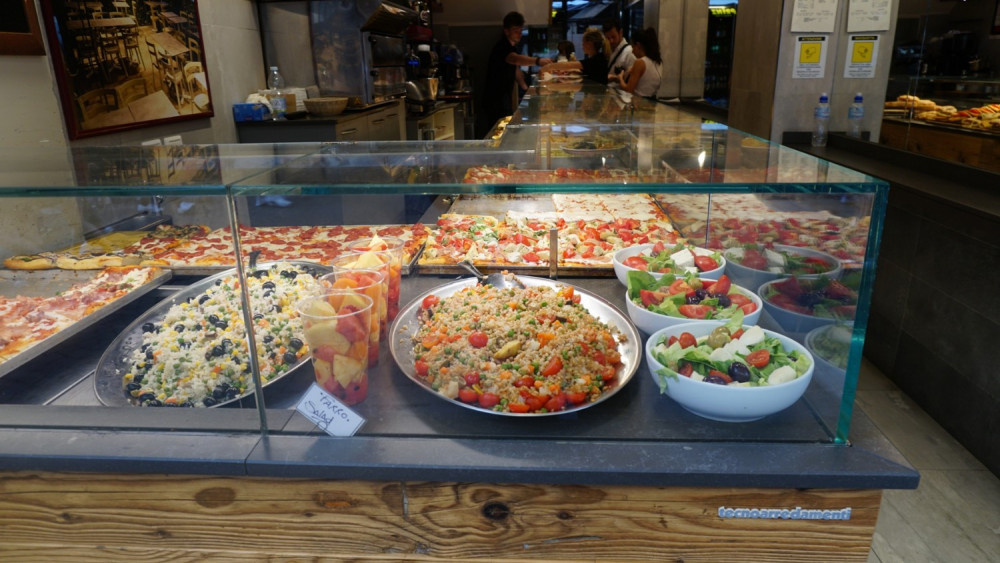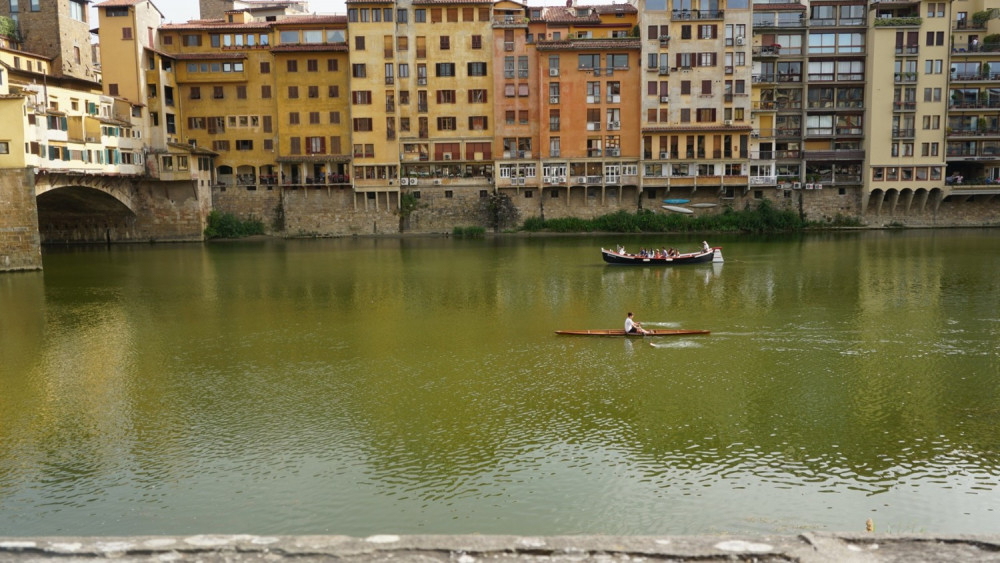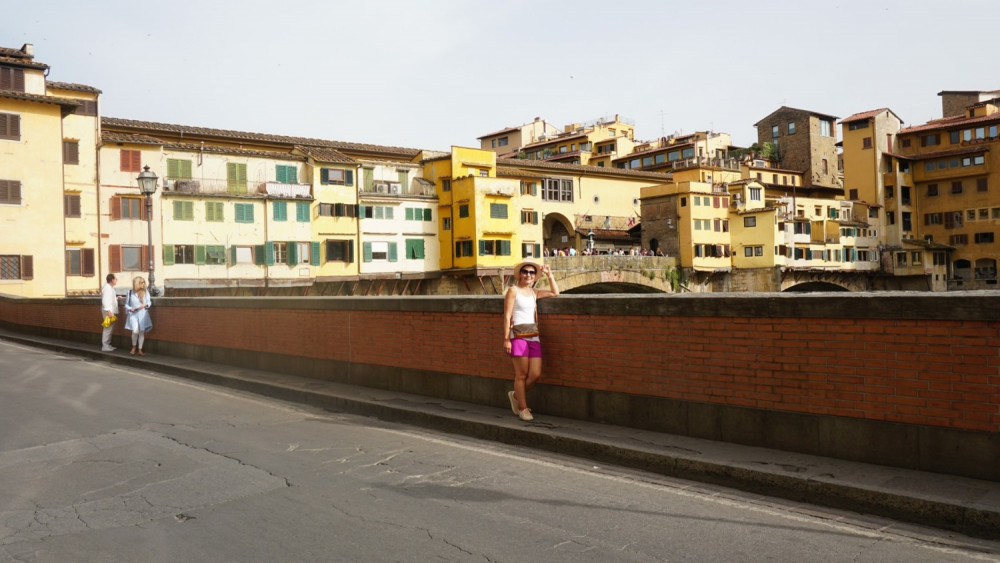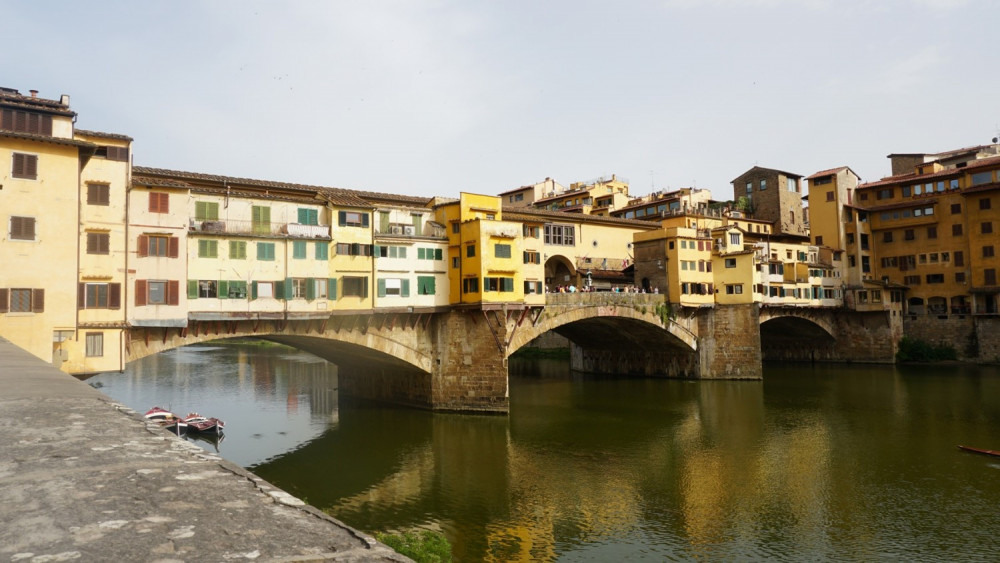 They unveil a new piece of art in the Piazza della Signoria while we are here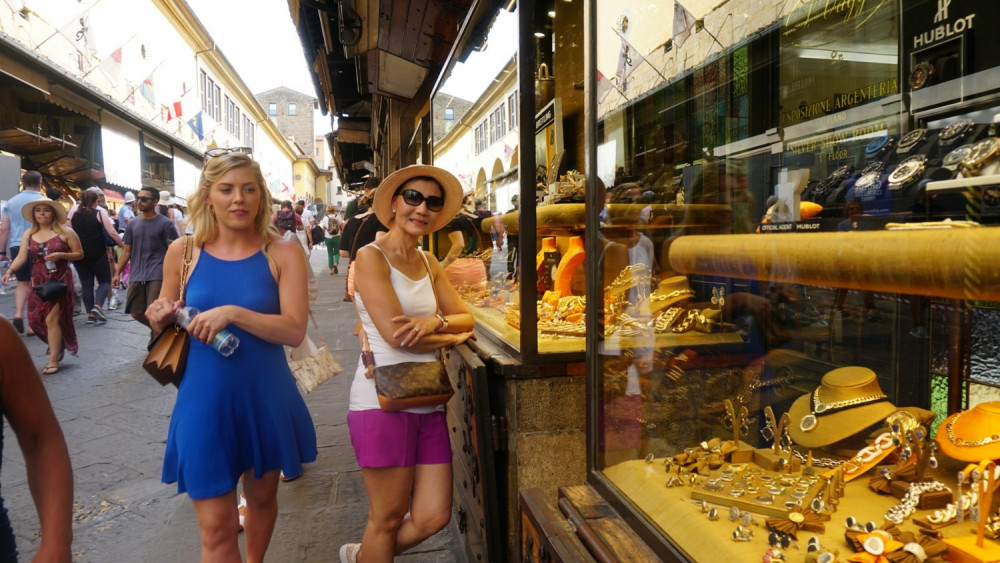 High-end stores on the bridge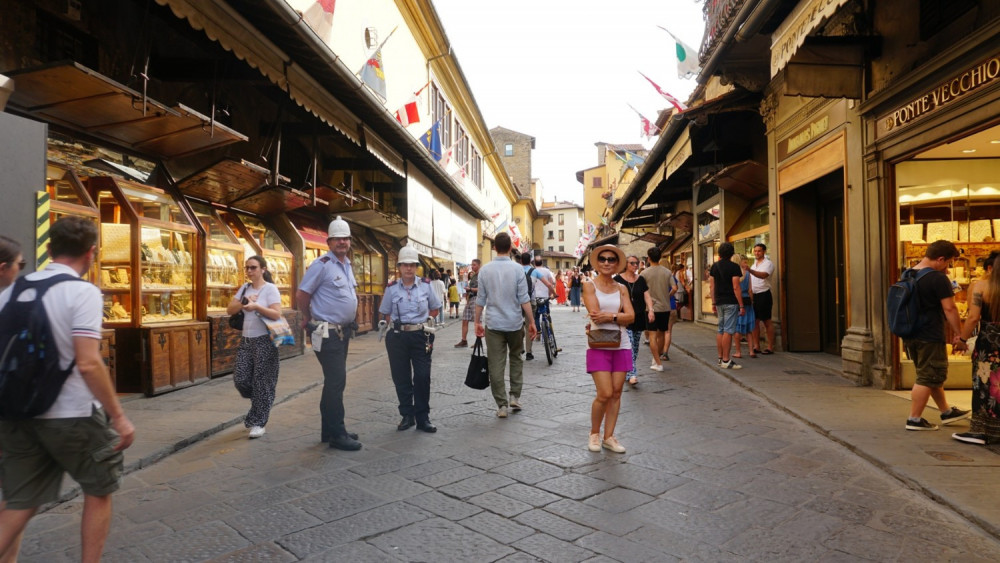 For dinner, we go a popular Florentine steakhouse called Trattoria dall'Oste Chianineria or dall'Oste Steakhouse.

The restaurant looks new and modern, tables are placed closed together, and champagne is offered to those who are waiting to be seated. The restaurant supposedly serves only the farm-to-table meat that has passed through their strict selection process. After a 30-minute wait, they call our name and seat us at a table for two next to smaller group tables. We order the most popular item on the menu, the 35-ounce T-bone medium-rare steak for two. Cured meat is brought to our table as appetizers then comes the steak which is incredibly tender and served with salad and roasted potato and paired with red wine. Then our dinner is complete with cream cake and cappuccinos. Heaven!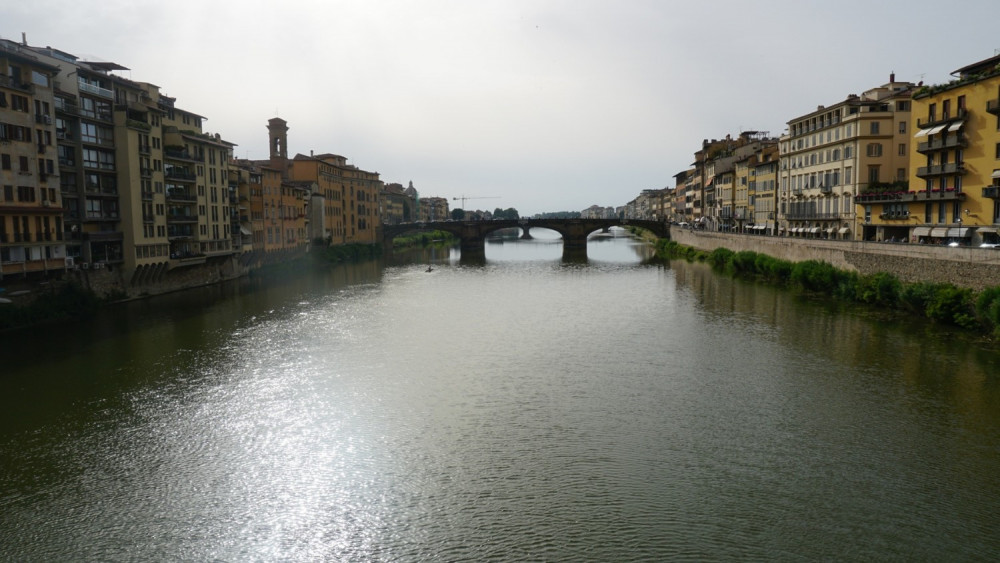 Santa Trinita Bridge on Arno River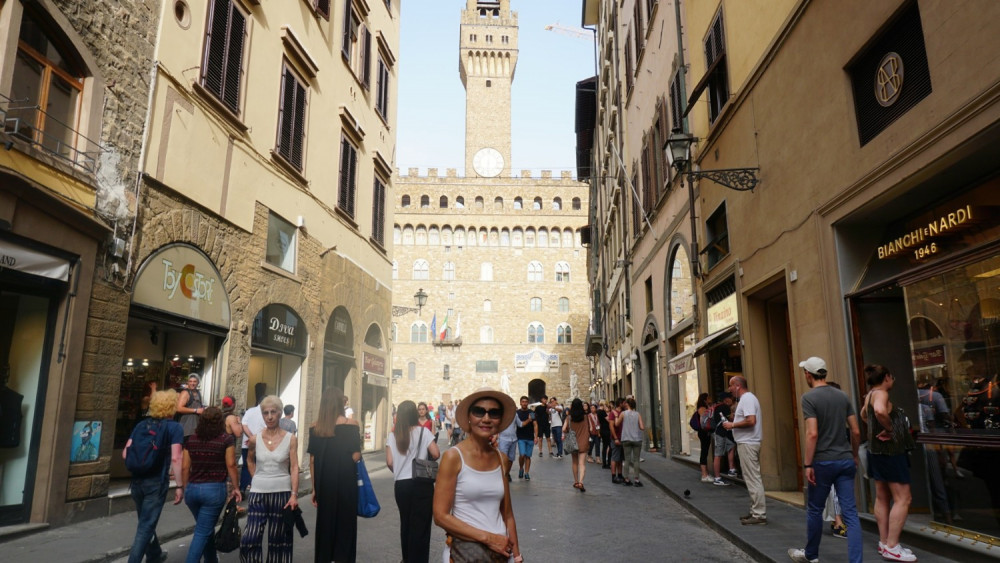 Near Vecchio Bridge is the Piazza della Signoria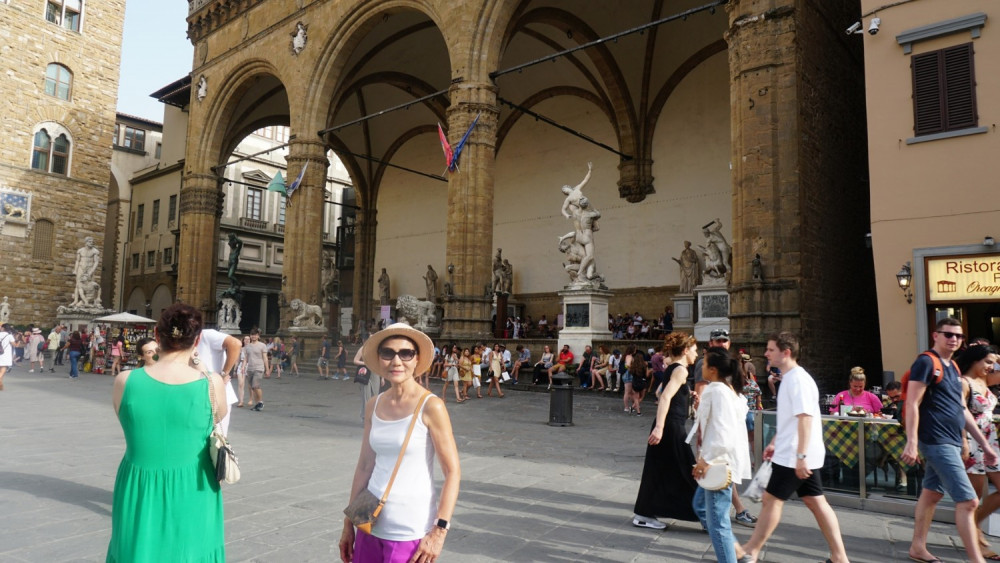 Piazza della Signoria is the main square in Florence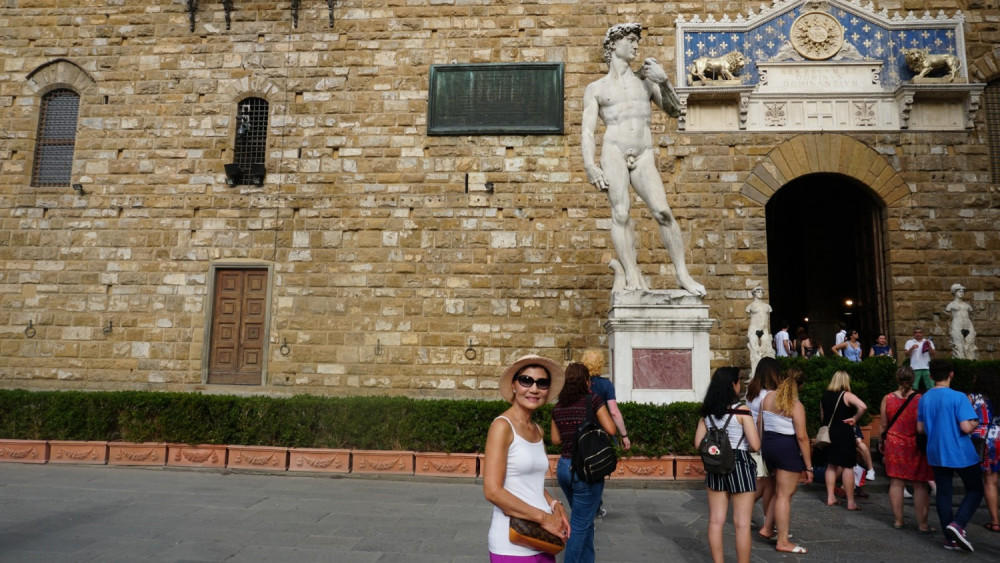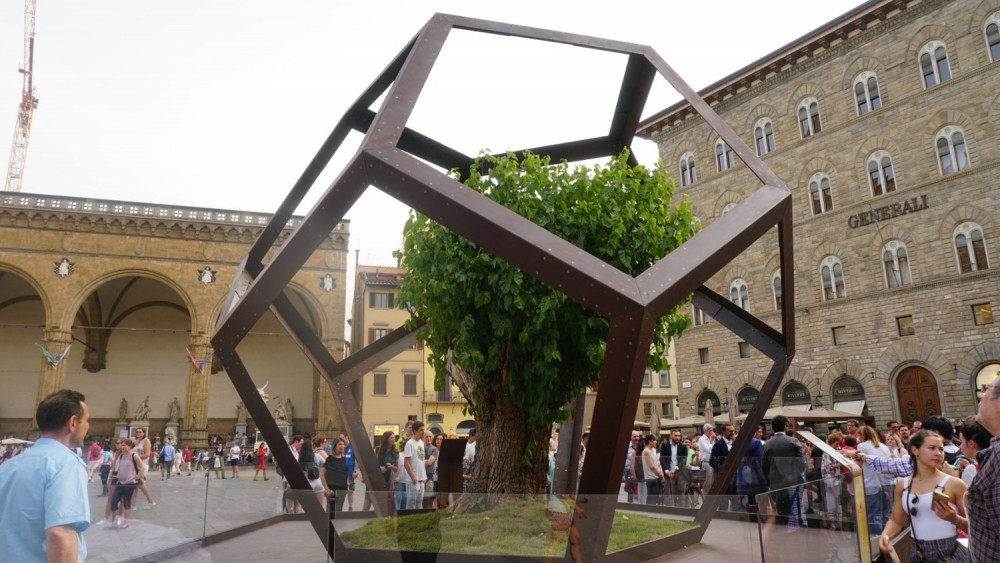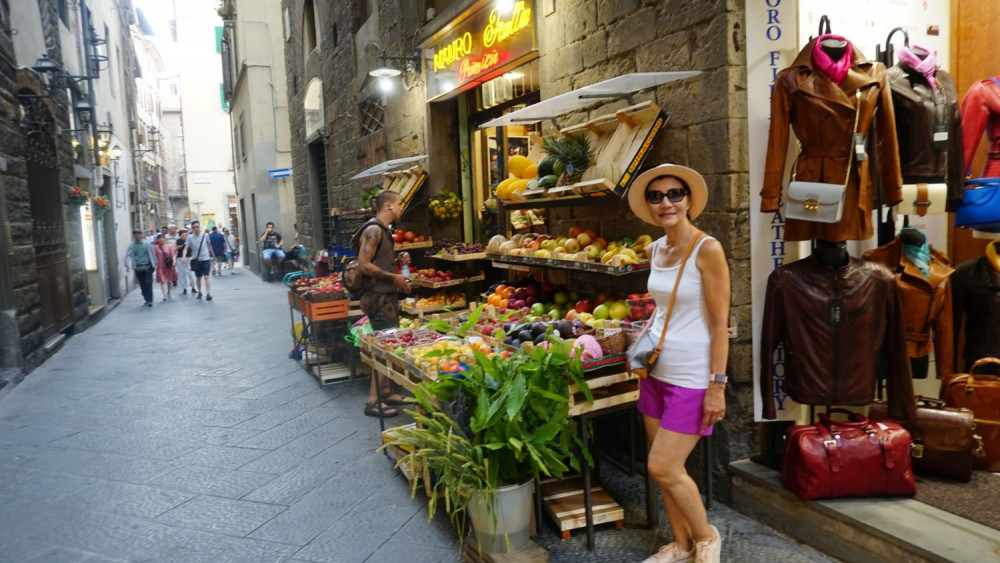 A fruit stand on a pedestrian street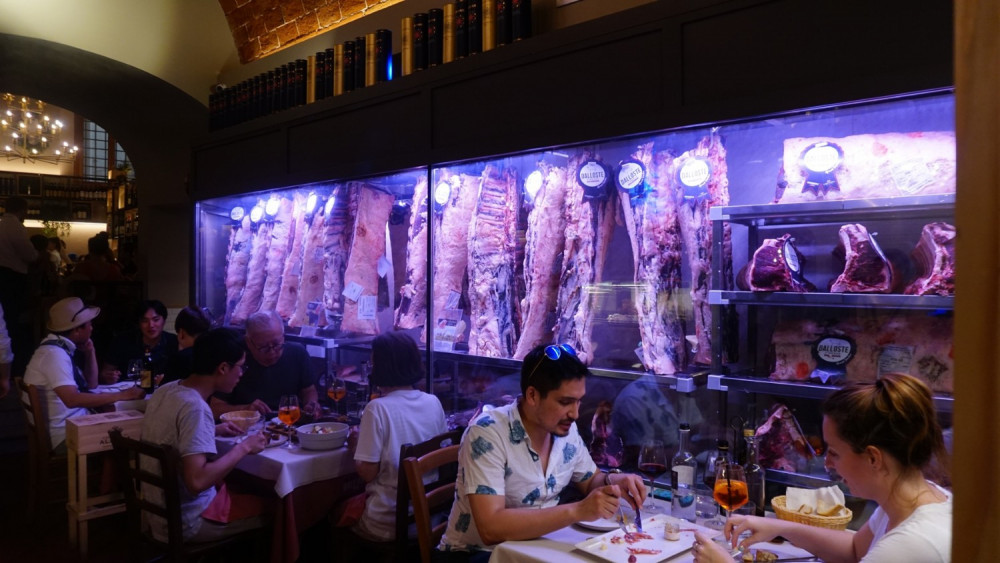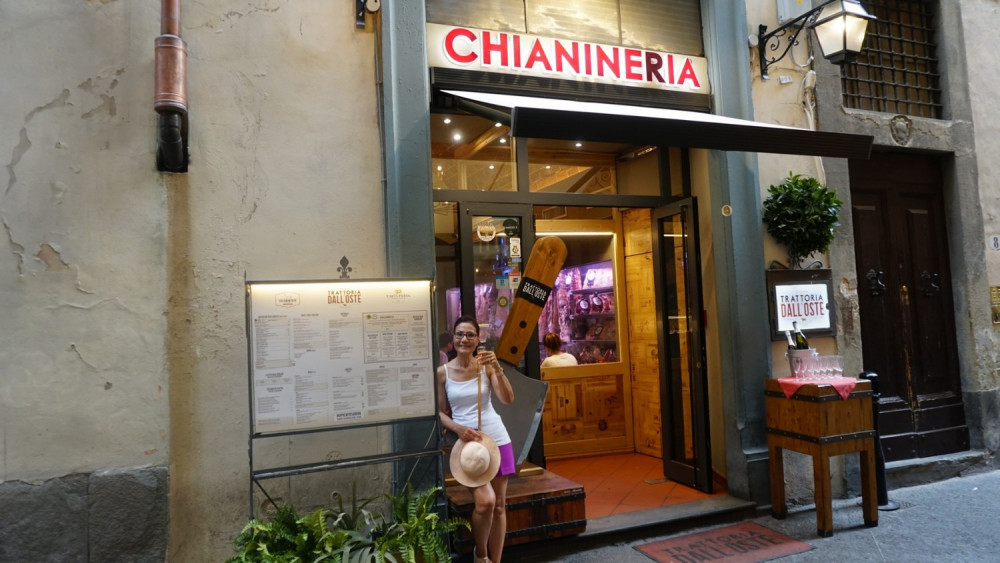 Trattoria dall'Oste Chianineria or dall'Oste Steakhouse.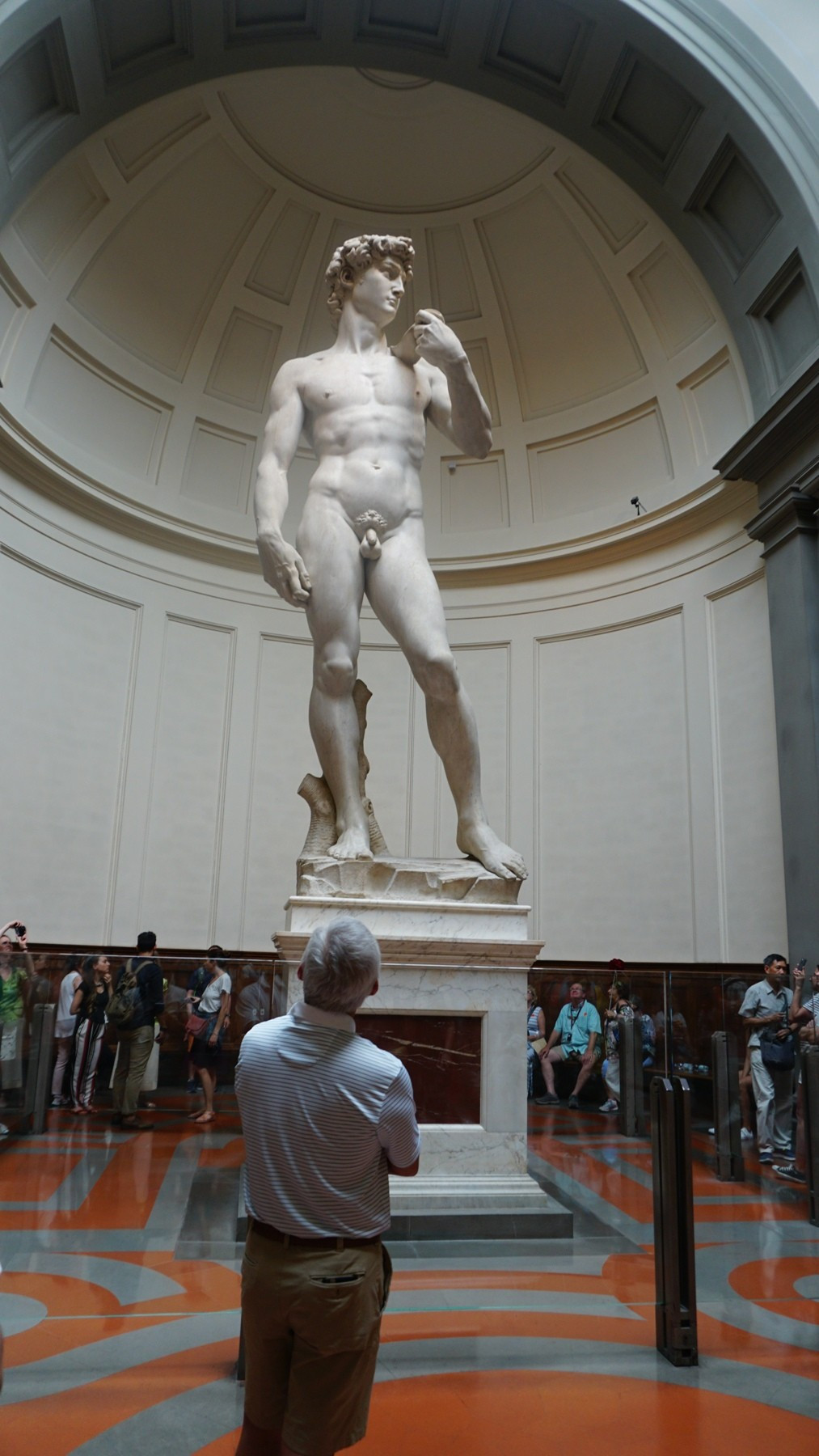 Last picture for this page. I am still stunned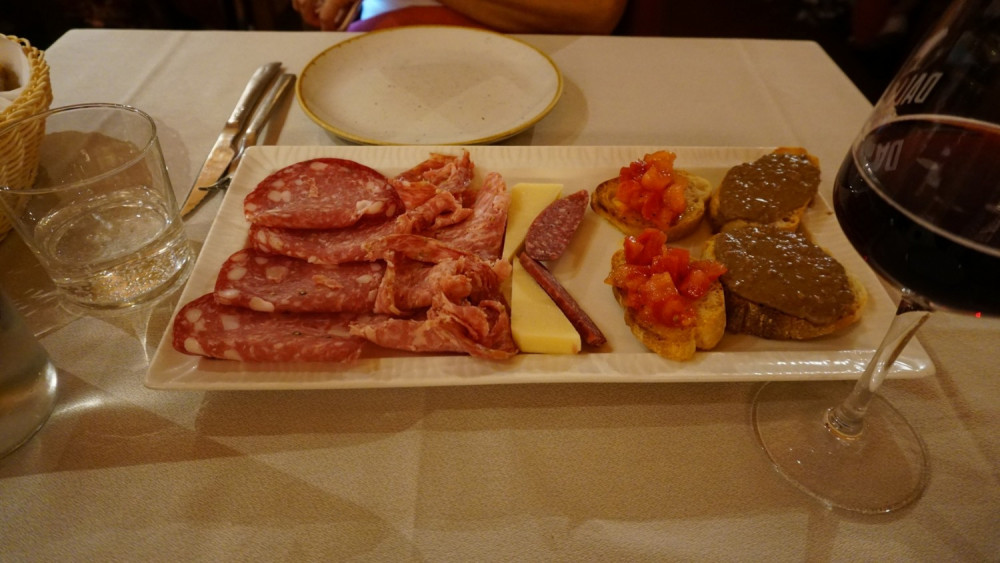 We start dinner off with charcuterie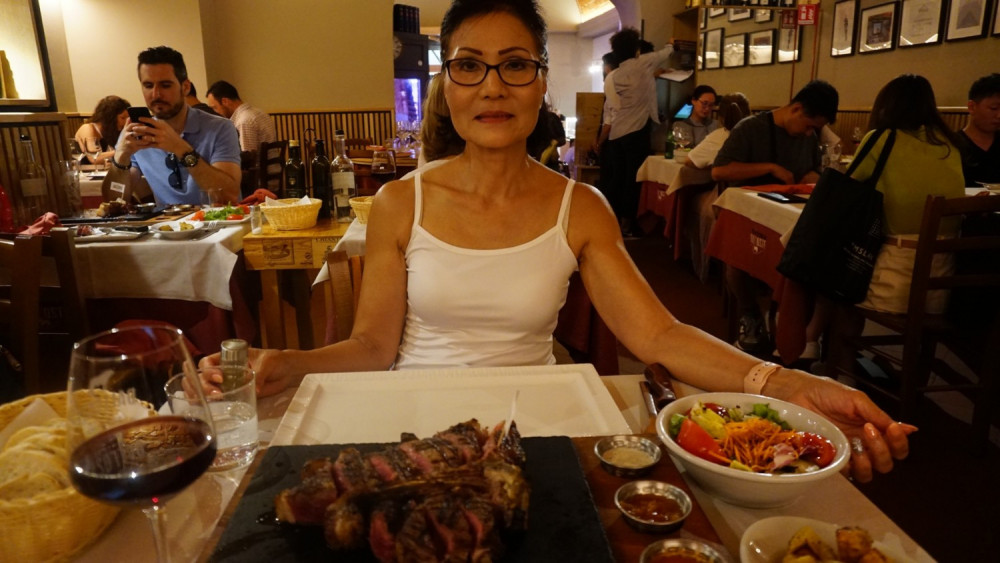 The famed 35 oz (1,000 g) T-bone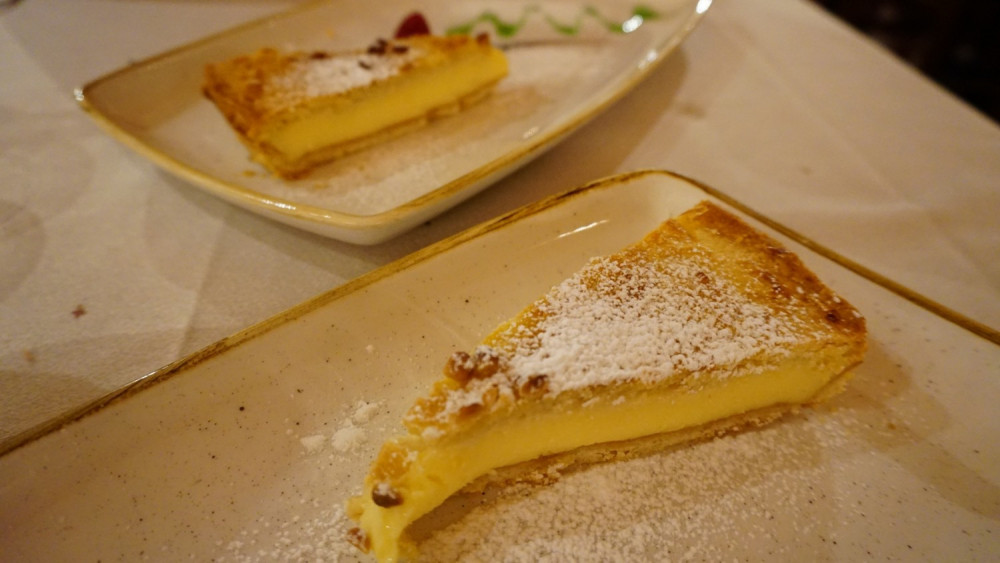 Capped off with cream cake and cappuccinos. What a day!