Day 9. Tuesday, June 18, 2019, Seville



The group meets at the hotel lobby around 9:30 AM after breakfast. 15 people of various ages, living in different places, meeting here in Seville, saying 'Good Morning' to, and hugging one another then heading out to see the city.

Seville is a very walkable city especially in the Old Town and Jewish Quarter near the Cathedral which is very close to our hotel. The streets are narrow, buildings are colorful, and sidewalk cafes under orange trees scatter all over the place.

There is a low speed tram that runs down Ave. de la Consitución in front of the Cathedral but people walk across the tracks with abandonment. We walk on a few narrow neighborhood streets, then cut across Alcázar Garden where huge magnolia trees, grove of blooming crepe myrtles, towering palm trees, and all kinds of colorful plants, wide pedestrian paths, fountains, and statues share the same great space.


Touring Seville. Heading towards Alcazar Garden
Three friends: Lee, Ha, and Oanh
Oanh, Lee, Ha, and Xuan near one of the four beautifully tiled bridges representing the four kingdoms of ancient Spain
Huge magnolia tree in Alcazar Garden
Across the Alcázar is perhaps, the biggest tourist attraction in Seville, the Plaza Espana. Built in 1928 to host the Ibero-American Exposition (World Fair), the salmon color, semi-circular building with ornamental support columns is enormous. The huge building, adorned by colorful tiled alcoves with intricate designs depicting various regions of Spain, overlooks a canal which separates the building from a gigantic plaza and fountain. This is where artists perform, flamenco dancers dance, sellers display their local arts and crafts, people take easy trolls, and children play. What a lovely site in this lovely morning.

Wandering the plaza for over two hours, we enjoy looking at all the different designs on the columns, walls and bridges, and of course, we take a large number of pictures. Then we move on.


Near the canal that separates the building from the huge square
Near the plaza, we find a restaurant that just opened for lunch and they set up a long table for us. We order soup, salad, paella, various types of seafood, drinks, and enjoy our meal for quite a while.

Walking back towards the cathedral, we wind our way to Calle Sierpes, a long pedestrian street that has stores on both sides selling interesting items. We stop at several stores buying various items small and large until we reach the end of this shopping street. Then we turn right on Calle Martin Villa taking in the sight and sound of this vibrant city. Buildings are adorned with bright bougainvillea flowers, sidewalk cafes are everywhere, pedestrians, cars, buses, motorbikes and bicycles all coexist. A few minutes later, we stop at the Metropol Parasol also lovingly referred to as the Wooden Mushroom. The mushroom looms large, it spans over a city block and street, and its wavering, undulating shape is something to see.



One of the beautiful tiled bridges
Lee and Ha by the fountain. Someone is blowing bubbles nearby
Having fun near Plaza Espana
which is near our hotel, Hotel Dona Maria
Sitting on one of the 48 benches, each represents a province of Spain
Eagerly awaiting lunch because we're hungry
You can see the whole city from here
The massive door of the Cathedral
Plaza del Cabildo near the Cathedral
The Wooden Mushroom, built in 2011 at a cost of 100 million Euros, looks as though it is concrete but it actually consists of mostly tan birch wood imported from Finland due to its high strength and light weight.


​Some of us decide to go up to the top of the four-level structure to get unobstructed views of the city. A winding path with hand rail takes visitors to various viewing platforms where we can see and identify almost every large building in the city. We finish our visit after a couple of hours and join our friends who have been relaxing at a sidewalk café nearby. We order and enjoy the excellent refreshments on this beautiful afternoon under the shade of large trees.

Then we go back to the hotel for a little siesta


Calle Sierpes (Sierpes Avenue), a pedestrian-only shopping street
Fan shop on Calle Sierpes
Adriatic Building on Constitution Avenue
Flamenco dancers performing in Plaza Espana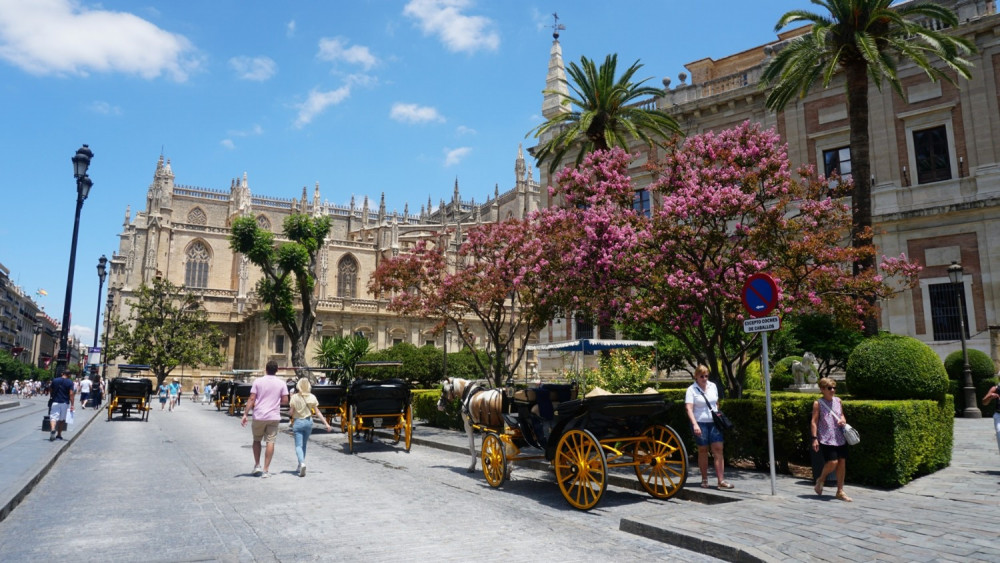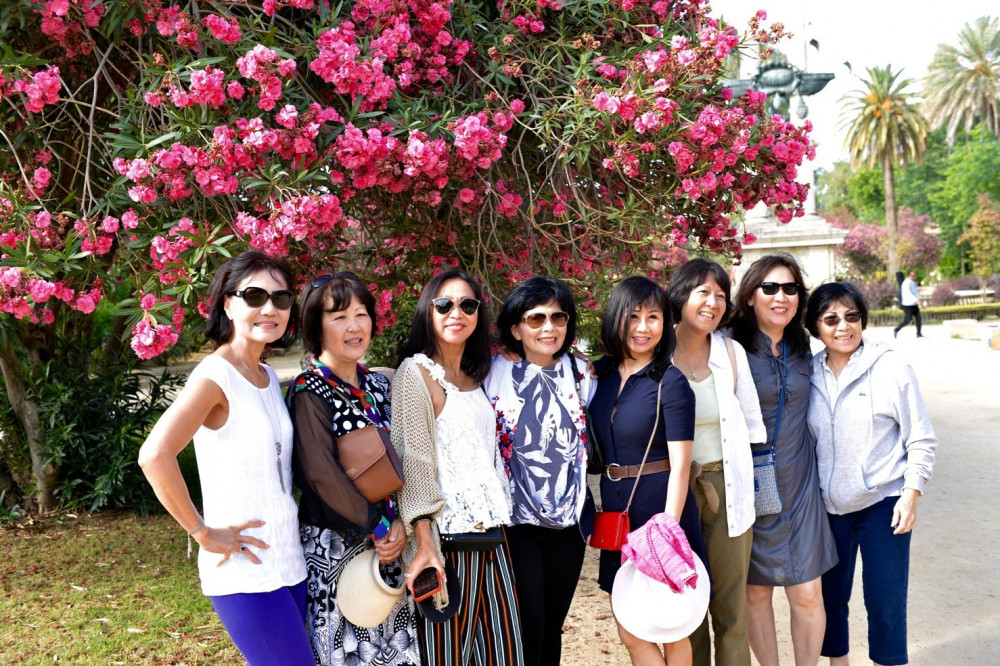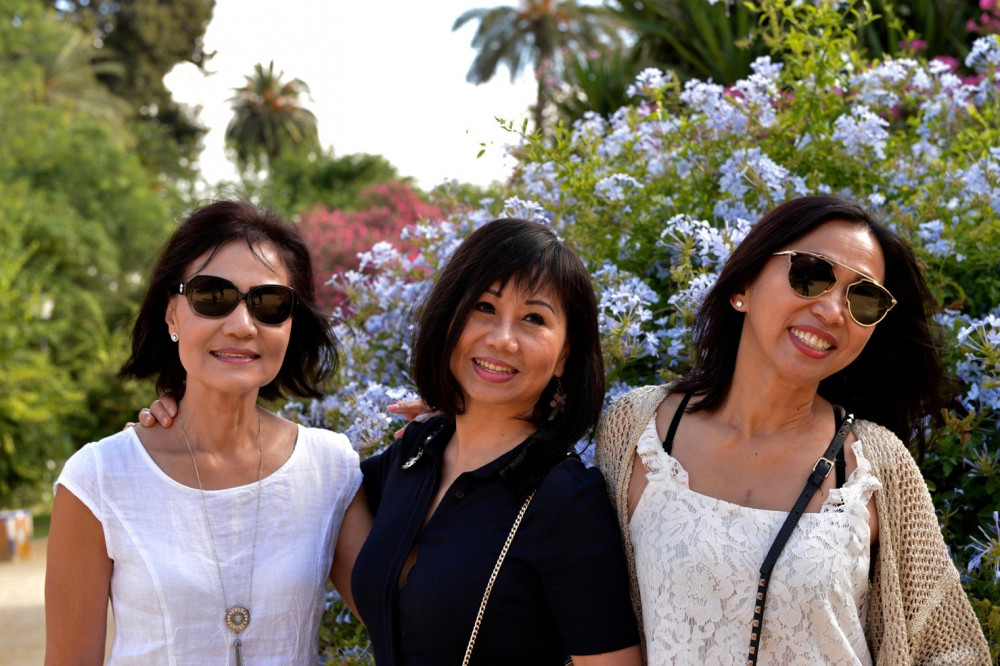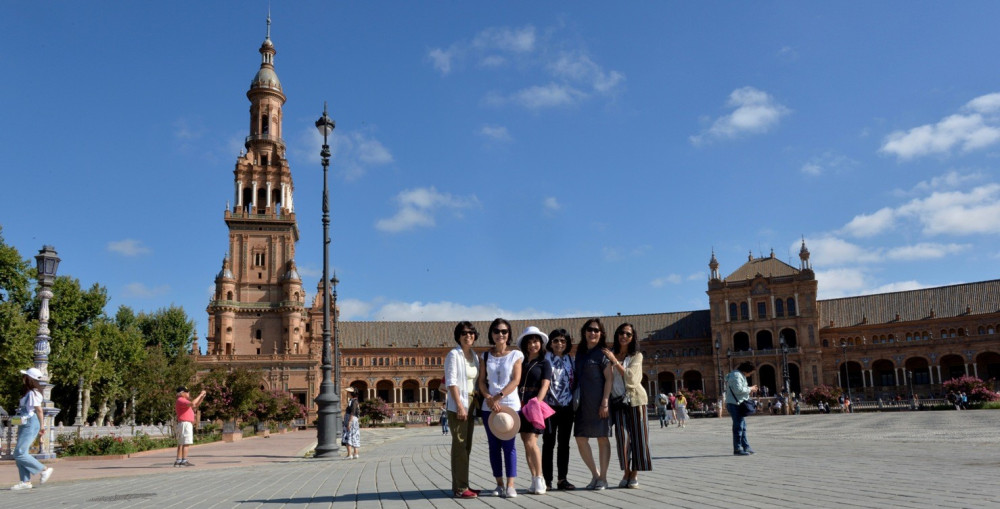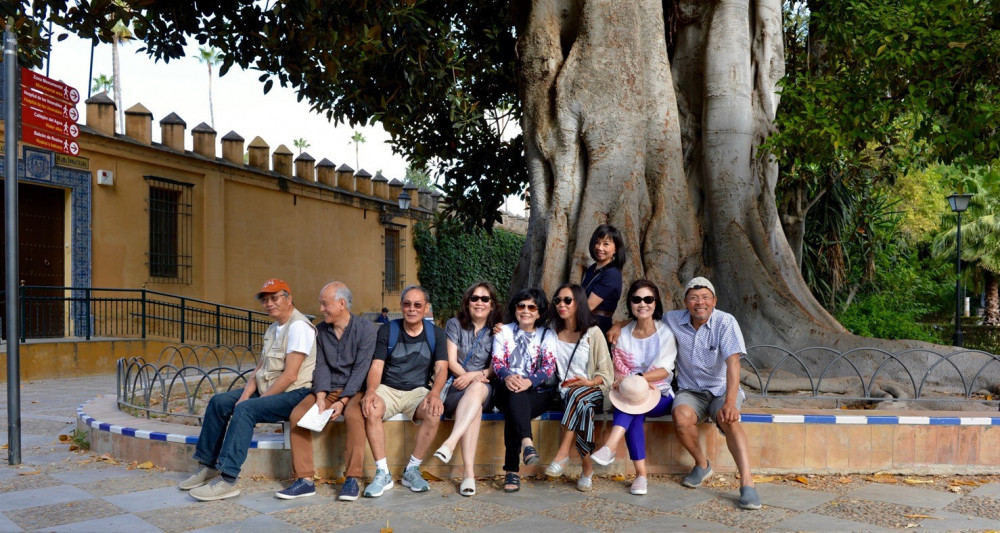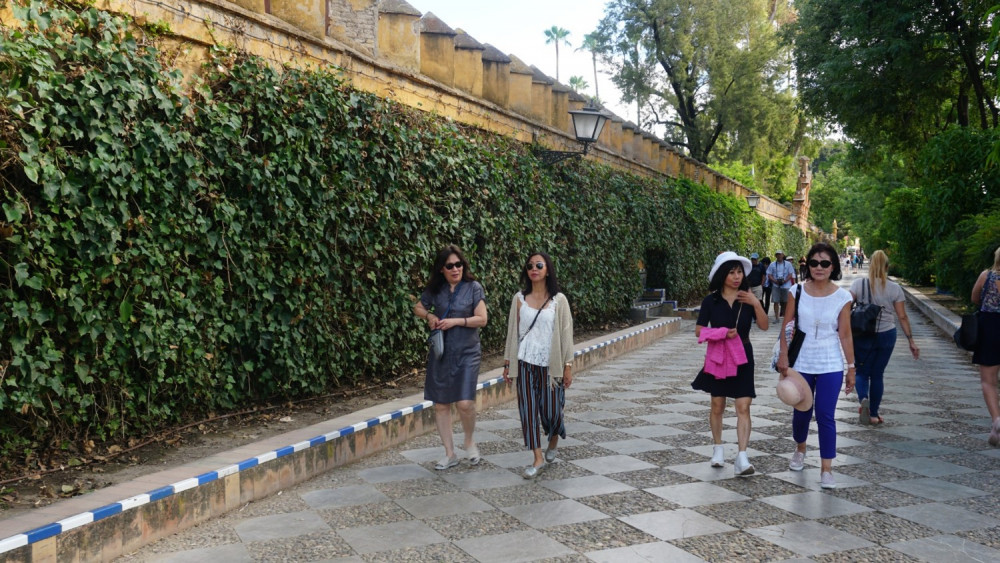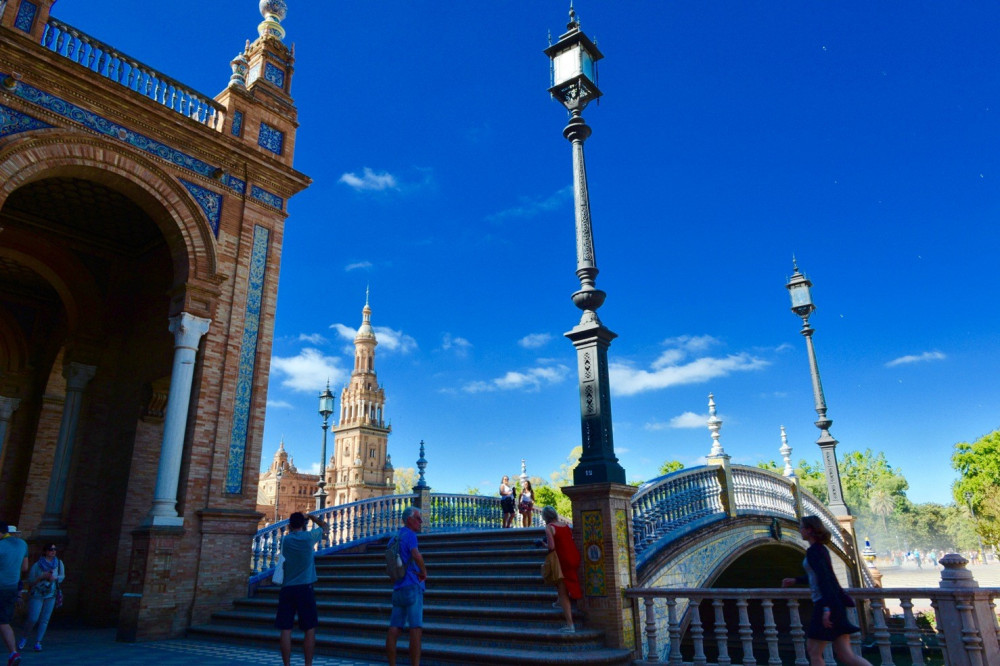 Plaza Espana is a wonderful place to visit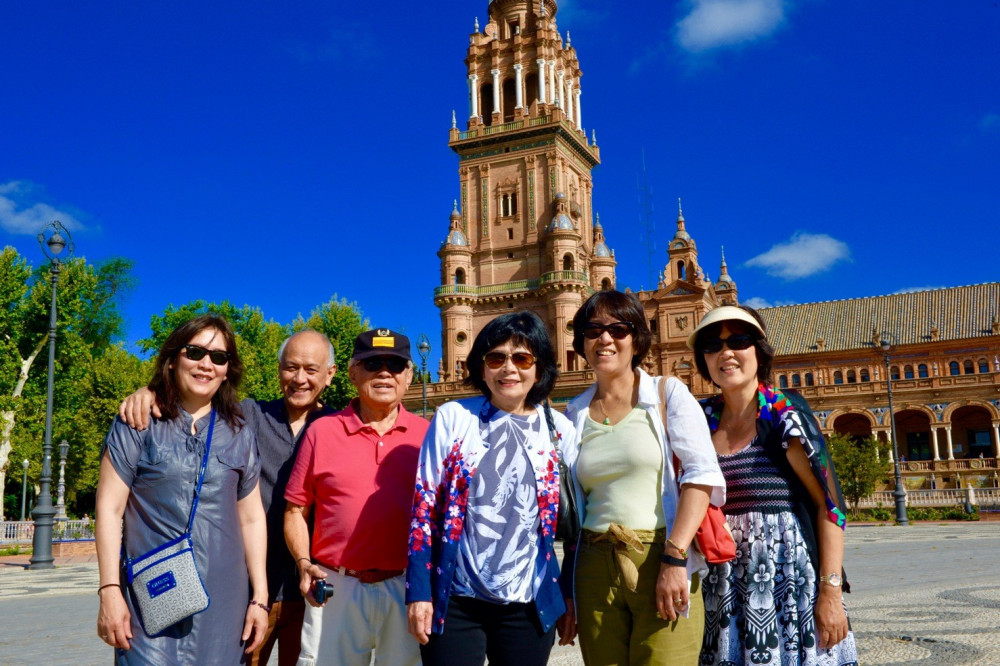 Friends enjoying visiting Plaza Espana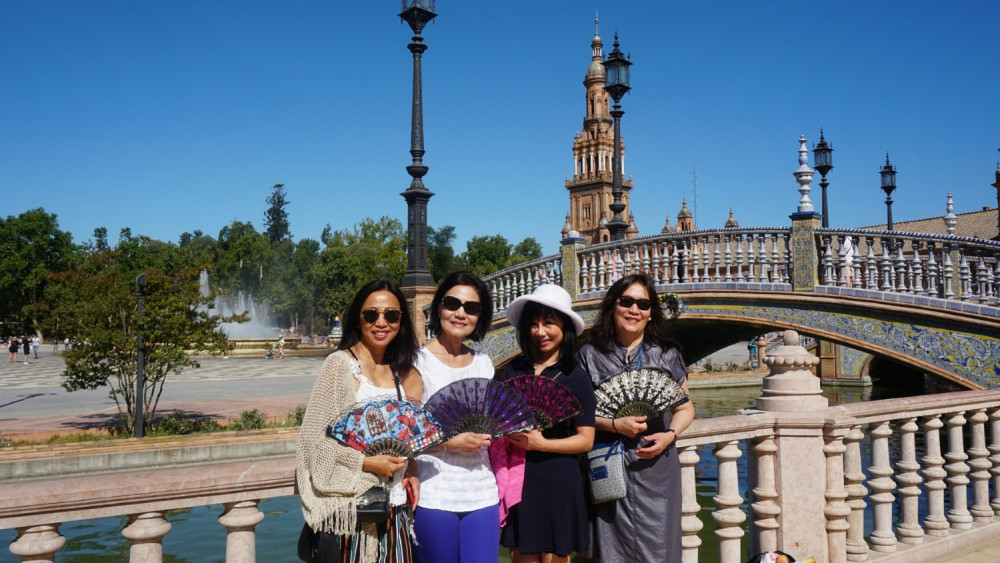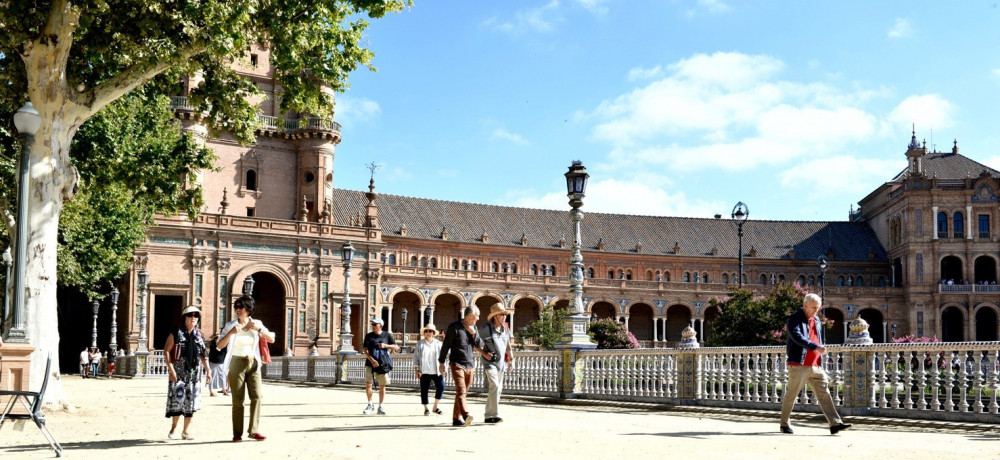 Semi-circular shape building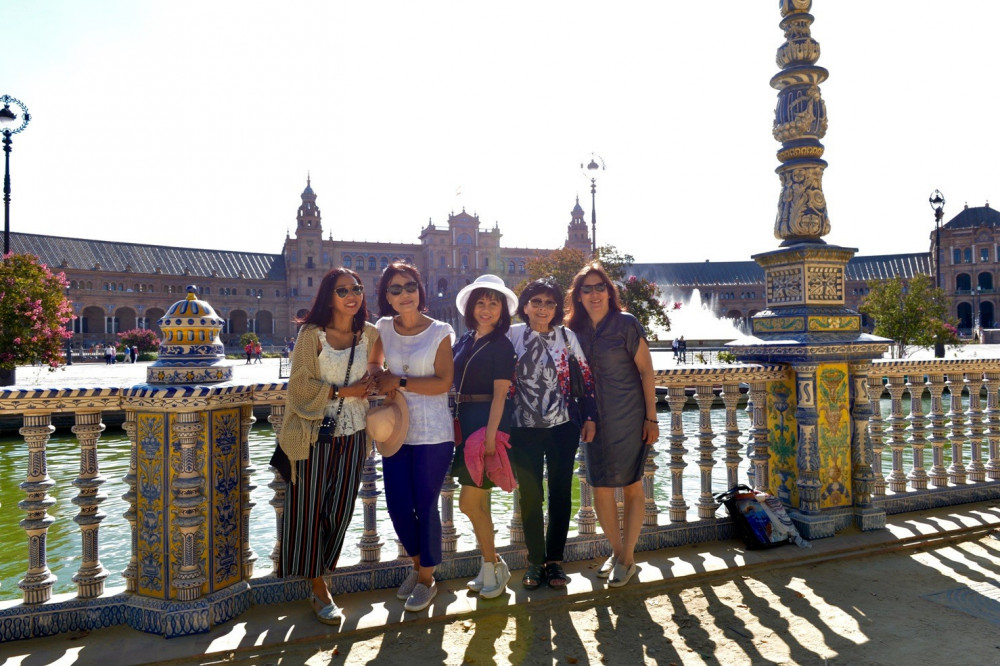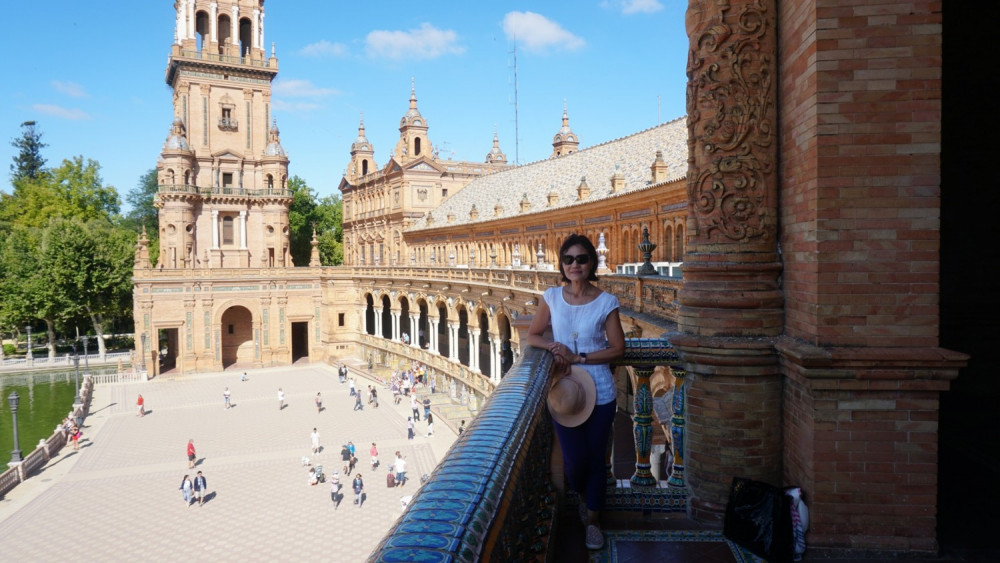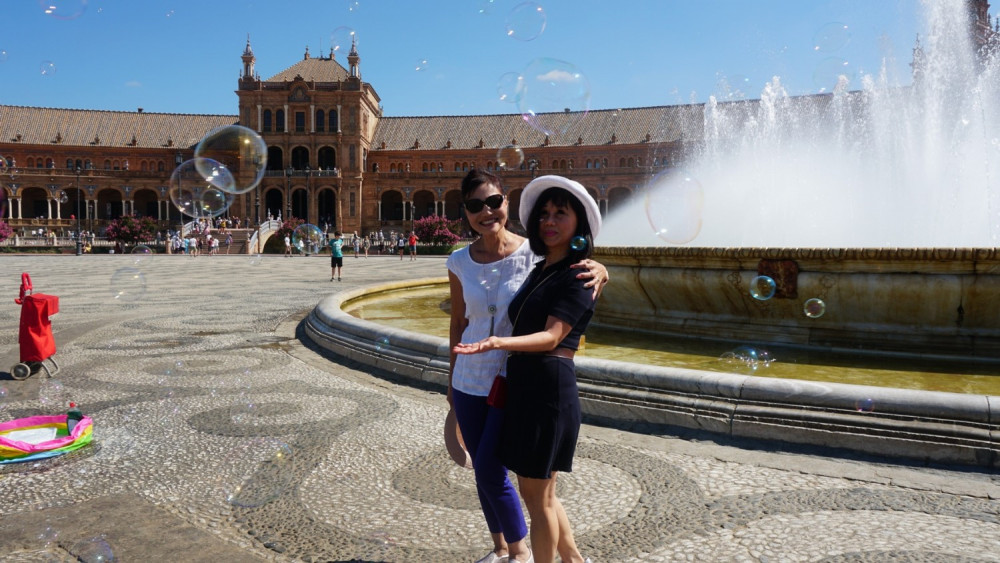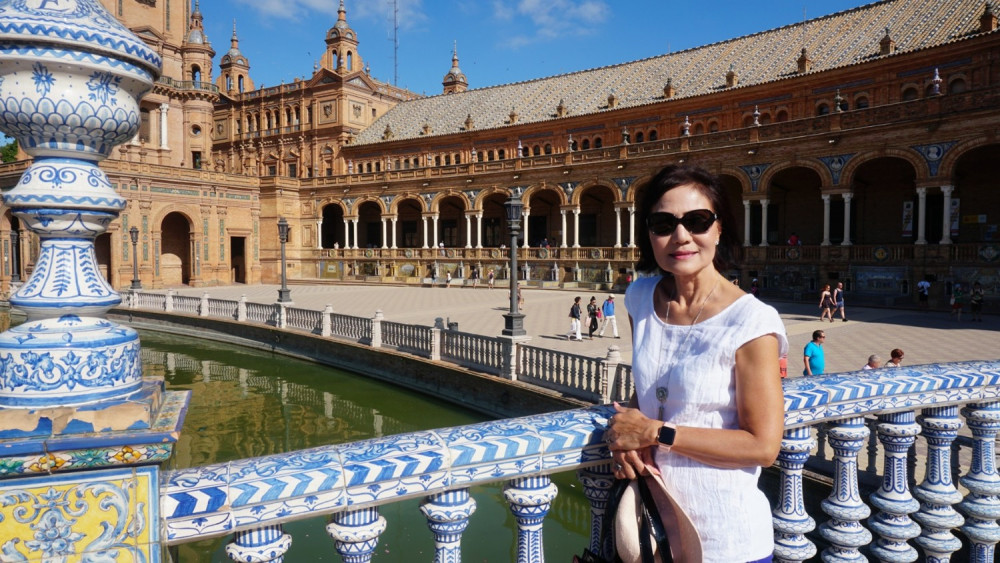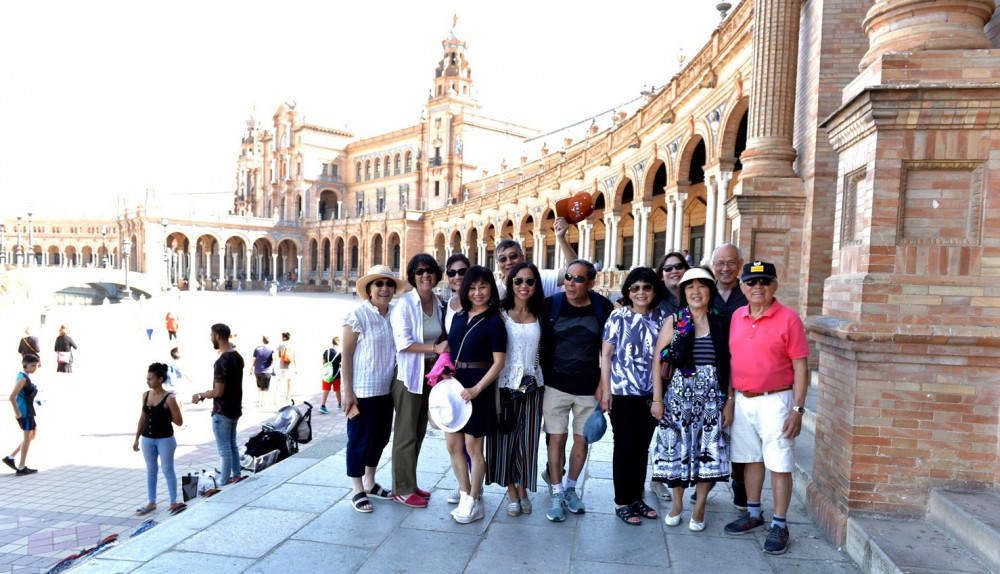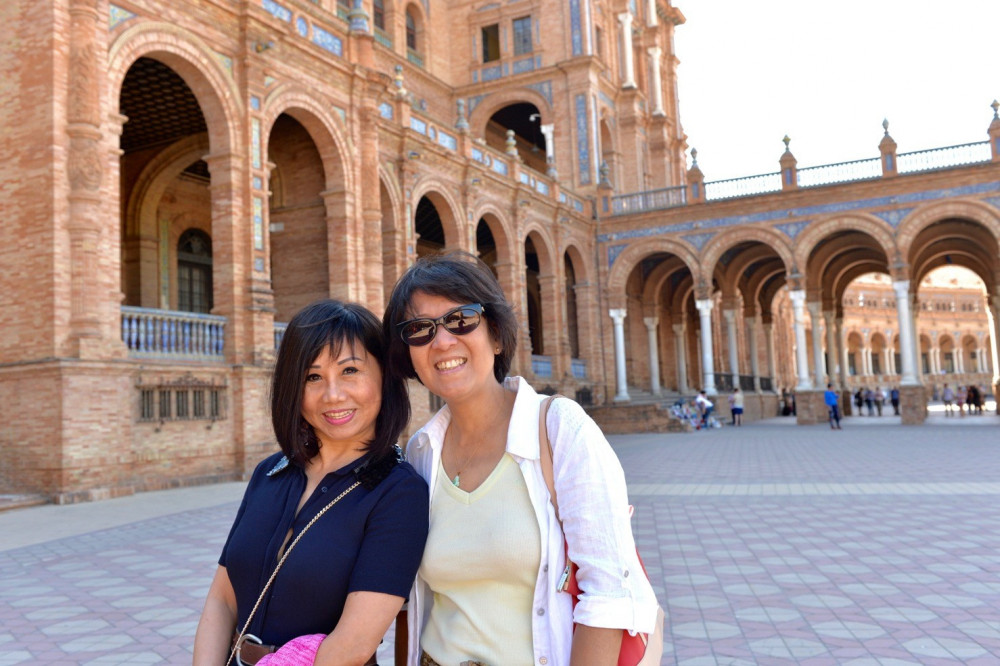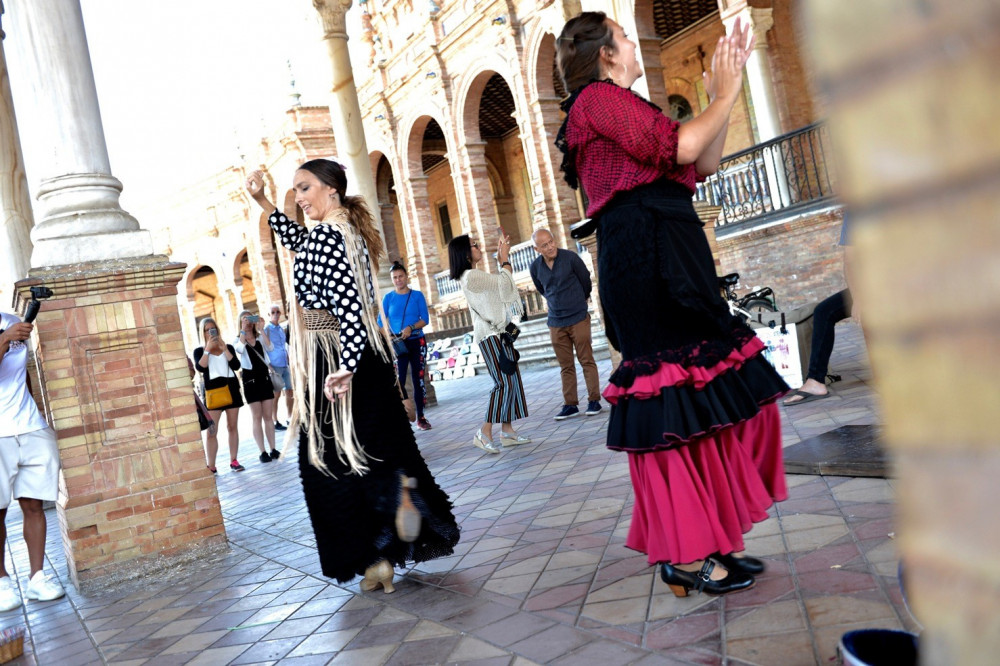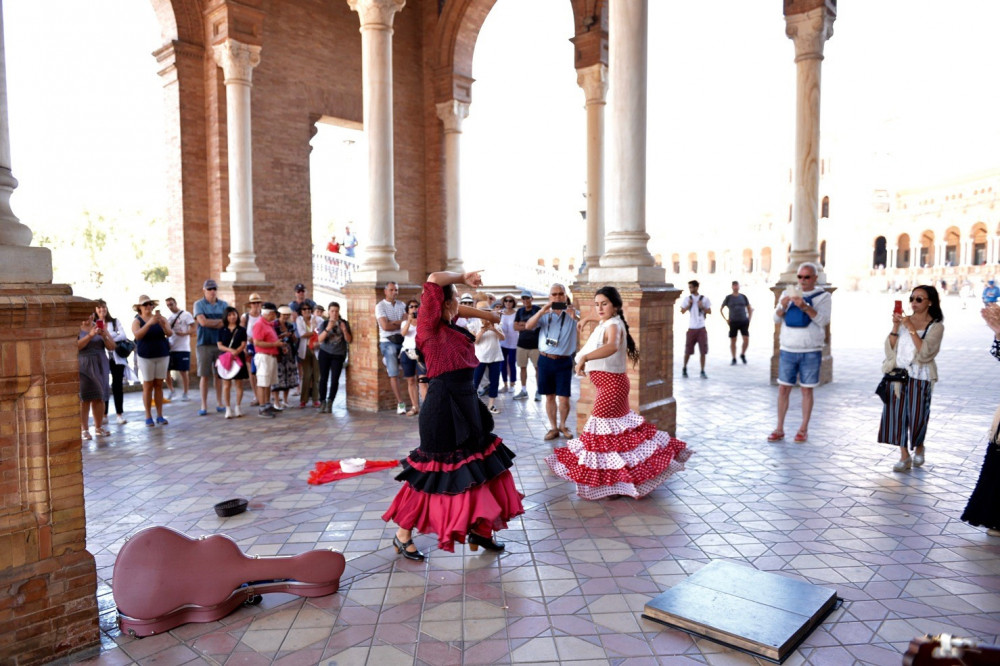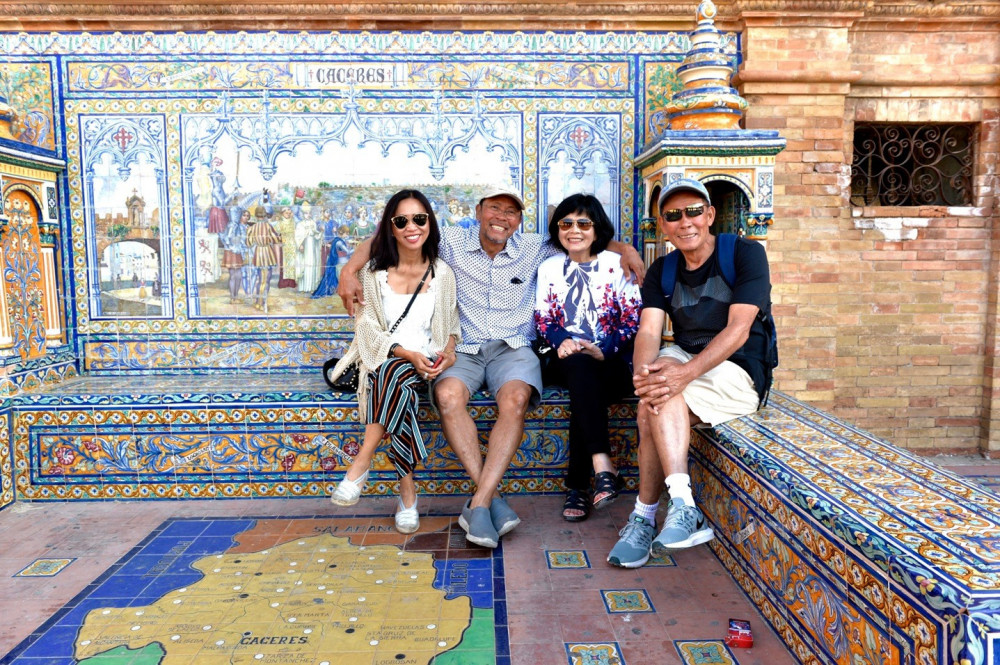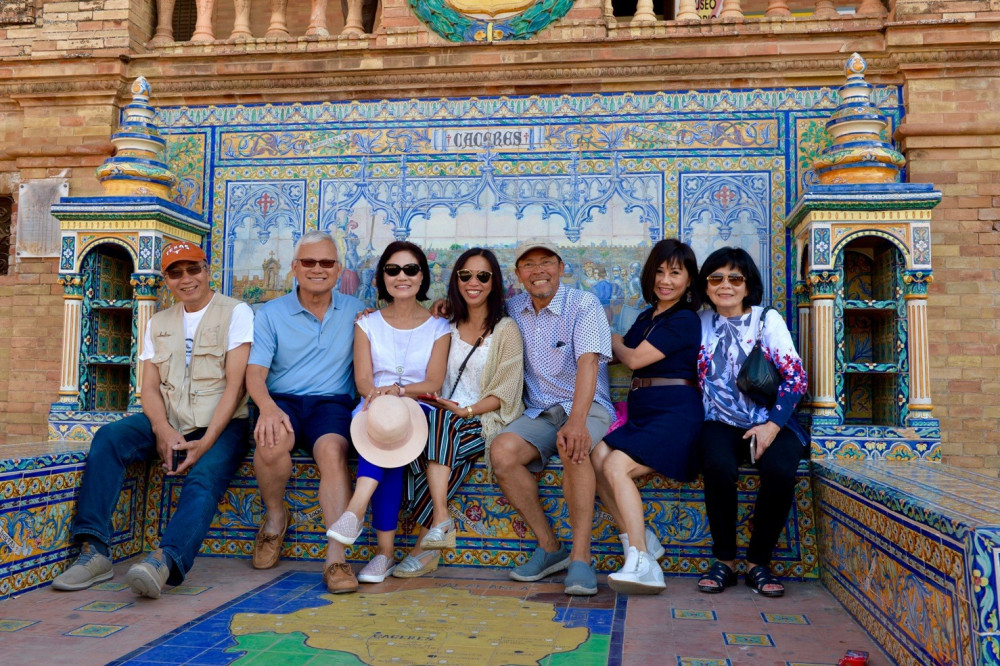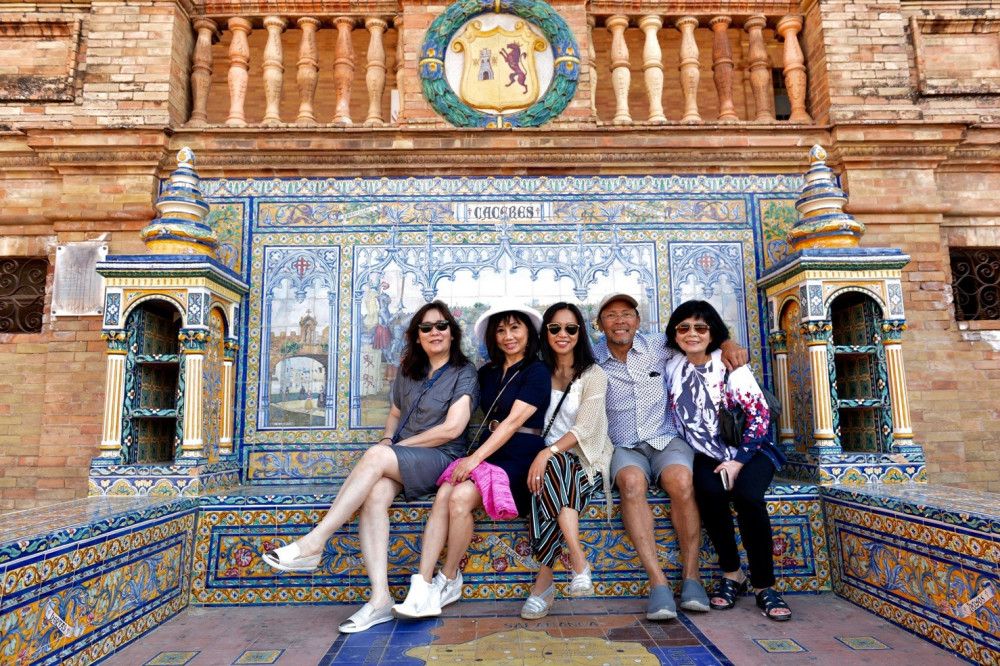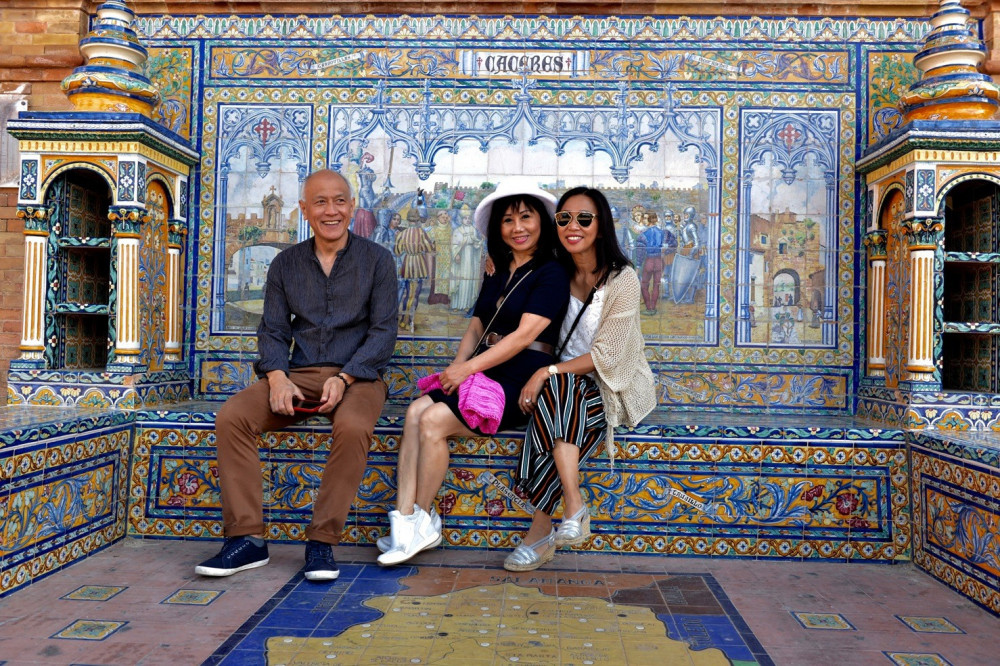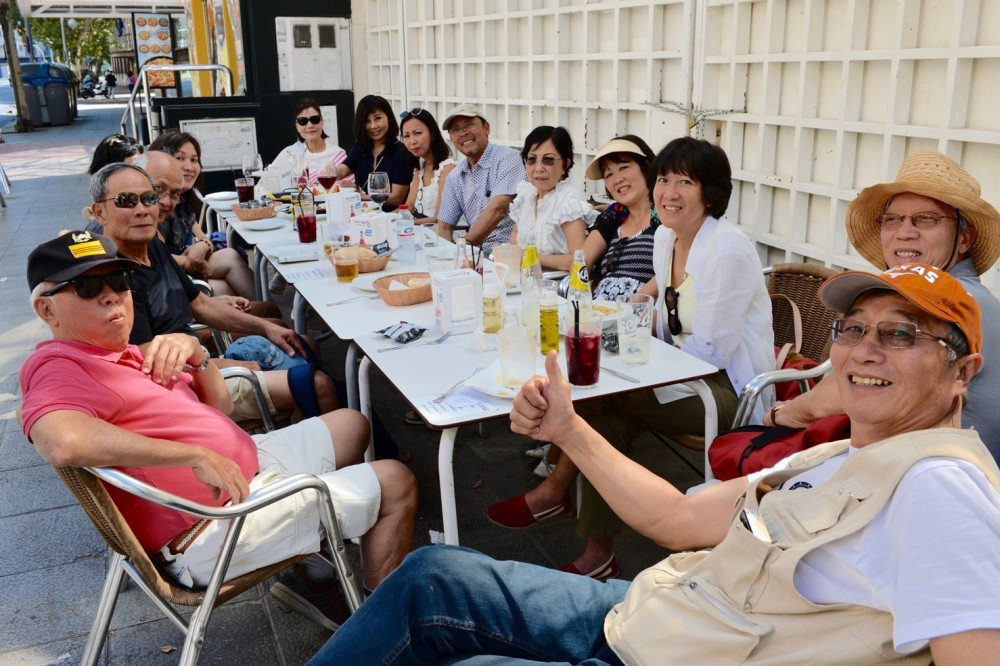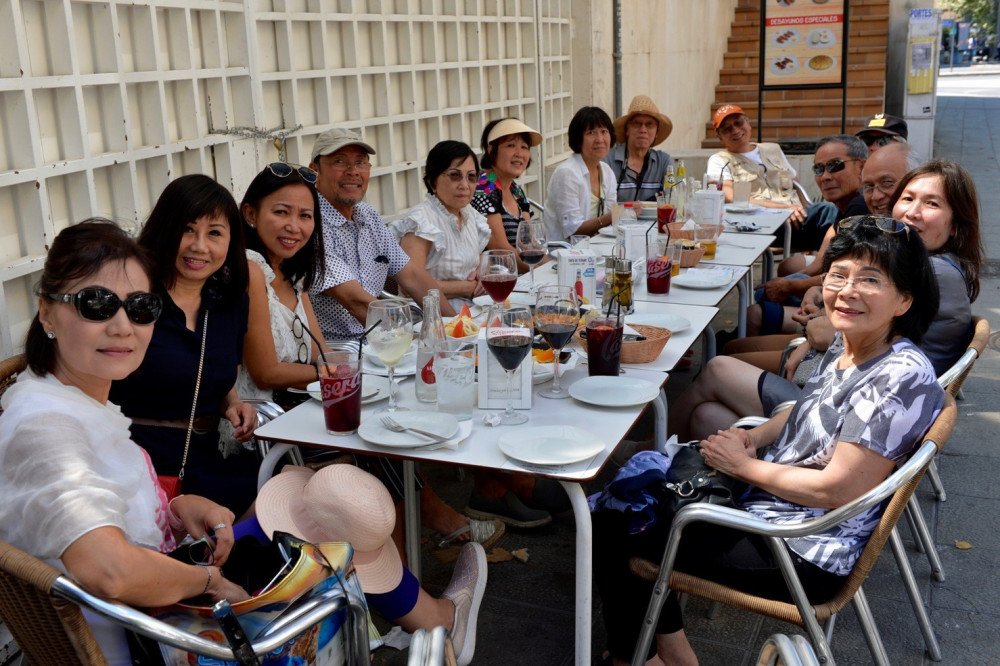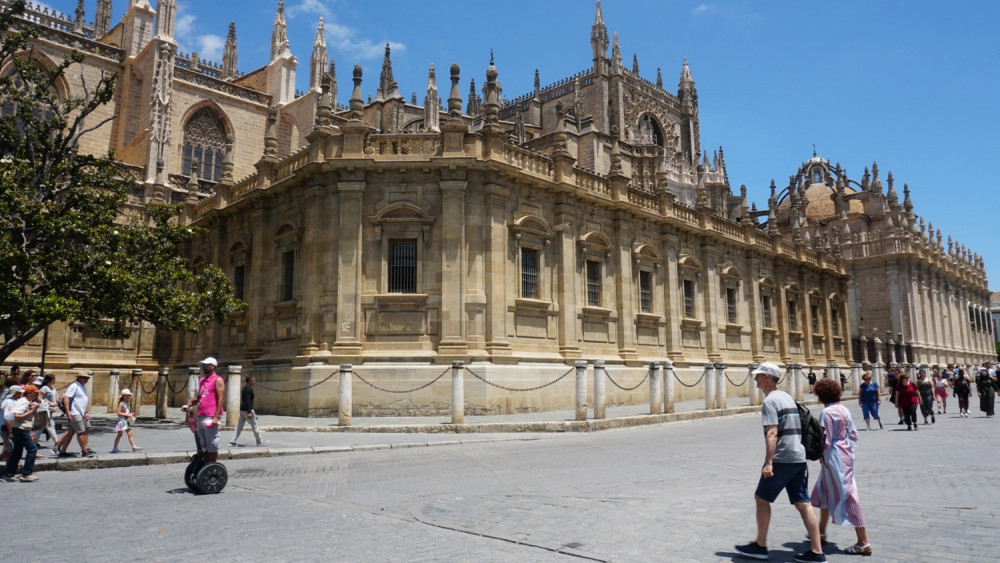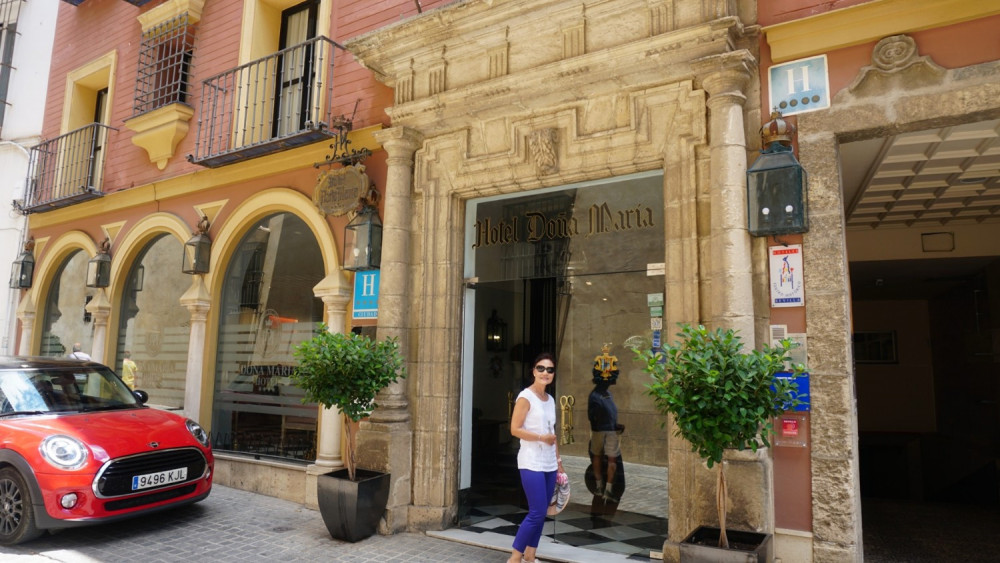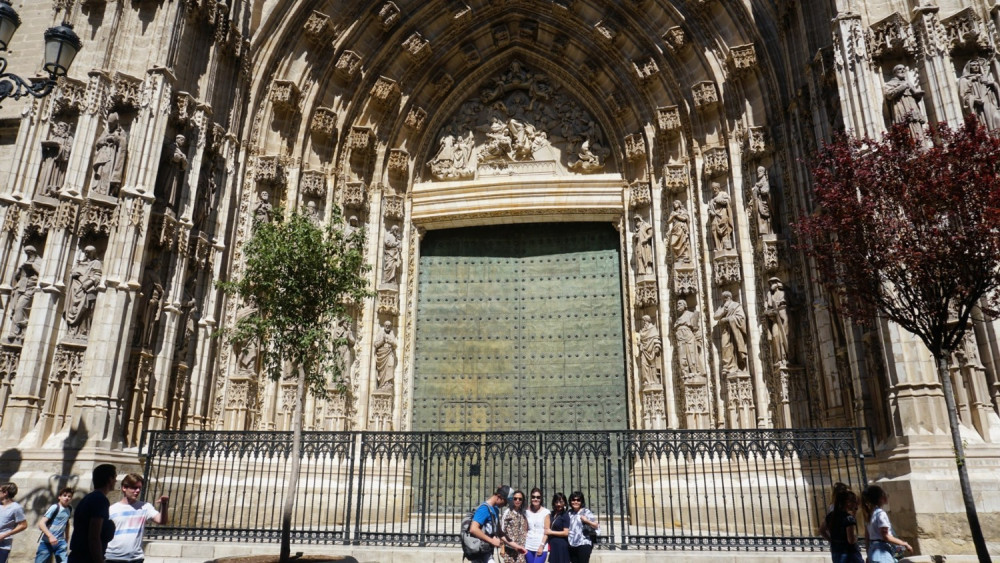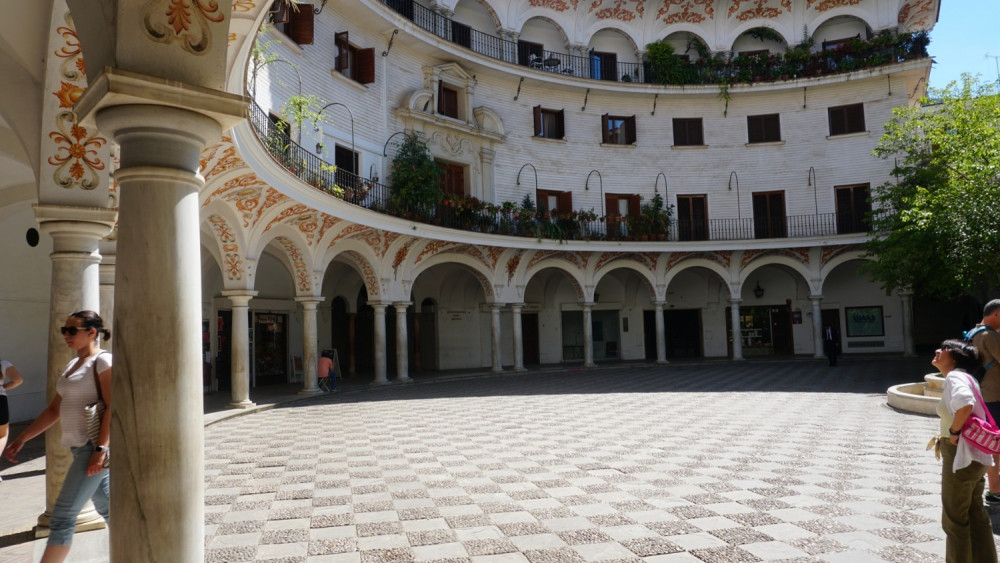 Double click here to edit this text.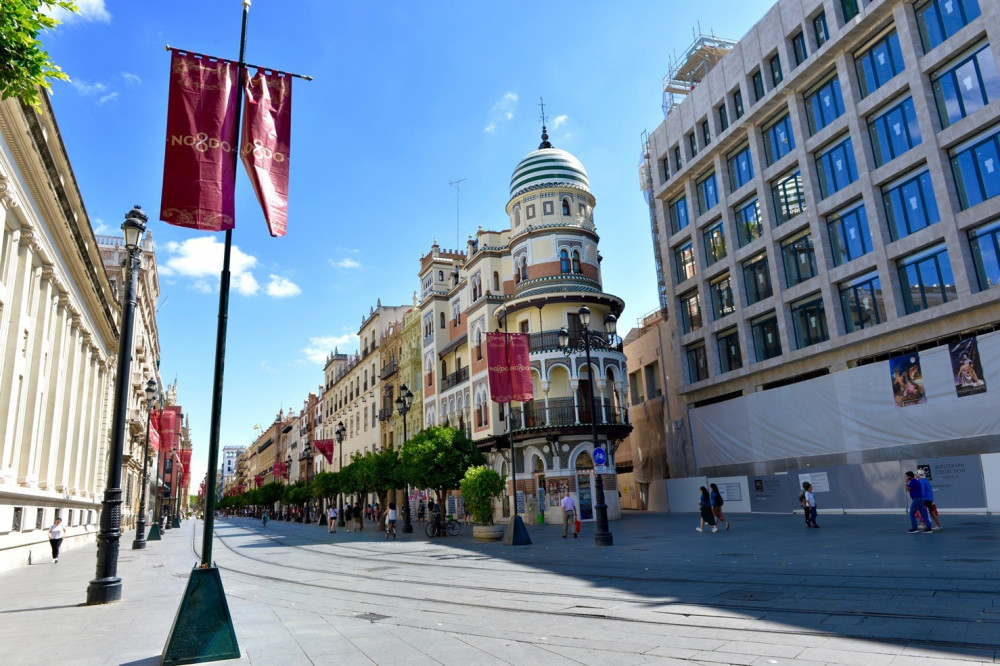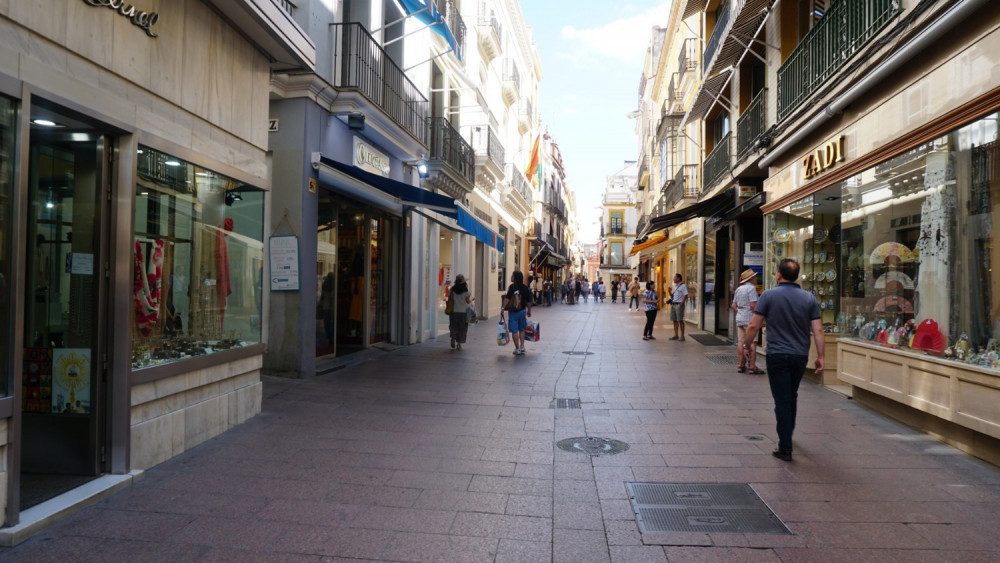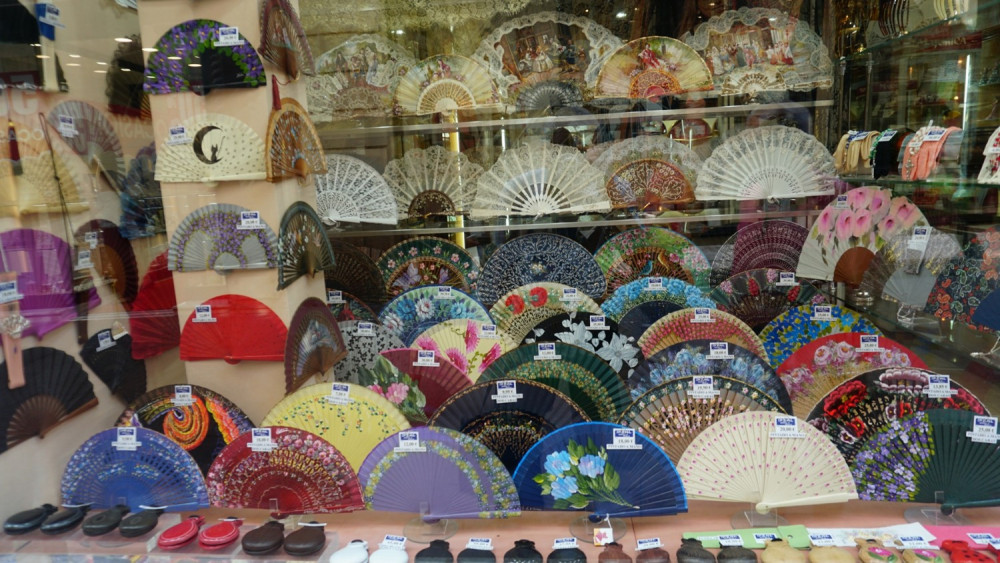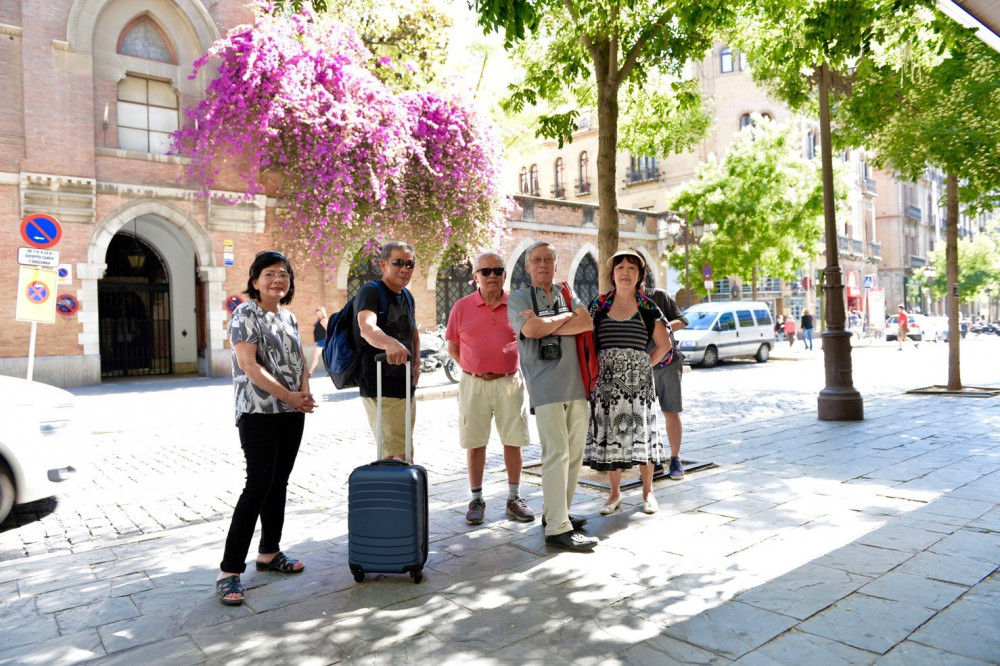 We buy luggage to bring gifts home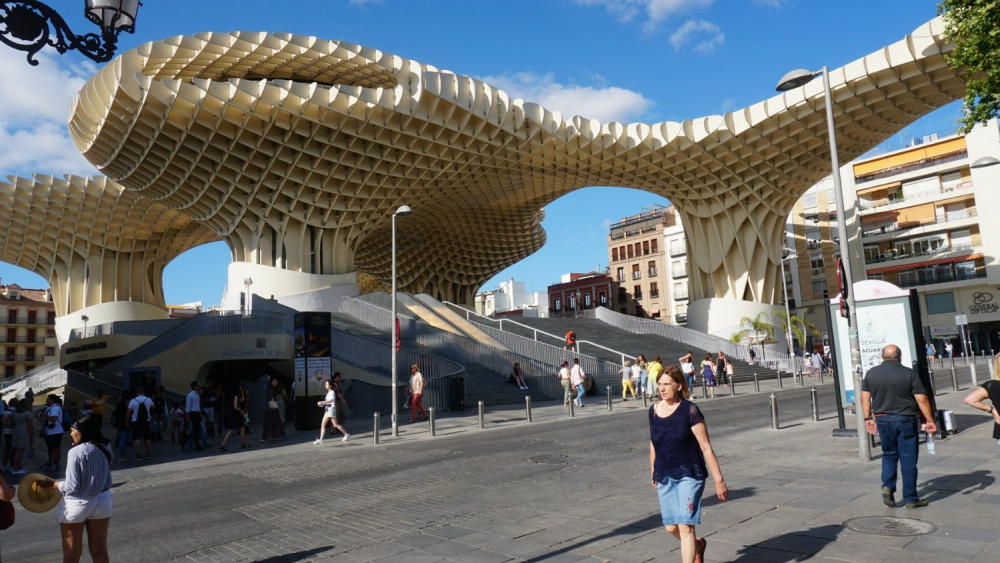 Metropol Parasol or the Wooden Mushroom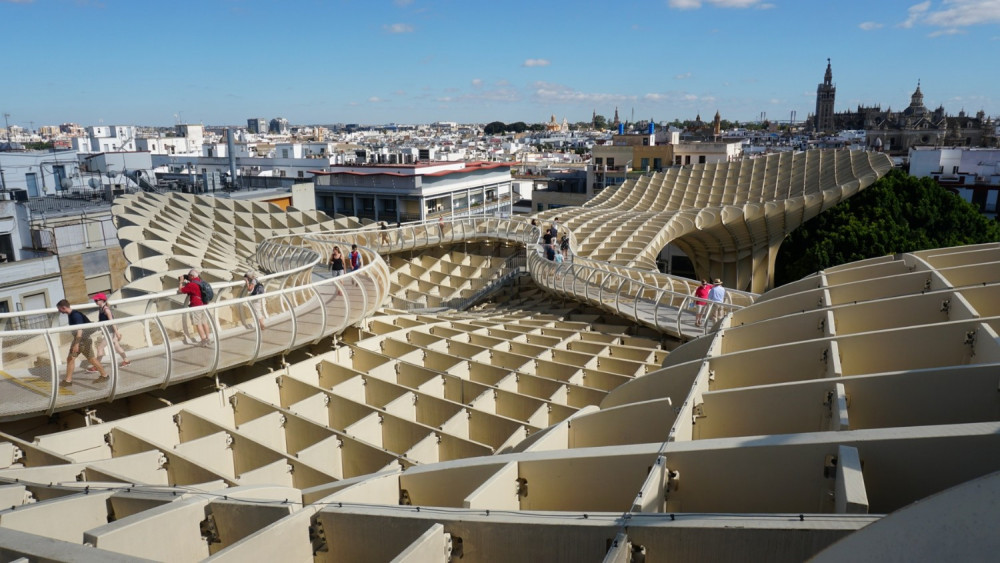 On top of the Wooden Mushroom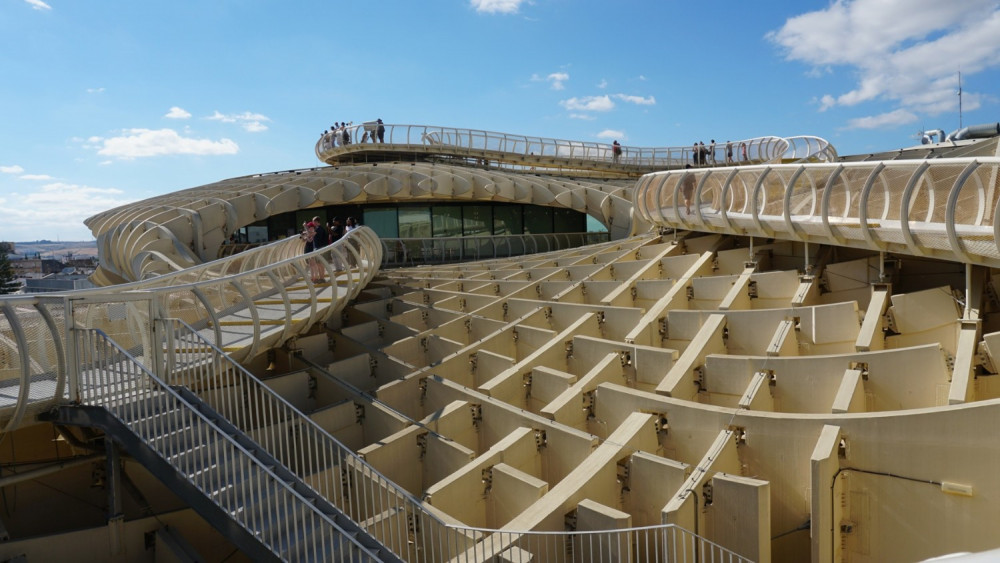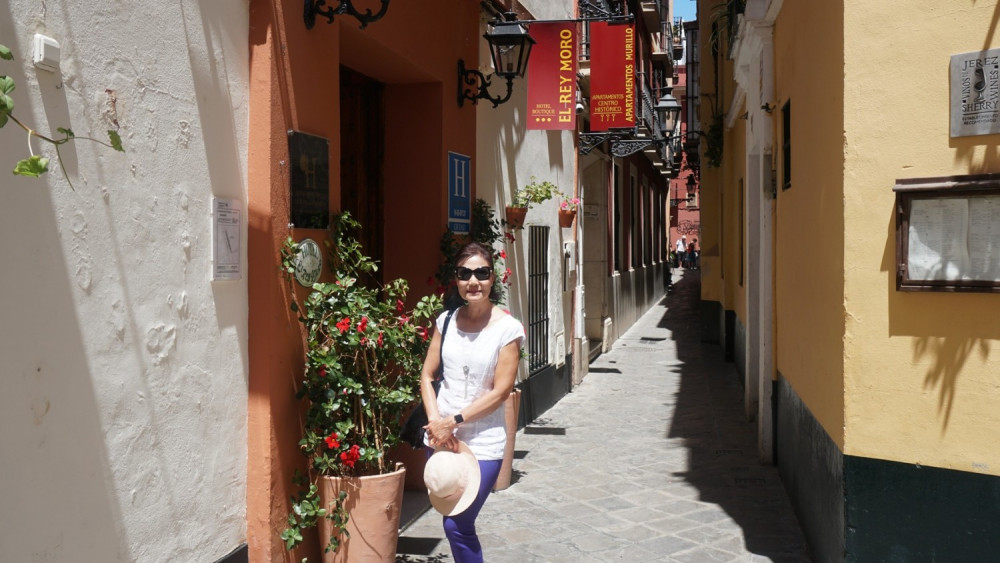 We wander around the City while our friends are resting at the hotel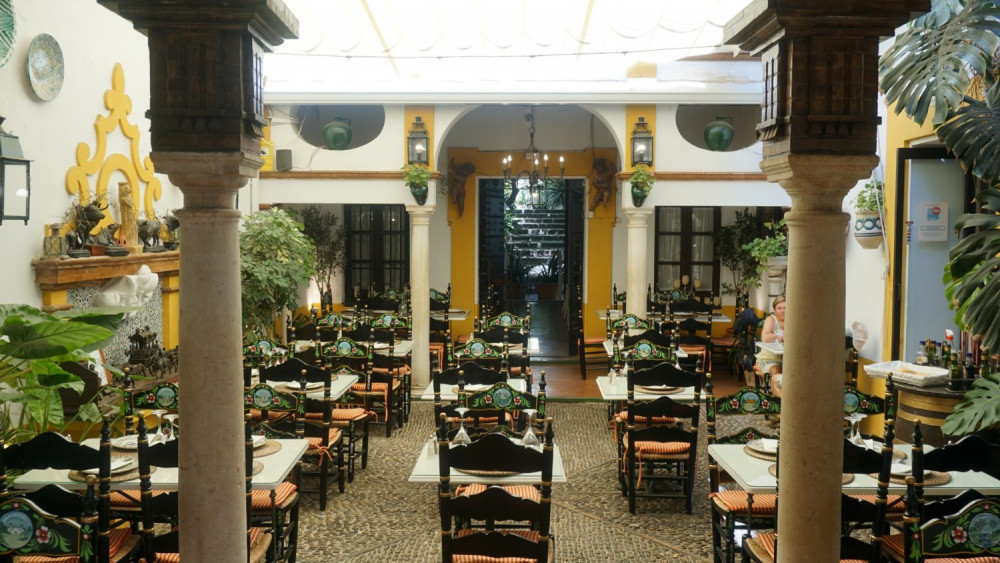 La Cueva Restaurant in the Jewish Quarter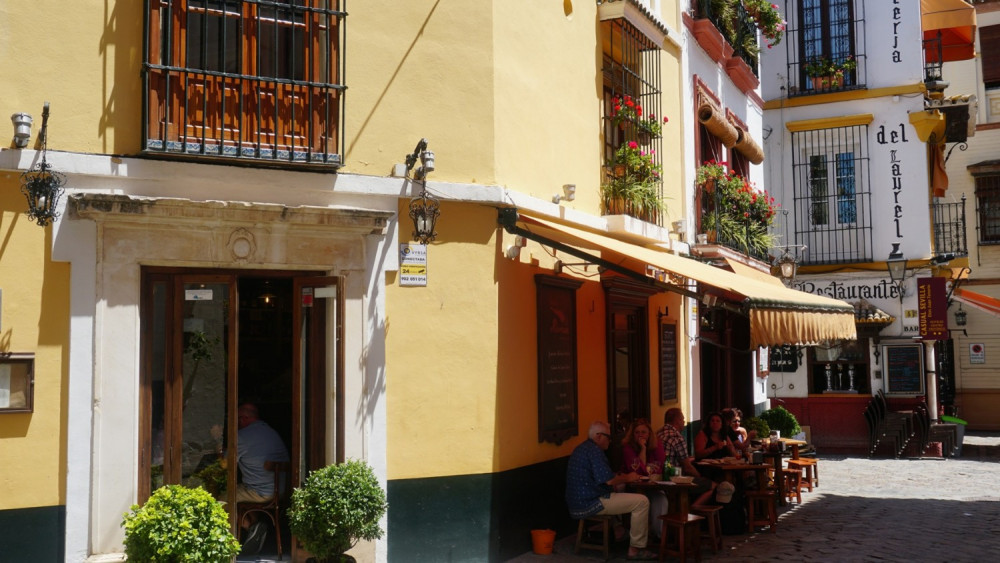 Cozy sidewalk cafes are everywhere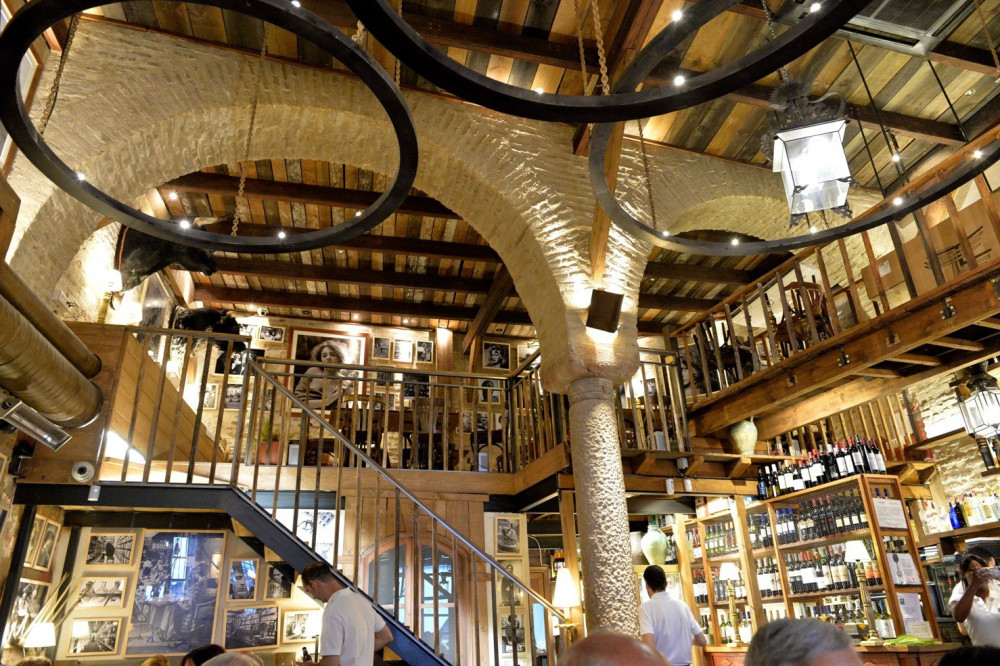 In the evening, we have dinner at the Postiguillo Tapas Restaurant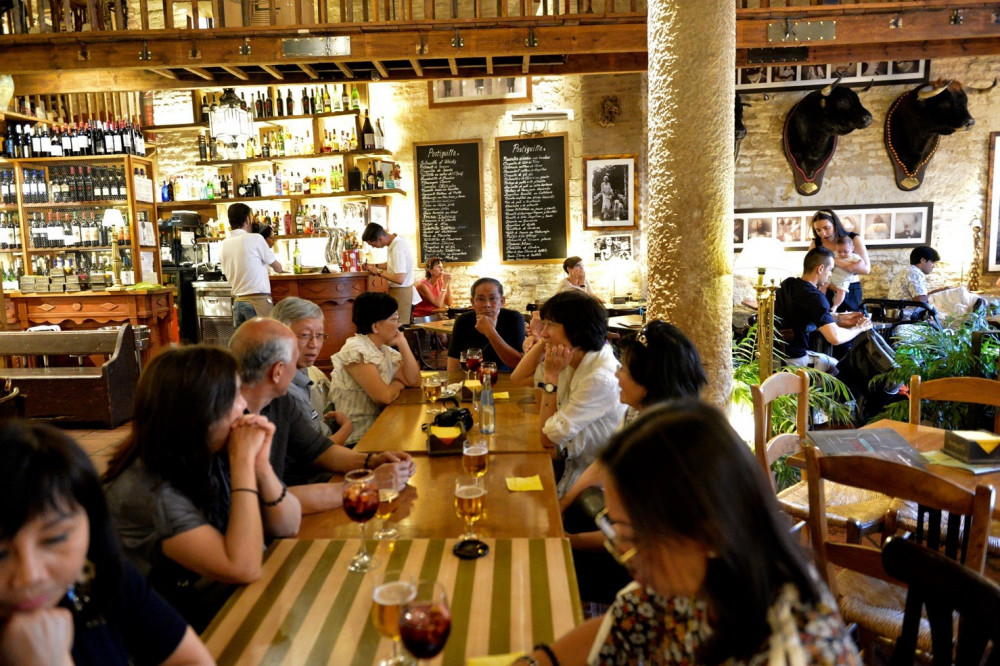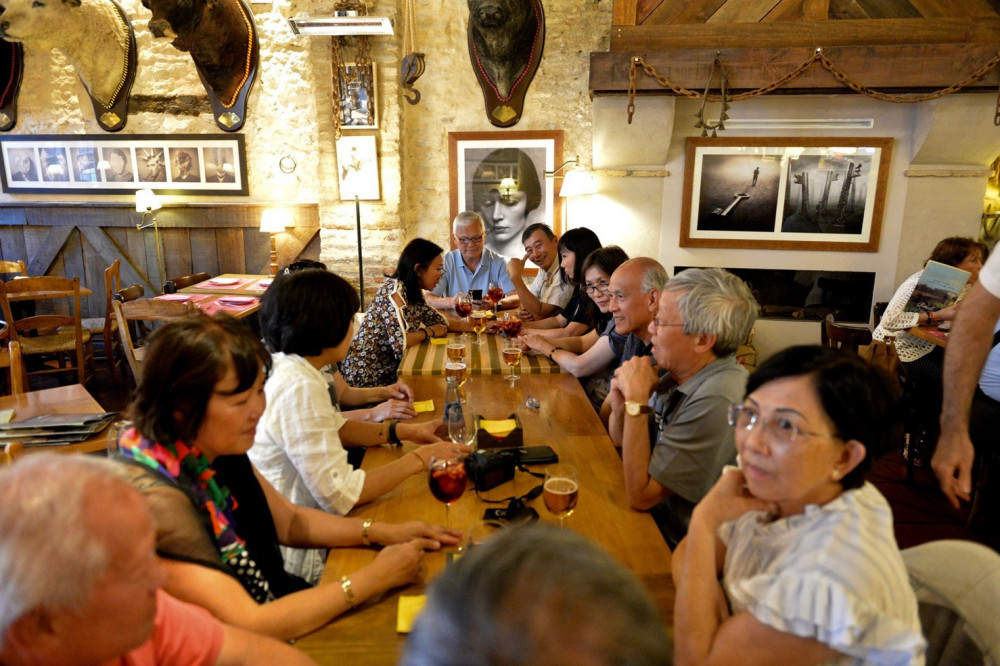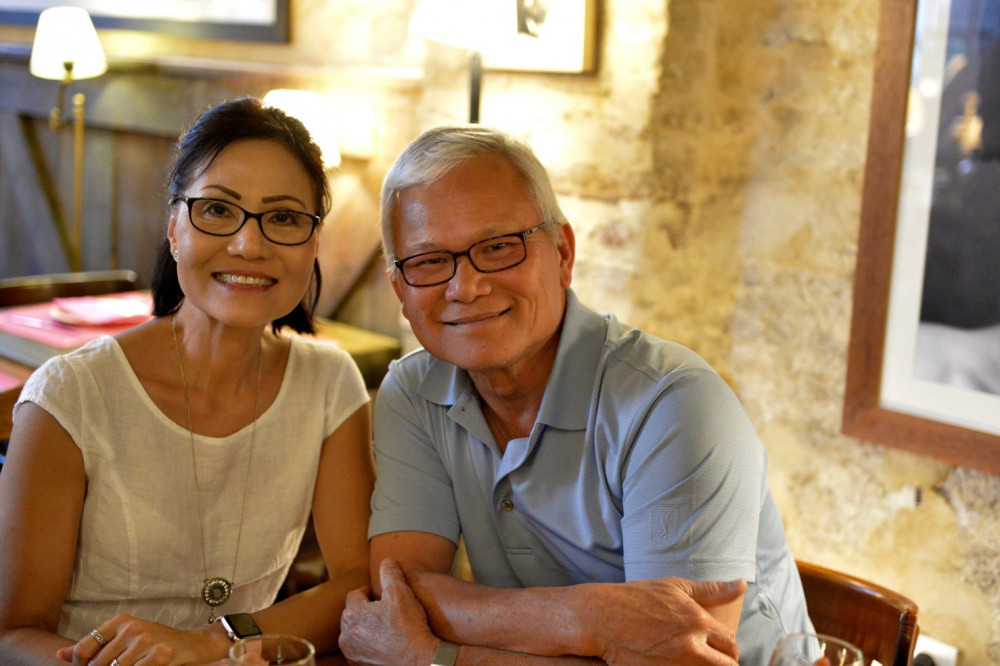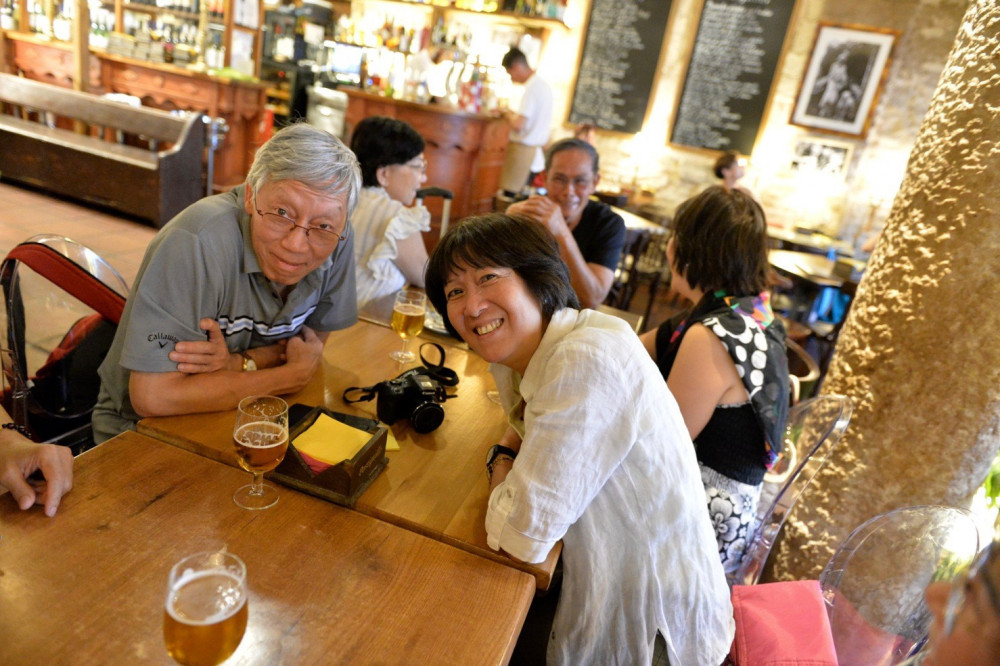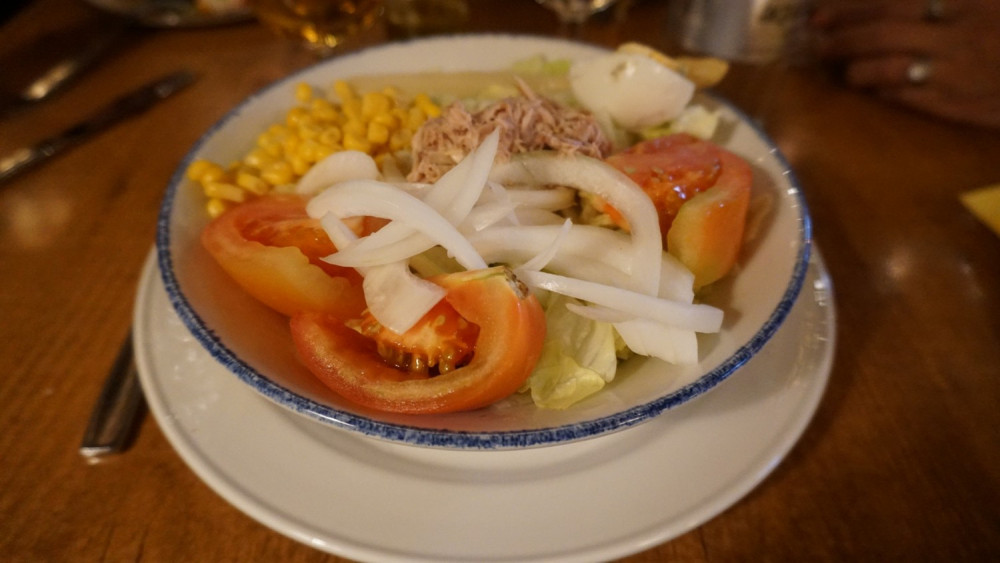 We do tappas including salad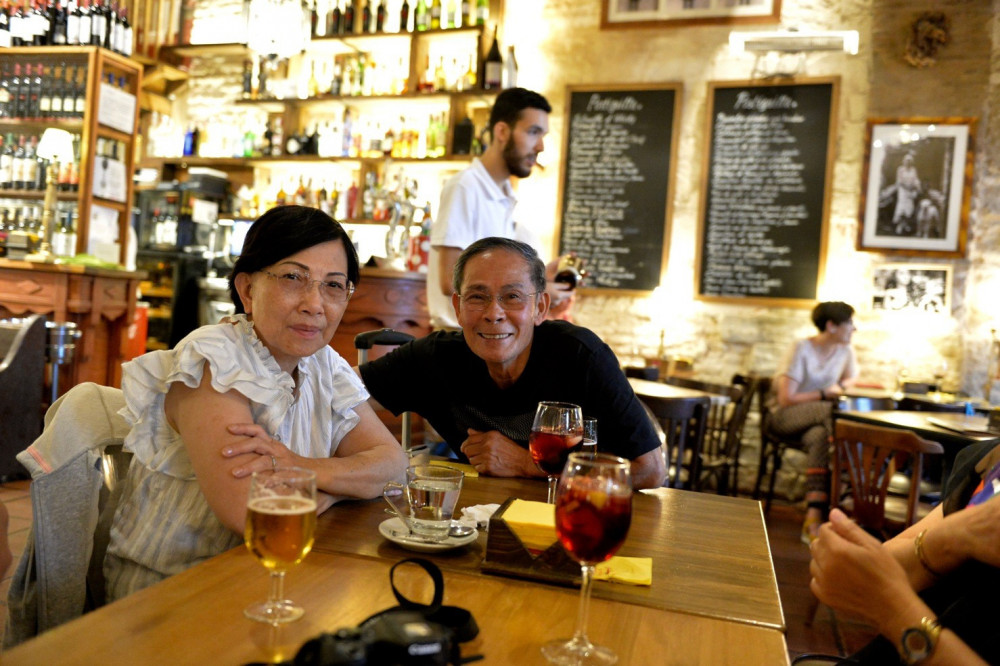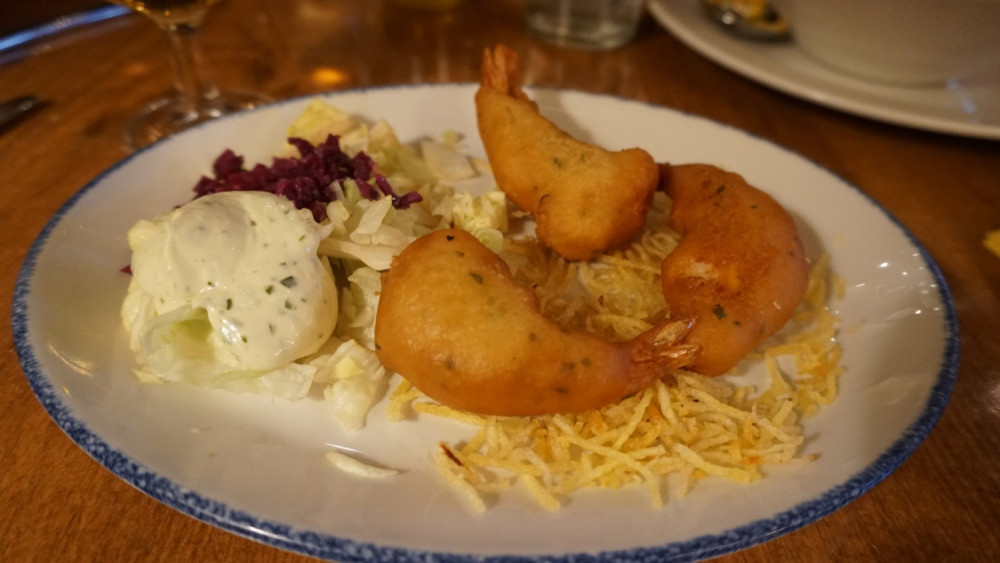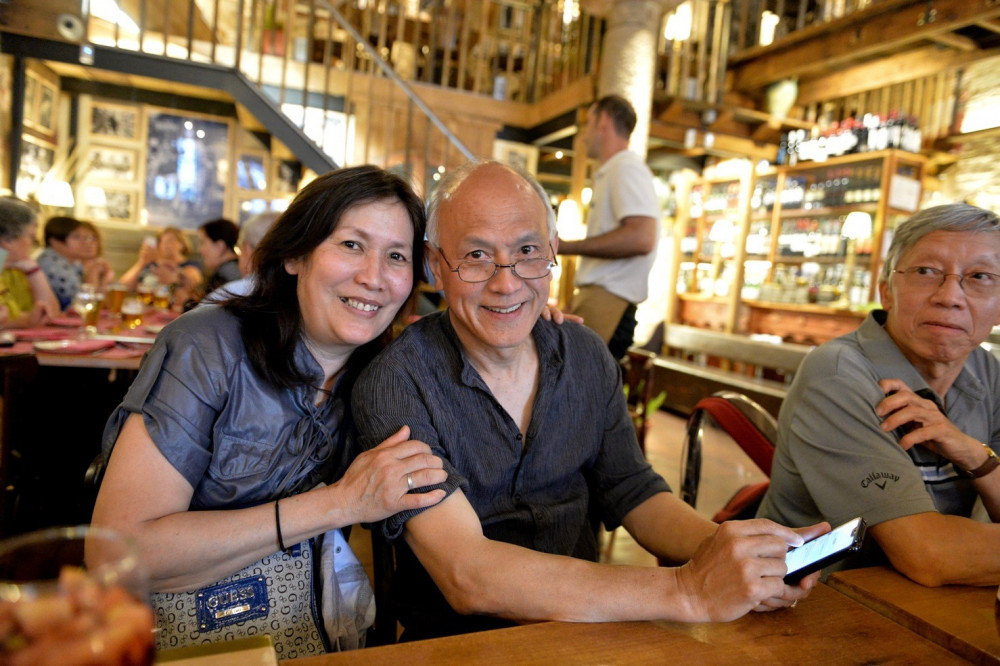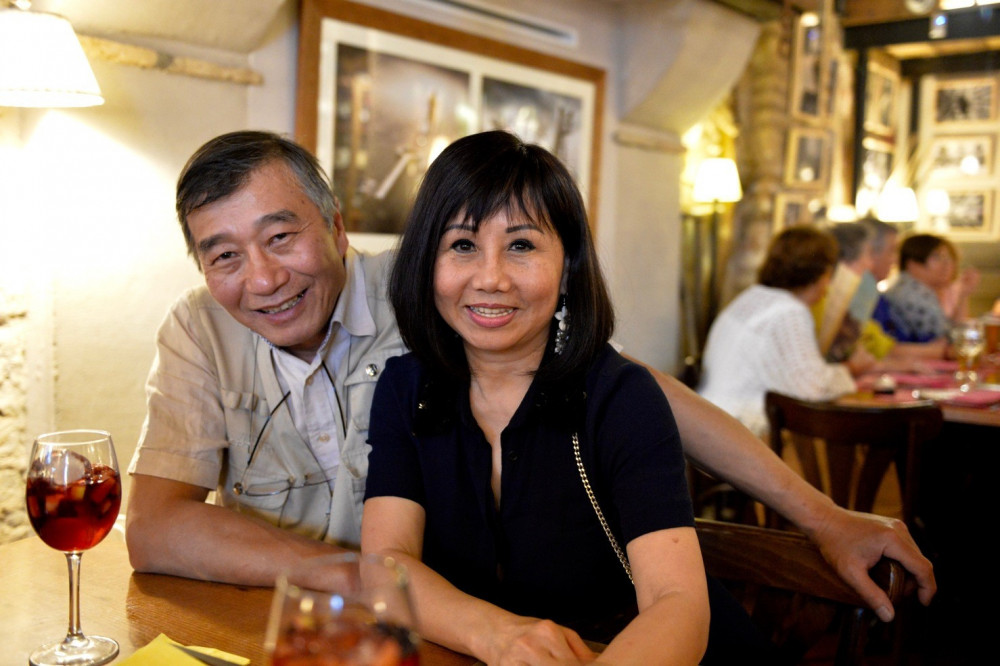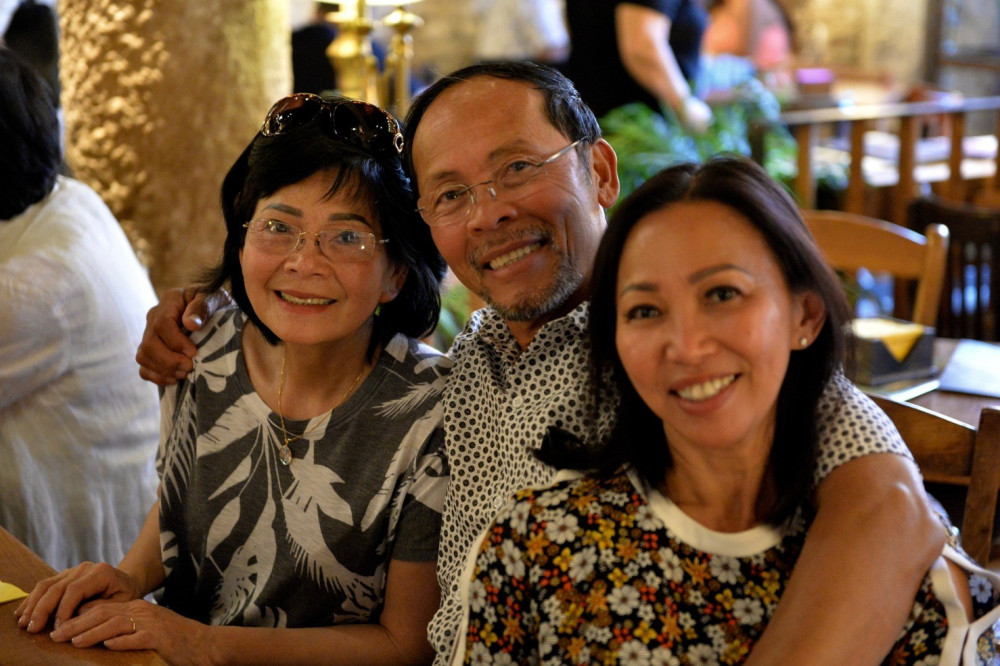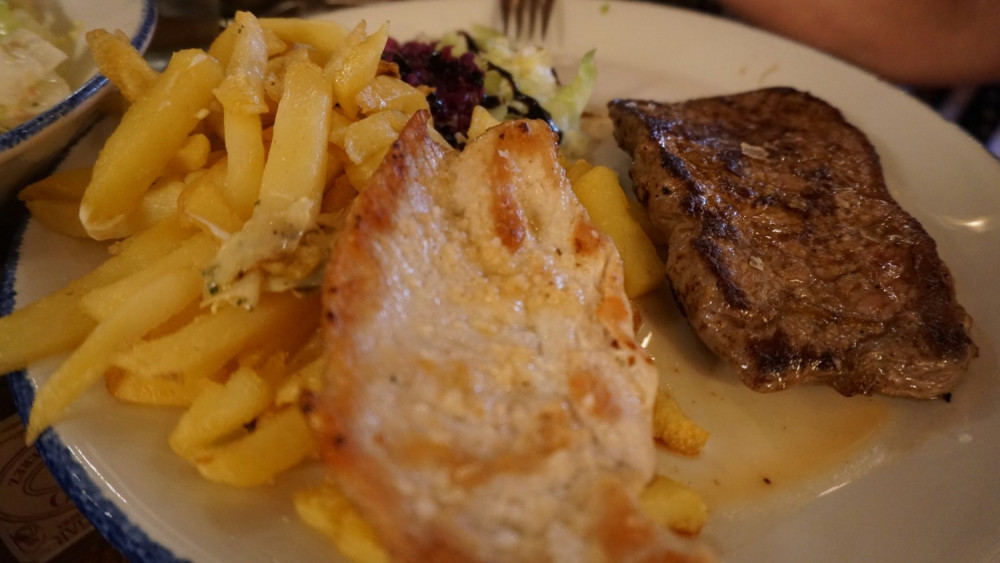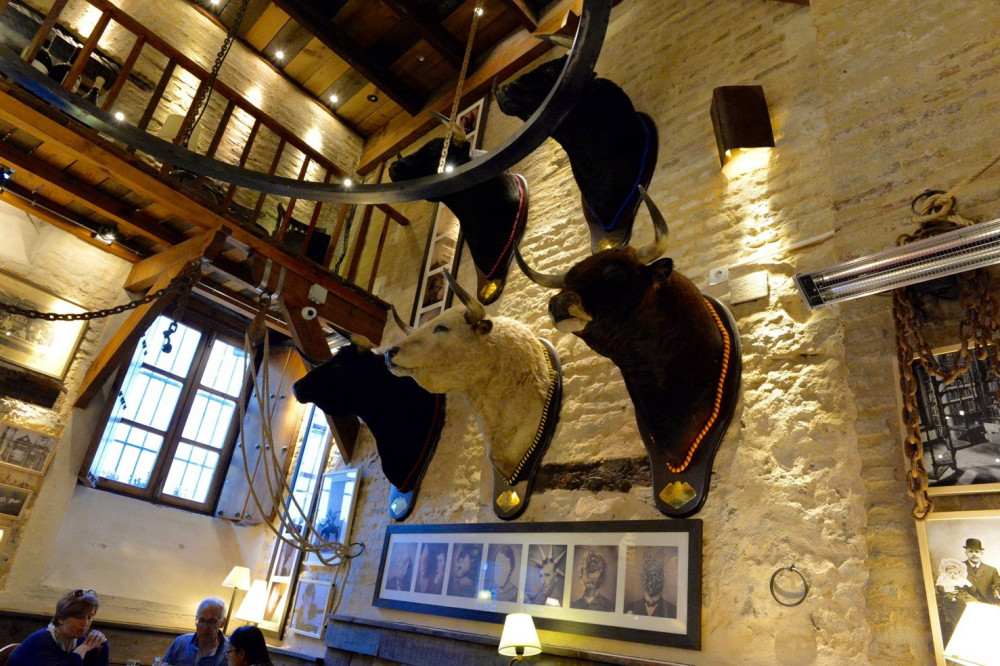 Postiguillo Tapas Restaurant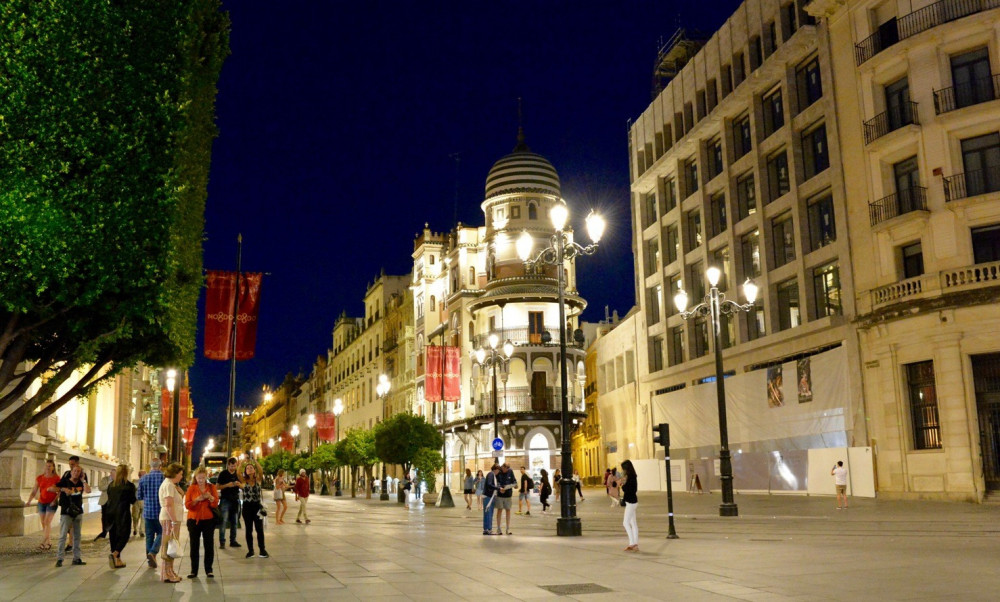 Walking back to hotel after dinner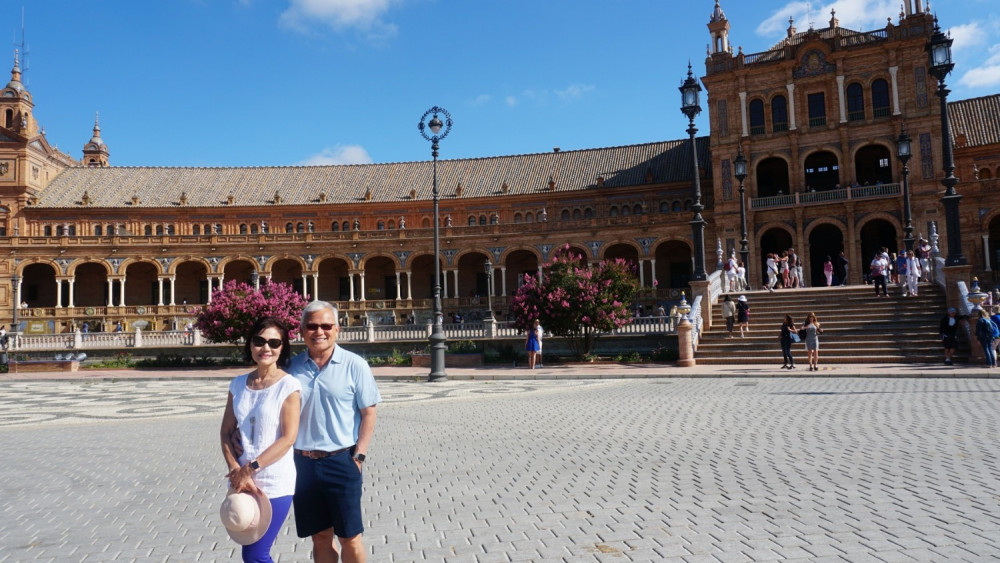 Our first full day in Seville is very satisfying
After a good rest, the group regather at the hotel lobby and head for dinner which is at the Postiguillo Tapas Restaurant not too far from our hotel. Our group orders and shares a wide variety of tapas, which are appetizers, but one can be full by eating three or four of these tapa plates and they are very good.