Friday, February 15, 2019



Every year, we try to get away to someplace nice to celebrate our wedding anniversary. Our 42nd anniversary occurred a couple of weeks ago and because of schedule conflicts, we had to delay our trip until today and the delay is worth it because we're headed to Grace Bay Beach on Turks and Caicos Island, one of the best beach locations in the world.

Getting to Turks and Caicos from our home is not easy because there is no direct flight between the two locations. We got up very early this morning, drove to Dallas Love Field Airport, caught a Southwest flight to Fort Lauderdale, then got on another Southwest flight to Providenciales International Airport (PLS) on Turks and Caicos.

Arriving at PLS around 2:30 PM, we go through custom quickly, and because the flight was full, it takes a while for us to retrieve our luggage. At the terminal exit, we find our driver holding a cardboard with their company name on it and after a quick greeting, she leads us to the van which takes us to our place.

It's a beautiful day on the island. There are just a few puffs of cloud in the clear blue sky, the sun is out and it's warm; and folks arriving from cold location are loving it. The van drives on the left side of the four-lane highway and heads east towards our condo, the La Vele Resort right on Grace Bay Beach. It takes about 30 minutes in stop-and-go traffic and around several traffic circles for us to arrive at our destination.

While Lee is unpacking, I borrow a bike from the resort and make a quick grocery run at a store a mile away. I get coffee, bottled water, soft drink, wine and some breakfast waffle for us to consume the next few days. Back at the condo, as Lee has fallen asleep, I go down to the beach to check the water. Now I understand why Grace Bay Beach is so highly rated.


The white sandy beach, no more than 50 yards from our condo, is wide, clean, had no seaweeds nor rocks, and gently slopes towards a sea of pristine water in magnificent shades of turquoise. The water is calm and warm and probably the best water I've swam in.

Resort hotels including extremely luxurious ones line along this three-mile long beach and umbrellas and chairs grouped in a variety of colors stretch as far as the eyes can see. The clear water is so inviting and I stay in the water until the sun sets.

Back to the room, I gently wake Lee up so we can get ready for dinner.

Dinner tonight is at Danny Buoy's, a local island restaurant within walking from the resort and we order a big plate of conch fritters, fish, quesadillas, and drinks and since this is our first real meal of the day, everything is delicious. There is so much food, we take the leftover back to the condo with us.


Stock pictures of Grace Bay Beach
Le Vele Resort on Grace Bay Beach, Turks and Caicos
Coffee on the balcony. Enjoying a nice sunny day
Centrally located on Grace Bay Beach, the Le Vele Resort consists of a modern lobby and two identical condominium buildings all in white. A long rectangular pool with relaxing seating areas and umbrellas separate the lobby from the condominium buildings which are also bisected by a landscaped walkway leading to the beach. We are greeted warmly by staff who quickly locate our reservation and give us a brief presentation on the resort amenities then takes us to our condo.


The resort has only 22 units consisting of one, two and three-bedroom suites. Our unit, a beachfront one-bedroom studio, has a master bedroom, a separate living area and a spacious kitchen all with a great view of the sea. The suite also has a private balcony with outdoor furniture. Our condo is very modern and nicely decorated. The bedroom has a king-size bed with comfortable bedding and looks out to the balcony and the ocean. The bathroom is also roomy, has a marble vanity, nice accessories, and plenty of thick towels, and two guest robes. I think we are going to be very comfortable here for the next five days.
View from our condo balcony
Saturday, February 16, 2019



Our first full day on the island. I get up before sunrise, put on my swimming trunk and go jogging on the beach. Early in the morning, the beach is clean, the water warm, and the only sound I hear is the waves softly crashing onto the beach. A few people are also up early. They wander on the beach picking up shells or just gazing at the sea. It is so pretty and peaceful out here.

An hour and a half later, I head back to the resort, take a long shower, make coffee and some waffles. Lee has already woken up so we have a relaxing breakfast on the balcony, before we gather our things and head downstairs to take some picture.

It's such as beautiful day, the temperature is in the 80s and the sky is so blue. The resort pool is nice and quiet and looks classy with the white thick lounge chairs and umbrellas. Areas around the pool is nicely landscaped with bougainvillea flowers in full bloom. We take a lot of pictures in the pool area and the walkway leading to the beach then we decide to check out the bikes to ride around town.


Beautiful landscaping at Le Vele
Le Vele pool. It's so nice and quiet here
Sidewalk on Grace Bay Road
First time riding the bike after 40 years
Lemon 2 Go coffee and flower shop
It's has been over 40 years since the last time Lee was on a bike so she takes a few practice rounds on the quiet road in front of our resort before we head to the main street. Since it's in the middle of February, the town is not very crowded. At the main area of Grace Bay, we park our bikes (no need to lock them) and walk down the sidewalk and look around. Tall palm trees line the main street and shrubbery and bougainvillea flowers of different colors line the sidewalks which connect souvenir stores, coffee shops, restaurants, clothing boutiques, cigar shops, and real estate offices. We stop at Lemon 2 Go, a combination of a coffee shop and flower store to get some ice tea and the fragrance inside the store is amazing.
Wooden bridge connecting Le Vele to its beach
Look at the color of the water
Then we ride back to the resort, warm up the dinner leftover, have a quick lunch and head down to the beach.


​La Vele Resort staff has set up rows of white beach chaises and umbrellas for guests to use and only a few of them are occupied. We grab a couple of chaises, set our stuff down, lather ourselves with sun tan lotions, and lay down and relax. Over the course of the next few hours, we jump in the water a few times, play with the waves, enjoy the water, lay out, read our books and listen the music. What a wonderful way to spend a Saturday afternoon.

​
We stay on the beach until 5:00 PM.


We stay in the water for a long time
For dinner tonight, we walk back down to the main area of Grace Bay and stop at the Thai Orchids Restaurant for some pad thai and vegetable stir fries, then we call it a day.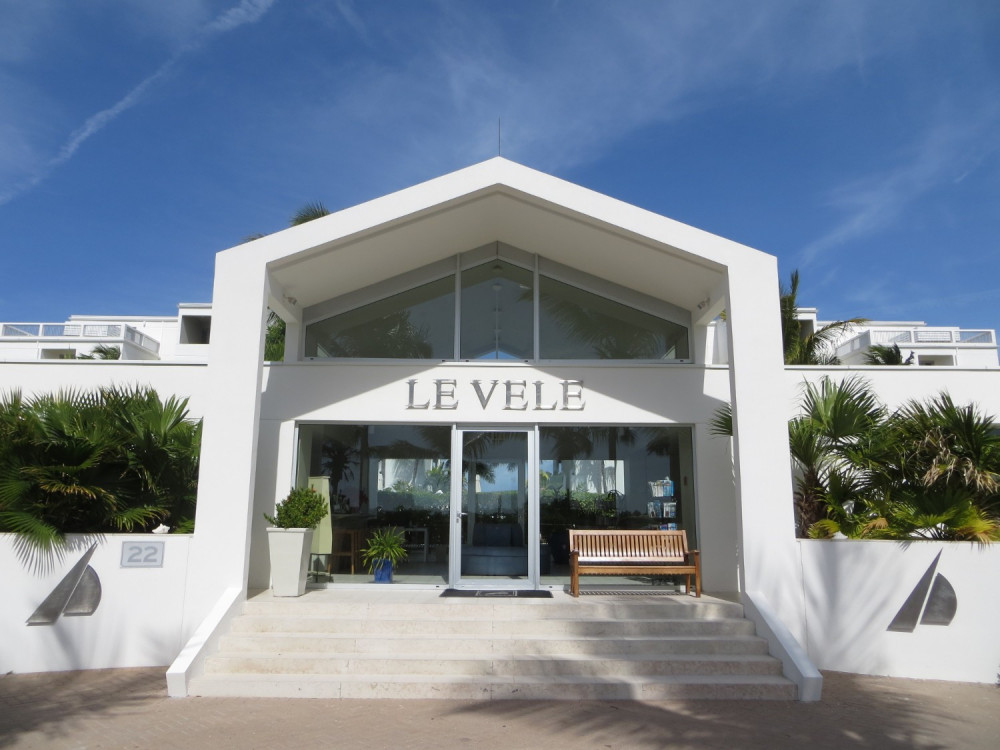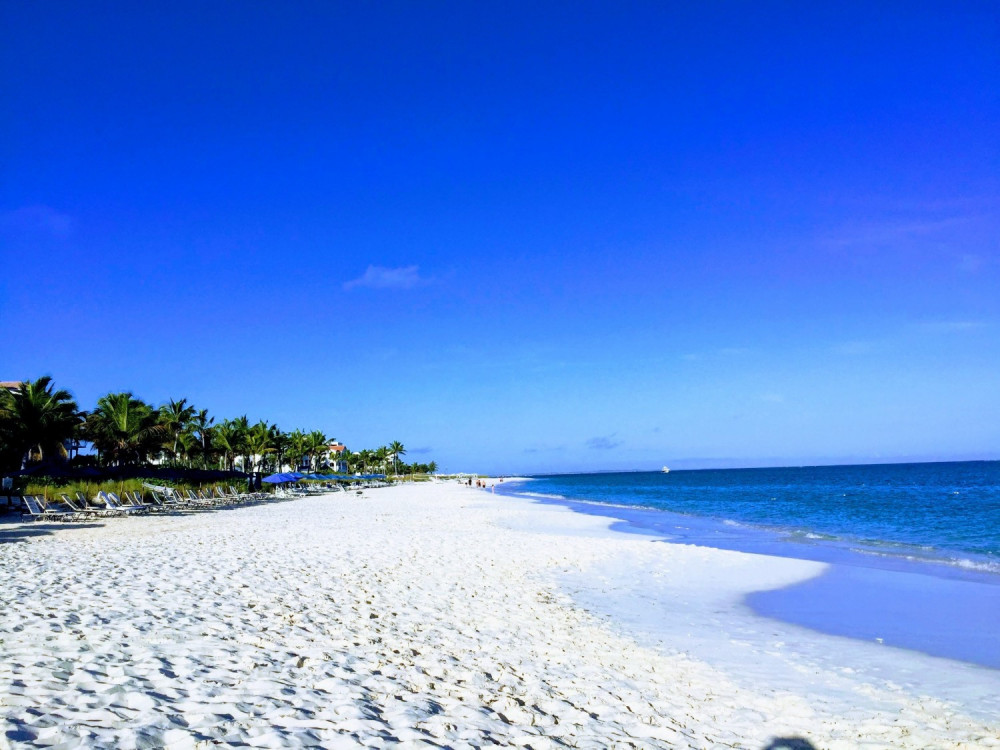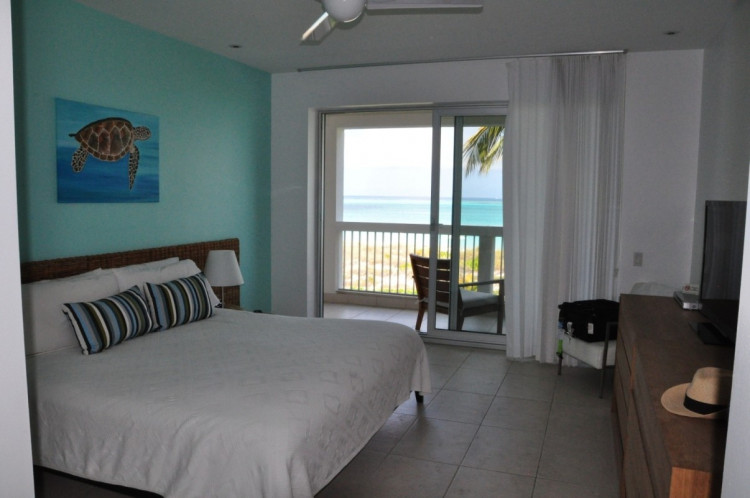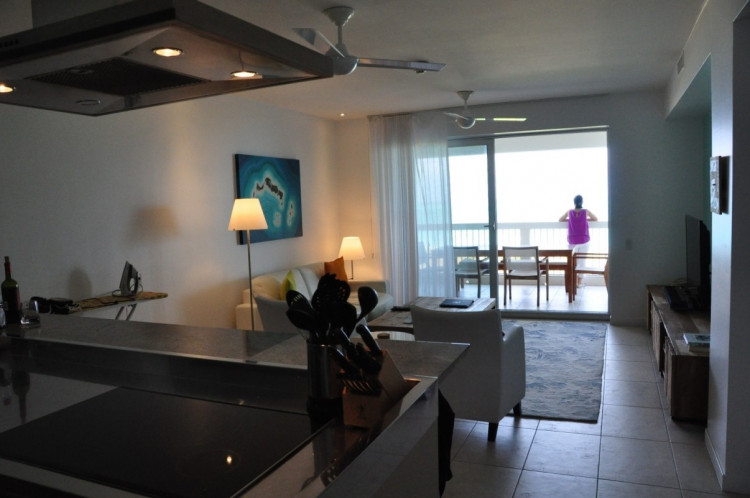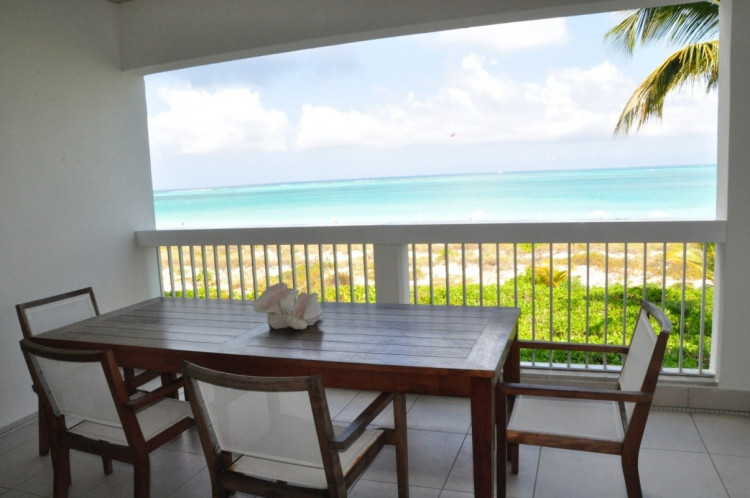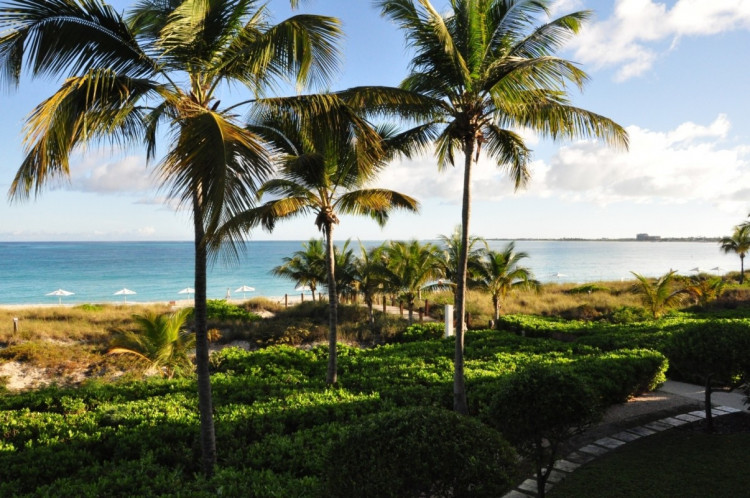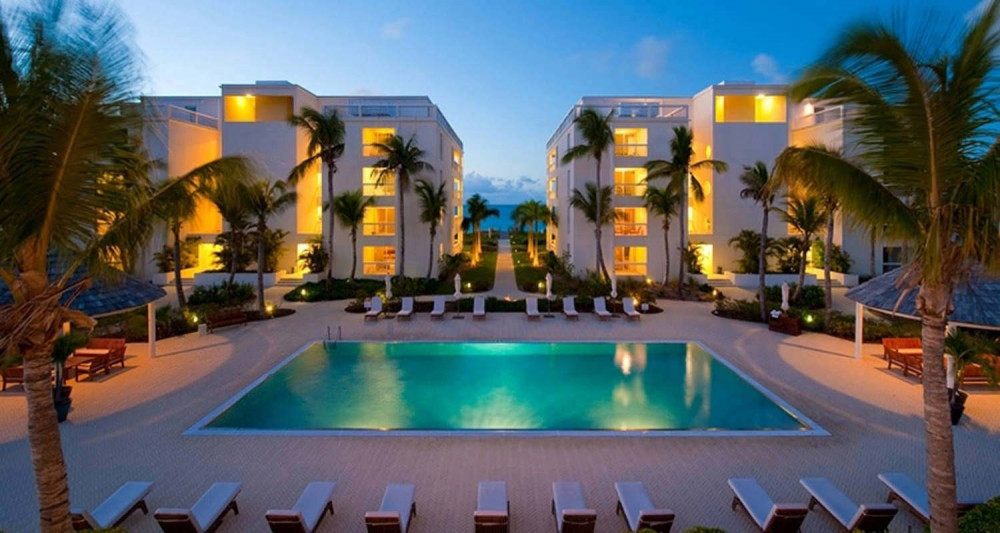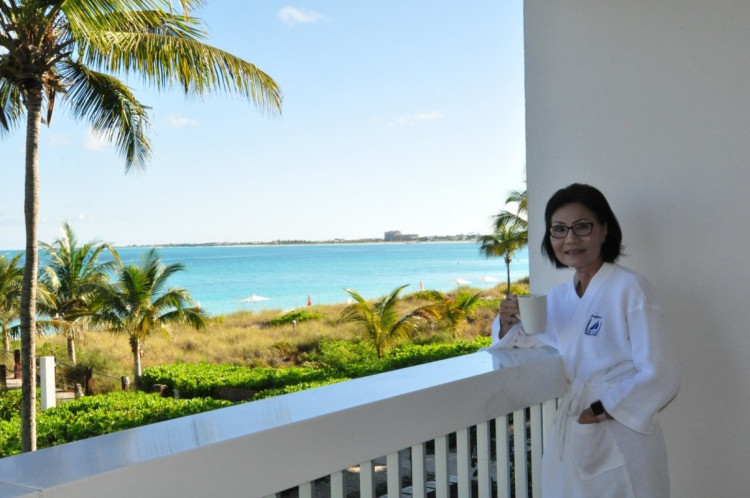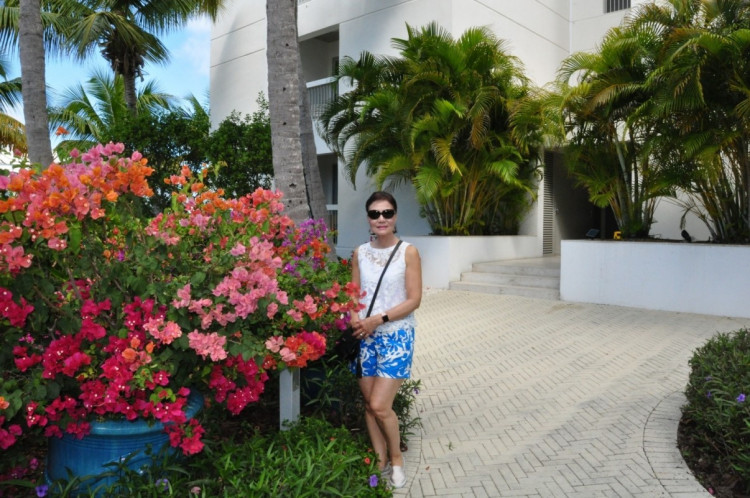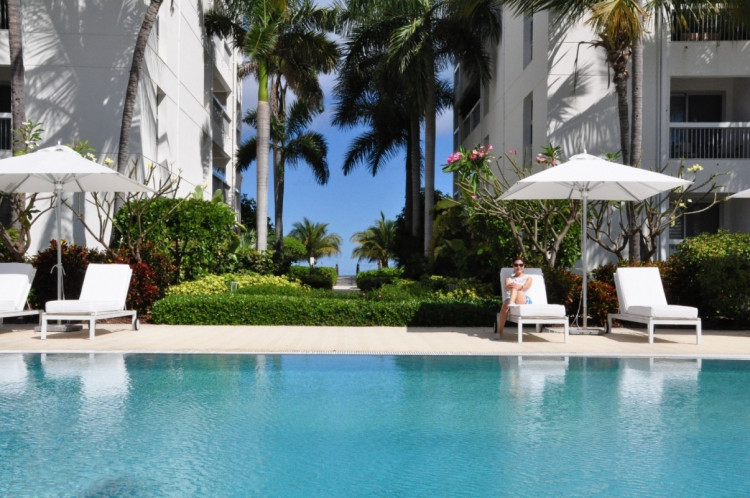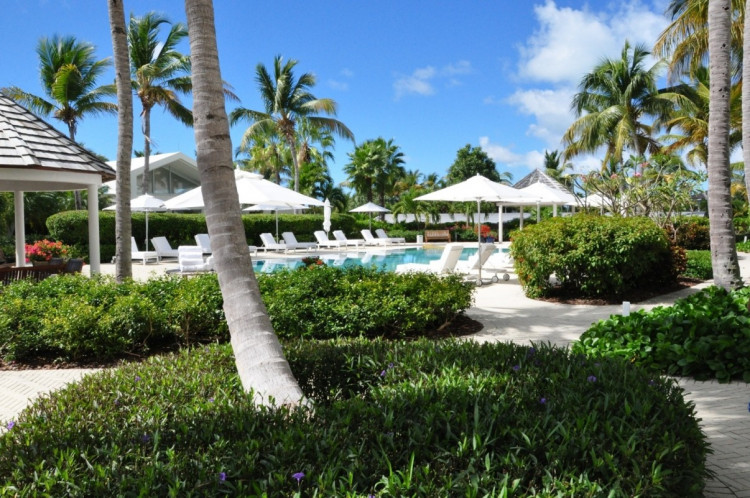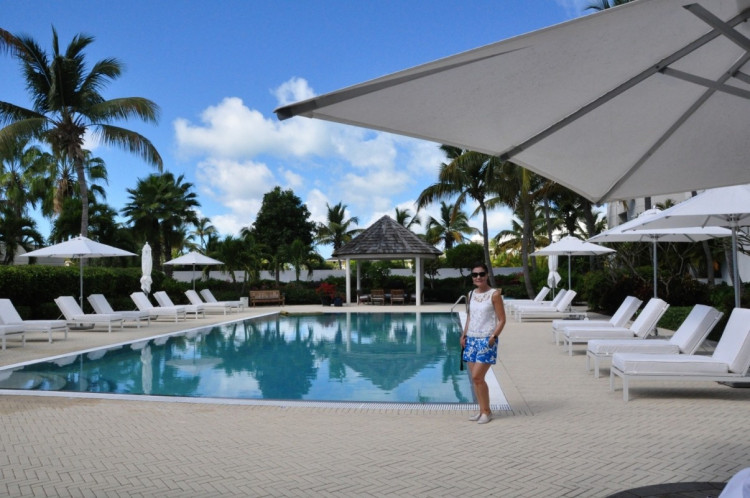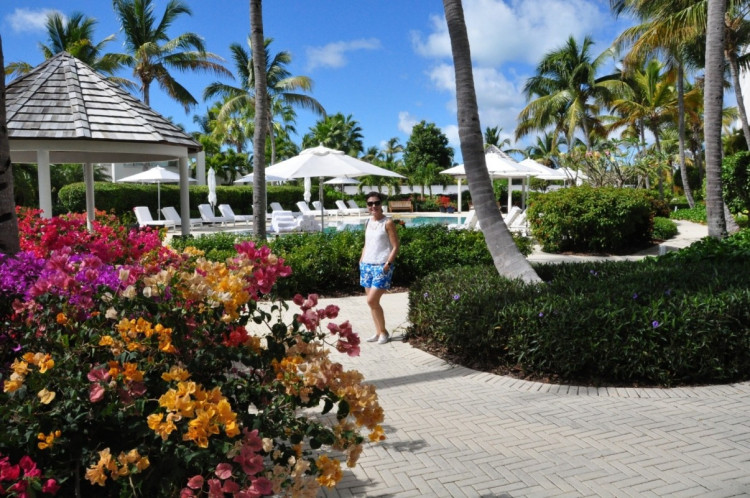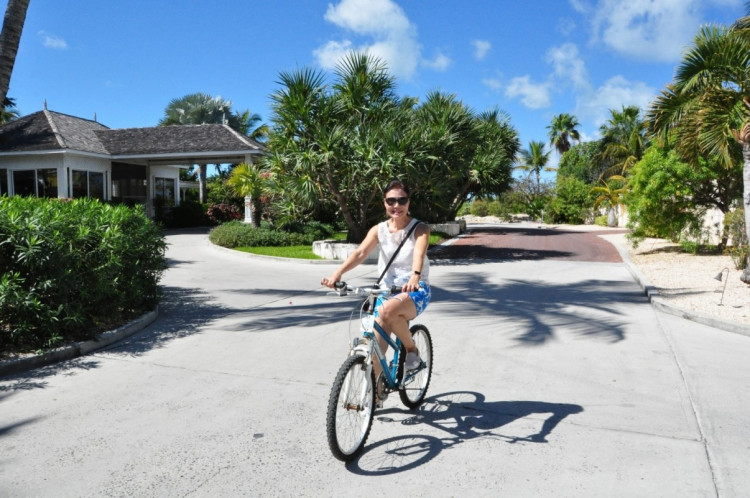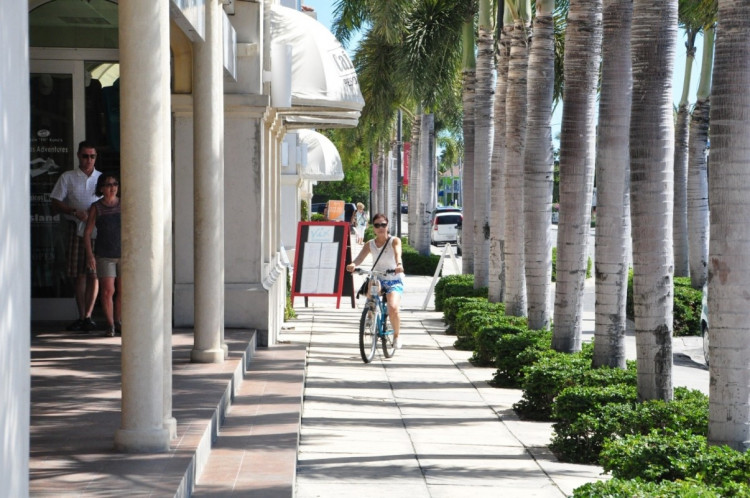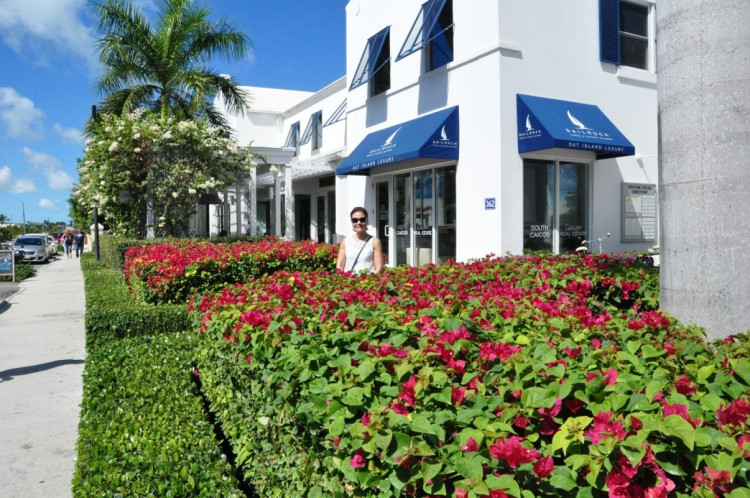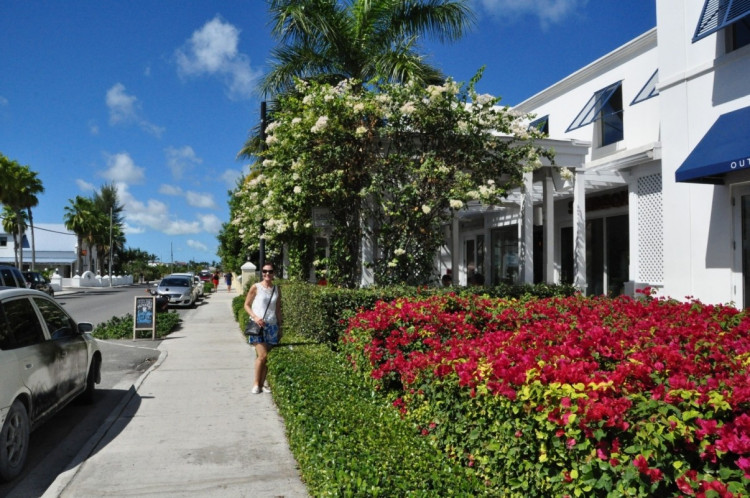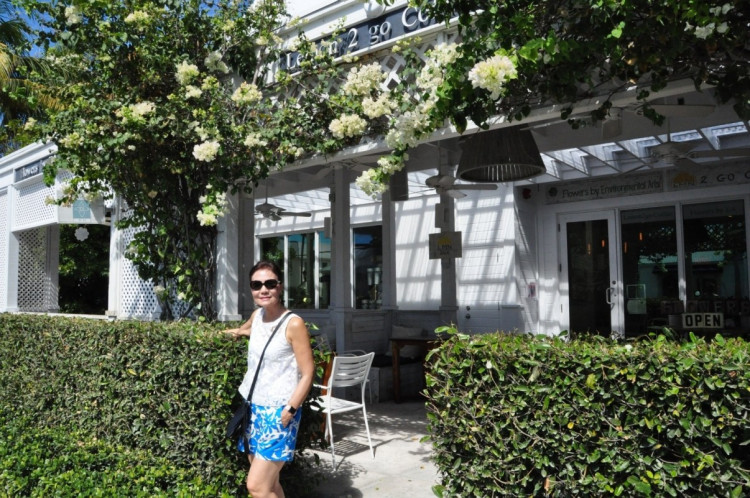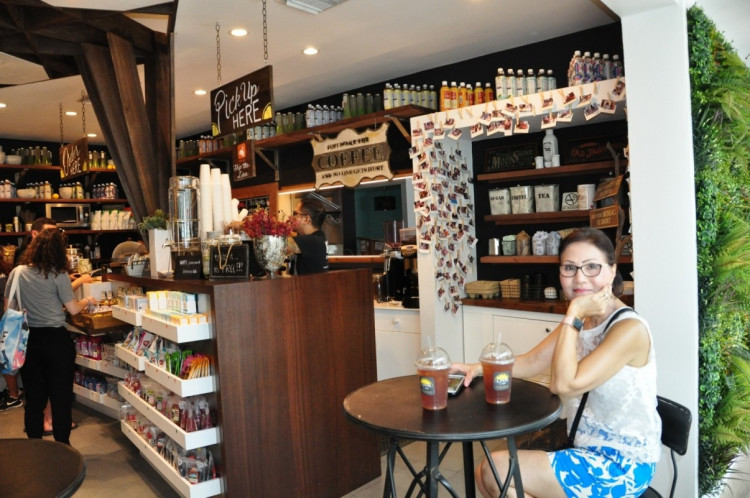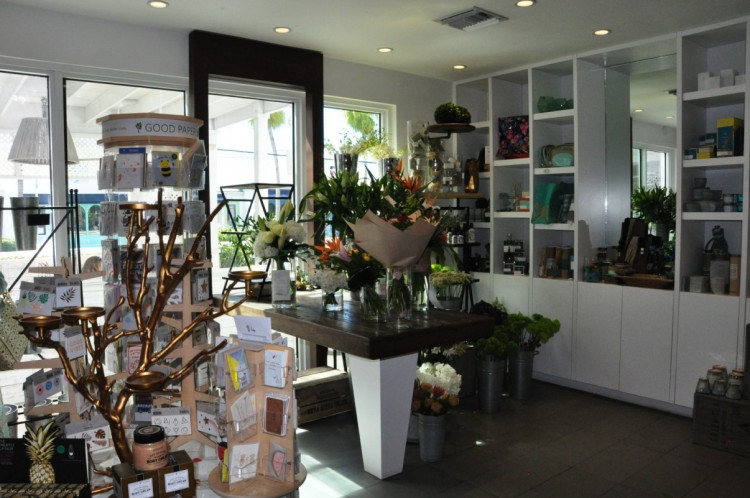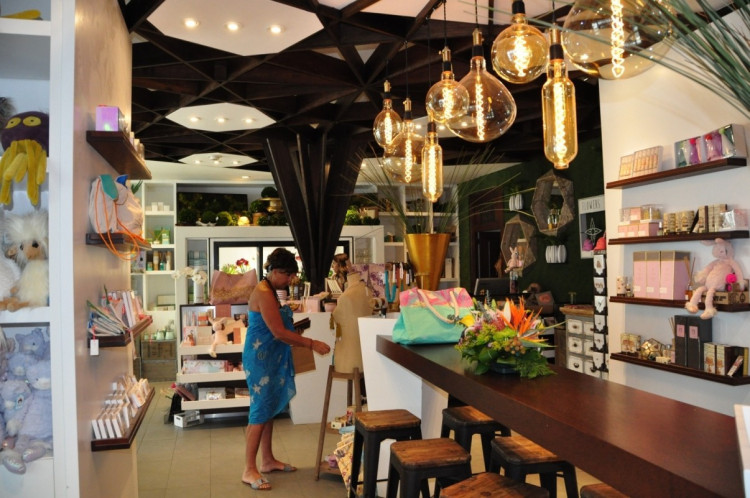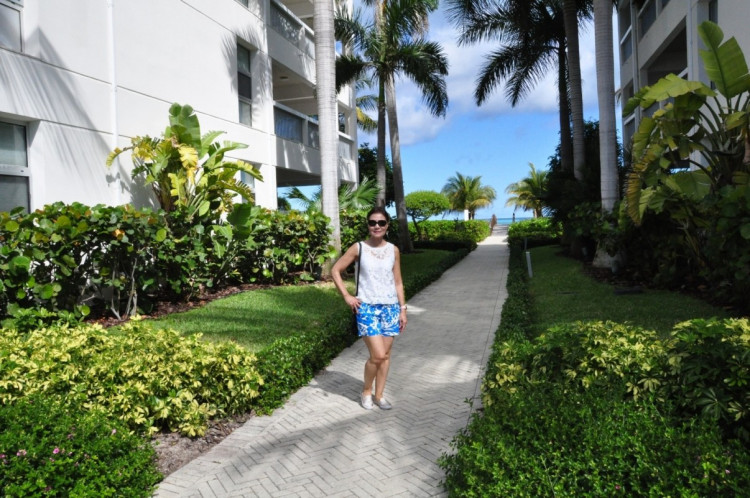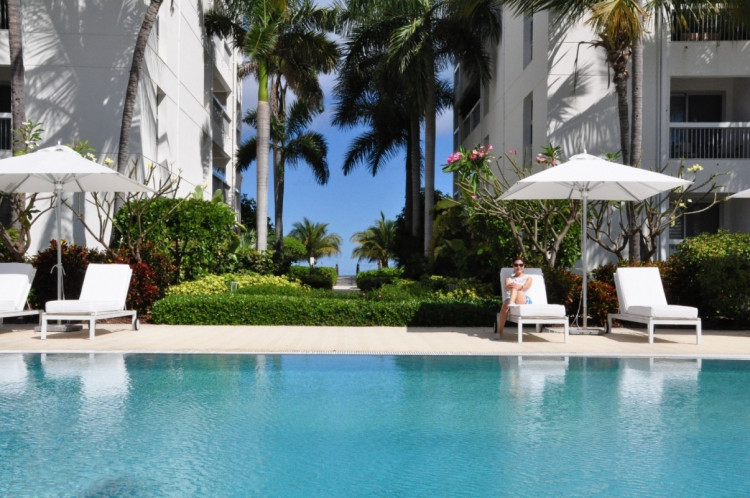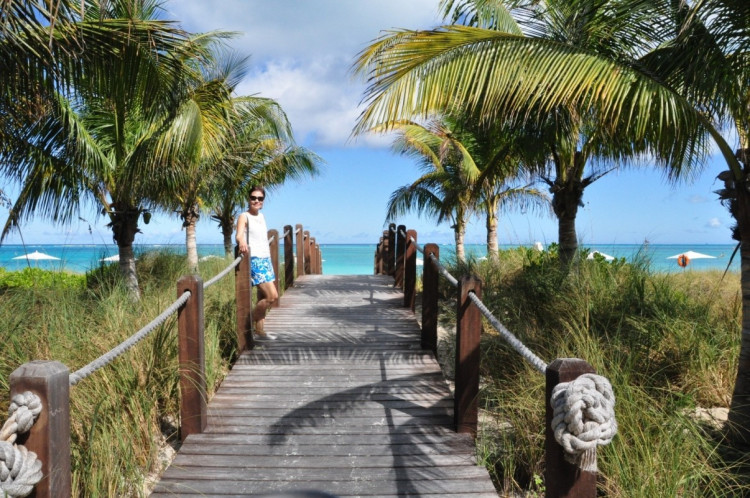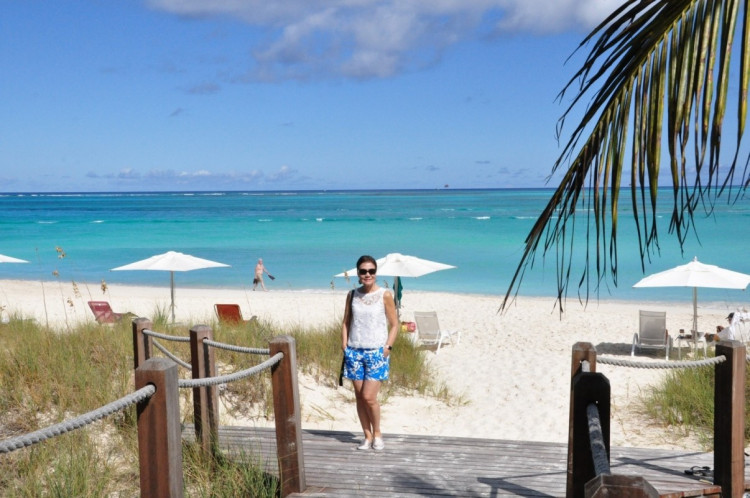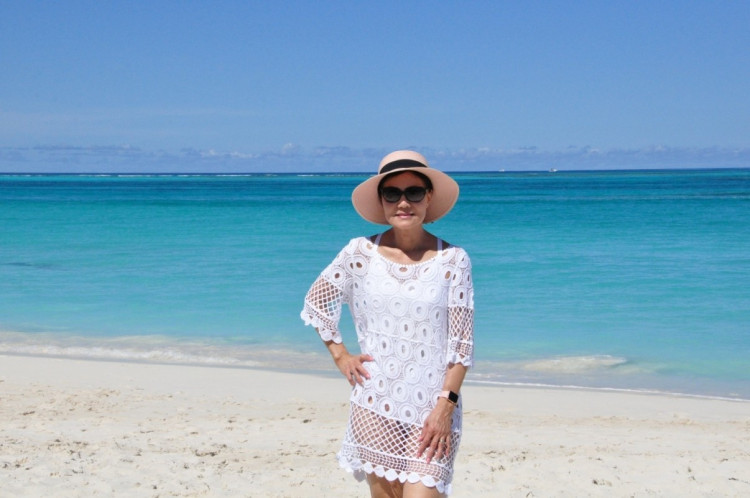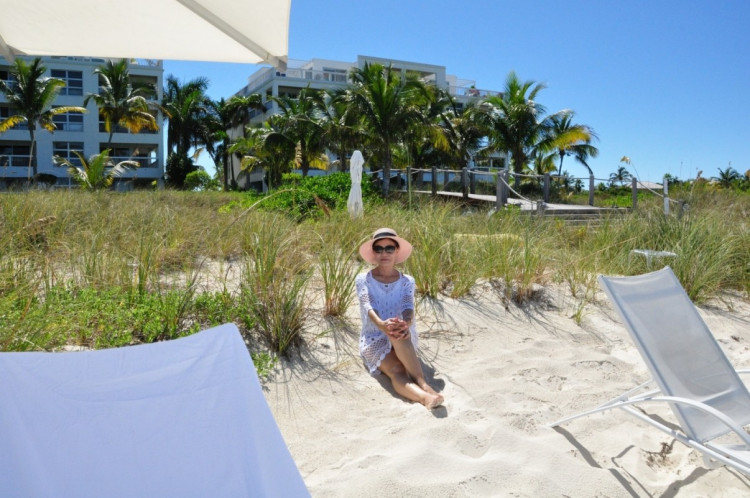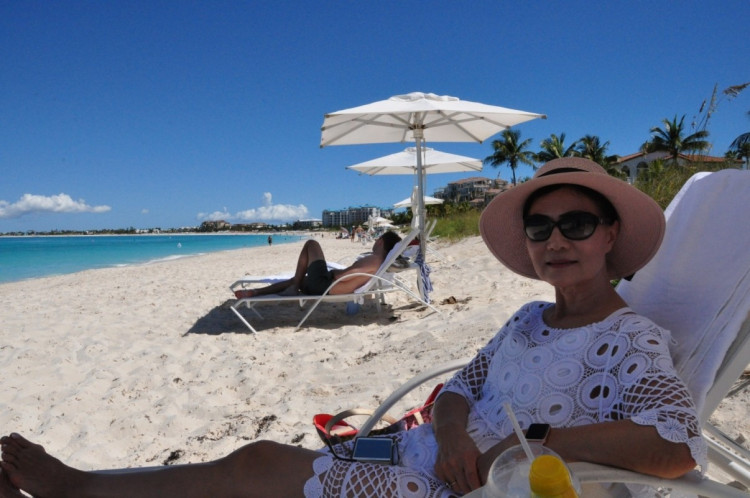 Or the comfortable beach chairs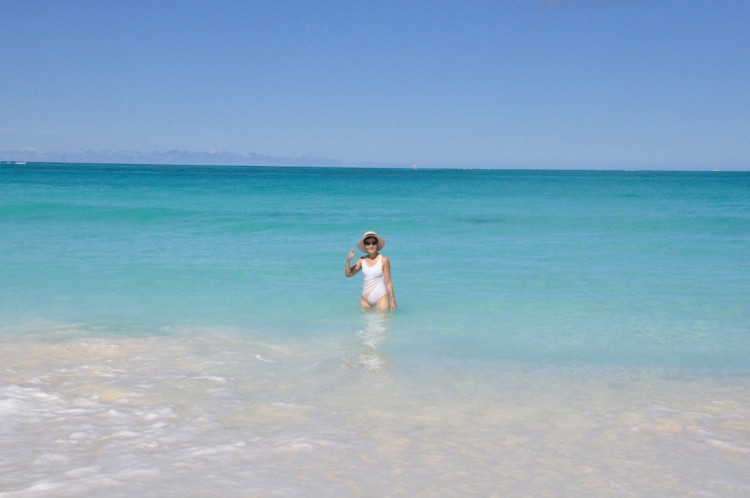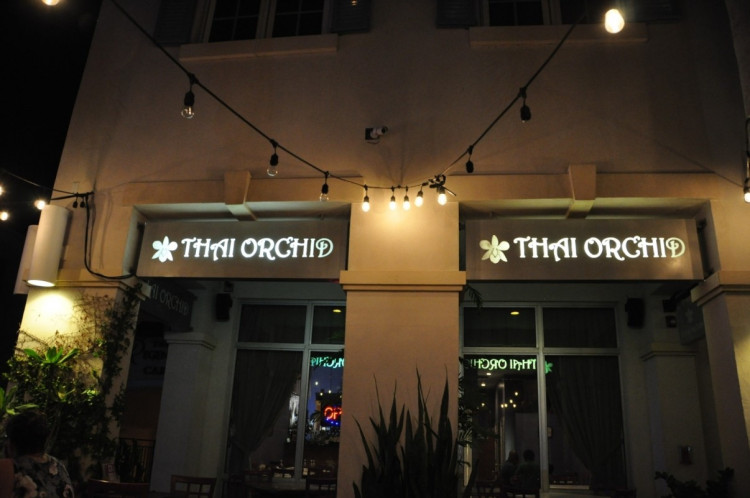 Waiting for coffee on the balcony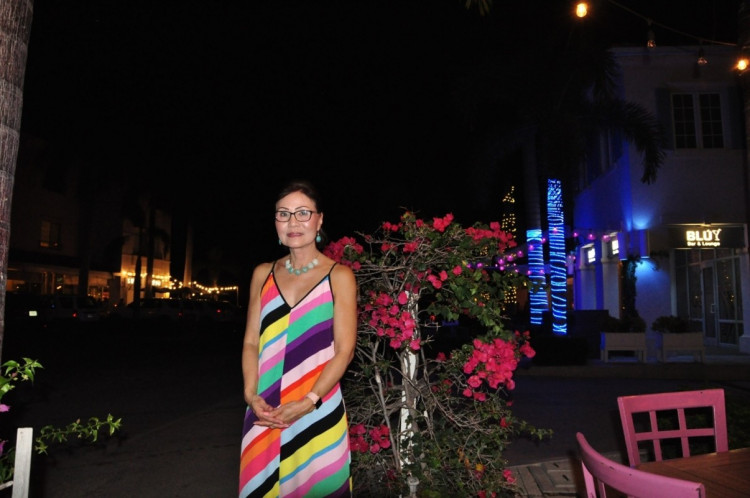 Sunday, February 17, 2019



We repeat our early morning routine and the weather also repeats itself by awarding us another fantastically beautiful day.


We check out the bikes and ride them to a grocery store called Graceway Gourmet about a mile away to buy some groceries. The store is large, bright and modern, has everything we need, and the staff are friendly; but everything is so expensive. A $10 piece of steak in the US cots $25 here and a $15 bottle of wine at home would cost $40 here. Eating out may not be any more expensive than buying the groceries and cook. But we get some rotisserie chicken for lunch, and steaks, lobsters and lettuce, and wine for dinner.

Riding the bikes back to the condo, we stop at our favorite coffee place, Lemon 2 Go, for some ice tea. We sit at the tiny bistro table watching people going in and out of the store, breathing the flowery fragrance, and sipping our drinks.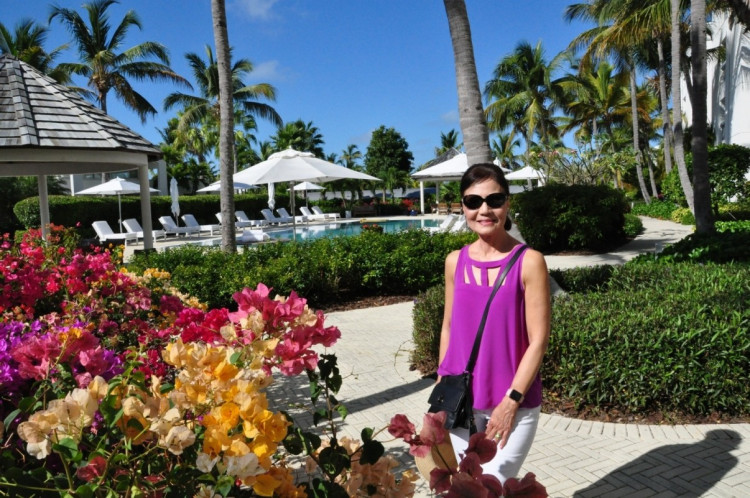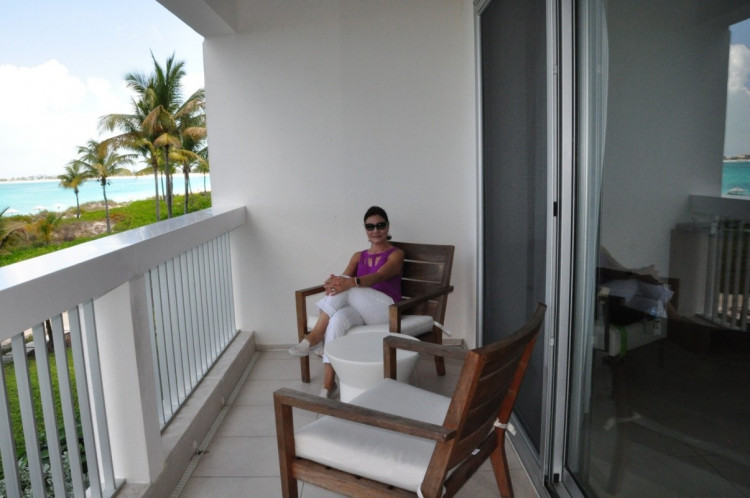 Another magnificent morning
Another beautiful day in T&C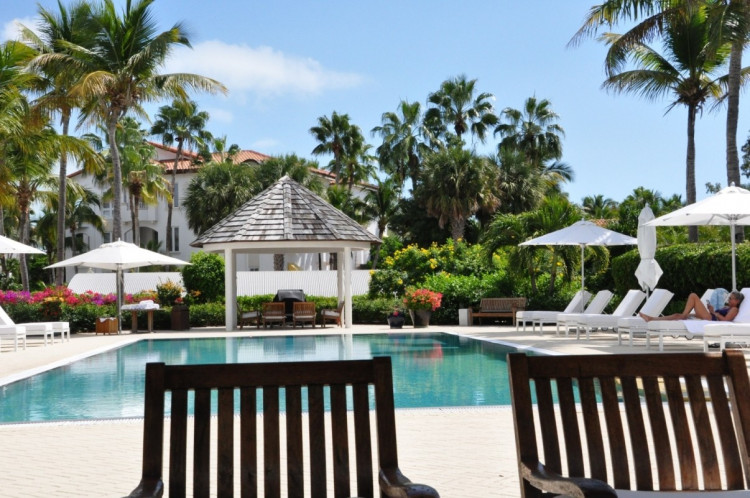 Peaceful morning at Le Vele Resort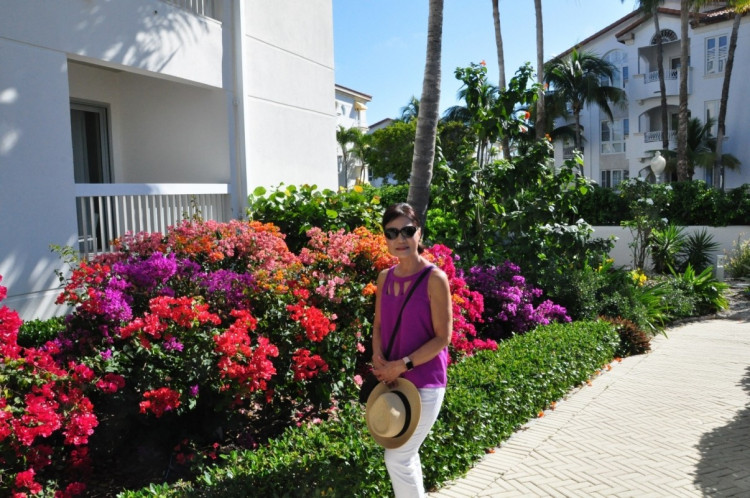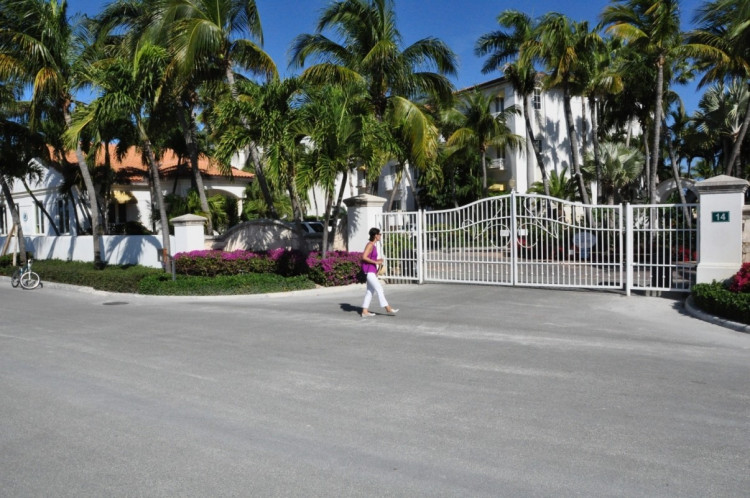 Going to town. Getting off the bike to look at another resort, The Mansions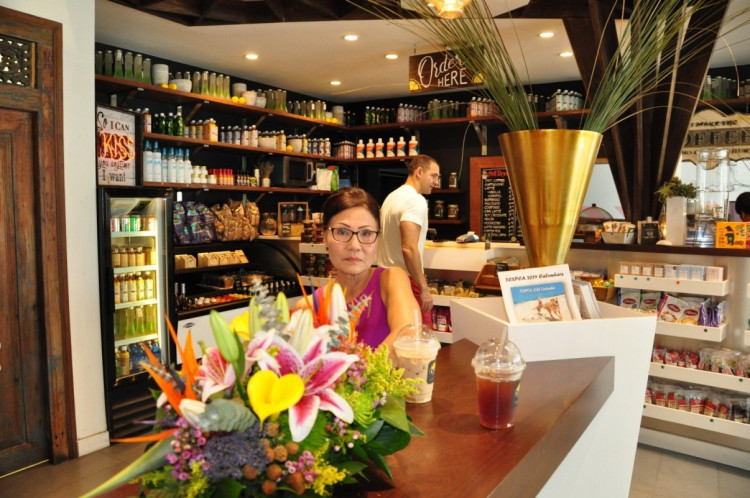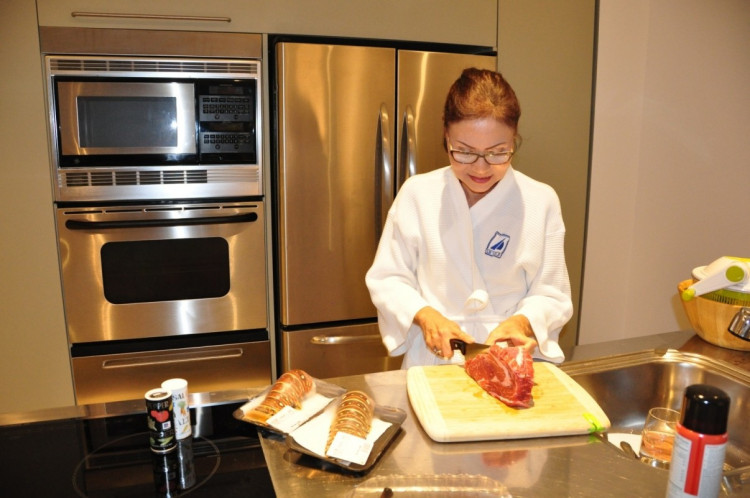 Then we head back to the condo, have a pleasant lunch on the balcony and hit the beach where we spend all afternoon, laying out, enjoying the sunshine, swimming in the blue water, and letting time slowly going by. It's so relaxing.

For dinner tonight, we're having steak, lobster, baguette, and salad on the balcony and everything is delicious. It's been a great day.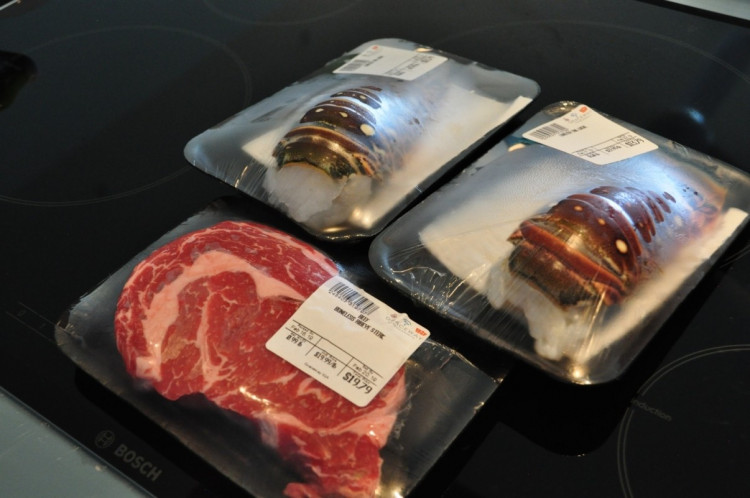 Store-bought steak and lobsters
The only time we cook dinner on this trip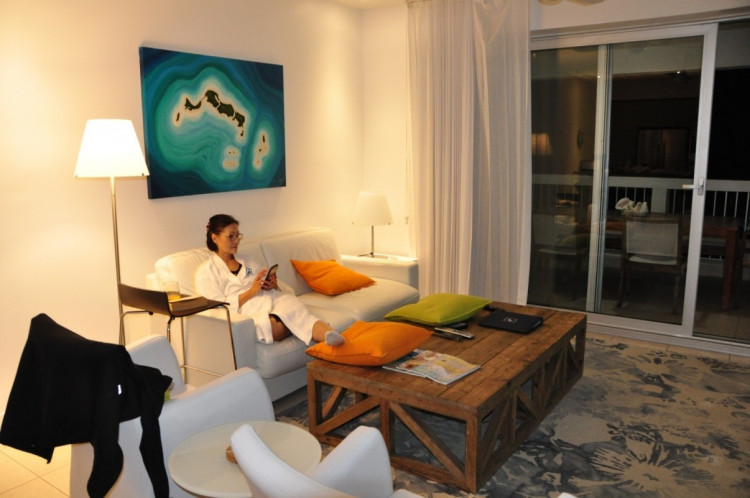 Monday, February 18, 2019
​
We check out the bikes, ride around town, then stop to have coffee at Lemon 2 Go again, before we head back to the condo for lunch then to the beach. It's another beautiful day on Grace Bay Beach and we're grateful for the sun, sand, and surf.

Around 4:00 PM, we return to our condo to get ready for a special dinner tonight.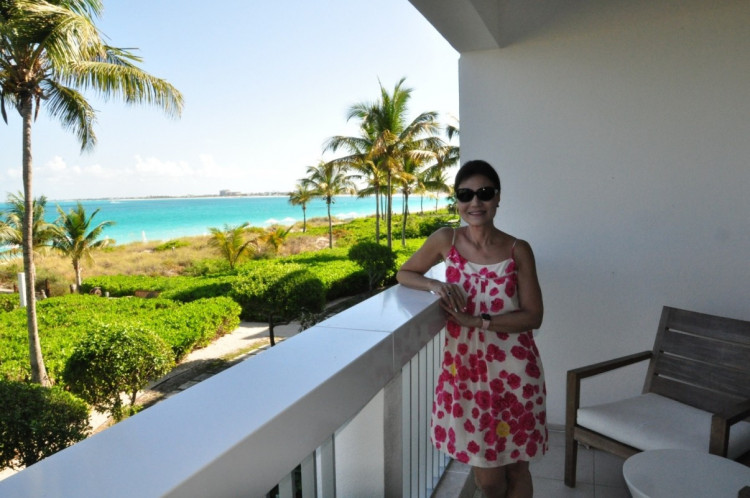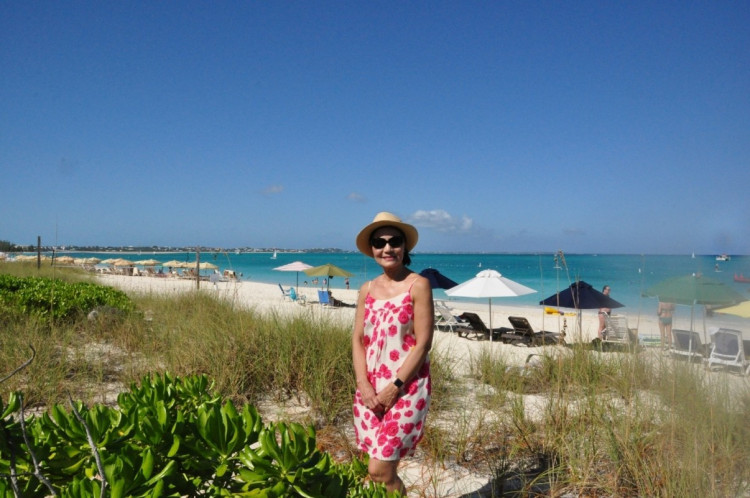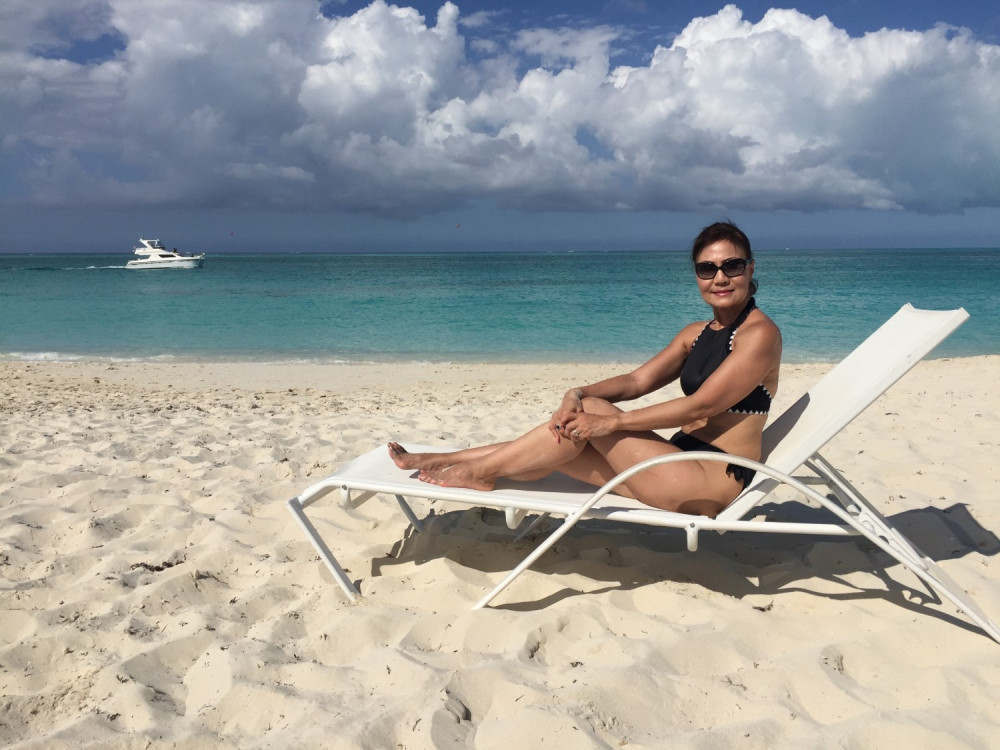 We have the beach to ourselves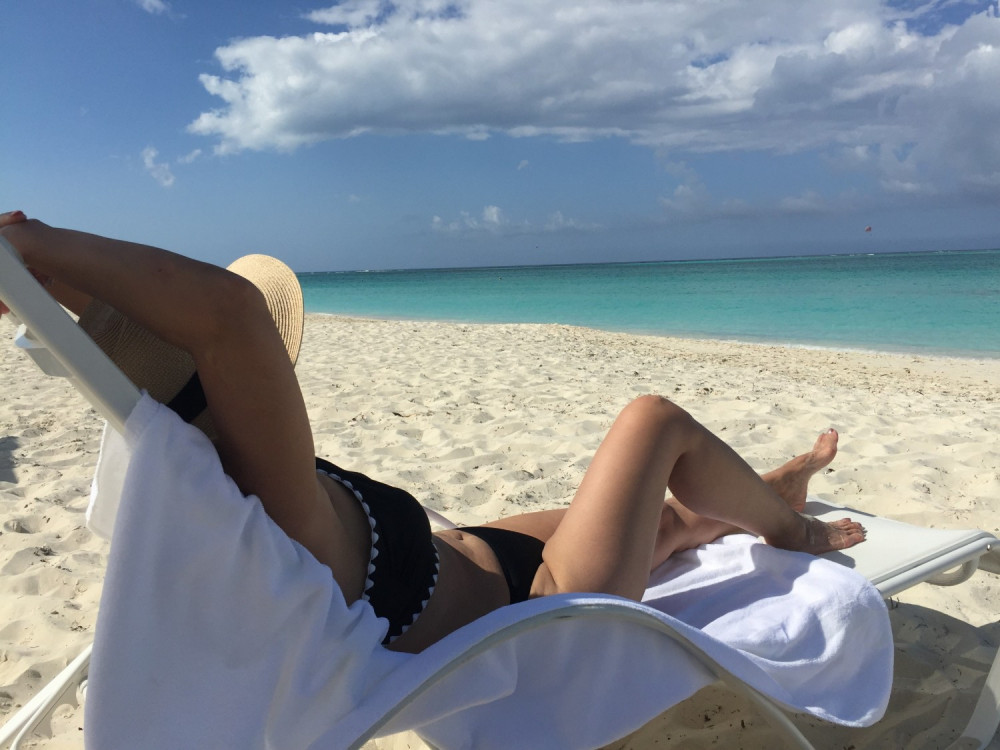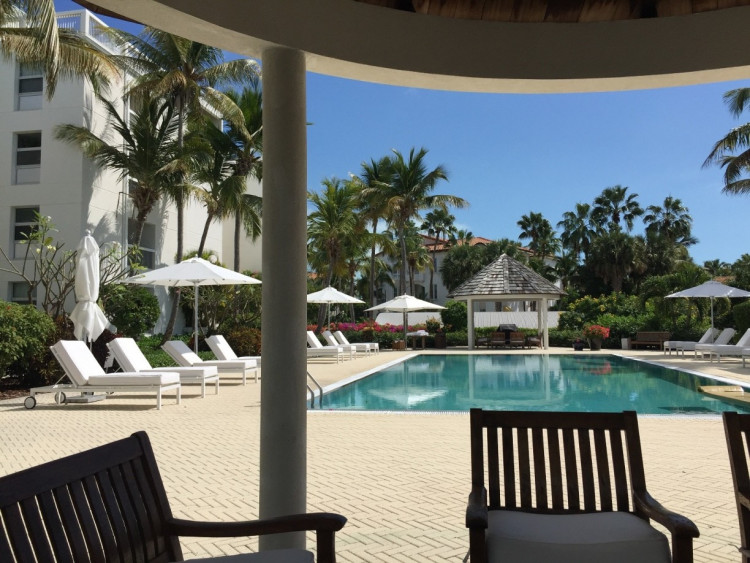 I have made a reservation at a restaurant called Bay Bistro for a sunset dinner on the beach which starts at 5:30 PM. We take a taxi from our condo which takes about 10 minutes to get to Bay Bistro Restaurant. The restaurant is located behind the Sibonne Hotel and has an indoor and outdoor seating area surrounded by lush landscaping and lanterns, and a special dining area on the beach. Dining on the beach requires special setup and hence, advance reservation and payment.

When we arrive, restaurant staff are setting up our table which include white linen and nice silverware. Two tiki torches anchored in the sand along with the full moon will provide all the light we need. The chairs are arranged so that guests can have the best view of the sunset which should take place around 5:45 PM.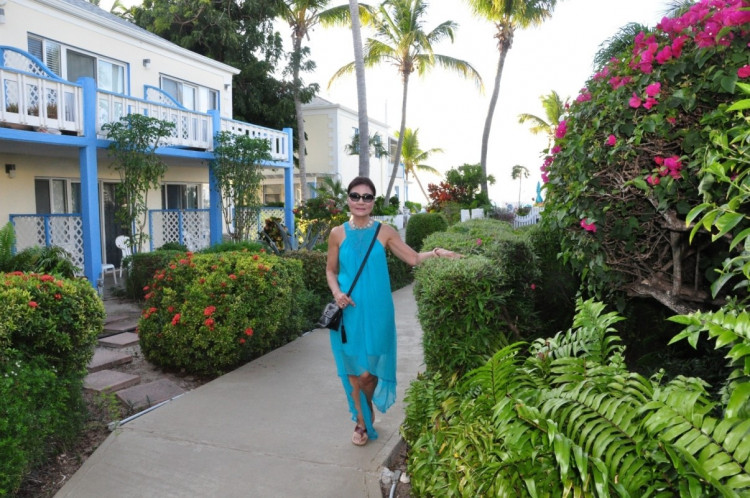 Going to Bay Bistro Restaurant which is behind the Sibonne Hotel
One of the must-do things on Turks and Caicos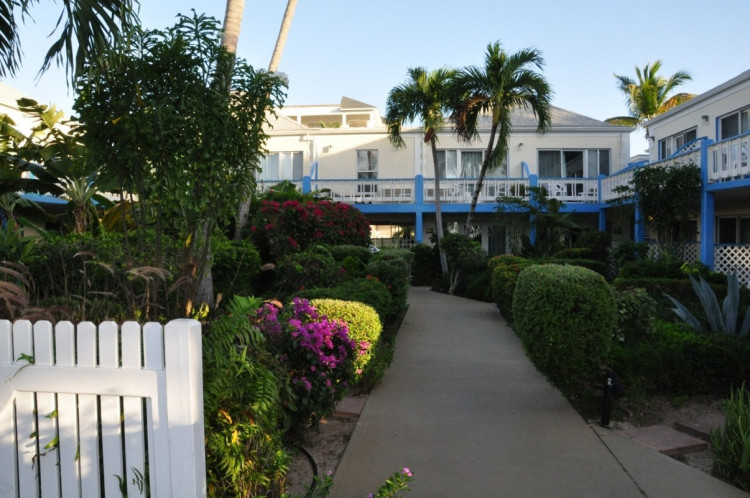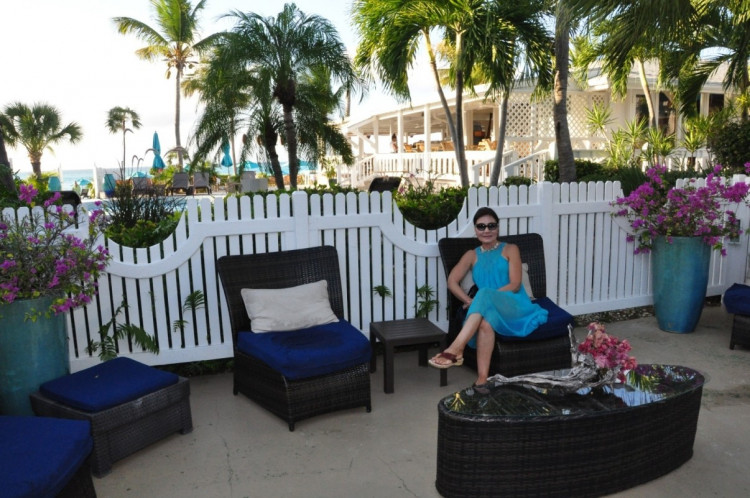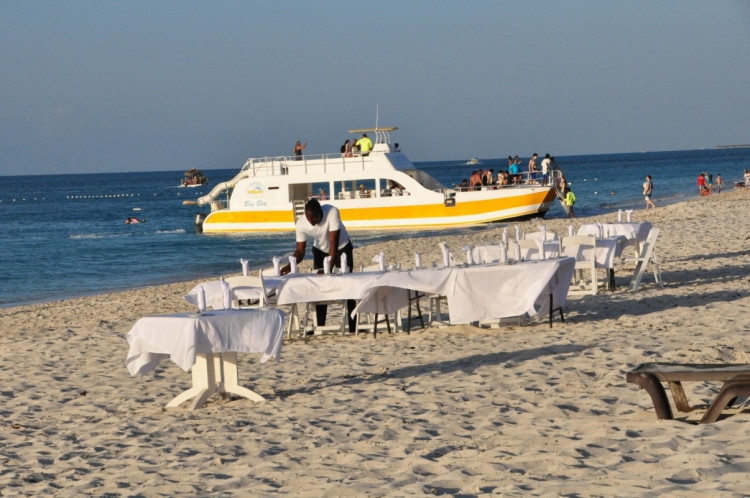 Setting up dinner tables on beach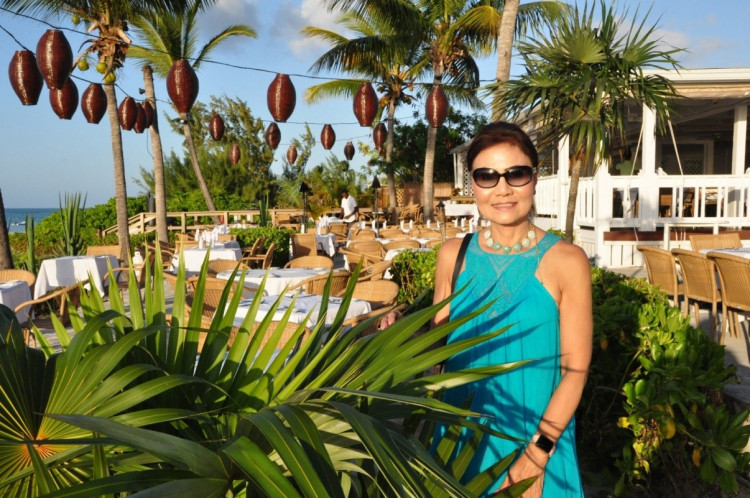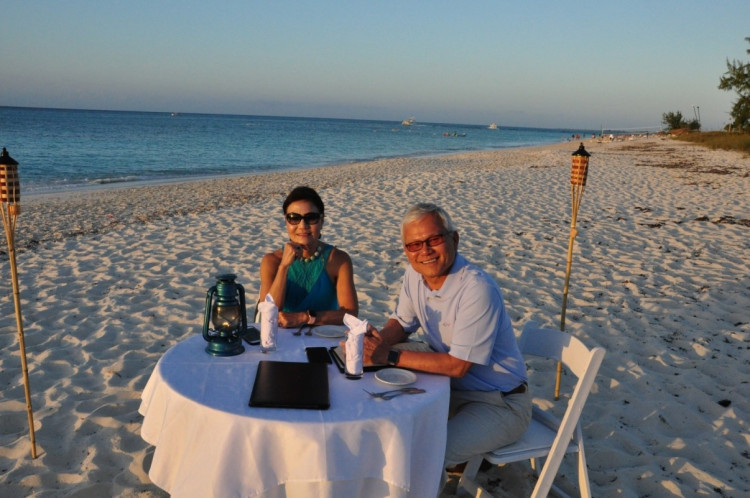 Sunset dinner on the beach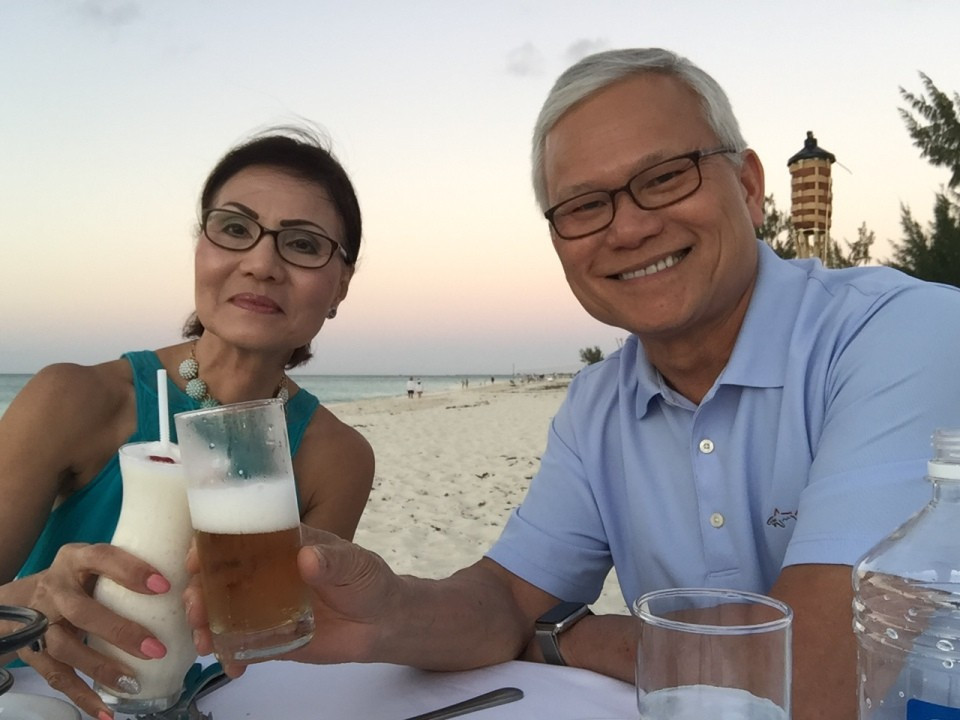 One more look from the condo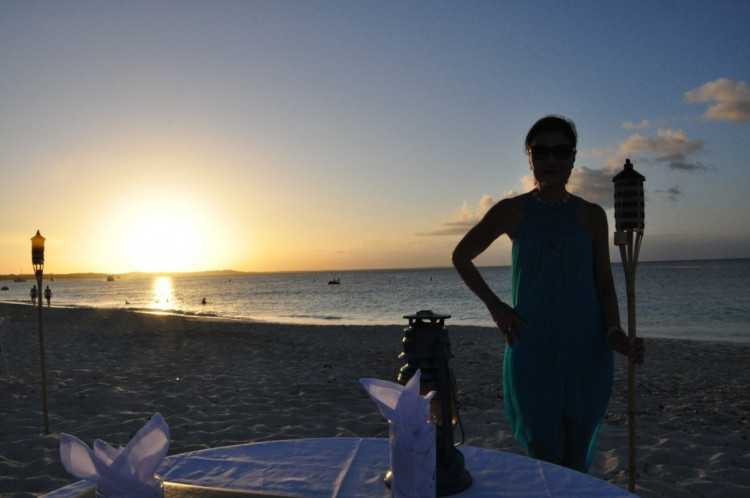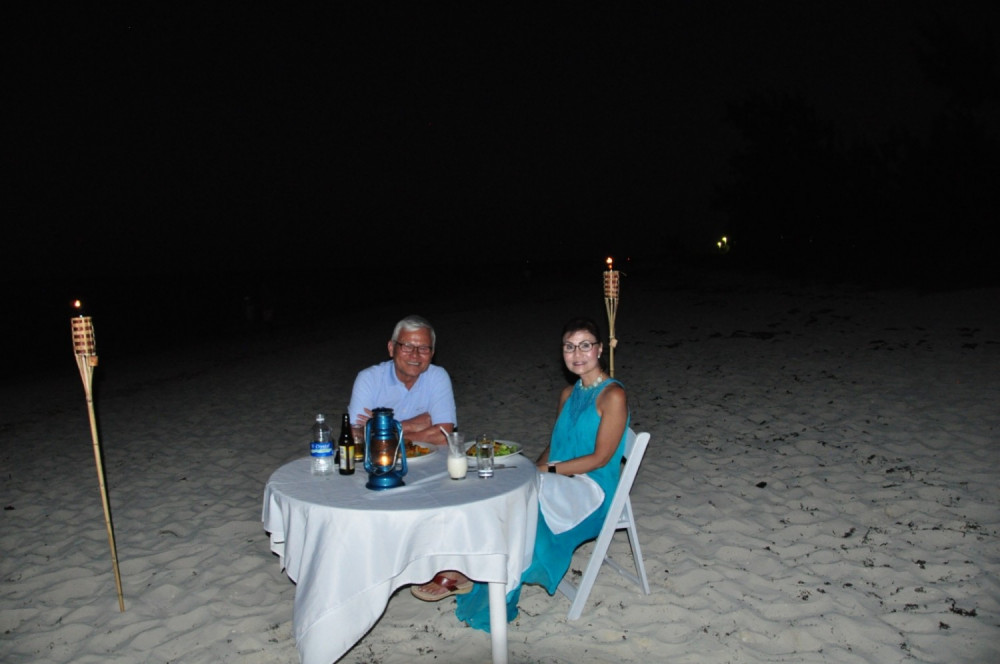 Dinner lasts late under the full moon
We sit down, enjoy the view, glance at the menus, take a few pictures and watch the sun slowly setting on the horizon casting orange glows over the darken sea. We order almond and herb crusted grouper, pecan crusted conch, salads, and drinks; and slowly enjoy our wonderful meal.

It's about 8:00 PM when we finish our dinner and begin to take a slow troll on the beach back to our condo. The water splashing on our bare feet seems warmer this time of the day and because we have a full moon, it's not very dark and it's just amazing watching millions of full moons dancing on the water.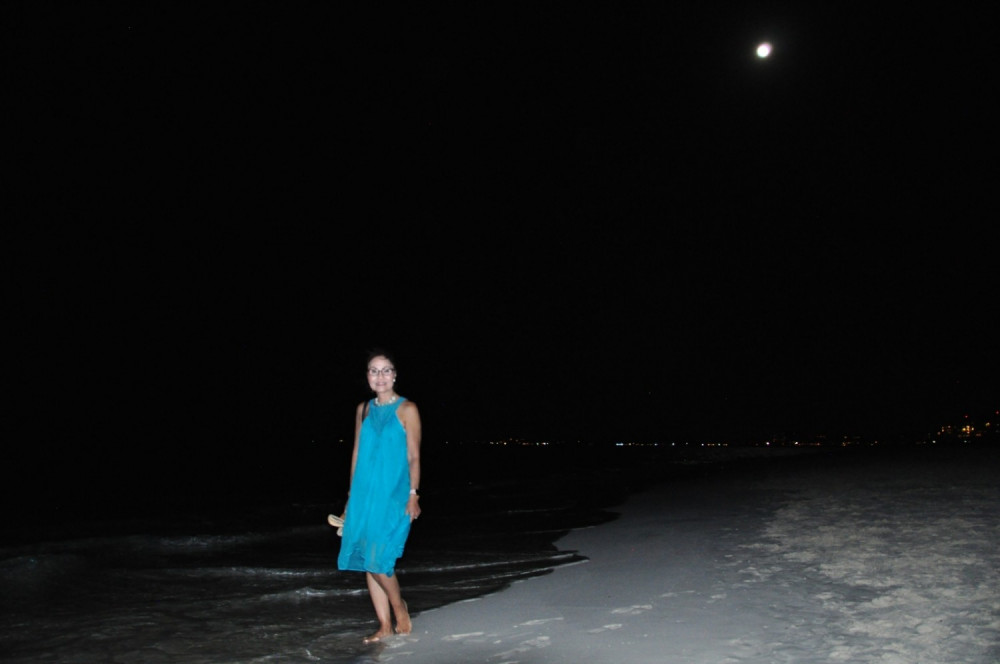 Walking back to our condo after dinner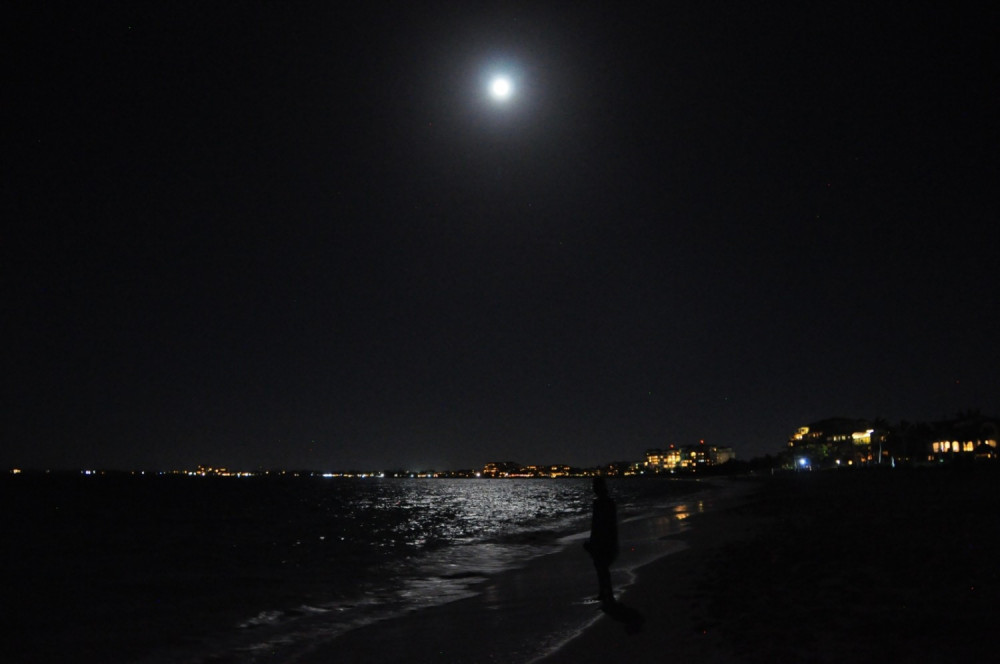 Millions of moons dancing on the water
Tuesday, February 19, 2019



Our last day on Turks and Caicos. We get up early, go down to the beach and take a long walk to the east side of Grace Bay Beach. Resorts after resorts, some are huge, other are cozier line the beach. Some areas of the beach are lush with coconut trees and others just beach sand. Then we head back to our condo to finish our packing and wait for our ride back to the airport.

This trip has been amazing and we're already talking about returning here next year.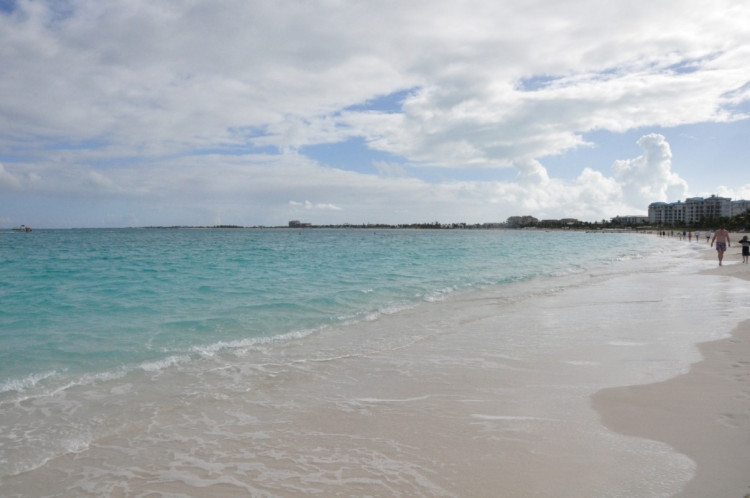 One more walk on this beach before we go home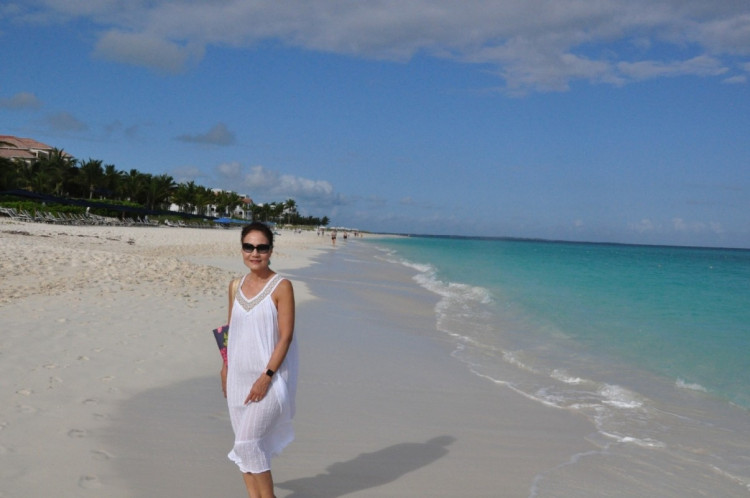 Lee doesn't want to leave
Thank you Turks and Caicos. We will return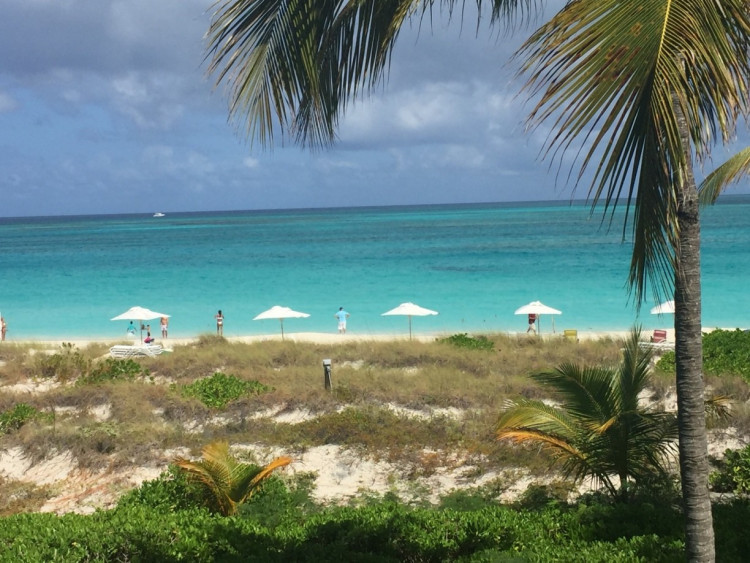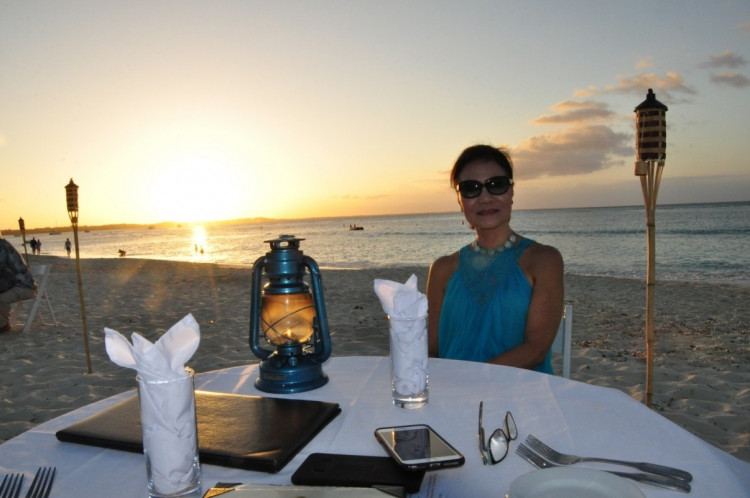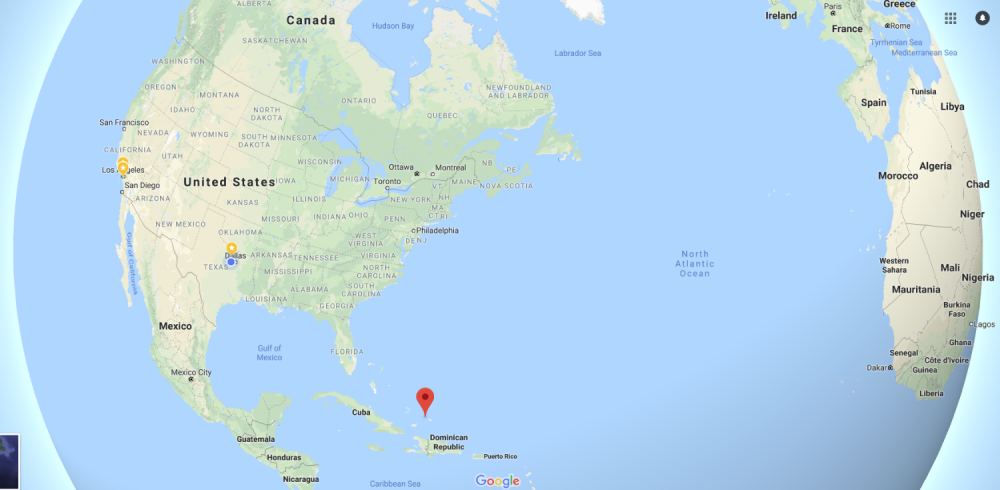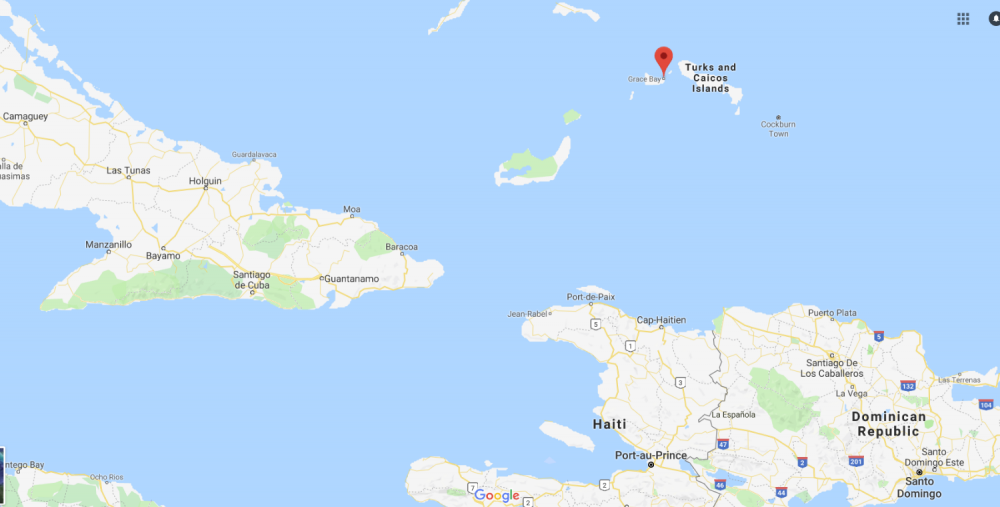 Red dot is location of Grace Bay, Turks and Caicos
East of Cuba and north of the Dominican Republic